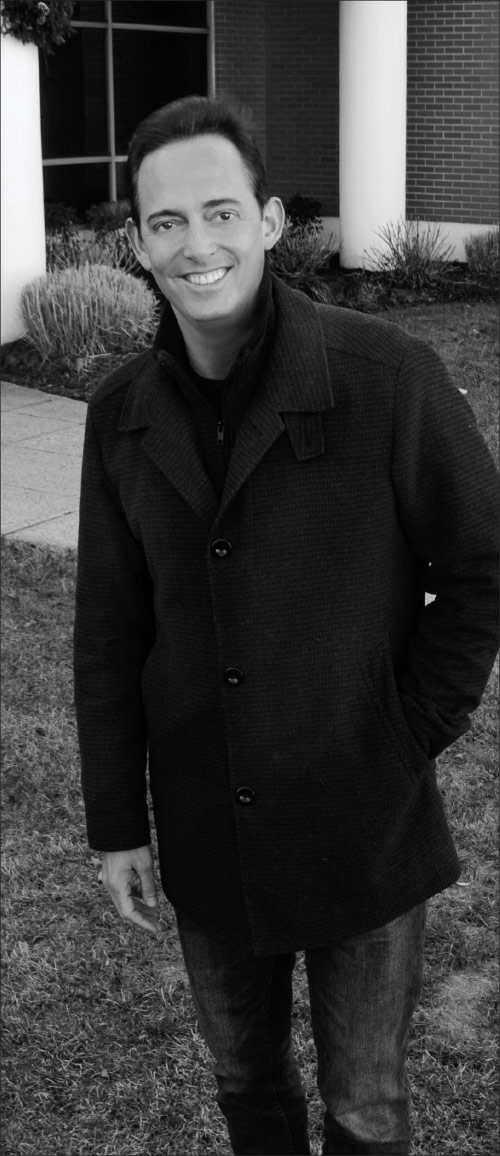 Speaking with Larry Schwartz about Aetrex Worldwide is like a breath of tech air. He's a unique breed of footwear exec whose priorities as CEO of the Teaneck, NJ-based company have little to do with the everyday tasks involved in the art of shoemaking. Schwartz is not your typical "product guy" who waxes poetic about leather nuances, last shapes, embellishments, etc., etc. And that's perfectly okay since his brother Evan has capably overseen the company's footwear design and product development for close to two decades. Meanwhile, his brother Matt oversees sales and business development. Schwartz's primary responsibilities fall under Aetrex's tech division, led by its in-store iStep foot-scanning machines and accompanying Albert operating system. He talks excitedly about how Aetrex's latest software introductions enhance the in-store shopping experience. He cites the growing importance of data analytics in marketing and management, and how it reflects an about-face in the way shoe companies are being run today. He reports proudly that the company has ramped up its recruitment of machine learning and computer vision programmers to keep pace with its expansion in areas like 3D printing and artificial intelligence. It's all proof that Aetrex is far from a typical comfort footwear company.
"We've really become a technology company for health and comfort," Schwartz says, noting that Aetrex now has 17 people working full-time in its tech development. "We have deep technology talent, which allows us to make products that are very unique in the industry and that retailers really need." He adds, "I think we have more technology know-how under our roof than any other company in our space under $1 billion in sales. Technology is integral to who we are, and I couldn't imagine Aetrex without that component. It's a big part of our story and our future."
Aetrex's business model is unique; it also seems immune to market volatility, having registered a profit for 22 straight years. Not even the Retail Apocalypse could prevent Aetrex scoring double-digit growth in 2018. What's the secret? Schwartz's answer is appropriately tech speak: "It's all about execution. If we execute and stay focused, we get better and we grow," he says. In fact, he views the recent retail disruption as just more of the same. "I don't see 2018 as being any more difficult than 2012 or 2009," Schwartz says. "It's just the new rules of the game—there are different challenges, and business moves much faster. We know that going in, and we have to adapt."
It helps that Aetrex isn't living and dying on one revenue stream like many "shoe" manufacturers. About half of the company's revenue comes from its foot-scanning and Lynco orthotics division. And as retailers embrace the need for meaningful in-store experiences to stay relevant in the online shopping age, Schwartz expects that division to continue to grow. You might even say the market is running toward Aetrex, which wasn't the case when the company introduced its groundbreaking foot-scanning concept in the mid aughts. "Back then, we had to work hard just to get a meeting," Schwartz laughs. Not anymore.
On the consumer side, the benefit is straightforward: healthier feet (reducing and eliminating pain) make for happy customers. On the retail side, Aetrex offers experiential shopping, add-on sales, increased dollars per square foot and data analytics capture—all achieved in just 20 square feet of space. "Retailers are doing $3,000 to $4,000 per square foot in sales with our technology," Schwartz says. "Those are big numbers." (The retail average, he says, is less than $1,000 per square foot.) What's more, the data collected—email addresses, phone numbers, sizes and style preferences—can easily be integrated into digital marketing platforms. "That information can provide a big lift to ecommerce efforts," he says.
Hence, Aetrex's decision to up the ante on tech efforts with new hires and product launches. This year its new 3D scanning capabilities will roll out. Previously, the iStep scanning device used pressure points to determine fit and health needs in the brand's over-the-counter orthotics. Beginning this February, the entire foot can be measured and an orthotic will be custom printed (in Austin, TX) based on the type of casual or athletic shoe the customer wants. "It's a nice model for retailers to add because there's no inventory," Schwartz says. The insoles cost $150 (the Albert scanning experience is free) and are delivered in two weeks. What's more, the machine-learning capabilities will enable retailers to recommend the right shoes/styles based on customers' foot types and sizes. "They can improve the chance of getting the right fit the first time," Schwartz says, noting that in one style a customer might be an 11 but in another 11.5. "The technology can determine the best-fitting shoes for your feet. It helps with fit and gives retailers the tools to sell more insoles and orthotics."
But all this tech talk doesn't mean Aetrex's shoes take a backseat. The division devotes an equal amount of attention and investment to making sure the product looks as good as it feels, Schwartz assures. The efforts continue to pay strong dividends—Aetrex's footwear growth is up "30 percent in 2018." And the overall design aesthetic has advanced by leaps and bounds in the past 10 years, Schwartz says, yet comfort and health aspects are never compromised. "We've just gotten a lot better at developing our shoes, and I think macro trends regarding health and wellness continue to head our way," he says. "Our formula—our way of providing extra comfort features and technologies in shoes—is the right way for a lot of consumers."
To say Schwartz is bullish about Aetrex's future would be an understatement. Besides, he's a glass-is-full kind of guy. "I feel great about our business. I don't think we've ever been in a better place. We have the best team we've ever had, and we continue to grow each year," he says. "I'm very optimistic for Aetrex heading into this year." It helps that he is in a good place personally, having recently moved to Manhattan to enjoy life as an empty-nester with a gym right in his building. "I'm in the best shape in a long time and our offices are located five minutes from the George Washington Bridge. I can drive to work in 15 minutes—it's the shortest commute I've ever had!" Another job perk: working alongside his brothers. "I'm so lucky," Schwartz says. "Having them as business partners and spending so much time together has been a wonderful aspect of all of our lives."
What is it about the Schwartz brothers and their ability to work so well together?
Certainly, we have differences but in many ways, we're similar creatures. We're all very motivated, hard-working and our goals are aligned. Yet we all put the relationship and family first. That's key. People are often surprised just how close we are outside of work.
Well, 22 straight years of profitability must help with regards to working relationships.
Yes, we haven't had to go through the stress of difficult times. That certainly helps. I've been in the business 27 years, Evan 24 and Matt 14, and I know the three of us want to work together rather than any other way. It's been a very positive part of our lives. People ask our employees if we ever fight. We argue about sports and politics, and we disagree on some things regarding work on occasion, but we don't really fight about the business. Of course, we take it very seriously. Aetrex is important to our family, but we also have a responsibility to all the people who work here to make sure it remains a very healthy company. We think we run it the right way.
With so much volatility in this business, what do you attribute Aetrex's consistency to most?
Discipline and execution. We don't take shortcuts, and we're always trying to get better. We're always trying to make incremental improvements in our business in all areas. We talk a lot about process focus. So instead of projecting numbers five years out, the focus is on improving the small things in our day-to-day to get better. That can include how we execute at a meeting, improving our packaging, products, marketing, etc. It's a philosophy we instill in all our departments. We're not always successful, but that's what we aim for. If you have strong executions and good disciplines, you keep the company moving forward, and that's what it's all about.
What was the biggest takeaway of the past year for Aetrex?
The influx of talent that we added to keep up with our continued growth, especially on the technology side. I did over 80 interviews in 2018, and it's been worth it. I think we now have the strongest team that we've ever had. We've added computer vision and machine learning programmers as well as people on our footwear side. I think our Fall '19 line, for the first time, will be as strong in terms of sales as spring. Historically, Aetrex has been known more for spring footwear, but this is the best fall line that we've ever had.
What makes the fall line special?
We've really focused on our core strengths, which is the technology in our footwear. A lot of what goes into some of our most successful products, like our Flips & Slides program that features built-in arch support and metatarsal cushioning, are going into our fall collection. In general, there's a lot more technology in the shoes in the form of great health and comfort features. Bob Infantino (former CEO of Rockport and Clarks Companies N.A.) has been consulting for us, and that's been wonderful. He's really helped us with the collection. He brings so much experience and knowledge about product. We couldn't have a better person helping us develop our footwear. He's also a great leader. There's a lot we're learning from Bob.
How would you describe Aetrex—a technology company or a shoe company?
We're technology for health and comfort, and that comes in the form of foot scanners, shoes and orthotics.
Might it include other products down the road?
Right now, we're focused on those categories. But why not down the road? The way technology is evolving in 3D and other areas, who knows what the future brings. In the meantime, we'll be developing technologies to help people get healthier and more comfortable in the footwear and orthotic spaces.
Are consumers willing to suffer for fashion like they once did?
There's always going to be a place for fashionable high heels, and that's okay. We provide products for day-to-day wear. There's plenty of room for both. That's why we plan to continue in comfort footwear, orthotics and scanning. It's an integrated approach to help a lot of people, and we've done just that for years. Word of mouth is big for us. Nearly all the time we can reduce or eliminate pain. Our technology helps the retailer's business, but at its core it's about finding the path to get consumers feeling great on their feet. We say it's a win-win-win. Instead of the consumer spending $400 or $500 for a custom orthotic that may not be effective, they get a great value, the store gets an add-on sale as well as a more loyal customer, and we get the sale while helping another customer.
Is it fair to say the market is heading toward Aetrex as opposed to you having to "sell" the concept?
It does. There's certain aspects of the evolving economy and the marketplace that are coming toward Aetrex. While some retailers obviously jumped in earlier, the momentum overall definitely changed last year. We're getting more and more calls about what we provide. Retailers are realizing they have to offer in-store experiences and services. Particularly, there's an increasing demand for authentic technology experiences like ours. It's why, after we sold our Apex medical division a few years ago, we doubled down on technology development and recruitment.
As experiential retail expands, might the brick-and-mortar channel strengthen?
There's always going to be a place for both. But it's exciting to see, walking through malls now, more experiences in the stores. There's more technology available to do that. You can go into a store to buy footwear, have your foot scanned and enjoy a smoothie. I think any retailer that focuses and executes on providing better services, product and experiences can succeed. And while business moves fast and the rules of the game continue to change, there will always be a place for good retailers. Sometimes challenges can lead to creativity that leads to a better products and better experiences for the consumer.
How would you assess the current health of retail overall?
I wouldn't say it's the worst ever. Every year presents its own set of adventures, but the economy overall is better than it was from 2009 to 2011. During recessions, retailers usually cut inventory, staff, etc. and that can lead to tougher times. And while there's legitimate challenges like Amazon and DTC, the fact that the economy has been relatively strong has helped.
What's your take on DTC, particularly in regard to retailers who view it as direct competition?
DTC is important to us, but it's only 15 percent of our business as over half needs to be at retail with our foot scanning and interaction with consumers. It's not as high as a lot of our competitors. That said, it's critical for a manufacturer to be consumer centric and offer direct access. We do it in a balanced and proportionate way. For example, DTC allows us to clear out discontinued inventory. And like most manufacturers, there are periods when we're off MAP but we inform our retailers well ahead of time exactly when. As long as you have honest communication and they know what you'll be doing and when, it's generally okay. Aetrex, I believe, is considered a very good partner in that way.
What else are you doing to be a good partner?
Everything that we develop is with our retailers in mind. We're always trying to improve upon the in-store experience. What also makes us a great partner is we provide product with strong margins and turns. Very often you'll have shoes that turn but have lower margins or vice-versa.
What are your goals for this year?
One is to tell our story better online and through video. That's something that we didn't do as well this past year. There's lots of potential on the marketing side with video, including people in stores using our scanners.
How many stores have iStep scanners currently?
We have over 5,000 scanners active throughout the world. Albert OS is in about 300 locations, and we expect to be in more than 1,000 by the end of this year.
While there's plenty of runway for growth, what might be Aetrex's biggest challenges in attaining it?
There's always challenges. For example, there's a lot of demand for talent right now, particularly in the New York job market. We have to continue to make Aetrex a great place to work to attract good people. We have a wonderful culture here, which helps. We've been able to add about 25 people this past year who are strong on both the marketing and tech development sides. That's a nice thing about growth; it's fun to add talent. Another challenge of being in the technology business is it all moves so quickly. It's exciting but certainly challenging to keep pace. Also, other technology companies can introduce updates that could impact our scanning products, which has happened. There's never a dull moment in the tech business, but I'm glad we're in it.
Aetrex is coming at it from a completely different perspective, for sure.
When I first got into this business, chief marketing officers generally came from the creative side. Now people are coming out of MIT with math degrees and are running marketing departments, because everything is about data analytics. Everything can be targeted; it's a completely different world, and we provide a tool that can enhance that. There's a tremendous amount of data that we capture for everybody who steps on one of our scanners. Typically, our larger retailers are most excited for the data and our smaller-sized customers are most interested in the add-on sales potential.
Why is that?
It's more challenging for smaller retailers to compete online. They don't have the resources to employ a full team on ecommerce and digital marketing where data capture comes more into play. Larger retailers like the fact that, for example, they can capture emails without having to close a sale. Of course, they like the add-on sale aspect, as well.
What are you most proud of with regards to Aetrex?
I'm most proud of the fact that we've made millions of products that have helped so many people. Our footwear and orthotics are designed to give people a better life by providing more comfort and health benefits. We're lucky to be in a business that provides product that makes people feel better in their lives. That feels really good.
What do you love most about Aetrex?
Besides working with Evan and Matt, I love how innovative and entrepreneurial we are. People from any department can come in with a good idea and see it turned into a technology or a shoe. That's exciting. I think it's one of the reasons we have a very low turnover.
Where do you envision the company in five years?
We're trying to build one of the great brands. We hope to be reaching a lot more consumers by being in a lot more stores in five years with our full range of products. The goal is always to build a great company.
What is it about this industry that you love most?
The people. I know that's a cliché, but there are so many great people and a genuine good-heartedness in our industry. The casual brown shoe space we primarily play in is a big small industry, and when you've been in it for a long time you end up making a lot of great friends. At trade shows we're always excited to see so many friends—many that I know I'll be friends with when I finally retire.
When might that be?
No time soon.