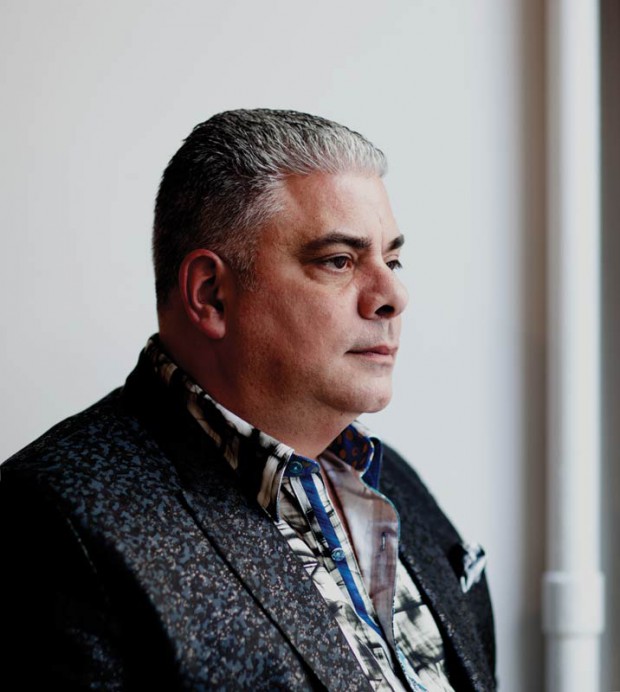 Larry Paparo is a shoe industry lifer. In fact, per his wife's assessment, the only two things he really knows how to do are take out the garbage and make shoes. Luckily for the Paparo family, the latter is a skill and a career that he excels at, which began back in high school when he was a part-time stock boy at Lester's in his hometown of Brooklyn, NY. It's a career trajectory that originated out of happenstance after Paparo's mother took it upon herself to offer her son's services to an overwhelmed storeowner who needed a helping hand. Little did anyone know that would lead to a career spanning 30-plus years in retail and wholesale, working in all facets, for such industry heavyweights as Kenneth Cole, Steve Madden and Nine West before Paparo fulfilled a lifelong dream with the launch of his own sourcing company in 2006. Paparo prides himself on having achieved it all through hard work and seizing every opportunity. There were no preordained rites of passage or inside connections. "I don't come from a family of shoes or money," he says. "I started from the bottom and worked my way all the way up."
That's exactly what Paparo did—fast. How many teenagers, in just two years, go from stocking shelves at $3.35 an hour to managing a store and doing the buying? Paparo did. And over the next five years he would open more Lester's locations and grow the business into an iconic local apparel chain known for its shoe departments. From there, Paparo always kept striving for more. "Steve Madden used to sell me L.J. Simone shoes when I was the buyer at Lester's," he recalls. "I would watch all these great salesmen come in and I thought to myself, 'I want to be that guy.' And then I saw that the salesmen had a manager, and I wanted to be that guy. And he answered to a president…So I just kept going and going."
Paparo's crossover into wholesale began as a sales rep for the Elefanten kids' brand. After five years of helping put that brand on the map, Kenneth Cole hired him in 1995 to launch its kids' division. While Paparo was there, the company was the first to introduce takedowns of adult dress and casual styles. "Even when Kenneth [Cole] first approached me with the idea, I didn't believe it would work," Paparo recalls. "But we figured out how to do it and it became a big success." That experience is also where Paparo earned his master's degree in shoes and where he "learned how to run a company." Kenneth Cole was primarily focused on men's and women's lines, so Paparo had to be the production manager, the designer, the salesman, the order taker, the marketer, etc. for its kids' division. He would later add adult lines to his resume as head of the company's Unlisted women's brand.
Next came a brief stint at E.S. Originals to launch Rockport Kids, followed by stops at Nine West and Steve Madden. Then Paparo decided he was ready to be his own boss. "I had worked for and had hired lots of people at all of those terrific companies," he says. "I knew what their needs were from a sourcing perspective." Paparo saw room for improvement. "I saw companies going directly to factories and working with agents who had no understanding of their business or brand," he says. "Too often they didn't know what they were making or what the price needed to be." Paparo knew these brands and their needs and, due to his frequent sourcing trips to China, he had also forged solid relationships—one of which became his silent partner at LJP.
LJP jumped out of the blocks as orders poured in immediately. The company was humming along, brand sourcing and making private label, but then the financial crisis struck. "It was like the end of the world," Paparo says. "The faucet just shut off. I was worried about whether I could even find another job if it came to that." But he vowed to not give in easily. "I told everyone they would have to drag my dead body out of here," he says. Paparo put his head down and worked harder than ever. He traveled to China 12 times during the year after the crisis and reached out for business anywhere he could find it. LJP's client list at the time included Rocawear, Sam Edelman, Steve Madden and Nine West. "I was calling on everybody," he says, noting the company scaled down from 12 employees to three. "I was buying, sourcing, designing, developing all on my own. We just bore down and learned to live within our means."
LJP started to turn the corner in 2009 and was rewarded for its successful track record sourcing women's and kids' product for Nine West by being offered the company's kids' license. LJP added the Robert Graham license soon after and followed that up last year with the addition of the Mootsies Tootsies license. The company also recently finalized a deal with International Brand Partners, makers of Ccilu, to distribute the hybrid athletic fashion brand in the United States. [Ccilu is the brainchild of Killick Datta, former CEO of GBMI, which owned the Diesel footwear license.]
That takes us to the present. Sales of Nine West Kids is on fire (its best year to date), this fall's debut of Robert Graham was a hit at retail and Paparo is confident that Mootsies Tootsies and Ccilu will make strong debuts this year. "It was a very good year," he confirms. Now ask him if any of that good fortune had to do with an improved economy. His answer is Brooklyn blunt: "Hell no." While Paparo wishes things were that easy, he attributes LJP's success to hard work and a solid foundation. "We gained the confidence of our licenses and retailers by being a dependable sourcing partner," he says. "While other companies were faltering by shipping poor quality as prices rose and they didn't have a recipe to address those issues, we stayed true to our brands' needs and we came out of it stronger."
Paparo is now living his dream. LJP has ramped up to 25 employees (and counting) at its Edison, NJ, headquarters and its China office boasts more than 200 employees. "I'm doing exactly what I want to be doing at this point in my life," he says. "I'm surrounded by a team of people who have joined me for the long haul, and they've proved it by leaving jobs that, in some cases, were bigger. I'll never forget it."
What makes LJP different from other sourcing specialists?
In addition to developing, producing and selling quality footwear that our customers receive on time, we also provide intel that is not available anywhere else. We are not just a selling group. We design and source everything we sell. I believe this gives us a huge advantage over the competition. I couldn't imagine having to rely on outside sources to build my shoes and ship them on time at the quality I expect. That's why we are in control of every aspect. We have an amazing China office with systems in place to ensure our success. We have our own sample room, employ our own technicians, offer top-level quality assurance and quality control and have an in-house lab to insure standards. We spend a lot of time and money so we can ensure the success of our brand partners.
Just how unique is this set-up? 
Often selling groups go to agents or to factories direct to get samples made. So they might get their dress shoes made with this agent and their casual shoes and sneakers made with two other agents and then hope it all comes together. However, what often happens this way are product inconsistencies. To me, that doesn't equal brand. Consistency is what equals brand. We understand the needs of the brand, specifically the brand equity and how important it is to respect that integrity. We always put the brand first and approach each partnership with a long-term vision and not "what can I get out of it during this one term." A lot of companies put a brand name on their wall for the sexiness of it and think maybe it'll get so-and-so to buy their private label shoes. That's ridiculous. We always want to increase the brand's value and integrity to improve its future, which helps ensure our future.
Again, just how unique is this approach?
It's unique. And let me add that I'm open with our brand partners in all aspects of the business. Good, bad or indifferent, I tell them like it is and how I feel. They might tell me that they want to do this or that and I'll say why that might not be a good idea and here's a way it could work better. You've got to be honest and you've got to have mutual trust in these relationships. Trust and integrity are not commodities. We both take a leap of faith, which I don't take lightly because they are entrusting me with their brand. Nine West, for example, is part of a $4 billion entity. For them to trust us with their kids' license is a big deal that we respect.
Why might your expertise in making kids' footwear specifically be at the core of LJP's overall success? 
Because there's so much involved in order to make legitimate kids' shoes. The counter, fit, materials—everything has to be just so. We also have so many more regulations to adhere to with chemicals and materials. The standards for kids' is more stringent than women's and men's put together. If you can be successful in kids', then you can do anything in footwear.
How has your Nine West Kids business performed this past year?
Extremely well. We have secured space with our retail partners by offering great product that has brought them incremental business. We have also guided them with product intel from women's that hit trends at the precise time. It helps to have direct access to what's selling in Nine West women's, which enables us to react quickly. Often kids' buyers are not savvy to what's happening in the women's market. So we encourage them to test what we know is trending, and many have gotten good returns as a result.
How do you incorporate those trends and still make it kid-friendly?
It's a takedown approach, but you can't take down everything. So we take the DNA of each brand and build age-appropriate sophistication. Along those lines, each of our brands has a reason for being that's unique. Otherwise, we're just splitting hairs. With regard to Mootsies Tootsies, for example, women's buying habits have changed dramatically and her search for comfort that's hidden under the hood is key. With our kids' collections, it's age-appropriate styling that fits and provides quality at the value mothers seek. We want that purchase for both the mother and daughter to be memorable. The Nine West "Mommy and Me" ad campaign, for example, is very emotional and memorable. Today, children are much more educated and want what they want. So it's important for the mother to trust the brand and feel confident that her kids will be comfortable. A wise man [Kenneth Cole] once told me years ago: "If you pay $1 for a shoe and didn't wear it, then you paid $1 too much." I live by that rule. I look at every shoe we make and ask myself: Is the consumer getting value? Will it be more than what she bargained for? The answers must always be yes.
For Robert Graham that means… 
Changing the men's shoe business just as he's changed the way men buy shirts, which have a real artistic and quirky sense and are very unique. We call the shirts wearable art, and that's the same approach we are taking with the shoes. They are trend-right and understandable styles and then we "Graham-inize" them by including unexpected design treasures that turn them into wearable art. Comfort also plays a big role in that man's life so we have incorporated those features to make Robert Graham be his go-to shoes in his closet. It's not enough to just make a cool-looking shoe today, it's got to have everything—quality, fit, comfort, value and looks.
It's in step with men embracing color and style throughout their wardrobe. 
Yes. A few years ago some brands introduced colored laces and welting, and men responded well. But nobody really capitalized on that. Who better than Robert Graham, an inventor of color and artisan design, to bring it to footwear? Robert has been working with us on every stitch. He thinks it could be the biggest category since his company's inception. Everyone that ordered has re-ordered for this year.
What attracted you to the Ccilu distribution deal?
I believe there's a whole space for injection-molded composite shoes that have a unique twist and feel, particularly the way Killick [Datta] has gone about it. I also like to make a difference. It's one thing to supply a demand, but it's another thing to create one. I believe Ccilu will definitely create a demand. Specifically, I think Ccilu can bring incremental sales to better department stores and athletic channels that are in need of better margins. Right now, brands similar to Ccilu are so diluted that retailers can't make money on them. Ccilu will be like a breath of fresh air. Ccilu also already has a worldwide presence and those tentacles may help us piggyback our brands to grow internationally.
What is your general take on the footwear market right now?
I think the market is finding its way. There was a correction with brands and stores that couldn't find their way and now many of them are gone. The surviving retailers have learned who their partners are—those who can ship quality product on time, which a lot of companies can't do.
The leash has gotten much shorter, on both sides of the equation.
There is no leash, and you can't expect one. For example, even if you could get product made this past year, a lot of it has been sitting for weeks in the California ports because of a strike. I took a trip there a few weeks ago to look around and decided I wasn't going to wait for this to all get resolved, because it probably won't anytime soon. So we shifted our deliveries to New York. Other companies are still using that as an excuse why their shoes are late. But that doesn't have to be the case. It's a little more money and a little longer lead time, but we will ship to our retailers on time. That's why I always say there are no problems, only solutions. We're not too big or small where we can't move and shake and make a change to adapt.
Speaking of rumored problems, what is your take on the sourcing situation in China?
Blah, blah, blah…Whine, whine, whine. Honestly, everyone complains about the rising costs of wages, supplies, oil, etc. Even now when oil costs half, they'll complain about that. There are always a ton of reasons why they can't get it done. We prefer to problem-solve and help the factories figure out how to meet the needs of our retailers. Last year, for example, we doubled our quality control and quality assurance teams. Instead of complaining about why a factory is telling us the price is X, we show them how they can make it for Y. We'll show them how the consumption rate of the material can be cut better or how they can last and glue differently. I will walk around a conveyor and show how one guy on the line can do this and the guy standing next to him can then do that in order to improve efficiencies and savings. We are always working closely with our factory partners to help them produce our shoes better and quicker without compromising quality. The factory doesn't tell us they have to get this material from this source, this buckle from another and the cost will be this…We tell them to get it from our suppliers and put it all together our way. That allows us to price shoes quickly and affordably. It's not rocket science. But if you don't know how to do it, then you shouldn't be in this business.
Do factories like this level of hands-on involvement?
They love us because we are helping them be more efficient. The result is they get more business. They are not trying to fool anybody; they just think their way is right. But if we can figure out how to work together better, then it's a win-win.
Do you see the bulk of production moving out of China any time soon?
No. Those that think that are probably having difficulties sourcing there. There are solutions. But we are making some shoes in Vietnam as part of joint ventures with factories that we work with in China. The pricing just couldn't be met on certain core products. It's nothing too tricky or fancy.
How is the online retailing tier impacting your business?
Women have changed their shopping habits. She's most likely working and it's harder to take the kids to the shoe store. Think about the old days: Mothers had to put the baby in a car seat, round up the bigger kids who didn't want to go shopping, then the baby throws up on one of the bigger kids, then she has to clean it up—all before she starts driving! Then she has to find a parking spot—argue for that spot—and then has to get the baby into a stroller, go into the store and wait for service only to be told they don't have the shoe she wants in stock. That's a nightmare. Now, after a whole day at work followed by making dinner and putting the kids to bed, she turns on her computer, pours a glass of wine and shops. And if it doesn't work or fit, she sends it back. That's just how shopping has changed.
Ok, by that scenario you basically made kids' brick-and-mortar stores obsolete. Can that tier survive?
Of course it can. Consumers can always benefit from that one-on-one experience if the service is really good. I had customers wait hours for me to fit their kids when I worked at Lester's because I was performing a valuable service by providing what was healthy for their children. There are pockets of retailers around the country that still offer that—like Harry's in New York and Little's in Pittsburgh—but there's no school or training program for it.
Might online be the ultimate competitor for independents in general?
It's definitely hurting them. But I think they can service their local communities the way online retailers are trying to service the world. Again, it's problem-solving and changing with the times. If you don't, you're dead. I also come from that independent retailing world and believe they are very important because they can show the breadth of a brand, whereas department stores tend to pigeonhole brands into certain aspects. I always see opportunity. I know if I opened a store today, I could be successful at it.
What would your store be like?
It would be all about customer service and assortment. It would be about fit, service and what the customer is not getting elsewhere. You have to have a reason for being, otherwise you are not giving a reason for the customer to come into your store. But if you don't do it right when they do come in, then that customer isn't coming back. Harry's is doing it right: they fit kids correctly, offer good service and the inventory is right. There's a reason why they've been successful over the years. There have been plenty of other shoe stores that were once based in Manhattan who aren't there anymore, and there are reasons why they are not.
Do you have any advice for retailers?
Trust the brand information. We spend a lot of time traveling, sourcing and marketing to our consumers with a specific message. Sometimes retailers will pigeonhole a brand into a corner that they need to fill rather than stay true to the brand's core product statement. I would also advise to work closer with your vendors to plan your business earlier so we can work earlier with the factories to get you what you need. When orders meet a set deadline we can better command the price and delivery you need. Too often, however, we tell our retailers to get their orders in before Chinese New Year (February) and a lot of them don't. Then they come to us later wanting a price on a certain boot for a certain delivery date that we can't meet. While other companies might take the order anyway and run around China trying to figure out how to fulfill it, we believe that causes a domino affect of poor quality and shipping delays, which doesn't stay true to the brand's integrity. We won't do that. Instead, we try and work closely with our partners so they understand what their needs are and, if they follow our schedule, we will deliver quality and on time. That way we can both succeed going forward.
It sounds like common sense, but retailers want to buy later and later.
They are all waiting to get their open-to-buys and their style-outs completed, which I understand. But why not come to our showroom and pick 30 styles that you're really confident about—five to 10 of which you probably had in your mix last year. Even if it seems unorthodox to buy it in January, do it because you are going to need it next fall. At least that way I can get your order on some boots as well as your back-to-school staples going early at the price and delivery dates you need. That way I can get our factory partners to work when they are not as busy. And, you know what, maybe we can work out an arrangement that gets you a better price because they are not so busy. That will enable you to be more profitable and everybody is happy. What usually happens, however, the orders pour in after the Vegas show, which leads to a chain of events that the factories control by raising their prices. So when I hear a retailer complain about pricing, often it's the result of poor planning and not sourcing correctly.
You speak with far too much common sense for our industry.
(Laughs) Well, I've made enough mistakes in the past and I've been able to learn from them all. Along those lines, every partnership is different and we take a very economical, practical and conscientious approach to what is right for us as well as all of our partners. And when I say "all of our partners," I'm referring to our brands, factories, retailers and consumers—everyone is included.
Where do you see LJP in five years?
I see us continuing to grow and adding more brands to our portfolio. I have big dreams and goals. I have dedicated my life to this industry and I'm always striving. During our recent holiday party, I told everyone that I work for them. We are a teaching company and anything I can do to better them, betters me. I can't do it alone. I need to surround myself with people greater than me to help me achieve my goals.
You need to find the next Larry Paparo. 
Yes and one such person is Wayne Bailey, our COO, who has helped double our business this year. I always wondered when I might find my Larry—someone who will work with the same passion and vengeance that I approach the day with. Wayne's here before me in the mornings; nobody did that before. It allows me to go focus on other areas, like bringing on more brands.
What do you love most about your job? 
I love coming to work every day. I am very passionate about what I do. I strive for perfection and demand the same work ethic from everyone around me. I feel privileged to work with great brands and retail partners—I see it as an honor. And, of course, I'm privileged to work with my LJP team and the ability to think of an idea, develop it, produce it and then ship it is pretty amazing. When I see our shoes come out of the box and, for example, watch a little girl hug her mom…That's what we set out to do. We made a difference. I love what we do.