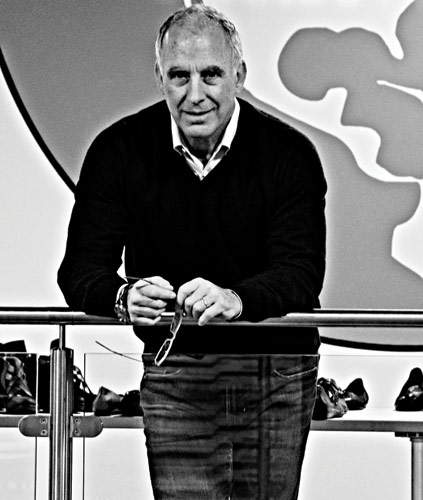 Gary Champion just marked his sixth year at the helm of Earth Brands, and he reports that all systems are go. The company has just moved into new, state-of-the-art headquarters in Waltham, MA; sales of its branded division (Earth and Earth Origins) have been garnering, on average, 20- to 25-percent annual growth; sales volume surpassed the $50-million goal (at five years); and each brand (including the premium Earthies by Earth collection) is poised to make that next jump with the backing of full-blown marketing stories to be introduced this fall.
In fact, Champion says that's the No.1 goal for this year. Earth Brands has brought in an ad agency for the first time to help tie in the many brand attributes with its products to start telling a complete story. "It's a really cool name and there's a lot we can associate around it," Champion says. "For example, we plant a tree for every pair we sell, and we associate with a lot of other worthy programs that we haven't talked about enough, and we should."
The time for storytelling, Champion says, is now because Earth Brands has its products right. "We've reached the point where people understand when they walk into a store. They know what Earth is about as far as the comfort underfoot, the styling and materials," he says. Specifically, he cites the contemporary design shift—a move away from traditional European comfort styling and last shapes—as gaining traction with women increasingly in search of something fresh and more feminine when it comes to casual footwear.
"I think she's just gotten tired of looking down at her feet and seeing an oblique last," Champion says bluntly. "It's very comfortable, but she's gotten to the point now where it's like she is putting up with the look." He adds, "We want her to look down at her feet and say, 'I love the way these look, and my feet are comfortable as well.' We made some nice strides on that front."
Champion credits the late Michel Meynard, former Earth Brands owner and product visionary, for starting the company on this contemporary design path when he began developing Earthies a few years before his passing in 2013. It was his take on merging greater style with proven comfort features. "He hit on something—some of the best-selling Earthies patterns and styles from the get-go turned into what Earth is today," Champion notes. "They were very simple patterns, elegant and had a little touch of design that really sold well."
It took a few seasons, however, for Champion to get the Earth Brands portfolio settled. "We started with Earthies, then we launched (the volume-priced) Earth Origins and then we reintroduced Earth," he says. "It took a few seasons to get not only the consumer, but our retailers on board as well, with how we are trying to position each of our brands in the marketplace. And that really clicked last year." So much so that Champion reports, "We had our best year to date."
The portfolio as it stands now is Earth Origins, which is positioned as the big box, promotional department store and online business resting mostly in the $60 to $80 retail range. Earth is the full-price brand consisting of more updated styling at $100 to $120 with some boots up to $160, and Earthies sits on top of that as a collection that, Champion says, takes comfort fashion to another level. "It's very cool, forward-thinking product via the last shapes, heel heights and materials," he says, noting the price range is $150 up to $270 for select boots.
Champion is quick to point out, however, that none of the success Earth Brands has achieved over the past few seasons came easily. Indeed, he says cakewalks in this industry are a thing of the distant past. It's been replaced by a minefield with fewer retailers, increased competition for shelf space, sourcing challenges, price pressures and ever-more discerning shoppers. The company also had to deal with the loss of Meynard. You simply don't go out and find another "Meynard," he says. That level of experience and talent was one-of-a-kind. So there was an adjustment period, but Champion reports that the design team, led by company veteran Angelo Romero, has since filled in admirably.
Then there was the challenge of overcoming Champion himself, which has been perhaps the most difficult of all to getting Earth Brands on the road to meaningful growth. Specifically, Champion had to compete against his sales legacy of nearly two decades at Clarks Companies N.A. prior to joining Earth Brands. Retailers didn't instantly switch allegiance because Champion was no longer with the company, especially since that brand was a cornerstone of their businesses. It wasn't pretty. "I'm walking into stores where I see walls of my competitor and I'm saying, 'I would love to take some of that business,'" Champion recalls. "And they'd say, 'Well, you built that business. You are the one that got us here.'" Clarks karma is the reason Champion had to earn his way back onto store shelves with Earth Brands one SKU at a time. "We started out fighting against what was a very strong brand in the comfort market," he says, throwing in a little gallows humor, "I guess we did too good a job."
Still, Champion's reputation helped open doors. "Retailers gave us a shot because they trusted me as a person and not just because I had been with Clarks," he explains. "It was because of the integrity I had built over the years by treating people fairly and honestly—working with them rather than trying to take what I could get out of them." Speaking of that, he says changes in direction at certain competitors have helped open doors, too. Sometimes it's not what you do right, Champion surmises, it's what your competitors do wrong that gives you an inroad.
These factors can only carry a brand so far in this business. Long-term success requires delivering product that performs season after season. "My reputation might have gotten the door open and some shoes on the floor, but they still had to make sense with the consumer," he says, noting the company started hitting its stride in 2013. "That's when buyers stopped coming to me as a favor; they were coming because they had sold our shoes." Champion and his team have since built on that momentum and are ready to take the next leap. "It's time to ignite some fires," he says. "Our product is right, more retailers are getting on board and the consumer is beginning to grasp who we are. We need to start telling our story in a meaningful way that resonates with consumers and increases loyalty. If we can tie those aspects together, we will really solidify our position in the marketplace."
Tell me about the company's new headquarters—what does it look like?
It's a terrific space that's all centered on our product. Our shoes sit in the center of this 18,000-square-foot space that's very elegant, simplistic, cool and modern.  We have mezzanines, an epoxy cement in the product areas that adds depth, glass walls, a lot of natural light, and it's topped off by a 14-foot-wingspan fan over the middle. I'm really pleased with the way it's turned out.
Is this modern office aesthetic intended to reflect the brands or company in any specific way?
With respect to the Earth brand in particular, we are trying to introduce some elegance and simplicity by contemporizing what traditional comfort footwear has represented. While we are not losing any of the comfort aspects underfoot that Kalso Earth Shoes started out with—removable insoles, cup soles, arch support and so forth that was all about making our bodies healthier—we are updating the styling within the comfort world.
Is it time for a change in that respect?
If you really think about it, over the last 15 to 20 years it's all been growth out of the Euro comfort type of business. In particular, the Euro last became very important and dominant. We believe that the female consumer is starting to shift back toward a little dressier feel and look—one that's a little more feminine and updated overall. It's not necessarily a "dress" shoe, rather it's a general aesthetic, which means we can put a little more styling into the product and the last shapes can change a bit. It's about modernizing that typical comfort brown shoe look. Contemporary is what we are after, which is a word we use a lot for guidance. Our target customer has been reacting to it well.
What exactly has she been reacting to?
It's the use of straps, the combination of leathers and materials, ruching, toe shapes, etc. Our design team has shopped the market extensively in the U.S. and Europe, picking up on certain key details. They have done a terrific job pulling all those aspects together and interpreting them into our Earth business this year and at affordable prices. That is really key because our target customer might see something she really likes, but she's not going to spend $250 on a pair of shoes. But when she sees that fresh look interpreted in a similar way at $100 to $120, she reacts. That's where we hit this past year. It's a little more casual dress feel to the product—not only in leathers and treatments—but in the overall design as well.
It's a noticeable design shift, yet subtle enough to not be jarring?
Yes. What are are trying to do with Earth, in particular, is make it easy to transition from her Euro comfort look to a little more sophisticated, contemporary styling. The key is to not get too far away where she says, "I can't wear that." We really hit that market right last year, and we saw a big jump in our Earth business this year. Earth Origins grew as well, but for different reasons. We used great leathers and hit great price points for very good value.
Who is more receptive to embrace something different, retailers or consumers?
Consumers are always more receptive, but you can't really get to them without going through retailers. That's why when you launch a new brand or concept you've got to start through independents, largely, because they are your brand builders. The consumer trusts what that retailer is carrying on their floor. They do with Nordstrom as well, and I think QVC helps with building a new brand. Last year, we won QVC's Rising Star award, and that's out of a tough filed of established comfort footwear companies. They told us that their customers have embraced Earth very quickly and they see a real opportunity in growing our business. Actually, it's a similar kind of growth pattern we experienced when we first started selling Clarks on QVC.
Which has been harder: reaching that $50 million annual sales marker with Earth Brands or Clarks?
It was the same hard battle. What helped us along with Clarks is we had the retail division with Hanover that we converted to Clarks stores. That exposed the brand much faster and it gave us a chance to experiment within the brand. Really, the $0 to $50 million phase is some of the toughest work you have to put in because that's where you have to figure out what the brand is and establish an identity. If you can't get over that hump, then you can flounder around forever. The next key level is getting to $100 million in annual sales, which should come much faster.
Why is that, exactly?
Because that's when you can start expanding your presence in the full-price department stores. You may have gotten a 20-door test that performed well, and then it can go to 300 doors and on and on. There are big pieces of business inside the full-price department store tier that are starting to take a real interest in Earth. We have hit the level where they are saying, "Hey, these guys are onto something." Fifty million in sales is the point where that becomes noticeable. Retailers are seeing Earth in the right stores and hearing how it's performing well. It starts to blossom, and it grabs the attention of the bigger guys.
You noted how launching Clarks and Earth were equally challenging, but this is an entirely different retail landscape. There's the Internet, for starters. It's got to be harder, no?
There's much more competition, for sure. And while the Internet makes it easier to get your brand name out there, it makes it more difficult for managing the integrity of your brand. How do you want your brand to look in the marketplace, and how do you want it to be treated? That requires real manpower today because you've got to be on your game to keep control of your online business. That's why we pulled out of the Amazon direct business. We still let our independent dealers sell through them, but I couldn't control our prices on Amazon direct. They would tell us someone lowered the price and it forced them to match or go lower. And when I asked who it was, they said they couldn't tell me that. We went through those cycles long enough.
Yet Zappos is quite different in that regard?
They have built their business with integrity and have continued with that approach to this day. They remain a full-price business, and that is a great format for us. It allows us to tell our story and not have it all be about trying to match the lowest price. We are growing quite nicely with them.
How do you envision retail evolving in the years ahead—can the independents survive as brand builders or will online shopping eventually swallow it all?
Online is going to be a major player, for sure. But I think good independents in the right locations who treat their customers the right way, will survive. I get asked that question all the time and I say: Just keep doing what you do best to retain your customer loyalty. Do the right things—service them, communicate with them—and you can survive. You've survived worse. Department stores, malls, big box discounters and now the Internet have all meant the death of the independent retailer. I just think there's a reason for different distribution points to exist because the consumer isn't a robot that only shops a certain way. It's just a matter of going after what piece of the pie you want and finding unique ways to run that business and connect with your customer. There will always be adjustments to make, and there will be ones that get tossed to the side because they fail to do so. Like now, for example, I think there are a growing number of consumers who want to shop local, although it's not national. The bigger question, to me, is how will the department stores against the big box against the online dealers shake out?
Everyone is quick to write off independents when it may actually be one of these larger players?
Look at how the traffic is way off at malls. It's just not what it used to be. Those department anchors are finding it more difficult to compete. Where does that all wash out? I think the DSW, Shoe Carnival and Famous Footwear formats are competing more with Macy's, Bon Ton, Belk, etc. They are carrying similar brands at low prices in local markets that are not necessarily located in malls. They have become destination formats where customers can pretty much find everything they need. That's a real challenge for department stores.
If you were opening a store today would you do so in a mall?
Absolutely not. Who would? Even if I were to open Earth stores, which at the moment we are not planning on doing, I wouldn't do it in a mall. Even if I was a big national brand, I'm not sure I'd look to open stores in malls. Lifestyle centers, maybe. Thriving downtown areas, more likely. Areas like Naperville, IL, for example, where you have this nice setting as a destination point. Those are the kind of "shop local" areas that I would look into, not malls anchored by department stores.
Can malls be revitalized?
I'm not sure. I'm interested in seeing how it shakes out because if department stores start running into trouble, it opens up an area for boutique-type independents that can feed off of that lack of shopping. Within a local market, that could create some nice opportunities.
Meanwhile, department stores are ramping up off-price formats, be it Nordstrom Rack, Find by Lord & Taylor and Macy's Backstage. It's an off-price format by retailers that have already been doing plenty of off-price selling. That's one reason why I believe our $50 million to $100 million growth phase will be a much more precarious path than it was when I was with Clarks. Back then, it was a much clearer path of how to go about growing and protecting your brands. We could build relationships and develop a strategy because retailers weren't competing as much as they are today. Now you really have to wary. The volume is there, if you want it. If you get the formula right to deal on price with these big players, it's fairly quick that they can drive volume. But it's how they are driving that volume and what it is doing to your brand in the process. How do you protect the integrity of your brand? That's a tricky part in trying to go from $50 to $100 million in size. It slows the growth down a bit if you want to create the right image, because we won't take the approach that volume is everything. The $100 million is the goal, but it's not the target. Protecting our brand and its integrity is just as important as getting to our volume goal.
It's not easy with a consumer armed with a smartphone and has been conditioned to shop on price.
Well, one way is to segment the brands like we have with Earth Origins, which is our volume-driven business. But even within that we want to protect the main core price range so that it allows us to build a collection that retains a certain level of value and we can still make some money. That formula is the same whether it's your promotional or full-price brand. That's why I believe it really requires building strong relationships with the people you are doing business with and saying no to those you can't trust. You just have to be careful because the consumer, as you mentioned, has been trained on price and the more you let your brand into that world, the more difficult it is to control what your vision is for your brand.
It's not easy.
Not at all because consumers today believe they can find whatever it is they are looking at for a better price somewhere else. The technology gives them that ability. So you have to try and prevent that brand degradation from happening by managing your pricing as best as you can. Everybody has their MAP policies in this regard, but that creates its own world of expenses, time and effort. And there are loopholes. In some instances, you just have to forego volume to protect the integrity of your brands. We want our brands—the design, comfort, quality and story—to be the reasons why people choose to buy and not just the price.
The fact that Earth Brands is independently owned and debt-free means?
We don't have to put volume markers into our plan. We can plan to grow our business five percent and if we get to 10 percent, all the better. But product is key, and we want to protect our brands. I don't have any pressure on me to, for example, add $20 million to the business next year. I don't have to approach certain volume retailers and do deals with them to try and hit that mark. So it's about having the luxury, almost, to be patient with the way we want to grow and figure things out without pushing it. That's the true benefit of our situation. If everything else fits in line—if we have the right product, people and marketing stories fitting around it—then we don't have to force the market.
What keeps you coming into work every day?
The people I work with. I love the interaction and the opportunity to grow this company and, as a result, let everyone benefit. That's really the most important aspect to me. It's not just the people here, I love this industry. The people that you come in contact within our industry are just really lovely. I've built such great relationships where they are like family. I love going to shows and seeing people who maybe I haven't seen in three or six months, yet it's like they are old friends and I saw them the day before. There's an energy derived from being in this business that has just taken over for me. I get up every morning and think it's going to be a fun day. I love to getting into an airplane or going to the office—it's an exciting challenge each day thinking about what I want to accomplish in ordeer to do good things for people. We are creating a business that's paying off for so many people. If we do this right, there's a lot of good that can happen as a result. •