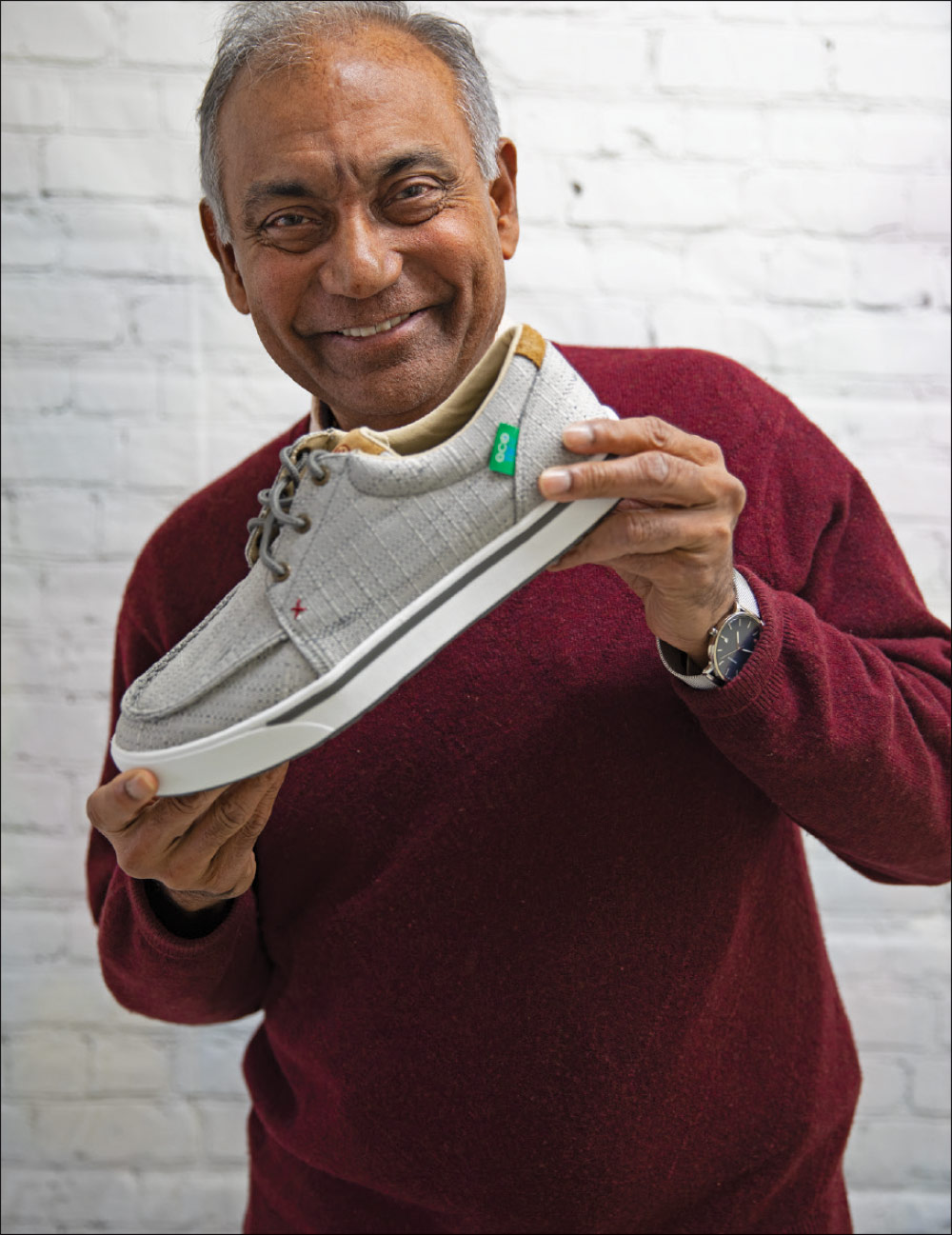 Perhaps the best part of Twisted X's profound transformation and expansion over the past decade is how organic it's been. The Texas-based company that started out as a niche Western boot maker offering a quirky twist on style that then successfully crossed into the work and casual lifestyle markets hasn't forced any of it. It's all come naturally—the same way it is now embracing sustainability and corporate social responsibility as company pillars.
That's because the brand extensions stem largely from a mandate CEO Prasad Reddy issued about five years ago for Twisted X to introduce something new and unique to the marketplace every six months, be it constructions, technologies, materials or designs. That's a tall order, even for the Nikes of the world. But the way Reddy sees it, it's the surest path to long-term success.
"Growth requires constant reinvention or, put another way, what got us here won't necessarily get us there if we want to keep on growing," Reddy says. "We need to introduce new materials and constructions to achieve that, which we've been able to do."
It just so happens that a sustainability platform is an excellent facilitator to introducing new materials, constructions and processes. In the past couple of seasons, Twisted X has been at the forefront of many eco-friendly breakthroughs, led by its ecoTWX collection, first introduced in 2017, of casual styles featuring uppers crafted from recycled plastic bottles. On average, each pair of ecoTWX features 13 plastic bottles and the company plants one tree for every pair sold. To date, it amounts to 3 million bottles removed from waterbodies and landfills and 200,000-plus trees planted in the U.S.
Along the way, the brand has also ushered in a wave of other sustainable materials into its product mix, including bamboo charcoal (insoles), merino wool, cork, vegetable-tanned leather, bamboo (laces), rice husks (outsoles) and sugar cane molasses (midsoles). Boxes are also made of 85 percent recycled materials. "We are constantly looking for new ways to be more sustainable, because one of our goals is to be carbon neutral by the end of this year," Reddy says, noting that the effort stretches well beyond product. "Three years ago, we made the pledge to be a single use, plastics-free company and this year we're offering employees a $10,000, interest-free loan to buy an electric vehicle," he says, adding, "I expect about 10 to 20 percent of our 100 employees to take us upon the loan offer by the end of the year."
What's more, Reddy says Twisted X is on the cusp of introducing what should be its biggest sustainability-related project to date: a revolutionary concept that spans materials, processes and design. And while the coronavirus pandemic is throwing a wrench into getting the program launched by this fall (hence no official announcement yet), Reddy hints that it will eliminate 75 percent of footwear manufacturing waste and pollutants that would otherwise end up in landfills. It will also greatly reduce the supply chain footprint as the collection will be manufactured in the U.S. "The way most shoes are currently made—the pollutants, glues, tanning process, etc.—are all pretty harmful to the environment," he says. "But we've found a way to eliminate most of that, and that will have a huge impact."
Of course, no one is mandating that Twisted X do any of this. While Reddy says there's a growing interest among consumers, sustainability is not a product prerequisite—not yet, at least. So why bother? Why go through the expense, time and effort when one could make shoes the way it's been done for decades? Reddy says the decision to go green starts from within. It's simply the right thing to do for people and the planet, he says. The fact that his employees feel better personally about the greater good they are achieving is a bonus. It helps attract talent to the company and it serves as a great motivator. And even though some of these initiatives cut into profit margins, Reddy believes the investments will pay much greater dividends in the long run. "We absorb the costs; we don't ask the factories to do that," he confirms, noting that, for example, bamboo laces are twice the cost of nylon ones. "But if more companies start using these materials, then the costs should go down."
It helps that Twisted X is privately held and healthy. Or, as Reddy says, "We don't have to report to anyone and justify every expense." Still, companies in similar situations aren't as environmentally conscious. It just isn't worth the headaches if the near-term ROI isn't quantifiable. Reddy admits there are pains to this process, but not enough to turn back. "We just feel it's the right thing to do, so we'll keep trying to find ways to get sustainable materials into our product and manufacturing processes," he says. "If it costs a little bit more, that's ok. If it takes a little bit more effort, that's OK. It's all an extension of our constant effort to innovate."
It helps that Twisted X's eco-related efforts are introducing the brand to new audiences. In fact, Reddy believes the lifestyle category with a sustainability hook may be the brand's biggest market potential. For starters, it's a broad target demographic in terms of age, income, education level and political persuasion. Green isn't strictly a blue or red scenario. "We've been attracting younger, Millennial customers because of our sustainability efforts, especially women where we've historically haven't been as strong," he confirms. Reddy cites a recent interaction at a store where he was explaining the attributes of an ecoTWX shoe to a woman shopping with her young daughter. The mom seemed nonplussed about the uppers made from recycled plastic water bottles, but the daughter pounced on that eco-friendly tidbit. "She went into detail telling her mom about the garbage patch in the Pacific Ocean, how it's a huge problem, etc.," Reddy says. "The younger generation is helping spread the word."
Feeling good about doing good is an invigorating combination for Reddy. With four decades of industry experience under his belt, the efforts of doing right by the planet and people (currently through the support of Tough Enough to Wear Pink, VFW, 22 Kill, Snowball Express and One Tree Planted) is a shot in the arm. There's an added sense of purpose to come into work each day. There's a bigger, better picture now. "It feels good, especially when someone writes us, thanking us for what we're doing for the environment or our charities," Reddy says. "It feels good personally, the same way it feels good when an employee comes to me with a potential new sustainable concept or a charitable initiative we could get behind. Everyone here is getting involved trying to change our way of life for the better, and that feels really good."
Was this sustainable business model always part of the plan for Twisted X?
Not exactly. While I've always been open to ideas about lessening our footprint, it wasn't until we came across the company making blankets out of recycled water bottles that it clicked. After we came out with our first ecoTWX shoes in 2017, we quickly decided we wanted to do more—starting with planting a tree for every pair of those shoes sold. Then we decided to incorporate additonal eco-friendly materials into the collection, like the use of rice husk in replace of rubber for outsoles and sugarcane molasses for midsoles. And we're also excited about a new production process that will repurpose leather, PU and EVA waste into insoles. There's so much scrap that comes out of footwear production that goes into landfills, and this other company, run by a good friend of mine, has developed a way to repurpose it. This year alone, we expect to prevent about 1 million pounds of that waste from going into landfills.
You've been in this industry a long time, did you ever dream making shoes like this?
Nope. I didn't even think about it when I first started. But the way of making shoes is constantly evolving and as long as we're looking for ways to innovate, I think we'll find ways to be more sustainable. Or we'll find partners to help us go to the next level because we don't always have the resources to find new materials and processes.
While you've done plenty and have more in the works, how would you grade your company's sustainability efforts to date?
All of our employees are very proud to be part of this effort, but what we've accomplished so far is very little. There's so much more that we can and will do. But that's ok, because finding new ways to improve in this area is a good challenge to have. Sustainability is an ongoing evolution that can always be improved upon.
Are your efforts influencing other brands to follow suit?
It influences some brands to a certain extent, but this has to come more from the end consumer for more companies to embrace sustainable materials and processes. Consumers have to demand the change. That's why we knew that in order to be successful, we had to get our ecoTWX styling and comfort just right, and we've absorbed costs to make it comparable with the rest of our collection. Consumers won't buy it, otherwise. Still, it's not a groundswell yet—more consumers need to demand that products be made more sustainably to really encourage brands to embrace these materials and practices.
How do you go about converting more consumers to buy eco-friendly goods?
We have to constantly keep on informing consumers and the industry about what we are doing with regards to sustainability so it because just part of the footwear materials story. It's a story that must be told clearly. For example, we have hangtags on the shoes and we promote the issue on our website and our social media feeds. We are also doing more print advertising that highlights our green initiatives. While we still talk about our comfort features, the sustainability aspects are weaved into the story.
Could a fallout from this pandemic be more consumers concerned about companies doing right by the planted and people?
I hope so. That could be a silver lining. There has been more press in recent years about environmental concerns and bringing the issue to the forefront. Younger generations especially are concerned. My 8-year-old grandson tells me that he doesn't want to use a plastic straw…so maybe younger people will bring about real change. Gen Z is training their parents. I think the issue will only grow more in importance going forward.
A danger with a sustainability platform is it can be confusing to consumers—they don't know who or what to believe. How do you avoid that?
It's tricky. You have to be accountable. When you claim sustainability you have to be able to define it clearly and easily. Data is key. We have to clearly show the good that comes from what we are doing. Like, by planting 200,000 trees, we also added 5,000 acres of new forest. The same goes for taking 15 million plastic water bottles out of the ocean—we have to quantify the good that comes from that. Quantifying is better than talk. Oftentimes, a lot of words won't stick as compared to putting it into numbers. For example, using factory waste to make insoles that would have otherwise  gone straight into landfills where the harmful impacts won't come out for 30 or 40 years needs to be shown, Just like we need to clearly show the benefits of becoming a carbon neutral company. Growing up, I remember trusting certain brands because they stood for something. That's what we want people to think of when they see Twisted X: that they trust what we stand for: comfort, sustainability, performance and philanthropy. That we do it all from our hearts because it's the right thing to do.
And every little bit helps, correct?
Yes. If every company does their part, even if it's just a little at the start, it all adds up. Like with our use of rice husks, now Kenneth Cole and a few other brands are using the material. That's great—we want to be knocked off here. Soon after we developed our ecoTWX material, Adidas reportedly reached out to our supplier. I said, "Give it to them! They could clean up more plastic bottles in a month than we could than we could in a decade." It's good for the environment, so give it to everyone.
As for the new sustainable collection you plan to introduce this fall, on what scale do you project making shoes in the U.S.?
That's the $64 million question, right? It's hard to answer right now. It will be a limited amount of production at the start. Whether it could be $5 million or $10 million business…we are hoping it will be at least that in a year's time. We'll see where it takes us.
Have you previewed the concept to any retailers?
We previewed it with a few of our key retailers and we received a phenomenal response. Basically, they said if you can do it, that'd be great. We're at the tail end of finalizing the technology and we would have been in China in February doing that if it wasn't for this terrible coronavirus tragedy. We hope to introduce it by August or September. But it might be delayed by a few months.
Will the new eco collection target the same Twisted X customer?
To an extent, but I think it will also attract younger customers, ones who are more concerned about environmentally friendly goods and production processes. It's a different kind of styling—almost the entire product will be made of green materials. And while we'll promote the "made in the U.S.A." factor that could attract some customers, the bigger message here is sustainability.
The new concept will also reduce time lines, lessen the carbon footprint on shipping dramatically and create a new source region. In light of the recent tariffs war and coronavirus, it seems particularly timely, no?
The savings on shipping alone is huge. As for it being a new sourcing region, to be honest, we started production on this in January 2019 and the initial concept was six months before that. Tariffs and coronavirus had nothing to do with it. The original reason was to address the negative impact shoemaking has on the environment. That said, if we can make it here and avoid any of those issues, then all the better.
Do you have more flexibility as a private company to take on projects like this?
Well, we have 100 percent ability to do whatever we want to do if we feel it's the right thing to do. We don't have to go to a board or stockholders and present it to them and worry if they'll punish our stock price if we do, even though it might be good for the environment. We pride ourselves on being quick to market—introducing something new in 6 to 9 months when the industry standard is 18 months. We are able to do that because we can jump on a concept without having to do a lot of profitability studies.
So green, not greed, for the lack of a better word, is good?
Greed and fear control too many of us. We should be controlled by happiness, and that can be generated from good deeds we do rather than through greed. While we are always conscious of our business model and are in business to make money, that doesn't mean we should compromise our values and act greedily. We should never be afraid of doing the right thing. I put the environment and humanity right up there with our goal to be profitable. We need to focus on humanity, whether that involves taking care of our employees, the environment, first responders, veterans, etc. That should be the duty and responsibility of every business. Our philanthropy is not in replace of business, it's an essential part of our business.
Speaking of business, Twisted X has been growing double digits annually for more than a decade amid what is essentially the same size pie. Where are you grabbing market share from?
One area is western retailers. Because that customer is going more casual, we've been able to broaden our distribution within those stores with those styles. Ten years ago, that customer would never wear a cowboy hat, belt buckle and jeans paired with anything other than cowboy boots. Now they are. Another growing distribution channels for us is work stores. We've experienced significant growth in light duty as well as heavy work categories. In fact, our work segment has been growing much faster than the rest of the company of late. Our comfort story—led by our CellStretch technology—has been a key part of that growth. With every step, the cells compress and rebound, giving the ball and heel customized and unparalleled support. Especially in the light manufacturing and warehouse ends of the business, our work shoes with a Western flair have become a big hit. It's not a traditional look, but that's Twisted X. We are different—comfort with a stylish twist.
Where do you envision Twisted X in five years?
We want to be known as the most comfortable footwear brand that you can wear any time and any place, be it for work, casual, Western dancing, etc. A brand known for its comfort, durability and sustainability—a brand you feel good about being associated with. Along those lines, we are aiming to donate at least 10 percent of our profits to our various charitable causes that are important to us and our customers. So, when somebody buys Twisted X shoes they'll feel good physically and emotionally. Part of our growth will include international expansion. Right now, the U.S. accounts for 95 percent of our sales, but we've done a good job in Australia and we're getting a lot of inquiries elsewhere. We've recently hired someone with a lot of contacts around the world to increase our international distribution.
What do you love most about your job?
What I love most about my job now is the interaction with my great team. When I came here in 2009, we had about 12 employees and now we're close to 100. We've been able to attract people that have the same values. We're all on the same page and passionate about the need to constantly innovate as well as do good. It's a very good and fruitful feeling doing good for the community and the environment. But we must never take our eye off the product, because that's the backbone of our business.