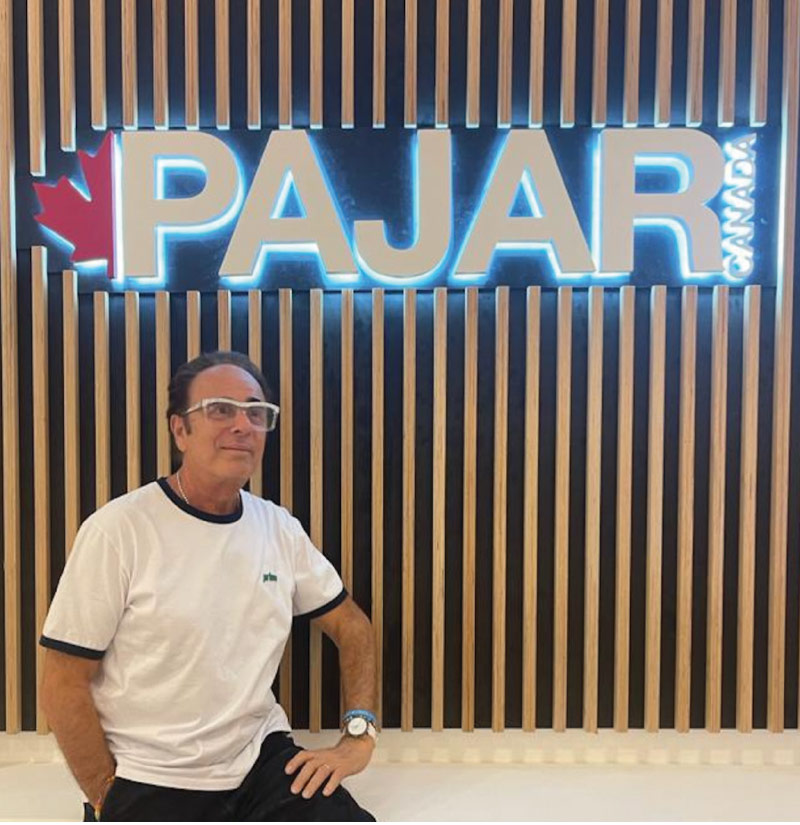 While many companies have hunkered down amid the pandemic, hoping to ride out the storm with a risk-adverse, scaled down approach to business, a few have taken the opposite path. They've viewed the forced downtime, the massive disruption and the rapid onset of a new normal as a window of opportunity to enact big changes. Pajar Canada, the 59-year-old outdoor lifestyle company, led by CEO Jacques Golbert, is one of them. Over the span of the past almost two years, the Montreal-based company's list of new business ventures and internal investments is quite impressive. They include the openings of a new distribution center earlier last year and, this past fall, Pajar Canada's first-ever U.S. flagship in New York's Soho district. In addition, the company signed a license deal with Authentic Brands Group (ABG) for Prince, and will serve up an on-court collection beginning this spring and, next August, expand into off-court styles.
To be sure, the recent moves go way beyond fresh coats of paint. Pajar is investing big-time with the goal of becoming a bigger, more diverse and stronger company—one that will thrive in the decades ahead. Making this effort all the sweeter is the fact that Golbert is doing it alongside his three children: Michel, newly named President, David (Vice President) and Elise (Chief Marketing Officer). Pajar is a family affair, but one that Golbert says extends to all of its approximately 120 employees. "We have a tremendous team of people, many of whom possess a great history working in this business," he says. "And we continue to hire more people, as many have been reaching out to us of late—those wanting to work with a cool, Canadian company." (Laughs.)
Those employees include about 60 at Pajar's Montreal factory, which produces the brand's heritage collections. The fact that company is still making shoes in its native country is a source of real pride for Golbert. "We're one of the last of the Mohicans in Canada," he says. "And while it's a relatively small factory, we've been producing there since the early '70s and our consumers love the fact that it's made in Canada." Still, it's not easy to do, Golbert notes. The importation of raw materials and components is increasingly challenging and expensive. "Everything is imported from Italy and other countries now," he laments. Nonetheless, Golbert reports production remains "pretty steady," and there are no plans to close the factory any time soon. One reason being: if the pandemic has taught him anything, a diversified supply chain is a huge asset.
Speaking of which, Golbert credits Pajar's ability to navigate the pandemic well so far to just that: producing shoes in Europe, Canada and Asia. "We're fortunate in that between 50 and 60 percent of our production is made in Europe," he says. "As such, we've been able to mostly deliver on-time—and much earlier than a lot of our competitors." What's more, Golbert cites Pajar's strong ties with its Asian factory partners as having helped the company fare well with its deliveries. "We have long-standing relationships with great suppliers, and we received a lot of our Asian orders on time," he reports. "Maybe 20 percent came a little bit later, but we were able to work it out with our customers and didn't end up in bad shape."
That's not to say Pajar's ability to meet its production demands this past year have been problem-free. Increased costs continue to be a big problem. "The added expense to ship goods has been a challenge for everybody," Golbert says, noting that container costs from Europe have doubled while costs from China have skyrocketed nearly fivefold. "We absorbed the costs this past fall, but we will not be able to this fall as prices have risen for raw materials and labor as well. There will definitely be increase for Fall '22—at least 10 percent at the retail level."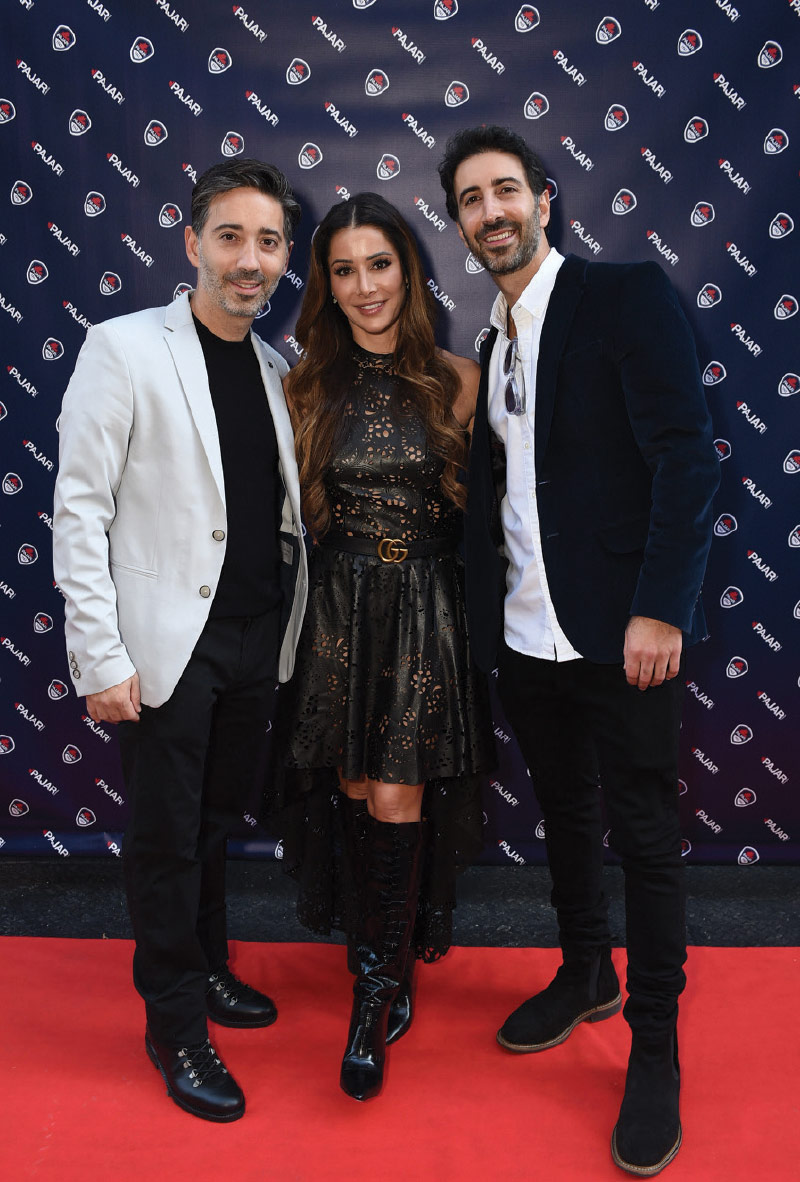 That's just business in a global pandemic. One has to bob and weave with the best, while absorbing any punches. The ability to counter punch is key. On the note, Golbert believes Pajar is experienced, nimble and diversified. It's up for the fight, nor is it letting itself get soft. Take, for example, the recent opening of its new, 150,000 square-foot distribution center near its Montreal headquarters—also a "short bike ride" from Golbert's home. The state-of-the-art facility is a huge upgrade over how Pajar goes about its daily inventory management in North America. "Before, we always used third party warehousing, and there were times over the past few years when we needed shipments made right away but it'd take up two to four weeks because of employee shortages, or the fact that we weren't always their priority," Golbert says. "Well, now we have our own DC, and it's great. It's a super facility, and our factory is also nearby."
In addition to internal upgrades (that includes a new ERP system), a great deal of investment has been made in consumer-facing ventures—like the Prince license and the new flagship in Soho. Golbert believes the former presents a tremendous growth opportunity, as well as rounds out Pajar's portfolio that also includes the Kendall + Kylie license for fashion footwear. "Prince is a beautiful heritage brand that deserves to be taken care of, just like we have with Pajar," he says, noting that the pandemic-fueled tennis boom and exploding popularity of pickleball bode well for the brand. Then there's the off-court potential, which Golbert says the association with ABG and Prince's creative director and part owner, David Grutman, will help grow the business significantly. "We can do collabs with ABG's other brands, like they recently did between Reebok and Prince," he notes. "And Dave is like the King of Miami. He owns several top restaurants and nightclubs, and recently opened The Goodtime Hotel in partnership with Pharrell Williams. He's friends with everyone in the music and art worlds. His social media influence will be incredible in helping develop this iconic brand."
Speaking of generating good visibility, Golbert reports that the 2,700-square-foot Soho flagship is already doing plenty of that. It's another another example of Pajar seizing an opportunity amid the pandemic, as the company scored a prime location and good lease terms. "Our flagships serve as a laboratory for us, where we test faster styles that maybe wouldn't be quickly received by some of our retail partners," he says. "And with people from around the world visiting Soho, it serves as a jump-off point for our global distributors as many are considering Pajar in-store shops. This store is a great way to see our whole collection merchandised."
Golbert believes Pajar is in a very good place overall as a new year dawns. A lot of heavy lifting has been done and the company is positioned for strong growth. What's more, the exec believes the company has further gained the trust of its retailers and distributors worldwide. "They can see that we've come through this very well so far—our deliveries have been great and our qualities remain high," Golbert says. "And our fashion is great, as always. We're trendsetters in our categories. We're doing a great job, overall."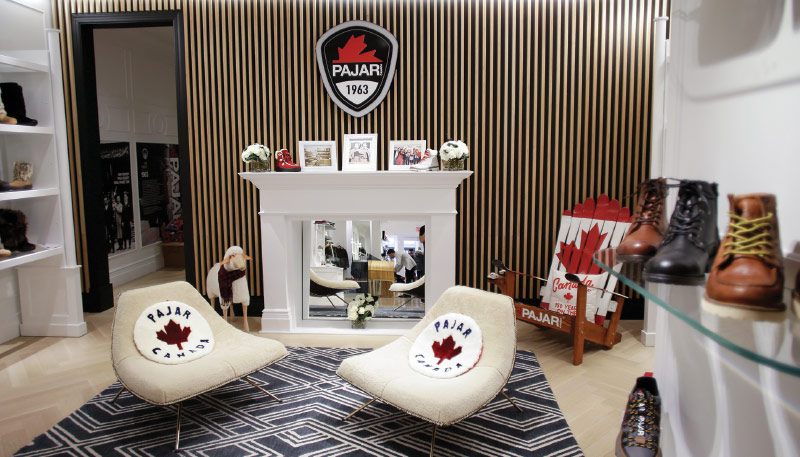 So, new distribution center, new flagship, new Prince license…all at a time when many companies haven't dared making such major investments. What gives?
I know, right. We've been very forward. But we decided it's our time, so let's do it. You gotta strike while you can—like the fact that we probably got a better deal on our Soho lease than we would have pre-pandemic. But I will tell you that many, many people in my company discouraged me from opening a store in Soho at this time. They kept saying it's too risky, the pandemic is going to continue, people aren't traveling, what happens if there's another lockdown, etc.
And they weren't necessarily wrong.
Not at all. But, for starters, I feel we're working with great landlords, and if there are any pandemic-related issues, then hopefully we'll be able to work it out together. I also just don't like hearing, 'Can't be done.' I believe the time is right for us. And now we have a phenomenal staff that's already experienced in luxury sales. We're three doors down from Chanel, across the street from Ted Baker, Canada Goose, Saint John and Ray-Ban. They're phenomenal neighbors, and it's just a great place to showcase our brand. And this summer, we'll put some Prince styles in there as well.
How's business since opening the store?
Great! Everyone is loving the decision now. (Laughs.) My team is very happy, saying it's a fantastic idea, amazing, etc. During the recent FFANY show, we had several European distributors visit and they loved it. They said it gave them a lot of input in how they'll market Pajar in their stores. We also had a great opening party—Anna Sui came to visit. She loves our product. Actually, she had reached out to us a few weeks before the opening, asking if we would want to partner on a capsule collection for New York Fashion Week next month.  We think it's a great idea, and we'll offer the collection to select retailers for Fall '22. It'll be a small collection of boots featuring a special synthetic fur.
Did her visit to the store help seal the deal?
Well, it didn't hurt. Speaking of which, we also had another iconic designer visit our grand opening: John Fluevog. He's a fellow Canadian and a buddy, and we're now planning a collab with him as well. He's going to carry it in all his stores. John's been a great Shoe Dog over the years. He loves our products, and while he's never made a technical fashion boot collection, we can fill in this gap with him. I think it'll be a terrific collab. The collection will mostly be produced in Canada. He's very interested in our Canadian production. It won't be inexpensive; probably in the $400 to $500 range.

Might working with this legendary Canadian designer be a career bucket list moment?
Absolutely! I've always been a big fan of his quirky designs. It's also like the meeting of west and east coast Canadian minds. We're good friends, and we've been discussing the project a lot over Zoom. Our design teams are working well together. It's great fun to be working together. The same goes for our Prince license. We're super-excited by the potential that partnership presents. The brand is iconic, known both for its revolutionary technologies like its oversized racket and colorful fashions. That combination of technical performance and fashion resonates well with us, as we have the same approach to Pajar. We follow the same vision.
What's the distribution strategy for Prince?
The on-court collection will be in Tennis Warehouse and Dick's, for sure, as well as other specialty tennis dealers. For off-court, we're planning to sell to top independent retailers that understand the heritage sneaker business. Along those lines, we have many collabs and drops in the works. There's a lot of exciting projects we'll be doing. It helps that we were the distributor of Diesel footwear in Canada for 10 years when the brand was really hot. We learned a lot from how Diesel ran its business, and we know the sneaker business very well.
Might you be busier than ever these past two years in terms of all the new ventures and projects?
Perhaps. We also have the Kendall & Kylie license. It's great for us because the family has such a strong social media influence. We send them top styles each season for them to pose in and those assets can be used by our distributors.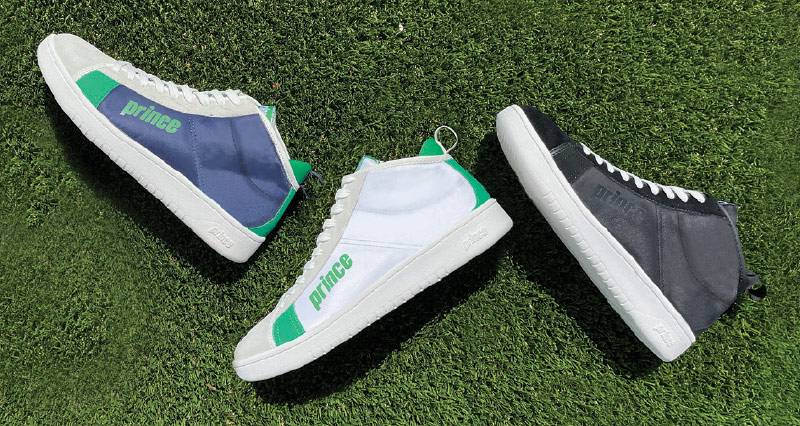 How it that license doing?
We've had it for four years, and we're very happy so far. While it's a completely different brand than Pajar or Prince, we've been able to create a modern collection that's very strong in Russia, France, Holland, Belgium, Greece and the Middle East, among other places. There are at least 20 Kendall + Kylie stores that our distributors have opened in Greece and the Middle East. In North America, we sell a lot online and through Walmart, which is one of our biggest customers. It's a different mindset here, whereas in Europe the brand is positioned more high-end. It's a bit like Tommy Hilfiger, where the brand positioning is more elevated abroad than here. Lastly, the license gives us good feedback with all kinds of consumers in the dress, casual and sporty segments. We also make a lot of slippers under that brand.
Pajar, overall, is in a good place right now, yes?
I believe so. We're very happy with all the recent investments that we've made and how it's positioned us for growth going forward. Beyond that, I absolutely love what I do. I work with a lot of young people—a lot of my designers are my kids' ages. It's a fun place to work. We don't take ourselves too seriously and we like to go out together. We're pretty happy where we are at right now, so let's continue on this path in good health. That's all we're asking for. But that's not to say it's easy, by any means. The business has been very challenging amid the pandemic, as there have been constant unknowns spanning retail shutdowns to port closures. There's still lots of containers sitting in the ocean. There were also mass floods in western Canada this fall. I mean, the list goes on and on. But our team has done a great job. They've been so resilient and they're able to wear multiple hats, which has allowed us to be malleable as a company and able to make quick decisions at the most critical times. I give then an A-minus, because we're not perfect.
Where do you envision Pajar in five years?
We're hiring a lot of people with the opening of our new distribution center and the other initiatives we've talked about and have in the works. In five years, I hope to be very well established in Japan, South Korea and China, and we're going to continue to grow in Europe as well as focus a lot of energy on our online platforms and social media. We also expect to open more branded stores through our distributors.
Any plans to open more U.S. flagships?
Well, since we opened in Soho you won't believe how many people have been pitching us. We've had calls from people in London, Chicago and Boston, as well as other areas of New York, to open stores. We're looking into it, because you never say no entirely. But we're not a retailer. We just might want a few important stores in select areas of the U.S.
What are your main goals for this year?
Our No. 1 priority is the well-being of our staff, for sure. Secondly, we constantly want to innovate and bring fresh and exciting ideas to the table. Also, we want to continue to grow our social media presence and online sales, which has been soaring the last two years. That said, we appreciate all of our retail partners and we continue to strengthen those partnerships through every avenue available. We don't want to be a competitor with them, so we have a strict MAP policy and they're alerted of any special sales or markdowns ahead of time. There are no surprises. At the same time, we feel that in order to give our brands the proper exposure they need and continue to grow, it's imperative to engage with consumers directly and give them the full experience.
You could have retired by now and handed the business completely off to your children. What keeps you going?
I just feel very blessed, as I absolutely love what I do and always have. What I love most is being able to work with my kids. On that note, I'm thrilled to publicly announce that, after 22 years of having Michel work side by side with me, and essentially running the day-to-day business for the last five years, is our new president. I'm very proud to pass the torch to him, just like my dad did with me. I'm also pleased to be working with my other children, David and Elise, and they are going to be taking on much more responsibility as well. That's the beauty of it all, because I know Pajar is going to be in great hands. In the meantime, I'll remain CEO, focusing on growing our international sales and retail operations as well as continuing to lead creative development. To that end, I love traveling the world, meeting our many partners and making new friends along the way. I don't have any plans to retire any time soon. In fact, my dad worked by my side until he was 93. We shared the same passion of working together and for creating great product. We always joked that we were born in a shoe box.