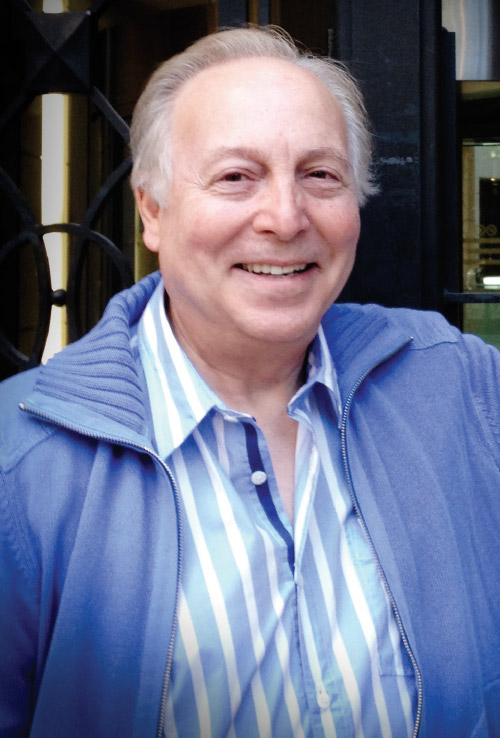 No company survives for long in this business if it fails to adapt and evolve. Many manage to keep up with the rapid pace of change, but it's often only for a few years, perhaps a decade, before companies run out of gas. The industry junkyard is littered with rusted-out shells of former could-have-been contenders. So when one of those rare models is still running strong as its odometer hits a middle age milestone—40 years old, in the case of White Mountain Footwear—it's an achievement worth not just celebrating but studying to find out how the brand has stayed in the race for so long.
Kevin Mancuso should know better than anyone, since he's been with White Mountain for 30 years. He's one of the firm's four founding partners and the last one remaining. The other three (brothers Greg and Nick Connors and Peter Fong) have moved on to board of director roles. Mancuso continues at the front, just as he has during so much of the zigging and zagging the company has done over the years. From closing its domestic production operations to becoming one of the first companies to source leather footwear in China to adapting to today's new world order of direct-to-consumer (DTC) and drop-shipping business models, Mancuso and his team always find a way to navigate and come out ahead. White Mountain (makers of an eponymous brand as well as Cliffs by White Mountain, Rialto, Summit and an extensive private label division) may not be the biggest, loudest company in the field, but it's one of those reliable go-to's that delivers and keeps humming along.
"We've got a customer base that we've been doing business with, in some cases, for 40 years," Mancuso says. "People trust us, and we've built solid relationships."
Mancuso's main task of late is ensuring that the transition to the company's new three-member executive leadership team goes smoothly before he drives off into the sunset in December 2020. The four original partners made a pact to retire at a set age, which was extended from 65 to 70 and then to 71 and two months to allow one partner to finish out the year. Mancuso says he'll be ready when the day comes. "There's a time that you probably should hang them up," he says. "Some people can work 'til they're 80, and some people shouldn't work beyond 60. I just happened to be the youngest of the partners, but it'll be time."
Until then it's full speed ahead for Mancuso as White Mountain adapts to recent tectonic shifts in the industry. It's hectic and exponentially more difficult, given the increasingly unpredictable and rapid pace of change companies must navigate to avoid landing in the scrapyard. It's no country for Edsels and Yugos, and Mancuso is determined to leave White Mountain in good running condition.
"The biggest goal is to make sure the transition process runs as smoothly and as effectively as ever," Mancuso says. "Aside from our brands and private label, we have e-tail and drop-ship divisions that we never had before. There's an awful lot going on, and overseeing this entire project has involved quite an effort—there are a lot of challenges to prepare for this new world order."
The preparations haven't come cheap. Over the past couple of years, White Mountain has invested millions in advancements such as expanding its wholesale warehouse facility and building a new DTC warehouse, not to mention hiring the personnel to run them. "We spent a fortune on a new Enterprise Resource Planning system to cope with all these new shipping requirements," Mancuso says, noting that, along with the financial expenses, there are operational aches and pains such as infrastructure upgrades to overcome. The investments come on the heels of moving into new offices four years ago and launching Seven Dials and Summit brands from scratch. "We foresaw that changes were going to happen and that we had to ramp up and get prepared for the future," he says. "It's extremely important to the success of our business and our retail partners' business." Mancuso describes the recent undertaking as a change of White Mountain's whole business model. "We had to spend a lot more time and money building up the infrastructure to be successful in this space."
What other option is there? Amid all this disruption, the rule of survival remains the same: adapt or die. "I don't make the rules, but if I want to play in the game, I'd better play by them," Mancuso says. "You don't have a choice."
In typical White Mountain fashion, nothing is left to chance and no major investment was a kneejerk reaction. That's not how White Mountain rolls. The company is conservative, steady at the wheel, and looks as far down the road as possible. "We're trying to look out three to five years, trying to position ourselves to continue to be an important player in the market," Mancuso says.
Like any good leader, Mancuso credits his employees for making it possible. He singles out COO Jim Anderson, who hit the ground running the day he joined the company a year ago. "He's absolutely a brilliant young mind and a visionary," Mancuso says. "He's the right person at the right time." Anderson comes from outside the shoe industry—most recently he was COO of Victorinox Swiss Army—and brings a fresh perspective. Joining him in the new executive leadership team are two 20-year White Mountain veterans: Dennis Eichen, president of the private label division, and Robert Geller, president of the brands division.
"We always try to look into the future and gauge what might happen, then plan how we're going to react," Mancuso says. "We like to walk before we run. That's the way we've always run our business, and we've done it successfully by being prudent." That's the White Mountain way.
Did you foresee the (tectonic) changes coming when you moved into new offices and introduced two new brands? Are you glad the company did, seeing what has transpired since?
Our executive management team understood that we were going to have to make changes. For starters, there were going to be fewer customers due to mergers. Unfortunately, many retailers also reduced their store counts and some filed bankruptcy. The new offices were to accommodate rolling out three new divisions: Cliffs by White Mountain, Seven Dials and Summit. We were expanding in a very difficult retail environment, but we needed more space—more of a showroom atmosphere, if you will. This is our home office and the product development team is here, as well. We needed a larger facility to operate, and it was the right decision.
It was by design.
We made a big investment in our company. We felt there was a void in our representation of different products, such as juniors and comfort. At the same time, with the whole DTC thing taking off, we had to prepare for this. We had to spend money. That's all we've been doing for the past three years. Obviously, a lot of changes happened and are continuing. They seem to be occurring at a much faster rate. Brick-and-mortar business has been in decline. That happened years ago too, but again, it's at a faster rate. There are obviously new challenges. DTC continues to grow in importance.
Not too many companies have been launching brands during this stretch. Do you think it benefited the company?
We felt that it was imperative to have multiple brands for the remaining retail. Having multiple brands in our key retail partners' stores and visible on their websites increases the strengths of our partnerships and enables us to become more important to them. In fact, several of our key customers are carrying all four of our branded lines, and they've given separate budgets for each. So for us this was the correct direction.
It's been a particularly difficult time to do that successfully.
I don't think there's ever a right or wrong time. You just have to do what you feel is correct for your company. We were looking at the playing field and decided if we wanted to become an important player, we had to offer more than just one or two lines to our customers. So now when they come in to see us, there are dress, comfort and junior areas. And there's a private label area. It's been extremely challenging as well as gratifying. It's also gratifying that we didn't have to license a brand.
Why not go the license route?
We didn't want to pay royalties, for starters (laughs). We'd rather have total control of the product. We prefer not to be subject to other people saying yay or nay, and we wanted to do it our way. We felt confident that we'd be capable, but we realized it was going to be a challenge. It takes a little longer when you don't have a recognizable brand, but it was very gratifying that most of our customers gave us an opportunity to test our new lines. Fortunately, it all came together. Seven Dials is doing fantastically. The shoes are selling great. It has really exceeded our expectations. Some of our best performing items have come from Seven Dials, and it's being sold in almost all our key retailers. We're doing business with some of the best juniors' stores and websites in the country.
Is there a secret to building a new brand from scratch?
Who is Seven Dials? What does Seven Dials mean? How does it resonate? It doesn't at first. So you're leaning on your relationships and good product. Ultimately, no matter what brand it is, product is king. That's what's going to dictate, and you need the right product. You need the right perceived value. It has to be the right timing and on-trend. It's a combination of factors. You also need the right personnel to build and sell the product, and then have retailers be receptive. A major department store had approached us about wanting another junior brand. They said, "Kevin, we don't want a pseudo-junior brand. We want real junior footwear. If you're willing to do that, then we'd be willing to support you." The door opened, and we pounced.
What, exactly, is real junior footwear?
I don't know if there's a proper definition, but it's very fashionable and on-trend. Our line builder has a junior background and worked for Sperry and Skechers. We're not total neophytes. We know how to make good product. We're always an on-trend, fashionable house. Juniors is just picking up another level. Your foot is always on the pedal in that business. It's a rat race. But we had the right personnel to put it together. The strength of our company has always been our people.
How important has DTC and drop-ship become to White Mountain?
We consider ourselves, first and foremost, a wholesaler. We're here to service our retail customers to the best of our abilities. But drop-ship growth really depends on how much inventory we want to carry. The challenges are managing the inventory levels and the margins.
Is the business overall much harder today? Or can you do more business now with the addition of DTC and drop-ship?
Ideally, it can be a lot more. But it really depends on your resources and how much you're willing to commit to these new venues. We've always been a little conservative. We like to learn the landscape before diving in. That said, drop-ship does offer a lot of potential, but there are also a lot of costs. You have to be able to wrap your arms around it and become profitable. That's part of the ERP system investment. That's why we need a Jim Anderson, to help guide us through these uncharted waters. I think there's great potential, but we have to learn all the nuances of this business before it's going to take off.
Do you see retailers still wanting to do business the old-fashioned way: present a collection, buy and carry the inventory? Or is that going to become less common?
Every business goes through evolution. Things are different today, and you must adapt to survive. The spirit of our company hasn't changed. In many ways, it's improved. Retailers want to plan business for their stores and their websites, and our inventory levels have to support that. That's why the level of drop-ship business we want depends on how much inventory we want to carry. The retailer has to be able to offer the consumer all these choices. The department store, for example, has changed dramatically. At one time, it was a building that held stuff people would buy and take home. Today, a department store is also a warehouse. It accepts returns of items it doesn't even have in the store but that were offered online. It's also a showroom. Retail has changed dramatically, and all the players must change with it. But underlying all that, the best product at the best value rises to the top of the sales report. That's never changed. The business is much harder today because the consumer's shopping habits have changed so dramatically. Amazon has completely changed the game. This has changed the demands retailers deal with, and they have passed some of these demands to the vendors. Drop-ship involves a breadth of offerings, inventory requirements, shipment requirements—as opposed to getting one order and just shipping it to their warehouse. We need to have people to handle all these things.
Sounds daunting.
It is, but I think the internet has brought on more impulse buying as consumers react to the multiple colors and styles. That's the beauty of drop-ship, whereas retailers have become almost too conservative in their buying of late. They're buying the minimum amount in depth and trying to sell a lot of volume. But not every consumer wants a black or brown shoe. But that puts pressure on the wholesaler: You'd better be smart about your selection of inventory because you can get hung with a lot if it doesn't sell. Inventory can be the killer, so you have to be careful.
Is it all for the better? Or is it that you don't have a choice?
Only the future will determine whether it's for the better. It's like years ago, when we had to close our domestic factory because no matter how efficient and productive it was, we couldn't compete with off-shore manufacturing. You have to make a decision if you want to survive. The rest is history. The consumer is the one that wins in this.
You really can't dictate to the consumer anymore.
I don't want to dictate. What do we consider the most important thing our company needs to succeed? A big part of it is consistency. We know what we're good at. We've been in the business for 40 years and our retail partners and our consumers know who we are. That's important. The other key is flexibility. The business is nothing like it once was. Over 40 years, we've been able to zig and zag, and keep going. And the biggest key to our success is our people. I'm extremely proud of our executive team and the entire company. We have teams in New Hampshire, Massachusetts and China. They're wonderful employees and the reason the company is a success.
Where does this recent maneuvering rank compared to previous zigging and zagging?
I think the most challenging one for us was when we were no longer a domestic manufacturer, and we had to become strictly an importer. The whole culture of the business changed dramatically, but the company's been profitable ever since. Of late, all our divisions have been growing. Our customers like the fact that they can buy a private label product to achieve a certain look or price point that won't take away from our branded business with them. We're able to balance both.
Are brands important today?
They've done all kinds of studies about Millennials and how they're not as brand driven as previous generations. Will that continue? I don't know. There's obviously a comfort level when you're purchasing a brand. You know what you're getting, or at least what you think you know. But so many consumers have become accustomed to buying private label merchandise from every consumer category. I think in some areas it will grow, but it's also a pendulum that has swung both ways throughout history. So maybe this is just one of those times. Each store has to find the right balance. Our advantage is that our partners look for us to fulfill both areas. We source private label programs for some of the biggest retailers in the U.S.
You've been attending trade shows for 45 years. What's your first take when you walk onto a floor?
It's always been the same: I don't know how all these people stay in business. That's why I believe you need to have your own niche and stand for something. We've found our niche. We've found a way to fulfill the needs of our retail partners. They have found us to be consistent with a perceived value in product. We try to offer more bang for your dollar. We've always had on-trend product that, fortunately, has performed well at retail most of the time. We're at a sweet spot in price points and geared for volume. Retailers know that when we tell them they can get this product for this price, they're going to get it—whether it's leather, manmade or a combination.
How are sales this year?
The spring started late and while you never like to blame the weather, we will. But one of the pleasant surprises is how great Seven Dials has been performing. Overall, we had year-over-year growth for the first six months. I'm not saying we're hitting it out of the ballpark. But the arrows are now pointing up, not down.
Is the business still in correction mode or are consumers buying fewer shoes overall?
I think the volume is still there. There are different venues today, but retail dollars overall were up last year. The economy is doing well; unemployment is way down. I think that's why more money is being spent. Even so, we're cautiously optimistic. Do we expect exponential growth? No. Do we expect growth? Yes. We're conservative in our approach. We are reacting to the people we need to react to. I have nothing but respect for our retail partners. It's a mutual relationship. Another advantage is not having to report numbers every quarter. We can make strategic decisions on the spot and change direction. That's the zigging and zagging we go through on a regular basis as we all chase the elusive rabbit.
How has the trade war impacted your business?
We're moving some production to Vietnam, Cambodia and Myanmar, but 70 to 80 percent is still coming from China. So we're all a little on edge. I think we have a reprieve until after the election. Then we'll see what happens. I don't know if it matters who wins. There are always going to be challenges with China. It's probably the only thing the Democrats, Republicans and European partners all agree on: There has to be some regulation of our proprietary information. It's going to come to a head. Hopefully, they'll all have some common sense and do the right thing.
With the end of your day-to-day involvement in this industry in sight, are you nostalgic?
I don't like to think it's the end. I like to think it's another chapter in my life. I'm extremely proud of our company. We've been able to expand through all the challenges, storms and headaches, and we're still going strong. I'm most proud of our people. I keep coming back to that because companies are made up of people. People have to make correct business decisions and then be able to execute. We wouldn't even be having this conversation if I didn't have the personnel to allow it to occur. I feel extremely confident that the people we've put in charge will take our company to a higher level of achievement than the original four partners did.
You sound content, yet you still have the hunger to win even in the face of mounting industry challenges.
I guess it's the entrepreneurial spirit. There's always a new challenge. For example, for years we never made sandals. Today, we produce more sandals than we do closed shoes. We used to not make espadrilles, either. Today, we're not the biggest manufacturer of espadrilles, but we make an awful lot and have been told we're one of the best at it. It's very flattering. So business changes, and we evolve.
What do you love most about your job?
I enjoy waking up to the daily challenge. When I started in the business, someone told me, "This business is like a never-ending march into enemy territory." I've never forgotten that. But I've always looked forward to the challenge. I enjoy having competent people around me to meet it. That's probably the most rewarding aspect of my job: to see that we're up to the challenges and able to figure out a way to meet them.
What do you think you'll miss most?
Aside from the challenge, I'll miss the people. But I know I'm going to have quality time with my family. It'll be time to move on. •