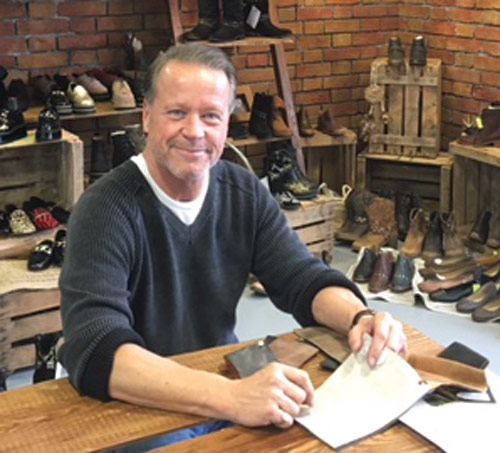 Scott Home knows a thing or two about how to build footwear brands into big businesses. His track record speaks volumes—really, really big volumes. Try these stats on for size: During Home's seven-year tenure at Dr. Martens beginning in 1993, where he first joined the sales department and quickly rose through the ranks to president of its U.S. subsidiary, sales rocketed from $28 million to $385 million annually. Next came his run at Diesel, a license of Global Brand Marketing Inc., that went from startup to nearly $500 million annually in about five years while Home served as vice president of sales. Prior to those runs, Home worked for 14 years at Nordstrom, where he rose from a sales associate on the floor of its South Coast Plaza location to buyer for its Brass Plum department just a few weeks into the job. He eventually became a Mr. Fix It for the Seattle-based retailer, traveling to locations across the country to turn its struggling shoe departments around. "They would send me in to clean up the crews, the inventories and buy new shoes," he says. "I was known as 'Attila the Home,' which I'm not necessarily proud of because I often had to fire a bunch of people and clean up the mess. But that was my duty."
Before Nordstrom, Home performed various duties for his family's chain of women's shoe stores, Home Shoe Company, which, at its peak, consisted of 15 stores in Washington and Oregon. In fact, he began his footwear career at the tender age of nine, working in the stockroom and moving onto the floor by age 13, selling the chain's mix that spanned Nike to Charles Jourdan. At 15, he lived in Spain for a year with an uncle who was putting together a wholesale collection. Home had a ringside seat to the art of shoemaking. Upon his return, he finished high school, tried college for a year or so and then returned full-time to the business he knew and loved. He worked his way up, becoming manager of the family's biggest store in Portland and then a buyer before making the move to Nordstrom.
Home credits his first and greatest role model—his late father, Harry—with teaching him nearly everything he learned about the business and for helping him develop his deep-rooted passion for product. The elder Home was a longtime industry veteran who is noted for being the first non-family member to become a vice president at Nordstrom. He led the company's expansion into Oregon before deciding to build a retail business for his family. (As shoe lore goes, Everett Nordstrom lent Home the money to get his business off the ground. "He asked where he was going to open stores, and my dad said, 'Right outside of your stores because I guarantee you are going to be missing size sevens, and I'll have them,'" Home says.) In particular, Home credits his father for instilling a work ethic in him that led to his 24/7 approach to the business. One of his fondest childhood memories, in fact, is of Sundays when he and his father would climb a hill on the family farm and tally the weekly store receipts. "We would see where we were for the week, and then we would chop wood for an hour or two," Home recalls. "That was his way of teaching me a good work ethic and discipline. We chopped a lot of wood every week."
That discipline has come in handy as Home introduces three new brands to the U.S. market—Coolway, Musse & Cloud and Freestyle by Coolway—under his new umbrella company, Fashion Major Brands. The company opened shop in Culver City, CA, in 2013, following several short stints where Home had been brought in to launch or revive several businesses, including Palladium, Charles David, Jay Adoni and, most recently, as president of Chinese Laundry. Home chalks the interim period between Diesel and his new company up to (not always fun) learning experiences and to helping out some dear industry friends. "I'm not the kind of guy who likes to change jobs," he says, noting he was in the process of launching his own brand when a phone call from the Mayordomo family, the former Diesel distributor in Spain, changed his plans. "They said it's their father's dream to expand their business into the U.S. and that I was the right guy to do it," Home says. He was sold on the opportunity after a week spent meeting the family in Spain and learning more about the company, Grupo Yorga, which, in addition to the aforementioned brands, includes eight others and more than 160 stores in Spain. "What attracted me is that the family has six kids running the business who all grew up working in their stores, just like I did," he says. "They are learning how to be better wholesalers, and I saw an opportunity to give them a hand. Plus, they have given me the freedom to run their business in America."
Beyond those backroom synergies, what attracted Home to the job was the product—specifically the styling, the European-made quality and terrific leathers—and the fact that the price points were phenomenal. "All the stars aligned: good people to work with, the freedom to do what I know how to do in America and great product that could fill a void in this market," he says.
Coolway was first to come ashore in the spring of 2015, Musse & Cloud followed this year, and Freestyle by Coolway will make its debut this spring. So far, so good, Home reports. "The reaction has been good. We didn't do a ton of volume, but we got it placed in the right spots," he says. And despite a rough year for the industry overall, Home says his sales tripled, and he projects a 40 percent increase for 2017. "I think this company can be a major player in the next couple of years in this country," he adds. And while Home's track record and the relationships he has built over the years factor into his growth plans, the longtime former retailer knows that will only go so far. "You're only as good as your last shipment. If the shoes aren't good, people won't continue to give me orders because they 'like' me," Home explains. "I believe in the product and, if I do my job with the design team properly, we'll continue to grow the brands."
Home's track record for building big-league brands is evident. It's as though he has been groomed from childhood to be successful in this business. He has a firm grasp on both the retail and wholesale sides of the equation, which is enhanced by a genuine love of product. The numbers speak for themselves, but Home has always been dialed in on how you achieve them: product, product, product. Asked what he loves most about the shoe business, he replies, "That's easy. It's product first. I've just got a passion for footwear." Home notes that whenever he presents shoes and sees people's eyes light up, it's like opening Christmas presents for him. "Shoes have just gotten into my blood," he says, adding that every level of the business—product, materials, people, building an organization—excites him. "I guess I'm entrenched, and that's partly my dad's fault for bringing me into this business and teaching me all about it," he says. "I was fortunate to have one of the best shoe guys ever as my coach. He taught me that this isn't just a one-dimensional job. I was taught all aspects, and I love all aspects. I'm very lucky in that regard."
Having built major brands, how would you assess the introduction of Coolway, Musse & Cloud and Freestyle by Coolway to date? Are they where you expected them to be?
First of all, unless you are Steve Madden or Camuto, selling shoes today is really hard, especially when launching new brands. All you can do is put good shoes in front of buyers, explain why they are good and talk about the attributes of your company and how you are going to be a good partner. But at the end of the day, product is king.
Easier said than done these days, correct?
Buyers used to take more of a chance, and the business was more exciting. Our economy was better, and you could afford to make some mistakes. Today, people are afraid. So they keep buying more from the same brands to try and protect the shelf space and sales they had from the previous year, even though in some instances they know the shoes aren't as good. Everybody is just too cautious.
What niches are you aiming to fill with your brands?
For 2017, Coolway will become a much more junior brand. It will be a lot more Asian-made product and a lot trendier. When we introduced Musse & Cloud this year, because it and Coolway were made in Spain, they kind of overlapped. I had to find a new identity for Coolway. Musse & Cloud, in contrast, will be more middle-of-the-road Dolce Vita and Jeffrey Campbell level of fashion. And Freestyle by Coolway will be more athleisure, but not entirely.
Meaning?
I want Freestyle by Coolway to break into the sneaker market, but I don't want it to compete directly with Nike, Skechers or any of those guys. We want to make sneakers that are comfortable, colorful and a little bit different. It won't look like just another tennis shoe or jogger. Freestyle is a lot like the concept we did at Diesel; we made a hybrid between sneakers and street shoes, and it worked really well. I think that's what this market is really crying for now because all their options are either tennis shoes or booties over and over again. And with tennis shoes, consumers want the brand name of Nike, Adidas, Puma, etc. So we are creating something totally different. It'll still have sneaker influences, but it's going to be another category of casual footwear.
Will Freestyle by Coolway be strictly athleisure?
No. We'll also have boots, over-the-knee boots, sandals…it will be a complete line. We believe there are a lot of people that don't want to wear just sneakers or booties. They are looking for alternatives. If we design the right shoes and launch the brand properly, then Freestyle should be a big growth vehicle for us. To get the ball rolling, we'll have this amazing electronic booth at FN Platform next month that's all white and, when a shoe is lifted off the display, the entire wall changes to the color of that particular shoe. When it's put back on the shelf, the wall changes back to white. We're also in the process of signing an up-and-coming actress to be our brand ambassador and we'll be rolling out a fleet of Freestyle trucks for a college tour this year. Students can try on shoes and order them via our iPads. We may have one of the Freestyle trucks for the August show in Las Vegas as part of a parking lot party.
What do attribute Musse & Cloud's initial success to?
I'll tell you exactly why: The shoes are a little bit different in the way we interpret the trends. They have a lot more going on, the leathers are great, the made-in-Spain factor is huge and the price points, at $100 to $120 for this level of quality, is amazing. Good buyers and shoe aficionados can still identify intrinsic value in footwear, and these shoes have a lot of that value.
Well, it's encouraging that some buyers can identify and appreciate intrinsic value in shoes.
That's one of the big problems with the shoe business these days. There are fewer and fewer people who are actually shoe aficionados. People who really love the product and will pick up a shoe and say, "Oh my God, this construction is amazing, these leathers are fantastic…" People that truly know and appreciate the difference.
So, in presenting your brands to buyers who may be relying on spreadsheets more than their eye, what do you say?
I point out the attributes of the product—the leather qualities and, in the case of Musse & Cloud, the made-in-Spain factor. I tell then about the heritage of our company, that it's a family-owned business and that they are honorable people. This business is not so filled with honorable people, anymore. If there are issues with our product, we'll certainly take care of them. In my heart, I'm a retailer. We are here to help. If a retailer wants us to go into their stores to educate their sales crews, we'll do so gladly. In general, I have my reps do things the way we did in the old days, like trunk shows and in-store presentations. Many brands have gotten away from that because it's deemed not cost effective. They see their accounts at shows and that's the last time they'll see them until the next show. That's no way to grow an independent business. You've got to be in their stores and see what those businesses are like. I love doing that.
If it's a proven strategy, why is it becoming increasingly rare?
Two main reasons. First, it's just much harder today for older sales reps to make the same amount in commissions compared to when, years ago, there were 15 brands that were all hot and they couldn't get enough shoes to ship. That's not the case these days. It requires a lot more effort on their part—to be in the stores and make the sales happen. Secondly, many of the younger people in our business feel entitled and don't know how to travel, nor do they want to. They are basically really lazy. I still do everything, whether it's shipping shoes, working in the factories to help build a line, attending as may reps meetings as possible and visiting retailers in their stores. I'm a hands-on, in-the-field kind of guy. So, I guess to answer your question, we dinosaurs are a dying breed [laughs].
How would you assess the past year overall at retail? Was it really as bad and disruptive as many claimed?
It was crazy and it was bad. I heard nothing but horror stories speaking with rep and retailer friends. Retail is confused because there is not enough direction and not enough uniqueness. While the weather has been part of the problem, the biggest issue is third-party selling online and the fact the same shoes are everywhere. So a customer walks into a Nordstrom, tries on a pair and then walks outside and buys it on her phone from Amazon. Brick-and-mortar retailers are the ones who are getting hurt the most. Having said that, a lot of my growth is coming from opening small clothing boutiques. I've got my guys doing apparel shows, and you'd be amazed by how many new stores are out there that want to buy 36- or 48-pair runs and double it the next season.
That requires a lot of effort to find and service those accounts that a lot of bigger brands won't bother with, correct?
That's exactly right. Our pride is not too big; we'll take any sized order if the store is right for us. Another factor contributing to the sameness at retail is that while we all chase the same trends, the trick is to do so a little bit differently than everybody else. It's really easy for someone to go online and look at a Jeffrey Campbell shoe and make the exact same one except for a different buckle. Our industry has become too vanilla, and that's another reason why stores all look the same. What's more, today everybody sells everybody on all levels of distribution.
It seems as though all retail formats are in a state of upheaval and uncertainty?
Retailers in general are so confused right now because there are so many things going on all at once and nobody can figure out what's going to take hold. We all know that online will continue to be a big deal. We also know that major vendors are selling retailers like Target, Payless and Walmart. Ten years ago, they only carried closeouts, and now they are buying special makeups, like Dolce Vita's DV line for Target. A big portion of my growth is going to come from makeups, as well. We do a private label program for Altar'd State as well as some for DSW and others. That's a good way to help my bottom line, but it doesn't help my brands. It might be a life vest until things shakeout.
None of it seems particularly stable.
Nope. And who is watching out for the independent, old school retailer these days? I don't think anybody is, and a lot of them might fall through the cracks. I guess we'll see how it pans out. It almost makes me want to open a store and do things the old-fashioned way: provide great customer service, put shoes on people's feet, bring out four pairs, offer them a free cup of coffee… It might just be a great way to launch a shoe store because no one is really doing that these days. I believe a store done right in the right areas could be very successful. The right area is key because that's another challenge many retailers face today: ridiculous rents. Retailers can't make any money paying $30,000 to $40,000 a month in mall rents. Retailers also need to change some of their ways, too. There are not a lot of partnerships anymore. They make demands like having to pay freight, guaranteeing a 58 percent margin and writing a check if anything goes wrong. And if you don't like it, leave. New brands like mine are kind of at their mercy. I'm not a big enough to refuse those terms, and that hurts my margin, especially when I'm only taking a 40 percent margin to begin with. It's only going to get tougher on wholesalers, because the independents that do survive are likely going to be more demanding.
What's the solution, if any?
I go back to my trusted solution of doing business the old-fashioned way: Offer great product at great prices and service the hell out of our accounts. Similarly, retailers have to work harder, think more outside the box and stop thinking only about today. They have to think about next year, because the brands they may have now might be all over the place then. They have to look for the next new brands instead of saying, "Oh, woe is me." They have to figure something out. But it requires a lot of work, and people often don't like a lot of work. It's not as fun anymore.
What might the shoe store look like in 10 years?
Will it all be like Amazon Go? I hope not! I think consumers in general still like the interaction with store clerks. That said, I think you are going to see a lot more independent online shoe stores and a lot of the brick-and-mortar retailers as we know them will be gone. The new ones may be apparel stores with shoes as an accessory. There will always be fashion boutiques—stores like Koko & Palenki in Miami that just opened its fifth location. They really get this business.
Despite the myriad of challenges facing the industry, are you still an optimist?
I'm a huge optimist. I more than doubled my business last year. There's still business to be had. If anybody had product that was a little bit different and had a good handle on the trends, then I think they probably had a good year. I'm also planning for big growth this year, and eventually I'd like to see us get into the $100 million range. I'd also like to open a showroom as well as a flagship store in New York pretty quick and maybe a second store in Los Angeles. In the meantime, we're going to continue to build good product and sell it to people at a fair price. You've got to "find a way to bring a product to the consumer for cheaper, but not a cheaper product." That was an old Nordstrom saying and a favorite of my dad's. You've got to give people reasons to buy from you. It can involve a little design tweak, but price often seems to be a deciding factor. But I'm not talking about selling cheap shoes—showing someone product and then taking the leather lining out or changing it to pigskin. It's about not being greedy on the margin. To be perfectly blunt, there are a lot of whores in our business: guys making 70- to 80-percent markups before they sell to retailers. Our owners will not let me take more than a 40-percent markup and they only want me to pay them back 20 percent. That's unheard of today. But that's why our prices are so low yet the quality is high.
Do you possess a gut feeling about shoes by this point—something that tells you a style will be big?
It's pretty much based on history and tradition, because the fashion industry keeps regurgitating itself. So you can relate to the trends that will likely follow again, but that's not always a guarantee. That aside, I believe at this point I can tell if a last is good or not for a particular shoe, if the heel height is right, etc. And while I can't draw a stick man, I can tell our designers what they need to draw and can amend their drawings, if needed.
You could have retired by now, what keeps you coming into work each day?
I can bitch all day about this business, but I truly love it. And I'm not the kind of guy that relaxes much. When I get home at night, it's around 10 p.m. and our Spanish office is opening for business. So I'm often emailing until 1 a.m. Then I get up at 5 a.m., go to the gym and start working right after. I just like to work a lot. It's probably due to all that wood I chopped on the hill with my dad. •