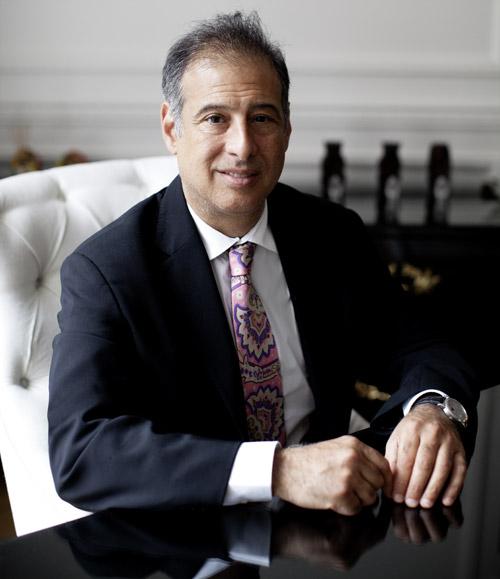 Oh, the stories Solomon Dabah can tell about the shoe business. He's pretty much seen and heard it all. That's no surprise, given that he's a third-generation footwear industry family member with 30-plus years at Vida Brands, the Dabah family business. He's had a direct hand in exciting brand launches, marquee license acquisitions, establishing sourcing partnerships around the globe, weathering the retail ups-and-downs, adapting to generational shifts in consumer buying behavior and trying to position Vida Brands for the here and now as well as the road ahead.
Dabah, a natural born storyteller, has tales about it all. The leading characters, the exotic places, the seismic changes, the hits and the misses… "I have seen a lot in my day," he says. "My mother's father, who is from Panama, was in the shoe business. Half of my Panamanian relatives were involved in the shoe business. My father has been in the shoe business practically his whole life. Our family's roots are so deep and the things we have been able to see and experience have been fascinating."
Indeed, Dabah has had a ringside seat, starting as a kid. Back then, he loved to hang out in his father's offices at E.S. Originals. (Victor Dabah was one of the co-founders, with Ellis Safdeye, before he left to launch what was then called Vida Shoes in 1973.) The young Dabah relished soaking up the atmosphere. "It was a thrill," he says. He recalls the days growing up in Brooklyn, NY, when his father would have sourcing partners from China (Dabah was one of the first Westerners granted access to forge such partnerships in that country) stay in the house when visiting on business. "They'd be smoking away for hours at night on the third floor of our house and talking business," he says with a laugh. He also fondly remembers selling E.S. Originals' first shoes—jute-wrapped wedges called Popsicles that were packaged in polybags—to retailers near his home on Orchard Avenue. Dabah always had the itch to work. "If I had the opportunity to take a summer job as opposed to going to camp, I would take the job, no question," he says.
Not surprisingly, Dabah couldn't wait to get started on his footwear career. He skipped college to join the family business, which back then was located on the 78th floor of the Empire State Building, he recalls. Over the ensuing decades, Vida's roster of licensees and proprietary brands has evolved to meet the changing wants and needs of retailers and consumers. The company has experienced its share of runs and built a reputation as a versatile and reliable designer, manufacturer and marketer of footwear that now spans kids to adults and sneakers to pumps. Vida, currently with 16 brands in its portfolio, has become a go-to resource for retailers in all tiers.
Dabah has worked in all facets of the business—sourcing, marketing, sales and brand management. His father serves as the financial and sourcing expert, while he and his cousin, Vida Brands Vice President Gabe Safdeye, concentrate on sales and brand building. Dabah has even worked closely with hip-hop royalty, partnering with Russell Simmons (when Vida owned the Phat Farm license about 15 years ago) and later with Rev Run of RUN-DMC during its launch of Pastry, a junior athletic lifestyle brand, in 2007. Dabah was a regular on the hip-hop mogul's reality TV series, Run's House, when Pastry was featured on the show.
As with many brands in Vida's portfolio (past and present), Pastry has adapted to find a viable niche that doesn't overlap with any of the company's other brands and that has a distinct reason for being on retailers' shelves. "Pastry has become very important to the hip-hop dance world," Dabah explains, noting the shift in focus was a response to a slowdown in casual athletic sales a few seasons back. "We didn't want to throw in the towel, so the niche has become targeting girls 13 to 18 years old with athletic styles that feature a thicker, more comfortable sock liner and more flexible construction overall." So far, so good. "We are selling to retailers that haven't been on our traditional roster of accounts," Dabah reports.
Pastry reflects Vida's approach to brand building and management: Adapt and evolve and make sure you are offering a clear point of differentiation. It's no small task, given the large roster of proprietary and licensed brands in its portfolio, several of which fall within the same category. For example, Vida's kids' brands include Osh Kosh, Carter's, Jambu Kids and Hanna Andersson, while its collection of juniors brands spans Esprit, Kensie, Unionbay, Project C.A.N.V.A.S. and the aforementioned Pastry. "Each brand has to have its own identity and it can't eat into another," Dabah says, noting that each design team works independently. "That's why we never have a repetition of product from showroom to showroom."
Beyond such sound wholesaling fundamentals, Dabah credits his father's "gold standard" as the core of Vida's four decades of success. "My father built this company on a reputation of trust and quality," he says. "We've combined the craft of shoemaking with entrepreneurship and technical innovation." He cites the company's extensive leadership experience—a "nimble team of talented women and men who possess a deep industry knowledge"—coupled with an expansive network of domestic and international resources as the company's cornerstones of success. "As a privately held company, we have the luxury to launch brands correctly," he says. "We take the time to watch, listen, develop and get the details right." It demands a constant push forward to research and test new concepts. "We're big believers in seeding and germination and, in many ways, we operate as an incubator for start-ups," he offers. "And we don't get stuck in the weeds on issues. If we encounter a problem, we fix it. And if we can't, we'll find another way."
A lead example is Jambu, Vida's outdoor lifestyle and sport brand, celebrating its fifth anniversary this year. Dabah says the proprietary brand and its subsidiaries JBU and J Sport (all managed by Safdeye) is now considered the company's flagship. "Jambu is a growing brand of choice for Millennials and Baby Boomers," he says. "Consumers want fashion and comfort with a conscience, and we're delivering it." Jambu features partly recycled outsoles, 100-percent recycled and re-useable packaging and has partnered with American Forests, the oldest national nonprofit conservation organization, committed to preserving and expanding America's forests. Specifically, Jambu has committed to planting 50,000 trees this year in cooperation with the organization.
Another notable brand in Vida's stable is André Assous. The proprietary acquisition has been the basis of what Dabah calls a "brand renaissance" for the legendary designer's label. It has involved new collections, a new website and a new manufacturing program with assembly in the U.S. dubbed the Neighborhood Collaborative. "André Assous is poised for real growth," Dabah predicts, adding that he has similar expectations for the recent license acquisition of Nanette Lepore. "She's another top designer that complements our in-house legend, André Assous. It speaks to our reputation for excellence among our industry peers." It also reflects how Vida Brands is constantly adapting and growing, an ongoing tale that is the Dabah family's best shoe industry story. As Dabah sums it up, "If you don't evolve, you won't succeed."
How's business so far this year for Vida Brands?
It's definitely challenging. I'm lucky that I have the experience that I do and the ability to be partners with my cousin Gabe and my father. Together we make a strong team along with our talented employees. I would say our business is strong overall. Over the last three years we've had strong double-digit growth.
What would you attribute that impressive growth to most in this challenging environment?
Blessings, I would definitely say. I mean, we plan and God laughs, right? That aside our brand diversity is like a broad stock portfolio where we are not heavily dependent one way or the other. That's been a big factor behind our recent success. We've also been very consistent building each of our brands by learning their respective consumers and acting on what our retailers' specific needs are. It requires going out into the market to find out what those needs are. We have been doing a good job in this regard.
Many I speak with say the business is harder than ever—there are more logistics, sourcing issues, rising costs, etc. How is Vida Brands getting over these hurdles?
You can turn that around and look at Robert Greenberg and what he and his team are achieving with Skechers. The company is setting the world on fire. My point being that if you are able to hit on some key items, all of a sudden, you can see how big the marketplace can become for you. That's why I believe it's so critical for a wholesaler to focus on trying to do his best and not be overly concerned about the competition. Instead, be more understanding of what you want to deliver to retailers and consumers. Don't look at somebody else's success, rather, try to find your own.
Jambu, in particular, seems to be clicking with retailers and consumers.
Jambu is a comfort lifestyle brand, but it's also a fashion brand that is hitting the country right in the belly. We are really clicking on all cylinders and creating different tiers of distribution between Jambu, which is our premier line and sold to more than 1,000 independents across the country, J Sport and its more sneaker-driven styles, and JBU for our promotional retailers. This way we don't hurt the core of this organic brand that we are building. It's part of the entrepreneurial spirit at Vida—not being afraid to try new things and look at the marketplace a little differently. In short, how to find a sweet spot with other surrounding brands.
Outdoor lifestyle has definitely been a growing sweet spot in American fashion of late.
Definitely. Fashion doesn't always have to be uncomfortable. Fashion today can be represented with comfort features.
Speaking of fashion, what's your assessment of that market amid the comfort-driven cork sandal and sneaker trends of late?
You really have to pay attention to the way women are dressing today. Outfits and products really need be more versatile so women can get multiple uses out of them. They have to be able to crossover where a woman can go to work and out to dinner in the same style of shoes. As society evolves, our products have to evolve with it. I think Esprit, XOXO and our new boutique brand, Nanette Lepore, which we will be launching for Spring '16, are all evolving to meet these changing needs. Kensie is another impulse brand where that younger woman is looking for products that have multiple purposes.
Does the heel have a place amid Skechers' Memory Foam, Vans slip-ons and Birkenstock sandals?
Guys aren't meant to think like a woman nor should they try, but I will say that when a woman puts on a nice outfit there's nothing like a nice pair of heels to complete the look. So how could pumps ever go away entirely? Women love to look great.
Hence, the launch of Nanette Lepore, correct?
First off, we like opportunities. This is a boutique brand that's known to many women age 25 and up. We believe we have an opportunity to broaden its elasticity by bringing it to more consumers. It's a nice niche that women have yet to see: a boutique brand available in more channels of distribution at more accessible price points. We believe the ability to conjure more brand awareness and achieve a broader distribution presents a win for everyone.
We are also always paying close attention to core competence and looking for ways to become more important to our retail partners. We feel like we have a good hold on kids' and are making strong gains in comfort lifestyle, and one of our other goals is expand our presence in women's fashion. Vida started out in the women's business, but the goal is how do we become more important and be more like the Vince Camutos and Steve Maddens of the world. XOXO, Unionbay and Esprit are really more junior-oriented brands. Kensie is also more the girl-next-door type, which offers a bit younger and hipper styling. Nanette Lepore is more mature. It will help our retailers grow their businesses and is a brand that won't conflict with our other brands.
We made an initial showing at FFANY last month but our teammates in Asia wanted to get it perfect and are rebuilding the entire collection. We are excited to have it unveil next month in Las Vegas.
Why is it a good strategy to have a mix of licenses and proprietary brands in the portfolio?
If somebody says, "I don't want to pay royalty to that guy…" Well, sometimes it's tough luck because you can't do what that license is providing for you. For example, when that urban trend came on, we were able to get into that market with the Phat Farm and Baby Phat licenses and we caught Adidas sleeping. We shipped 15 million pairs of one shoe at $35 [wholesale] over a five-year span. It was crazy. But I don't think if we had tried to launch our own brand at the time we would have had that success. Phat Farm provided us that brand awareness and momentum. So there are times you may not want to pay royalty or think you can do it on your own, but sometimes you just can't. The urban arena just popped and it was the strength of what Russell Simmons was doing, and we were able to tap into it.
However, there are pros and cons to both. For example, when you license a brand and have spent millions of dollars on product development only to have the licensor say, "I don't like it…" Well, what do you mean you don't like it? That's not specific enough. Sometimes a licensor can actually be tying one hand behind your back and not really helping you. You may not always agree on everything, but you need to work together, understand where each side is coming from and reach a solution that's best for both parties. The Kensie people, for example, are great like that. They find ways to work with us.
Another challenge as a licensee is that sometimes you pay the price for another licensee's actions that you can't be accountable for. For example, we're selling to Neiman Marcus and Nordstrom and the next thing we know the handbag licensee is selling to Costco. How do we respond to our retailers about something somebody else did? We can't control that. So it's all a challenge. Along those lines, I'm proud of our track record with regard to our licensee partnerships. We have a solid reputation. We care about the images that we portray with regard to all of our brands and value their individual integrities.
There are plus sides to both brand licensing and ownership.
Yes. With regard to ownership, the key is being able to create the velocity and demand for your own brand. On the plus side, being privately held allows us to respond very quickly. Also, having launched several proprietary brands in the past few years, we are getting better at those aspects. We have proven that we can do the volume and create the turns that a license would have given us. And we are responsible for our own destiny and don't have to worry about any other licensees making a move that might compromise the brand.
Is it better to have a portfolio of both or do you see it eventually evolving to one or the other?
For us, the blend of licensees and proprietary brands has been working well. We are set up to handle both. Actually, our urban license run of a few years back helped fuel our proprietary brand growth that followed. Some of those managers we hired to run those businesses have shifted to those brands. Also, I believe having this diversification avoids the problem of having all our eggs in one basket. We got hurt when the urban trend died out. Fortunately, we were able to stay afloat and today we are hitting new plateaus with our new launches and licenses. Now it's a little bit of everything that's making up our overall growth. It's outdoor lifestyle, comfort, casual athletic, kids', women's and junior's. Of course, it hasn't been easy. It took years to build this up. But that's enough about the past. I've got beautiful war stories I want to tell you about, like our new assembled in America program with André Assous.
Ok, tell me all about that.
We think our assembled-in-America program is an important initiative, and if we can deliver more, we'd like to expand upon it. Unlike a lot of other made-in-America efforts, particularly those done in New York, the retail price can be very high, but this is not the case. André Assous has been a $200 brand and we are offering consumers assembled espadrilles in the U.S. at $100 retail. We found a way to take advantage of producing components at a low cost while paying close attention to the labor costs. There are about 30 employees making 5,000 pairs of four espadrille styles done over a four-month span. Now imagine if we are able to produce 100,000 pairs. It'd be a 12-month business and we'd probably have to hire more than 100 employees. That's just one threshold to shoot for.
In addition to the patriotic benefits, what are some of the other advantages related to this program?
To be honest, there aren't that many. It's a nightmare. [Laughs.] To make one pair of shoes requires 250 pairs of hands from start to finish. It takes a lot of work. Components people, for example, had to visit the factory to make sure that the lasts and bottoms fit the uppers. That said we will save time on shipping from here. The first collection is just hitting retail as we speak—key independents like Harry's and Tip Top as well as majors like Nordstrom.
What did retailers like about these shoes, in particular?
First of all, the ability to sell André Assous espadrilles at more of a volume price point. This is a good way to introduce that price point without taking down the intrinsic value of the European brand. We believe the quality and caché of something assembled in the U.S. at $100 has as much value as a $200 shoe on the shelf. Offering both is the key. Now consumers have a choice within the André Assous brand.
It appears that Vida Brands, even at 40-plus-years old, has entered a new growth spurt.
Things have been going well. My father has always been very entrepreneurial in his approach to the business and never wants to be associated with getting older. That's why he likes to hang around youthful people. It helps keep him and, by extension, all of us here, young and sharp. The expression "the apple doesn't fall far from the tree" has rubbed off in this regard. It's so important for Vida Brands to evolve with the Millennial consumer because they are our future. That's why we have sought a mix of Millennials and Baby Boomers to work for us in an attempt to extract both thought processes and apply them. Personally, what do I know if a young woman's shoe is going to be a hit? I spend most of my time sitting in a glass office. Unless you are selling a shoe that caters to me, don't bother asking me for an opinion. I'm not the end consumer. We have merchandisers and designers that are that consumer and can relate to them.
Switching gears a bit, what's your assessment on the state of sourcing?
The industry is faced with some serious challenges. But, hey, I've been dying to do business off the Amalfi Coast, so it's not all bad. In fact, we have been increasing our production out of Europe of late with the dollar being so strong. That said I don't see an immediate problem over the next three to five years sourcing out of China, especially with the state of their economy. They need our support in order to keep manufacturing jobs going. But it's still very important to explore other countries that produce footwear. Vietnam is one and now we are testing the U.S. And we already are sourcing out of Italy, Spain and Brazil as well.
Where do you see Vida Brands in five years?
The plan is to focus on our current portfolio and make all the brands stronger. As long as we hold those licenses, we consider them to be our properties and we aim to make them bigger, better and stronger. The same goes for our proprietary brands. In addition, another goal is to take on more proprietary brands if the opportunity presents itself.
What's your take on the growing dominance of online shopping?
It's very intriguing. It's so important to deliver a message to the end consumer, but how it translates into sales is the next challenge that many retailers are still trying to figure out. While B2C for a company like us gives us an opportunity to get closer and understand our customer better, it's really more about allowing us to improve our performance for our retailers. Jambu, for example, has a mobile app coming out soon that will enable us to sell direct, but our main goal is to learn more about that consumer so we can understand their habits and needs and deliver that in a mass way to our retail partners.
Where do you see the shoe store 10 years from now?
I can't really see it going away entirely. As easy as it is to buy something online, I believe traditional shopping will still have appeal for plenty of people. It allows families to spend time together and kids need places to congregate, right? But shopping malls will evolve to meet the changes in how consumers want to shop. For example, malls and shopping centers have been adapting to more of an outdoor format. It's evolving to offer an experience that will make people want to go out and shop. In the meantime, we have to address omnichannel concerns, and the only way we're going to figure that out is surround ourselves with people who understand that approach.
What do you love most about your job?
First of all, I love being able to work every day with my cousin Gabe and my father. I think it's sensational. I also love working with all of our team members. Another favorite part of my job is being able to travel and meet with our retail partners. I also love working with the Two Ten Footwear Foundation, which is a wonderful group of people. I don't see another industry that reaches out to its own during tough times. We help pick people up when they are down. Overall, I only have great things to say about the shoe industry as it has taken care of our family and so many other families for so many years.