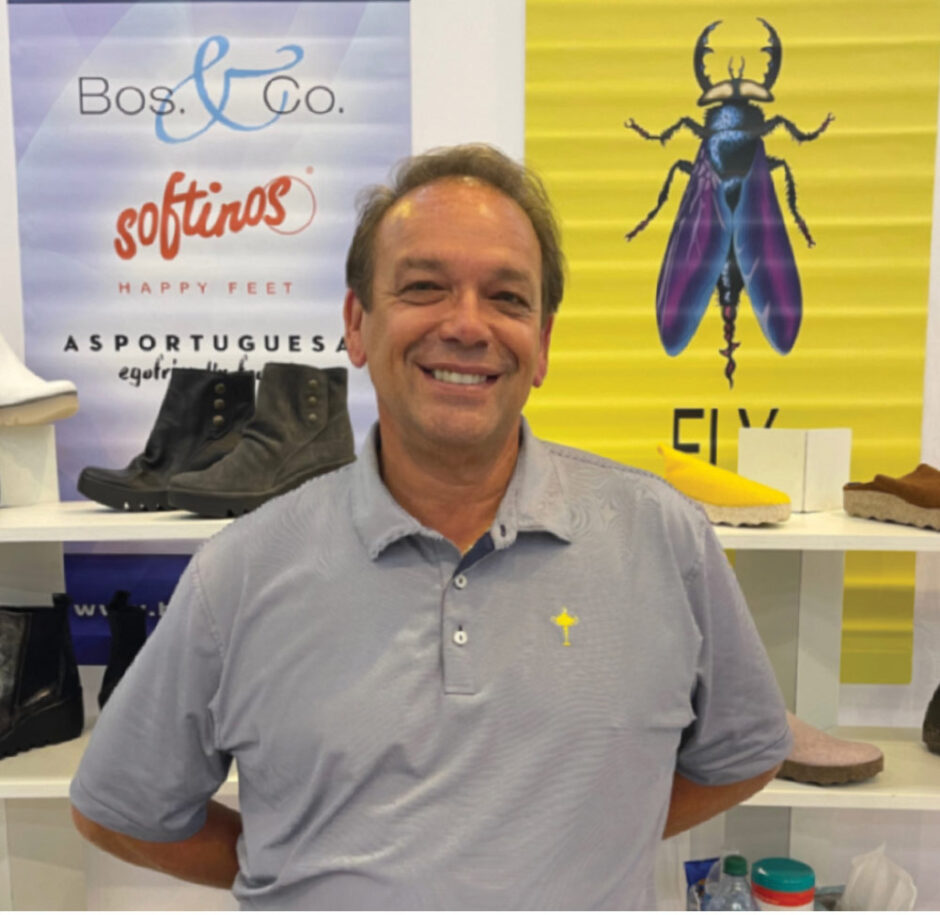 Kevin Bosco saw it with his own eyes. Despite daily doom-and-gloom reports (record inflation, an ongoing pandemic, fears of recession, war in Ukraine, the threat of war looming in Taiwan, consumers tapped out and stressed out), he saw a much brighter picture during a recent driving tour of retail customers on his way to The Atlanta Shoe Market last month. Leaving from Bos. & Co.'s home base of Burlington, Ontario, Bosco visited stores in Michigan, Indiana, Kentucky, West Virginia, Pennsylvania, the Carolinas and Georgia. And what he saw, by and large, was bustling stores in lively downtowns and shopping districts. People were going about their daily lives, getting ready to go back to school and back to offices.
"It being the middle of August, most had sales going as they were trying to make room for their fall goods," Bosco reports. "But the retailers we met with were pretty positive about the way things are overall."
Bosco attributes a lot of the positivity to Bos. & Co.'s approach to business. "Our retailers were happy to see us because I think we're doing a couple of things right," he says. "We've managed to deliver our goods on time and we've held our pricing. We didn't do any mid-season increases due to shipping costs or materials. We also have a strong in-stock program to support our retailers."
Then there's Bos. & Co.'s distribution: mid-level market brands sold primarily through independent retailers. It's a healthy and reliable channel, according to Bosco. "Everybody wants to say that life and shopping habits have forever changed as a result of the pandemic—and maybe they have for certain businesses and commodities—but our business remains solid," he says. "I see it in the shops: Customers who buy our products want quality, value, style, service and interaction with a retailer. While the pandemic has certainly had an impact, I don't believe life has forever changed. At our level, the customer still wants to have that interaction in stores."
A third positivity factor lies in Bos. & Co.'s brand portfolio of Fly London, Bos. & Co., Softinos and Asportuguesas. (Ambitious, a European casual brand, has just joined, beginning with the Spring/Summer '23 season.) The brands are performing well, Bosco reports, and strong-selling brands bring smiles to retailers' faces. "Our retailers are very happy with us and our brands," he says. "Our business is doing well."
Asportuguesas is doing particularly well. The lifestyle changes brought on by the pandemic are right in step with the brand's platform. Sustainable design: check. Outdoor lifestyle aesthetic: check. Can be worn as slippers: check. Comfortable: check. Ugly chic a la Crocs: check. A Euro comfort brand that doesn't begin with the letter B: check. "While each of our brands have their own flavor, market and potential for growth, certainly Asportuguesas has contributed a lot to our overall growth in 2022 and, in terms of our Spring '23 bookings, it's doing quite well," Bosco says.
Back in 2017, when Bos. & Co. began distributing Asportuguesas, Bosco never envisioned its alignment with so many macro trends. He has no crystal ball, but he and his team do have trained eyes for spotting unique brands with strong growth potential. "What we saw then was a unique product with a sustainability story," he says. "Certainly, the sustainability story has been growing in popularity since then and that, combined with the unique-looking styles, was the driver at the start. But the factors brought on by the pandemic have created a perfect storm—the good kind—for Asportuguesas."
Fly London represents a similar success story, albeit one that began more than 25 years ago when Bosco's team first spotted the Portuguese brand. Since then, Fly London has carved out a niche as a comfort brand with a touch of 'tude. Case in point: its collection of wedges, which keep selling season after season, year after year. "You think that a silhouette has a lifespan and that a brand will eventually move on to the next silhouette and then the next," Bosco says. "But our Fly London wedges are just something that can't be killed." Rather than mess with success, Bosco says the team and the brand's parent company, Kyaia, keep going back to wedges, introducing new uppers, patterns and materials to "keep that old silhouette still looking fresh." Bosco adds, "Our core Fly London business continues to be extremely successful. It's unique, casual lifestyle product, and we've always been successful selling that."
Hence, the addition of Ambitious. Bosco is confident the brand possesses all the key ingredients to become another success story. First, it's made in northern Portugal, a region Bos. & Co. has been doing business in for more than 30 years. Bos. & Co. and the brand's owners had been slow dancing toward a partnership over the past few years. Bosco admired Ambitious' styling, attention to detail and how it was performing in Europe. Meanwhile, Ambitious' owners were well aware of Bos. & Co.'s track record for growing Portuguese brands in North America. Ambitious also addressed Bos. & Co.'s need to beef up its men's offering. Plus, Bosco believes there's a void in the market for this type of brand. "There's a real absence of men's European fashion sneakers and casual shoes—something new and fresh," he says. "It's not a traditional sneaker, rather a sneaker with a fashion twist, or a casual shoe with a sneaker influence. Basically, it's a European dress shoe."
While Bos. & Co. is content with its current portfolio, the team always has an eye out for new brands and styles because you never know what you might come across, Bosco says. However, "It has to fit inside our portfolio and customer base, and the product must be right. Reliable sourcing is another big factor. You can go to bed with a lot of people, but are they going to deliver at the end of the day? And the brand must have long-term potential as opposed to being a flash in the pan."
Making those decisions—and determining what assortments make it into the brand offerings each season—is an experienced group of Boscos that now spans three generations. "My father, despite being 83, is at work every day. He's got a lot of experience, having started when he was 18 years old as a stockboy at Bata Shoes," Bosco says. "And I've been in the industry now over 40 years and my brother, Dean, is my longtime business partner, and my nephew, James, has been working very closely with me over the last six years in sourcing and sales. So, it's a team effort visiting new factories and shopping the market. Hopefully, we pick the right pieces of coal to turn into diamonds."
How's business?
Our Spring and Fall '22 programs have shown good growth compared to the previous two pandemic-impacted years. Even better, in comparison to our pre-pandemic business, we're very close to achieving that same level of volume.
With all the uncertainty in the air, were you confident Bos. & Co. could get back to pre-pandemic levels this year?
There sure is a lot of uncertainty. But a year-and-a-half ago, when we were introducing our Fall/Winter '22 collections, we found retailers a little apprehensive and that they didn't want to place all their orders. They held their cards pretty close to their vests. But we decided to take an optimistic position on our stock with the belief that there would be retailers looking for business. And that strategy paid off. We found a great quality of buyers looking for immediate delivery. There were dollars there that weren't spent.
And what about this year?
We took a similar approach. Unfortunately, this year hasn't been as strong as we would have liked. Our business is weather-driven, and it seems like most of the country sort of went from winter to summer this year. That killed some of the repeat business we expected. There was fill-in business on the items we have been successful with, just not as much as we had anticipated. Also, I think retailers are still a little apprehensive, and some of that may be attributable to that uncertainty in the air that you referred to. There's been a lot of negative talk.
Record inflation has to be a factor in being a little short of expectations this year. Paying double to fill a gas tank takes a bite out of clothing budgets.
It has, no doubt. Inflation has been a concern, but we've been working with our factories and supply chain very closely. Transport is a big part of that story, and to combat this we're attempting to maximize our shipping and distribution costs through consolidation of product. We've also reduced margins from our side and the sourcing side to soften the impact of this. We're trying to provide additional time for the supply chain slow-down to advance our product presentations as best possible and in a way that the fashion business will allow. The focus is on essentials while, at the same time, attempting to introduce new, fresh and exciting silhouettes.
Despite not what you expected, Bos. & Co. expects to top last year, correct?
Certainly, we're ahead. When we look at our year-to-date versus pre-pandemic numbers, we're currently about six percent short, which is fantastic, as far as I'm concerned. Over the course of our 35 years in business, each year has been better than the previous one, except for 2020 and 2021, obviously. Now, we're ahead of those years and we expect to come very close to our 2019 total sales.
How has Bos. & Co.'s complete shift of sourcing to Portugal and Italy helped the company adapt to the supply chain and shipping shocks brought on by the pandemic?
Costs in Asia had been escalating before the pandemic, and the differences now with Europe are no longer as great as in the past. Then, when the additional duties came on board, this pushed it even closer. And while shipping costs have risen in Europe, too, it's not to the extent they have in Asia. Above all, though, sourcing in Europe provides us with the most recent materials and sourcing innovations in the fashion industry. We're able to work with our European partners and have key materials on the factory floors, enabling us to provide quick turnaround times and deliveries. Then there's the "made in Europe" stature. The quality and value for the dollar cannot be matched elsewhere.
Can this sourcing base meet Bos. & Co.'s growing demand? 
Yes, no doubt about it. Another great aspect about sourcing in Europe is the turnaround and transit times are shorter. We can get into product much quicker in terms of quantities, so when there's new items to be built or new innovations to be introduced, they are a little bit more manageable in Europe than they are in Asia. The production runs can be smaller, and while the costs for tooling in Europe in terms of molds can be higher, the sourcing for new leathers, materials and technologies can come a little bit faster than it does in Asia. The positives for us sourcing 100 percent in Europe right now definitely outweigh any negatives.
Is the secret out? Is there a rush of companies trying to move back into Portugal and Italy?
That's a good question, and I think it all depends on the type of products that you are building and what your price points are. Sourcing in Europe is not for everyone.
It helps, though, to have a big head start in this region. Bos. & Co. has long-standing partnerships there.
Absolutely. Not only do we have long-term relationships with our manufacturing base, we do with the supply base as well. We approach our supply chain sourcing the same way we approach our manufacturing sourcing, and that's all about building long-term relationships. We don't jump from one to another. We try to maintain relationships over the long term for the obvious benefits. You know, one day I scratch your back and the next day you scratch mine. Again, it's all very much a team effort.
What is the biggest challenge currently facing Bos. & Co.?
The biggest challenge is the change brought on by the pandemic regarding how we present product to retailers. It's certainly pushed us, and a lot of our compatriots, to have a sophisticated B2B platform where product can be viewed virtually. Over the last year-and-a-half, many retailers were forced to view product only that way. And while many are excited to come back to shows and touch and smell our latest styles, the pandemic showed us that perhaps there's an opportunity to blend the two presentation formats together. So, this season we are offering tactile and virtual presentations. We've focused on sampling the top two colors and the other three colors are shown on the sales team's laptops. We believe this combination of tactile and virtual presentation gives retailers the opportunity to see all the shoes, in all the colors. Because, let's face it, it's a lot easier for a salesperson to lug two bags and a laptop into a store than six bags, which can't be done. That's been a big endeavor this year, and we're anxious to see how our blended presentation approach turns out.
Do you sense any broader return to the way business was conducted before the pandemic?
I don't see us fully going back to the way we used to do things. But I do see a need for in-person presentations. Now, will there be a national show like there used to be in Vegas that pretty much the entire industry attends? That's a good question. The IR Show is trying to get off the ground as a West Coast regional show and Atlanta is already the East Coast show and definitely the closest thing we have to a national show right now. Maybe two big regional shows is the way it's going to be moving forward? We'll see.
The pandemic certainly upended life as we know, yet I see consumers shopping in stores offering an assortment of brands, as opposed to struggling DTC brands who tried to write off those retailers as greedy middlemen.
I think that was a very shortsighted approach, as well as a little bit greedy. They were wrong. The shop local movement is a big part of that shift, as well. That's a big part of our belief system: There's a desire for people to still interact on a personal basis at retail, especially for the quality and value level our product is at.
Like Ambitious, for example. What's to like about this brand?
Founded in 2008, Ambitious is a lifestyle brand born out of a family business based on the values of quality, tradition and manufacturing excellence. The brand's focus on street casual wear is perfect for the times we live in. Ambitious isn't just sneakers, though. It's European-styled casual shoes with a sneaker influence. Ambitious also has a solid sustainability platform—recycled, recyclable, vegan and leather alternatives, which has become a sourcing "must" and should be a priority for any brand today. While it's focus is on men's, the design concepts extend into women's.
How has Ambitious been received thus far?
We've had very positive feedback at shows in Michigan, Chicago, Kansas City, San Diego, Atlanta and Toronto. The are several indicators pointing to success for this brand, including a wide target audience, Ambitious being a fresh name and the fact that retailers can rely on souring product through our company. Ambitious will be delivered on-time and in-full, and we'll offer a strong in-stock program.
Might the fact that a few big-name athletic brands are culling their retail distribution help?
That's certainly part of our story. We have no interest in culling our retail partners. Ambitious could be a backup brand, in case that happens. While those brands are more performance-oriented, they're still everyday sneaker wear. Beyond that, Ambitious (SRP range: $150-$220) is an opportunity to show an alternative brand to give customers a choice as well as something a little different. I believe part of the key to success today is offering consumers something different.
The Ambitious guy isn't the typical sneakerhead.
No, this guy is probably age 35 and up. Ambitious is the same demographic as the rest of our brands, which is a mid-level, affluent customer who wants quality for value and wants to be fashionable yet comfortable. Ambitious also helps us diversify our customer base. Not every retailer sells women's shoes, for example. It gives an opportunity for our sales team to either build additional business with their existing customer base, or look to expand their customer base by having a different product to offer to somebody who may not have been interested before. Asportuguesas, for example, has definitely helped us expand in the outdoor specialty channel.
Is it still the tip of the iceberg in terms of Asportuguesas' potential?
We believe so. The introduction was very well received, and now the brand is well-timed with the changes that have occurred in our lifestyle over the past two years. The unique silhouettes and sustainability story remain the drivers, but as the importance of the sustainability story grows, we must remain true to that story. There's a lot of people who talk about sustainability but don't have the product or proper sourcing guidelines to support that story. You have to talk the talk and walk the walk. You can't just claim you're sustainable without the product sourcing and materials to support it. Consumers will find out who the fakes are. Sustainability has always been a strong emphasis of Asportuguesas, and it will continue to be. We are always trying to find new materials and innovations to make sure that the technology supports that story behind the brand.
Have the past two years or so been the most challenging in your 40-plus years career, or is this more a case of what doesn't kill you only makes you stronger?
We've been extremely thankful and fortunate to have a loyal customer base, who has supported our family of brands through these challenging times. In addition, our professional sales team and staff have been the strength and backbone for our success through the pandemic. They've faced and overcome every challenge thrown their way.
Where do you envision Bos. & Co. in three years?
Doing well and stronger than we are today. We will continue to build our market share primarily with the independent retail customer base. While we're on board with chains like Nordstrom, the lion's share of our customers is still independent accounts across Canada and the U.S. Meanwhile, we'll continue to further develop with our Portugal-based team to use the newest materials and latest manufacturing techniques to make the most compelling collections.
Might another brand join the Bos. & Co. portfolio?
Never say never, but right now our focus is on continuing to build the four brands that we have and adding Ambitious. Let's see where that leads us.
What do you love most about your job?
Going to work every day with my family. My father (Jim) is 83 and in the office daily. We all appreciate his passion and guidance. My brother, Dean, with his creative and marketing skills, is a fantastic partner. And my nephew, James, is now actively involved in both sourcing and sales. He'll ensure the future growth of our company. The best thing that can be said is that we rely and can count on each other. •