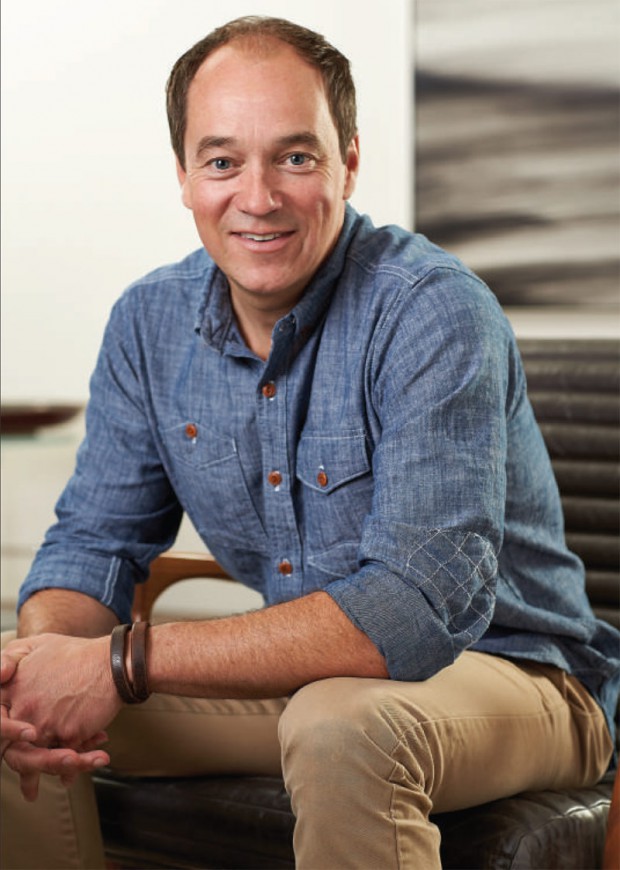 It's been quite a busy stretch at Deckers Brands since Dave Powers was promoted to president in March of 2015. The portfolio has been streamlined down to Ugg, Koolaburra, Teva, Hoka One One and Sanuk. The brands have been grouped into two new divisions, Fashion Lifestyle (Ugg and Koolaburra) and Performance Lifestyle. Two new group presidents have recently been named: Wendy Yang, formerly of New Balance, as head of Performance Lifestyle, and, just this spring, Andrea O'Donnell has joined from DFS Group Ltd. to run the Fashion Lifestyle division. In addition, plenty of other talent has been recruited, including Nike veteran Stefano Caroti to oversee omnichannel operations, a key focus for the company.
The way Powers views it, the heavy lifting is done: An "incredible" team is now in place, and it's time for Deckers Brands to start executing its strategies to expand from a footwear-centric operation to a company of leading lifestyle brands. "We have undergone a major transformation, and we've made great progress over the last year with what I would call foundation building," says Powers, who succeeded Angel Martinez as CEO this month and describes the past year as the most challenging and rewarding of his career. "I believe that we have adopted a faster mindset that is really focused on thinking along the lines of what the consumer is looking for and not the traditional 'go-to-market' approach of a footwear company."
Indeed, Powers believes the old playbook of brand building and succeeding at retail is quickly being phased out. The game is being reinvented (imploding might be more accurate), and those who fail to develop a new strategy will likely not survive. Powers, who joined Deckers in 2012 as head of global direct-to-consumer (DTC) and soon after took charge of its global omnichannel division, got right to work writing a new playbook after being named president. Up first, he says, was making sure the brands know who they are, i.e. what they are famous for, what their core items are, what they can build on and who their customers are. Powers believes such basics enable each brand to understand "how they are going to win." The next task was connecting the dots between the brand building and omnichannel teams so the go-to-market process would be seamless. "That enables us to move quickly in today's marketplace and bring big ideas and innovation to market faster," explains the exec, a former DMM at Gap, which he followed with DTC management stints at Timberland and Converse.
One such idea is the decision to make Koolaburra a fast-fashion, lower-priced sheepskin brand so Ugg can maintain its premium position. "There's a significant opportunity in the under-$100 sheepskin boot market," Powers says, adding, "It also gets us into the footwear specialty chains and mass-market retailers where Deckers doesn't traditionally play." The first collection will hit stores this fall and Powers reports the sell-in was solid. "We are launching it with a handful of select retailers that have a lot of doors so we can get distribution out there pretty quickly," he says, citing Shoe Carnival as an example.
Another big idea that Powers presided over involved reorganizing Ugg. It's been an enormous undertaking. The departure last spring of long-time brand president Connie Rishwain meant everything could be looked at through a different lens, which Powers admits came with ups and downs. On one hand, a change in leadership was disruptive. On the other, it ushered in new ways of thinking and opened the door for remaining team members to step up. "It was a scary time for some people because they were so used to things being done a certain way," Powers says. "But the consumer is demanding a different approach."
Reacting to the demands of consumers is just how Powers, a self-described merchant first and foremost, operates. When asked if he views himself as a "footwear exec," the response is "more than that," but ego has nothing to do with it. "I don't think in that silo," he says. "I think about the consumer, the customer experience, storytelling, innovating with new big ideas that are going to move the needle. While I have spent a lot of time on the production side, I don't think about how I'm going to put two more SKUs on a shelf."
Powers considers it "super critical" to think of a brand in the way the consumer does, because that's reality. "What you think of the brand doesn't matter if the customer doesn't believe you," he says. "I'm always looking for what's going to excite them on a regular basis—what's the new, innovative story. With the powerful brands in the Deckers portfolio, it's our obligation to continue to bring fresh, exciting ideas to the consumer, and I believe that comes with a merchant mindset."
While Ugg, for example, could have operated on cruise control and likely experienced incremental growth, Powers believes the brand would be in danger of falling into a rut. "We've been focused on our core Classics, which has been great, but it hasn't allowed us to evolve and innovate," he says. What's more, Powers says the opportunity to expand into a full lifestyle brand is too promising to pass up. "We've been on a nice run, but let's make sure this run continues for a long time by making adjustments to the team so that we are more powerful and have more opportunities to grow the brand," he says.
Powers is overseeing a similar consumer-cued, lifestyle-focused growth strategy with the rest of the brands as well. He cites the ability to reach and interact with consumers on so many levels today as creating enormous opportunities to reach that goal. "It's a new playbook—you have to do celebrity placements as well as viral grassroots programs featuring unique and exciting content—storytelling," he says. "It's not just photo ads anymore. It's about creating an experience for the consumer." Powers believes that's where the market is headed. He notes that the younger generation, in particular, has a short attention span, and the challenge is to keep in front of them and stay fresh much more than just four seasons a year. "It's got to be every week," he says. Making matters more challenging are the seismic shifts in retail that are occurring—another reason Powers believes companies must adapt. "There's a lot of uncertainty—the valuation of the dollar, the election, retail migration to online, the weather, the consumer is shifting faster than ever, traditional marketing doesn't really work anymore…it makes for challenging times," he says. "But I also think it's just fascinating and exciting, because there is something new brewing. It's an opportunity to rewrite the playbook."
Looking five years out, Powers envisions Deckers Brands as a global lifestyle enterprise famous for its innovative products, corporate culture and being a dominant force in the footwear industry—and beyond. "With our investments in people, omnichannel capabilities, brand building, innovation in DTC…we're gearing up for the next big phase of growth," he says. "It's going to be a fun ride with all the new talent we have in place."
If you had to grade yourself, how would you assess the past year for Ugg, specifically?
I am never satisfied and always want to accomplish more. But I am really proud of the way our Ugg team stepped up in this interim leadership situation. There has been a lot of change in structure, roles and responsibilities. We have been empowering our team to think differently, giving them opportunities to showcase their talents and develop what we think is the right positioning and future opportunity for the brand. We have a lot of styles in Ugg that do huge amounts of volume, and that's where we need to build. We now have a really clear view of what the opportunities are and now it's just up to the team, under Andrea O'Donnell's leadership, to execute.
What qualities does Andrea O'Donnell bring to the team?
Andrea brings a few qualities that are really important to Ugg at this stage in its evolution. She has an international perspective of the marketplace. She comes from the UK and has a great retailing background in Europe. She also spent her most recent period working in the Asia-Pacific market. One of our largest growth opportunities for Ugg is international. She also understands the accessible luxury marketplace. She is a strong merchant, which is what I believe we need in this role—somebody who can think big and bring big ideas to market in a powerful way. She understands retail, and DTC is a third of our business globally and going to continue to grow. So making sure that the team has a DTC mindset and how we bring stories to life that way is important. What's more, all of her skills help round out the capabilities that we already have within the brand with regards to footwear. I also think her leadership style might be her greatest quality. Andrea can really motivate and empower a team. In addition, she fits into Deckers' culture, which is very collaborative. And what I love about her the most is that she can see what the potential of what the Ugg and Koolaburra brands are. She has looked at it from a mindset of being in the global marketplace and believes that Ugg, in particular, can be twice the size it is today.
Did you choose someone without a footwear wholesale background by design?
Yes, although she has certainly worked with many footwear brands on the retail side. When we started interviewing candidates for this position, we came across a lot of strong executives in the North American footwear market. But their skillsets, in general, were very singular. They didn't really understand the international market and lifestyle branding. We also felt that we already had incredible footwear talent and capabilities in Deckers, so let's bring in somebody who can really tap the true potential of the brand—someone who understands the consumer and knows how to merchandise to round that out. Someone who sees the true potential of Ugg as a lifestyle brand and not just a footwear brand.
What is Ugg's true potential?
Without quoting numbers, there is a significant upside. Just in existing footwear categories, there is still a lot of potential. As we start to reach new consumers, look at different channels opportunities and global DTC growth, footwear continues to be a big growth area. We're also going to be launching an outerwear collection this fall in our retail stores that is built on Adirondack and Butte boot franchises. That will roll out to the global marketplace the following fall. And we are evolving our loungewear collection, which we think has a tremendous opportunity to go from home to street loungewear.
Street loungewear—I like the phrase. What are some examples?
I think people, more and more, like to be comfortable and casual in nature—relaxed in their skin. They are gravitating to brands that can deliver that, but in a stylish way that they can wear outside their homes. We're not talking about athletic or high fashion designs, rather something that is similar to what our Classic boots offer: the ability to relax, be yourself and treat yourself to great comfort.
So shirts, pants, jackets?
It's really more casual constructed knitwear, fleece and shearling items. We are not going to do any constructed wovens, jeans or anything of that sort. With respect to the athleisure trend, for example, we think there's an opportunity for us to be relevant in that space delivering luxurious comfort, but we are not going to get into the yoga pants market. I think our version of sweatpants paired with our sneaker styles that take cues from athletic but remain true to the Ugg DNA can play well in that space. It's a little more fun and fresh product. There are lots of consumers that love Ugg's comfort but just don't like the style of the Classic boot. So when we start to bring that comfort to other product categories, that's when we expect to get new customers into the brand as well.
Ugg has made prior attempts at launching apparel collections. What's different this time?
One, we are coming from a place of strength and acceptance with the consumer. They love the loungewear collections that we have done over the last year or so and they want more, versus in the past when our apparel didn't seem connected to the brand. We didn't have any traction there. The products we are having success with now come from that casual luxury space. In outerwear, for example, we are going to leverage off our waterproof winter boots into an Adirondack jacket. And we can build off of that with shearling outerwear. For Ugg, it's about effortless confidence and natural style, and the work that we've done over the last year has enabled us to understand that through the eyes of the consumer. I think that once you know what they really loves you for, then you can build a line that is relevant. Whereas, if you start from strictly a design perspective, that's tougher. We are focused on delivering on what the customer loves us for first, which is casual luxury comfort.
Do you envision Ugg as a complete lifestyle brand five years down the road?
Yes. As part of that effort, we opened a new store concept in Disney Springs, FL, last month that showcases the brand that way. Our previous stores were footwear stores. We didn't have fitting rooms or the correct fixtures to display apparel. This new format allows us to showcase all facets of the brand—head to toe—in an environment that feels very casual but still upscale. It's going to be a really rich experience for consumers. Over the next three months, there will be similar stores opening in Shanghai and Tokyo. A few more in North America will open over the course of the year.
While on the topic of Ugg, many independent retailers were angry about the re-price last fall on select Classic styles, as markdown money was only awarded to larger chains.
To give you the full story on this issue, we knew that it was time to innovate on the Classic. The consumer has been telling us that they love the style and how it feels, but it gets slippery when wet and it stains easily. We made the decision to incorporate our Treadlite outsole technology into an updated line, so it's more comfortable and offers better traction. We are also applying a water-resistant finish so it doesn't stain as easily. Those are all functional benefits. In order to do that, we had to clear out the old product. That's why we did the re-price on the Baily Bow, Baily Button and Classic last fall. I think some of the noise that you were hearing is that as we took that re-price down, a lot of retailers came to us asking for markdown dollars. Being a public company and the financial targets that we had to keep in mind, we weren't able to supply markdown support to everybody. Instead, we said if you want to purchase more Classics to take advantage of the volume you would do on the discount, we'll offer a discounted price.
How has the new Classics collection been received?
It's been pretty positive. Retailers understand it because they hear it from their customers who are looking for those functional updates. The beauty of it is that we have diversified our franchise assortment, like with the introduction this year of the Classic Slim and Classic Luxe styles and the introduction of the Classic Street this fall, which will be a little bit younger and more fashionable and fun with the Treadlite outsole. In the past, all our retailers were pretty much relying on that one silhouette. Now we have a diversified offering that's going to bring in new consumers to the brand and allow us to segment the portfolio. Three to five years ago, our core Classics accounted for upwards of 65 percent of the business. Now it's roughly 25 percent. I think that's a healthy place. It's still growing, but the non-Classic products are growing at a faster rate. We are starting to get traction in casual boots, winter boots, sneakers and sandals.
In men's, too.
Men's is a big potential for us. We have one of the healthiest slipper businesses in the world. We are applying that same comfort experience into our casual styles. Our casual and sneakers styles are selling through well. Rob Koenen, our men's VP, is applying the core DNA of the brand into the line, segmenting the market both from a consumer and a channel perspective. I expect to see pretty sizeable growth in men's over the next three to five years.
Now about the Performance Lifestyle group…
Hoka is on fire, and while Teva and Sanuk are not necessarily performance brands, they do play in a similar space with regards to distribution and consumer. By grouping them, there's a lot of leverage from learning from each other and making sure that they have distinct positioning so that they are not competing with each other. We can also leverage the back end from an efficiency standpoint. Even though they are three distinct brands, it's one team. That's what Wendy [Yang] brings from a leadership perspective. She is a brand builder, very strategic and focused. That's what those brands need in order to understand where they are going to win and what it's going to take. Having those efficiencies allows us to focus on brand building versus operations. I believe there's real power and upside in this group.
Hoka aims to be more than just the "over-sized" running brand, correct?
Longer term, we see Hoka as an athletic brand. Its premise of ultra lightweight and maximum cushioning has experienced incredible success in running specialty and the growth opportunity going forward first involves moving beyond the core runner to what I call the casual or weekend runner. We are working on product evolution and marketing opportunities to reach a broader consumer that, ultimately, we can drive to our ecommerce sites and big box retailers.
Will Hoka slim down, so to speak?
We just launched the Clayton, which is a combination of maximum cushioning and ultra lightweight that is oversized but doesn't look as striking to eye. And we are finding through our innovation engine new ways to bring that same functional benefit and feel that is a little more acceptable to the casual runner's eyes. That said, if you go into any athletic store today you can see midsole and outsoles are getting thicker. Hoka, in a sense, is very much like Ugg, meaning people feel the difference immediately and it's hard to go back. People quickly overcame the idea that it was ugly. That's what we are really focused on across all of our brands: exceptional comfort and that 'aha' moment when you put it on so it's always going to be in your closet. I should also note that Hoka was the No. 1 brand of participants who finished the recent Oceanside Triathlon. It just shows that if you have the right product that really taps into a consumer interest, you can succeed.
How would you describe Sanuk's positioning?
With the work we've done over the last year, which has involved relocating the brand to our corporate headquarters, Wendy's leadership and feedback from our consumer insights team, we realized that there is more equity in its original positioning than we gave ourselves credit for. When we purchased the brand, the goal was to evolve it beyond surf specialty, bring in more female consumers and broaden distribution. We had been successful, but, in the process, we walked a little too far away from the heart and soul of the brand. So you will see us go back to not exactly its original positioning, but being a little more fun and disruptive, which is what made it famous.
So a surf brand brand mostly?
It's certainly for the surf consumer, but for the female consumer purchasing it at Tilly's or Nordstrom, it's just a cool casual lifestyle brand with a surf vibe to it. At the end of the day, Sanuk delivers on incredible comfort and casual styling. We need to continue to innovate off of those platforms. The Yoga Sling, for example, is one of the top-selling unit styles within Deckers. But I don't want to pin us down into any specific category. The Yoga Mat sandal, like the Beer Cozy style on the men's side, were breakthrough ideas in the footwear industry and we can build off of them.
And Teva? The outdoor lifestyle market is potentially huge.
Yes. I call it outleisure instead of athleisure. I'm big on franchise styles, like Teva's Original sandal. That's a franchise style that you can build off of. You can spin that sandal to the casual space with premium rugged casual leathers as well as to the sporty athletic space with more technical details, but it is still the same style. It allows us to segment our consumer and our distribution off of a known item that you know the consumer already loves instead of trying to get something else to stick to the wall.
Teva has gone through fits and starts to become a year-round brand.
That's still the goal, and we actually have a surprisingly healthy boot business. The women's De La Vina boot is a bestseller in some of our key retailers. It delivers on that same combination of comfort and style. I think we have an opportunity to go back into the outdoor space in a more modern, fresh and relevant way. This modern outdoor fashion movement is perfect for Teva. The Arrowood boot coming out this fall is expected to do well and the Float sandal we launched this spring is selling well. Because Teva is such an original, authentic outdoor brand, I think it has permission to get back into that outdoor lifestyle space.
On the subject of the great outdoors, many say the warm winter was the tipping point on the rash of store closings. Do you agree, or was this massive shakeout inevitable?
I think it's been heavily weighted by weather. When it's 70 degrees in New York on Christmas Eve…everybody gets hurt. But I also think that there are tectonic shifts happening within the consumer marketplace. There's a revolution going on, and it's hard to predict what's going to happen and what the consumer behavior is going to be. A lot of brands are buckling down as a result. But I believe that Deckers, through all the work that we've done over the last few years with regards to the reorganization, improvements in our omnichannel capabilities and system upgrades, is ready for it.
Overexpansion is what cooked these retailers in the end, correct?
Yes. It was short-term thinking. That represented growth but, at the same time, as retailers signed those deals there was probably a pit in their stomachs saying should they really be doing this? Some of those decisions are coming back to haunt people.
Are you optimistic it can all shake out for the better? Will there be fewer stores? Will it all be bought online or DTC?
I think all of the above [laughs]. That said there is always a place for retail. My 15-year-old son, for example, still loves to go to a store. He finds out about things on his phone, but he wants to go to a store and try it on. I think you'll always have that need for consumers, especially in footwear. I believe retail will be better for it after this shakeout. It will clean out a lot of the poor retailing and customer experiences that has been overly dependent on price discounting. Hopefully, we'll get back to experiential retailing where, if you are a powerful brand and offer a great customer experience, you will be successful. If you are competing on price and/or convenience, then it's Amazon.
As a big proponent of DTC, how do your retail partners coexist with your projected growth there?
We really don't have major distribution in North America. We have a few key big accounts like Nordstrom. They understand that we need stores for brand building and to connect with our consumer and showcase the breadth of our line. And while I'm a big fan of DTC, I'm not a big fan of growing it just through more store openings. I'm very focused on the right experience and financial model. I look at our stores in key markets as brand builders, even though they are making money and our successful. In addition, a big focus of ours will DTC online. The digital marketing capabilities, analytics, loyalty programs, elevating our experience online—those are all aspects that we are investing in. I think that's a place where we can really win. We have an exceptional ecommerce business and a great platform to continue to build off that.
I read recently that Nike's goal is to do $5 billion annually in DTC in five years. That's a serious chunk of change that used to go through retail. How do they deal with that loss?
It comes down to giving the customer a reason to go to your store. It's got to be a unique experience, have special products and incredible customer service that gets them out of their house, into their car and driving to your store. It's definitely a challenge for retailers, but it's why I believe powerful brands will win if they continue to invest and innovate. I think we'll get through this rough stretch, but my take is we have another 18 months to figure out how things will shake out. Regardless, that traditional go-to-market approach, where you start working on your line 15 to 18 months ahead of time, have a sales meeting, visit accounts, is ending. In that time frame, three trends could have come and gone.
An ongoing go-to-market approach.
Yes. That's why I believe a retail merchandising mindset is the way to go. I tell our team all of the time that if we see a sketch or prototype that everybody believes is going to be a best-seller, then why wait a year to bring it to market? If the customer wants it now, figure out how to get it to them. If you have a powerful DTC channel, then bring it to market faster and bring it to retail after.
What do you love most about your job?
Inspiring and empowering people to do their jobs and innovating on products in new ways to connect with the consumer. You always have to be ready for what comes next. You have to be driven, inspired and up for the fight every day. That's why we're all in this business, and I love that. •