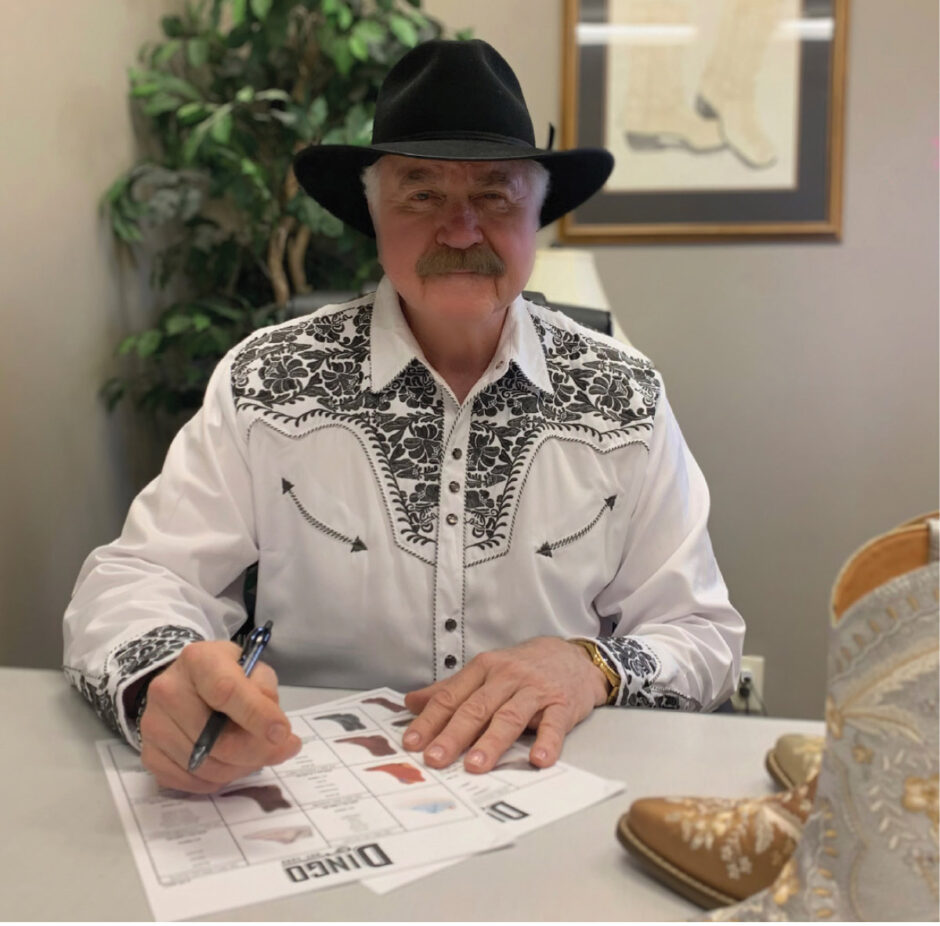 Dingo's business is booming. Over the past three years, sales have doubled annually—pandemic be damned—and are expected to do so again when the company completes its fiscal year at the end of July. The outlook for the next few years is even more bullish as Dingo rides a macro lifestyle shift while also expanding into a licensed head-to-toe brand. In fact, Ron Owens, the man at the reins, believes Dingo has just burst out of the gate. In his half century of working in and on the fringes of western fashion, he's never seen so much growth potential—for Dingo and the category overall. This is no fleeting Urban Cowboy craze or Yellowstone effect. Owens says western—and by extension Americana, vintage, boho and denim—is much broader and deeper, driven by an array of large-scale demographic and fashion trends snowballing like never before.
"This is the first time I've seen any trend crossover ethnicities, age, gender, music, film. I've never seen one this universal in my life," Owens says, noting that cowboy boots currently rank in the top 35 of all product searches. "This represents a much bigger and longer-lasting, lifestyle shift."
What is causing the tectonic tilt? Owens cites several key factors, starting with America's great migration. Specifically, the millions of Americans who've moved or plan to move to destinations where western fashion is everyday attire. "People are moving in droves from the entire Northeast, and from big cities in the Midwest, California, Oregon and Washington to North Carolina, South Carolina, Florida, Tennessee and Texas," he says. "These are people who never wore a lot of denim, and certainly never wore western boots. A month or so after moving, they are. Half of them end up buying hats, even." Owens adds, "The South just brings with it a more rural feel and always embodies a stronger sense of Americana than other parts of the country, and that's having a big effect."
Factor No. 2: It's a Gen Z thing. "Western boots are the favorite shoe of that generation, as well as for a lot of Millennials," Owens reports, adding that white boots are so hot now that they've developed into their own category. "The number of hashtag postings of these looks on TikTok is unbelievable." Owens adds that the definition of western footwear has broadened greatly; that's to the benefit of the category and, especially, a hybrid fashion brand like Dingo. He cites the boots worn by Gwen Stefani at her wedding to Blake Shelton last summer as an example. The media described them as "western," but the sky-high white Le Silla stiletto boots embellished with Swarovski crystals on the toe and heel could just as easily be deemed fashion. "I think fashion is fashion," Owens says. "If it has western connotations or flair but isn't really true western, it doesn't matter." What does matter, he adds, is that the No. 1 item on The RealReal, Poshmark and other vintage sites is western-type boots. "There's a growing niche where, if we interpret the product correctly, we'll have a huge opportunity for success," he says.
Factor No. 3: Western footwear is versatile, especially for guys. "Look at how men are dressing these days: jeans, a leather jacket or blazer over a dress shirt and boots or sneakers," Owens says. "Anywhere you can wear a sneaker, you can wear a western boot. It's just easy, and people want fashion that they really don't have to think about." Owens adds that western footwear is also travel-friendly. "People are traveling much more, and they want a uniform look because nobody likes to check luggage anymore," he says. "You can wear boots to dinner, a concert, a walk in the city…You can dress them up or down. Just as sneakers are practical and comfortable, so are western boots."
Factor No. 4: They offer good value. Owens agrees with Giorgio Armani's recent statement that consumers are going to buy fewer pairs overall. "As a result, what they buy will be much more universal," Owens says. Similarly, whenever the country is struggling economically and Americans are under a lot of stress (like now), the western category performs well. (The same rule applies when patriotism is all the rage.) "It comes back to people buying less and wanting more universal product," he says.
Factor No. 5: The film and music industries are crushing on western. The popularity of Taylor Sheridan's series Yellowstone and 1883, as well as his highly anticipated 6666, 1932 and Landman series are serving as western fashion runways, showcasing prairie dresses, dusters, shearling coats, barn jackets, jeans and, of course, lots of western boots. "Beth Dutton (Yellowstone's ruthless banker played by Kelly Reilly) is doing more for women's fashion right now than I've ever seen," Owens says. "She's become an entity unto herself." Sheridan is also working on Bass Reeves, an eponymously named series about the first Black deputy marshal west of the Mississippi River, widely considered the inspiration for the Lone Ranger. "African-Americans have played a huge role throughout western history, and this show should only extend the crossover appeal of western fashion to that audience," Owens says. That crossover is already happening in country music. The recent Lil Nas X and Billy Ray Cyrus hit Old Town Road is one example. "It's great to see so many rising Black country music stars," Owens says, adding, "Who'd have thought 15 years ago that country music would be the most inclusive of all genres."
All these factors add up to huge, sustained growth potential for Dingo and western fashion. Owens has never felt more excited about the future—and that's saying a lot from a man who's spent 50 years in the industry and enjoyed some epic runs. These include the explosive debut of Dingo in the'70s, the Charlie Cole-led Candie's craze of the early '80s (one out of every four American women owned a pair), the salad days at Sam & Libby under Sam Edelman in the late '80s, and the relaunch of Candie's as part of Iconix Brand Group in the mid '90s through the early aughts.
Owens, who then ran his own business, Mojo Moxy, for about a decade, retired briefly but the potential for another big run (and feeling like he'd played enough golf) lured him back. "I love the business now more than ever," he says. "Finding new ways to market product, researching consumers, discovering what's important to them, how they're shopping versus the past, how their lives are evolving post-pandemic, determining what styles will sell…I love all of it."
What makes you believe Dingo has another big run in it—40-plus years after its first?
When I was running Mojo Moxy, I was already doing similar kinds of Dingo product. I could see a shift going back to those looks. I also understand the brand. I know what it was in the past and how it should fit in the future. Dingo has always been a denim-based, young fashion, lifestyle brand with western flair. It was never strictly a western brand. The potential for growth is huge.
How did your return debut go?
Right out of the box, we gained some traction. That was a pleasant surprise because, as a rule, first seasons are never that great. But there was such a fondness and acceptance of the brand. People remember Dingo in a great light. They remember the heavy advertising we did in the '70s with Joe Namath and Joe Montana. Plus, we introduced a lot of color right away, which you don't traditionally see in the black and brown western world. So, we had some immediate success, but we were sourcing out of China and that held us back a bit. China gives you a lighter hand in traditional western looks. That's not conducive to what western boots are about. 
When did you move production to Mexico?
We started shifting to Mexico a little over two years ago. Then, right before the pandemic, we introduced a black-and-white, hair-on-hide boot (pictured). It just took on a life of its own and set us on a big upward swing. That boot has been shown on social media probably more so than any other footwear item over the last two-and-a-half years. It was also featured on (season 17) of Bachelorette.
Who gets the credit for that boot?
We have tremendous product teams at Dan Post, but it was my decision to put it in the line. I love product, and while I'm not a designer by any means, I have a knack for determining what will retail and what won't.
What made you feel that boot would be a hit?
One of the rules that I learned as a stockbroker (see side bar, p. 36) that has served me well is the Odd Lot Theory. If everybody is buying, you should be selling. The masses are always wrong. So, I went against the grain. I'd seen little of that material in Europe, but I didn't see anything with that kind of look and pop. It just felt like a good time to try it.
Most people in this business follow the herd.
They do. But pretty much all I've ever done is pioneer new labels, and I believe there are only two ways to do business in this business: Either you're the cheapest or you offer consumers something that they don't already have in their closet. Nobody wins the battle of being the cheapest.
How did you follow up on that boot's success?
Immediately, we added cowhide styles in different colorations and patterns. They all sold extremely well, and Dingo became known for cowhide. We had a great run for a couple of seasons, but the rule is to expand into new growth areas. I noticed there were a lot of vintage looks trending, notably wood bottom styles. So, we introduced a wood bottom style exclusively online. It sold out immediately. Then we brought it back in six colors, and it sold out again. We still have ready-to-wear chains asking us to do that shoe again. More importantly, the collection expanded our offering beyond western boots and booties. It told us that this new Dingo customer isn't going to pigeonhole us into just boots. Since then, we've done sneakers, sandals and work boots for men. Our customers have accepted anything we've put out that's fashion-right and priced well.
Who is this Dingo customer?
It's pretty much everyone. That's what's driving western fashion, in general. This is not a fashion trend; it's a change of lifestyle. Unlike before, when different age groups and ethnicities embraced separate trends, western is defying gender, age and ethnicity. Never before have we seen this in fashion. Trends are short-lived. This is a lifestyle shift, which is much longer lasting.
How much of this shift is attributable to Hollywood, particularly the popularity of Yellowstone?
There are many factors converging at once. But Taylor Sheridan (creator of Yellowstone) is single-handedly changing fashion. There's also the massive influence of country music. Just look at what Lil Nas X has done to bring in the African-American demographic, as well as the LGBTQ community. Then there's two of the biggest mega-stars on the planet, Beyoncé designing a western fashion (Ivy Park Rodeo) collection with Adidas and Jay-Z producing an all-black western movie (The Harder They Fall). That will only extend this crossover appeal. In addition, the Hispanic market has always embraced western fashion, and they account for $1.5 trillion in buying power, which is larger than the GDP of Australia.
And the pandemic didn't impact sales much?
Not at all. We have such a strong ecommerce business with our retail partners that it sustained us once we got through the shutdown. Our entire company, especially Dingo, which has more of a fashion connotation, performs particularly well online. I'm also very proud of how our management never panicked during the pandemic. We calmly made plans to move forward, we didn't let go any employees, we remained in constant contact with our retail partners to see what they needed and how we could help, and we've had enough inventory on hand, and more is coming.
What's on tap for this fall, and any hints about Spring '23?
Fall will still have a tremendous amount of color, but we'll see a big shift to metallic shades in addition to basic metallics, like gold, bronze, silver and pewter. Snake and animal prints will also continue to be strong, as will embroidery designs and denim featuring a lot of studding and rhinestone treatments. Denim was the premier focus at Paris Fashion Week, often covered in crystals and multi-colored beads on jeans, jackets, skirts, corsets, leggings and even chaps. The washes were very intense in dark black and indigo, and it spanned clean, ripped and deconstructed with taping, belts, garters and sexy cutouts. To compliment all that denim, western boots will be playful and fun for Spring '23 with lots of unique colors and western whimsy. Western boots are just the right boho addition to any spring/summer wardrobe. And since there's little seasonality anymore, that's another reason we expect color to be big next spring. Basically, the same pallets, only not as deep as fall.
Do you envision a return to pre-pandemic behaviors, or have consumers forever changed in how they work, shop, dress, recreate, etc.?
I don't think we'll ever find our way back to what was considered normal. Just as I witnessed in China after the SARS outbreak, there's a percentage of the population that always wears masks. I expect we'll see that here. This pandemic has brought about a deeper understanding of the world stage and how something halfway around the globe can affect us all, as well as how little control we actually have in our lives. And while I believe most of us want to be more accepting of differences, it's with a responsibility that we also protect ourselves and families. This is having a big impact on how people shop and work.
For example?
I expect people will increasingly work from home, and companies will move headquarters and/or downsize offices. There are also fewer people returning to malls, choosing to shop in strip centers and free-standing stores, where they feel safer. We may continue to be somewhat guarded in crowded spaces and flinch when someone coughs. I believe we've emerged with a newfound attitude and priorities. The pandemic presented an opportunity for many of us to slow down and reassess. Many embraced the outdoors and committed to personal growth. Most emerged with a desire to become better people, and in turn build better organizations that find more ways to be more tolerant of other views. From a fashion industry perspective, I agree with Giorgio Armani, who recently said "fashion is slowing." Thus, for products to be successful, they must be seasonless, better quality and feature sustainable design elements. Dingo fits in with this description well, starting with the fact that nothing can be worn more universally than a western boot and nothing has more perceived value. Also, many consumers are looking forward to reuniting and celebrating with friends and family, and our products are designed for people to wear when having a good time.
If there's a lingering fear of malls, where are customers shopping?
In addition to Boot Barn, the farm store sector is popular. Chains like Tractor Supply, Fleet Farm and Murdoch's Ranch & Home account for a huge number of stores collectively and are growing overall. It's one of the fastest growth areas for Dingo. A beautiful thing about this sector is they love footwear, whereas in department stores footwear is like the bastard child because it's the slowest turn, least margin and bought in case packs. It's very difficult. But in farm stores, footwear is one of the highest margins and fastest turning segments. That's why they often merchandise it up front, as opposed to being hidden in the back in department stores. They are growing the category. Those customers are already in those stores, and they have no aversion to buying a great pair of boots, if they see them.
Where do you envision Dingo in three years?
As one of the most recognized fashion brands in the industry. I'm a big proponent of licensing and how critical that is to a brand's long-term growth, which I learned from the Cole family. Not only is it a way to grow into a complete lifestyle brand, it's an incredibly profitable business model. But you have to pick the right partners—ones that have similar taste and distribution levels. You have to always protect the brand. In addition to this, we're constantly looking for new avenues to reach our consumers, especially through social media platforms. We're working closely with our retail partners to become more involved in joint marketing ventures, such as video social media events. We'll also be rolling out more in-store Dingo shops with key retailers, as well as adding more signage in general, to enhance our brand. Now, to be the most recognizable doesn't necessarily mean the biggest. You can run into trouble trying to become the biggest. Besides, consumers today don't necessarily want the biggest. They want to know your backstory and what you stand for. To me, most recognizable means striving to receive the feedback we've been getting every day from consumers about how much they love our product. For example, we're very proud that one of our biggest compliments is how comfortable our products are from the first try-on. Comfort is imperative to younger consumers, who've grown up wearing sneakers and flip-flops. Above all, the positive feedback means we're giving customers what they want. They enjoy wearing our product and believe it's a great value.
What are some challenges Dingo faces in achieving continued growth?
There are always challenges. Currently, it's the labor shortage and rising labor costs, which are up about 12 percent. Material costs are also up about 14 percent. And the price of containers is almost 10 times what we paid 12 to 18 months ago, not to mention their lack of availability. So, our overriding challenge is how to handle all this without passing too much cost increases on to our customers. Fortunately, Dan Post has long-term relationships and a reputation of the highest integrity. We've been able to work with our factory partners to overcome much of these increases. Another big challenge is keeping up with our growing production demand. Again, we're fortunate that our factory base, which we've had for over 25 years, has kept up with our growth. We haven't needed to switch to other factories or countries, which can take years to stabilize, if ever.
You're about 50 years deep into this industry, what keeps you going?
I still love it, and my whole life has been a testament to that. I love that no two days are the same. I'm one of those suckers who just can't pass up a challenge. Sometimes it's just that simple: I wasn't maybe that interested until you told me it couldn't be done. I also love that your career starts over every season. I don't care what your resume says, this is the one industry that your resume is only as good as your last season. It doesn't matter how successful you've been, what matters is the success you're having right now. I know a lot of people, with unbelievable resumes, who've since left this business, or the business left them. But I don't think age has anything to do with success. It has to do with a desire to learn a new way, to try and improve, and to remain relevant. Maybe there comes a point for everyone when that desire goes away. Fortunately, within Dan Post and myself, that desire to be part of team to build something special is stronger than ever.
What do you love most about your job?
I love coming to work every day. Dan Post is family. Our president, Ken Moore, and our owner, Gary McRae, are beyond reproach when it comes to integrity.  The family culture is just conducive to wanting to do your best work, always.
The Long Run
Fifty years burning down the road and Ron Owens is still running strong.
This is not Ron Owens' first rodeo. The industry veteran of 50 years has been a key player in legendary runs, including the original launch of Dingo, Candie's (twice) and Sam & Libby. In fact, the never-ending thrill of working with a team that's trying to create another big run brought Owens out of his short-lived retirement in 2019 to lead Dingo once again. Ever since getting his start as a buyer for a local North Carolina department store, footwear has run through his veins.
His short detour—a two-year stint in New York as stockbroker in the mid '80s—reaffirmed Owens' enduring love of this industry. "I hated every minute of it," Owens recalls. "I wasn't accustomed to being confined to a desk all day. I really missed the shoe business—the product and the people."
Owens was born to chase fashion futures. His resume reads like a greatest hits album, and he's performed with industry rock stars like Charlie, Kenneth and Neil Cole, as well as Sam Edelman and Stephen Hoyt. Owens says he learned a lot from them. "Being part of teams that took new brands to amazing successes in very short periods was an incredible experience," he says. "I'm forever grateful."
Owens' Candie's days in the early '80s were particularly memorable. The company was filled with young, energetic people. "One day Charlie said to me, 'You want to know how to build a company and get rich? Hire 25 to 30 egomaniacs, give them what they need and get out of the way,'" Owens recalls. "Most of those guys became very successful."
Another favorite insight from Charlie related to business deals. "He drew a circle on a piece of paper and then drew a line down the middle," Owens says. "Then he said, 'That's the pie. You eat half and I eat half. That's a good deal. If you start eating pie on my side of the plate, then we've got a problem.'"
Owens considers all his career stops memorable learning experiences, including the time he received his first (fat) commission check from Dingo in the late '70s. It came on the heels of his modest salary at a local department store. "I carried it around for two weeks, afraid to take it to the bank because they would tell me it wasn't real," he says.
But it was Owens' days as a buyer that got him hooked on the shoe business. He doesn't forget his humble beginnings or any of the people who've given this self-described "hard worker" a chance to succeed. Leading Dingo again feels like coming full circle. "Just to see Dingo become again what it once was is too good to pass up," he says. The cherry on top: working at Dan Post Boot Company, a firm he has long admired and that is filled with longtime industry friends. "It's been a really easy transition," Owens says. "It's coming home." —G.D.