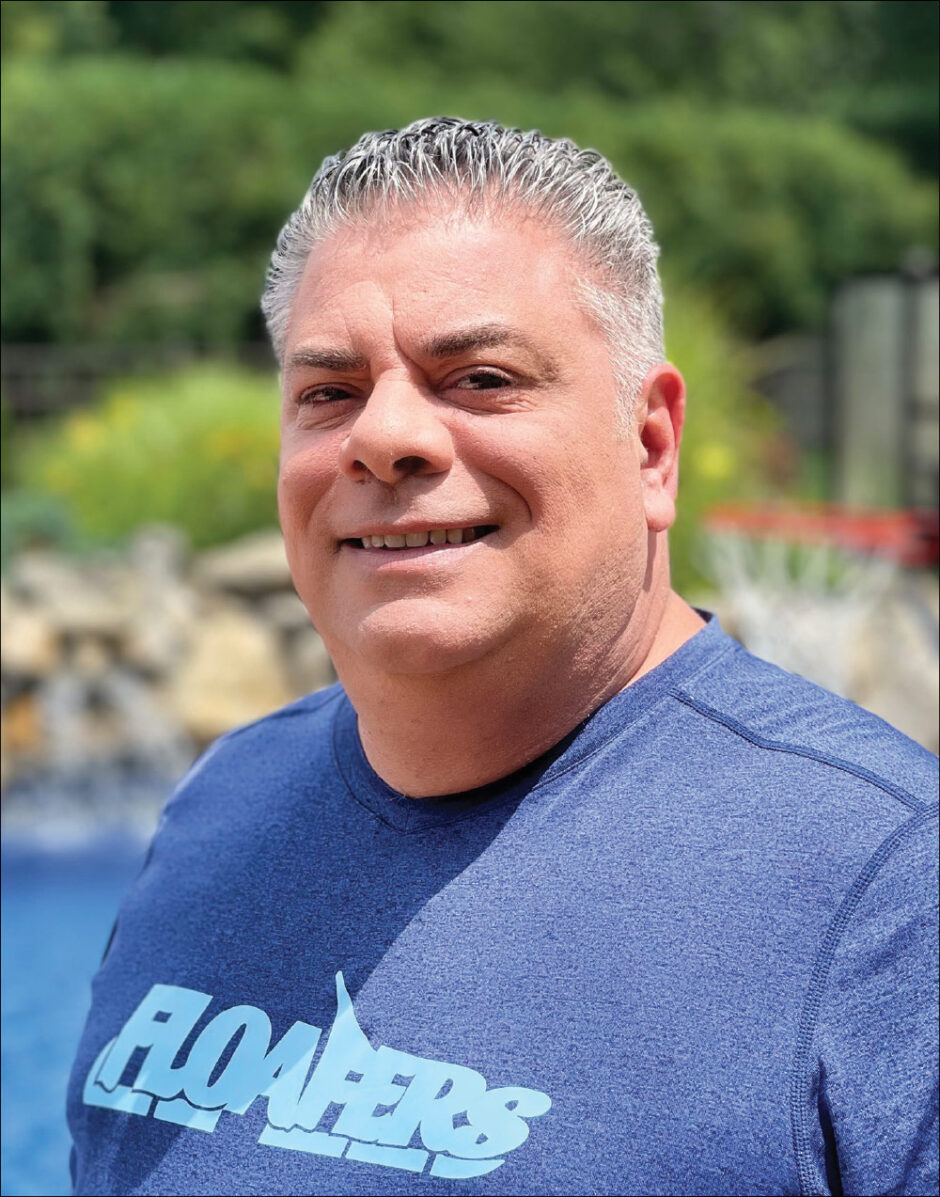 The call came out of the blue in early 2018. Larry Paparo, an industry veteran of 30-plus years whose career spanned from senior management positions at start-ups to multi-billion-dollar conglomerates, was consulting for various brands in need of his soup-to-nuts skills. An expert in sourcing, shipping, product development, brand management, marketing, logistics…you name it, Paparo has done it or he'll quickly figure out how to do it.
It's why Dan Rubertone, cofounder and COO of Floafers, a foam-based brand he introduced a year earlier via a Kickstarter campaign, called. A longtime business associate of Paparo's had run across Floafers' booth at The Atlanta Shoe Market and was intrigued but quickly discovered the founders were in desperate need of shoe industry expertise. He gave them Paparo's contact info. After a few calls, Paparo agreed to meet at a Buffalo Wild Wings near his home office in central New Jersey.
Paparo already had plenty on his plate. Plus, he was happy in his new gig, having recently sold his half of LJP Intl., a sourcing firm that had licensing deals with Robert Graham, Mootsies Tootsies and Nine West Kids. Paparo was enjoying being around his family more. Becoming CEO of a startup definitely was not on his short-term agenda. Still, if the founders were willing to fly from Dallas to meet him, he thought there might be something there.
"I was really impressed with Dan's passion and energy," Paparo recalls of their first meeting. (The two bonded over being fellow native New Yorkers.) "He expressed the concept well, but the shoe that they brought needed a lot of work. It didn't look or fit right. It wasn't even made in a shoe factory. The agent wasn't even a shoe agent."
Paparo pointed out the mistakes and set the partners on the path to fixing them. Now if you're thinking that's how he became president and CEO of Floafers and the rest is a story of explosive growth that Paparo believes could have unicorn-size potential…you'd be wrong. Over a few more beers, the founders realized that the more involved services Paparo could offer were too steep for their start-up budget. They parted on good terms, and Paparo promised to pick up the phone if they had any more questions.
About a week later, Rubertone called. This time, he was facing a serious production issue that could have doomed the company. "His (now former) partner introduced a production problem that he couldn't fix," Paparo recalls. "The brand would have been dead in the water, pun intended." So Paparo made some calls to the factory and fixed the problem within 24 hours. That's when Floafers' investors told the founders: "You'd better hire this guy."
If you're thinking this is when Paparo became president, CEO and part owner of Floafers, you'd be wrong again. Over the course of 2018 and early into the following year, Paparo served as a full-time consultant. "I was repairing a lot of the mishaps and damage that had been done during the onset of developing this brand," he explains. "I moved the factory, reengineered the product and fixed their business model. I also built a great team of investors to give the brand the correct foundation."
Indeed, Paparo invested a tremendous amount of sweat equity into getting Floafers off the launch pad. "I had used a lot of my relationship currency, hiring my contact who ran our office at LJP Intl. in China to oversee our factories in Vietnam, and my son, Justin, as VP of sales, who had run LJP's men's sales." Paparo was also attending more and more trade shows, becoming the business face of the brand. Most of all, though, it was the new foam production process that he concocted—his "secret sauce"—that got him in deep with Floafers. By this point, Paparo had a much clearer view of Floafers' potential—and he liked what he saw. "Consumers were really starting to embrace our brand," he says, crediting the new foam construction as the difference maker. "We figured out a way to elevate the foam category by creating a sophisticated shoe shape—Floafers look and feel like a real shoe while offering the lightweight, comfortable and versatile appeal of foam."
The investors also liked what they saw, and that's when, in May of 2019, they made Paparo an offer he couldn't refuse: an ownership stake to run the business as he saw fit. His timing couldn't have been more fortuitous because once the pandemic hit, millions of people worldwide changed their daily routines and wardrobes overnight. The slipper and athleisure categories—Crocs, in particular—became go-to shoes in the new remote work/school normal. Sales skyrocketed. Floafers has been no exception. "Our shoes are suitable for leisure, loungewear, work, daytime, nighttime, walking the dog…whatever you want to do," Paparo says. "It's a new world and Floafers fits perfectly within it."
The stars aligned for Floafers from a macro perspective, and Paparo believes he's the right man, at the right time, to run the brand. In addition to having the broad industry experience that startups require, his previous strong runs included Elefanten, Steve Madden and Kenneth Cole. "I've lived in those worlds," he says. "I know what it's supposed to look like and I know where the landmines are." Paparo also knows Floafers' window of opportunity is wide open—and now is the time to seize it. "I've seen it happen over and over: When everything is good, there's no room for innovation or new ideas," he says. "But with all this disruption, it's a perfect time for Floafers to emerge."
All in all, Floafers is a dream job for Paparo. He loves building a brand from scratch that redefines the foam space while disrupting traditional footwear categories. Plus, he's using his entire skill set and working alongside his son. Paparo is also working from home, embodying the Floafers lifestyle, which includes afternoon dips in the pool. The icing on the cake: assembling a close-knit team of loyal colleagues to make it happen. The cherry on top: introducing a charitable platform that sees Floafers donate $5 for every women's Posh style sold to the American Cancer Society.
To Paparo, this is much more than just another job; it's a case of career destiny. "I believe that everything I've done before in my career was to get to this point—this is where I'm supposed to be," he says. "I've been a part of many great brand stories, but none as exciting as this one. I'm having the time of my life."
So, the time of your life?
Absolutely. First of all, consumers genuinely love our product. We're also getting tons of editorial coverage and influencers are posting about us for free. That tells me it's not just another label; Floafers is a genuine brand with legs. The sell-through numbers are like nothing I've ever seen before. I compare it to Beanie Babies and Cabbage Patch dolls. And now that we're on a clear path with the right team, framework and trajectory coming into place, Floafers could become one of the industry's next big ideas.
Just what type of numbers are we talking about?
We sold more during the first two weeks of June than in all of 2019. And for June as a whole, we doubled our 2019 sales. It's the fastest growth I've ever seen. It's a monster trajectory. And I bought extremely irresponsibly for this season. I looked at what we sold last year and I bought three to four times that for the quarter. That's definitely not something anyone would normally do because it's not really plausible. But we just blew out of them.
Is the success being driven by a particular channel or region of the country?
It's nationwide: DSW, Macy's, Nordstrom and Zappos as well as independents. In many cases, customers are walking by other foam brands and asking for our brand. That's why I associate the unicorn potential with Floafers. This isn't a me-too product or brand. We're modernizing and revolutionizing the foam space while disrupting the traditional footwear market. And while a lot of traditional leather-based brands are now Floaferizing some of their hero shoes, they look like puffy boots because they're inject-and-go constructions, which are nothing like ours.
How is Floafers' foam construction different?
Foam is generally not a cooperative material; it wants to expand and morph. It's like baking a cake where you're not sure how it's going to turn out. It's why you mostly see those styles very blown up. But we've found a way to make our foam constructions look more sophisticated—like a regular shoe. That's our secret sauce and what makes us unique. You put them on in the morning and keep going, no matter where the day takes you. With other foam brands, you really have to change if you want to go to a nice restaurant or bar, whereas ours don't look like a cartoon shoe. In addition, Floafers feature a built-in arch so there's no need for orthotics, massage pods strategically placed in the footbed offer a spa-like feel, ventilation holes and side gills give breathability and water dispersion and, unlike other foam brands, rubber outsoles provide traction and stability. And they're antimicrobial and easy to wash.
So, Floafers are not Crocs?
While we've definitely enjoyed the trickledown effect that they and other foam brands have created in this space, we're not like Crocs. For starters, our customers prefer to set themselves apart by embracing a brand that's still under the fashion radar—they want to be different, they want something new, they want something that fits, and they want comfort and versatility so they don't have to change shoes from one event to the other. They also prefer the iconic loafer silhouette—at affordable prices. (SRP: $59.99 for adults and $39.99 for kids.) Before the pandemic, we called them front of the closet shoes. Now they've become door shoes. And they're perfect for kids, especially for camps that don't allow open-toe shoes because of safety concerns. Our foam properties and ventilation keep kids' feet fresh and better protected. Unlike leather or fabrics, mold and bacteria can't form. Also important in today's wellness environment, our shoes are handsfree—just one more reason why I believe we've created a unicorn.
So Floafers is potentially a $1 billion brand?
Yes. We can become that—we have great investors that are loving what we are doing and looking to pour more fuel on the fire every day.
How might Crocs' recent announcement to pare down its account list be impacting Floafers?
They've literally opened the door for us to countless new accounts. It has majorly impacted our business, and we're ready and eager to service many of these independents that they've abandoned. But by no means are we taking this opportunity for granted. We plan on customizing business plans that work for both of us, and that spans mom-and-pops to national chains. We want to make winning proposals for all of them. And let me add that our independent customers are some of our most cherished partners. That's where I come from. I lived that life, and I also firmly believe selling to consumers through the independent channel is extremely beneficial for brands.
How so?
Independents tell your brand story better than anyone, and you want them to do that because those customers then tell their family and friends that story. That's the sit-and-fit environment: they're fully engaged with the customer. It's the best way to talk to them, and so many brands have forgotten how to talk to consumers. They think they can through an influencer, but that's only one way to go about it. There's no one who can tell your story better than an independent retailer. Maybe someone sitting in their ivory tower doesn't realize that. At the end of the day, brand building has always been about developing long-term partnerships between wholesalers and retailers, and I don't see that changing.
Will there be enough independents to help tell your story in a meaningful way going forward?
I know there's a lot of talk about how retail is dying and everyone is going DTC, but retail is very much alive. Recently, I visited several of our independent accounts in Brooklyn, one of which was 14th Avenue Shoes. First off, Floafers was not built with those stores top of mind—our shoes were originally aimed at resort areas, water parks, marinas, etc. Well, the owner tells me that in the last 60 days she has sold almost 1,000 pairs of just our kids' shoes! During our visit, her phone kept ringing and when I asked why she wouldn't answer, she said because she knew what it was for. She then told me to answer it. It was a customer asking if the Floafers shipment had come in. I couldn't believe it; I thought I was being Punk'd. She tells me to answer the next call and it was another request for Floafers. I answered like 12 calls during our visit. The story gets better. The FedEx guy then comes in carting like 30 to 40 boxes of Floafers, and behind him is a bunch of women. Again, I think this must all be a stunt for my birthday or something. But those women tore through the boxes and bought about 20 pairs in the few minutes we were standing there. By the end of that day, the store sold 200 pairs. The hair on my arms and neck stood up as I was just amazed by what I saw. I thought this can't be possible. But then we went to a few other stores and it was a similar frenzy.
Taking into account recent supply chain issues, are you able to keep pace with such demand?
Fortunately, we have big factories producing our lines and can meet our demand. But I'm flying in a couple of thousand pairs here and there to keep some core styles in stock as best as I can because of the container shipping delays. It costs a lot, but my aim is to get our customers at least our core products on a regular basis and then sprinkle in some of the licenses and collabs we are lining up.
Such as?
We have collabs with Robert Stock, the founder of Robert Graham, Mossy Oak, Muddy Girl and Lifeguard. We've also just signed a deal with Crayola for a kids' collection that I think will be huge. Our shoes will look and smell like their Silly Scents line. So yellow/pineapple, white/coconut, red/cherry…we'll even have a holiday-themed style featuring a Christmas lights motif that will smell like pine. And there are more collabs coming as many people want to partner with us. That's going to help keep up brand momentum and excitement. For example, we just did a test with Baja Llama, a West Coast apparel brand that use a lot of cool animal and floral prints. It's a good vibe for our brand. There are many others that we can't talk about just yet.
As you look out to holiday and Spring '22, do see any sense of normalcy returning?
This is normal. We're living in it. The world has changed. Consumers are looking for product that is casual, comfortable and versatile—even if they go back to the office. They are used to working from home. That's the new normal. People want that casual versatility: a suit and tie for the Zoom meeting paired with swim trunks and Floafers. And as the country emerges from the pandemic, I expect that there will be lasting changes in the way we work and play—and what we wear. Loungewear has become the new workwear and playwear. But even diehard slipper lovers will eventually want to step up their look, and that's where Floafers comes into play.
How will you winterize Floafers?
I originally thought this would be a six-month-a-year business, but so far we've beaten the prior month as we see people wearing our shoes with socks. The vents are a way to show a little fashion pop, and the socks with Birkenstocks trend helps. We'll also be adding new silhouettes soon, while staying mindful of our loafer-based roots. The brand is called 'Floafers,' so I'm going to stay with loafer-like, slip-on constructions. I want to stay in that space because I believe it's unique, it has a reason for being and the consumer is gravitating to it. I also believe that staying on-brand is critically important. That said, I understand that our loyal consumers want to expand their wardrobe with Floafers. In fact, I have the next three product stories lined up. They're innovative and imaginative concepts that are, let's say, loafer-ish. We can't wait to show our extensions of this new lifestyle.
Where do you envision Floafers in three years—a big HQ filled with employees, or more of a flex situation where you are still outsourcing certain aspects of the business?
Outsourcing will definitely be a key for us going forward so I can focus on building and selling shoes. That's what I do best. We also have a golf style coming out as we're selling to golf shops and just signed Cabela's and Bass Pro. We're also exploring accessories, such as bags, belts, shirts, floats and other categories that move us toward becoming a lifestyle brand that's sold in sporting goods stores, theme parks, hotels, marinas, traditional shoe stores, etc. That's what makes Floafers so unique—I'm not just trying to figure out what the next toe or heel shape is going to be.
So no plans to add brands?
Hell no! We've got more than enough growth potential with Floafers. Along those lines, we're just getting started on our international distribution. The pandemic put a crimp in those plans, but we have distributors for Canada, the Caribbean and Israel, and we expect to sign up to 10 more agreements this month. We're just scratching the surface there.
You've had great runs at great companies, but what might make Floafers even more special?
I feel like everything that I've done in my career was to get to this point, in addition to the fact that I've been doing all those jobs at Floafers! But we're bringing people to our team. We just hired a merchandiser and a bunch of salespeople, including a couple of old friends of mine. Help is on the way. As for what makes Floafers even more special, it's the most unique brand opportunity that offers the most growth potential. I've never seen shoes sell this fast, and I don't see things slowing down anytime soon.
What do you love most about your job?
I love everything I do, so it's not a job to me. I'm just living my dream. I also love that I get work with my son, and I love working from home. I have flexibility that I didn't have when I was commuting two hours into the city each day. This is really fun, and I believe if you're passionate about what you do, stay focused and surround yourself with great people then success is inevitable. •