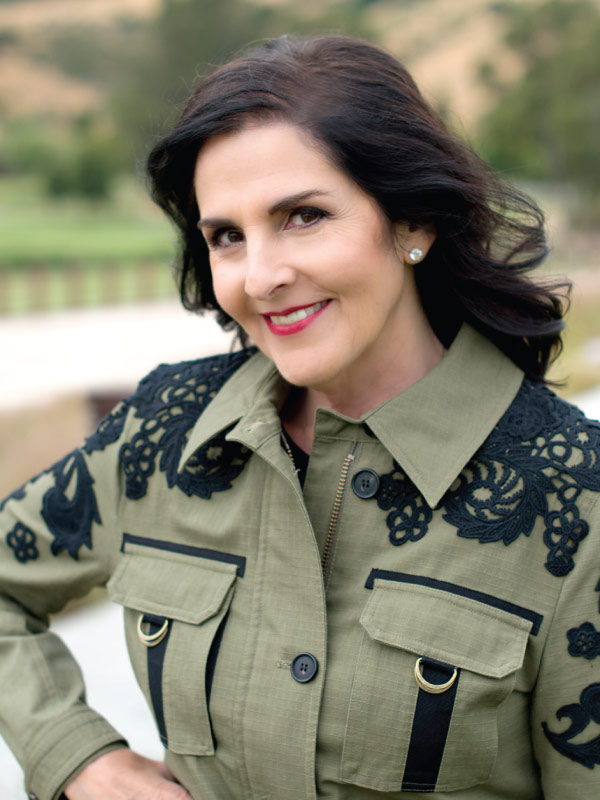 Not many people have the footwear career cred of Connie Rishwain. From successful stints at Nine West and Impo, to spearheading a $1 billion-plus business that stretched over two decades at Ugg, to her latest gig as president of the fast-growing Vionic Group, Rishwain has pretty much seen and done it all when it comes to succeeding in the shoe biz. She's an industry lifer, having gotten her start selling fine shoes and clothing at Roos Atkins, a local retail chain in her native California during summers in high school and college. She was hooked from the get-go, falling in love with the buying process, the people and the product. Little did she know then that it would become a lifelong career—one that would include learning from industry master Vince Camuto and making Ugg one of the most influential brands in fashion over the past 20 years. (Sales of the surf/slipper brand were $11 million annually when Deckers acquired it for relative peanuts in 1996). Rishwain has a sixth sense when it comes to shoes. She knows how to put together a line and expand upon it season after season. Better still, she knows how to build a brand with a soul, a distinct DNA, a strong story and, of course, killer product.
Rishwain has brought that collective wisdom and magic touch to Vionic, a brand she believes has an Ugg-like growth trajectory ahead. And she has the track record to give her assessment credence. "The brand has a crazy amount of potential," she says. "Vionic could be so many things, because it's really about the comfort technology, and we're not tied to a particular material, season or gender. We can be strong in spring, fall, sandals, boots, men's, etc."
The future looks bright for Vionic, which has already become a key brand for many retailers. Its Orthaheel technology that encourages proper alignment and reduces an array of aches and pains is in step with the macro wellness movement. Rishwain is now in charge of making sure the product looks as good as it feels and, along the way, the brand reaches its full potential. "We haven't even scratched the surface," she says. "We've got a tremendous growth opportunity ahead of us in the U.S. just within our current retail distribution. International is another huge growth opportunity. Those businesses are tiny for us, and they could be 20 or 30 percent of our total business."
Rishwain is the ideal candidate at the perfect time to lead Vionic. But her arrival a year and a half ago happened only through fortunate circumstances. Rishwain was coming off her epic Ugg run and looking forward to taking some time off, serving on several nonprofit boards, seeing her daughter off to college and contemplating sitting on a corporate board or two. The thought of running another shoe company was the furthest thing from her mind. When long-time industry friend and Vionic global brand architect Lisa Bazinet set up a meeting between Rishwain and CEO Chris Gallagher about joining the company's board, the lunch stretched into three hours as the two swapped stories about their lengthy shoe business histories. A meeting at Vionic's headquarters in San Rafael, CA, followed—and Rishwain was surprised to learn that Gallagher didn't want her to join the board. The board wanted her to run the company.
"I didn't even see it coming," Rishwain says. "I wouldn't have accepted the offer if they weren't such great people. At this point in my life, I want to work with wonderful people who I respect and have fun with. They've given me a lot of autonomy, and there are just really cool things that we can do at this brand. We've been wildly successful without a lot of brand awareness. If we just grow the brand awareness, I can't imagine how much more we can grow."
Rishwain has gone right to work growing Vionic's business, doing what she does best: upgrading the product development team, expanding the line around core staples, raising brand awareness, upping the fashion ante and making the brand younger in terms of styling and positioning. It's all textbook, but far easier said than done. Knowing what to do and how to do it fast helps. Rishwain is proud to report that Vionic has made significant strides in the aforementioned areas, highlighted by the rollout of 10 shop-in-shops last year with plans for 100 more this year. The brand also introduced riser packages in all doors at Dillard's in 2017 and will introduce men's versions this year.
Rishwain is pleased with the new team she's put together in product, design and development. "It's really strong," she says, noting it was an area that needed to be beefed up. "We already had strong sales and marketing teams, and now we have those pillars in place—directors of design, development and product. The team is having a lot of fun, and that's when you get great shoes."
How does Rishwain know Vionic's team is making great shoes? For one, her college-age daughter now approves of the new styles. Last summer, the Vionic intern even sported a pair to a sales meeting, having stolen her mom's baby blue Midi Perf sneakers. "This is a girl who said a year before that she would 'never wear those shoes,'" Rishwain says. "Now she's rocking the Midi Perf and young women in our product team are rocking it, too." She believes the brand is onto something with the cupsole construction, which is striking a younger chord. In fact, Rishwain challenged the sales team at that meeting to sell 50,000 pairs of the style. To help get the ball rolling, she sent two pairs—in baby blue and baby pink—to Oprah with a note mentioning their previous success with similarly colored Ugg boots back in the early aughts. After the talk show queen featured the boots on her show as one of her "Favorite Things," Ugg was off to the races. Rishwain heard within a week that the Midi Perf would make Oprah's list. "We've sold about 100,000 pairs," she says. "The sell-in has been phenomenal, and I just think there are lots of opportunities that we can grab like that."
Often, the difference between a hit and a miss lies in the fine details that only a seasoned shoe expert knows are missing. Rishwain is one such expert. But a hot item can only take a brand so far. The ability to build around a core and tell a meaningful story, season after season, is how a brand becomes prominent. Or, as Rishwain likes to say, a brand with a soul. "I hate it when a line looks like a bunch of items that have no relationship to each other," she says. "Brands need—and retailers want—to tell a story, and consumers respond to that."
What's Vionic's story for Fall '18?
There are multiple stories. We've had a lot of success the past couple of years with animal and snakeskin prints across pumps and sneakers, often in sharp black and white contrasts. Now we're doing more of a saturated jewel tone animal print story across the line in deep blue, plum and cashew. We've also expanded our pump category. We added the Josie pump last year, and it's been very successful. We've built on that with the addition of the Mia pump. It's much more fashionable than the Josie—a little higher heel and a younger aesthetic. It's going to be a strong category for us. We're also exploding our booties category. We started out with the Sterling style in Fall '16, added a couple more styles the following year and now we're adding a bunch more, as well as some tall boots. We're also really excited about our men's collection for this fall, and we'll be running our first men's ads. We opened a pop-up store recently in San Francisco, mostly for local brand awareness and to learn. It's turned out to be a big hit. Men are buying shoes to the tune of 14 percent of the store's business. We're stunned, because it's not 14 percent of the SKUs or the inventory.
Vionic is not gender specific, which was arguably Ugg's challenge.
Right, it's also not as well known, and it could actually be more of a male name. We're just very inspired by the response and have added a lot of men's styles for Fall '18. Actually, we haven't been buying enough men's inventory up to this point. They had been buying the minimums and selling out, so I told our team to take a little risk and order more. Men are slower to the dance sometimes and those styles can sit in the line longer, so it's ok if we have a little hangover in the stock. Our inventory is tight, and we have few closeouts—there's a big appetite, if we did. I just believe we're onto something in men's. Dillard's is really supporting this effort. We're already in 50 doors, and we are trying to go to 150 this year. We've added risers for 100 doors, so we're excited about growing our men's business.
You've mentioned pumps, elevated styling, finer materials, expanding offerings in men's and women's.…Vionic doesn't strike me as a typical comfort brand. How would you describe it?
We don't think of ourselves as a "comfort" brand. We want to be known as a premium comfort brand. I wouldn't call us a luxury brand. Originally, I positioned Ugg that way because sheepskin has the DNA of luxury. By premium, I mean quality materials and products at premium price points. Vionic isn't a price point brand. While we do have entry-level sandals at $65, we go up to $250, and our sweet spot is around $130. We have little price resistance. We don't have to be at $99.95 in order to be successful, because we're not being bought on price. We're being bought on delivering on our promise: to feel great out of the box and support you all day long. While we market some of our product as pain relieving, all styles must be comfortable. That will always be part of our brand, but comfort doesn't have to be an ugly word. Everybody wants to be comfortable and look good.
Comfort doesn't have the stigma it once had.
I don't think it has that stigma anymore. But you don't want to look like a dumb-dumb comfort brand. It's important to offer people fashion and comfort in premium materials as well as be on trend. You've got to stay relevant. You've got to make sure that your brand is on-trend. I always believed you get your cues from couture and try and make it relevant for your consumer so it's understandable for them and commercial.
That was the Vince Camuto approach.
Yes, exactly! He was just so in tune with what women would want to wear. When he shopped Europe for trends, he could figure out how to translate that to the American public. It was never about copying. There's a difference between a designer and a line builder, and Vince was a line builder. If pony hair was a trend, for example, he could figure out how to place it on a moc that would be commercial for the American public. That's what I really learned from him, and I apply those same lessons today. If Vionic is a pump or a smoking slipper, what would they look like? They have to have the DNA of the brand. One of my favorite Vince stories happened after I had left Nine West and moved back to California. I was back in New York wearing a crazy yellow dress and yellow pumps when I saw him on the street. He was staring at my shoes. I went up to him and said, 'Vince, it's Connie. Look up.' He was just studying how I put my outfit together. Great designers and line builders do that. They are always in tune with who their customer is and what they would want to wear.
And that's one of your key areas of focus at Vionic?
Yes. It's important to build product around your core. For example, we're known for our Tide sandal. So how do we capture that consumer to buy our other styles as well as gain new consumers that didn't buy the Tide. It's great to have an iconic product that consumers know you for, but it's important to have other styles that have equity. You want consumers to buy your brand, not just an item. It's important to make sure that you could literally fulfill many needs in their closets, if not all of them. Of course, you must control your SKU count, but Vionic is at a point where we haven't even come close to maximizing that. So we'll be growing our SKU count quite a bit in women's and men's. You'll see a big shift this spring and next fall in how much we have increased the offering in different categories. There's just a lot of potential there.
While the potential for growth may be similar to Ugg in size, how might the runway differ today?
It's changed a lot. Brands, for example, have to be leery about their number of company-owned stores. I was worried about that at the end of my time with Ugg. There was a lot of pressure to grow, pressure to add stores that we didn't necessarily need. Of course, Vionic doesn't have that issue. But brands, in general, have to be leery of that. I think brick-and-mortar is important, so flagships and stores in general need to find the right amount and in the right locations. And you have to do it well. Retailers are so afraid of carrying inventory of late that it's difficult to even find mainstream sizes in stock. Many will offer to ship it, but I believe that's not why the customer went into the store. They went in to walk out with the item. I think it's better to have less stores and make sure the ones you do have carry the stock, provide great service and are relevant. Because I don't believe everyone is just suddenly going to buy everything online. I believe there's still a reason for being for brick-and-mortar. So, to answer your question, it's a lot tougher than it was, for sure.
It helps if brands are looking to grow with their retail partners rather than compete head to head.
Yes, and I think retailers need to look closely at the brands they are buying and make sure whether they should still be doing so. Sometimes when you're a buyer, you keep buying something because you've always bought it. You like that company, they've helped you out with your markdown situation…but at some point you might need to ask whether this brand is driving customers to your store? That's what you want. Our customers are seeking where to buy Vionic. We need more distribution. People want to know where they can shop the entire selection other than online. That's why we've had dramatic growth with Dillard's—because of the riser package. It's two and three tables of Vionic in those doors, making it a destination for the brand. That's why our San Francisco store is also doing so well; it's a destination for the brand. Consumers want to see the whole line.
Consumers aren't all going to just shop on Amazon at some point?
Of course, everyone has to deal with Amazon's market share. I think everybody who runs a brand needs to be very protective of it. Because how your brand shows up at retail and at what price are extremely important factors. I've never run a brand by price, and I've always said to never make decisions out of desperation, because those aren't good decisions. Now when it comes to commodities, perhaps people will just shop online. But I don't believe they will for footwear and apparel as much. When I look at my kids' online purchases—because they are still on the family payroll—I see that they are buying schoolbooks and household supplies like shampoo and food, and that's because it's convenient. But they aren't buying anything they wear, like shoes or jeans, online. I think that's interesting, because they could.
The commodity aspect of online shopping may run counter to fashion?
Right, and we don't want to be a commodity. We are not Scotch Tape. Brands have to have a soul, and in order to have one they can't be sold like a commodity. Brands also need to stick to their guns and DNA. You've got to have integrity and say this is what we stand for. That extends to how you treat your employees. People want to work at Vionic. We've won several awards for Best Places to Work surveys. It goes back to how you treat people. That's why I believe Vionic has huge potential. We haven't even yet scratched the surface. Our brand awareness is hovering around 15 percent among women. Can you imagine if we hit 50 percent? Ugg was like 85 percent, thanks in large part to Oprah who helped make it a household name.
Just think if she becomes President Oprah and what that might do for Vionic's brand awareness.
I'm her biggest fan! I love her. I've met her several times, and she's the real deal. I saw her speak in 2002, and she made the point about how people will only remember how you made them feel. Did you make them feel important? Did you care about them? Later that same year, my father passed away during open-heart surgery. He was so loved; people kept coming up to me saying how my dad would walk across the room to ask how they were doing. It wasn't just lip service; he really wanted to know. What Oprah said and what people said about my dad has stuck with me ever since. How you treat employees and customers is important.
It seems that aspect of human decency is rare of late?
It feels that way. But people aren't going to remember whether you might have been a big success or had a lot of money. They're going to remember how you treated them. Did you make them feel important? Did you care about them? That's an important aspect in management: to acknowledge and appreciate people, and mentor them. At this point in my career, those aspects have more meaning than ever before. When you're older and still working, I think your main purpose is to teach and help people realize their goals. It's really rewarding.
In many ways, leading Vionic is a similar job. What are some differences compared to Ugg?
In both cases, I have a lot of autonomy. I got to pick my team at Ugg, and they left me to my own devices, mainly because I performed. But it's different now at a private company. I've always did what I believed was right for the brand, because if you start doing things to please Wall Street, you're going to make bad decisions. With Vionic, I don't have to worry about that. I'm just doing what's right for the brand, our employees and our customers. That's a nice difference. I also think, because we are smaller, I touch more departments than before. I also feel like I have more help. I never felt like I had quite enough at Ugg because it was such a big beast to feed every day. I feel like I have more staff per the volume we are doing here.
Is it refreshing to be running a relatively small brand again?
Yes, because you just see a lot of growth in front of you. It's exciting. It's also nice to have only one brand to worry about.
Is there something about the shoe business that you just can't let go of?
I just love my customers. I love working with Nordstrom, Dillard's, Zappos, independents, etc. I love being around people. I look forward to going to a trade show and seeing my customers. And I definitely love apparel, shoes and handbags. I also love working with our team. We just previewed Spring '19, and I love going through the line with them. If I didn't enjoy it, I wouldn't do it. But I totally still enjoy it. It's kind of who I am, I guess.
Are you having even more fun now?
I'm having as much fun. It's different than Ugg—different people and a different stage of development for the brand. Not everything is the same as with Ugg, nor do I want or need it to be. I think that's important for me. That was a very special time in my life. It was a lot of work and personal sacrifice. I spent a lot of time away from my family. But this is a different time in my life. I love Vionic and I love the people here, and I feel I have a more balanced life. It's healthier for me.
Are there any advantages or challenges to being a female executive, which is still the minority in this industry?
I've never felt it was an advantage. I've had to earn it just as much, if not more so, being a woman. It's really interesting what's going on in the country with the #MeToo and Time's Up movements. Women have had to remain silent for many years because they felt like if they said something, they would be ousted. Hopefully, women will now feel empowered to speak up. There are a lot of great men and now maybe some of the others are going to be more aware that this has been going on. People need to root for each other and women, in particular, need to support each other. It's a competitive environment, but this isn't a competition internally. People need to act like a team in order to be successful. You see that in sports. If players play for themselves, the team is usually not successful. It's the same in business.
It takes a true leader to create a winning culture.
Exactly, and the leader must be decisive, consistent and offer a clear direction—just like you have to with kids. Otherwise, people aren't all on the same page. People need direction of what the vision and goals are so that they can execute. I don't get into the, "he said, she said" stuff. Everybody needs to support one another. No grenades. Don't throw your teammate under the bus.
Do you feel as if Vionic is your new baby now?
Yes, but it's an older baby. It also involves shared parenting duties with the founders, which is great. •