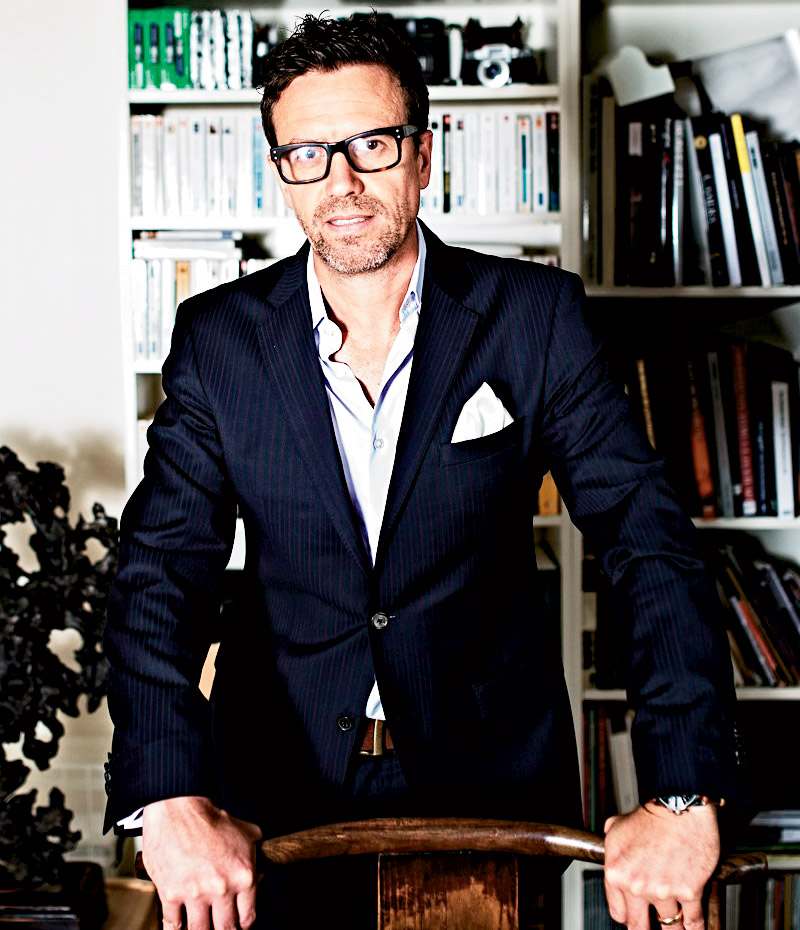 To ski or not to ski? That is the question Jan Brinkmann posed to himself one morning 20 years ago. It would set in motion the start of a successful career in the shoe industry. Brinkmann, at the time, was studying business administration in the Bavaria region of Germany and was debating whether he should go to class that day or answer the call of the snow-covered Alps he could see from his small terrace. While mulling it over, he happened to look down at a stately office building nearby that was nicely landscaped and had a few snazzy cars parked out front. "It looked very posh, like a Hyatt Hotel entrance," he recalls. A friend informed him that it was the Gabor shoe company. Intrigued by the look of the place, Brinkmann sent a letter saying he would like to work there. "It was a very superficial approach," he admits with a laugh. "But I just thought the company looked very inviting and well-run, and that I would like to work with these guys."
As fate would have it, Gabor was in search of a traveling salesman and Brinkmann fit the profile. His first job prior to college had been doing exactly that for Europe's largest furniture company. He had logged 60,000 miles a year for three years throughout Bavaria. The art of selling is a universal language, and the Gabor execs believed Brinkmann could do the same for them. "They pulled down a map that was filled with colorful dots around Europe, and there were a lot of white dots, especially outside of Europe," Brinkmann remembers during that first interview. "The colorful dots meant that Gabor had distribution in those areas and the white dots meant they didn't." The execs asked Brinkmann if he would be interested in trying to color in the white dots. "I was 27 and I said sure," he says. As the company's newly minted export manager, he began working a territory anywhere beyond Western Europe. "Eastern Europe, Asia—everywhere where they needed distribution. It was super exciting," Brinkmann recalls.
Over the next three years, Brinkmann swapped his car for air travel in pursuit of opening new accounts, exhibiting at trade shows and meeting with retailers in distant lands. He colored in the dots of approximately 15 countries for Gabor, including Australia, New Zealand, Japan, Poland and the Czech Republic. Brinkmann was then promoted to sales director of Gabor men's and Jollys, the company's casual lifestyle brand. He was later recruited to become director of Rieker's U.S. business, which gave him an opportunity to focus on one country. It wasn't long before Brinkmann got promoted and took on the company's management responsibilities for the U.K., Ireland, China and New Zealand. The extensive travel resumed and, to quote the late, great Yogi Berra, it was déjà vu all over again. "I was basically right back to where I started with Gabor," Brinkmann, a father of three, says. "It was so much traveling."
As footwear industry fate would have it yet again, the Wortmann Group, makers of Tamaris—one of Europe's leading women's lifestyle footwear brands—was planning to enter the U.S. market. Brinkmann, who grew up a mere 25 miles from the company's Detmold, Germany, headquarters, fit the manager profile they were seeking to a T. Not only did he possess extensive experience in introducing new brands to markets around the world, he had most recently done so in the U.S. Brinkmann speaks the language—literally and figuratively. He understands what American retailers want and need and is able to communicate that message back to the wholesale company. It's a conversation that often gets lost in translation. "Many companies try entering this market only to give up," Brinkmann says, noting that the sheer size and peculiarities of the U.S. market can make it a daunting challenge. "It makes sense to have somebody who understands both sides of the business equation as well as both cultures in order to try and bring it all together." He adds that it requires stamina and determination. "There can be no compromise," he says. "Either you want this market and you give it your all and provide the things the U.S. consumer wants and deserves, or you just let it be."
Wortmann, a $1 billion entity, had already begun that process about a year before Brinkmann's arrival in April 2014. The conglomerate had done extensive market research. "A lot of companies just look at GDP, population and footwear market statistics, which don't mean anything, really," Brinkmann explains. "Wortmann looked at this market in a very analytical way, which is crucial." For example, he says Wortmann got its logistics in order before shipping to address the unique demands of the U.S. market. (Anyone who has been in this business for a long time knows that has not been the norm.) "Wortmann really did its homework," he says. "You cannot discriminate against a U.S. consumer by shipping four weeks late, for example, because you happen to ship out of Europe. It's not acceptable." For Tamaris's debut this fall, Wortmann not only shipped on time, in many instances, it shipped early if requested. It was intended to send a clear message that Tamaris was not just another typical European brand launch. "Normally, the system doesn't work until the numbers are there, but we wanted to make it work—even with smaller numbers at the start," Brinkmann says.
So far, the Tamaris launch is working well. "Our delivery was a success and the quality of our merchandise was great," Brinkmann reports. "We had a nice start to the season and, while the weather hasn't really cooperated, we've had a good reaction from our retailers, who showed trust in booking us."
In addition to delivering quality, on-trend product on time, Brinkmann credits Tamaris's positive debut to good timing. Specifically, he believes the market is ripe for something new. "The market has become a little stale and a lot of displays are looking a bit tired," he says. "The consumer is looking for new—she's tired of the same old, same old, and an infusion of fresh design along with a new brand can provide a lift to retailers." Specifically, Brinkmann points to Tamaris's breadth of styling, featuring quality leathers, fine finishes and its patented Anti-Shock heel technology as a conversation starter with shoppers. Add the attractive price points (ranging from $80 to $145 for spring and $89 to $250 for fall) and the "very long margin" (60 points) for retailers, and Brinkmann believes Tamaris presents a complete and sellable story.
Of course, Brinkmann knows that one successful debut season does not a brand make. The Tamaris story is in the beginning stages and, regardless of how efficient one's backroom logistics are, it's strong sell-through rates that will keep the story going. "Nobody has been waiting for Tamaris, so we have to make sure the trust that is being placed in us is justified," Brinkmann says. "The most important test is products that sell-through and provide good profits for our partners so we can build off of that. I'm proud to say we are en route."
What does Wortmann bring to the table that other companies may not have when trying to break into this market?
First of all, it's the expertise in shoemaking. We have been making shoes for 50 years and have managed to create a No. 1 fashion brand in a very crowded European market. The shoe knowledge related to construction and fit plus the sourcing power behind that enables us to offer quality footwear at attractive pricing. It has enabled us to capture gigantic markets—like the U.S., hopefully, if we do everything right. Wortmann also has extensive financial resources. A successful launch into this market doesn't happen overnight. We needed an infrastructure from the outset. Lastly, it's our commitment. We are not doing anything half-hearted. Our product teams—whether its logistics, supply chain, marketing, etc.—are all standing behind this launch. This is not a case of sending two or three salespeople out into the market to try and sell and then fix everything later. For example, we had one retail partner that required 100 percent EDI compliance from the onset. For a start-up company, that can be daunting to implement. But with the help of our IT people, that retailer tested us in record time. It's this kind of commitment that makes a big difference. While we are a small team in the U.S., we have a monster team behind us that is determined for us to succeed.
Bigger, in this regard, is better.
Yes, but we don't underestimate the fact that we have to stay nimble. We also have to stay humble. We can't underestimate the market and overestimate our powers. We still have to see the market as unique and make the appropriate adjustments. And we should never be cocky. The opportunity is enormous, but we only have one chance to make a first impression.
Having launched brands in many countries— including this one—in addition to good product what do you need to be successful?
It's three things: product, product and product. That's the key.
Not to belittle the backroom capabilities of a $1 billion company…
No, but the product has to be right, and it has to be right in all aspects. We started our line meeting for Fall '16 this week and I'm going to review about 1,000 styles in order to find the 80 to 120 that make sense for this market. The goal is to make the collection convincing and comprehensive.
The ability to whittle down rather than create from scratch has to be a big advantage, no?
It is. But we have to find the right amount of styles that make sense for this market. That's a science by itself, involving analytics, trend research and speaking with our retailers. Collection building is crucial. I want to make sure we are focused instead of being a little bit of everything. Going forward, Tamaris will hone in on what I like to call 'wearable fashion' that maxes out on a certain height and will represent a recognizable style aesthetic.
How much autonomy do you have in the final determination of the collection?
While I'm the lead for the U.S., I work very closely with our head of product development. I do the first round of selection and then we do the remaining rounds together. Our line builder also visits the U.S. often, and not only New York, which is a sub-market to itself. We have a good understanding of other parts of the country as well. For example, we just went to Minnesota, the suburbs of Chicago and Milwaukee—lighthouse accounts where we were able to obtain firsthand feedback on trends and preferences.
What, specifically, did you see in those markets?
Those accounts are much more casual-oriented, whereas New York is a more styled and niche product. New York has its own elegance and sophistication. It's a lot of fun, but it's not a macro market. It's not reflective of the rest of the U.S. at all.
Do you have more leeway to choose what you think is right for the U.S. consumer regardless of what might be trending in other countries?
Absolutely, and that just makes sense. That is one reason why the line is large overall—it's in order to cover these different consumer preferences around the world. For the U.S., it's more casual in general, which is a very strong word here. The consumer wants shoes that look good, but they don't want to sacrifice comfort. Product aspects like the softness of the materials and comfort features are very important. It's also about convenience. For example, they may want a lace-up look, but they also want to have a zipper on the inside. These are important product details to not overlook for this market.
Who is the Tamaris customer?
She's a modern woman looking for a certain level of sophistication in her style. She feels like 30 to 50 years old, even though she can be of a different age. She is looking for great-fitting shoes that enhance her well-being, lifestyle and look. She is looking for something special that is not overly distributed, and she doesn't want to break the bank by buying that quality product. The fact is you can find comparable product to Tamaris at much higher prices.
You mentioned that retail has been a bit stale making it a more favorable climate to launch a new brand.
Yes, but it's still tricky. You hear retailers are looking to add newness, but they are also skittish to try anything new, which I can understand. But one thing is for sure: The consumer is not looking to buy the same old, same old anymore, and it doesn't matter if it's from Tamaris or another brand. She is looking for new—new elements, designs, embellishments, etc. to lift up her wardrobe. That has been verified with the retailers we are working with.
Is it more the look or the brand that's driving her purchases?
It depends. With respect to the retailers that we are targeting, which are the better-grade independents and department stores, it's not necessarily the brand so much as it's the individual shoe—the quality, the fit and the look. Those retailers have built that level of trust with the consumer where the brand is not so much in question. With regards to retailers that we don't cater to, other aspects may be more important where brand and price are more the drivers.
Someone mentioned to me recently that the days of stocking the top five or 10 brands and expecting it to be enough of a lure to draw shoppers into a store are over. Do you agree?
I think that's exactly right. Today, the transparency of the Internet has brought us the ability to search for whatever we want and immediately compare price. I think that puts a different aspect on shopping for brands in stores. It can be about finding a style that makes her happy, and it's not necessarily the brand as much as it can be what that particular product offers. That's why we are building Tamaris first by providing the right product, which we hope creates a snowball effect for the brand. Along those lines, it was nice to see retailers pull in other retailers they knew into our booth to check us out. That's a big compliment. Our merchandise was very well received. We had some very nice man-tailored loafers and slip-ons with a little bit of embellishment, and we had some great short boots that just blew out.
Where do you envision Tamaris five years from now?
We want to establish a healthy distribution for Tamaris by year five. My goal is quality over quantity, and that's in regards to the product, our service and the retailers we partner with. So far so good as some customers have come back for second and third pairs. In addition, the reviews online have been great. Things like, 'Never heard of this brand, but it fits great and it's super cute…' That's the type of feedback that generates brand awareness.
A quality over quantity approach in this market can still equate to plenty of quantity in terms of sales.
Yes, but you have to be careful. You have to be willing to look at your distribution and determine whether expanding it might cause a knock-down effect with your current partners. I want our distribution to be sustainable. Opening too many doors at the start could backfire on us. There are also other ways to grow once we've created a meaningful distribution base. We could open franchise doors with retail partners that allow for expanded growth in select markets where we sell more shoes without hurting our existing distribution.
How does online fit into this distribution strategy?
Zappos yes. Amazon no. We like the way Zappos cares for its partners. They've given us a meaningful display and have been very good to us. It's been a win-win. Overall, online is a growing part of the consumer shopping experience, and I don't think that it's ever going to go back. The convenience of buying in a mall is being replaced by the convenience of buying on your couch. But we have to be smart. The omnichannel strategies are changing the landscape so quickly and everybody—vendors and retailers alike—have to be extremely aware of what the consumer wants. If she wants to reserve the shoe online and then pick it up in your store, or see it in your store and then order it online…That's just the reality today, and I don't see it changing.
How might you envision the shoe store as we know it in 10 years? Will it still be found in malls? Will there be malls, for that matter?
I think there are going to be less malls, for sure. But I think there will always be a diversity of stores. The market will probably shift where some of today's brick-and-mortar giants will be replaced by ones that create great omnichannel experiences. But I think there will still be boutiques where customers want to find something extraordinary and that's very under-distributed. I believe there will also still be sit-and-fit stores that have already created a niche that's hard to be replaced with other formats. Fortunately, people will still need shoes, but the way they're going to be purchased will shift. I can't give you exact percentages and what I say today might be different or obsolete tomorrow. That's why we need to stay on top of the changes as best as we can.
What are your goals for next year?
We want to primarily build on our existing customer base, be it a bigger presence within those stores and door growth to increase Tamaris's presence in the market. We also want to continue to improve the service level that we are offering our customers. We are currently working on a system for case pack re-orders. It's a big initiative for Wortmann and it marks a first. We hope to introduce that for spring and then open-stock re-order capabilities for fall. Independents like it, but you might be surprised to learn that apparently retailers of all sizes like that option.
Having done many brand launches around the world, how would you rate Tamaris's to date?
I'm very proud of the first steps that we made into this market. I know it's just the first steps of a marathon and you don't pat yourself on the back until you cross the finish line, but it's been a very encouraging start. The ability to have brought so many good retailers on board at the start to build a platform that we can launch from is extremely encouraging. And I've got tremendous support. I didn't just show up at a shoe show or someone's doorstep with two bags of shoe samples. We have prepared for this launch thoroughly and that has made for a huge difference.
Well, if anyone knows the difference, you should.
For sure. I know what it's like to be standing at a shoe show somewhere in Asia and waiting for customers to find me. [Laughs.] It was very challenging at times. I needed to have faith and tell myself that tomorrow would be another day and hopefully it would get better. But I learned a lot from those experiences. It taught me how to study markets and figure out their respective structures. With respect to the U.S., for example, I understand that the estimated $55 billion in overall market size is really just a number. You need to dissect it in order to determine what your relevant potential market share is and then start catering to it. The job can be super exciting, if you do that well.
What do you love most about your job?
The people in this industry who, hands down, are some of the nicest and most talented and creative people one will ever meet. It doesn't matter if they are from Australia, Japan, the U.S., etc., the shoe industry is filled with really nice people. I also love, especially in this country, that people are often receptive to try new things. If it's a good idea, most people generally say, "Let's give it a shot." And it's basically a handshake and let's go. I also love the constant change—our industry never stands still. There are always new ideas and fashion influences, so it never gets boring. •