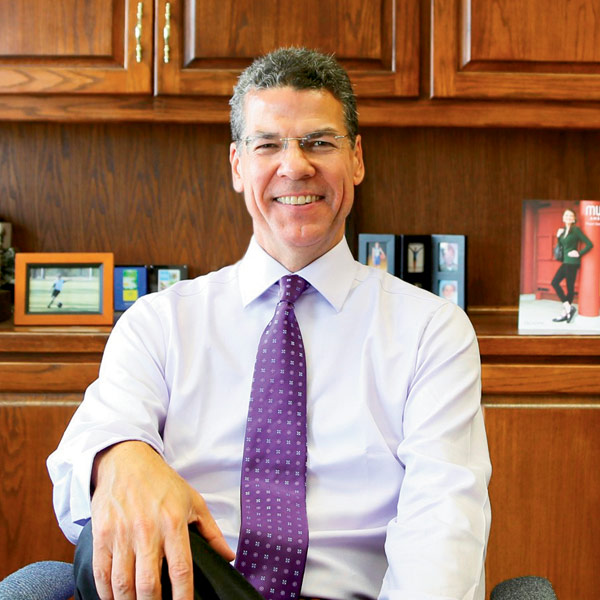 Most companies take the road more traveled. It's easier to go with the flow. It often means fewer logistics, costs, difficulties and resistance in going about daily business. And the footwear industry is no exception. In fact, nearly every U.S.-based footwear manufacturer did exactly that when sourcing shifted offshore to Asia, beginning in earnest in the 1980s. The lone holdout? Munro & Co. While there have been smaller companies making shoes stateside over the past three decades, none have done so on the scale or with the consistency of Munro. The Arkansas-based company has retained its made in the U.S.A. foothold—against enormous odds, challenges and pressures—since it founding, first as a private label supplier (Lake Catherine Footwear) in 1959 by Don Munro, and then as Munro & Co. starting in 1972.
How has Munro managed to succeed with its lone wolf approach to manufacturing? And, perhaps more intriguing, why? Why swim against an enormous tide every day? Why adhere to a model that is all but obsolete in this country? Why go it alone? Why, for example, be forced to raise prices annually for decades while your competitors didn't? Why did Munro make life harder for itself?
These are all valid questions, concedes CEO Bruce Munro, Don Munro's son. And it's not easy to answer them. Essentially, Munro & Co.'s approach boils down to adhering to family—and, by extension, company—values that are grounded in loyalty, dedication and tradition. To cop more current lingo, it's just how they roll. "Sometimes it's just fun to do things that other people aren't doing. It's nice to have that uniqueness," Munro says. "It's really powerful when we go into stores and stand next to our product. It's something that we really believe in."
Munro's loyal consumers believe in its products, too. Many cite the brand's quality, fit (thanks largely to its broad size and width offerings) and American-made and assembled attributes as key purchase factors. They say they're worth the higher price tag. "We always came to the table with something more in the product," Munro says, referring to the ability to raise prices annually for so many years. "We always enhanced the product. We enhanced the fit. And, along the way, we built a great relationship with our consumers, who became very dedicated to our brand."
That dedication is remarkable, given what the company was up against with offshore competitors. "There was a period of time in the '90s where the average price point of women's shoes actually went down," Munro notes. "I don't know of too many other products where that's ever happened." In contrast, Munro recalls walking into buyers' offices, year after year, with price increases. "They'd just marvel at us and many said, 'You can't give us an increase. Nobody does,'" he recalls. Munro's defense was, 'That's the reality of being a domestically made brand.' Of course, that response would not have worked without Munro's stellar performance at retail. Consumers, by and large, shelled out more each year for the shoes they loved. To gain a little perspective on how much love we are talking about, when Munro starting working in the family business in 1981, the average price point of its products was $44.95 at retail. Today, it's $189.
But everything has its limits, and Munro's ability to increase prices hit a ceiling soon after the Financial Crisis of 2008. "That's when the American consumer became very price-conscious," Munro says. "Our customers didn't stop shopping, but we saw a year-on-year slow decline, and we knew that we had to do something." Enter Munro's assembled in the U.S.A. program, which began in 2012. The company now imports uppers that are then assembled in its two U.S. factories. Today, that process represents about 40 percent of the line. "It's not something we wanted to do, but we were getting to the point where the viability of the brand was being challenged by price," Munro explains, noting that the company's prices have been competitive the last couple of years. More important, it's enabled the company to contemplate growing its business again. "We made a commitment to continue to be as domestic as we can and still be a successful company," he says.
While no one could accuse Munro of changing its business model on a whim, the company isn't immune to updates. Take this year's U.S. distribution agreement with Hispanitas as another example of Munro's willingness to adapt in an evolving retail landscape. Recognizing the extensive inventory commitment required to carry Munro, the company sought another option for its current partners and the many stores its sales reps passed by each season. "We have relationships with a lot of independent retailers that we haven't been able to maintain as well with our Munro brand," Munro explains. "We're passing up on an additional 600 or so great retailers. In many cases, we've done business with them in the past. In other cases, they present new opportunities."
Munro says Hispanitas is a high-quality, European-sized brand that, most notably, is known for its great style. "Retailers can have a lot of sizzle on display without having to have a backroom filled with sizes and widths," he says, adding that the brand is owned by a family with deep footwear-making roots. "We like what the [Chico de Guzmán] family stands for and the way they do business. I think it's a great match for both companies," he adds.
Munro believes the company's recent moves, while not easy, are necessary for long-term growth. It's an ongoing process, he says. Munro is still fine-tuning the assembled in the U.S. program and testing the idea of sourcing product entirely outside the U.S. In short, the Munro family is positioning its namesake company to be a player in the years to come. "I think the changes we're making are going to benefit us," says Munro, who has risen through the ranks from sample department gopher to CEO. He is optimistic about the family company's future. "Every day there's room for a new opportunity," he says, acknowledging that there's been more change of late than the company might have liked. "But it is what it is. You step up to the plate and take your swings."
Might it just be a Munro family trait to take the road less traveled?
I don't think we've always set out to do that. It's just the way that it's happened. Our family has always been very dedicated to maintaining the company's success and, while it wouldn't have been wrong necessarily to go down another road, we have a tremendous commitment to our employees. My father is a great people person and he had a lot of relationships he sought to maintain. [At age 88, Don Munro is still a weekly visitor to the company headquarters and factories and knows most of the 250 employees by their first name.] Dating back to when I started with the company, he wanted us to be domestically sourced. So I have gone about my day-to-day operations recognizing that position—and swimming against the tide. But you learn to adapt. We have been able to get out in front of our unique challenges and think them through. We have had a lot of good people do a lot of great work and found ways to succeed. You've got to put the effort in and envision the success before you can experience it.
Decades of asking for price increases must have involved some epic battles.
We had some pretty big fights with some pretty sharp retailers—people that I think of as the smartest retailers that I have ever done business with and trust implicitly. I understood that they had to challenge us on price because it was the relevant factor in their buying decision as well as 99 percent of their customers. How could it not be a topic of conversation? I recall one particular fight back in the '90s with a big customer of ours. Even though we had been successful in their stores, they said they would cut the buy because they believed another price increase would kill sales. With all do respect, I asked, "Shouldn't it be incumbent on letting the consumer decide if the price is too high?" They cut the buy and we got our price, because if they messed with that I said we would have to go away all together. Fortunately, they wound up doing more business at the higher price that season. And since we were domestically sourced, we were able to catch up on fill-ins.
But Munro did finally hit a price ceiling.
Yes. We've fought it very hard, but "made in the USA" wasn't as much of a top priority to our customers following the Financial Crisis. Fit still matters most but the second thing has become price. We had to makes some changes. It was one of those moments where we had to be serious about business. It wasn't about trying to maintain old relationships at that point. That's when we launched our assembled in the U.S. program and we've been able to maintain our prices since.
How committed is Munro to domestic sourcing going forward?
We are probably more dedicated to domestic production than anyone. If we could have gotten the margins we needed to operate, trust me, we would still be 100 percent domestic, and that's despite the numerous challenges that go with that. It's getting harder to make product here. It's very labor-intensive and requires a lot of hands, but we're not seeing more hands willing to work on a sewing machine. Along those lines, we will continue to invest in new equipment and technology that makes us more efficient and competitive. We are doing our best to be as domestic as we can, but we still need those imports to make ends meet.
Are there any plans to source outside the U.S.?
We did a test this fall. It's not our first preference and we've got to figure out whether we subsidize the domestic sourcing with the least expensive sourcing opportunities on a complete product. Or do we maintain the assembled in the U.S.A. model? The assembled model keeps us much more involved and we see definite advantages that we love. For example, our two factories—one is less than a mile away from headquarters and our bigger facility is two hours away—enables us to visit on a very regular basis. We are very deeply involved in the process. Our plan, at least for next year, is to continue with that program.
Do you see more companies increasing domestic production, or is it more of a marketing ploy?
Many Republicans are certainly waving the banner. Actually, I think that's more saber-rattling than anything. But I do believe the "made in the U.S.A." theme is strong among a lot of consumers.
It matters, but only up to a certain price point.
I agree. I do about four or five personal appearances with Nordstrom each season, which gives me the opportunity to meet directly with our customers. It's amazing to see their eyes light up when, first of all, I am introduced as "Bruce Munro" and not "Bruce with Munro." Many of our customers truly appreciate that there's an actual Munro working for the company and that we make shoes in the U.S. Many of our consumers love the chance to talk to me as well as my sisters, Christine (director of marketing) and Mollie (executive vice president), when they do in-store appearances. They enjoy talking with the nerve center of the company. They feel a connection. And, let's face it, everybody is a designer, right? They all have their individual wants and needs and they are more than eager to share them with us. We are happy to listen. We have some really nice people that we do business with.
What, specifically, do consumers love about Munro?
Our consistency of fit and the fact that we offer unique sizes and widths that most other brands don't make. It's not easy to do. For example, there are 74 sizes and widths on many of our patterns. Getting each of those pieces bundled together on, say, a 9.5 super-slim versus a 9.5 double-wide is a real challenge. Being domestic gives us more hands-on ability to manage that process. It's a great niche, because if your foot hurts there's a darn good chance the reason is due to wearing the wrong-sized shoes. When you think about what people are willing to pay for pain relief and the fact that we have the potential solution without an operation, you can understand why people love our shoes. For years people have asked me how Munro aligns with fashion brands in the same stores. I've always said we love them: the more fashionable the last, the tighter and more uncomfortable it is, which helps create new customers for us. Women either fit their heads or their feet. When they are younger, like my daughters (one in college and the other just out), they tend not to be interested in fitting their feet as much. But that eventually changes. We have a graying of America and feet get needy. It's one of the first parts of the body that goes. It impacts the quality of life in a big way, so there's a lot of opportunity. I see our market growing.
Exactly how would you describe the Munro brand?
About 22 years ago my sister Mollie and I sat down to put a label behind it, realizing we had to be about fit and build a niche that we could sustain. We coined the phrase, "Proper size, perfect fit." It's served us well. But it requires a significant investment in inventory on the part of our retailers. In order to offer a true sizes-and-widths shopping experience, it requires a big investment in inventory and turning a lot of SKUs each season. For some smaller retailers, Munro doesn't make a lot of sense. That's why we've entered into a distribution partnership with Hispanitas this year.
What does Hispanitas bring to the table?
They offer a more feminine edge on comfort than almost anybody else in the world. They sell primarily based on their uniqueness, which they have a lot of. They bring out an enormous number of patterns into the market each year. And they do it with fit, comfort and quality. But it's not a sizes-and-widths brand, so retailers don't have to make as big of an inventory commitment.
What does Munro bring to Hispanitas?
They get an experienced distributor, a really good sales organization that understands the U.S. market and a company with the logistical wherewithal. For example, we have a state-of-the-art, 125,000-square-foot warehouse with plenty of room. We also bring relationships that are important. We know many of the right independents and department stores and where that product belongs. And we just don't drop it in and expect it to sell. Our salespeople are dedicated to helping the brand sell through.
So far so good?
We got off to a great start with Hispanitas this fall. The shoes are retailing very well. The bonus is we feel closely aligned with their company and I believe it associates us with the right kind of people. The fact is there isn't a lot of infrastructure for the shoe industry in the U.S. and we are being forced to travel all over the world to source materials. So you can imagine how I felt when I visited the Hispanitas factory recently and saw a line of five different leather reps bringing in samples for review or testing. We haven't seen anything that hands-on in 20 years back home. That can be a real asset for us. The Europeans, in this regard, have always respected the shoe industry. Many of the Spanish makers, in particular, have a special feel and great passion for the business.
It sounds like Hispanitas has given you a real shot of enthusiasm.
Absolutely. There hasn't been a lot of emphasis on the passion of the product for a while in our industry here. The Italians and Spanish are great at it. The Germans, from an engineering standpoint, are fantastic as well. It's too bad that there's not more of that type of product in the U.S., because it creates a lot of excitement. When I passed the Spanish booths at various shows of late I knew we had to find a way to bring this to market—something that would create an edge for us at retail. I believe we've found that in Hispanitas.
With regard to sourcing challenges in general, how might the recent difficulties in China affect Munro?
It is getting harder to source in China. Footwear manufacturers used to have the best locations close to the best ports. But now those factories are being converted for other industries and some shoe factories are moving 1,000 miles further inland. That changes the logistics. The infrastructure is splintering. It's a good thing in general for us, but we still need the price gap to shrink considerably. In the meantime, I honestly think our government made a huge mistake not trying to be a little more supportive of our neighbors—where we might get some logistical advantages to sourcing shoes. There could be real advantages to producing shoes 500 to 1,000 miles away. I think our industry should still look into that possibility. The bigger issue, however, relates to expendable income and how, over the last 30 years, the amount devoted to footwear and apparel has dropped about in half. There used to be a huge hole in people's wallets that funneled down to us. Cell phones and other gadgets are getting a big chunk of that money now. Our industry needs to focus on ways of regaining some of that lost share.
It starts with great products and exciting retail formats.
The retail world is changing dramatically. The online footprint is huge and has changed consumer-buying habits. What does that do to the traditional retail format? What, specifically, does this mean for sit-and-fit retailers? We were a little slow to sell online, because we wanted to make sure we protected the people that put us in business. But when Nordstrom, who is our biggest customer, told us it was time to get more involved—that it's about being part of the omnichannel experience that it wants to offer its customers—we needed to respond. Nordstrom has discovered ways to use online to enhance their overall shopping experience. And while a lot of our consumers still like to shop for Munro in store settings because they like the service and, quite frankly, often need it, we have to recognize that there's a place for both formats. Zappos, for example, has done a fantastic job selling our brand. They service that customer to the extreme. It's been a good experience for our customers. It all fits together, as far as we're concerned.
Can smaller sit-and-fit retailers maintain a meaningful place amid this growing omnichannel landscape?
Everybody is going to give a pound of flesh to the Internet. There's just a price advantage to shopping online, starting with sales taxes. Even if an item is on a MAP policy, they escape those taxes. For the consumer standpoint, how can you blame them? That's why stores have got to have difference-makers on their floor to close sales. In general, I think brick-and-mortar retailers need to take a step back and ask themselves: How do we create loyalty? They need to get inside their customers' heads and figure out what they want and need. In order to get to a higher level, they must show their customers that they can be superior in every way than where they may be shopping elsewhere.
Any suggestions?
Perhaps it's the addition of a personal shopper, like a few top retailers have put a real emphasis on of late. A good one can be really worth it. They can get consumers to spend more money as they recommend items that the customer wouldn't have known to buy themselves. A good personal shopper has all these wonderful reasons why you need it and why it's a superior product. They understand the difference between the $120 and $300 product and can convey those reasons. Of course, this requires an investment on the retailer's part—good people can greatly enhance the value of the relationship, but they don't come cheap. However, a customer is likely to return if the personal shopper gains their trust. Why not go all the way and invest in a personal shopper rather than someone who just slings shoes?
When it comes to foot-related aches and pains, I believe there's a tremendous opportunity to take a retail concept on a grander scale.
I agree. There are millions of consumers with such needs that spell nothing but cash opportunities. Why not? But it's going to take the right people to get with it. There are other niche opportunities out there. While it's not easy to do, the days of stocking five or 10 mega-brands and expecting that to drive business are gone. There are just not that many easy sales anymore.
What were some of the best business tenets your father taught you?
My father taught me that the footwear industry is a people business and you have to treat everyone with respect. If you do, it's amazing what you can achieve. Relationships go a long way in what is a relatively small industry. He also always emphasized quality.
What do you love most about your job?
I enjoy the competitive nature of it. I also like the people that I work with—our employees, family, retail partners and consumers. I think recognizing that importance is a Munro family trait. We like people and when you do, people tend to like you, too. I believe we truly enjoy our relationships and we hold them as being very valuable. Along those lines, Christine, Mollie and myself are very proud of our family legacy and will make every effort to keep it alive. •