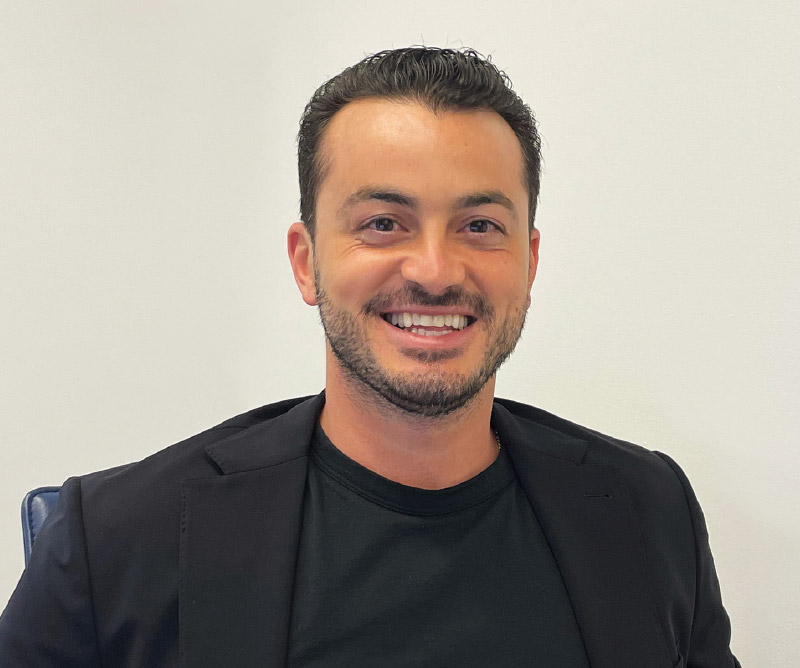 Alen Mamrout first stuck his toe in the shoe business in 2018 with the acquisition of Yokids, then a small girls' brand that he rapidly expanded into additional footwear categories. The CEO of American Exchange Group, who first made his mark in the watches and wearables market as a retailer and then as a wholesaler, saw great potential through product extensions. This formula has been Mamrout's modus operandi since launching American Exchange Group in 2008 as a watch wholesaler that has since rapidly expanded into wearables, apparel and footwear. The company portfolio currently totals more than 30 owned and licensed brands, including Kendall + Kylie, Jones New York and
Ed Hardy, as well as 12 footwear brands. In addition to Aerosoles and last month's acquisition of White Mountain Footwear (White Mountain, Cliffs and White MT), they include the owned Jessica Carlyle, American Exchange, Olivia + Kate and Alexis Bendel labels and licenses for
Mark Ecko, South Pole, Mudd, Mossimo and Rampage.
"We unlock the value in our brands," Mamrout says. "We expand them into lifestyle brands, instead of being, like in the case of Aerosoles and White Mountain Footwear, women's shoe brands, which is what they have been up to now."
Since acquiring Aerosoles in January 2022 from Alden Global Capital, Mamrout's team has gone full throttle on the 36-year-old brand's lifestyle product extensions. Those include a women's cold weather (scarves, gloves and hats) capsule collection introduced this past holiday season and, for Spring '23, introductions of men's and women's flip-flops and slippers collections, hanging footwear, men's socks and even roller skates. This past fall Aerosoles also debuted a kids' collection. Mamrout believes Aerosoles has the brand elasticity to succeed in these categories based on its rich heritage as a leading brand known for its comfort technologies. In addition, he cites strong brand recognition and a loyal customer base. "These products are a natural extension and will make Aerosoles accessible to a wider audience," he says.
Ditto for White Mountain Footwear's brands. Mamrout is champing at the bit to unlock the group's lifestyle products potential. "White Mountain is an incredible brand with amazing distribution," he says. "We plan to unlock that value by extending into kids, men's casual, work boots, hiker boots, etc.—there's just so much we can do with those brands. We'll also leverage Aerosoles' strong ecommerce platform for White Mountain, which hasn't been the company's focus. We have a solid team in place and expect to grow their digital sales by 20 to 30 times."
What White Mountain Footwear does exceptionally well—and has for more than 40 years—is pretty much everything else industry-related. "They are a very well-oiled machine and one of the best well-run companies that I've seen," Mamrout says, noting the company is a leading vendor for Kohl's, Ross, Macy's and DSW, among other majors. "They are a powerhouse." To that end, Aerosoles is being integrated into White Mountain Footwear's operations, enabling the brands to benefit from their respective core competencies. "White Mountain will be in charge of Aerosoles' sales, sourcing, development, production, etc.," he says. "Everything will stay in New England, but they will now have showrooms in New York as well."
In addition to smoother operations, Mamrout believes White Mountain's deep retailer relationships will go a long way in helping Aerosoles get onto more shelves. "White Mountain's reputation is just impeccable," he says. "Their sales team handling Aerosoles will be a great way for us to get back in the marketplace in a very impactful way. This will be a gamechanger for Aerosoles." What's more, Mamrout notes, is the brands don't cannibalize each other. "White Mountain is very core, basic comfort and crunchy granola, whereas Aerosoles is more on the fashion side of comfort. There's reason for them to coexist on shelves."
While American Exchange Group may be relatively new to the footwear business, Mamrout possesses decades of business experience—even though he's just 36 years old. That's because he got his start in the business world at the tender age of 13. There are no high school, college or MBA schools listed on Mamrout's CV. After emigrating with his family from Syria at age 8, two years later he began working in his brother in-law's fine jewelry shop in Manhattan's Herald Square. Three years later, when his brother in-law sought to transition into wholesale, Mamrout asked his father if he could take over the business. "I really pushed and finally convinced my dad that I was ready to work full-time," he says. "My mom was freaking out, but my dad, coming from our culture, was ok with it. He actually bought the store, and I started out in business with two employees that I inherited."
Mamrout was a natural, if not a retail prodigy. By about age 16, the store grew from $400,000 to nearly $2 million in revenue. Then, during the Financial Crisis, he went into expansion mode, snapping up prime Manhattan real estate as other businesses shuttered. "I opened an additional eight locations, including Madison Ave., Lexington Ave., 57th Street and Bryant Park." Over this stretch, Mamrout entered into partnerships with many major watch brands, including Swatch Group, Movado Group. Michael Kors, Kate Spade and Fossil. He also opened four Pandora jewelry boutiques—all by the time he was 25 years old.
"I did really well," Mamrout says, noting he first met American Exchange Group's current executive vice president, Steven Cohen, at age 17. "He was the CEO of TechnoMarine, and I was a big account of theirs. Now, he didn't know that I was 17 at the time…" The exec adds, "It wasn't normal, but I always had a desire to be in business, so that's what I did."
It's not surprising perhaps that Mamrout would be content with just a retail career. In fact, at age 17, he travelled to China to scout the Canton Fair with ideas of entering the wholesale watch business. "Wholesale was always a goal of mine," he says. "I started American Exchange Group as a fashion watch company because I had insight into what was going on in the better watch world and believed there was a tremendous opportunity to elevate opening price point fashion watches." At age 19, Mamrout received his first container shipment of watches under the Jessica Carlyle brand. Soon after, he expanded into private label for ALDO,
Dress Barn, Charming Charlie and Francesca's. Then as a wave of retail consolidation took hold in 2016, Mamrout shifted his focus even more to wholesale. The business quickly took off upon expanding into wearables. "That was our rise to fame," Mamrout says. "We tripled our company by 2018."
Mamrout now believes American Exchange Group is just getting started, and he expects footwear to be a main driver of growth. "There's a lot of opportunity, specifically in footwear," he says. "With our sourcing capabilities and deep retail partnerships, there are opportunities to grow within the footwear space as well as extend those brands into lifestyle categories." Mamrout adds, "We're in over 20 categories now. This is just the beginning for American Exchange Group."
White Mountain Footwear marks American Exchange Group's second footwear acquisition within the year? Why are you bullish on this segment?
First, our footwear division is growing fast and now ranks as our second biggest category after watches. We have great sourcing partners, strong relationships with retailers and, finally, the timing is good. Aerosoles and White Mountain are gigantic opportunities. There are certain things that are just not being done in the marketplace, at least in the area we want to be involved in. Our formula is to provide product that's on-trend, high quality and of great value. Every aspect is very important.
What had Aerosoles not been doing when you acquired them?
They were being run by a hedge fund, as opposed to an owner/operator, which does impact focus and management style. Actually, when I was first introduced to them, the deal initially was to produce shoes as a licensee. As the conversation went on, I ended up purchasing the company.
Why buy Aerosoles, instead?
I felt that if we entered into a licensing agreement and built the business, then we'd be building something that we wouldn't own. Plus, now we're able to license the brand into other categories. We're unlocking the value of Aerosoles and turning it into a lifestyle brand, instead of it being just a women's shoe company. That aside, Aerosoles, at their peak, was doing hundreds of millions of dollars, of which a significant amount was being transacted in its flagship stores and global retail partners. This is a big opportunity for us.
The product of late is definitely on-trend and of a higher quality—someone is doing a good job.
Our creative director came to us from Calvin Klein. She's tremendously talented with an amazing taste level and a great eye. Our sourcing is also just far better and more capable than who the previous owners were using. They were landing shoes at prices I shouldn't even be retailing them for. Now, in their defense, they had to change all of Aerosoles' previous factory partners because, after they filed for reorganization, they had challenges in finding good sourcing partners.
How's Aerosoles' business since the acquisition?
We've seen tremendous growth post-acquisition, and we look forward to continued growth in 2023 and beyond. The brand's recognition in the marketplace as a comfort leader while having trend-right designs fits well with the American Exchange Group's overall strategy, as we've always been a leader in accessible, stylish and quality products at a great value. And, particularly post-Covid, we believe consumers want fashionable product that can be worn all day.
 Where do you envision Aerosoles in three years?
As a strong, multi-category brand presence with both brick-and-mortar and online distribution. Our broader product assortment offers a fresh and contemporary feel with comfort at the core to complement the brand's successful collection of classic women's styles. This presents opportunities to reach a wide range of consumers.
How did the White Mountain Footwear acquisition come about?
Through networking. The deal was done very quietly; no one knew about it. Quite frankly, the industry was in shock when the announcement was made.
White Mountain Footwear wasn't up for sale?
No. It just evolved through conversations. I floated the idea with their management team and they brought it to ownership. It was months in the works. I'm a very persuasive guy. (Laughs.)
What kind of growth are you envisioning for White Mountain Footwear?
There's just so much we'll do with the White Mountain brand that's currently not being done. We believe we can double their current revenues in the next three years. Beginning in 2024, we'll be introducing a broader collection of goods in footwear and other lifestyle categories. Our retailers know that I'm all about growth and opportunity, whereas the previous ownership was more focused on conservative growth. There's absolutely nothing wrong with that approach, and they built an amazing shoe company. They also operate a hugely successful private label business. I'm just a lot more aggressive, as I'm all about unlocking value via increasing investments in product, marketing, public relations, etc. It's just a different mindset. We're going to grow those brands in multiples categories.
Is American Exchange Group looking to acquire more footwear companies?
Yes. We're in talks with another brand right now, and we'll see where that goes.
Many companies are downsizing and yours is in rapid expansion mode. Why?
Well, a very good mentor of mine once told me that when everybody is zigging, zag.
But it's not necessarily easy to zag in the right direction.
True, but there's always lots of opportunity. I tell everybody on my team, in good times you make money and in bad times you make more money. There's always opportunity, and there's always room for growth. In that regard, I believe our strong relationships with retailers is a huge asset. More than ever, retailers want to do business with less people, but they want to do business with the right people. Especially going through the pandemic, they're looking for vendors who can deliver—the companies that have the right infrastructure and financial capabilities. And those who possess those capabilities are going to get a bigger piece of the pie going forward. This is what I've always done: look for opportunities. During the Financial Crisis, for example, when I opened eight retail locations, I was able to negotiate the best leases. Before that, landlords wouldn't even give me the time of day, telling me they only wanted national retailers in those spaces. But then the tables turned. I actually took over a Starbucks location in Bryant Park. Lots of people thought I was crazy to be opening stores then. But those stores performed amazingly well. I had an unbelievable retail run beginning with the Financial Crisis.
So how is American Exchange Group weathering the pandemic?
Pretty well, all things considered. In July of 2020, we acquired MJ Fashion, a handbag company that was in distress. In doing so, we basically hired a bunch of talented people who had recently been furloughed. One has been in the business for 25 years and her right hand is considered one of the best. It wasn't even so much about the company, as it was the people we were able to hire. Then we expanded into cold weather and ladies' accessories. We kept investing and we grew significantly during this period. Our business was on fire—2021 was a record year for us. Now, the supply chain disruptions weren't easy to overcome, but we fought our way through and overcame those challenges. We delivered product when a lot of our retailers' shelves were empty.
How is your company dealing with the record inflation?
Last year was a tough one for retailers and vendors. We primarily cater to retailers like Walmart, Burlington, Ross, Citi Trends and Target, so you're talking about a customer who has very little discretionary income. With this inflation, that money is being spent on food and gas. The year before, they had extra money and they were spending. So, 2022 was the real challenge, not 2020. Still, we're coming out of last year stronger than ever. I expect we'll see another round of consolidation by retailers and vendors this year as a lot of wholesalers are having a very hard time. I hear that a lot of companies are going to throw in the towel. So, the companies that are able to survive should come out stronger than ever. On that note, we're always looking ahead and searching for expansion opportunities and increased market share. We plan to leverage our amazing structure, logistics, management and execution.
Dare we say we're moving on from pandemic life? Or will things never go fully back to "normal"? 
I think we've forgotten what normal feels or looks like. But it's not a matter of going back; it's a matter of moving forward and embracing what that looks like. As with any significant societal occurrence that impacts all our lives, it's a matter of looking for the opportunities to improve life moving forward. Hopefully, we've all learned some valuable lessons. In the meantime, American Exchange Group has been able to overcome the Financial Crisis, the Retail Apocalypse, the pandemic and record inflation. We've learned how to change our business model and adapt to the ever-changing retail landscape and consumer behavior. We're very nimble. We have a culture of no bureaucracy. You don't need to get 16 approvals from upper management. I'm a very approachable CEO. Anyone can approach me with an idea, and we'll make decisions on the spot.
Back when you were 13, did you ever envision your career evolving into this?
Not a chance. I never thought I'd be where I am today. But now this is just the beginning.
You are the epitome of the American Dream, no?
This couldn't have happened anywhere else in the world. The CEO of one the banks we work with suggested I teach a course at Harvard Business School. I'm really a very behind the scenes guy but, who knows, maybe someday.
What do you love most about the shoe industry?
The white space that exists. We're looking to fill those voids. I also love seeing people wearing our shoes and knowing that we provided a fashionable, well-priced and quality item to support them as they navigate their daily lives.
What do you love most about your job?
I don't really view it as a job. I truly love what I do, and I enjoy every second and aspect of it. I especially love networking and building relationships. That's what keeps me going the most. I tell people I'm a 36 year old with a 70-year-old soul. •