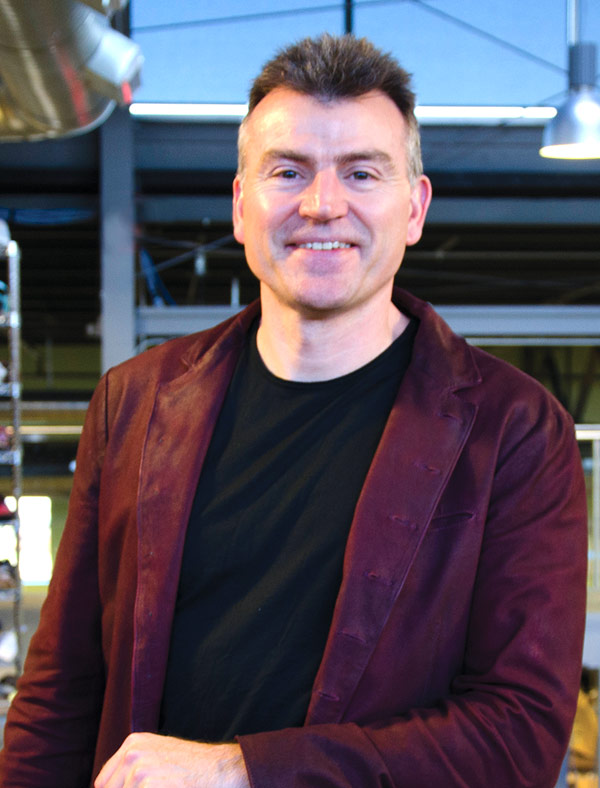 It's been a year of epic changes in the worlds of retail, sports and politics. The closure of hundreds of brick-and-mortar stores as consumers increasingly shift to e-commerce represents transformative change. The Chicago Cubs breaking a 108-year curse to win the World Series was a miraculous change. And the election of Donald J. Trump as president of the United States was nothing short of a stunning change in the nation's political direction.
The past year for Earth Shoes was also marked by expected and unexpected change, which got rolling last December when the company moved into state-of-the-art headquarters in Waltham, MA. In addition to the new digs, the company changed its name from Earth Brands to the more familiar Earth Shoes, closed its e-commerce site PlanetShoes.com, saw Gary Champion (company president for the past six years) depart in February, went through two replacements before finding the right fit in-house with Jeff Herrick (as vice president of sales and merchandising), launched a new Canadian subsidiary and opened a state-of-the-art samples room in its China offices. At the same time, Meynard and his partners—executive vice president Angelo Romero and COO Celso Kiefer—utilized their collective 100-plus years of industry experience to begin implementing a series of fundamental changes in how the company runs.
The changes, by and large, have been positive—even the unexpected ones, according to Meynard, who grew up in the family's shoe business where, as a kid, many of his basement "toys" were shoes. "The unexpected change at the top allowed us to really get into the guts of the company and restructure so that we can continue on our strong growth curve," he says. The management team, for example, is now set up to divide and conquer. Meynard, specifically, is more involved in overall operations, while Romero and Kiefer have stepped up their respective roles. Romero, in particular, is a highly regarded designer. "Angelo's track record has been stellar over the years," Meynard confirms. "We certainly attribute much of our company's growth to his dedication, consistency and work ethic."
Earth Shoes has all the talent it needs for continued success in-house, Meynard adds. "We had to remind ourselves that there's over 100 years of shoes experience between the three of us. We know what we're doing." he says. He also takes great comfort in the experience of his team, which includes veteran Beth Bartholomew as senior director of sales development and recent hires Matt Itzkowitz to lead the company's second-tier Earth Origins division as well as Marc Lambert, former VP of sales of Clarks' $100 million subsidiary in Canada, to assume similar responsibilities at Earth Shoes. "We have an amazing team in place and we keep building upon it," Meynard says, noting that several people have recently joined the design department, which will enable the company to better individualize looks between the brands. In addition, the PlanetShoes team—much of it Millennial-aged and highly e-commerce experienced—has assumed responsibility for the soon-to-be revamped Earth Shoes e-commerce site.
Change is (Really) Good
Amid all these changes, Earth Shoes reported record sales growth and is on pace to blow those figures out of the water in 2017. Meynard says sales are already up 40 percent for next year, and 100 percent in the independent channel. Not too shabby in a year when flat is considered the new up and many companies have struggled to survive during one of the greatest retail shakeouts in recent history.
"We can certainly brag," Meynard confirms. "Our company is on a very nice growth curve. It's been absolutely a wonderful year."
Did Meynard envision a year of such dramatic change last December, when employees were settling into new offices during unseasonably balmy temperatures? The short answer: "I did." But his foresight didn't include executive-level departures or a rash of store closings that would follow the record warm fall. What Meynard saw coming, rather, had been written on his wall since 2014, when he first wanted to close PlanetShoes. (The passing of his father, company founder Michel Meynard, in the fall of 2013 had put it on the back burner.) "I realized then that our business model was not sustainable," he says. "We couldn't get discounts from the brands that the big e-commerce players did. We couldn't get brands to sell us exclusives. We carried the same shoes as many other big retailers. And we couldn't get shipping companies to give us the same discounts. How could we win?"
Meynard saw this dilemma as a microcosm of an industry-wide epidemic. Namely, the over duplication of merchandise sold online. Likening the Internet to a massive Main Street, he says brands have made a mistake by eschewing a local Main Street approach of selling a variety of styles to different retailers. The result is massive sameness, with low prices governing buying decisions. "I've come to the conclusion that brands have been a large factor in this 2016 retail shakeout because of the over duplication online," he says, noting that rising fixed overhead costs have also contributed to the rash of store closings. "The warm fall might have been a tiny piece that tipped some over the edge, but this was something that has been coming around the corner long before that."
Meynard believes this has to change—before it's too late. Independents, in particular, are feeling the negative effects. "They have been just getting destroyed by what's happening," he says. And even though the tier accounts for only a small portion of overall sales, he believes its demise would have far-reaching negative consequences for the entire industry. "If we let the independents die off, we are going to end up making the same shoes for the same behemoths at the same prices," he warns. "Eventually, it's just going to be whoever has the deepest pockets survives. I think, as an industry, we have to take a very close look at trying to avoid that possible outcome."
Independents' Day
So what's a shoe executive to do? Let e-commerce take its natural scorched earth course and hope to survive? Earth Shoes has taken the opposite approach, doubling down on supporting its independent retailer base. It starts with the company working on developing exclusive goods for those retailers to help them compete with large online players. "They have to have some kind of exclusivity so that when customers go into one of those stores and discover a great shoe, they then can't immediately look online and find the same exact shoe," Meynard explains, "unless they find it on that store's site, not on Amazon." Earth Shoes' website is also being revamped to promote its independent retail partners by directing customer traffic to them.
In addition to exclusive products, Meynard says its independent base is getting extra attention across the board—including regular in-store visits by its sales team as well as devoting 60 percent of its overall resources to build stronger relationships. In the short term, he believes it will help them weather the shakeout and, longer term, make these stores lifestyle destinations where selection and service is unmatched. "We want to make sure independent retailers come first because those guys are the future of the industry," he says.
While such efforts make Earth Shoes a pioneer, Meynard is encouraged by other brands' recent decisions to clean up their online distribution, too. "I think people are awakening to the need," he says. He shrugs off fears about potential pushback from larger retailers, noting that Earthies, Earth and Earth Origins divisions are already tiered from high end to independent to mass distribution, respectively. Beyond that, he believes supporting experienced buyers in an e-commerce age where many just buy the entire line is a skill worth trying to preserve. "Real shoe knowledge is disappearing, and if independents go away entirely it's going to become like selling toilet paper—about the price and little else," he says.
Future Tense
Despite consolidation fears, Meynard remains optimistic about the future of Earth Shoes and the industry as a whole. He believes the shakeout that kicked into high gear this year is a wake-up call. We may be at the abyss, but we haven't fallen in yet. "I think 2016 has been the tipping point and some brands are finally awakening to it," he says. "I'm extremely optimistic. I think we are going to see meaningful change because we need to think about our future. And the future of any brand is retail. If we don't think about proper retailing, we are just digging our own graves."
In the immediate future, however, Meynard expects business to remain challenging. The presidential election is finally over, but he believes the shakeout of stores will continue. "It's a big ship to steer and not something that happens overnight," he says. "There will be more of a shakeout before it gets better in the retail environment." But once the industry works through it, he predicts the environment will "absolutely" be healthier.
The brave new world that awaits will involve advancements in lead times, shipping and manufacturing capabilities, Meynard forecasts. As trends hit the market with increasing speeds and shorter lifespans, the need to keep pace will be even more critical. "You have to be able to react fast," he says. Fortunately, Earth Shoes is well prepared with a solid infrastructure in place. "We set up our overseas offices over 25 years ago and have built a manufacturing powerhouse with over 180 employees working in sample development, product development, quality control, etc.," he says. All Earth Shoes' sample development is done in-house—no outside factories, third parties or agents. It's a huge advantage, as many brands struggle with those aspects. "We can literally send a sample request to our overseas facility on a Friday and have that sample sitting in our office on Monday in Waltham," Meynard states. "We can get product designed extremely efficiently and rapidly."
Such capabilities are right in step with the buy now/wear now movement at retail that's causing a dramatic shift in how goods are delivered to market. Think smaller quantities and more frequent deliveries. "The days of shipping everything at once are coming to an end," Meynard says.
Further down the road, Meynard envisions an industry where artificial intelligence and robotics will gain importance. While they won't replace human intelligence and talent, he believes the ability to crunch numbers will go beyond P&L statements and actually enhance merchandising abilities that improve distribution. Robotics, in particular, will usher in another great era of change. "It will allow us to do smaller quantities of production and make exclusives for smaller-sized retailers," he says, noting it will also involve improved 3D printing capabilities that will enable brands to make 1,000 bottoms for a customer, whereas today's minimums are far greater.
Above all, Meynard is excited by what the future holds for Earth Shoes and the industry. In the meantime, the ability to change, adapt and "always be prepared for the unknown" will serve the company's guiding philosophy. "There's real excitement here with all of our recent changes and the ones yet to come," he says. "We are looking forward to what can be best described as a renaissance."