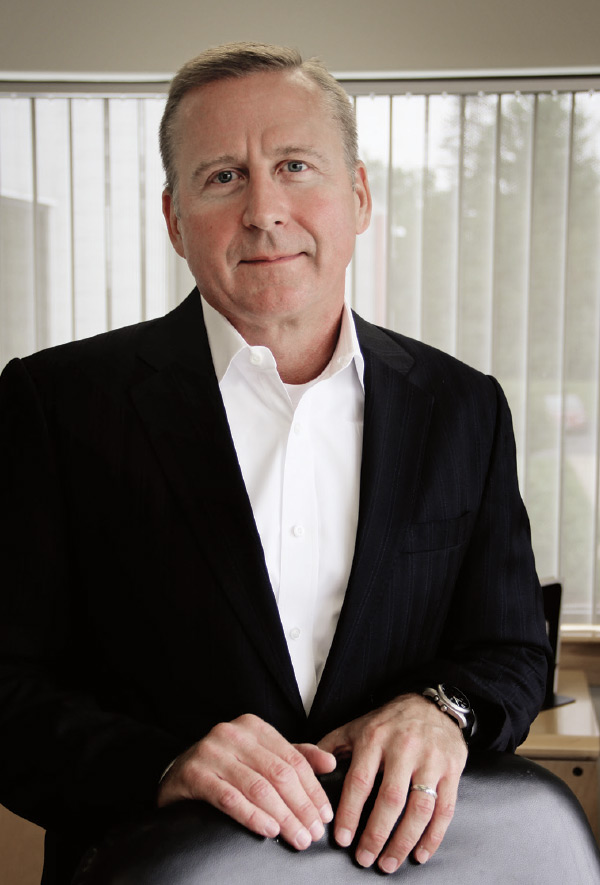 In a market where few know which end is up or what domino will fall next, the search for consistency, dependability and, most of all, profitability has never been more intense. Brands able to deliver on those superlatives, season to season and across a breadth of categories, are the industry's unicorns. They are rare because it's just super hard to do. Even Nike is a "sneaker company" first and foremost. And while it could surely slap a Swoosh on a pump, it lacks the bandwidth to do so—and be taken seriously. Ecco, in contrast, fits seamlessly into the categories of dress, comfort, golf, outdoor and casual lifestyle (think sneakers) in men's and (increasingly) women's. Its overriding national motion design platform focusing on fit, form and function fuels that elasticity. It's a genuine hybrid approach to shoemaking that magically (think unicorns) enables Ecco to be a player everywhere from pumps to hikers. The fact that the company owns its tanneries and factories with the majority of design done in-house strengthens a balanced portfolio that is, above all else, consistently profitable for its equally balanced distribution network. Combine all those ingredients, and that's the pixie dust fueling Ecco's gains over the past few years despite strong market headwinds.
Indeed, 2018 was a very good year for Ecco. The 55-year-old company reported record-setting sales and profits. The Asian and North American markets led the way, with growth of 13 percent and 11 percent, respectively.
"Last year was an amazing year, and the one before was too," says Dave Quel, president of Ecco USA. He cites the continuation of "just great products in the pipeline" that are resonating with consumers. "They've sold really well, and in a very tough environment," he adds.
Highlights include Ecco's rapidly growing sneakers/lifestyle program. Quel singles out the Soft 7 and Soft 8 collections. "They've been dominating where we show up at retail now for a few years, especially last spring," he says. "It just got us off to a great start and the momentum continued through the fall."
Another highlight: the BIOM Hybrid 3 golf program, which also comes despite a category mired in a sand trap for years. Quel attributes the program's success to delivering on the Ecco promise: best quality materials and incredible comfort. "Forget about it being a golf shoe, it's one of the most comfortable shoes you will ever put on your foot," he claims. And the $200-plus price tag—50 percent higher than the competition—hasn't been a deterrent either. "That shoe drove a ton of business for us last year," Quel says. "Our golf business in the U.S. was up over 20 percent."
Similar success stories can be found across men's and women's categories. The ST.1 Hybrid and men's Vitrus dress launches have resonated strongly—again in a category not growing overall. The ST.1 Hybrid features an enhanced polyurethane cushioning construction and is registering 10- to 15-percent weekly sell-through at Nordstrom—and they're priced at $230 to $250, Quel reports. The shoes can be paired with a suit, but offer the comfort and style versatility to be worn casually. The same goes for the Vitrus collection, a more modern styling that Quel says go just as well with jeans. "That's what consumers are looking for today—that middle ground," he says, adding that it's another example of Ecco's ability to deliver the next step in a category's evolution. "That's what Ecco does so well," he says. "We're authentic and create our own version of what we think will resonate with consumers. We may not succeed every time, but we have had some really nice successes."
The outdoor category is another example. Under the umbrella of Outsiders, it includes two versatile collections. Altitude is designed for trekking and light hiking. "It's not about conquering mountains but to be well-equipped on the trail," Quel says, noting a key grouping for Spring '20 is Exohike that features its new Dri Tan leather that greatly reduces water use in the tanning process as well as uses 30- to 40-percent less chrome. "It's a wonderful sustainability story," he says. The second group, Vitality, is designed for urban areas. The BIOM C Tail, for example, is a fast hiker, available in men's and women's, and features Ecco's new Phorene energy rebound midsoles and Dyneema-bonded leathers.
Perhaps the most noteworthy of Ecco's recent successes involves women's. Predominantly a men's brand in the U.S. since entering the market in the early '90s, Ecco has made significant strides in the fairer gender. "It may surprise you to know that women's represents 40 percent of our business in the U.S. right now, and has grown double digits for each of the last five years and will again this year," Quel says. In addition to casual sneakers, he cites expansion into the wear-to-work market as fueling growth and predicts more with the re-introduced Shape collection this September. "It's a super-exciting collection that shows our capacity for style designed on a platform of innovative comfort," Quel says. "Now we have shoes that appeal to daughters, mothers and grandmothers—it's a good indication that we're on the right track."
While Ecco appears to be firing on all cylinders, Quel believes the best is yet to come. When asked where the brand currently stands, his response: "Just scratching the surface." He cites a huge opportunity in women's—a demographic that buys three pairs for every one pair that men purchase. "We've made some great progress, but we still have a long way to go to capture what we should," he says. "I think we can maintain our existing distribution, do things the Ecco way and still grow our share by further evolving and getting products right for the U.S. market. Whether it's golf, outdoor, comfort, dress, etc.—there's opportunities for growth in each category."
Ecco's combined diversified production capabilities, product range and distribution network positions it well amid the current industry turmoil. "If one geographical area is having a tough year, we have three others having good years," Quel says. "It enables us to deliver good results fairly consistently." Of course, the company isn't entirely immune to the market disruption of the past few years. For example, Ecco took a hit when its largest golf account, Golfsmith and its 140 stores, filed for bankruptcy last fall. But the diversity in its categories and retail channels softened the blow. "It's helped us weather this storm, and maybe slightly better than others," Quel says.
All things industry considered, Ecco's business is strong. Are you winning at the shoe wall?
I think we win as soon as the consumer puts our shoes on. That's the moment of truth, and they understand our leather and fluid form stories—they feel it immediately. The difference, over the past few years especially, is the strides we've made in style. We're pushing the modern aspects, which is having a much wider appeal in terms of demographics. We've always had the comfort, quality materials and good construction story. That goes back to 1963. But our design is now as appealing as our comfort story. I think we're hitting in on all cylinders now in terms of the shoes we're bringing to market. Our partners can count on us, if they share a meaningful portion of their budget, to deliver a return on that investment and trust. We have the bandwidth to deliver, in good times and bad, profitably.
The universal theme is natural motion. Just how unique is that approach in the market?
Wherever the consumer encounters our brand—on a golf course, a hiking trail or in business or a causal setting—natural motion is underlying every one of those shoes, and our Fluidform technology is the basis of that. Each last is contoured to the shape of the foot and those contours are perfectly preserved when you inject the sole material into a mold and forms a seamless bond with the upper. The sole shapes and comfort technologies that can be applied with Fluidform are nearly endless. Natural Motion is relevant in any of our categories, whether it's a pump or you walk 18 holes of golf .
As a brand, it means you're not as boxed in?
If you look at Ecco with a fresh set eyes—how we look today versus how we looked five and 10 years before that—we're breaking out of that box every day. The Exohike, for example, is totally innovative. It's made with the new polyurethane material and the minute I put on a pair I thought, "Oh my God, how quickly can we put this in every shoe that we make?" That's coming from a foundation of incredibly comfortable shoes. We're pushing product innovations that are being accepted by consumers.
Is it innovation driving sales, or does Ecco also have a better sense of what U.S. consumers want?
I think we have a much better understanding of the market. We're better connected with our consumers and much better at delivering products with more appeal. Yet we haven't lost our heritage. I think what took us from there to here is a decision we made about seven years ago, and now we're really seeing the benefits of that. It involved placing product teams in each of our key markets. Our U.S. team is in constant communication with the design team in Denmark through every step of the product development cycle to articulate the specific needs of our market. That's what allowed us to turn the corner. We're much more connected as a global company in the branding and design teams than we've ever been.
Ecco addressed the Achilles heel of so many Euro comfort brands. It's amazing how many have failed to do so over the years—even when they stated they would do just that.
While we've been making big strides in adapting to the specific needs of this market, unlike many brands, Ecco came into the U.S. knowing we had to adapt our business model and not the other way around. It goes back to being a profitable brand for our retailers. Since the day we arrived, we've sworn by the idea we're a guest and must adapt to this market's rules. We've offered the same service levels as our domestic competitors have, and now we're doing it with design. I take no credit for this, as it was in place when I joined Ecco in 1999.
Do you see the market getting to a point where it's at least less apocalyptic, or do we still have a way to go with consolidation?
I think we still have a way to go, but I absolutely see it getting to the point where it's not apocalyptic. The best retailers are making the in-store experience more special and the service level is higher. Our goal through this is to be present in wherever and whenever the consumer chooses to shop, and that's the evolution that we believe is going on. Consumers want to engage more deeply with brands, and when all this finally shakes out, it really doesn't matter where they encounter a brand, it matters the experience they have when they do. Whether that's through a multi-brand partner or though DTC, that's what we're working on. We believe we're well-positioned because we have a great brand story. But it's about making it seamless as possible. A consumer comes into a store having heard about a certain shoe from a friend, has researched it online or saw an ad on social media, and it's how quickly can we get that shoe in their hands. That's where we're focusing our efforts and making our investments—getting closer to consumers, understanding how they interact with the brand and telling our story. It's about being better connected with people who are and could be buying our shoes.
How much might multi-brand, brick-and-mortar stores play a role in this storytelling going forward?
I'm not in the camp that brick-and-mortar is irrelevant and won't be here in the future. There are different types of consumers, and some like to shop in a multi-brand shoe store to have choices. Overall, I think people want a deeper engagement into brands. We can give them that choice in a Nordstrom, where they'll see some of the best brands in the world and then, if they want deeper engagement, they can visit one of our stores and see the whole collection or visit us online and learn more of what Ecco is all about. I think that's more of the future versus a diminishing role of traditional stores. But there's no doubt the U.S. was over-retailed combined with consumers just choosing to behave in a different way. We have to understand and appreciate that, and just meet them wherever they show up with a great brand experience.
What about the gripe that DTC equates to lost sales for retailers?
Our expansion into DTC has never been about growing it in such a way that we'd become a 100-percent DTC company or anywhere close. Our intent is to be further diversified at market. When you work in a wholesale environment exclusively the way Ecco started in this country, you have gatekeepers that stand between our collections and consumers. Those gatekeepers pick what they deem the best SKUs. We want consumers to see the entirety of what Ecco is all about. We're a unique company that owns tanneries, factories and the majority of the design is in-house. We want people to see and appreciate that. It's also important to test new products and introduce new brand and service experiences in a mono-brand environment, online and in-store. Our DTC functions as megaphones for Ecco.
It seems the online component of DTC is causing the most consternation among retailers.
Some people prefer to engage and shop that way, but we don't view DTC as the key driver of our business. It's a vital component to show the brand in its ideal and most complete form in Ecco stores, concentrated in some good malls around the country, as well as online. Quite frankly, it's been pretty stable for the last few years. We really haven't expanded it.
And those retailers pushing further into private label in response?
I get that. Our preference is to keep DTC and wholesale in balance with the consumer in mind. It isn't designed to take business away from anyone. I think the two sides absolutely can coexist, and in some measures consumers are asking that they do.
Another point of contention is having to compete on price with some brands' DTC channels.
We're uniquely positioned in that all our channels are under the control on Ecco USA. We're very careful that we go to market consistently. Retailers won't find surprises on our website or in our stores. We've never done it, and we won't. Our brand value always comes first. We're always going to hold the brand in the highest regard in our DTC.
As a former retailer, you get where they are coming from perhaps more so than those who've never worked the floor?
I think the best wholesalers are great retailers who understand the mechanics of retail and what it takes to be successful and profitable. You have to translate that to the other side of the table, and having that hands-on knowledge of how retail works allows you to deliver that more seamlessly. You learn what it takes to work 10 hours a day on a sales floor, putting shoes on people's feet and understanding how consumers react to the different types of products. What makes a good shoe versus a not-so-good one. You also learn retail math and appreciate the margins a retailer works on and understand what they need from a manufacturer to be successful. That's what makes you successful on the wholesale side.
What might the typical shoe store look like in 10 years?
If current trends are any guide, we'll see stores in which brand experience is completely interwoven with the function of helping the consumer buy shoes. Stores increasingly will help to inspire the purchase decision whilst making service the essential element of the consumer experience. For example, last year we introduced Factory Petit at select Nordstrom locations in Southern California, which is a mini-leather factory that enables consumers to design one-off, personalized shoes, handbags and leather accessories aided by an Ecco designer. We will be doing that again with Nordstrom this fall. I also think the current barriers between online and offline shopping will completely disappear and the consumer relationship will be entirely personalized based on CRM data. The next few years will revolve around a lot of testing for brands to find the ideal solutions in shop environment and services.
Is the escalating trade war and subsequent tariff hikes impacting Ecco much?
It's relatively minimal. We have a factory in China, but we saw this coming and moved production of those shoes that come into the U.S. to our factories in other countries. It's a unique position of strength. That aside, the tariffs hikes are bad for our industry overall. It's bad for consumers, and that affects Ecco as much as any other brand.
Where does Ecco's sustainability efforts and goals fit in its overall plan?
It goes back to the inherent humility of the Danish culture in that our owners believe this is something you should do because it's the correct way to treat the environment. It's not something you should do because it's a good to work into a marketing program. Ecco has always been environmentally conscious. And while sustainability isn't something we brag about, I think we could talk more about what we do a and still remain humble. For example, our new Dri Tan leather: We've found a way to dramatically reduce the fresh water and chromium use in the tanning process, which is incredibly impactful to the environment. Our sustainability efforts are taken a step further with the way we treat employees—the conditions that we work in and the rules that we live by internally. That's always been in the highest part of our agenda.
What are some key goals for the rest of this year?
It's continuing the path that we're on. We're hyper-focused on getting to know our consumers so we can relate better messages directly to them. It's continuing to push our designs to be as appropriate for our U.S. consumers as possible. And it's to continue with our standard goal: to be our retail partners' most profitable, reliable and consistent brand.
What do you love most about your job?
It's the long-term view that we take as a company toward who and what we are, and what we want to be 50 years from now. We don't make short-term decisions for short-term results. We make long-term decisions, regardless of initial results or consequences. That's a very consistent and sustainable position to be in. I also love the quality of our products. It's product that I can totally get behind, which was the case before I worked here.
Is this a dream job?
Looking back, I got into the footwear business by happenstance. I started out on a floor at a Track N' Trail store. It was a start-up, family owned business that had about 35 stores at the time, and I decided I loved this business. I became a district manager, and that's when the Ecco connection began with its frequent in-store service programs. They were a quirky new brand that shipped shoes in tin cans. I then moved on to work at H.S. Trask, where I learned how to be a wholesaler. It was a great brand and there was a lot of excitement in its start-up phase. But when I looked around the marketplace, there was always this one company that I thought to myself, "Man, someday I'm going to work there." And when the Ecco opportunity presented itself, I jumped on it, and it was for all the reasons that have kept me here for 20 years. It's just a very easy company to buy into and believe in. For me, that's half the battle, if not more.