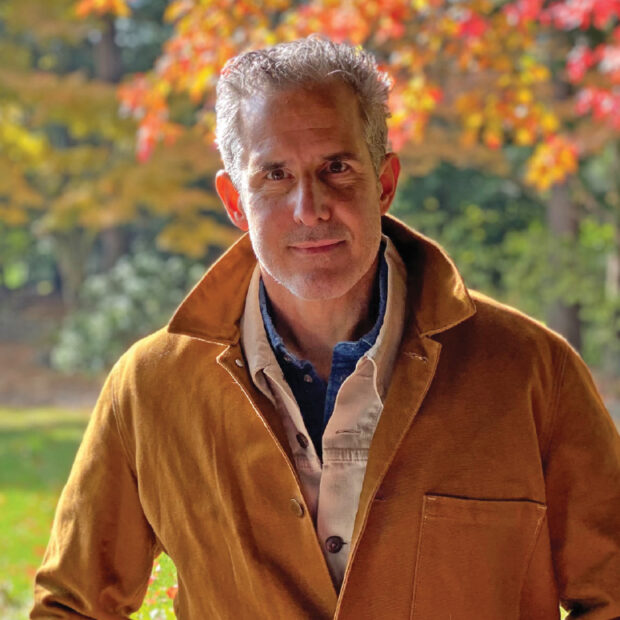 Tom Berry is a storyteller at heart, and over the course of his career he's had the opportunity to help tell some great brand stories. They include The North Face, Salomon, Tecnica, Hoka and, most recently, Levi Strauss & Co. Those are market leaders dripping with heritage and renowned for product innovation. Berry says Ecco is no different. In fact, the exec believes the story the team is creating is equally compelling, not to mention timely in a largely sneaker-wearing landscape. That's because Berry firmly believes the great style pendulum is beginning to swing back to a comfort casual middle (think brown shoes), and the opportunity to seize upon this macro shift is there for the taking—provided Ecco tells its unique "farm-to-foot" story well.
"This brand has all the right ingredients," Berry says, describing it as a hidden gem. "We have a great values proposition, a unique vertical supply chain and the ability to deliver the right solutions to consumers increasingly looking for hybrid, sustainable product."
Berry believes Ecco's farm-to-foot capabilities (meaning it owns its tanneries and factories) put it in a unique and enviable position. "It gives us huge advantages when it comes to transparency with regard to environmental and social responsibility," he explains. "It also gives us tremendous agility advantages."
The fact is consumers increasingly want to buy brands that do right by people and the planet. Ecco has an extensive track record of doing just that for more than 50 years. Its values-driven platform isn't a new marketing ploy. Of course, sustainably manufactured product by decent people only goes so far. The shoes must deliver on comfort, durability, quality and style. The first three are consumer expectations, and ones that Ecco has proven it provides. The latter has always been more of a crapshoot. It's just that now Berry believes the odds are in Ecco's favor. "Lots of people are wearing shoes 95 percent of the time designed for the five percent of the time they may be running," he offers. "The reality is people are standing, walking, taking their kids to practice, etc., and they need great, everyday comfort and performance, but in a dress-casual aesthetic." Berry adds, "Consumers are looking for choice, and I think they're going to pivot hard toward this segment."
Athletic brands have actually helped set the stage for this opportunity, according to Berry. As those brands have become more lifestyle-driven in styling over the past few years, he believes a vast middle ground has opened that Ecco has every right to compete in. "While we're never going to make the best basketball shoe, when it comes to everyday hybrid solutions, our shoes are as good or better than anything in the marketplace," he says. "We've got giant advantages when it comes to durability, support and sustainability versus many of the athletic guys."
That's true provided people hear the Ecco, so to speak. To seize the opportunity, Ecco must do a better job getting its compelling story across, especially to new and younger consumers, Berry says. Athletic brands have done amazingly well at demand creation, while the entire dress-casual segment has done poorly, in Berry's opinion. "Telling our story better is our biggest challenge," he says. "If we are successful and get them into the brand, we'll absolutely retain them because our products last longer, are more comfortable and more sustainable. We really like our values proposition. We just need to get that story out to more consumers."
To achieve that, Berry is focusing on retailers. Unlike DTC, which he says is like selling in a vacuum, retailers present the best conduit to reach existing and new customers. "When you engage with a broader distribution, you can present many facets of your brand," he says, citing retailers who are youth-, comfort- and fashion-focused. "There's no reason we can't play in all those channels, delivering unique and tailored assortments, which gives us access to many more customers than if we try to force everything though our narrow DTC prism." Berry also believes winning at wholesale represents next level success. In fact, when his team reports a strong sell-through on a style, he immediately asks whether it's in the deep or shallow end of the pool? Meaning, is it wholesale or DTC? "We're only competing against ourselves on DTC," he says. "Whereas, if we achieve a great sell-through at wholesale, then I know we've delivered something really consumer-right.
"Wholesale sharpens your product focus," Berry adds. "To win there, you've got to be the best against an array of competitors, whereas in DTC you can kid yourself with strong sell-throughs."
Ecco's new and refined (think a tighter assortment overall) story will begin in earnest in Q2 of next year, when a new marketing campaign will launch, Berry says. In the meantime, the product assortment is already being curated, which entails a core and franchise approach. "Our assortment had been far too broad; we've been trying to be too many things to too many people," he says, noting that this leads to brand dissolution and confusion. "We want to tell fewer, better stories."
For a man who's been helping craft great brand stories for nearly 25 years, Berry is well-suited to tell Ecco's. But an impressive resume wasn't the only factor that led to his joining the company a year ago. It was the gem-like qualities—the ones that shine with huge growth potential—that caught Berry's eye. "We all want to be a part of something that we believe we can win with, but if you don't have the right talent, you don't have a chance to compete for a championship," he says. "Ecco has the talent: family-owned, values-driven, great platform and exceptional product. The opportunity to turn this hidden gem into something much more for today's modern family is super-compelling."
How would you assess year one of leading Ecco Americas?
It's been a very productive year overall. Our biggest challenge remains stabilizing operations. We need to become a top tier, reliable supplier that delivers on time and meets our wholesale customers' needs. It's our top urgency, and we are getting there. Meanwhile, brand has been our most important initiative. This past year, we set the pitch and we'll unveil our new brand proposition early next year. We're super happy with how that's progressing. In regard to product, we've made major strides in culling our assortment overall and creating consumer clarity this year. Think fewer and better, which have included some great new winners. On that note, you can't just be a consistent performer anymore; you also need must-have items that deliver excitement to consumers. Lastly, which is more internal but very important, has been pivoting our corporate culture from industrial, factory-led to consumer, brand-led. It's a work in progress that certainly takes more than a year, but we've made major strides reorienting our entire enterprise to put consumers at the center of the conversation in every aspect. It's the only way you can win in the long-term. Better factories aren't enough to win today. Winning requires must-have product from a must-have brand, and to achieve that you must have the consumer at the center of everything you do.
What were some of this year's must-have items?
Some were in our Heritage collection, like the Grainer, Staker and new iterations of the Track. They're classic silhouettes with no break-in period. So, out-of-the-box comfort that offers great support, cushioning and durability. With consumers having primarily worn sneakers for the last decade, it's hard for many to go back to a traditional construction. That's why we're offering wonderful DriTan leathers to gain their attention. They use less water and fewer chemicals and are much better for the environment, plus have no break-in period and all-day comfort. We've also experienced success with our Street and Soft 7 franchises, which is primarily due to making sure those court silhouettes have the right last shapes as well as material and color iterations. That's innovation with a small i for what continues to be a giant market. The fusion of dress, casual and athletic often lends itself to that silhouette, which can be dressed up or down.
How might Ecco's golf category play into this culling down of styles overall?
It's still a very important category. We're the No. 1 brand above the $200 price point and our business continues to accelerate based largely on strength of product because, frankly, we haven't done a lot of marketing in that segment. We also see golf as an entry point for reaching new consumers, especially younger ones who know Ecco only as a golf brand. They've already bought into our performance proposition, so why not have better product in the office and casually, as well?
How does outdoor fit into this overall approach?
We have a wonderful franchise in BIOM, which is all about natural motion. Lots of consumers know and love that product. Still, we need to introduce more consumers to it. But our focus going forward will be more on light hiking and everyday outdoor styles as we look to own the walking category, which is where we believe we've got the best technology and brand permission versus trying to be top of the mountain. We don't want to be La Sportiva or Salomon. We want to be Ecco where the vast majority of people doing outdoor activities lends itself to our designs. There just aren't that many people at the top of the mountain or trail running. But there are a ton of people light hiking and walking, and they need the durability, comfort and support our shoes offer.
How does this year's launch of Gruuv fit into all this?
Gruuv is our new walking technology. The fact that we make all our own molds and do our own engineering and creative gives us enormous technology advantages, and Gruuv is an example of that. It's a further iteration in natural motion and support that delivers great comfort. We believe a lot of brands have over-indexed on cushioning, which is a solution optimized for the heavy forces associated with running. Meanwhile, brands have under-indexed on support. In terms of kinesiology when standing and walking all day, durability and support are more important than cushioning. Yet consumers have been so sold on the need for cushioning. They haven't been educated enough on the benefits of support and durability. Our construction is also closer to the ground, so you don't feel tippy. We find that a ton of consumers, especially older ones, prefer that sensation. While there are times you need more cushioning, the vast majority of the time you need durability and support. It presents a massive advantage for Ecco.
Might athleisure fashion in general be nearing a cliché status?
I think so. I believe there's a moment coming soon when a lot of it will look absurd—like '90s-era stirrup pants and fluorescent colors. People are going to look at some of things that we've been wearing over the last decade and say, 'Wow, what were we thinking!' That's not to say it's all bad. Take the classic court sneaker silhouette, which is our flagship Soft 7 collection. That's 'athletic' for us, and that look remains just as relevant today. We own the classic court silhouette dressed up in better leathers with a more durable construction at a higher price point. That's who Ecco should be. We don't need to chase the far reaches of athletic/athleisure street fusion because that's not who we are authentically.
Could this casual lifestyle segment be the biggest category of all?
From a wearing occasion perspective, yes. The casual segment is under-maximized, yet it has by far the largest market potential. The irony is athletic brands have been winning with athletic silhouettes for casual-wearing occasions. We've let those brands take over a lot of the casual-wearing moments. For example, my family recently hosted a homecoming party and most of the kids showed up in suits and dresses paired with sneakers. It's not surprising though, as the only brands that have really communicated to them in their years of growing up have been athletic ones. Ecco, in contrast, hasn't spoken directly to an 18-year-old in the last 30 years. That's an opportunity, right?
Because?
We believe a lot of consumers want the style point of view of dress-casual, but with athletic comfort. So, rather than trying to look like athletic brands, which we had been doing too much of, we need to tell our story about our longer-lasting, all-day comfort, and why it's a better proposition for the vast majority of consumers. So, you'll see many more classic silhouettes with incredible comfort, sustainability and durability built into them. I think we'll win by being that brand versus trying to chase athletic brands. Now, I'm not suggesting we're going to become a "teen" brand any time soon, but look at how well Birkenstock has done reaching that audience of late. They're an ageless brand that's done a great job at brand building on product that hasn't seen a profound evolution in the assortment. It helps show us the way. That's why we're targeting the modern family. We believe we're in a world that's post defining brands by ages. If you can define a brand by values and unique product propositions, you can capture a lot more consumers, because values today tend to be much more transcendent than when we were young. Kids are a lot more socially conscious today. Sustainability and durability matter to everybody. So does quality and comfort.
On that note, what is the potential for Ecco in the years ahead?
We are already a leader in the dress and casual space, but that space is currently too small. So, we want to grow the entire space, as well as take market share within it. That all revolves around owning those casual-wearing occasions. We believe we're uniquely positioned to deliver and communicate on the needs for comfort, quality, durability and sustainability from a values-driven company. That involves reaching a cohort of new and younger consumers while continuing to deliver great solutions for our current ones. There's no reason we can't reach both. That aside, it's a long runway and we don't presume it'll be an easy journey. It's a very competitive and dynamic marketplace. At the same time, we don't see any strategic obstacles to getting there. It's more an execution play. If we execute, we expect to win.
It's one thing taking market share from a relatively small brown shoe brand, but isn't it a whole different level to do so from Nike or Adidas?
Oddly enough, it may be easier. We don't need to be better than Nike at running or basketball, we just need to convince consumers who are going to the farmer's market, for coffee or to watch their kids' ballgames—activities the modern family is doing—that you don't have to wear athletic shoes for those casual-wearing occasions. Previously, we thought the path to winning was to be more athletic and compete with those brands on their pitch. That's completely wrong. Athletic brands are on our pitch. We just need to educate consumers that we're the better, more sustainable solution for casual occasions. So, we don't need to take massive share from Nike. If we just take share around the edges of those brands, it would amount to massive growth potential financially and market share–wise.
How important is sustainability to Ecco's overall pitch?
Very. Consumers increasingly want products that aren't fast fashion, which is stuff they throw into landfills after a season or two. They're reacting negatively to all the fluff that's been contaminating the shopping universe the past decade or so. The food industry is another example. It had gotten so dumb-downed with cheap and unhealthy options to the point where consumers demanded healthier ingredients from brands that share their values. I think you're going to see similar trends in footwear and apparel. Consumers want authentic goods that can be kept in their closet for 10 years, which favors Ecco. So, we're absolutely pursuing what I call a slow style business model. For example, sales of some of our best styles–like the Track and Soft 7, which have been in our line for 27 and seven years, respectively—have never been stronger. Our Yucatan sport sandal has been around for 16 years, and its sales have been the strongest ever this year. I think brands, in general, should be pushing timeless design and durability, which are probably the two most important yet under-told sustainability stories. Too many products that aren't worn out but quickly become out of style wind up in landfills. Similarly, a lot of products perform well for three to six months, but then the cushioning is gone and you've got to buy a new pair. In contrast, we build most everything on a PU platform featuring our direct-injection FluidForm construction, as opposed to the more common cement and EVA method, which results in more pollution and less durability. We're working on a study now that shows our approach is four to six times longer lasting. If you can put that many fewer shoes into landfills, that's a massive unlock. Plus, consumers will save a bunch of money, because even if ours are premium priced, if they last five times longer, people will come out ahead in the long run.
A good pair of shoes provides a legitimate value and purpose unlike, perhaps, crypto.
How can there really be a $19 shoe? Something is wrong with that whole concept. That shoe is going to be a social proposition that a growing number of consumers don't want to be a part of, because it's not going to last, it won't be comfortable and it's likely bad for the environment. There's really no such thing as a $19 shoe that's good. Consumers are learning that if you want better quality and values, you're going to have to pay more. But I believe they'll do so happily, because, as you just noted, there are a lot of things competing for their money that aren't as important or rewarding as a quality pair of shoes, which can change your life. If everyone is walking their 10,000 steps a day, they want to do so comfortably. Your entire day is changed if you're miserable. People will pay a lot for comfortable, durable shoes.
How might some brands' recent efforts to cull their retail distribution play into Ecco's overall strategy?
It creates opportunity. We had been focused on growing our DTC the past few years, but we've reset that strategy. Wholesale will be super important to us while, over the next three years, DTC will become significantly less important.
I suspect plenty of retailers will be happy to hear that, given that their top complaint is brands prioritizing DTC efforts.
It's crazy because you're walking away from an entire swath of consumers. There's also the risk of losing your cool factor, even for Nike. While their new flagship stores are state-of-the-art and in great locations, they're just not as cool as a Concepts or other organic, authentic street fashion stores, in my opinion.
What role does the recent opening of Ecco's Brooklyn design studio play in its cool factor?
The design studio is a commitment to making sure we're serving the specific needs of our U.S. consumers. A lot of our recent heritage designs came out of that studio and a new generation of Soft 7 is coming next fall that's much more youth-friendly. You need a U.S. sneakerhead to develop a concept that appeals to consumers here and around the world. Also, in order to be a global brand, we need to tap into the enormous global talent that exists and have designers who can interpret local needs. That said, we're often finding that a great design originally envisioned as a local solution has global appeal. So, it doesn't matter if designs come out of Shanghai, Brooklyn or Denmark. All that matters is bringing the best designs to consumers around the world.
What do you love most about your job?
One is team. Specifically, that I get to collaborate with talented people inside and outside Ecco. The second is inventing the future. We don't know what the future will be, but we have a hand in creating it. That opportunity and privilege is exciting. We're at that moment with Ecco. There's a new generation of global leadership—our new CEO, Panos Mytaros, is an insider but also a disruptor. He's got a great vision for the company. We also have a family ownership that understands what this opportunity is. We think the world has changed, and we believe we're as good as anyone at building shoes, and our mission is to deliver great casual shoes for the modern family. We don't think there is anyone better positioned to do so. •