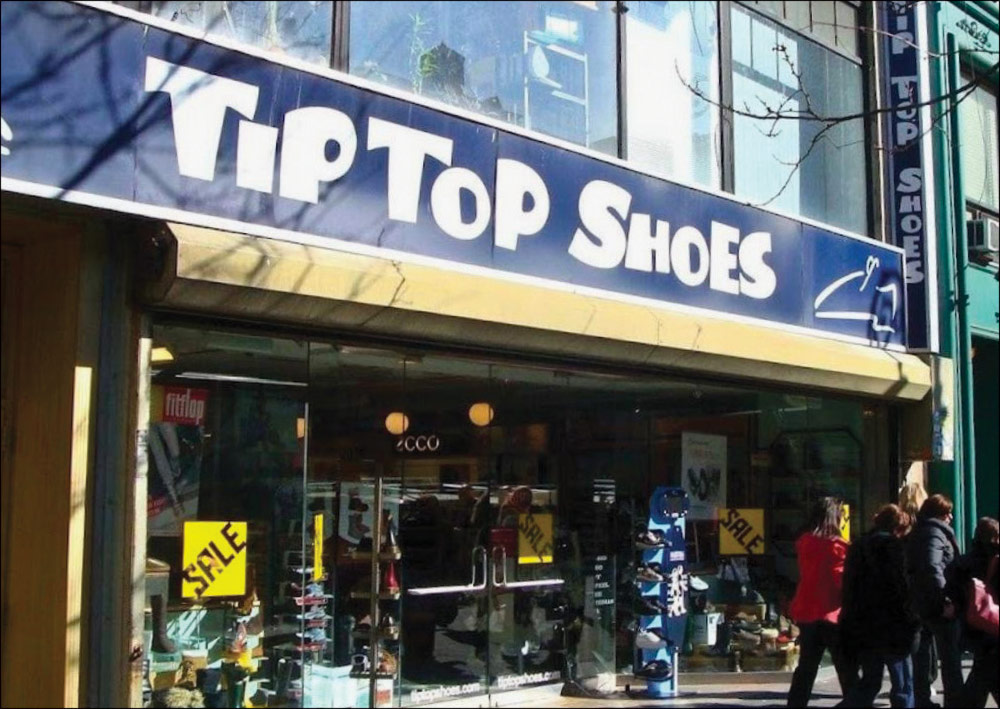 Danny Wasserman is a Noo Yawka through and through. Raised in the city that never sleeps, he made his shoe retailing bones working in his father's tiny Bronx store, Asto Shoes, before eventually following his dad to Manhattan's Upper West Side in 1964, when the elder Wasserman purchased the neighborhood staple Tip Top Shoes, founded in 1940. Wasserman has held court as owner since 1980, weathering the city's many ups and downs while keeping pace with the latest trends. An authentic Shoe Dog with a keen nose for product, Wasserman has helped to usher many lifestyle brands into the mainstream. His store has served as a stage that proves, to paraphrase Frank Sinatra's "New York, New York", If you can make it there, you'll make it anywhere.
Birkenstock, Ecco, Mephisto, MBT and Ugg are just a few of the many brands that Wasserman has helped introduce to New York, America and the world, thanks, in part, to Tip Top's strong international customer base. He's been the shoe industry's uber talent scout. "Many have said if Tip Top bought them, others were at least willing to look at them, which I take pride in," says Wasserman. "We've helped launch a lot of brands."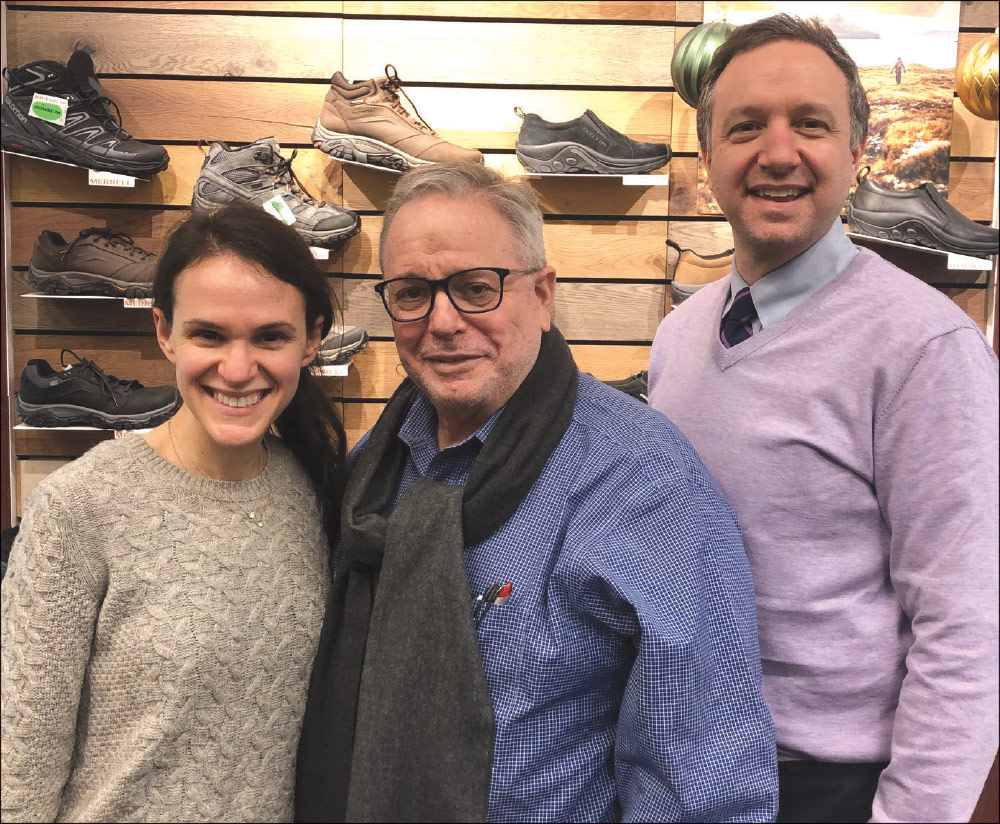 Lester Wasserman, CEO and GM of Tip Top Shoes, has had a ringside seat for his father's run of star discoveries since childhood. "There are too many to count," he says. "He picked Birkenstock back when consumers didn't even have an understanding of European sizing. And he discovered Ugg in the middle of the summer; it's going on 30 years now. And MBT. At the time, they were the only rocker-soled shoes around. They seemed very niche, but he saw beyond that immediately and knew they had potential." He says his father's ability to stay laser sharp and nimble helps him spot up-and-coming stars. "Trends come and go, and while Tip Top has been able to capitalize on many opportunities throughout the years, he's never taken his eye off the ball. He always stayed connected to the core Tip Top customer," the younger Wasserman adds.
Another brand that belongs on Wasserman's highlight reel is New Balance, which helped usher in the Tip Top sneakers era, which remains strong to this day and includes the opening of his son's sneaker boutique, West NYC, in 2007, a few doors east on the same block. The decision made back in the early '80s to display New Balance joggers on a rolling pillar near the entrance proved fortuitous—sales picked up right away and the brand has been a cornerstone ever since. Over the ensuing decades, Wasserman and New Balance founder Jim Davis also became good friends, traveling together once on a business trip to Beijing. "He's a good person," Wasserman says. "He delivers on his promises. He understands the independents, and he's very generous."
Over the past several decades, Tip Top has steadily grown its sneaker assortment, featuring Adidas, Nike, Converse… "all the top names," Wasserman says. The store also included plenty of Keds, especially back in the day. "We sold tons of those—that was the first sneaker people bought come spring. They didn't know what else they wanted, but they knew white Keds would go with anything," he says. The sneaker brand that initially got away, Wasserman says, was Reebok. It's his biggest buy-related regret, made worse because he had met founder Paul Fireman at a show in the New York Coliseum but passed at the time. Not long after, the nearby Athlete's Foot picked up Reebok and it was off to the races with the area exclusive. "I don't think I missed a lot, but that was a big one," Wasserman laments. "And we should have had it. I was walking the show with [Shoe Parlor owner and friend] Abe Rogowsky and he didn't like them. Maybe if he wasn't there, I would have bought them." (Laughs.)
The Art of the Buy
Truth be told, Wasserman is quite discerning in his buys. Moreover, he's not one to overbuy out of the gate. Conservative at his core, he mastered the art of filling in rather than betting the house long ago. He fondly recalls the days, in the mid '70s, when Kork-Ease platform sandals were all the rage. "I used to take the subway to their factory in Brooklyn on Friday mornings to pick up 12-packs so we'd have Kork-Ease for the weekend, because by Monday they'd be gone," he says.
Similarly, Wasserman's slow test of Ugg in the early '90s came after a rep popped into the store one afternoon toting just the Classic short boot in black. The rep said, "You need this boot, because it's great for diabetics and you don't have to wear socks." Wasserman was intrigued and wrote a small order. A couple pairs, here and there, sold at the start. Not long after, Deckers Outdoor acquired the brand, and when its new Sundance boot debuted shortly after, an actress was featured wearing them on a movie billboard leading into the Lincoln Tunnel. Wasserman wrote a six-pair order for the boots, even though its SRP was a "ridiculous" $150. They sold out in less than a week. He then bought eight pairs, and they nearly sold out the next day. After blowing out a couple more eight-pair orders, Wasserman decided to stop "screwing around" and ordered 36 pairs. In the decades since, Tip Top Shoes has gone on to sell thousands of pairs more across the Ugg line. "Even about four years ago, when we carried a $250 Ugg style, we sold them really well, partly because few retailers wanted to invest that amount," Wasserman says. "They didn't realize that there is a customer out there for $250."
Wasserman says he learned the art of buying from one of the best: his father, a second-generation shoe retailer who owned stores in Israel before emigrating with his family to America in the '50s. In the early '70s, the son began joining his father on his weekly Wednesday buying trips to Midtown's Marbridge building. "I watched how my father bought shoes and learned what the ingredients were to a good shoe," he recalls. "He knew all of this from his past, stretching back to Germany when he worked in his father's stores and then in Israel in his stores, which were decorated beautifully and carried lots of fisherman sandals and desert boots. He even had Arab craftsmen make custom shoes for his stores."
Wasserman says his father gave him keen insights on what, how much and when to buy. His dad's most important lesson: "Always ask, 'What kind of discount can I get?'" he says with a chuckle. Wasserman adds that his father was conservative—and tough. "He was German. Very rigid," he says. "We had many weeks where we'd walk home together and we wouldn't speak, and my mother would admonish us that we had to talk to each other." As the '70s wore on, Wasserman gained more of his father's trust when it came to buying decisions. "Eventually, my father said buy what you want, but make sure you sell it," Wasserman says with another chuckle.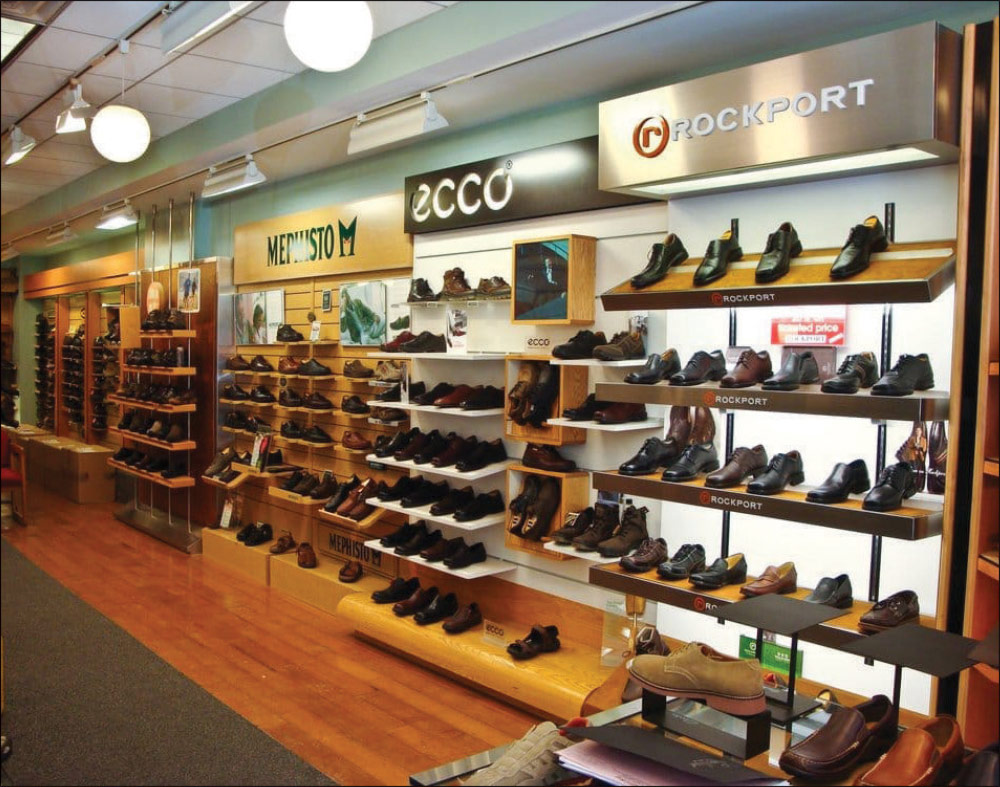 At the Wheel
After Wasserman's father passed away in 1979, he moved into Tip Top's driver's seat. Not every staff member welcomed him with open arms. "I had to deal with seven German salespeople, and I heard them talking, 'He's telling us what to do now…'" And while Wasserman had been working at the store for 15 years, he had to get up to speed on the behind-the-scenes aspects of running the business, not to mention console his grieving mother, who would go on to work the cash register for years. Fortunately, he already knew a lot of what to do when it came to working with customers. He credits his co-worker at Asto Shoes—a "real Shoe Dog who always sported a nice suit"—with showing him the ropes. "He really taught me how to sell a pair of shoes: how to approach a customer, how to fit them properly, how to put jimmies [foam pads] into shoes, if needed…all the things that came together to make a sale back then," Wasserman says.
Meanwhile, Wasserman continued to gain confidence with each buy. He pressed forward on one of his father's last decisions—to bring in more styles that would appeal to a younger audience. A test on a furry, high-heel, white boot—a "real window-stopper"—showed there was potential. "We had pimps coming in to buy that boot three pairs at a time," Wasserman recalls, noting that back then brands didn't matter as much as the look. "Other than Florsheim, Red Cross and Selby, there were no must-have brands for us. We had customers who wanted to spend $39 on a pair, not $85 for Ferragamos bought at Saks Fifth Avenue."
But a shift to a brands-focused store—with a much higher average price point—was about to occur at Tip Top Shoes. It would be driven by Wasserman's decision to broaden the Euro comfort brand mix, going deeper with Birkenstock and adding the likes of Ecco, Mephisto, Naot and Clarks. They were all in step with a macro shift to casual dressing, while millions of consumers were also discovering the comfort of sneakers. The sit-and-fit comfort specialty retail format was emerging, and Tip Top was one of the first. In addition to quality and comfort, Wasserman saw enormous potential in these brands' Euro sizing, which meant not having to stock half sizes, for starters. He successfully added other Euro-sized brands like Thierry Rabotin, Romika, Gabor and Mephisto, among others. This distinguished Tip Top from mainstream competitors and improved its bottom line. "Euro sizing is the right way to approach the shoe business, because selling cheap shoes isn't the answer," Wasserman says.
Birkenstock, introduced at Tip Top in the early '70s, provided a hint of the Euro comfort potential. "Our account number is 00150—nobody on the East Coast was selling the brand when we started," Wasserman says proudly, noting the Arizona and Zurich sandals were the original styles it carried. "We started selling them more and more, and then I advertised the brand in Rolling Stone and The New York Times Magazine with the tag line, 'The ugly shoes that make you smile.'" The ad was not much bigger than an oversized postage stamp and cost about $125, but the ROI was huge. "The response was great," he says. "It got us noticed by a whole younger generation. We had tons of hippies travel from New Jersey, Upstate New York, etc. to our store to buy Birkenstocks."
David Kahan, CEO of Birkenstock Americas, says the brand's half century partnership with Tip Top Shoes is rare and highly valued. "Tip Top is one of Birkenstock's longest-running retail partners. Danny goes back to the days of Karl Birkenstock and Margot Fraser," he affirms. "He's been a true partner during the leaner years and, since the day I joined nine years ago, has shared on our success. There's no better retail partner, and Danny's guidance has helped me focus and stay true to what makes us special." Kahan adds that Wasserman's brand loyalty was reflected when he attended a Birkenstock global event a couple of years ago during Paris Fashion Week. "Seeing the respect he had with our German-based leadership was incredible to watch," Kahan says.
Ecco is a similar long-running and successful partnership. In fact, Tip Top Shoes was the first retailer in New York to carry the Danish brand, dating back to 1980. Matt Thibeau, head of independent sales for Ecco USA, says Tip Top has been an "incredibly important" partnership to the brand. "Besides the strategic importance of the store being in New York and among the most visited in the country, our early performance there drove growth for the brand when it was in its infancy," he says, citing Wasserman's ability to see through the clutter while staying loyal to his principles as keys to the store's longevity. "He's so even keel," he says. "He has a gift of good, solid business instincts." Adds Dave Quell, CEO of Ecco USA, "We've worked with Danny in product development and have benefitted from his insights and knowledge of the consumer. He's been a great partner in launching new categories."
Designer Dreams
Many brand execs who know Wasserman well will tell you his true calling was not in retail; it should have been as a shoe designer. They recall countless product presentations where Wasserman offered input on how to make shoes even better. He's often right, even if some of the suggestions were unconventional at the time—like his idea of putting a rubber sole on a Cuban heel pump made by Selby. "It was perfect for women 45 years and up, which was our customer at that time," he says. "She'd rather wear that than a stiff sole." Of course, flexible, rubber-soled dress shoes have since become standard issue.
"Danny always wanted to be a shoe designer," confirms Steve Lax, CEO of Naot, noting that Tip Top Shoes was one of his first customers, dating back to when he started distributing the Israeli-made brand around 1980. "Any shoe I've ever shown Danny, he tweaks on the spot. It's never like, 'Oh, that shoe is great. It's this shoe would be great—if you did this…" Design suggestions aside, Lax credits Wasserman for seeing the potential in Naot from the get-go and considers him one of the brand's most loyal and important retail partners. "Danny's got a prime location in the middle of the Upper West Side, which is the heart and soul of our customer base," he says. "If you walk around that neighborhood in the summer, almost one out of 10 people is wearing our sandals—and a lot of them were purchased at his store." Lax adds that Wasserman is an ideal partner. "We've done a lot of Naot programs together, like taking part in our donation events for the homeless and running an Israeli Day promotion during the city's annual parade," he says. "He's always been willing to go outside the box and partner with us, and he's often suggested great ideas." Beyond that, Lax considers Wasserman a true friend. Case in point: the time he hired Lax's daughter Ayelet (now managing Naot USA) to work a few summers in his store so she could learn "what it is to be in retail" while she attended college. "She learned a lot," Lax says. "That really cemented our relationship with Danny and his family. When I walk into the store to this day [some 20 years later], the long-term salespeople will ask how my daughter is doing."
Another long-time partner and friend of Tip Top Shoes—one Wasserman considers an industry "genius"—is Robert Greenberg, CEO of Skechers. (Late Zappos founder Tony Hsieh is another to receive such high praise from Wasserman.) Tip Top has been a Skechers customer since the brand's start in the early '90s. "Danny and the Tip Top team have been wonderful partners and have embraced our many divisions over the years—from our first Skechers Sport styles to our more recent fashion and trendy styles and our vast comfort offerings, including Max Cushioning and Arch Fit," Greenberg says. "What makes Tip Top special and a standout among retailers is the love that Danny, Lester and Margot have for the industry. They have a great taste level for product, especially when it incorporates comfort. They know success when they see it!"
Diamond Mining
What's the biggest factor behind Tip Top's longevity? For starters, the store always pays its bills, Wasserman says. Beyond that, he cites the ability to move with the selling diamond. The diamond keeps moving to the right, and to the left of the center is volume fashion and comfort—Tip Top's sweet spot, he explains. "Basically, we're about functional, fashion shoes with functional being the key word," he says. "What can I wear them for? Are they comfortable? Do they have features—like goring, flexibility and cushioning? Those are all functional features that I look for when I buy shoes."
Wasserman cites his early success in the '70s with Jacque Cohen canvas espadrilles (which later became Andre Assous) as a good example. "The shoes had all the ingredients, and we were one of the first stores to bring that style in," he says. Another good example: Dr. Scholl's exercise sandals. While the style didn't offer much cushioning, it had a functional (toning) aspect that Tip Top scored big with during its heyday—and would repeat years later with MBT and FitFlop. "We had lines waiting out the door for those wooden clogs," Wasserman recalls, noting the store advertised the shoe during previews in local movie theaters. "We were the only store carrying them; the department stores didn't understand it. We sold them out of a little cart like they were free." It's another in a long line of examples of Wasserman being the first to see the potential in something unique, functionable, comfortable, fashionable and new.
Recent diamonds in the making include Hoka One One and On Running. And even if Wasserman has slowed down his pursuit, he knows his son is picking up where he is leaving off. "He's spot-on," Wasserman says, citing the recent addition of Red Wing to Tip Top's mix per his son's recommendation. "He just knows if it's good or if it's garbage. And Margot has Tip Top Kids (located a couple of doors from the main store) under control." Wasserman takes comfort in knowing the business is in great hands and is confident about its success for years to come. The stores have already weathered recessions, 9/11, competition in all formats and now a pandemic—which he considers the most difficult challenge to date—while its online channels continue to grow. But he's also a firm believer that New York will roar back to life. When it does, people are going to want and need shoes—and Tip Top Shoes might be one of the few sit-and-fit stores still standing. "Not everyone will want to buy shoes on the internet," he says. "We're in it for the long haul. We just have to keep doing what we do best: selling shoes and figuring out what to buy and when to bring it in."
Wasserman, 76, could retire—or come in three days a week, as his wife suggested. But he sees how hard his kids are working through this latest crisis and has decided to put that on hold. "I can't leave them when they need me the most," he says. In the meantime, he'll keep looking for the next big brand and/or trend. It's in his blood. "My father always said I was born in a shoe store, because my mother was pregnant with me while climbing ladders to stock shoes in our store in Germany," Wasserman says. "I just enjoy the business so much—touching shoes, smelling the leather, the whole process. It's a way of life."
High Praise
Industry leaders sound off on Danny Wasserman's retail acumen.
Class Act: "Danny Wasserman is one of the most approachable retailers I know. He has incredible insight and operates with class. Visit his store and you'll see professionalism from the floor set up to the phenomenal sales. His sales associates are well-dressed and professional—the men in neckties and the women stylish. All are very knowledgeable and helpful veterans of the industry who treat service as a priority. Shopping at Tip Top is like walking into your neighborhood store where they know your name. Everyone is treated like family." —Robert Greenberg, CEO, Skechers
Brain Trust: "Danny is an icon in this industry; a unique leader with a passion for product. I get a lot smarter after showing product to him. His immediate reaction to product is solid. He's one of the most respected voices in the industry and, like his son Lester, he treats everyone well. —Matt Thibeau, head of independent sales, Ecco USA
The Godfather: "Danny has no weaknesses. He knows his business cold, from style call-outs, emerging trends and inside intel to financial planning and being transparent. He's not only a great partner, he's a super intelligent one. He shares his knowledge and is generous with his time. Whenever I stop in, he always has a minute for me. Danny is one of the Great Ones. Personally, Danny has always been more of a father figure—he guides, suggests and is honest for my best interest. Showing shoes to him is like playing at Carnegie Hall. You better be buttoned up. He's not only a Shoe Dog, he is the lead dog, the Don Corleone of shoes. —Tom Siano, Northeast sales manager, J-41 and Jambu
Steady & True: "Kanner and Tip Top have been partners for over 25 years and Danny is a man of integrity. He's financially prudent, honors his commitments and is always generous with insightful advice. He's tough but fair,
and he's also done a terrific job at mentoring the next generation. Hats off!" —Edward Kanner, CEO Kanner Group
The Natural: "Danny has an amazing eye for product. With such a diverse consumer base, he knows what will sell. His input is invaluable. Then, it's service. The number of places in New York where you can sit and be expertly fit is minimal, and this is what Tip Top provides. Danny is a true 21st century retailer but maintains the heart and soul of an old-school merchant, and that comes from his time spent on the floor. How many chain buyers spend any time on the floor—really watching, listening and speaking with consumers? This is how Danny lives. There's no substitute for six to seven days a week in the store, which comes natural to him. All he shares is speaking on behalf of his clientele." —David Kahan, CEO, Birkenstock Americas
Rock Solid: "Danny's a very good and solid businessman, and the store has a great reputation. It's in the right place, he owns the building and he's got a nice online business that's helped keep them alive, especially when everything was closed for months. You know pretty much what you get from him. There aren't a lot of surprises. He doesn't go out on a limb. He sees something selling, he does it, and he fills in constantly. —Steve Lax, CEO, Naot
Leading by Example: "When I first started at Tip Top, he explained to me that while we didn't open until 9:30 a.m., it was important that I arrive by 8 a.m. to get my work done prior to opening. I learned from a young age that retail meant working six days a week and plenty of seven-day weeks too. Also, establishing good relationships with key vendors is a must, and the ability to react to trends quickly to secure inventory was perhaps the most valuable lesson." —Lester Wasserman, CEO and GM, Tip Top Shoes