Company of the Year & Kids':
Skechers
Rocking and Rolling
Skechers marked its 30th anniversary in record-breaking fashion across all facets of its business.
Skechers surely didn't get into any Covid-related pickles in 2022. Quite the contrary, as the company celebrated its 30th anniversary with an array of successes. Highlights included record sales ($7.4 billion on growth of $1.1 billion); surpassing 4,500 stores, including new flagships in Madrid, Rotterdam, and Dublin; expanding on its tagline as The Comfort Technology Company with the launch of Skechers Hands Free Slip-ins; and pushing the performance envelope with the debut of Skechers Viper Court, the first-ever Pickleball specific footwear, now endorsed by top pros Tyson McGuffin and Catherine Parenteau.
All that (and plenty more) in the face of pandemic challenges are nothing short of "remarkable," says Skechers president Michael Greenberg. "Our annual sales record and many achievements were the result of four record quarters, our flexible and dedicated global team, our extensive distribution network, and we believe the most comfortable footwear available," he says. "All told, we're very pleased with our ongoing progress toward reaching our goal to surpass $10 billion in revenue by 2026."
To achieve such growth requires firing on all cylinders. That includes consumer-facing products, stores, and marketing, as well as various behind-the-scenes mechanisms, including completion of its LEED-certified Gold, 2.6-million-square-foot North American distribution center. In addition, phase two of the company's China distribution center expansion began with a goal of completion in 2024, and ground was broken on phase one of a 1.1-million-square-foot distribution center outside Mumbai, India, with a goal of 660,000 square feet fully operational by the middle of this year. Skechers also opened and expanded into new facilities in several countries in South America. Last but not least, the company finished the expansion of the first phase of the Skechers Corporate Headquarters and Design Center. "This expansion allowed us to showcase our product to domestic and international partners over September and October," Greenberg says. "When complete by 2026, the center will be more than 330,000 square feet and developed to achieve LEED Gold certification."
On the product front, Skechers continued to focus on its core design principles: comfort, innovation, style, and quality—all at a reasonable price. "These tenets are thought about in every category, collection, and shoe we develop," Greenberg says. "With this in mind, we're able to deliver the most comfortable, best-looking, and relevant footwear available." That effort, in 2022, spanned casual items, like Hands Free Slip-ins for men, women, and kids; performance items, such as Pickleball shoes; and fashion styles, such as Skechers Uno, which have been on runways and influencers around the world. There were also popular collabs, including with Tokidoki and Demon Slayer. 
Skechers also remained committed to its mantra of "untold equals unsold" with splashy marketing campaigns throughout 2022. It kicked off in February with two Super Bowl spots featuring Willie Nelson. Other ads over the year featured celebrities Amanda Kloots, Martha Stewart, and pop singer Chesca. In addition, endorsers Matt Fitzpatrick and Brooke Henderson both won major championships wearing Skechers Go Golf footwear, and the company became the official footwear sponsor of the Professional Pickleball Association Tour. 
The year, of course, was not without challenges. Greenberg says Skechers experienced logistical and freight issues that have impacted the entire industry since the pandemic, which created inventory congestion throughout the distribution channel. What's more, Skechers' annual growth was offset by a 15 percent sales decline in China due to Covid restrictions. Fortunately there is improvement on both fronts, according to Greenberg. "Many of the supply chain issues have started to moderate, and the recent elimination of the zero-Covid policy should be positive for our business in China as consumer shopping moves closer to normalized levels through 2023," he says.
Greenberg credits the entire team for overcoming the obstacles faced in 2022. "We truly have the most talented, passionate, dedicated team in the world," he says. "None of this would be possible if it weren't for those who work at our corporate headquarters and in distribution centers, our sales teams in the field, and our retail associates throughout our global network of Skechers stores."
Greenberg believes that the team's performance is proof that Skechers' strategy for growth is solid. "This milestone year is just the beginning," he says. "In many ways, the brand is in its infancy, no matter how big our global presence feels, no matter that we're now the third-largest [footwear] brand in the world, and the top brand in markets like India and across much of the Middle East." Greenberg adds, "The potential for growth for the next 30 years is incredible. We have so much more ahead of us and beyond our $10 billion goal by 2026."
In the meantime, Greenberg is proud of all that Skechers has achieved and the team making it all possible. "Every moment that went into achieving our record annual revenues is due to the flexibility, creativity, and dedication of the entire Skechers organization," he says, citing 2022 as one of the most turbulent economic environments in the company's history. "Our commitment and ability to execute in the face of these headwinds and to achieve recognition—such as Footwear Plus's Company of the Year for the tenth time—is due to this spectacular organization. I'm most proud to see the most talented team in the world creating, building, and executing. To see that vision come to life—be it New York, London, Madrid, etc.—there's nothing like it." —Greg Dutter
Boutique:
Lori's Shoes
The Right Stuff
Lori Andre, owner of Lori's Shoes, reflects on the keys to the Chicago chain's staying power. 
Lori's Shoes' 39th year in business was a real charm. Sales within its three Chicago-area locations rose a robust 25 percent over 2021 and "definitely beat" 2019's numbers, which owner Lori Andre says was a "very good year." While the success is attributable, in part, to a pent-up demand of customers excited to touch and try on merchandise again, the exec believes it goes much deeper than any post-lockdown bounce. Like, 39 years deep.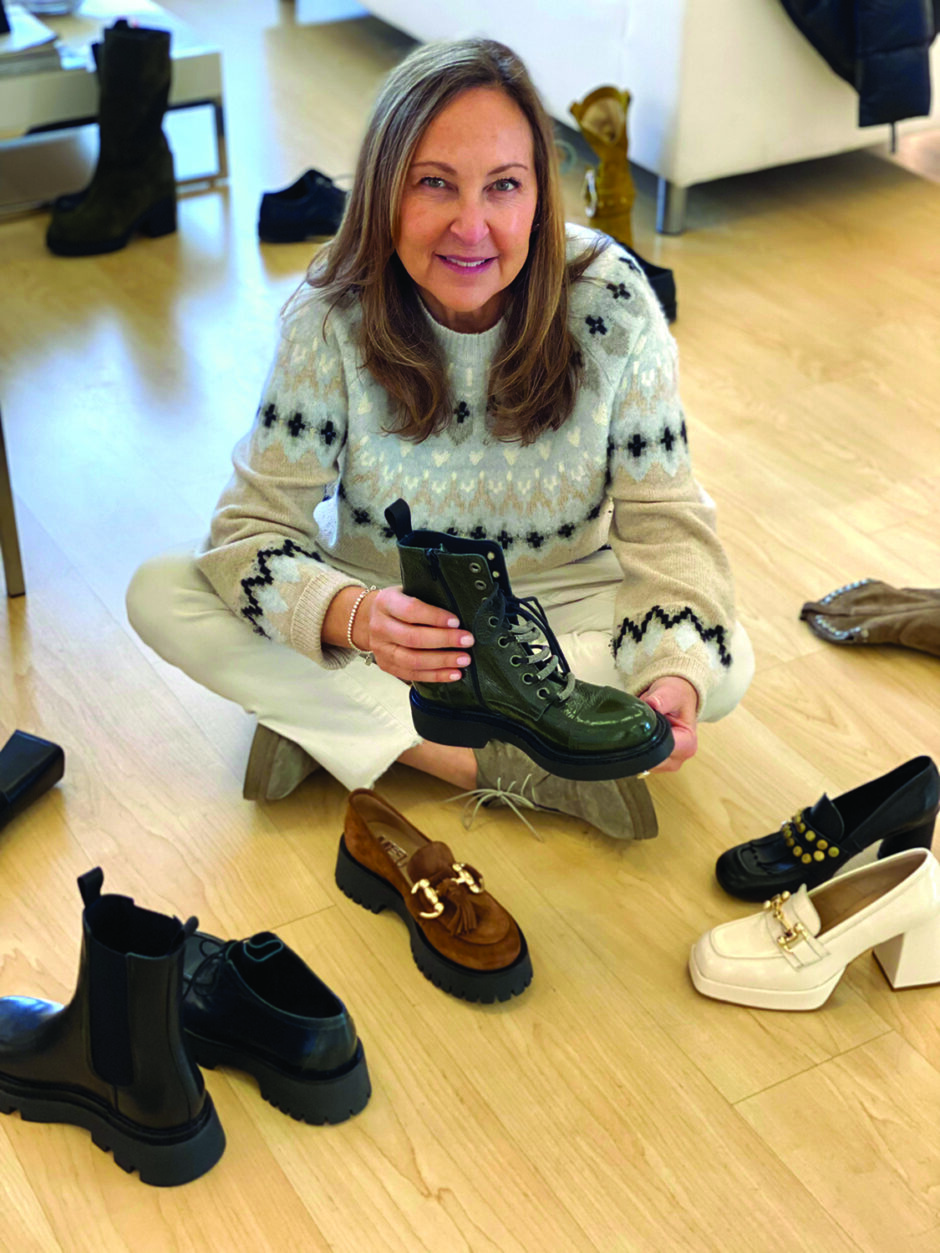 "We're so in tune to the pulse of our business, having been doing it for so long and building our reputation and unique 'Lori's aesthetic,'" Andre says, noting that there are many factors involved. "We're in a unique position because we can be proactive as well as reactive. We know how to manage a business from costs and margins perspectives, we have capital to buy merchandise, we react quickly to trends, we have a unique selection, and we provide great customer service. So, just living, breathing, and eating this business every day is what's made us successful over these years."
Take, for example, Lori's Shoes' presale initiative program, now in its second year. The program test-markets its private label lines, L'idea and Ma '91, online before bringing in inventory to the stores. "It's a great way to get new product in front of customers' eyeballs," Andre says. "It also offers an opportunity for us to get reads on items, be it a need to increase or decrease factory orders or address any fit issues. Again, it's a combination of being proactive and reactive that really lends to our business being successful."
It helps, Andre believes, that Lori's Shoes is one of the sole survivors in the area for consumers who understand and appreciate its merchandise mix—one that's priced in a sweet spot of $128 to $248. "It's just a sign of the times where the amount of small, independent retailers, especially in Chicago, is fewer and fewer," she says. "We've been fortunate to have the staying power to still bring in incredible product that our customers really appreciate."
Andre notes customers' appreciation was strong enough to even absorb about $10 price increases passed on last year in its private label brands. The increases were due to a spike in shipping costs from its Italian factory partners. "You don't want to scare away customers, but we offer unique product with a strong perceived value at a very good bridge price point where there just isn't that much else out there now," she explains. "That in-between spot is where we've really found our niche."
That niche now spans cherry-picked, more price point-driven items from brands including Jeffrey Campbell, Intentionally Blank, Steve Madden, Dolce Vita, Andre Assous, Pelle Moda, and Silent D. "We do a really amazing business with those brands, but we're buying less breadth and more depth," Andre says. "Those items fill the gap because we have generations shopping in our stores, and younger customers may not be able to afford $248 shoes, but they'll spend $128." Layered on that are the higher-priced, private label lines, which now account for nearly 70 percent of Lori's Shoes' total footwear sales. Andre says it's another sign of the times, as the exclusive merchandise is an effective way to draw traffic and maintain strong margins. "We're not as tied into those MAP policies," she says. "Our private label brands have been a real advantage for us, whereas a lot of smaller independent retailers don't have capability to do that."
That's where Lori's Shoes' ace up its sleeve comes into play. Namely, Andre's son, Matthew. The Parsons School of Design graduate has overseen the private label brands for the past five years. (Prior to that, he was an assistant designer for Katy Perry Footwear and, before that, worked for a year in an Italian shoe factory.) The prodigal son's return, though, was initially brought on because Andre's husband and business partner had been diagnosed with a terminal illness and the couple was contemplating closing. "That's when my son suggested using his skill set to work on the private label brands," Andre recalls. "Now he manages the design, components, tech packs and materials, and working with our factories. He's being groomed to take over the entire business, as he's got a fortunate combination of business acumen and creativity."
On that note, Andre credits her entire team of 38 employees for making Lori's Shoes a success. "We're so fortunate to have such an incredible staff, many of whom have worked for us for a long time," she says. "Our people are invested. They stick around and want to see success, and we take really good care of them." Andre adds, "I have no complaints about our staff. They're the reason I'm here every day. They drive me to be a better owner and manager, and to make this truly a partnership."
As for Lori's Shoes' 40th anniversary milestone in 2023, Andre says the years have flown by. But it's never been a "job." "I feel so fortunate because I still love what I do," she says. "I still have a passion for this business. I love product. I love the people. I'm still excited to go to work each day. I couldn't imagine doing anything else." —G.D.
Hoka
: Brand of the Year & Athletic
To the Max
Hoka is setting a torrid pace.
This brand is on fire.
Hoka, a division of Deckers Brands, eclipsed the $1 billion annual sales mark in 2022. For the first three quarters of 2002, the maximal cushioning brand only picked up steam as the year wore on. Net sales rose 54.9 percent to $330 million in Q1, followed by a 58.3 percent jump to $333 million in Q2 and a meteoric increase of 90.8 percent to $352.1 million in Q3. Not bad for a brand that amassed just $2 million in sales when Deckers acquired it in 2012 and hit a mere $350 million in 2020.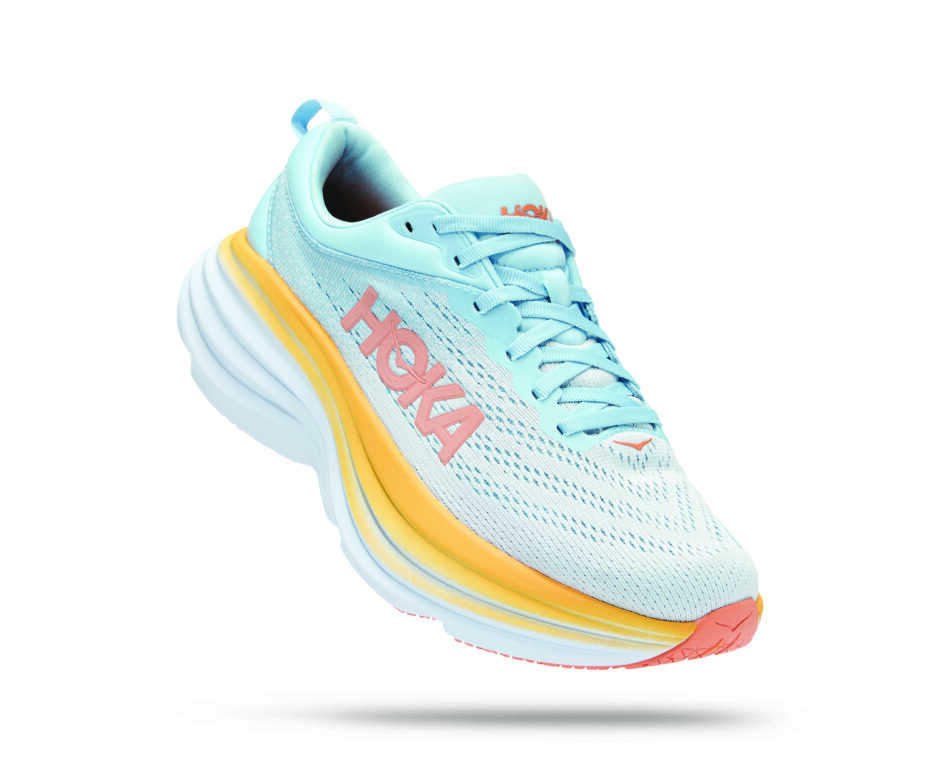 What is fueling this epic run? For starters, Hoka has expanded well beyond its original core audience of ultra-marathoners, who became disciples of its max-cushioning technology at a time the industry had gone minimalist mad. The collection has since expanded into trail running, hiking, walking, and even weight lifting styles—proving its maximal midsoles have many applications and broad appeal. Consumers are buying into Hoka's design premise that more cushioning helps prevent repetitive impact injuries that enables them to keep doing the exercise activities they enjoy. Plus, the shoes just look funky, in an over-the-top, techy way—and that hits on the old sneaker market adage: bells and whistles sell.
"Hoka looks really fresh and new in the market," says Matt Powell, an advisor with Spurwink River, a retail consulting firm. "The big brands all look tired. Consumers want uniqueness and freshness, and Hoka checks these boxes." Even in the face of strong economic headwinds and an overall athletic market malaise, Hoka raced forward. But that was of little surprise to Powell. "Consumers have consistently shown that they will buy products that are fresh and unique," he says.
"It really was a very good year for Hoka," affirms Colin Ingram, vice president of product. "Our last quarter of 2022 certainly was cause for celebration, and while our product is at the heart of what we do, the emergence of the brand itself has been the over arching accelerator of sales." The exec points to investments in athletes, events, and brand marketing as reaching more consumers who were able to learn about the Hoka's unique attributes and what the brand stands for. "Last year was a tipping point to where you increasingly saw Hokas being worn across a broad array of demographics," he says. "People are understanding our value proposition, and that our values that have resonated in the core running, outdoor, and triathlon communities also resonate globally."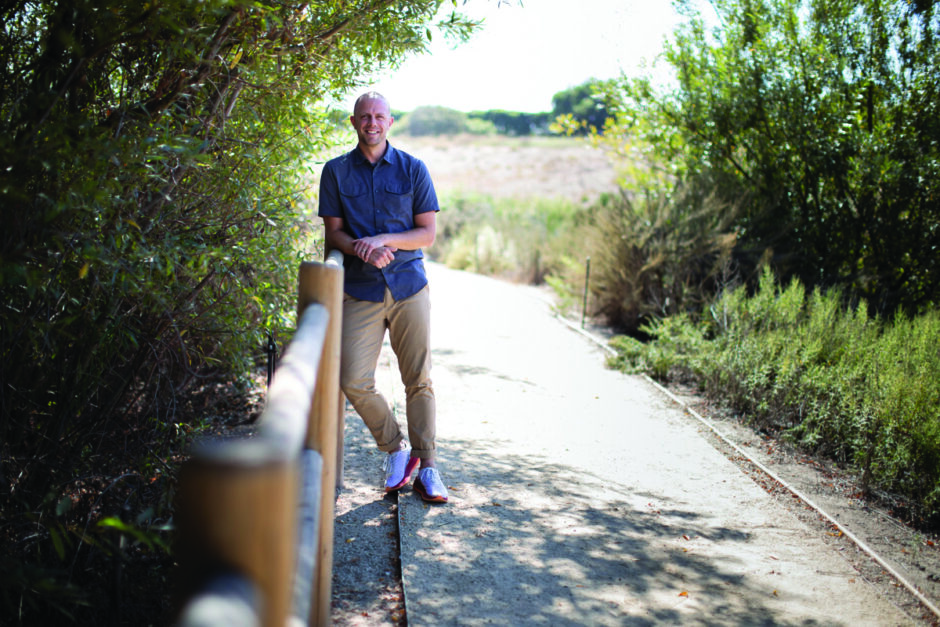 Lester Wasserman, owner of Tip Top Shoes and West NYC in Manhattan, reports 2022's Hoka sales were at another level. "We've been selling Hoka since 2015 and sales have grown steadily, but the growth since 2021 and, specifically this past year, has dwarfed any prior year," he says, citing the Bondi 8 and Clifton styles as the most popular along with "outstanding" sales of the Speedgoat 5 and Anacapa trail styles. "Hokas have tremendous shelf appeal. There's visible technology that looks comfortable on the wall, and once the customer puts it on, it's a sale," Wasserman says.
Nick Krouse, director of footwear for Fleet Feet, reports a similar resounding success across the chain's 250 running specialty stores nationwide. "As a brand that, a short time ago, was just cracking our top 10 list of footwear brands, Hoka has made remarkable strides in market share, which is now close to a quarter of our total footwear sales," he reports. "It's a direct reflection of their relentless pursuit of their vision, mission, and product evolution. They've done a tremendous job partnering across our brand to create a deep and meaningful partnership to support our local stores, and they also collaborate on storytelling moments and initiatives such as 'Humans of Hoka,' ultimately leading to increased customer demand."
In addition to the Bondi 8 and Clifton 9 that ranked consistently as Fleet Feet's top-selling styles—both in-store and on fleetfeet.com—Krouse cites the updated Mach 5, a lightweight shoe for up-tempo runs, as a big seller. "It's the shoe where you really want to fly, and it garnered a lot of positive attention from our customers," he says. "And as a brand with roots in off-road styles, it's important to call out the success of the Speedgoat and Challenger trail runners for their durability and versatility across varying terrain, as well as the Arahi and Gaviota styles, which were key in Hoka's support category."
Krouse says Hoka's max design premise has broad appeal for performance reasons as well as aesthetically. "A lot of runners and walkers find the classic Hoka combination of a thick midsole, low heel drop, and rocker shape to be quite comfortable, so it attracts a broad spectrum of consumers," he says. "That includes people who regularly run, casual wearers who like the visual aesthetic, wellness seekers wanting a versatile shoe that can be used for a variety of activities, and health care and service industry professionals who need a comfortable shoe while working on their feet all day." —G.D.
Comfort Specialty:
Chiappetta Shoes
Best of Times
Chiappetta Shoes reported its biggest year in its 102-year history.
Thousands of retailers nationwide were pleased just to tread water in 2022 amid a lingering pandemic and record inflation. Plenty of retailers, sadly, capsized. Then there was Chiappetta Shoes of Kenosha, WI, which simply blew expectations out of the water, registering record sales of 19.2 percent year-over-year growth and a 48.2 percent increase compared to 2019. What's more, the success was achieved while the business was in major move mode to its new, much bigger digs nearby, which it completed doing last month.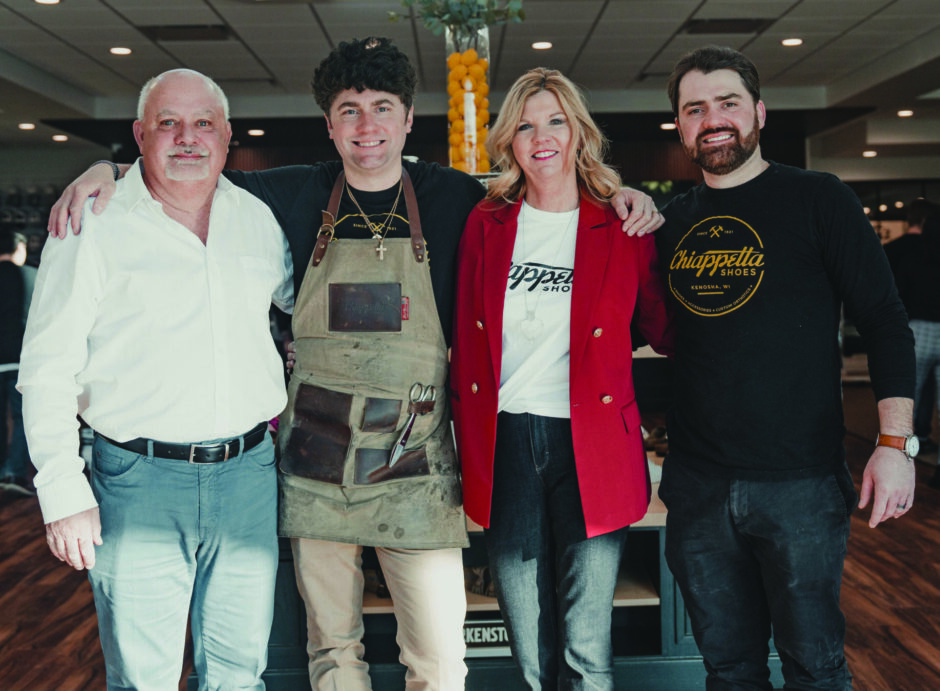 Tony Chiappetta, a fourth-generation owner, credits the "responsible" growth primarily to channel diversification that spans in-store, Amazon Marketplace, website, and shoe repair shop, which offers a service that has become increasingly rare and hard to find elsewhere. "Channel diversification—like doing as much as we can on Amazon without leveraging too much time or money—has been a winning solution for us," he explains. "We also spent an extra percentage on our forecasted marketing budget on TV in the Wisconsin and nearby Illinois markets that performed very well."
Tapping into the Illinois market was a key factor in the store's success last year, Chiappetta says. It helps, he adds, that the local government is pro-business oriented. "Our government is very good at trying to get people from Illinois to shop here with lower taxes and gas prices," he says. "And we did a better job of reaching them. We pulled in a wide variety of people from over a 40-mile radius."
Helping draw traffic is Chiappetta Shoes' strong pedorthics business, which accounts for about 50 percent of overall sales. The store is a destination for people suffering foot and back pain. "Pedorthics is any comfort retailer's savior," Chiappetta offers, noting that it's a specialized skill spanning assessment, manufacturing, and implementation of medical solutions to alleviate customers' problems. "It's real, and people will pay for it if you're good." But rather than have that segment be at the mercy of doctor referrals, Chiappetta's approach is to market the store as a first recourse. "Ninety-five percent of our pedorthics marketing budget is DTC," he says. "We want to be the customers' first step toward improving foot health—and a lot of times, we can solve those problems quickly, efficiently, and often for less expense than various and multiple doctor visits."
Chiappetta Shoes also caters to a broad demographic that stretches beyond pedorthics. European comfort brands such as Birkenstock and Taos help attract a younger audience, which Chiappetta says is hugely important. While not huge, the shoe repair service serves as another draw. "Our repair shop is very busy, which represents another diversification of sales angle," he says. "It gives people another reason to come to our store. It's good business, if you do it right."
Another aspect Chiappetta Shoes continued to do right in 2022 was its annual tent sale, held in July. What started out in 2020 as a necessity to move the clearance sale outside has evolved into a big deal. That starts with renting a really big tent, at about 2,700 square feet. "Moving our clearance sale outside was something new, and our customers have gotten excited about the new format," Chiappetta says, noting sales jumped 35.7 percent over 2021. "My theory is to go big. We get about 6,000 pairs in that tent, so when people walk in they say, 'Wow, there's a lot of shoes in here.' The grandiose factor has been key to it becoming such a success."
Speaking of thinking big, Chiappetta believes the move to the new building, which is about three times the size of its former 5,300-square-foot location and includes a new 48-spot parking lot, will result in much bigger business in the years ahead. In fact, the move alone has helped generate buzz among the community. "It's greatly impacted the awareness of anything we've been doing," he says. "We've seen an organic increase in socials, as people like good news and not BS news like donations and sales. We're making sure our investment in the new space matters, and will continue to leverage on that." 
Another key ingredient to Chiappetta Shoes' success is patience. Specifically, waiting to make smarter decisions. "It's about knowing your strategy for growth and being aggressive, but not forcing anything just to make something happen," Chiappetta explains. The new location is an example. "We'd been looking for about four years and were in deep negotiations on a site where would've paid triple what we are now. Fortunately we decided not to over-leverage ourselves and to be patient."
Last but surely not least, Chiappetta cites his employees as the most important ingredient to the store's ongoing success. "Maintaining relationships with the people that make your business tick is essential. Our record year is a tribute to our staff, who helped keep it all running smoothly," he says. On that note, Chiappetta is proud the business will be growing its employee count in the new space and has promoted one of its resident Shoe Dogs,
Joe Diefenbach, as general manager to help in that effort. "Managing employees and maintaining relationships is a labor of love, just as much as helping your best friend's Grandma Betty with her bunions," Chiappetta says. "Anything worthwhile takes work." —G.D.
Insoles:
OrthoLite
Inner Workings
OrthoLite, the world's leading supplier of insoles, posted its second straight year of record sales.
Through ongoing partnerships with 500 brands, OrthoLite supplied insoles for a record-breaking number of shoes (more than 600 million pairs!) in 2022. Turning 25 last year, the company marked the milestone by continuing to innovate and expand production capacities across the globe. In short, OrthoLite kept on being OrthoLite.
The company's ability to develop new formulations to help brand partners set their insoles apart in terms of comfort, performance, and sustainability has been integral to its long-running success. The innovation highlight of 2022 was OrthoLite Cirql, the world's first circular foam material solution for footwear components. The material effectively replaces harmful plastics, like EVA, with a 100-percent biodegradable alternative without compromising comfort or performance.
Another key selling point for OrthoLite has been its capability to mitigate brand partners' supply chain risks with an expanding global manufacturing footprint. That includes six owned-and-operated, vertically integrated factories. Three of these factories are undergoing Higg Materials Sustainability Index verification, which is designed to compare the environmental impact of different materials so manufacturers can make eco-friendly choices.
Here, OrthoLite founder and CEO Glenn Barrett details some of the inner workings that fueled another banner year. —Bernadette Starzee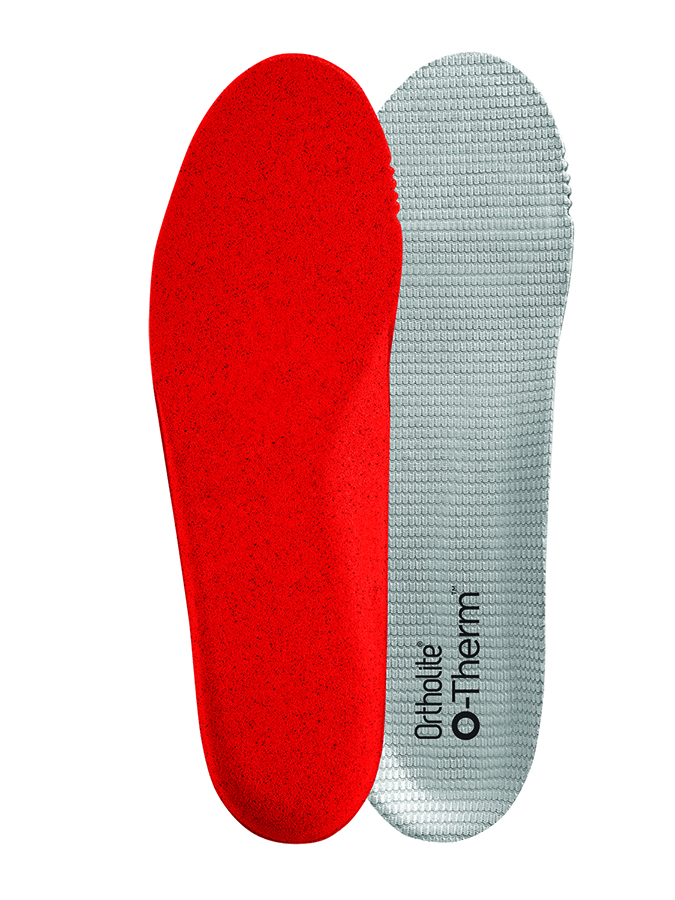 How was business in 2022, and how did it compare to 2021 and pre-pandemic? In 2021, we set new records in terms of pairs supplied globally, but we also achieved record-setting delivery key performance indicators during extremely challenging market conditions. In 2022, we retained this momentum through the ongoing support of our brand partners as we expanded our product capacities across all regions. We once again exceeded overall budget expectations, and we also achieved a consecutive record-setting year by supplying over 600 million pairs of shoes with OrthoLite in 2022. This growth was driven by our continued collaboration with 500 of the leading global footwear brands. We're extremely grateful for their support, and our current growth trajectory is a testament to the trust these brands have placed in our company, in our technologies, and in our operations.
What were some key product highlights of the year? Operating sustainably has been central to our DNA since our founding. Since day one, every OrthoLite insole has contained a minimum of five percent recycled rubber. We keep striving to find new formulations that deliver sustainable comfort and performance. Our innovation story in 2022 was led by the introduction of OrthoLite Cirql, the world's first circular foam material solution for footwear. The patented foam material offers an EVA-free, scalable, and truly circular material to OrthoLite's brand partners and factory stakeholders beginning this year.
We're also very proud to launch specialty innovations for our brand partners with O-Therm, the first and only insole technology that creates a thermal barrier and elevates footwear temperature regulation through infusing open-cell polyurethane foam with our proprietary aerogel. New product innovations—including ESD Shield, HybridPlus-Recycled, and HybridPlus-Bio—enabled us to continue to offer our brand partners the solutions they need to differentiate their products.
In addition to great product, what were some other successful brand initiatives introduced in 2022? We're very proud of the fact that we continue to strengthen our global footprint and local-for-local manufacturing strategy with our six owned-and-operated, vertically integrated factories, which deliver consistency, quality, capacity, and speed to market for our brand partners worldwide. In 2022, we expanded our European factory presence by opening a larger facility in Almansa, Spain, which now gives us a hub for our European-based brand partners. We can deliver localized solutions, more capacity, best-in-class sustainable manufacturing processes, and speed to market—all of which mitigate the risk our partners navigate daily in their businesses. From Spain, we can deliver to any point in Europe within two to four days. Similarly, we expanded our global footprint in Asia, one of the premier footwear manufacturing regions in the world. OrthoLite India is now fully operational and ready to further expand local capacities to meet the needs of our brand partners. Our new, state-of-the-art manufacturing facility catalyzes local-for-local production and service, while also ensuring an important layer of risk mitigation for our global brand partners, as well as for India's leading domestic brands.
What was the toughest challenge faced in 2022, and how did you overcome it? The biggest challenge has been the constant adjustments managing and planning for the production migration that we have seen over the last 12 to 24 months. Brands are moving production allocations across numerous regions to avoid supply chain or other pandemic issues. Having both the largest global footprint and overall capacities has enabled OrthoLite to provide the necessary layers of risk mitigation to our brand partners. These significant investments into additional capacity expansions, production redundancies, automation, recycling, sustainability, and other efficiencies has paid dividends for both OrthoLite and the brand partners putting their trust in us. Despite the supply chain woes and other related disruptions, we've been able to provide the consistent local-for-local delivery expectations demanded of OrthoLite across all the major regions. Being vertically integrated and owning the means of production gives OrthoLite a distinct leadership advantage that further positions us for success going forward.
Women's Comfort:
Dansko
Dressed for Success
Dansko hit on the needs of its customers, many of whom sought back-to-work styles. 
Dansko has come a long way since 1990 when its founders launched the brand in the U.S. by selling clogs out of the back of a station wagon at area equestrian events à la how Nike founder Phil Knight introduced its running shoes at local track meets. The now iconic Professional clog, led by its ergonomic contoured footbeds and generous wiggle room for toes, fast became a hit with nurses, hospitality workers, teachers, and many others who spend long periods of time on their feet.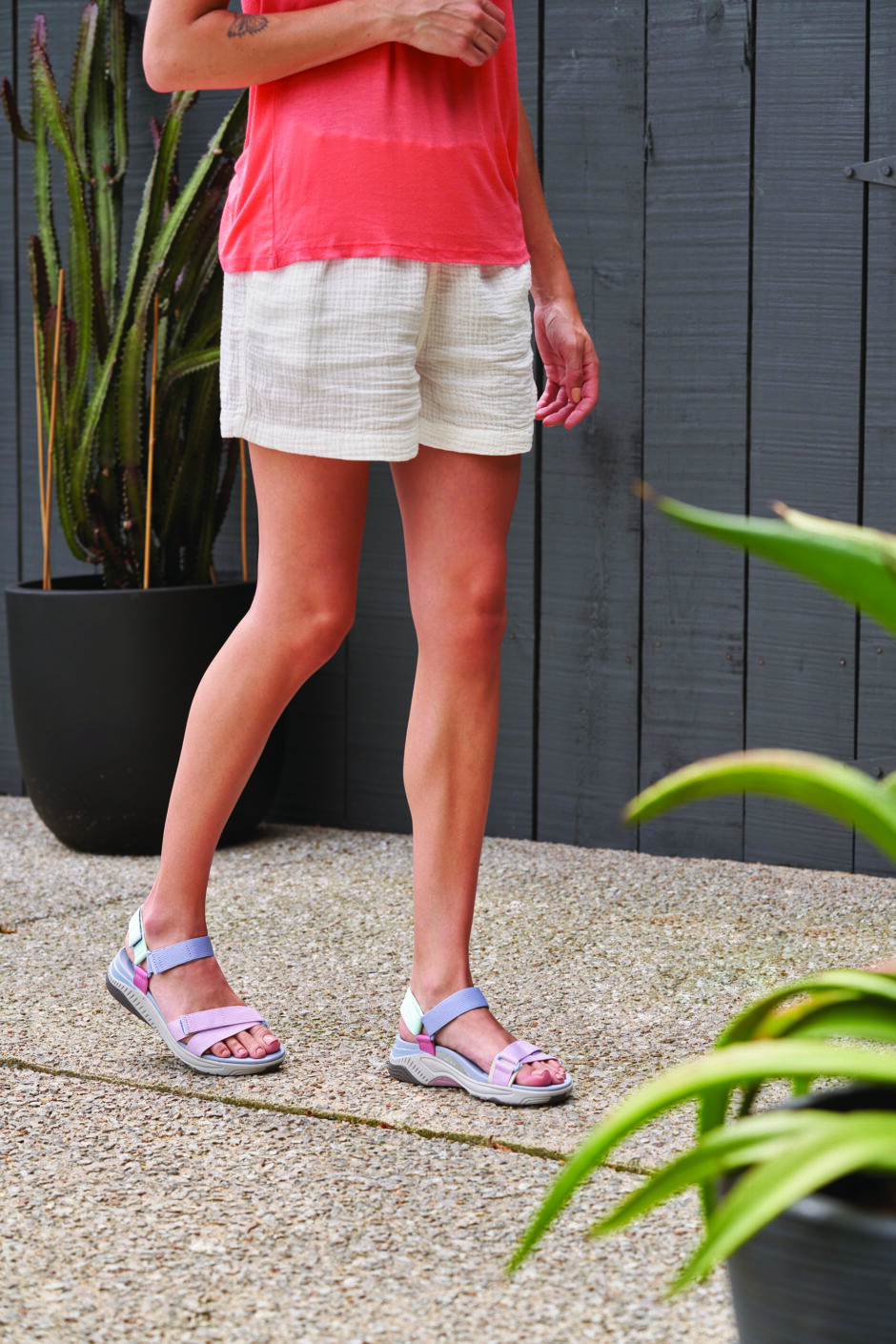 Since then, the West Grove, PA-based company has expanded into a wide variety of silhouettes, colors, and materials—always with comfort at the forefront of the designs. Last year was no different. Dansko reported success with an expanded sandals collection in the spring and followed that up in the fall with a broad range of boots, flats, casual sneakers, Mary Janes, and, of course, lots of cool clogs. In particular, the company reported a strong response to its dressier styles as consumers returned to offices.
Here, Kitty Bollinger, executive vice president of sales and marketing, and Vice President of Design Kelsey Jayne Gomez discuss the highlights from 2022. —B.S.
How was business in 2022, and how did it compare to the year before? KB: Dansko had a strong 2022, particularly our spring season. For the full year, we were up versus 2021, though not as much as we had planned coming into 2022.
What were some key product highlights of the year? KB: Last spring we were able to expand on our success with key sandals, specifically the Reece, Rowan, Tiffani, and Marcy styles, and added to our offerings in lifestyle sandals with the athletic-inspired Racquel. Moving into fall, we saw a considerable increase in demand for back-to-work shoes. Whether it was our old faithful Fawna Mary Jane, the sleek flat Larisa, or the brand-new Callista heeled Mary Jane, consumers view Dansko as an essential for workplace style.
KJG: The best looks of 2022 included stapled styles like the Tiffani Mary Jane and Sassy cut-out clog, as well as dressier styles like the Callista Mary Jane and Larisa flat. Tiffani and Sassy feature new looks on Dansko classics, with updated leathers, details and, of course, never-ending support. We really dug into the interiors of our new dress collections, building out the best support and comfort possible while providing dressier styling for work looks. With our Reece and Rowan sandals, we introduced new colors and materials for our best footbed flats, making them able to style up or down. With our lifestyle shoes the Pace and Racquel, we innovated the best interiors again but with the emphasis on walking comfort.
In addition to great product, what were some other successful brand initiatives introduced in 2022? KB: Community is a central component of Dansko's enduring success. Our consumers and retailers foster this with Dansko in-store events, product feedback, and social media engagement. Our employees thrive as a community as well. One of our most successful initiatives in 2022 was returning to the office. When we are together, collaborating in person, we excel. As simple as it sounds, reinforcing our commitment to community was an initiative that made us stronger.
What was the biggest surprise of the year? KJG: We can have great success in several categories when the product is right. And even when times are tough, we have a fiercely loyal consumer.
What were the toughest challenges—be it supply chain woes, record inflation, ongoing pandemic, etc.—and how did you overcome them? KB: Is "all of the above" a fair answer? Overall, our biggest headaches came from lingering supply chain issues. Once the factories were back to capacity, the increased transportation time negatively impacted our on-time delivery goals. We are fortunate to work with amazing factory and logistics partners, and their efforts to prioritize our key constructions meant that our disruptions were a hurdle, but not an insurmountable obstacle to our success.
KJG: Another big challenge was figuring out consumer priorities as the world shifted back to work and making sure we were in front of them. In many ways, priorities for consumers have changed, so we built product that supports their desire for max comfort and versatility.
How would you grade your team on its overall performance navigating through such difficult challenges? KB: As a 100 percent employee-owned company (ESOP), our team is crystal clear in that everything we do impacts the families of everyone who works for/with Dansko. Navigating through challenges with this mindset means that we make decisions with Dansko's long-term goals always in mind. Our team did not lose sight of this and emerged from a difficult time period prepared for a phenomenal future. So, I guess that means I'd give them an A.
What was your biggest takeaway from the year? KB: My biggest takeaway is that our consumers, retailers, and employees are steadfast in their loyalty to Dansko.
KJG: During challenging times, you can't stop innovating. As a brand, we truly aim to deliver on comfort, not only the literal physical comfort, but also the comfort of feeling joy at a "shoe shopping discovery" or the life that a new shoe brings to an old favorite outfit. We never lost sight of that joyful moment we are trying to provide to the consumer.
Men's Comfort:
Ecco
Winning Formula
Ecco focused on core categories and revamped its distribution strategy to drive growth in 2022 and beyond.
Ecco played to its strengths in 2022, doubling down on its core platforms and winning styles. The strategy proved successful for the Danish brand, a repeat winner in the Men's Comfort category.
In expanding choices within its best-selling platforms, Ecco gave consumers more of what they wanted, and the response was strong. The company also revamped its merchandising and distribution strategies. While its full-price flagships remain a key piece of its multi-channel mix, Ecco's renewed focus on wholesale is designed to drive growth going forward. The company also opened its first U.S. design studio, a 7,000-square-foot facility in Brooklyn, NY, early last year to facilitate the development of meaningful relationships with wholesalers, vendors, and designers.
Though Ecco posted strong sales overall in 2022, supply chain woes caused sales to fall shy of projections. But by renewing its focus on what it does best and adjusting its distribution strategy, Ecco has set itself up for future growth, according to Tom Berry, president and CEO of Ecco Americas.
Here, the exec recaps a challenging but rewarding year. —B.S.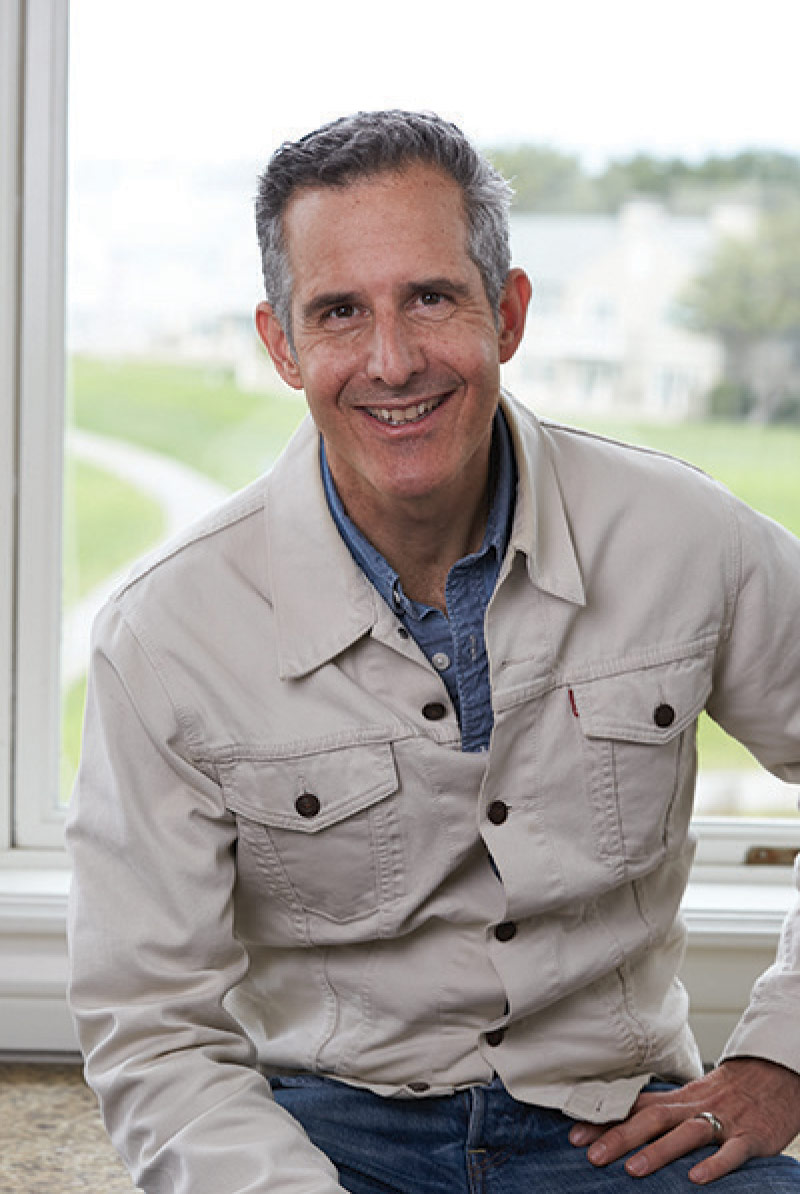 How was business in 2022? We had strong consumer demand that was undercut by significant supply and delivery issues. Despite these issues, we managed to deliver healthy growth but far lower than it could have been. However, our real result in 2022 was in setting up the brand for accelerated future growth. We put the consumer in the center of our conversation. We fixed our supply chain issues. We reset our merchandising and distribution strategies. We opened a New York design studio. And finally, we developed a new brand platform that we will debut in the second half of 2023. In the end, we're exiting the pandemic in a much stronger position than when we entered it.
What were some key product highlights? The highlights revolved around three aspects. First, a strategic shift to a "Core of Ecco" approach, focusing on making Ecco the best and most authentic version of Ecco that we could be and not trying to be something else or to chase the market. For us that meant focusing on comfortable, Danish by design, dress/casual leather shoes for the modern family, which is 90 percent of the consumers, 90 percent of the time. Second, we adopted a franchise approach: win with our proven winners and drive color, material and style extensions on our best-selling platforms, which are Soft, Helsinki, Yucatan, Street, Track, and Biom. Third, we delivered real product benefits to the consumer taking advantage of our "farm to foot" vertical supply chain, where we own our footwear factories and leather tanneries. The result is shoes that are better built, and built better.
What were some other successful brand initiatives in 2022? We returned to our roots and refocused our distribution on our great wholesale partners, especially the independent channel that really built this brand with consumers in the U.S. as well as with our best-in-class department store and ecommerce partners. We continue to believe in a premium, multi-channel distribution approach but now see our full-price brand stores more as brand lighthouses and less as national scale distribution. We believe our return to a wholesale focus will give us more access to more modern family consumers and force us to be the best Ecco that we can be given the highly competitive nature of the channel. Wholesale keeps you sharp.
What was the biggest surprise of the year? The rebound and strength of physical retail, both our wholesale partners and our own stores. While there is the obvious and important ongoing move toward digital commerce, the pandemic distorted this conversation, and in this past year, we saw many consumers return to stores. Last year proved, beyond a doubt, that plenty of consumers still want to shop in-store.
What was the toughest challenge? By far, our supply chain and getting the right products into the market to keep up with the strong demand. Early in 2022, we had factory issues. Then later in the year, we had inbound issues. Some were pandemic related; some were our own issues. The result was that we left a lot of money on the table. We're thankful for our wholesale partners who worked with us to navigate these challenges. And while we are not yet where we want to be, 2023 is already showing dramatic improvements on on-time and in-stock metrics, and we are confident that the changes we made to our supply chain in 2022 will continue to drive further improvements.
How would you grade your team on its performance navigating these challenges? Two answers. The first is incomplete as we have just started our new Ecco journey. I'm proud of what the team has accomplished so far, and I expect us to go a lot further. The second is that I think it's more appropriate that our retail partners and ultimately our consumers give us a grade. We'll only be satisfied when they give us an A.
Looking back on 2022, what are you most proud of for Ecco? That we rediscovered ourselves, and that we're ready to reintroduce Ecco to both the consumers that already know and love us, as well as to the majority of consumers who've never even heard of us.
Western:
Twisted X Global Brands
Rodeo Stars
Twisted X Global Brands reemphasized its western roots to much success in 2022.
In 2005, Twisted X launched as a maker of western boots. From there, the Texas-based company has evolved into Twisted X Global Brands (includes Black Star and Wrangler Footwear), successfully expanding into the casual, outdoor, and work categories—always with a western accent, even if only a slight twang at times. In 2022, however, the company dialed up its western voice with an expanded offering of Tech X by Twisted X along with revamped collections by Black Star and its Wrangler Footwear license.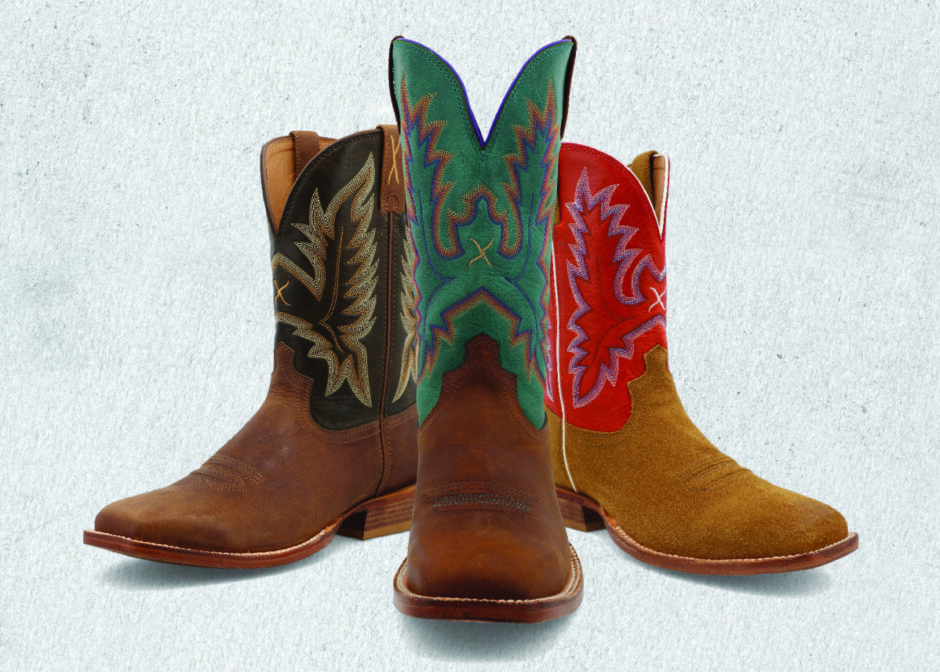 Tech X features Twisted X's patented comfort midsole technology, CellStretch, which delivers athletic-like comfort in classic cowboy boot silhouettes. Meanwhile, Black Star targets urbane women seeking stylish flair—like Yellowstone character Beth Dutton would sport. Speaking of the hit TV series, actor Jefferson White, aka Jimmy Hurdstrom, signed on as a spokesperson for Tech X. Last but not least, the expanded Wrangler collection is aimed at the masses—just like the legendary lifestyle brand already serves.
Here, Twisted X Global Brands CEO Prasad Reddy and Senior Director of Sales Clayton Smith discuss the strategy behind its bigger, broader, and better western business approach in 2022. —B.S.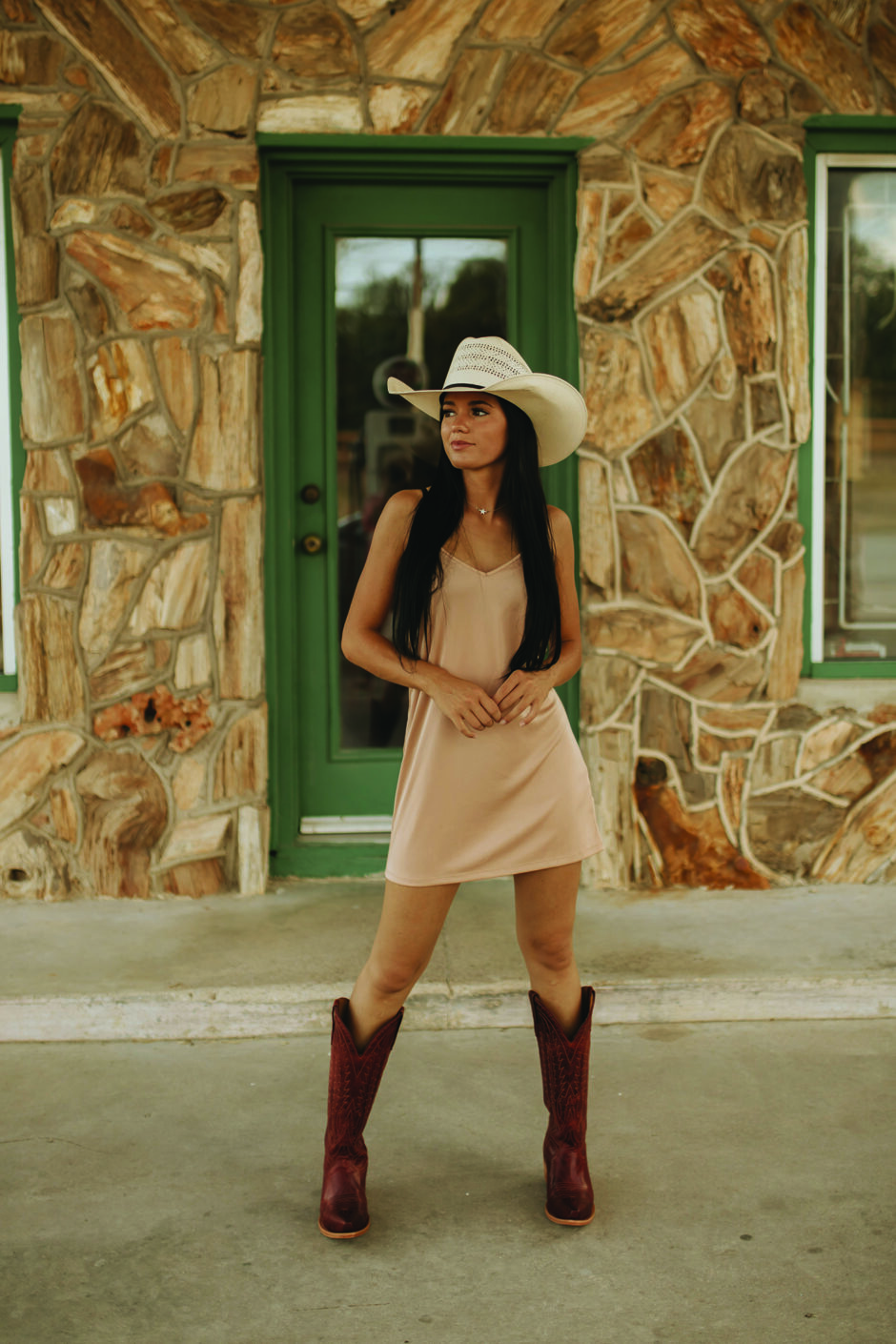 How was business in 2022 overall? PR: Twisted X had another record year, which was on the heels of a huge year in 2021. It was very pleasing to see an increased sales gain continue. In early 2020, when the pandemic hit, we made the decision to increase inventories because we knew retail would come back strong and retailers would not be prepared with enough product to support their needs after the challenges of the pandemic. We took a calculated chance, which enabled us to be there for our partners during the second half of 2020 and beyond. Our increased inventory continued, and we kept bringing in product specifically for our retailers through 2022. We felt we were finally starting to catch up to the demand in Q2 2022 and are now fully back to the level we want to be at.
What were some key product highlights for the year? PR: The release of our second and third generations of Tech X featuring CellStretch technology. The first phase was a rubber outsole attached to a midsole, the second is a traditional profile with rubber outsole and the third is a traditional profile with a leather outsole. The response has been wonderful. We've heard that these are the most comfortable western boots you'll ever wear. A key audience for us is made up of authentic cowboys and cowgirls who work hard and need a boot that can keep up with them. This collection has a classic look and all the features needed to accomplish everything a western boot is supposed to—with tremendous comfort. The unique manufacturing technique has never been done in the footwear industry.
CS: The introduction of Tech X was super-exciting for the industry because, for the first time, a western boot with a leather sole was able to have built-in comfort right out of the box. This also marked the first time in about 25 years that the traditional western boot was enhanced.
And Black Star and Wrangler? PR: Following our acquisition in 2020, the pandemic kind of forced us to take a deep dive on the Black Star brand. It has enabled us to come out with a much more focused collection, which is made in Mexico. We felt strongly about growing this segment of business because we know Twisted X has the comfort technology to take a fashion boot product to the next level. It has translated into strong growth in 2022.
CS: Before, Black Star leaned toward fancy and blingy with lots of hardware, inlays and overlays to draw attention. Through our research, however, customers said they desired something a little more subtle. Our recent collections provide an heirloom classic option that's timeless but still fun and fashion-forward to stand out in the best way. We've embraced and leveraged western trends in women's fashion to deliver style that can cross over into the mainstream.
PR: Wrangler Footwear was another exciting initiative for us in 2022. When someone talks about the epitome of an authentic western brand, Wrangler is it. In fact, it was an honor when the company first approached us to become its footwear licensee. Our Wrangler collection continues to grow, including several sub-brands like ATG (all terrain gear), which addresses the outdoor market, and Riggs, which is work product. This is a great example of how broad and diverse the western influence and customer really is.
What was the toughest challenge faced in 2022, and how did you overcome it? PR: There were two big issues. One was the supply chain. We faced problems with freight charges as well as the transit time of products and materials because of a lack of ships, trucks, and rail space. Additionally, costs have gone up sixfold for freight, so that has been a huge challenge. For the previous seven years, we hadn't increased wholesale prices in an effort to be a good partner to our retailers. Unfortunately, the record inflation forced us to raise prices last year, but we were told we had the lowest increase in our industry.
Outdoor:
Merrell
Win-Win
Merrell scaled new heights in innovation while making the outdoors more inclusive.
Merrell, winner of the Outdoor category for the fourth consecutive year, did not disappoint in 2022. The brand once again introduced an array of high-performance shoes as well as updates of classic styles—all while expanding upon its mission to make the great outdoors more inclusive.
The pandemic brought more people outside, and Merrell has sought to connect the newly expanded community through various initiatives, including a women-centric hiking club and campaigns focused on inclusivity. A highlight, says John Burch, senior vice president of global footwear, is the industry-first Inclusivity in the Outdoors report. Launched in November, the annual report strives to make the outdoors more inclusive and accepting of all communities.
"We'll continue to address and break down some of the barriers identified in the report," Burch says. "We're encouraging others in the outdoor industry to take immediate action to address inequities such as expanding representation in employee resource groups, marketing, funding, improving green spaces, and addressing access issues to under-served communities, to name a few."
Not to be overshadowed, the Merrell Test Lab, a state-of-the-art product incubator, churned out the MTL MQM and MTL Long Sky 2, two category-disrupting trail running styles that feature quick-dry materials and superior traction. The latter was ranked among the 200 top inventions of the year by Time magazine. It's just one of Merrell's many big splashes in 2022. —B.S.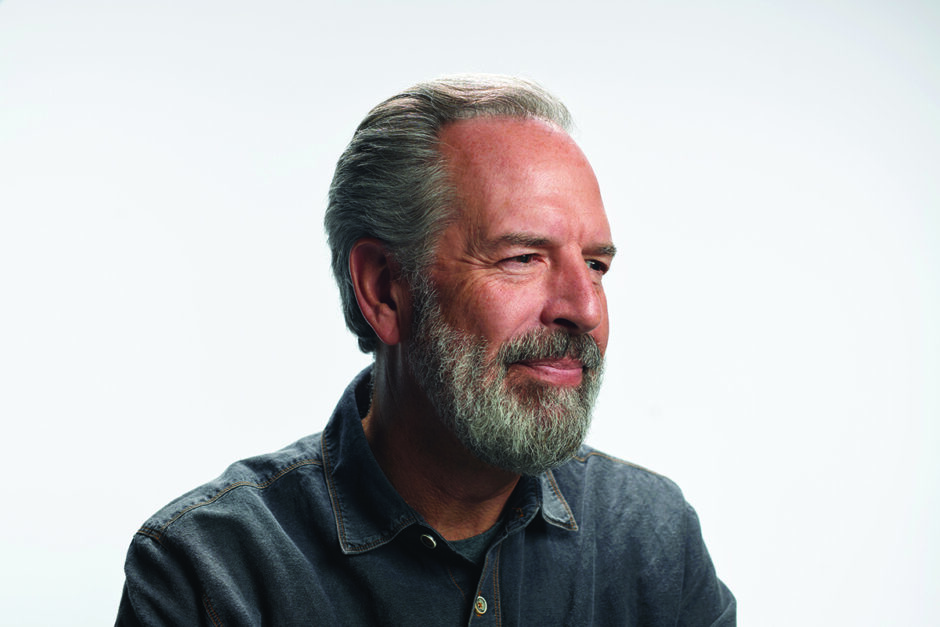 How was business in 2022? We were fortunate to deliver sales gains in 2022. We've built a good trajectory both entering and exiting the pandemic, but we remain optimistic that the best days are down the trail. Our 36-month product pipeline has allowed us to strategically update our line, while giving our global marketing and sales teams full transparency. This process has proven to be successful in our continued season-over-season revenue growth targets. The product pipeline is structured for long-term product innovation and franchise maintenance, with seasonal flexibility for any market trend requirements. This combination creates a proactive versus reactive product engine, resulting in meeting overall growth expectations each season.     
What were some highlights of the year? Overall, we're proud of what we accomplished in 2022. That includes innovations built in our new Merrell Test Lab, breathing new life into celebrated styles, making gains in sustainability, and marketing. It kicked off with the More Less campaign, which takes a stand against gimmicks and getting to the root of self-care: getting outside and moving while creating innovative, performance-driven products. This was paired with the Bravada 2 launch and the Merrell Hiking Club expanding into the U.S. The women-centric hiking club provides inspiration and connection to the outdoors through a digital community, while pairing consumers with the second generation of our beloved Bravada hiking sneaker. In addition, the Moab 3 brought our much-anticipated reboot of our iconic Moab hiker. We applied new technology to what consumers loved about the Moab 2, with a more environmentally friendly shoe, even more comfort, stability, and traction.
What were some other successful brand initiatives in 2022? We're doubling down on our mission of sharing the simple power of being outside with everyone while reinforcing a welcome and equitable outdoor environment for all. The Inclusivity in the Outdoors further solidifies how we're making the outdoors accessible and welcoming for everyone. We also introduced ReTread, our shoe upcycling program. Customers can send back their used Merrell shoes in any condition, at no cost, and we'll restore and resell the shoes, while the customer gets $20 off their next purchase. It builds on our commitment to saving 300,000 shoes from landfills by 2025.
What was the biggest outdoor trend of the year? The way consumers are thinking differently about the trail. Namely, what they consider to be hiking continues to evolve. With so many great products to market in the hike category, we need to take into consideration the shift of hiking to becoming a mainstream activity. People are looking for lighter, faster, more athletic footwear that can be styled with great color options. Merrell will continue to evolve to meet that growing shift and demand.
What was the toughest challenge faced in 2022? While we're not out of the pandemic yet, we have a better understanding of how to navigate its challenges as it relates to supply chain and inflation. Our team has proven to be quick and nimble in finding new ways to combat inventory and interruptions in the supply chain. The team has earned an A.
Looking back on the year, what are you most proud of for Merrell? Our commitment to our mission of sharing the simple power of the outdoors with everyone, no matter who they are, where they come from, who they love, or how they move. We demonstrate this belief in everything we do—from the Inclusivity in the Outdoors report, to the Merrell Hiking Club, and to how we show up online, in stores, and anywhere else we meet today's consumers.
Work Boots:
Timberland Pro
The Beat Goes On
Timberland Pro continues to innovate while celebrating its hard-working customers.
Make that a threepeat. Meeting the diverse footwear needs of various segments of the workforce, Timberland Pro once again earned honors in the Work Boots category for the third straight year.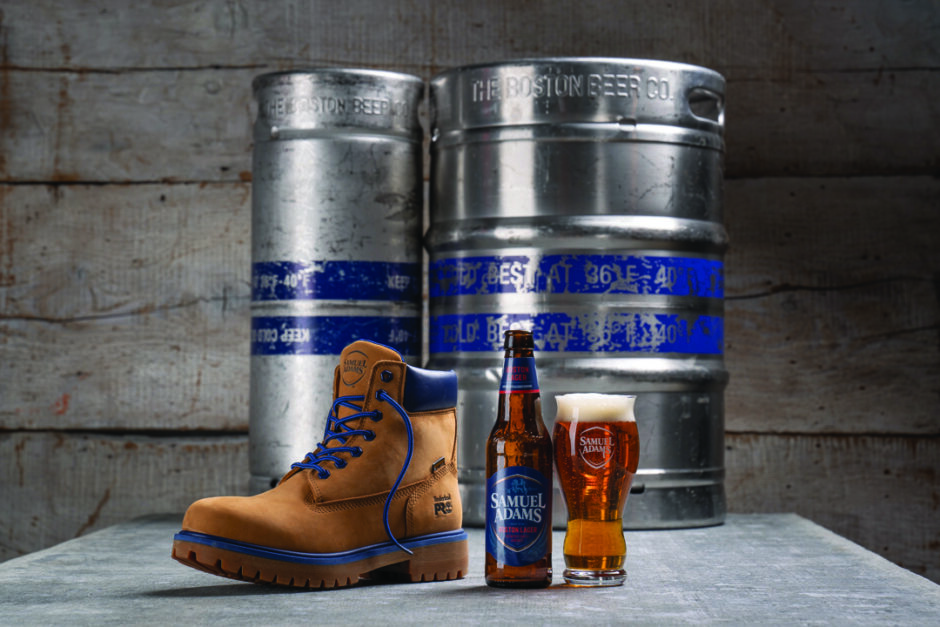 This division of VF Corp. takes a data-driven approach to making work boots, offering styles that feature the latest performance and comfort technologies designed for specific job needs. The company backed that effort up with a marketing campaign celebrating a range of trade professions and the many diverse and skilled people who work in them. The "Your Calling Is Calling" campaign, which featured real workers along with brief bios on how they got to where they are, generated more than 150 million impressions.
Here, Ryan Murphy, brand director, discusses a year marked by innovative products and partnerships—including one with fellow New England-based stalwart, Sam Adams. —B.S.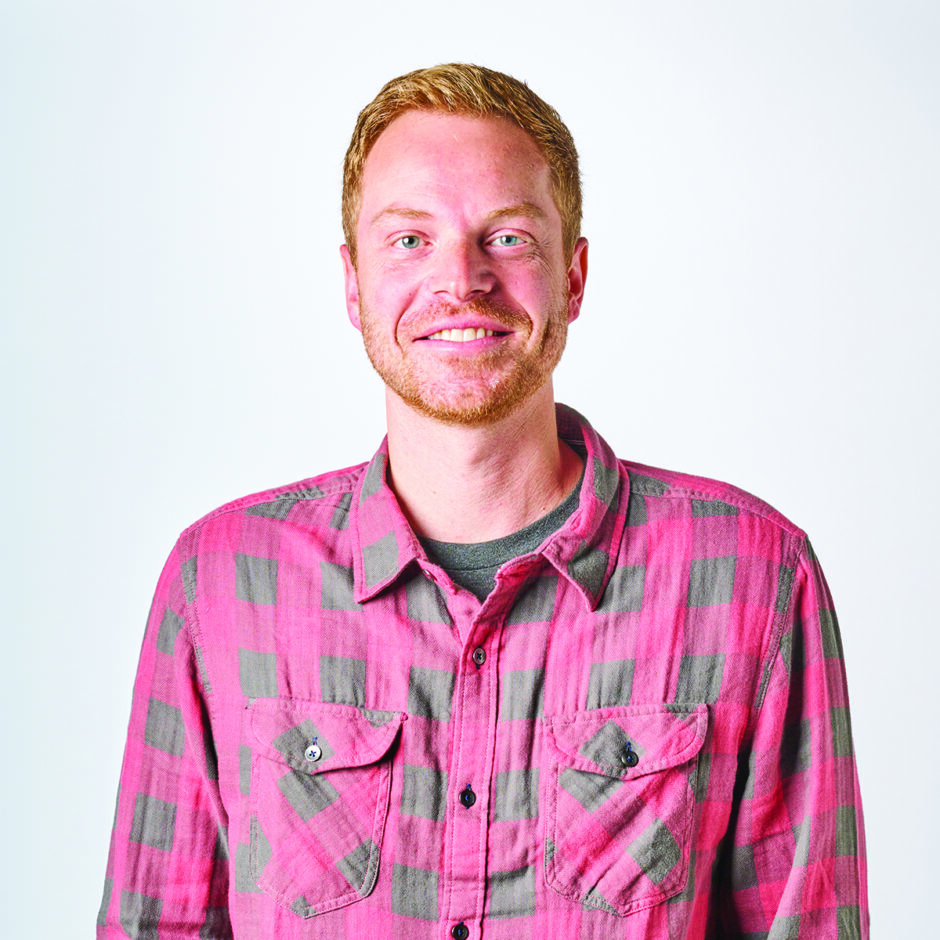 How was business in 2022, and how did it compare to 2021? Timberland Pro launched new innovative products, strong partnerships, and operational efficiencies that helped propel the brand to new heights. In a retail climate that saw macro-economic headwinds, we persevered and achieved double-digit growth. Through a data-driven, go-to-market process with skilled tradespeople at the center, our business continued to thrive through the pandemic and beyond.
What were some key product highlights of the year? We rejuvenated the work hiker category with three new families addressing distinct needs. Leading the offering was the Trailwind work boot, featuring the Vibram Industrial Yellow Label outsole for maximum outdoor performance. The Switchback work boot leveraged the Timberland Pro rubber outsole to provide high performance at a great value. In partnership with SRMax, we also introduced a version of the Switchback for the food processing, restaurant, and hospitality industries utilizing the slip-resistant properties of the MaxTrax outsole. We capped off the spring season with a collaboration with Sam Adams, which celebrated two brands with deep New England roots and a passion for innovation. The collection featured a co-branded wheat Timberland Pro direct-attach work boot along with a T-shirt and a hoodie—all tied together by beer-proof technology to help protect against accidental spills. Lastly, we released the next evolution of our TiTAN work boot, originally launched in 2004 and revolutionized the work boot market by offering out-of-the-box comfort without sacrificing dependability. With a modern design, the new TiTAN EV provided consumers the versatility needed to satisfy the current industrial environments.
In addition to great product, what were some other successful brand initiatives introduced in 2022? Timberland Pro is proud to be the brand that celebrates and inspires the next generation of skilled workers globally. It is important to change the perception of the trades from a last-resort job to a sought-after career. To that effect, we launched our fall campaign, "Your Calling Is Calling," in August. The campaign followed real workers and documented their unique paths to the trades, including an ex-convict using the trades as a path to a better life, a former beauty pageant contestant looking to inspire women to explore a career in the trades, and many others who sought personal fulfillment. The campaign ran for three months and garnered over 150 million impressions.
What was the biggest surprise of the year? The biggest surprise was our consumers' acceleration back to purchasing in brick-and-mortar locations post-pandemic. Timberland Pro remains at the forefront of consumer-buying habits and will continue to provide relevant shopping experiences for the ever-changing skilled tradespeople.
What was the toughest challenge and how did the brand overcome it? Like most businesses, Timberland Pro faced macro-level headwinds in the global supply chain, specifically as it relates to global transportation of goods. In order to mitigate the challenges, the sales team was diligent in its communication with retail partners. It was necessary to have candid communication and re-set expectations around product availability and business planning. Because of our long-standing relationships with our suppliers, the internal supply team also worked diligently to find alternate and creative solutions to deliver product to our consumers.
Looking back on the year, what are you most proud of for the brand? Timberland Pro is a passionate team working toward a common goal to keep the professional trades person at the center of everything we do. It takes a team of talented, passionate, and bold people working together to serve our hardworking consumers.
Boots & Slippers:
Ugg
Height of Fame
Ugg returns to the spotlight.
Ugg, a division of Deckers Brands, enjoyed a resurgence in 2022 with its cozy answer to the platform shoe trend. The elevated Classic Ultra Mini boot created a stir worthy of the brand's heyday in the early '00s, when it was the boot of choice for A-list celebrities and just about everyone.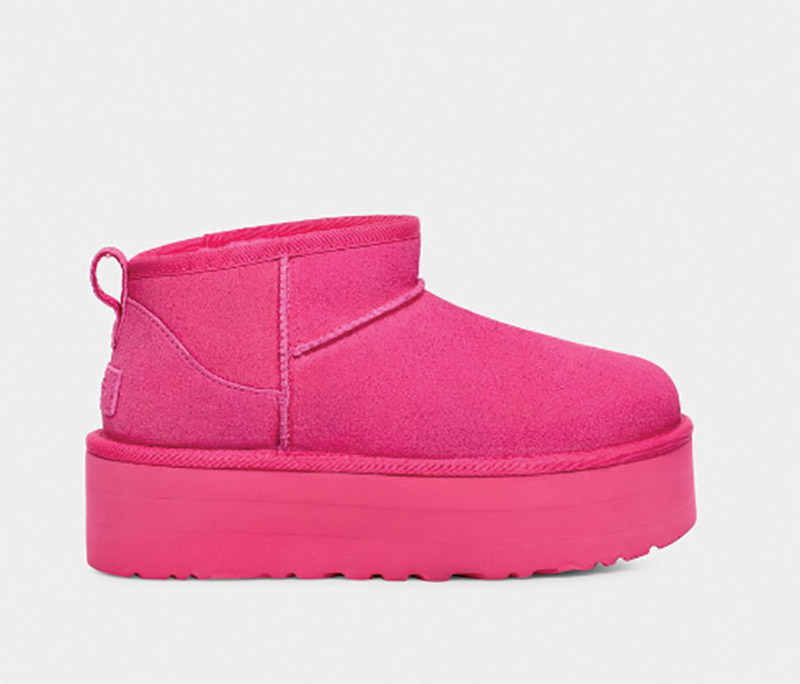 Inspired by influencers like models Gigi and Bella Hadid, the Classic Ultra Mini Platform has gone viral, spurring unprecedented demand. The brand also launched novel design collabs last year and reimagined its classic silhouettes with new detailing and regenerative materials.
"Ugg is back—it was huge this fall, and a large part of our success in 2022," says Lester Wasserman, owner of Tip Top Shoes and West NYC in Manhattan. "Customers are searching for trusted authentic brands that offer value, and Ugg has that covered."
Here, Anne Spangenberg, president of Ugg, discusses the brand's biggest hits of the year. —B.S.
How was business in 2022? We've seen strong consumer response through our strategy, which has allowed us to focus on key franchises and strengthen our storytelling. That included the launch of some exciting collaborations with Denim Tears and Shayne Oliver, as well as new offerings from our ongoing Ugg x Telfar partnership. Another best-selling boot, of course, was the Classic Ultra Mini Platform, which actor Keke Palmer fronted in our digital "UGGSEASON" campaign. The new silhouette caused a social media frenzy with consumers recreating their own looks inspired by Bella Hadid. The demand is at an all-time high. It's difficult keeping this style in stock.
Other highlights? Creating products that are good for people and planet. In October 2022, we launched the Classic Mini Regenerate, our first Land to Market-certified boot style. It's made with raw materials that are a byproduct of commodities grown at farms that practice regenerative agriculture, which helps restore soil, encourages wildlife diversity, captures carbon in the ground, and preserves the land for future generations.
What were other brand initiatives introduced in 2022? We launched our Feels Like Ugg campaign last fall. This anthemic campaign explores the tactile and emotional experiences that our customers associate with when wearing Ugg. We want to empower them to boldly express themselves through style and fabrics that make them feel good both inside and out. Last spring, we also launched Feel House, a multi-sensory experience dedicated to making self-expression comfortable for all and a real-life manifestation of our Feels Like Ugg campaign. It has evolved to include popups with a Brooklyn, NY, edition in October and outposts in China and Korea. Feel House will be making its return this spring with a festival-ready house in Palm Springs.
The biggest takeaway from 2022? Forty-five years in, we continue to evolve. From what started as post-surf footwear, Ugg is a year-round, global lifestyle brand that impacts the zeitgeist. We continue to find new and interesting ways to be a part of the cultural conversation, whether through thoughtful social responsibility programs, exciting designer collaborations, the introduction of fresh product, and beyond.
Streetwear:
Dr. Martens
The Doctor Is In
Dr. Martens stays true to its heritage while keeping its brand top of mind.
A penchant for remaining relevant and several recent macro trends have contributed to strong sales for Dr. Martens. Like other heritage brands, the brand has fared well through the pandemic as consumers gravitated toward trusted, durable brands and styles amid unprecedented uncertainty. And as workplaces reopen, dress codes are more relaxed, making Docs' streetwear styles a versatile choice for the work week and the weekend. What's more, the ongoing '90s fashion revival has sparked interest in Dr. Martens, which was a staple of that decade's grunge movement.
"Fashion is cyclical and what's old is new again," says Zak Stambor, senior analyst of retail and ecommerce at Insider Intelligence. "Dr. Martens has found success by staying true to its heritage while breathing new life into the brand so that it feels fresh."
"Dr. Martens is super-important to our overall success as they help validate Rack Room Shoes as best-in-class when it comes to authentic and trend-right brands," says Brian Burnett, GMM of the 500-plus store chain. "Docs speaks to emotion and nostalgia, and they're built to last with comfort, quality, and an undeniable personality that's all their own." Burnett adds that the Docs customer continues to evolve and expand. "The customer ranges from teens to young adults with rebellious spirits to more fashion-oriented, where age nor gender defines them," he says. "They're certainly young at heart, including parents who are introducing the brand as part of the 'Mommy and Me' movement."
Dr. Martens' revenue in the U.S. rose 31 percent during April-September versus the prior year. Original styles, including the iconic 1460 boot, 1461 shoe and 2976 boot, accounted for 47 percent of the revenue for the period. Sandals were also strong, with a 43 percent uptick in revenue over the previous year. In addition, the brand capitalized on a platform trend, with a range of styles driving growth across the entire line.
Burnett cites the resurgence of '90s fashions as reigniting interest in the brand's heritage lace-up boots like the 1460. He says that moved quickly to Chelsea boots and, more recently, in platform styles. "They've done a tremendous job activating more consumers spanning those who shop the runways in Paris to the streets of New York to our family channel customers," he says. "We're incredibly fortunate about the brand's success."
Speaking of being incredibly fortunate, a student visiting Washington, D.C., made headlines last spring when her Dr. Martens boots might have saved her life in a lightning strike. (Tragically, three other people standing near her died.) The rubber soles just may have been the difference-maker. The anecdote added to the brand's tough-as-nails mystique.
Another highlight of 2022: collabs, which included with the Metropolitan Museum of Art and Rick Owens. The former featured a collection that paid homage to the "36 Views of Mount Fuji" series by Japanese artist Katsushika Hokusai. The 1460 and 1918 Rick Owens platform styles marked the third collab with the designer. The boots feature tumbled leather, a heavy side zip, elongated tongue, unique lacing patterns, and two-inch quad retro soles. —B.S.
Sustainability:
Timberland
Circular Logic
Timberland takes important strides toward its goal of a net positive impact on nature by 2030.
Timberland launched a circularity platform and expanded its regenerative sourcing initiatives in 2022, as it works toward its stated goal of having a net positive impact on nature by 2030. The company's plan to achieve this lofty goal calls for 100 percent of its products to be designed for circularity and 100 percent of its natural materials to be sourced from regenerative agriculture by the start of the next decade.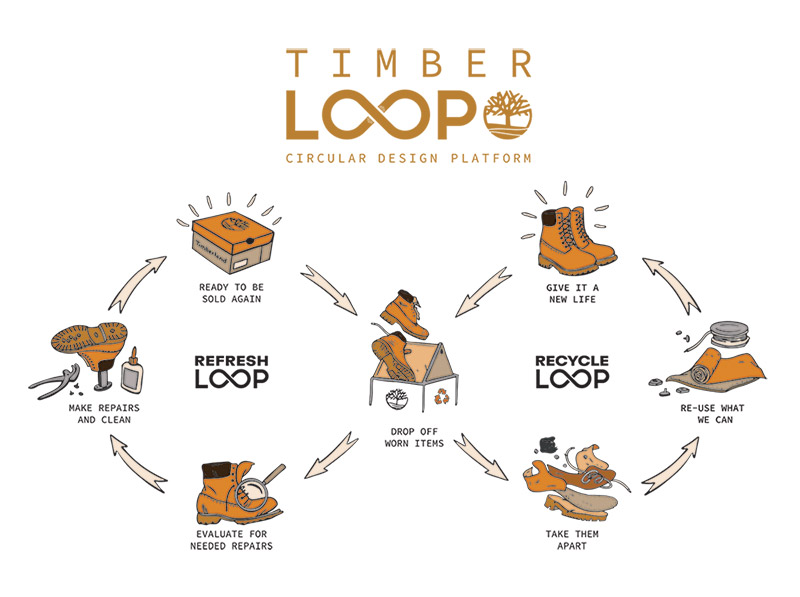 Eco-friendly product highlights introduced last year include the Timberloop Trekker. Specifically engineered for circularity, the boot was launched in connection with the new Timberloop take-back program. Consumers are invited to return used products so that they may be refurbished or recycled and kept out of landfills. Timberland accepts used products at its retail stores or picks up the shipping tab, and gives 20 percent off the purchase of a future item in return.
The company also moved further along its regenerative sourcing path by adding cotton and rubber to the materials that it gets from regenerative farms and ranches. Tracy Smith, vice president and general manager of Timberland Americas, discusses these initiatives, as well as other highlights and challenges for the year. —B.S.
How was business in 2022? Timberland is seeing strong momentum with revenue growth back to pre-pandemic levels, which we're very proud of. Every retailer was impacted by the supply chain effects related to the pandemic, but as we worked to rebuild inventories and consumers returned to market, we're pleased with the growth we've seen as we launched new programs and campaigns.
What were some key sustainability highlights of the year? We're especially excited about the progress we've made in terms of circular design and infrastructure as well as sourcing materials from regenerative farms. In terms of sourcing regeneratively, we've expanded outside leather to now include rubber and cotton. At the beginning of 2022, we launched a circularity platform, designed to keep our products out of landfills at the end of their useful life. We've seen tremendous consumer response and have plans to expand it to our Asia and the Pacific markets.
What was the biggest surprise of the year? Not seeing more brands enter into the circularity space! While we've seen a few brands launch their own recycling programs, our hope is that more brands introduce circularity not only through recycling programs but also by manufacturing products to be easily recycled rather than letting them go to landfills.
Family Channel:
DSW
Reimagining Retail
With a focus on Owned Brands and the debut of a new store format, DSW is paving a way forward for growth.
What competitors can't carry they can't sell. Hence, DSW's focus on expanding its Owned Brands portfolio in 2022—in addition to reaping better margins. The stable of exclusives (including licensing deals) now includes Vince Camuto, Jessica Simpson, Hush Puppies, Keds, Topo Athletic, Reebok, Le Tigre, 360, Crown Vintage, JLO Jennifer Lopez, Lucky Brand, Kelly & Katie, and Mix No. 6. Sales of the division represented 26.5 percent of total net sales in Q3 of 2022 compared to 21.5 percent for the same period last year.
CEO Roger Rawlins described, in a recent press release, the effort as "meaningful progress" in what is a long-term strategy with the goal to double those sales by 2026. "The strategic shifts we have made in our business over the past several years are driving a sustainably higher gross margin rate than 2019 as we have a more targeted focus on customer acquisition, optimizing our assortment, and growing the brands we own and control," he states.
Despite ongoing supply chain disruptions and economic headwinds, DSW delivered solid results the first three quarters of 2022. Highlights included comp sales up 3 percent in Q3 and 6.2 percent in Q2, net sales of Owned Brands up 40.4 percent in Q2, and Q1 overall net sales spiking 80 percent and fueled, in part, by the relaunch of the Vince Camuto brand. "While we are seeing many of the same pressures across the consumer landscape that most retailers are seeing, our flexible business model continues to support our efforts to navigate a dynamic macro environment," Rawlins says. "We are focused on meeting our customers' footwear needs while we balance inventory and expenses in order to continue growing market share in this volatile environment."
Another highlight of 2022 was the launch of DSW's Warehouse Reimagined store prototype, which debuted in May near Houston, TX. Designed to put customers, brands, and speed at the forefront, the format features an updated warehouse-inspired design to optimize capacity to bring the Owned Brands to life as well as showcase national brands with shop-in-shops. Features include product displays, head-to-toe lifestyle imagery, oversized graphics, and modular store walls to adapt to planned promotions. In addition, a dedicated kids' section presents products at their eye level and includes interactive games and the ability for kids to size themselves and select their styles. Rounding out the design are easier-to-find selections and merchandising based on customers' shopping habits. Warehouse Reimagined also continues to advance DSW's philanthropic partnership with Soles4Souls, serving as a collection point for footwear donations to then be shipped to entrepreneurs in developing countries while keeping those products out of landfills.
"This new store format is an immersive experience—by the customer, for the customer—and brings to bear our proven capability to retail brands the way customers want," Rawlins stated, adding it's an exciting 360-degree consumer experience. "This new format also features expanded and upgraded services and order pick-up areas to make the shopping experience more convenient. Optimization of space helps us ensure our top items are always in stock, building on our hard-earned customer loyalty."
During DSW's Investor Day last spring, Rawlins announced the company had taken control of its destiny, having transformed into a brand builder, marrying its world-class design and sourcing capabilities to its industry-leading DTC infrastructure. "We know our customers like our best friends, and we utilize the data, feedback, and insights gleaned from our nearly 30 million loyalty members to efficiently design top-quality product suited specifically for them and engaging with them in innovative ways across any and all mediums they desire," he says. —G.D.