Company of the Year:

B
irkenstock
A Big Year
Big is the apt word to describe Birkenstock in 2021, the most successful year in the company's history. The German brand recorded big growth, expanded big into product categories and announced big plans to open two new European factories soon to keep up with the growing demand. But the biggest news of all: its acquisition by L Catteron, the private equity firm backed by LVMH, for an estimated $3.5 billion. That's huge—on many levels.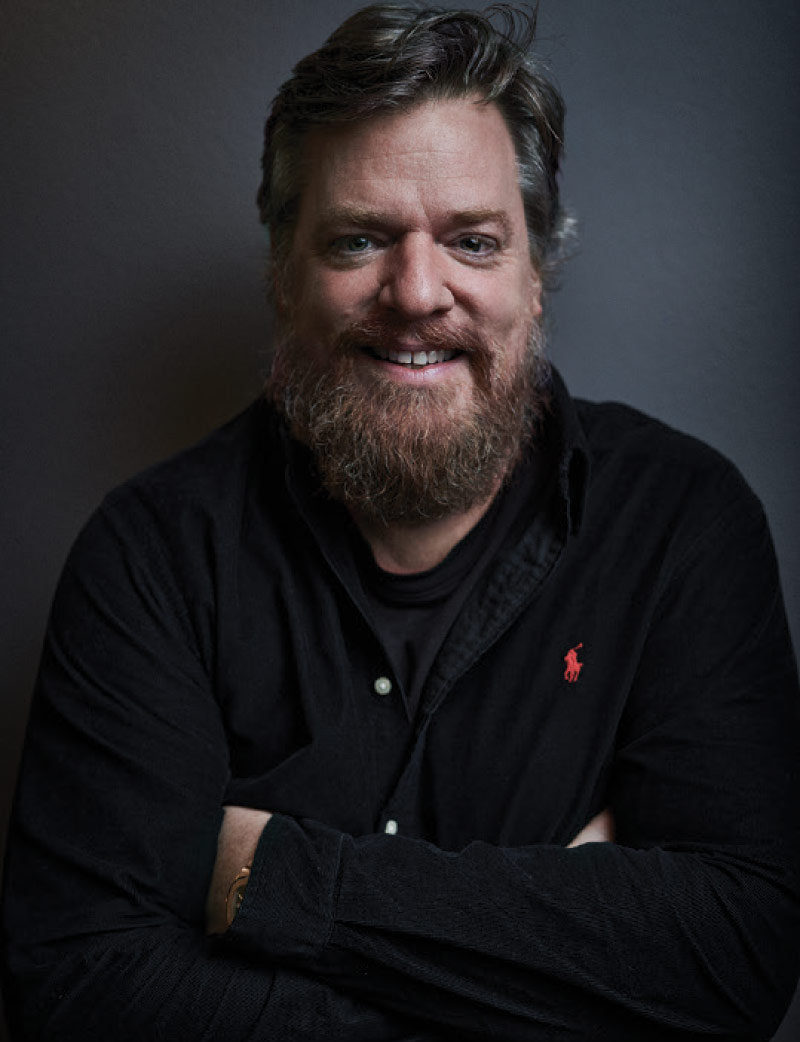 Birkenstock is no longer strictly the family-owned business it had been for nearly 250 years. The brand is now part of a conglomerate that features powerhouse fashion labels Louis Vuitton, Christian Dior, Celine and Givenchy. Concerns about funding brand expansion went poof. But the acquisition is much bigger than that. On a macro scale, it reflects how comfort is fashion. The granola, tree-hugging, anti-fashion, most renowned
comfort brand is now a part of one of the world's biggest fashion houses. Comfort is officially cool.
Here, CEO Oliver Reichert reflects on Birkenstock's big year. A year that again broke records and, perhaps more importantly, laid the foundation for the brand to reach new levels of growth in the years ahead. —Greg Dutter
How was business overall in 2021?
It was another record year with overall growth of over 30 percent. Our business performed extremely well across all categories, channels and markets. Our DTC business developed fantastically, with our own digital channel performing best and, most remarkably, with no repercussions for the wholesale channel, even compared to 2020, when online received a strong boost due to the pandemic. Things also went extremely well for us in the U.S. where we are one of the most popular footwear brands. I'm truly impressed by the passion with which our teams and partners made
2021 the most successful year in our company's history. I say this with humility as 2021 was an incredible challenge for our industry.
What were some key product highlights?
Where do I begin…2021 was such a busy year. We're currently seeing a strategic push for the last fall/winter collection, so our share increased to 40 percent of our business in 2021. The push is driven by our cozy winter trends with shearling sandals, shoes, boots and home styles. Our main business continues to grow in spring/summer, driven by sandals, such as our new highlight, the Gizeh Big Buckle. We are also seeing positive trends for new product drops such as the Teddy platform sandal in our on-trend eggshell color and our new Arizona Split in exciting color blends. We're also seeing fantastic progress in our closed-toe business—this part of the business is becoming more and more important.
On the collaboration side, our project with Jil Sander, launched in June, saw a huge response in the global fashion scene. It took two years for the product to be ready. We chose to work with Jil Sander, believing in the new perspective of Lucie and Luke Meier. They've given this important brand relevance and authenticity. Together we achieved what we always strive for: newness and product innovation.
Why are the new German factories a big deal?
Our multi-million investment program is quite unique in an industry that is used to handing over production to third-party suppliers. It will allow us to expand our production capacity from around 30 million pairs to 40 to 50 million pairs and create at least 1,000 new jobs in Germany. For outsiders, it may be unusual to invest so much money in an industry that has more or less turned its back on Europe and moved to Asia. But not for us. We are made in Germany. With these investments, we'll strengthen our supply chain as well as show a clear commitment on the part of our shareholders to Germany. And maybe one more surprise: We'll be investing in our orthopedic roots with Deep Blue Footbed, marking a new strategic chapter. Never forget, Birkenstock is the inventor of the footbed.
What was the biggest surprise of 2021?
I was a bit surprised to see how much progress we, as a society, made in a more conscious and healthier lifestyle. It took a pandemic for people to take a closer look at their lifestyle. People care more about their health, eating habits, how/where they worked, etc. They started to reflect about their desk, their chair and how they dressed. Many people who tended to be uniform in the past reinvented themselves, and Birkenstock was a big part of this movement. We've seen this in our sales, which have literally gone through the roof overnight.
What was toughest challenge faced last year?
To serve the dramatically growing demand while facing limitations in our production capacity. We've been sold out for 10 years in a row. Of course, it's a good problem to have, but it's still a challenge as we want to meet the expectations of our partners and consumers. Partnering with L Catterton allows us to pave the way to the next chapter in our growth story. With that backing, we'll be able to grow our business into a new dimension while staying true to our roots and values.
How would you grade your team on navigating through such unprecedented challenges?
This team is doing an extraordinary job—and not just in the pandemic, but for 10 years now. It doesn't matter whether it's the C-level or a factory worker, everyone is burning for their ideas and fighting for a greater cause, which is far bigger than each of us individually. You can see and feel that in our products—every detail is extremely well thought out and perfection is pushed to the highest level in every corner of our company.
Looking back on 2021, what are you most proud of?
That we stayed relevant without having to compromise on our values and beliefs while many constants in life were turned upside down. And, while doing so, being a reliable partner for our employees, suppliers, distribution partners and, last but not least, fans.
Comfort Specialty:
Alan's Shoes
Swan Song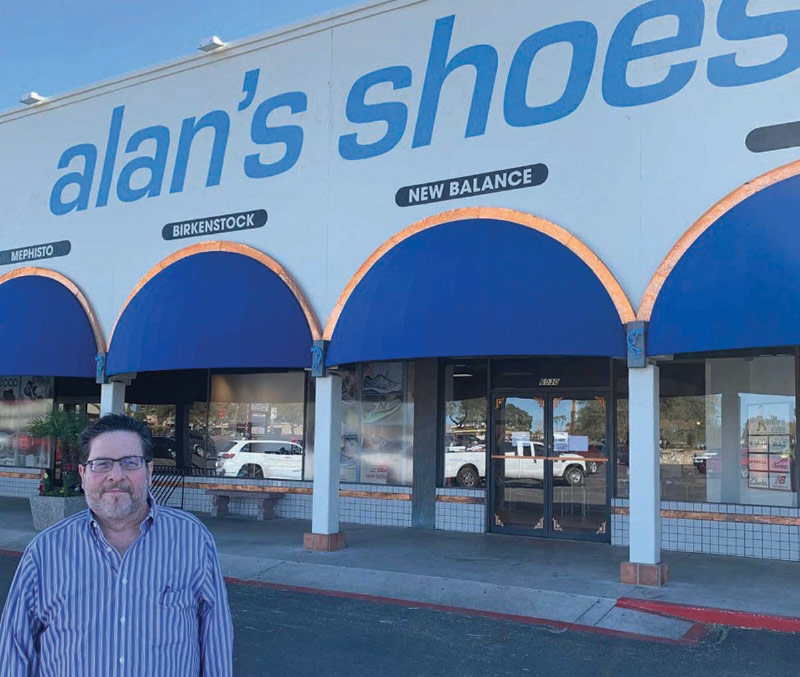 Alan Miklofsky, recently retired owner of Alan's Shoes in Tuscon, AZ, ended on a high note. Not only did he snag a Plus Award for retail excellence, the veteran retailer finished 2021 with two strong quarters—as more people became vaccinated—that enabled the two-store business to top 2019 sales and would have topped the 20-year-old chain's best year ever of 2018 if he could have gotten his hands on more inventory.
Blame it on the pandemic, and the fact that in the sit-and-fit world lots of customers are repeat style purchasers—or nothing. "We just couldn't get some of those key athletic styles in all the sizes and widths that our customers demand," Miklofsky says, noting that it was a similar issue with a couple of key casual brands as well. "If we had the right amount of inventory, we'd have really beaten 2019 by a lot and 2020 by a ton."
Nonetheless, Miklofsky believes the inventory shortages forced his team to become better retailers. For starters, they had to find alternatives, and then they had to convince customers they were worthy substitutes. On that note, he says Brooks and Hoka made up for some of its New Balance inventory shortage. "A lot of independents like myself were overly reliant on
New Balance, anyway," he says. "So we were really fortunate that we could turn to those two brands, like a lot of other independents did with On." And while the idea is to always sell the inventory that you have, Miklofsky admits there were times when alternatives simply didn't do. "You can't trade them all. Some people fall in love with a particular style, and that customer wasn't served very well by us last year because we just didn't have every size and width needed," he says. "Or with Birkenstock, for example. You can try to sell a knockoff or something similar, but that's usually not successful. You hate losing those sales."
David Kahan, CEO of Birkenstock Americas, credits Miklofsky's long-running success (he and his wife/business partner Annette got their start in shoe retailing in 1982 with The Shoe House chain) for his inventory management capabilities, for starters. "Alan's Shoes offers a fantastic assortment of the best comfort brands along with fantastic personal service," he says. "He's a student of the footwear industry and is very adept at managing his inventory to be productive." An example, Kahan notes, was the Miklofskys' decision decades ago to take a risk on a little niche brand (Birkenstock) that has since helped define their retail career. "Having the foresight to take certain brands and bring them to their community and never compromise the high levels of customer service, as well as always being a well-run operation make Alan and Annette role models," Kahan says. "They're also fantastic communicators—very direct and have a good understanding of both vendor and retailer needs. They truly epitomize the word 'partner.'"
Miklofsky credits the chain's success particularly in 2021 to his people. "Our staff, especially our executive staff, performed miracles for our company," he says. "Our buyers worked with our vendors, and our sales staff worked harder with customers." With regards to the latter, Miklofsky made investments in store employees to try and reduce attrition, which proved to be very successful. "As our attrition rate reduced, it allowed our average staff person to become more knowledgeable about our products," he says. "That meant that our efforts at SWAT (Sell What's Available Today) helped us reduce obsolete inventory and keep our walk rates low."  Miklofsky adds, "Our customer service abilities, already very high, became better as more salespeople started to reach the benchmarks we established for them."
As for the decision to call it quits after 40 years, Miklofsky cites a host of reasons for making it the right time to sell his business—particularly the opportunity to sell to Sole Provisions, an 18-store chain of comfort stores that include Pegasus Shoes in New York, Benjamin Lovell in Pennsylvania and InStep in Texas. Miklofsky believes his business is in good hands—one that will continue its legacy of great customer service, only now with a much stronger buying position. "Even prior to the pandemic, I became convinced that our business, as good as a retailer we had become, would be a better business as a division of a larger retailer," he says. "Without margin growth, it's difficult for small retailers to produce enough gross profit to carry expense ratios that fund professional staffs that can accomplish all that we aimed to. Our focus on inventory accuracy and networking required too large of a back office payroll expense at a time when selling floor payroll needed to increase to meet the demands of state mandated payroll and benefit increases and the needs of our staff in an environment where everyone is competing to recruit staff from other employers." 
The Miklofskys did their due diligence in finding the right partner. Or, as Miklofsky says, "The right recipe cannot and should not be rushed." The two entities first got to know each other's needs and wants, a process that required transparency and understanding. "A seller should run away from any buyer who wants to make many changes immediately, or who doesn't understand the seller's model or who isn't ready, willing or able to execute," he offers. "We were fortunate to find the right match for us."
Ditto for John Holden, director of merchandising for Sole Provisions. "They are iconic stores and align with what we do nicely," he says.
As for any sage parting independent retailer wisdom, Miklofsky believes there is strength in numbers. "Work with fellow retailers. Find some clues by putting your heads together," he says. "It's one of the reasons why trade shows need to happen, so you can sit down and talk about what is and isn't working, instead of only looking at your own business." In the meantime, Miklofsky says he won't disappear completely from the industry he so loves. "I'll relax for a bit first, but I plan to work on consulting projects," he says. "I'll still be attached to the shoe business in various ways." —G.D.
Brand of the Year:
On
On It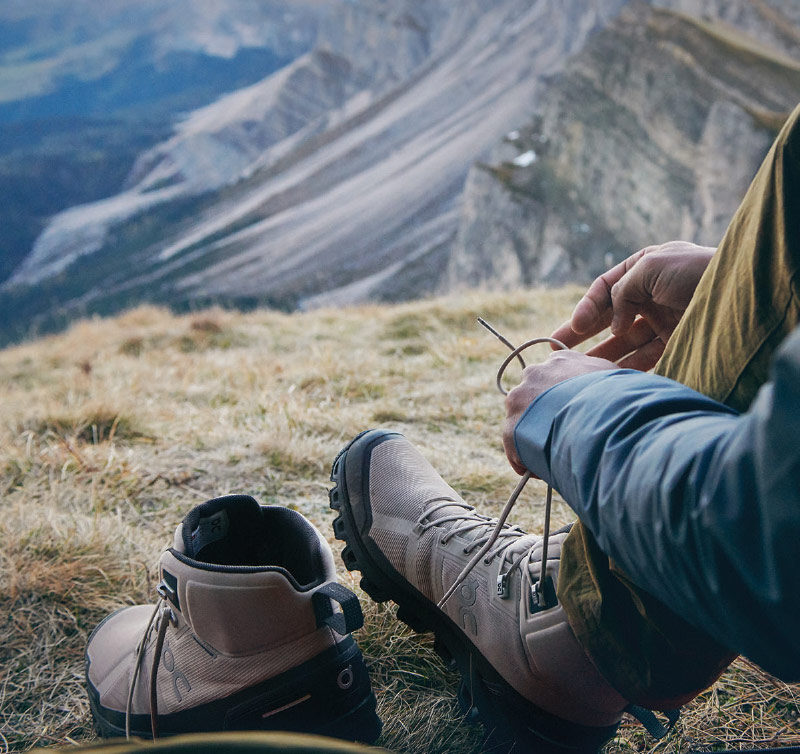 Since launching in 2010, On has reached lofty heights worldwide with its "running on clouds" inspired performance technology that has since expanded beyond running and into trail running and performance apparel (2016); street and waterproof collections (2018); hiking (2019) and tennis (2021). Along the way, the Swiss-based company—founded by former professional athlete Olivier Bernhard and friends David Allemann and Caspar Coppetti—has racked up numerous design awards and built a cult of cloud cushioning personality among millions of elite athletes, weekend warriors, street influencers and celebrities along the way.
On's popularity only soared to new heights in 2021, which was highlighted in September by its IPO with an initial raise of $746 million and an estimated market value of $7.3 billion. (The IPO was done in pure On form: the founders and 100 other runners jogged along the Hudson River en route to Wall Street to ring the opening bell.) Demand in 2021 spiked across all channels, regions and product categories, contributing significantly to On's hyper-growth. Net sales increased by 68 percent in the third quarter, the strongest quarter in the company's history, and by 77 percent in the first nine months of 2021.
In addition to groundbreaking performance and cutting-edge style, On has also scored success by being an attractive brand alternative, especially at a time when other large athletic brands have been culling down their lists of retail partners. With regards to the latter, Caspar Coppetti, co-founder, cited in its Q3 press release the continued strengthening of partnerships with "some of the most recognized premium global retailers" as a key to its success. The exec added, "We hit exciting milestones this quarter, which included becoming the official outfitter for the Swiss Olympics and Paralympics teams, introducing the Cloudboom Echo to support our athletes achieve incredible results, and wowing consumers with the new Cloudstratus."
Here, we go into the trenches with two leading retailers on why On was a brand that delivered big time to their businesses in 2021. —G.D.
Lester Wasserman, owner, Tip Top Shoes and West NYC:
How important was On to your overall business in 2021? On was a key part of not only our athletic business, but a massive part of our overall business as customers looked to buy more to sneakers than they had in years past. The pandemic had people looking to get outside, get healthy and avoid mass transit.
Were On sales up over 2020 and 2019? Our On sales were up significantly over both 2019 and 2020. They were one of the few athletic vendors that had inventory when we needed it. We stepped up our orders and they were able to fill them.
What are some factors that make On a popular choice among your customers? On is highly desirable, in part, to the fact that one of their key styles last year was a slip-on. People enjoy easy on/easy off footwear. Additionally, the comfort is there right out of the box. No break-in required. Lastly, the tech look of the shoe makes it look fast and lines up with how customers feel and want to feel.
Who are your On customers, and are they different perhaps than other sneaker brand customers in your stores? The On customer ranges both in age and what they are looking to do with the shoes. We have customers 25 to 35 who train in them, as well as customers who are over 50 who wear them as casual and walking shoes. It's tough to pinpoint a particular group because there are so many different customers wearing them. That's what makes them a success.
Justin Kehrwald, president and CEO, Tradehome Shoes:
How important was On Running to your business last year? In 2021, On solidified itself as a top brand for Tradehome Shoes. Over nearly five years of carrying the brand, we've continued to confidently and enthusiastically introduce new customers to On products. Last year proved to be the year that people came to our stores because we've become known as a retailer that carries a great assortment and is educated on the DNA of the On brand.
Were your On sales up over 2020 and 2019? Last year was our best with On. And we expect we'll continue to grow the brand—provided we can keep up from an inventory perspective.
What were some popular styles in 2021? The core models (Cloud, Cloud X, Cloudswift, and Cloudflow) all had great years for us. Additionally, we were able to grow business with the Roger (tennis) collection and with the more trail-inspired styles, such as the Cloudrock and the Cloudventure. Neutral colors led the way, but the more colorful offerings have definitely gained momentum.
What are some factors that makes On a popular choice among your customers? On shoes, plain and simple, feel good and look cool. The product is ready to wear right out of the box and has a distinct styling that absolutely resonates with our customers. On does an excellent job of introducing new color assortments and silhouettes, while keeping the tried-and-true combinations fresh and desirable.
On has also helped fill a vacuum caused by athletic brands that couldn't meet deliveries or have stopped shipping select retailers entirely. Securing product was absolutely a challenge in 2021. But On has done an excellent job keeping us updated on shipment timing and has consistently informed us whenever there has been additional inventory available to secure.
Men's Comfort:
Ecco
Lean and Clean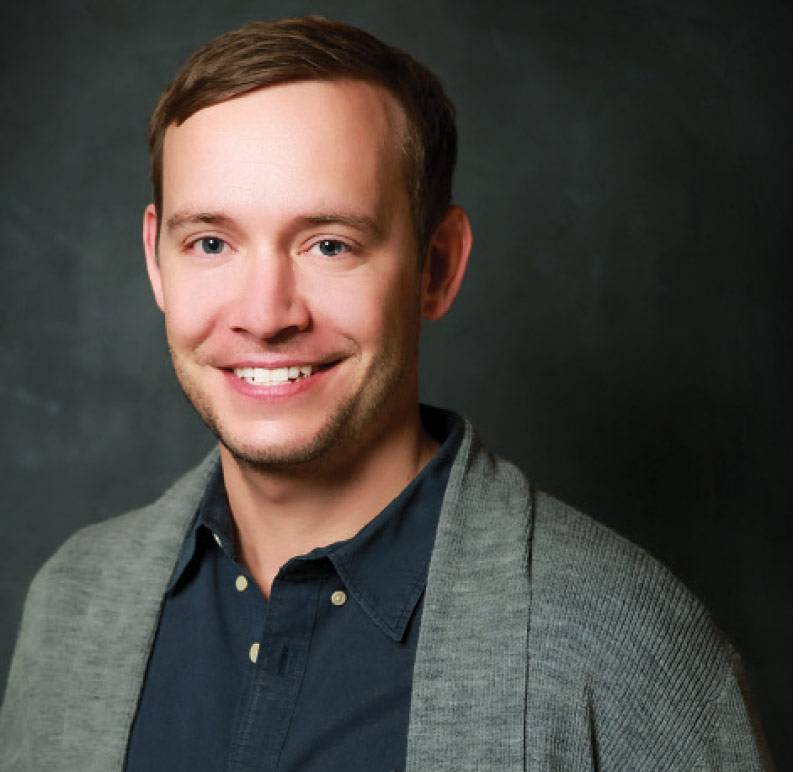 Leaning into consumer trends sparked by the pandemic, Ecco strategically tweaked its offerings while continuing to focus on its core strengths in 2021. The Scandinavian comfort brand updated one of its main men's dress lines with new silhouettes and comfort technology in anticipation of the category bouncing back when people began returning to offices. And with consumer appetites for casual outdoor shoes showing no sign of letting up, Ecco developed a new active men's line to fill a gap in its offerings.
Focusing on what it does best while making adjustments for evolving consumer habits helped propel the shoemaker to strong sales in its core dress and casual categories in the second half of the year, says Felix Zahn, director of merchandising planning and allocation for Ecco, which is marking its fourth straight Plus Award win in the Men's Comfort category. —Bernadette Starzee
All things considered, how was business in 2021? When entering 2021 it was already clear to us that it would not be a normal year again. There simply have been too many changes initiated by the pandemic, to which a complex industry like ours cannot quickly react. Consumer behavior and preferences have dramatically changed, impacting our own points of distribution and our business partners. We all saw a disappointing first quarter driven by reduced and regulated traffic in most parts of the country. But with vaccines being rolled out and warmer temperatures arriving, we saw a steady pickup in business beginning in Q2. Business really got better in the second half of the year when the reopening of the economy. Core Ecco categories such as casual and dress made a strong comeback for us in the second half, and we also saw continued growth in our outdoor and golf segments, which both remain at much higher levels than pre-pandemic. However, with the emergence of the Delta and Omicron variants in late 2021, we faced new challenges again.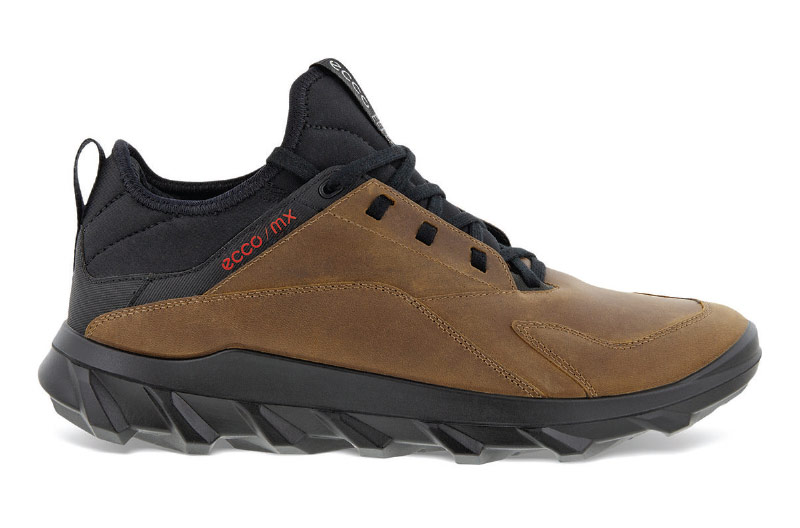 How did you adjust your products when you realized it would be another abnormal year? Our aim for 2021 really was to focus on our strengths, essentials and our base. When it comes to men's, we predicted that dress shoes would eventually make a comeback in the back half of the year. Therefore, we updated one of our most core products, the Helsinki franchise. Our new Helsinki 2 is based on the original idea, however now with an updated last shape, featuring modernized new silhouettes and a new comfort fit technology.
Secondly, we predicted that many consumer lifestyle changes the pandemic has brought upon us would continue to last, including a more local, outdoor lifestyle. Our team identified a gap in our collection here and, as a result, introduced a new product franchise named MX, which stands for 'motocross." Hence, the rather aggressive outsole profile. It's a lightweight, multifunctional, everyday outdoor sneaker that guys can take on the trail or just for a casual walk with the dog. Our MX collection comes in many different silhouettes and executions.
What other notable brand initiatives did you introduce in 2021? We focused even more on sustainability. A core part of our DNA is making our own leather, and one area we are heavily focusing on is water efficiency. We have heavily rolled out our DriTan leather technology in our collections. Besides saving huge amounts of water, the technology considerably reduces the amount of chemicals used and lowers the wastewater production. In addition, we use surplus leathers in our shoes, are conscious in our design process and have streamlined the portfolio, in order to utilize all our materials to reduce surplus and waste.
What was the biggest surprise of the year? How well we continue to work together and have adapted as a big global company, despite all the challenges the pandemic has thrown us. Most of our meetings, workshops and daily work have been facilitated remotely. The product development process, which for decades has been hands-on, has been streamlined and largely digitalized.
How did supply chain woes impact Ecco? Supply chain issues were definitely front and center in 2021 and continue to bug us. Fortunately, we own our own tanneries and factories, giving us more control over that part of the supply chain. Here we have done everything possible to keep our factories open while guaranteeing the safety and well-being of our employees. For example, Ecco led the vaccination efforts in many of our factories, especially in Asia, providing early vaccine access to our workers and their families. In addition to keeping our factories open, we have optimized shipping routes and prioritized certain product categories over others.
How would you grade your team's overall performance navigating these unprecedented challenges? The team has done a hell of a job and fought for every single pair in 2021. We've grown together much stronger as a company. For instance, due to short staffing, employees from various areas of the business have helped out in our warehouses and stores.
Work Boots:
Timberland Pro
Never Stop Working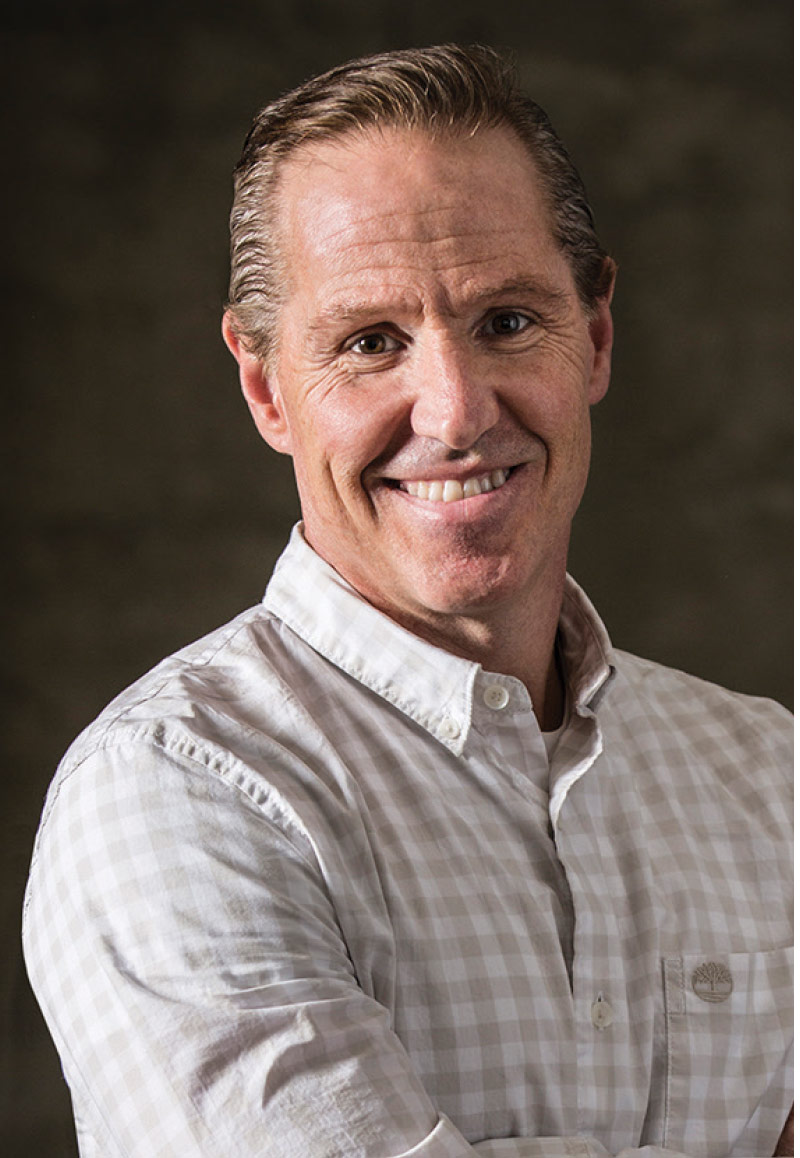 The evolving needs of the workforce inspired performance, comfort and durability innovations in Timberland Pro's 2021 collections. A repeat winner in the Work Boots category, Timberland Pro has stayed ahead of changes in the dynamic marketplace, where strong demand for the various essential services provided by professional tradespeople has in turn created steady need for the brand's extensive offerings for men and women.
Vice President and General Manager Bob Sineni discusses how the iconic workforce brand's customer-centric approach served it well in 2021. —B.S.
How was business last year and how did it compare to 2020 and pre-pandemic? Overall, Timberland Pro had a strong year. The industrial footwear market has seen many changes and accelerants since the pre-pandemic world. For the most part, the industrial workers of the world were deemed essential and were often at the forefront of the changing times. One sector that has continued to grow exponentially has been the warehousing, transportation and logistics sector. Through our efforts to understand evolving consumer behaviors and shifts in global supply chain, Timberland Pro has had an opportunity to serve the workers who have been keeping our world moving forward over the past two-plus years. The professional tradesperson continues to be at the center of the Timberland Pro strategy and this consumer-centric approach to all parts of the business has been the main catalyst for our success. Combine this with product innovation and you have a winning formula.
What were some of your key innovations in 2021? In the spring, we launched a revolutionary new footwear style that raised the bar in the safety athletic category. In the Radius work shoe, we introduced our HoverSpring foam midsole, which combines lightweight, athletic materials with jobsite durability and performance.
Timberland Pro also launched the second iteration of the iconic Boondock family, the Boondock HD. It features the new StepPropel comfort platform to give you the energy needed to move throughout the workday. It's also built with the patented ExoSpine technology to help lock your heel into place and increase durability. We also launched the new women's Ashlar work boot in the fall, providing comfort, durability and performance on the jobsite and built specifically for a woman's foot.
Fall '21 also marked a milestone in footwear eco-innovation for Timberland Pro. To help minimize our carbon footprint, we've explored ways to leverage net positive practices and produce products that perform well and are better for the environment. An example of this is our Gridworks EK+ boot, which is made entirely from leather sourced from farms that utilize regenerative agriculture.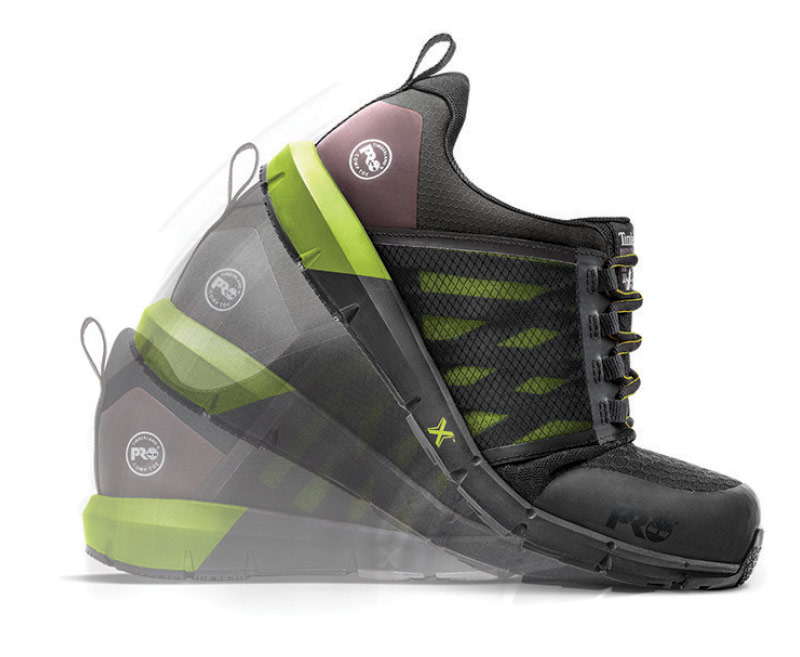 What were some other notable brand initiatives? Timberland Pro continued our work to inspire the next generation of skilled workers, combatting the expanding skills gap. In partnership with The Martin Agency, we released the third evolution of our "Always Do. Never Done." brand voice campaign. The spots showcase real workers welding hundreds of feet above an iconic soccer stadium and getting a "higher education" as they admire the coastline from the top of a wind turbine. Timberland Pro also continued our valued partnership with the Generation T movement to raise awareness and help change the narrative around the skilled trades.
What was the biggest surprise of the year? That we continued to find new and innovative ways to efficiently adapt to the pandemic environment. Through strategic partnerships with key manufacturers, Timberland Pro launched a digital product creation process that allows the team to create 3D renderings of new products to help shorten lead times and enhance virtual sales programs. The virtual samples help create prototype efficiencies and further position Timberland Pro as the technological leader in the workwear category.
What was the year's toughest challenge? Like many brands, Timberland Pro experienced challenges with our global supply chain. Through thoughtful and staggered product launches and proactive relationship management, we were able to minimize the impact of these challenges.
How would you grade your team on its overall performance navigating through such unprecedented challenges? The resilience and passion that this team has shown over the past two years has been nothing short of extraordinary. They have been adaptive and agile through a lifetime of changes in a short period of time. The fact that this brand has been so successful during a very difficult time is a testament to each and every person working on Timberland Pro. The team lives as stewards of the brand every day and I'm really proud to be a part of it.
OUTDOOR:

M
errell
Gorpcore is Good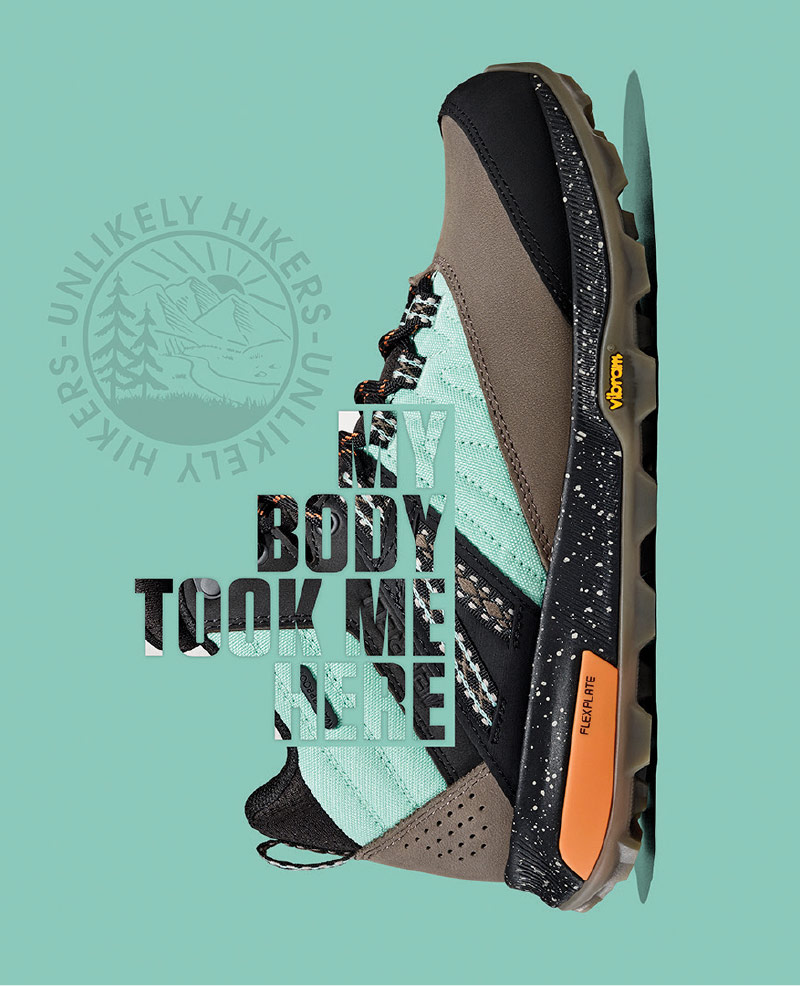 Turning 40 in 2021, Merrell marked the milestone by riding a wave of elevated interest in outdoor activities sparked by the pandemic. The subsidiary of Wolverine Worldwide continued to grow its top-selling Moab hiking line while launching a new collection to capitalize on the growing gorpcore trend, in which the functional features of an outdoor style are combined with high-fashion elements for crossover to everyday wear.
With millions of people participating in outdoor activities for the first time, Merrell has embraced the newbies through its marketing and new product collaborations. "In 2021, we became more vocal about our brand purpose, which is to share the simple power of being outside with everyone," says Merrell President Chris Hufnagel. Here, the exec talks about the brand's efforts of the past year and why the great outdoors were, in fact, great for Merrell. —B.S.
How did 2021 compare to 2020 and pre-pandemic? The outdoors is having its moment during the pandemic. According to the Outdoor Industry Association, 7.1 million Americans ventured out to start participating in outdoor activities in 2020, and in 2021 we saw that interest in Merrell and outdoor activity still holding strong and contributing to our strong growth.
What were some key product highlights of the year? We continued to grow our Moab franchise with the launch of Moab Speed and Moab Flight. Merrell Moab has become the bestselling hiker in the world, and the approach to introducing the Moab Speed was to reflect a more athletic, faster way of hiking with a lightweight, protective hybrid-designed shoe to give any people the physical confidence to tackle any trail. This new launch was a hit with consumers because it enabled them to explore the newest trend of "fast hiking" and the aesthetic of the shoe itself was boldly designed, which also made it stand out from a fashion-forward perspective.
Another highlight was the launch of our 1TRL collection, curated for tastemaker consumers who are leading the fashion trends and driving the explosion of the gorpcore trend. As a result, we are being invited to participate in runway shows with upcoming designers like Louis Gabriel Nouchi.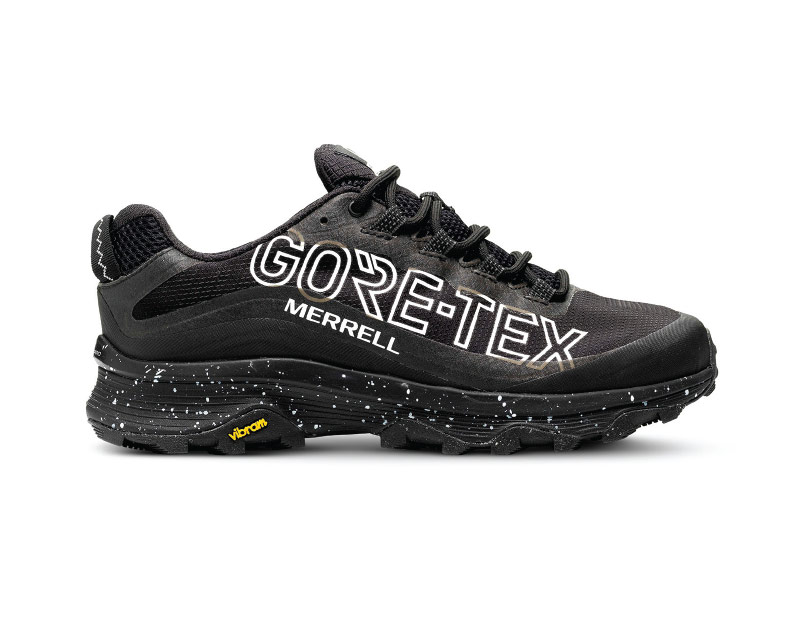 Collaborations also energized us throughout the year, as we really pushed forward on using our platform to elevate trailblazers who share in our commitment to making the outdoors more inclusive, accessible and welcoming to all. Early in the year, we partnered with Jenny Bruso and @UnlikelyHikers to introduce a new hiking boot collection that celebrated the diversity of the growing hiker fan base. We also tapped into the creative talent of Latasha Dunston to introduce the Outdoors for All collection and drive forward conversations for justice, equity, diversity and inclusion. Latasha's artwork inspired us to create shoes reflecting the beauty and power behind her message that the outdoors is for everyone.
How else have you embraced new outdoor enthusiasts? We seized the opportunity to take over National Great Outdoors Month with a bold campaign that reinforced "Everything Is Greater Outdoors," encouraging the industry, media and consumers alike to think differently about what it means to share the simple power of being outside with everyone. From self-care to mental health, music to community, we collaborated and celebrated the virtues of being outdoors by sparking a movement to inspire people to find creative ways to get outdoors, where everything is greater.
In 2021, we also joined forces with Big Brothers Big Sisters (BBBS) to embark on a long-term relationship that will harness the power of being outside and make it more accessible to more youth. We worked closely with BBBS to create life-changing connections for young people with the outdoors, culminating with our Shared Steps campaign in September, which ultimately achieved over 40 million steps that were converted into a substantial donation back to BBBS to further support its ongoing mentorship work and new opportunities to expose kids to the outdoors.
What was the biggest surprise of the year? One thing that has delighted me is the way that Merrell is starting to break into the cultural, from appearing in a Vogue spread shot by Annie Leibowitz to key celebrities and influencers wearing our shoes on and off the trail.
What was your toughest challenge in 2021? Continuing to ensure the safety and well-being of our people, not only in the U.S., but also around the globe.
How would you grade your team's overall performance since the pandemic began? We have an outstanding team, comprised of dynamic, hardworking and smart individuals who genuinely personify our brand's mission by bringing their passion for the outdoors into the work we do every day. Nothing makes me prouder than to see their resilience and grit in action as leaders across every function of our business. I value and appreciate every single member of the Merrell team for their ongoing commitment to bringing their best selves to work—day in, and day out—even at a time of unprecedented challenges.
Athletic:
Hoka
Running Strong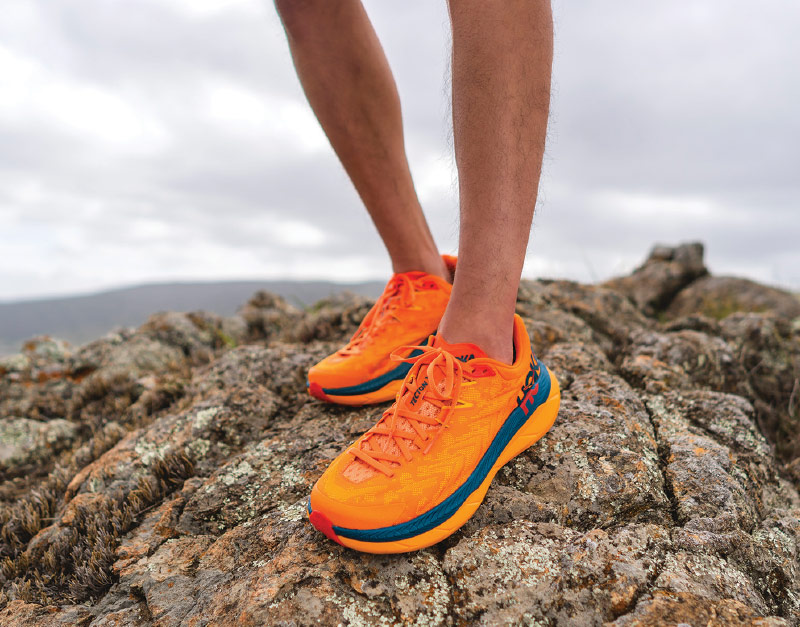 One of the world's fastest growing athletic footwear brands, Hoka made major strides in 2021, helping to propel parent company Deckers Brands to its largest quarter in history for it recent third quarter, which ended Dec. 31, 2021. Hoka's net sales for that quarter totaled $184.6 million, up 30.3 percent over the prior year, and the brand kept its foot on the gas, launching several new products in 2021 and inking a partnership deal that pays homage to its French trail running roots.
Hoka was founded in 2009 by two French runners who wanted to create a shoe that would allow them to run downhill faster. The original product, which featured an oversized outsole with a maximum amount of cushioning and stability, became a favorite among ultramarathoners. Acquired by Deckers Brands in 2013, the brand has since expanded its line to include hiking and lifestyle shoes while picking up millions of fans spanning elite athletes to average Joes and Janes hooked on Hoka's comfort and performance attributes.
Or, as Chris Cohen, vice president sales for Hoka, says, "We truly feel that everyone is an athlete, and we strive to empower everyone so they can see themselves represented in Hoka." —B.S.
Why might Hoka be well-positioned amid the so-called new normal? The pandemic has drastically changed consumer behaviors, particularly when it comes to health and wellness routines. People have shifted toward safer activities like cycling, running, walking and hiking, to offset their previous gym and yoga memberships. Hiking and running in particular have seen a huge uptick in sales and participation. For the month of July 2020, NPD reported that U.S. hiking footwear sales increased by over 15 percent compared to the previous year, which is remarkable considering the entire footwear market declined by 16 percent that same month. This upward swing in outdoor behaviors has only continued to grow through 2021. With Hoka's innovative and solution-oriented approach to product creation, our brand is perfectly positioned to empower this new surge in active people to fly over the earth, in whatever way or activity suits them.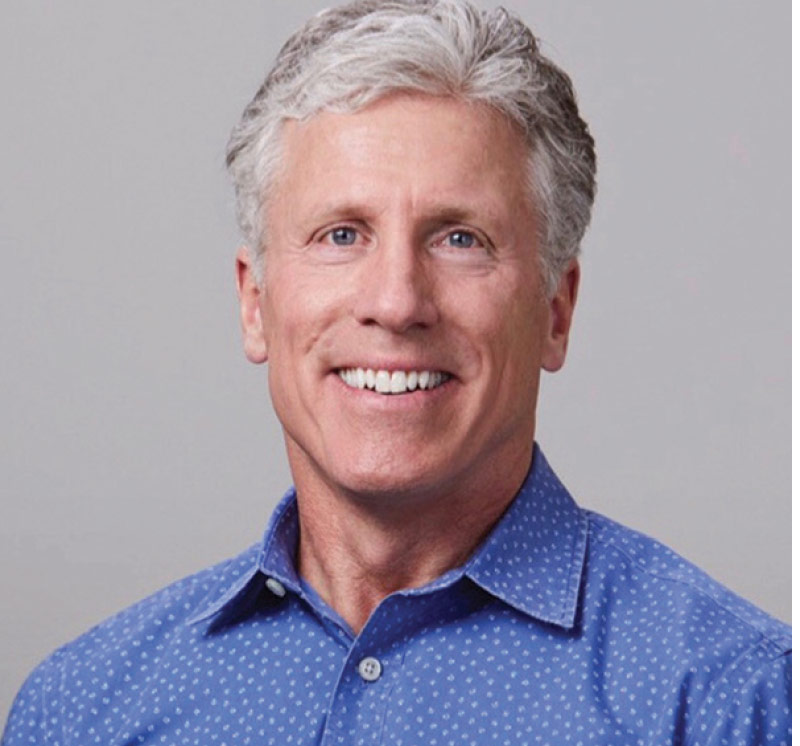 What were some key product highlights of the year? We were fortunate enough to have quite a few successful launches in 2021—from kicking the year off with the new Carbon X 2, the shoe that brought runner Jim Walmsley 17 seconds short of the 100K world record; to the launch of the new Clifton 8, one of our most popular road shoes; to the Bondi X, whose innovative approach to carbon-fiber plates reimagined the relationship between speed and cushion, making carbon accessible to a broader audience.
What were some other notable brand initiatives introduced in 2021? This year, Hoka announced a multi-year partnership with the Ultra-Trail du Mont-Blanc (UTMB) to become the iconic race series' official technical footwear and apparel sponsor. Hoka's role as presenting sponsor highlights the brand's ascendancy in the trail running community. Hoka was born in the mountains and has many meaningful and long-standing ties to Chamonix, France, where the event is based. We're honored and humbled to partner with UTMB under the unified goal of making the special sport of ultra-trail more accessible to athletes.
What was the biggest surprise of the year? Our continued brand acceleration across all access points was a welcome surprise. While we had planned for continued growth, the growth trajectory exceeded our expectations in all product categories. Beyond that, while I can't say it counts as a surprise, the manner in which our trade partners have adapted, consistently, has been great to see. Beyond that, the spirit of collaboration has been remarkable; we are clearly living and operating in unusual and unpredictable times, which has caused us all to become sharper in all we do, but none of it happens without strong relationships.
What was the toughest challenge in 2021 and how did you overcome it? The supply chain, as every area was impacted dramatically. These challenges included increased freight and cost pressures related to container shortages, port congestion and trucking scarcity. They all converged at once, creating significantly longer transit times as well as a greater reliance on air freight. Our teams and trade partners have had to be very nimble, as the supply picture changes almost daily. The last thing any brand wants to do is disappoint the consumer, which has required our field teams to be in constant contact with all partners, to ensure they are creating a reasonable expectation with their retail customers. Additionally, we've had to tailor our messaging, socially, digitally and otherwise to reflect the current reality of a dynamic supply chain. Beyond that, the willingness of Deckers to invest significantly in air freight has had a direct impact on the end consumer, as we've been able to mitigate longer transit times, ultimately getting consumers the product they desire in a more timely manner.
How would you grade your team on its overall performance navigating through such unprecedented challenges? I'm privileged to work with an amazingly talented team of people—from product to distribution, and all cross-functional partners in between. We're so proud of what everyone has accomplished this year. I believe that our team met every challenge head on, with optimism, drive and an overwhelming desire to succeed. The success we enjoyed this year was a direct result of that dedication and hard work.
Sustainability:
Twisted X
Green Dreams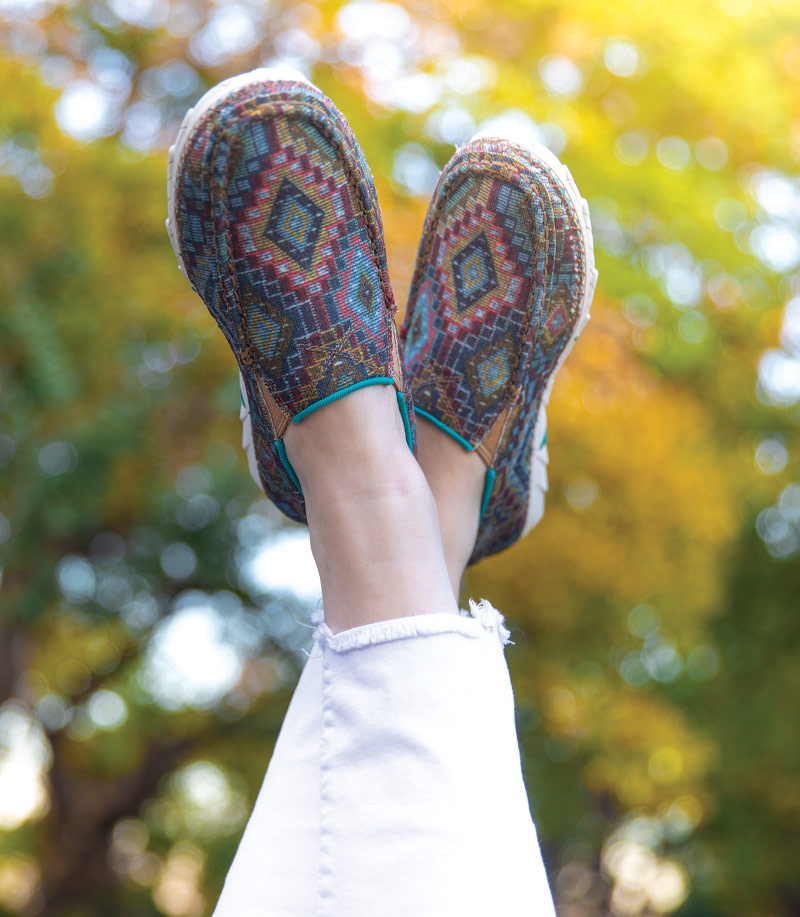 Twisted X intensified its commitment to sustainability last year while increasing production of its footwear, which includes western, lifestyle and outdoor styles and a rapidly expanding work category. The Texas-based company infused new sustainability initiatives into its products, technologies and company policies while working to stay ahead of its retail partners' growing demand for inventory.
CEO Prasad Reddy discussed the year's challenges and successes, as well as Twisted X's ongoing mission to help preserve the planet.
What were some notable sustainability initiatives introduced in 2021? We brought on Kristy Rosica, our first-ever sustainability strategist, to help set metrics to quantify Twisted X's carbon neutrality, which we achieved in all business operations worldwide as of 2020. In her role, Kristy has led efforts to quantify and communicate our long-term sustainability initiatives through yearly reports that aid in determining additional steps we can take to further reduce waste. This has included creating lifecycle assessments that track materials all the way back to their original sources to educate partners and consumers on the impact Twisted X is making on the planet. Kristy is also tasked with researching additional eco-friendly materials and processes to keep us at the forefront of innovation. The addition of a sustainability strategist was something unheard of for a company of our size, but the investment has certainly been worth it, and we encourage others to follow our lead.
Anything else? We announced our commitment of ensuring 100 percent of our products will have at least one sustainability element by the end of 2022. We also brought to market Blend85, which is our new footbed made of 85 percent recycled and upcycled EVA waste, and LeatherTWX, which is made of 80 percent scrap leather that would otherwise go into landfills. These were big accomplishments for Twisted X because not only are we reducing our use of new materials, but we are also reducing waste going into landfills. From creating new eco-friendly materials to exploring new techniques for construction, Twisted X holistically evaluates every step of our process to continue to create environmentally responsible footwear and production processes without compromising quality and performance. In fact, we have found that leveraging our sustainable materials makes for better footwear. Last but not least, we signed a collaboration agreement at the end of last year with renowned Texas artist and philanthropist, Olivia Bennett, to introduce a new collection coming to market in 2022 with a focus on sustainability, innovation and Twisted X's philosophy to be humble and kind.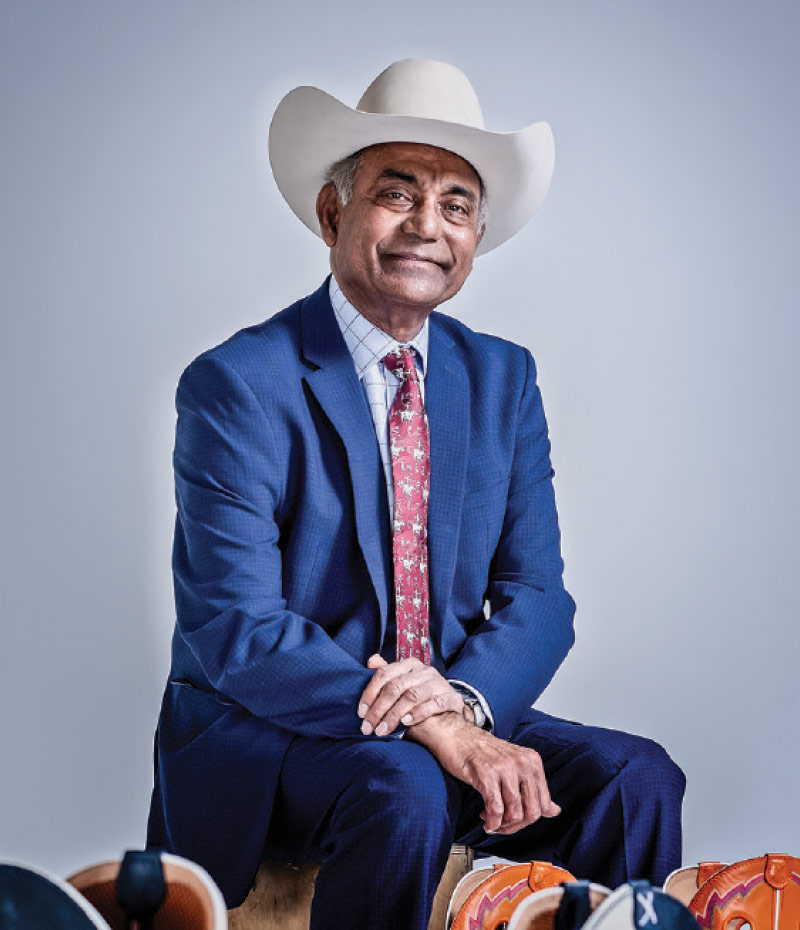 Green and good then, yes? Yes. And on that note, we opened a Tough Enough to Wear Pink Counseling Center in Decatur, TX, where our headquarters are located. Twisted X led the charge in bringing this counseling center to life alongside Wise Health System, committing $1.2 million to the flagship center. It's operated by Wise Health System and creates a counseling destination for those currently fighting and recovering from breast cancer.
What were some other highlights of the year? In 2021, we developed a patent-pending construction technique where our CellStretch technology now comes in a single sole, regardless of size. This technology was first introduced in our Tech X collection, which features traditional western styles with revolutionary comfort. Another highlight was the rapid growth of Twisted X Work. When the pandemic started, the agricultural, manufacturing, warehousing and trucking industries skyrocketed, and we saw an opportunity to increase the production and launch new lines specifically for these industries. Since then, our growth has been phenomenal in the category, and we're expecting that to continue in 2022.
What was the toughest challenge of last year? Supply chain. The unpredictability of Covid has been a pressing concern. Fortunately, it hasn't impacted our production or shipments. However, the congestion at U.S. ports and lack of container space has been a challenge for many brands. What used to take four weeks for products to arrive now takes about 10. At one point we had more products in transit—on the water or in between factories and warehouses—than we had in the warehouse. However, since we increased our production early in the pandemic, it has helped us greatly to ensure we've had enough products in our warehouse to keep up with demand.
How would you grade your team on its overall performance navigating through such unprecedented challenges? We have a very small team considering the size of our market presence. But I believe we have the best team in the industry, and quite a few of our peers have commented on our incredible progression over the past few years. I always say people make the company, and the growth of Twisted X is because of our exceptional team.
Women's Comfort:
Taos
Merchant Mindset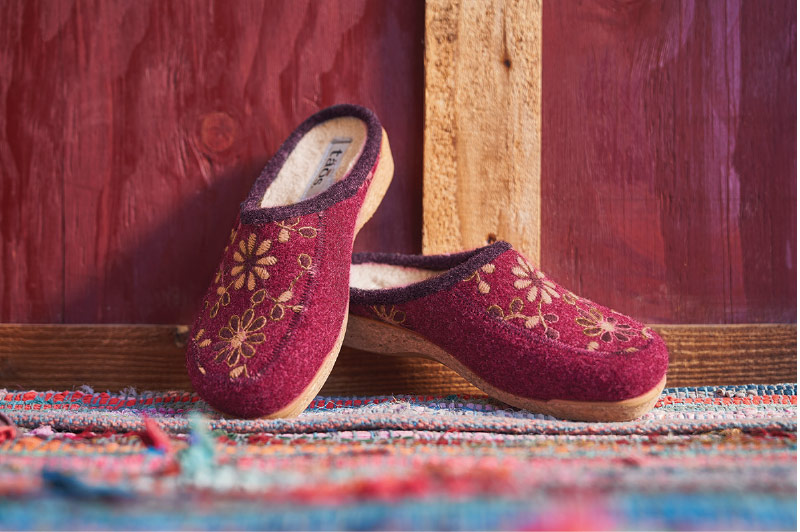 After 40-plus years of honing his craft, Glen Barad, president of Taos Footwear, has a pretty firm grasp of what categories will be meaningful for the comfort brand and its retail partners. And that currently spans sandals, canvas sneakers, classic boots, leather cup soles and wool—the five categories that fueled the brand's success the past few years. Sales in 2021 were up 10 percent over 2019, which Barad finds "pretty incredible," since a lot of fall inventory never arrived due to Covid-induced factory closures.
The success stems from picking the right categories, building them out and creating a strong Taos trust factor with retailers and consumers. "We try to identify trends that are going to have long legs," Barad explains. "I prefer not to chase things that might be dust in the wind or a flash in the pan. We focus on ones that we expect will be around for a long time, but we come in at the front end when people are just starting to embrace it." An example of getting an early jump was Taos' decision, 17 years ago, to focus on footbeds, which the then new brand uniquely introduced across a range of silhouettes. "Look at the market now: everybody has a footbed story, whereas back then it might have been one or two brands," he says. "We've put footbeds into different categories, and it's been working very well. I think we've a big hand in changing the overall look of the industry."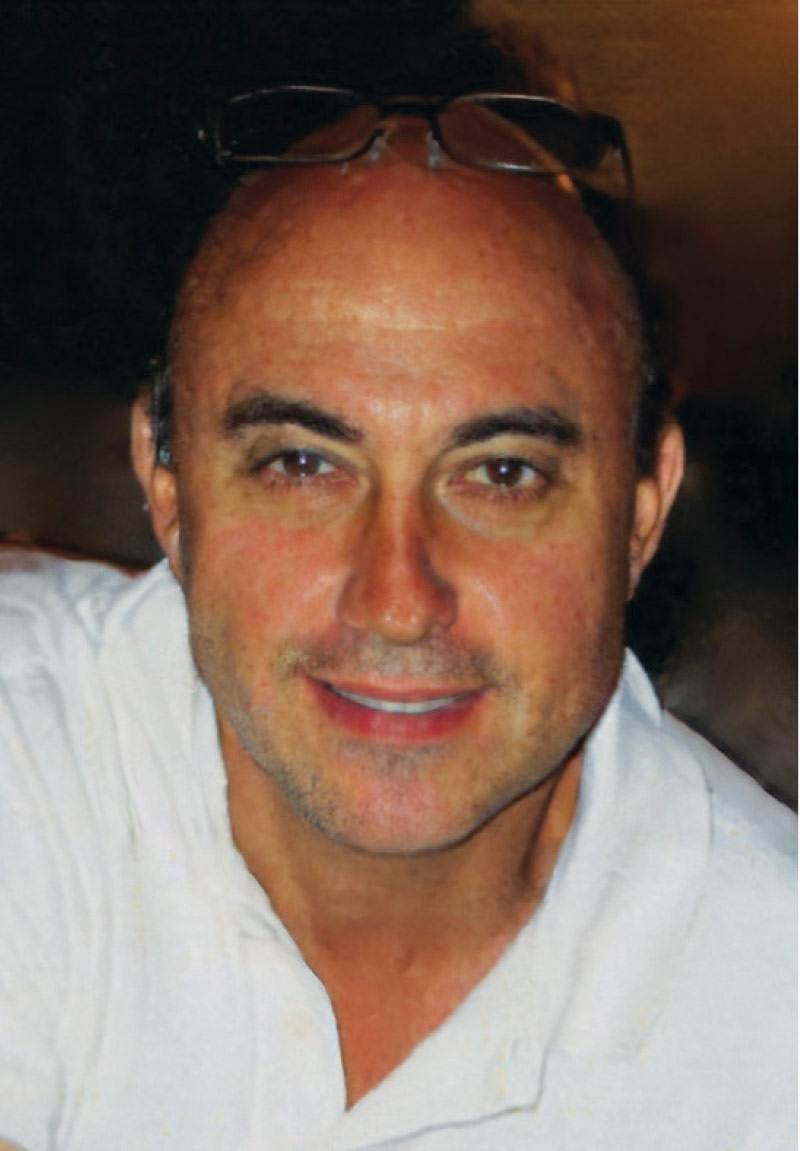 Wool styles are another success story. While Taos has been offering such styles for 15 years, it's been over the past three years that it has maximized the trend. "We've become more aggressive, and it's paying dividends for us," Barad says, noting the category had been regional until Allbirds helped introduce the material to a broader audience. It's just that Taos is hitting on a much broader range of wool styles than sneakers. "The more traditional, classic wool clog category is doing very well, and we source from Europe where they've been the experts forever," he says. "And then we've introduced indoor/outdoor wool casual styles that appeal to a much broader audience across the country. We've become the go-to brand for wool casuals in our distribution channel, and wool overall has become another very successful category for us."
Of course, you have to see the trend in order to seize upon it. And that's credit to Barad's good eye. "It's 40 years of going to school," he says. "And while I don't get up at 4 a.m. on Sundays to go to swap meets, or shop the malls until they close after a full day of work, those decades of studying the industry gives me a feel for the right trends." The exec adds, "I think we happen to be very good merchants, whereas it's often a case other companies throw a bunch of things against the wall and hope to see what sticks. Our track record on hitting on the right trends and categories speaks for itself."
Another key ingredient contributing to Taos' success amid the pandemic has had nothing to do with shoes, really. But it might be just as important, according to Barad. Namely: Taos cares about the well-being of its retail partners, and that's been reflected in its open and honest lines of communication throughout the crisis. "Our team communicated the good, the bad and the ugly with all of our customers," he says. "We tried to help them where we could. We let them know what we could and couldn't do. And I think they really appreciate somebody being upfront with them, versus don't pick up the phone, don't say anything and we'll communicate after the fact."
Above all, Barad says Taos' business is conducted with care. "We genuinely want to help our retailers succeed," he says. And while Barad believes this philosophy is rare in an increasingly DTC focused landscape, he's not changing tactics any time soon. "Even though it has probably held our numbers back on a macro scale, I think it's the reason we're so important to the better independent and specialty chains we work with," he says, believing that those ties will pay greater dividends in 2022 and beyond. "It feels like we've become true partners while overcoming the industry challenges together. If we can recapture the business we lost in 2020 and manage the supply chain issues, we should have a very healthy 2022."
Barad stresses that none of Taos' recent or future success is possible without its dedicated team of employees. Namely: Bill Langrell, Sylvia Jensen, Deepak Alag, Teresa Johnson, Karolyn Navarro, Don Fulton, Jennifer Kuo, Erica Heck, Ondrea Kurtillo, Rosie Cetina, John Zelayandia, Dianne Stevens, Mike Kasterko, Rob Capodici and Janet Sanchez. "These people are setting a tremendous example for the staff who've recently joined our company," he says. Yet Barad grades them a B+ in 2021. "They did extremely well, but I'd never give an A, no matter how well they did," he says. "There's always room to improve. We can never be satisfied; we're always figuring out how we can be better." —G.D.
Insoles:
Aetrex
Grand Scans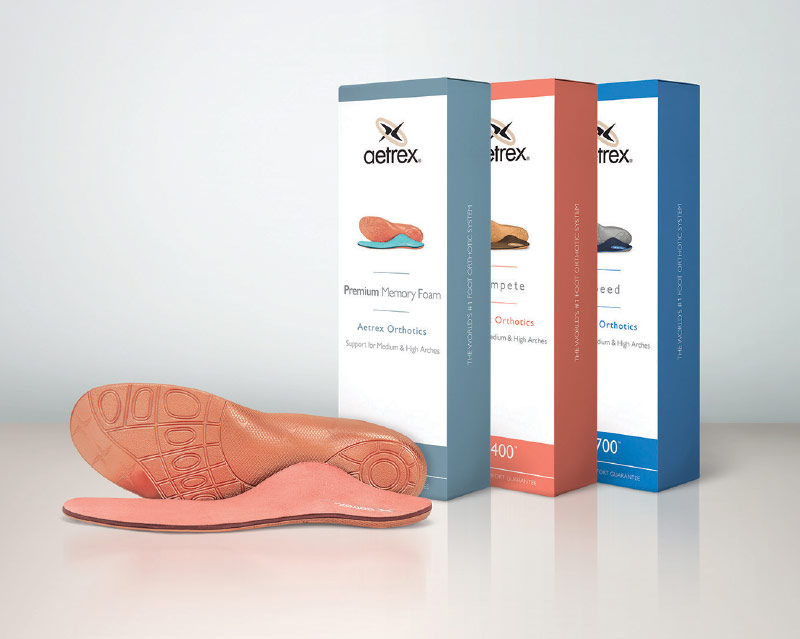 The growth of Aetrex's orthotics and footwear lines have gone hand-in-foot with the success of its cutting-edge foot scanning technology systems. Since 2002, more than 10,000 foot scanner devices have been placed with retailers around the globe, and last year, Aetrex began rolling out its next-generation in-store scanner, the Albert 2 Pro, to rave reviews and success.
Customers who step on the Albert 2 Pro, for about 20 seconds, receive 3-D measurements and pressure point analyses of their feet that can be used to custom-select orthotics and choose footwear that best fit their feet. Aetrex has sold more than 15 million units of its over-the-counter orthotics, which are available for all foot types and footwear styles and include 3-D printed custom orthotics that are created using data from the Albert system.
Matt Schwartz, chief revenue officer, discusses the Albert 2 Pro and how the third-generation, family business thrived during the second year of the pandemic with its all-inclusive scanning, insoles and footwear approach. —B.S.
How was business in 2021, all things considered? In 2021, we had record-breaking orders across the four main categories of our business: Aetrex-branded orthotics, footwear, scanning technology and DTC sales. During the pandemic, we never stopped working. We used it as an opportunity to advance our products and plant the seeds for significant growth in the next few years.
What were some key product highlights of the year? Our Aetrex-branded orthotics saw double-digit growth in 2021 versus two years earlier. In 2020, we developed the Albert 2 Pro, which represents the cutting edge of foot scanning technology, and in 2021, we were busy selling it. We booked an enormous amount of orders, and hundreds are going out on the market now, to a broad distribution of retail customers—running, workwear, outdoor, department stores and others. We have also opened up five freestanding stations in heavily trafficked malls, which are driving growth of orthotics and footwear while bringing benefits to consumers. People may be walking in the mall, and outside a Lululemon or an Apple store, they may see this high-tech station, where they can have their feet scanned, see where the pressure points are, transfer the data to their mobile device using a QR code and be introduced to orthotics and footwear digitally. We currently have it in five locations and plan to expand to more.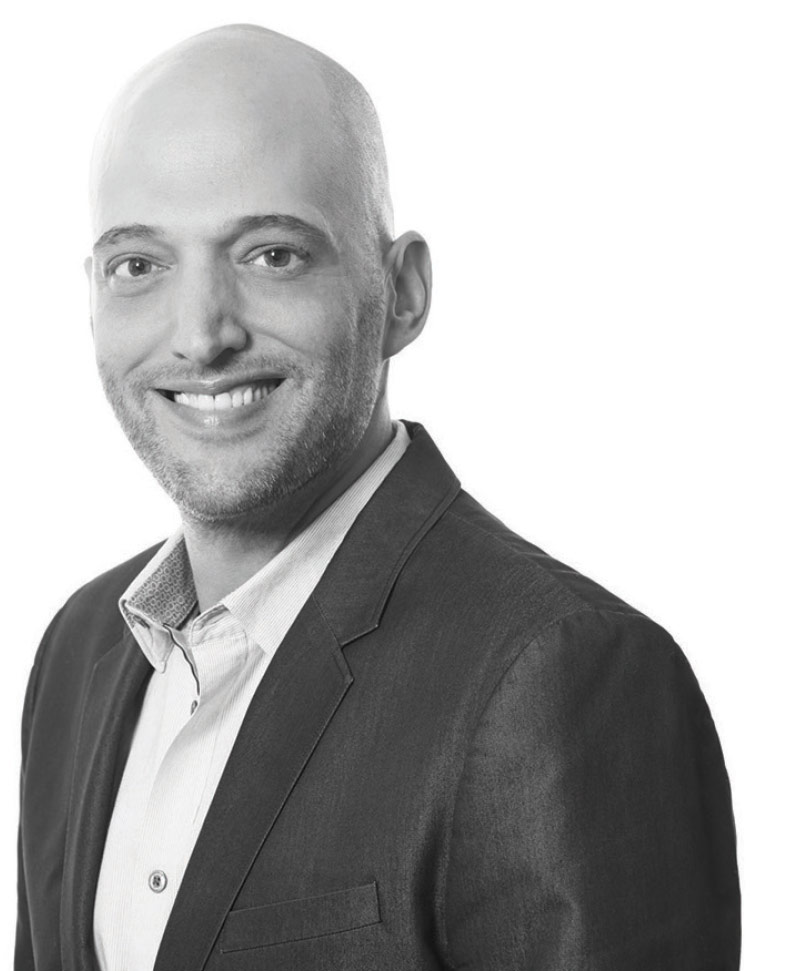 What were some other notable brand initiatives introduced in 2021? We launched FitGenius, which is part of our foot scanning technology program. Once customers get their feet scanned in one of thousands of stores, this platform matches their foot profiles with their ideal footwear styles and sizes to provide personalized footwear recommendations, which they can access across the retailer's digital shopping platforms after leaving the store. To understand the problem FitGenius is designed to solve, think about shopping for shoes online. You order shoes, but when you get them home, they don't fit right or feel good. FitGenius puts consumers in the position where, when shopping online, they can rank the styles they're looking for in terms of their ability to fit their unique feet. It's an incredible ecommerce experience that ties into our scanning technology and makes it less likely consumers will return the shoes they ordered.
What was the toughest challenge in 2021? The biggest challenge was procuring components for our scanning technologies. But because our purchasing teams around the world did a great job working together, we did not have significant issues and we were proud to be able to launch our scanning technology despite the unexpected supply chain problems.
How would you grade your team on its overall performance navigating through such challenges? A+. One thing we're really proud of over the last two years is that our management team united around a point of view of what's best for the business. We were able to appeal to the best in people and motivate them to exceed what even they thought they were capable of doing. Our people outperformed and our management teams did a great job leading. I'm proud of how much the team was able to produce and what they were able to accomplish during such challenging times. There is a lot of indication that in all the key categories, we're poised for significant growth. We're excited about what everybody accomplished to put us in a position to have this opportunity for growth.
National Chain:

N
ordstrom
Pop Rocks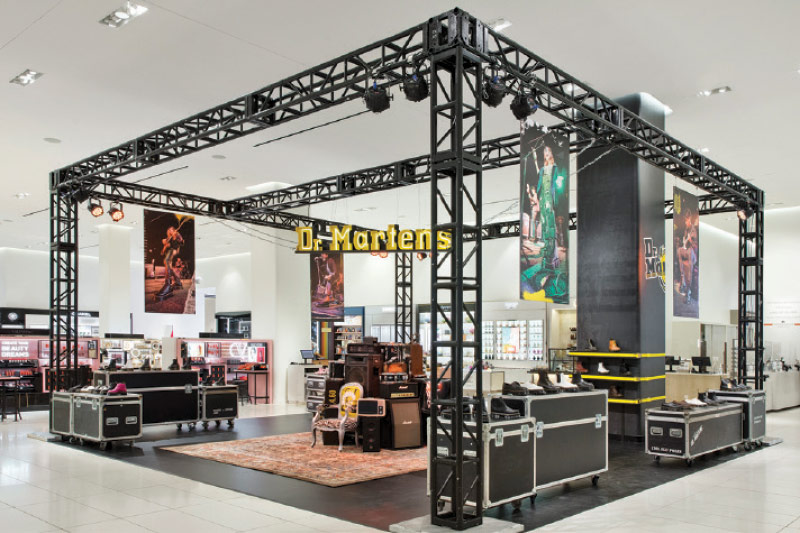 If you build it, shoppers will come. That's what Nordstrom dreamed up last year in an effort to bring shoppers back (safely) via enticing pop-up shops and selections. Two pop-up of note were Black Founders and Dr. Marten's, both installed at Nordstrom NYC flagship's Center Stage.
In celebration of Black History month, the Black Founders pop-up featured eight Black-founded/owned companies spanning beauty, apparel, accessories and footwear. Namely, Jessica Rich, an eponymous label launched in 2017 and worn by such celebrities as Kylie Jenner, Jennifer Lopez and Cardi B. The space had the look and feel of an archive, allowing shoppers to learn more about the brands. "We are committed to improving the diversity of the vendors we partner with, which will help us better serve the needs of our customers," stated Chris Wanlass, GM for Nordstrom's NYC Stores.
The Dr. Marten's pop-up ran last fall. The music venue setting—complete with trusses, stage lighting and graffitied furniture—was kicked off with a live performance by local band Sunflower Bean that was livestreamed on @NordstromNYC and @drmartensusa. Customers shopped an limited-release range of merchandise, including the new Audrick two-part platform collection.
On the business side, Nordstrom's Q3 sales rose 18 percent over 2020 and off one percent compared to 2019. Nordstrom comp sales in the Southern regions grew eight percent versus 2019 and outperformed the Northern regions. Comp sales in suburban stores continued to be stronger than urban areas in Q3. "We have long benefited from a commitment to customer service, new and compelling merchandise, innovative brand partnerships and interconnected digital and physical assets," stated CEO Erik Nordstrom.
Karl Moehring, CEO of Washington Shoe Company, gives high marks for Nordstrom's flexibility at adapting to the challenges faced in 2021. "They were understanding and a great partner," he says, noting the two Seattle natives have been partners for decades. "We took a very proactive approach in our communication to the buying team with updates regarding inventory and, in return, they were more accommodating to some of the inventory shifts due to shipping delays." Top sellers for the company at Nordstrom last year included Chooka's Eastlake Chelsea boot, kids' glitter boots from Western Chief and Staheekum slippers.
Another bright spot in 2021, noted Pete Nordstrom, president, involved  combining the art of merchandising with data-driven insights to put the right assortment in the right place at the right time. Nordstrom also expanded customer choice counts. Alternative partnership models beyond grew to nearly eight percent of sales, and the company's recently announced partnerships with Fanatics and ASOS will provide a broader assortment in new and existing categories, without an increase in owned inventory. —G.D.
Boots:
Dr. Martens
Keep on Rockin'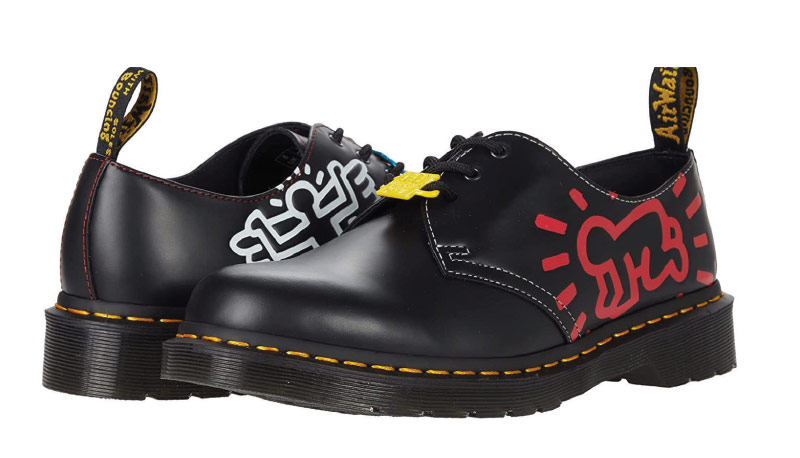 Classic, authentic brands that people trust have fared well during the pandemic, and Dr. Martens is no exception. A symbol of working-class pride and rebellious self-expression—not to mention a '90s fashion revival—fueled the brand's growth in 2021. Revenue rose 16 percent worldwide, driven by strong performance in the Americas.
The classics account for the bulk of Dr. Martens sales. Last year, the Originals line totaled 57 percent of revenue worldwide. Also of note: the debut of the Audrick collection, which paired classic uppers with the new Quad Neoteric sole (stands 1.9 inches tall and features a lightweight EVA midsole on top of a rugged PVC outsole). The brand also scored big with collabs. Partners included New York artist Keith Haring and Stüssy. Sustainability was another focus for Dr. Martens. The company set goals of net zero carbon emissions by 2030 and making all footwear from sustainable materials by 2040.
Here, two leading retailers offer their take on Dr. Martens strength in 2021.
Brian Burnett, senior vice president/GMM, Rack Room Shoes:
How important was Dr. Martens to your business in 2021? Super-important to our overall success. Dr. Martens helps validate to our customers that Rack Room Shoes has the best trend-right brands in the marketplace.
What were some popular styles? With the resurgence of the '90s trend, specifically starting with combat boots, then the Chelsea boot and now to elevation, we saw the Dr. Martens' DNA was a winner.
How has your Dr. Martens customer evolved over the years? From a teen/young-20ish woman to a more fashion-oriented, spirited customer, where age nor gender defines them. They're also certainly more young at heart, and parents introducing the brand to their kids. Customers today just want to be trend-right, which allows for more Dr. Martens to be a part of many closets.
What are some other reasons fueling Dr. Martens' success? Dr. Martens is an authentic, iconic heritage brand that customers know and trust, which has emotional and nostalgic ties.
Janice Abernethy, president of Abbadadda's, Atlanta:
How important was Dr. Martens to your stores' business in 2021? It was our No. 3 brand in our three stores combined. Sales were up 12 percent over 2019 and 26 percent over 2020.
What were some popular selling styles? The Jadon, 1460 8-Eye Smooth, 8-Eye Greasy Leather and Pascal 8-Eye Women's—all in black.
How has your Dr. Martens customer evolved? Docs used to be more associated with a fringe, punkish consumer. Now it's quite mainstream, and it's gotten younger, appealing to the Forever 21 crowd. Docs has always sold well, but the '90s look is coming back, and that's certainly helping fuel its success.
Slippers:
Ugg
Slipper Heights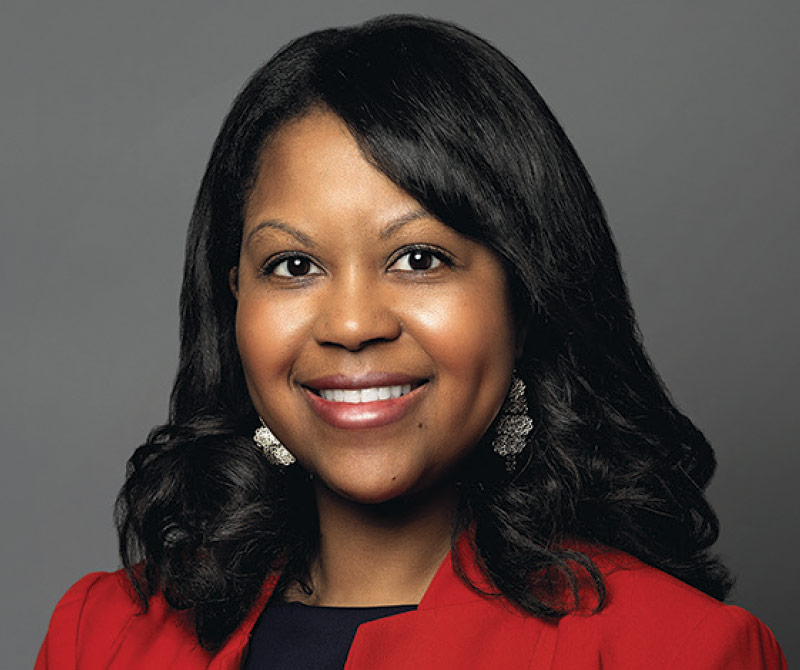 With people working remotely in droves and generally staying closer to home the last two years, Ugg's slippers have found their way onto more and more feet. The numbers do not lie: "Based on pre-pandemic global slipper sales in 2019, the category increased by 99 percent in 2021," notes Carole Diarra, vice president of marketing for Ugg, a division of Deckers Brands.
And it wasn't just slippers. In keeping with the pandemic-era trends toward comfortable, casual clothing and classic brands, the Ugg brand experienced an 18 percent global sales spike across all channels and divisions from 2020 to 2021, according to Diarra, who discussed some of the banner year's greatest hits. —B.S.
What were some of the key highlights of the year? Our newly launched Tazz platform slipper proved to be a megahit with consumers and celebrities. Seen on the fashionable feet of "it girls" and models like Gigi Hadid and Elsa Hosk, fans have taken to TikTok to showcase how they wear their Tazz mules—a social media sensation Ugg has seen with the iconic Classic Boot in the past. The Lyst even named the Tazz the No. 10 hottest women's style for Q4. A maximalist take on the timeless Tasman slipper, the Tazz refreshes the familiar silhouette with a 1.5-inch platform sole for boosted cushioning and style. Crafted from the same rich suede as the original, it's lined in our signature Uggplush wool blend.
We were also very excited to continue working with Telfar, with whom we announced our collaboration in 2019, and to launch our collaboration with Denim Tears last month.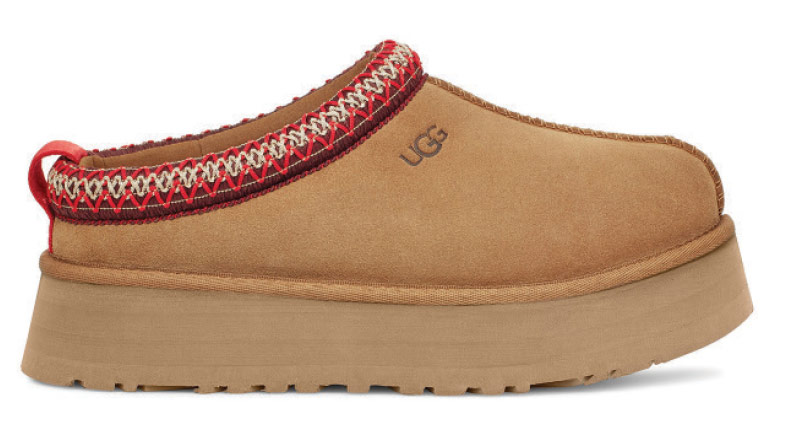 In addition to great product, what were some other notable brand initiatives introduced in 2021? As a part of our sustainability-focused "Feel Good" platform, we launched our Uggrenew Classic Boot refurbishment program. The brand's surveys have shown that most of our customers wear their Classic Boots for years, and UGGrenew allows them to love their boots even longer. To make this happen, we have partnered with NuShoe, a premium shoe repair company, to offer three levels of dedicated service costing $40, $60 and $80. Continuing our journey toward a more regenerative world, UGGrenew is dedicated to extending the life of our customers' favorite boots, restoring them by hand with authentic and unparalleled Ugg materials.
What was the biggest surprise of the year? When we announced our collaboration with Telfar in 2019, we knew the brand had an immensely loyal fanbase, but we were pleasantly overwhelmed with the positive consumer response and unwavering fervor for the collection. (As part of the collaboration, Ugg has adapted various products, including several slippers, with the addition of Telfar's signature "TC" monogram.)
How would you grade your team on its overall performance navigating through such unprecedented challenges? A+. We always must remember that there are always going to be hurdles to overcome, but it's how the team addresses and tackles a challenge that matters.