Brand of the Year • Women's Comfort
Birkenstock
Let's Get Radical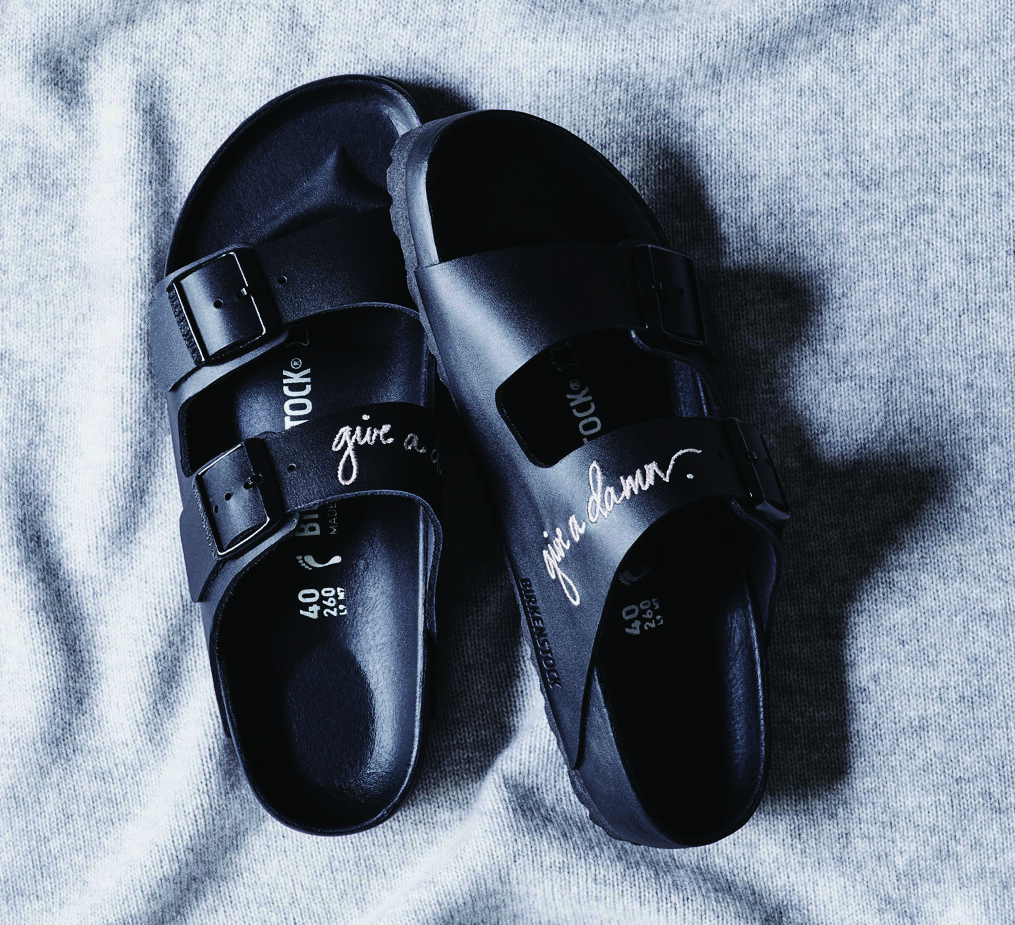 Rather than freak out or call time out, David Kahan, CEO of Birkenstock Americas, says that once the pandemic hit the company instituted a "radical acceptance" management approach. It's a psychological term that basically means "deal with it."
"Rather than waste eight to 10 weeks wondering what the heck was going on, why is this happening, everything is so bad…blah blah blah, we owned the situation 100 percent and decided to do all possible to turn the crisis into a unique, maybe once in a generation, opportunity," Kahan says. "We doubled down with our best retail partners and those who respected the brand; didn't panic; kept our imports on track so that we could capture the demand and support our partners; and didn't hide—we made sure our sales team stayed very active and visible, even if working remotely, with all accounts. We also held very direct top-to-top meetings with all the majors and shared with transparency our direction."
One thing Kahan says Birkenstock didn't do was pivot, arguably the business word of 2020. In fact, the word was taboo at team Birkenstock. "The pandemic was a business interruption, but never did we believe our brand was interrupted," the exec explains. "As a matter of fact, we chose to embrace our brand DNA more than ever before."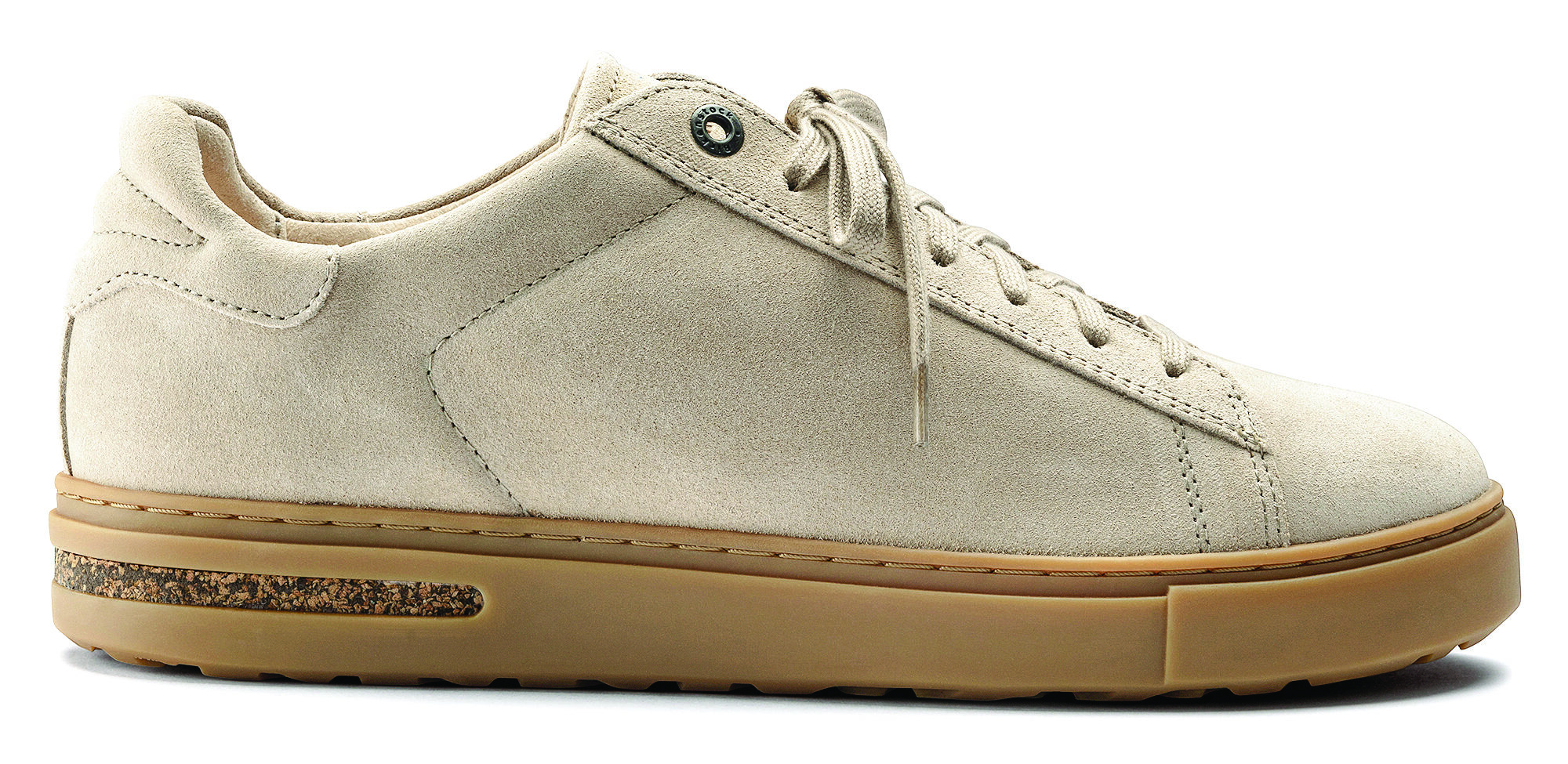 For starters, Kahan says the Birkenstock's brand attributes already aligned well with the macro shifts brought on by the pandemic, like comfort, casual attire and work-from-home shoes. "While many brands ran to try to be those things, we were termed the 'official work from home' shoe by never trying to be that," he says. "Anyone can do comfy, squishy slippers, but functional comfort from a brand with our heritage is something no one else can do." Indeed, authenticity was another key factor to the brand's success last year. "At a time of uncertainty, we believe people seek experiences, products and brands that give them a sense of certainty. Add to this a political climate filled with chaos and what many call fake news, and people seek what they know to be real," Kahan says, noting that Birkenstock global CEO Oliver Reichert described this time as a zeitgeist period for the brand. "I believe he is absolutely correct." 
As for notable styles in 2020, Kahan singles out the shearling collection and Zermatt slippers as big winners, which sold out before Holiday season kicked in. The Bend sneaker was another quick sell-out, and offers what Kahan describes as the "holy grail": the feel of Birkenstock in a closed-toe silhouette. "Look for us to expand dramatically in clogs, closed-toe footwear and warm Fall/Winter styles that take us 'off-road'," he says, noting that within the next two years that selection is expected to exceed Spring/Summer sales. Another bright spot in 2020 was collabs, like the one with Stussy, an understated corduroy suede upper take on the classic Boston clog, and Lingua Franca "Give a Damn" Arizona sandal mash-up that dropped on the heels of the presidential election with its timely message—and sold out immediately.
More than staying the course and registering strong growth for the year, Kahan is equally proud of having not furloughed a single employee. It helps to have a strong global leadership team—one that he says acted swiftly to ensure consistency and mitigate the near-term challenges to production and supply chain. "I'm very proud that we never compromised our brand equity or the well-being of our team," he says. "To me, 2020 created the foundation for the next five to 10 years for us."
As satisfied as Kahan is with Birkenstock's performance in 2020, there's still plenty of runway ahead for the brand, and the team is committed to attaining those goals. But one of his priorities is making sure it does so without crashing and burning amid the effort. "We are making sure, since our team has been engaged 24/7, that we stress personal balance and wellness," he says. It involves a blend of self- and business-development, which includes employee access to a library of online courses via LinkedIn, Zoom yoga classes, special guests on employee group calls and, most recently, paid time off to volunteer. "It's great if you bat .300 in the Major Leagues, but why be satisfied unless you hit when runners are in scoring position and also earn a Gold Glove," Kahan offers. "The team's performance has been incredibly high, but to become what we know we are destined to be, we can't be satisfied."
Along those lines, Kahan believes Birkenstock's momentum is only just beginning, and 2020 just reset the foundation on top of its past nine years of record growth. Still, 2021 will be no picnic at retail. Until life gets back to a true normal, he expects traffic in stores will remain a struggle. But better days lie further ahead. "We think post-pandemic, there may be a resurgence in local shopping," Kahan says. "People miss the level of service and interaction, and we believe this will return strong. It may not be until 2022, but those who can ride this until then will benefit."
Kahan also believes the chasm between footwear "labels" and authentic brands that possess an emotional consumer connection will only grow in importance, and the share of wallet will continue to shift dramatically to those brands. The fact that Birkenstock and its 247 years of heritage also happens to be a comfort brand promoting proper foot health only adds to its future potential in a post-pandemic landscape. "People are embracing self-care and wellness more than ever," Kahan says. "Things that are real and that give them comfort, both physically and emotionally. That is who we are."
Company of the Year • Children's
Skechers
Pivot Prowess
Coming off a stellar 2019 when Skechers hit record annual sales of $5.22 billion (paced by four record quarters), CEO Robert Greenberg says the company began 2020 "like a rocket full of momentum, firing on all cylinders." But then the world just stopped, and achieving record growth was no longer the company's top priority. Trying to adapt to a world turned upside down by the pandemic became job No. 1. 
"We doubled down on product development and focused on offering the right product at the right time," Greenberg says. "We all faced a new normal of doing business—and living. I'm proud of the entire Skechers team for the flexibility in quickly adapting to this new reality."
A key aspect of that was the massive, behind-the-scenes efforts that kept goods coming to market amid unprecedented supply chain disruptions. Skechers managed the flow of inventory to open markets, fulfilling demand on must-have products for consumers. The ability to do so drove growth in key regions in the second half of 2020, including most recently in the fourth quarter when international wholesale business achieved 2.5 percent sales growth, led by a 29.7 percent increase in China, as well as double-digit increases in Chile, United Kingdom, Germany and Spain, among many others. Not to be deterred, Skechers also opened a new logistics center in Colombia in 2020, added a distribution center in the United Kingdom to service the region in the post-Brexit environment, remained on tract to fully automate its new 1.5 million-square-foot China distribution center by mid 2021, and continued work on the expansion of its North American distribution center, which will bring it to 2.6 million square feet in 2022.
On the consumer-facing side of things, Greenberg cites a brand that people could trust—one that offered both comfort and value—as leading the way. "Comfort has always been part of our story, so we were positioned to deliver what our consumers were looking for when they needed it most," he says, noting the second half of the year saw many improvements, and even growth against the records set in 2019. But, through it all, Skechers readied itself for the reopening of markets. "The fresh product we delivered contributed to our successes in many markets that reopened earliest—from China and Germany to our own ecommerce platforms in the United States and around the world," he says.
Michael Greenberg, president of Skechers, cites two particular comfort stories that resonated strongly with consumers in 2020: Max Cushioning and Arch Fit collections. The former features maximum-cushioned midsoles that span performance running styles to hikers, casual boots and slides. While Arch Fit is highlighted by a removable, supportive insole system that helps mold to the foot to reduce shock and increase weight dispersion. "Our consumers want comfort and familiarity, especially those working from home and essential workers," he says. "We're a natural and trusted choice as comfort is the cornerstone of our product." Greenberg adds that collabs were another highlight of 2020, citing buzz-worthy ones with renowned muralist James Goldcrown and animated characters Line Friends and BT21.
Speaking of children's styles, Greenberg says parents look to Skechers broad range of kids' collections for durability, comfort and quality, plus that signature fun factor that it delivers best. And now many styles are machine-washable, which makes care easy and convenient. "Styles featuring familiar kids' brands and characters, like Dr. Seuss, offered more exciting options than ever for boys and girls of all ages," he says. "From our innovative lighted shoes to rugged outdoor styles featuring waterproof and water-repellent designs to lightweight athletic sneakers perfect for playtime, kids love wearing Skechers." As with the entire Skechers line, Greenberg says the combination of enhanced comfort technologies and casual styling is the recipe for success and what consumers craved in 2020. "We have a history of delivering quality and value, and athletic lifestyle footwear is one of our leading product categories," he says.
Another key to Skechers' success in 2020 involved its ability to pivot to online and other less contact forms of shopping. The efforts paid off handsomely, according to COO David Weinberg. "This resulted in triple-digit growth in our company-owned ecommerce platforms for the year," he says, adding, "To enhance the customer journey and to further create synergy with online, we added BOPIS (buy online, pick-up instore) and BOPAC (buy online, pick-up curbside) at most of our 500 domestic Skechers stores. We are now completing the update to our point-of-sale system to better connect within our ecommerce channel, and we're finalizing enhancements to our loyalty program, both of which we believe will further improve our omni-channel offering." Weinberg adds that Skechers' ecommerce channels are only expected to grow, and the company is planning to launch new sites across Europe and South America in the coming year. "This will provide both a better brand experience for consumers as well as a new sales channel for Skechers in many regions," he says.
The ability for Skechers to adapt and thrive amid a most challenging year is what Robert Greenberg is most proud of in terms of the company's performance in 2020. And while the ability to pivot on a dime is something Skechers has always excelled at, this year took that to a new level. "Our ability to navigate the last 12 months is a testament to the hard work and flexibility of our entire team," he says. "When most retail stores around the world closed last spring, we doubled down on ecommerce and consumers responded, which illustrates how much they wanted the comfort and style of Skechers even when working at home…even when they couldn't buy our shoes at their local store."
Asked what the biggest takeaway from 2020 is, the CEO says, "Expect the unexpected isn't just a cliché. Contingency, preparation and flexibility defined our success navigating the logistical challenges faced by all businesses globally over the last year."
Boutiques
Market Street Shoes
The Ties That Bind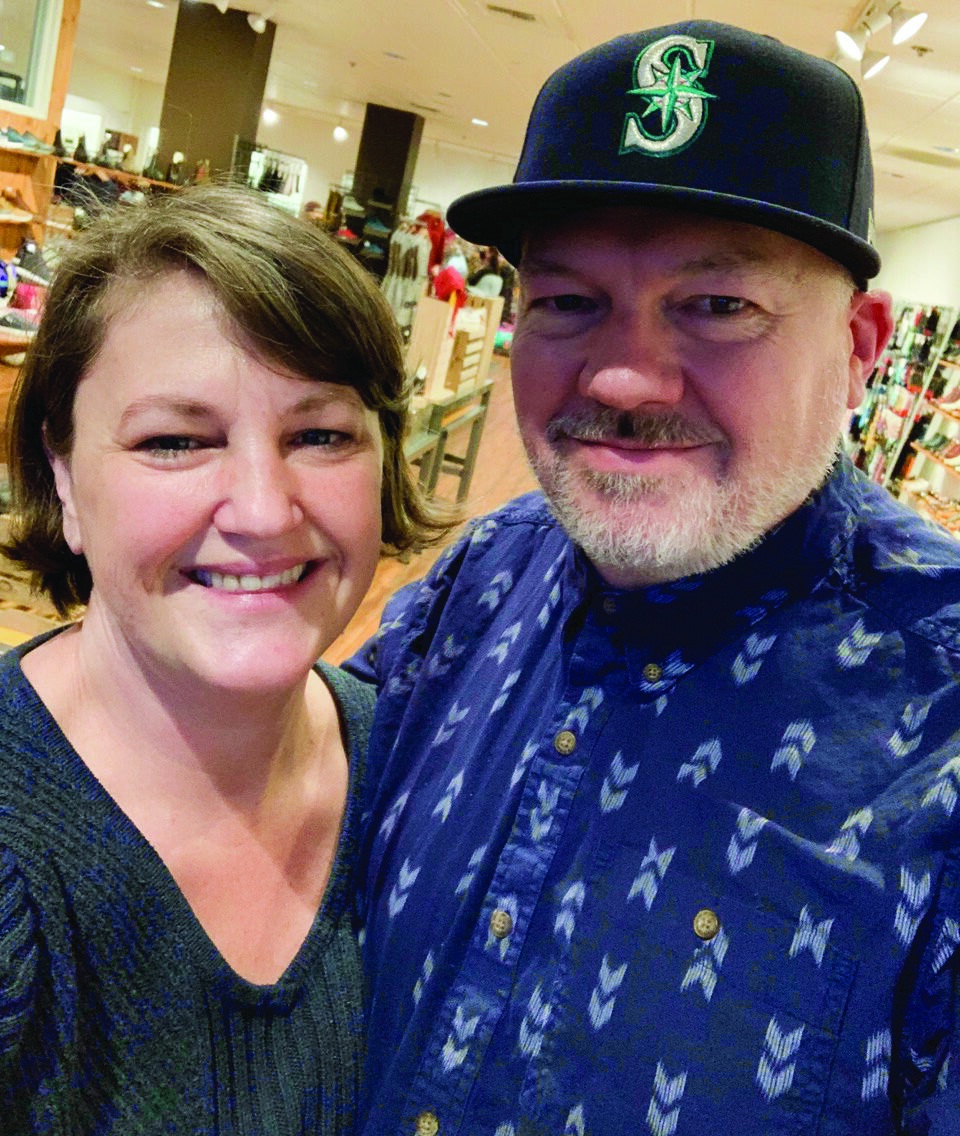 When the nationwide closure of stores took effect in mid-March, there was no pandemic playbook retailers could turn to for guidance. All bets were off on adhering to previous business principles, no matter how dearly they were held before the crisis hit. Case in point: Seattle-based Market Street Shoes and its decision to sell online.
Ryan Stauffer, co-owner of the two-store chain (the other is in Redmond, WA), says going digital was not easy. For starters, he and his wife, Lanne, are brick-and-mortar purists, which spans unparalleled service, selection and community outreach. The Stauffers are all about the in-person shoe shopping experience and building genuine relationships with customers, and have excelled at doing so since opening in 2006. "We've been vocally opposed to selling online and are very ardent believers in brick-and-mortar retail—to this day—but the pandemic forced us to rethink our position," he says.
At the onset of the pandemic, the Stauffers vowed to their crew to not lay off a single employee and would "hunker down and make it through this mess together." However, once they realized the pandemic was going to last for months, they needed a new revenue stream—fast. "With our team of 25 safely quarantined at their respective homes, we set out to build a website together over Zoom, text and email, and went live the last days of March," he says, adding that the site provided much more than a financial life line. "Our online sales were hugely important, not only from a sales standpoint (the channel accounted for 10 percent of overall sales in 2020), but also from a team building and bonding standpoint. It helped create a sense of purpose and belonging with our crew, and a source of pride when we launched."
n addition to adding an ecommerce site, the Stauffers increased their stores' social media presence and email communication with customers. Community partnerships also became an even greater focus as the need in the stores' respective communities grew exponentially. A highlight was the Black Friday weekend fundraiser that raised $12,000 for Labateyah Bridge Housing Program, a long-term partner of Market Street Shoes that serves homeless youth. "We set out to raise $8,000 for 25 new mattresses, but had such an outpouring of support that it allowed us to purchase new bed frames as well," Stauffer says, citing the generosity of Tuft & Needle, who offered a substantial discount on the mattresses and making it possible to purchase the frames too. "We did a tremendous amount of fundraising for established partners, but also for new partners in the community that felt near and dear to us as well," Stauffer adds. "We spent a great deal of the year serving our most vulnerable community members, having given away over 600 pairs of shoes to folks in need." Much of that was made possible through the support of vendor partners that either donated product outright or offered extremely discounted goods. "Teva, Hoka One One, Yukon Trading, Laurevan Shoes…were all quick to jump in and continue to offer support in that way," Stauffer says.
Extensive community outreach efforts coupled with top-notch customer service (in-store and online) leads to strong customer loyalty—another key factor fueling Market Street Shoes' success in 2020, according to Stauffer. "We have a very loyal customer base who've demonstrated an outpouring of support during these challenging times," he says. "It created a really beautiful symbiosis where it felt like the more we tried elevate our commitment to service the more our customers sought to help us weather the pandemic."
And just what did those loyal Market Street Shoes customers buy in 2020? Blundstone, Dansko, Birkenstock and Hoka One One were top-sellers. "Consumers were seeking out quality, comfort and function, and those brands really identify the categories that were strong for us," Stauffer says. Slippers was another bright spot. "Our Haflinger sales grew 56 percent over the previous year, and 'home shoes' have become the new category from our many of our vendor partners as we look at future seasons."
In the near term, Stauffer is "super optimistic" and "excited to crush our 2020 numbers" this year. "We have a great team that has been through an historic moment in time together, and the bond that has been created between us is something that can't be taught or bought," he says, noting he would give their dedicated crew an A+ for its performance this past year. "We feel very lucky to have the crew that we do, and that they were all so willing to take on all of the new challenges—from our quarantine days to the phased re-opening, which started with curbside pickup and gradually see-sawed its way to the 25 percent capacity phase that we are currently operating under, to building our website and all of the layers that come along with that—like packing and shipping—and the handwritten thank you notes included with each sale."
There was no pandemic playbook, but the Stauffers were writing one as the year wore on. As for key takeaways from an unforgettable year, Stauffer cites the support from the community was humbling and the growth and development of the team as immeasurable. And while the Stauffers are thankful 2020 has finally passed, the trials and tribulations endured only proved that their bond is stronger than ever. For Stauffer, that was the biggest takeaway: "That Lanne and I value each other as partners, in life and in business, and with the knowledge that our hearts are in the same place with regards to how we serve our whole community."
Boots
Ugg
ChUGGing Along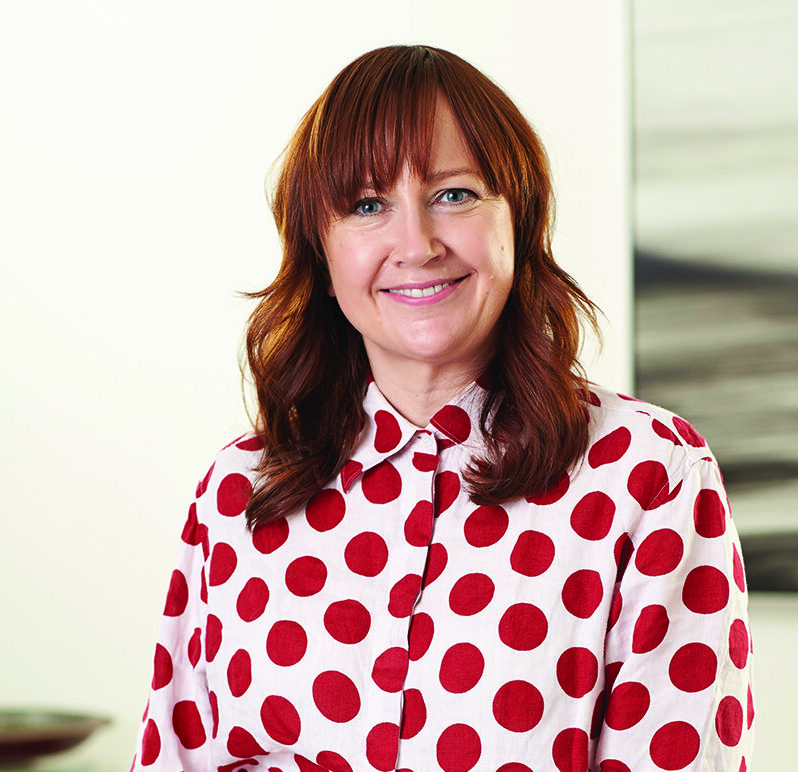 As 2020 dragged on Ugg was one of the few brands that bucked the downward sales spiral and, instead, continued to gain momentum. After a slight uptick in second quarter sales, the brand caught fire in the third quarter, when its sales spiked 12.2 percent, year-to-year, to $876.8 million and leading the charge for parent company Deckers Brands' record third quarter sales of $1.078 billion. The brand synonymous with cozy comfort saw consumers return to old standbys as well as embrace some of its latest offerings.
Andrea O'Donnell, brand president, cites its Classic boots franchise as having played a starring role in 2020. "There was tremendous excitement around the new Classic Ultra Mini (featuring a lower shaft height and flexible sole) and waterproof Classic Clear rain boot," she says. "We've been very excited to see the Classic Ultra Mini on numerous It girls over the past couple months—Kendall Jenner, Kaia Gerber and Hailey Bieber are just a few that come to mind."
On the marketing front, Ugg launched the "Better Together" initiative in April that saw the donation of more than $1 million in funds and products in support of Covid-19 relief efforts. Also of note, O'Donnell says, was the brand's sponsorship of the Hammer Museum's Made in L.A. exhibition in conjunction with the September debut of its "FEEL ____" campaign, a celebration of creatives who tell personal stories about their lives, their work and what fuels their creativity. Ugg worked with two of its artists, Mr. Wash and Sonya Sombreuil, on two short films that highlighted their work and celebrated their freedom of expression.
In addition, for the fourth consecutive year, Ugg hosted its "PROUD Prom" with Pacific Pride Foundation last February at the brand's California headquarters for the Santa Barbara LGBTQIA+ youth, which simultaneously acted as its #UGGPRIDE campaign shoot. "Having to pivot due to the global pandemic, we took the celebration online with campaign star, actor and activist Tommy Dorfman," the exec says. "The digital event was a silver lining in 2020, and I'm so proud of all the teams that help make it possible."
Speaking of the Ugg team, O'Donnell gives them an A++ for its performance in 2020. "Last year was very difficult in so many ways, but my team handled business on a global level while also navigating everything in their personal lives effortlessly and with the utmost grace," she says. "I'm very proud of them."
Asked what was the biggest takeaway from 2020, and O'Donnell says brands with purpose and a strong foundation will persevere. "We possess an authentic heritage in all our categories—from our Classics to slippers," she says. "It was therefore expected that in a work-from-home capacity we would see more business come in, and Ugg was able to provide much needed comfort during these times like no other brand can."
Comfort Specialty
V&A Bootery
Trust Factor
V&A Bootery has been a shoe shopping destination in downtown Kalamazoo, MI, (with an outpost in nearby suburb of Portage) for 98 years, and while the pandemic surely caused a slowdown in store traffic in 2020, its customer loyalty runs deep. Dan Van Dis, president and fourth generation family member, credits locals for making it a successful year, all things considered.
"In our wonderful community of Kalamazoo, there's an amazing pride in patronizing local shops, and the pandemic really showed that to us,"
Van Dis says. Of course, V&A Bootery's reputation for offering top-notch service and an enticing selection also played key roles. "While in-store service has traditionally been where we excel, with less customers coming in, phone calls and online inquiries became more important," he says. In that regard, Van Dis says V&A Bootery was able to pivot its selection to meet the needs of the rapidly evolving new normal. "Everyone's lifestyle was a little different during the pandemic, but they needed either athletic shoes, hiking boots, work boots and footwear for around the house," he says. "We beefed up those casual inventory areas and let the dress items go. We saw those 'need' items grow and thrive, while the 'want' items did not sell."
Brand-wise, that translated to a Who's Who of comfort all-stars. "We had a great year in the athletic category with On Running, Hoka One One and New Balance leading the way," Van Dis says. "Birkenstock had another stellar year, too, and Keen and Keen Utility both had excellent years. We also continued to have success with Euro comfort lines, like Ecco, Rieker, Taos and Dansko."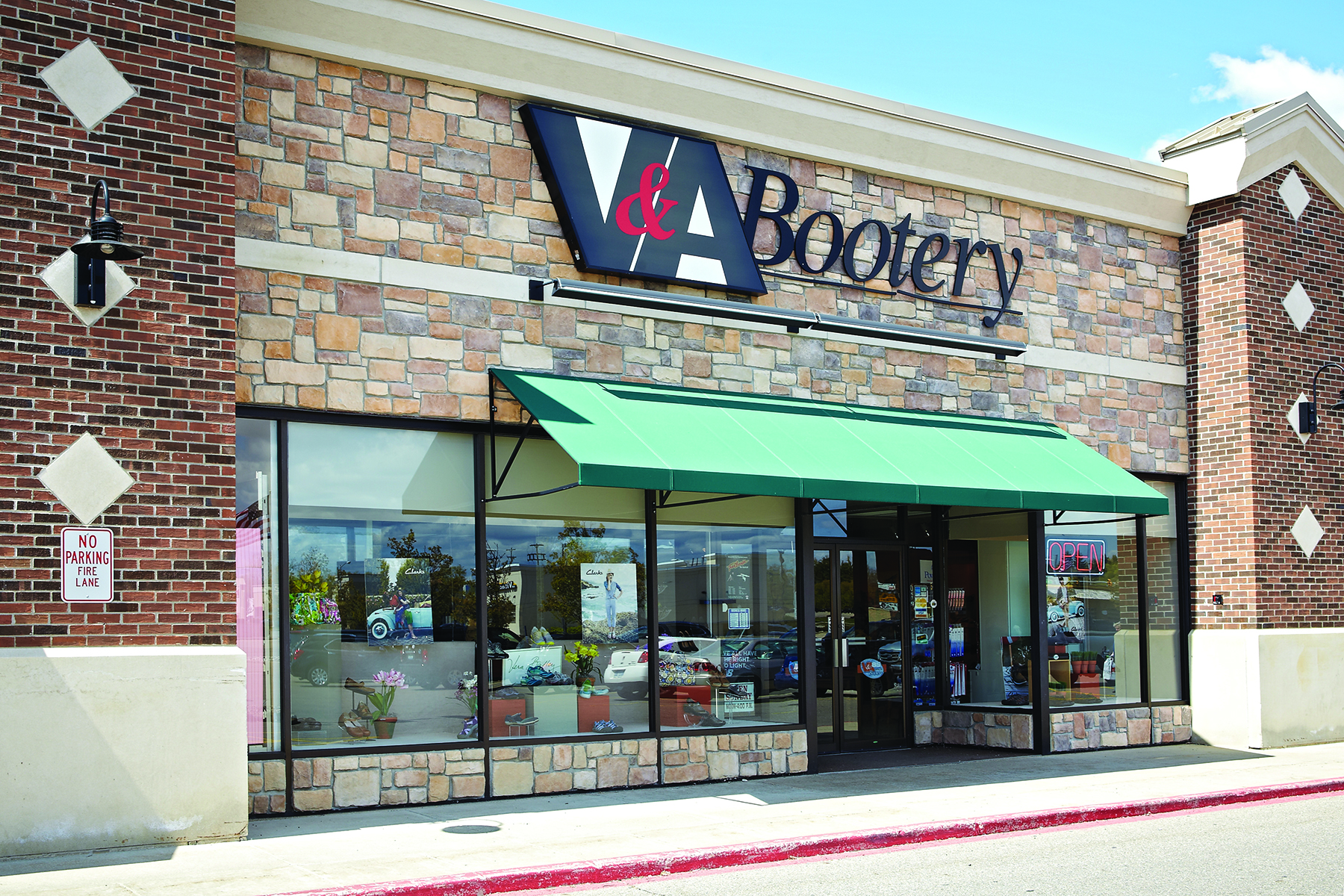 But the success of V&A Bootery in 2020 was no accident, nor was it easy to achieve. "We were committed very early to surviving this pandemic," Van Dis says, noting its leadership team, that includes his father, Bill Van Dis, CEO, and Jeff Gibson, senior vice president, immediately developed a plan to adjust incoming orders, markdown seasonal inventory and to prepare the sales floor for the new normal. "We relied on our key vendors, loyal customers and our great employees—and our 98-year heritage helped us a lot," he says. "Over those 98 years, we've become a store that local people have come to trust. Whether it be providing a great product with top-notch service or simply providing a safe environment to shop, that trust from our customers was so important, but that trust did not come overnight."
Perhaps above all, inventory management was a key to survival. Dead stock had to be marked down, while hot sellers needed to be reordered aggressively. And because several vendors experienced stock shortages in key styles,
Van Dis' team had to look around for a few alternatives. "Sometimes it was buying a new category from a vendor we already do business with, or it could be opening a new vendor for a specific need," he says.
Another key element to V&A Bootery's success was its ecommerce channels—starting with the decision to start selling online again after about a 10-year hiatus. "Back then, we changed our website to drive traffic into the stores, but 2020 made us rethink that strategy," Van Dis says, noting the team is sure glad it did. "We were able to get both sites (vabootery.com and a new venture, AthenaOutfitters.com, specializing in women's work boots and workwear) up and running very quickly, and that led to more sales and provided us a way to better market ourselves online." The former site features over 1,000 SKUs. Additionally, V&A Bootery's Amazon Third Party channel was strong and gave the business another stream of income during a tough year. "The pandemic, although brutal in a lot of ways, did force us to take a deeper look into all aspects of our business," Van Dis says. "We were able to improve a lot of internal processes, and we're happy with our year."
Van Dis is quick to credit the dedication of V&A Bootery's staff for its ability to survive 2020. "I would give our team an A for their performance this year," he says, noting that during the initial shutdown the chain had to furlough much of its staff, but by summer had brought most of them back. "It seemed like things were changing constantly, but they came in willing to try new things and adapt to all the new safety protocols—all while continuing to give great service to our customers."
Indeed, 2020 was a year like no other in V&A Bootery's history, and Van Dis has a lasting memory as proof. It is of him driving around Kalamazoo during the spring—before curbside pickup became a "thing"—to deliver shoes to customers and save on shipping costs. "I would drive around every day delivering shoes from our online orders to our loyal customers," he says. "On the weekends, after a long week of virtual learning, my wife and kids (ages 6 and 8) would join me. It was a neat way to include them in the family business." 
As for the future, Van Dis is optimistic better days lie ahead, at least in the near-term. "We ended 2020 and began 2021 with some up months in terms of sales, which is very encouraging," he says. "We still expect less traffic in-store, especially early in the year, but one thing we are sure of is that 2021 will be better than 2020."
Sustainability
Timberland
Green Dreams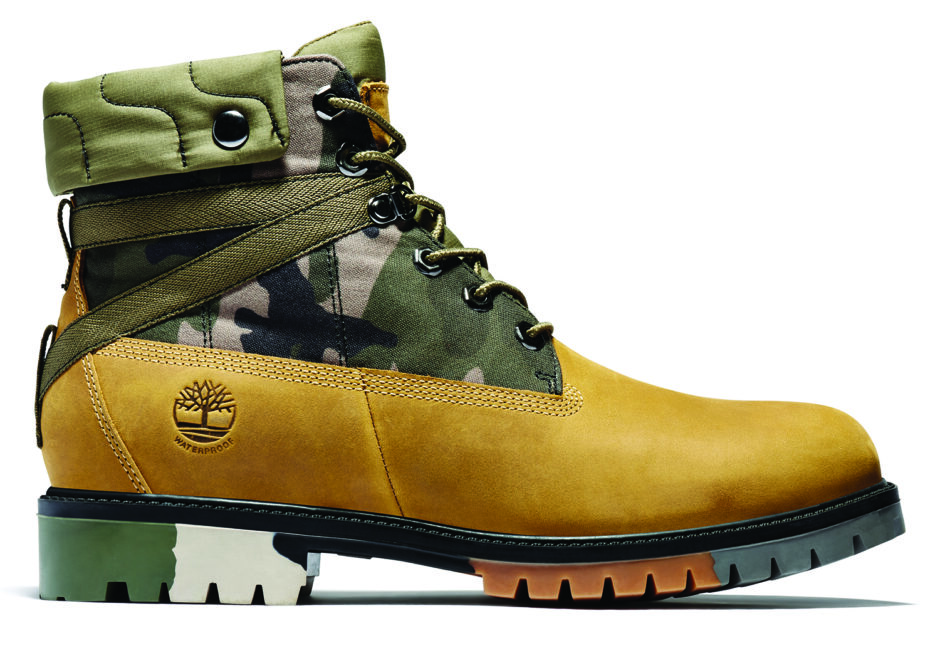 Timberland has long been the brand at the forefront of the sustainability movement. In fact, it is arguably the OG, Original Green brand. And 2020 saw no let-up in its commitment to sustainable design and best manufacturing practices, despite the headwinds brought on by the pandemic.
That effort was highlighted by Timberland's announcement in September of the goal, by 2030, for its products to have a net positive impact on nature, i.e. giving back more than it takes. "We aim to achieve this vision through two paths found in nature: circularity and regenerative agriculture," says Zack Angelini, senior manager, Environmental Stewardship for Timberland. "By designing 100 percent of our products for circularity, we aim to drastically reduce the negative impacts of product creation, moving toward zero impact and waste. By sourcing 100 percent of our virgin natural materials through regenerative agriculture, we aim to tip the scales past neutrality, and actually help restore the environments we source from, giving back to nature more than we take."
In 2020, that included the debut of Timberland's first-ever boots made with Regenerative Leather, the men's Courma Guy and women's Courmayeur Valley, as part of the newly named EK+ line. A nod to the brand's original Earthkeepers boot from 2007, Angelini says the Earthkeepers Edition products represent the brand's pinnacle eco-innovations and methods of craftsmanship. "The use of regenerative leather was four years in the making and marks the start of a brand-new supply chain, built from the ground up, that supports farmers and ranchers on the front lines working to reverse environmental degradation and climate change," he says, noting that styles such as the men's Ecoriginal EK+ 6-inch waterproof boots were an immediate hit. "These boots are made to last featuring Better Leather (from a tannery rated silver or gold by the Leather Working Group), Responsible Natural Rubber sourced from responsibly managed rubber plantations and a ReBotl fabric lining made from at least 50 percent recycled plastic."
Angelini believes the pandemic—and 2020 in general—has only heightened consumers' awareness and desire going forward to be even more conscious about how their choices impact the world around them. "The global pandemic highlighted the urgency of our pursuit of a greener, more equitable future through the lens of the consumer—a landscape for adventures that are as inclusive and authentic as they are progressive and versatile," he says, noting the brand is aligned well to meet this macro shift. "Timberland was born in the outdoors and we share a deep passion for nature with our consumers. The past year added even more energy to that passion, whether it's stepping outside to hit the trails or explore your city, and our consumer expects that we will be there to equip them for their journey with premium, sustainable products to move the world forward." Angelini adds, "By designing footwear and apparel with circularity, regeneration and net positivity in mind, we can help create a world that is more alive, more abundant, more resilient and even more beautiful than the world we have today."
Men's Comfort
Ecco
Sneaker Salvation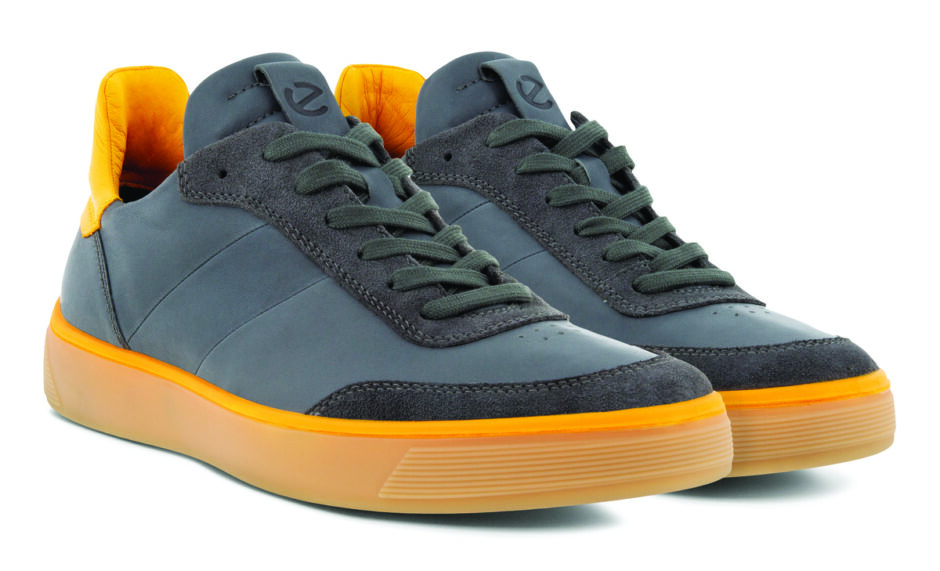 Last year presented all sorts of challenges to brands across the industry spectrum, but for those with a strong dress and casual heritage, like Ecco, the pandemic could have been even worse. Fortunately, the Scandinavian comfort brand produces a broad portfolio that spans dress to performance outdoor to golf to running to casual sneakers. The latter collection, in fact, is what Felix Zahn, product director for Ecco Americas, says was key to its weathering the year relatively well.
"We had already started to move our brand towards a more modern consumer and shifted our product portfolio more towards athletic-inspired product," Zahn says. "We introduced our Seven collection of casual sneakers, for example, before Covid-19 pandemic started."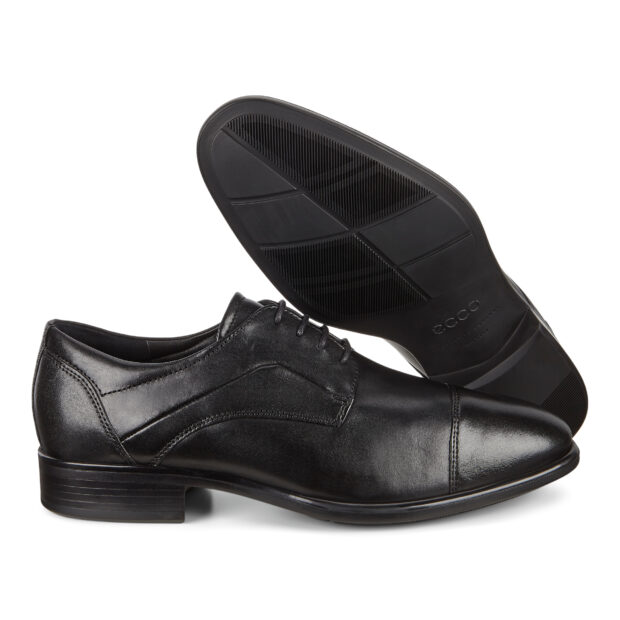 Other key men's casual product highlights for Ecco in 2020 included taking its Tray-Technology to the next level, a fairly new addition to its portfolio of platform technologies. "Using this new technology allows us to combine state-of the art rubber with our innovative FluidForm sole construction," Zahn explains. "The outcome is pretty amazing: a much better performing product with more grip and durability, plus an upgraded look without sacrificing any of the amazing Ecco comfort features." Call-out styles are the new StreetTray sneaker franchise, featuring a minimalistic look inspired by the iconic old-school tennis shoes, and the new CityTray dress franchise. "The CityTray's are made on a sleek, new European last with a modern interpretation of a timeless formal shoe," Zahn says. "We saw very strong sales in the beginning of the year, and we're confident it will regain speed once we have Covid-19 behind us a bit."
In addition to being better aligned with the new normal (think casual styling), Zahn says another key factor to Ecco's success in 2020 goes back to its two unique selling points: FluidForm sole construction and leather expertise which, he believes, separates the brand from the competition. "As long as we stick to those two core principles, we can make any type of shoe in the world, and in the 'Ecco way,'" he says, noting that athleisure will be a primary focus in the seasons ahead. "There's a new range of innovative, premium, non-disposable athleisure products coming from us in Spring/Summer 2021."
Sustainability continued to be another important area of success for Ecco last year. The introduction in 2019 of its Dri-Tan technology, which eliminates almost entirely the use of water in the tanning process, expanded to nearly the entire line in 2020. "DriTan is an amazing water- and energy-saving tanning technology unique to Ecco," Zahn says, noting the company's constant commitment to finding innovative solutions. "We never stand still, and we especially accelerate on innovation in times of crisis."
Zahn maintains that the Ecco overall business model, which is from cow to consumer basically, is unique and advantageous. "Owning our own tanneries, factories and R&D gives us a great amount of independence," he says. "During the Covid-19 crisis, we've been able to keep working and developing new products without significant disruptions. As a result, we can keep the momentum going and develop new and exciting products."
Speaking of which, Zahn hopes that by late spring/early summer—once a good portion of the American population is vaccinated and the economy can open up again—consumers will embrace Ecco's entire range of new offerings. "The casualization trend towards athleisure will remain the big story, however I predict that the dress category will make a comeback in the fall as well," he says. "Consumer behavior will take a turn towards formal when we go back to offices, trade shows, events, etc." Zahn adds, "We have great products coming to play for both trends. We see the future much brighter than in the recent past."
Insoles
Aetrex
And the Award Goes to…the Albert 2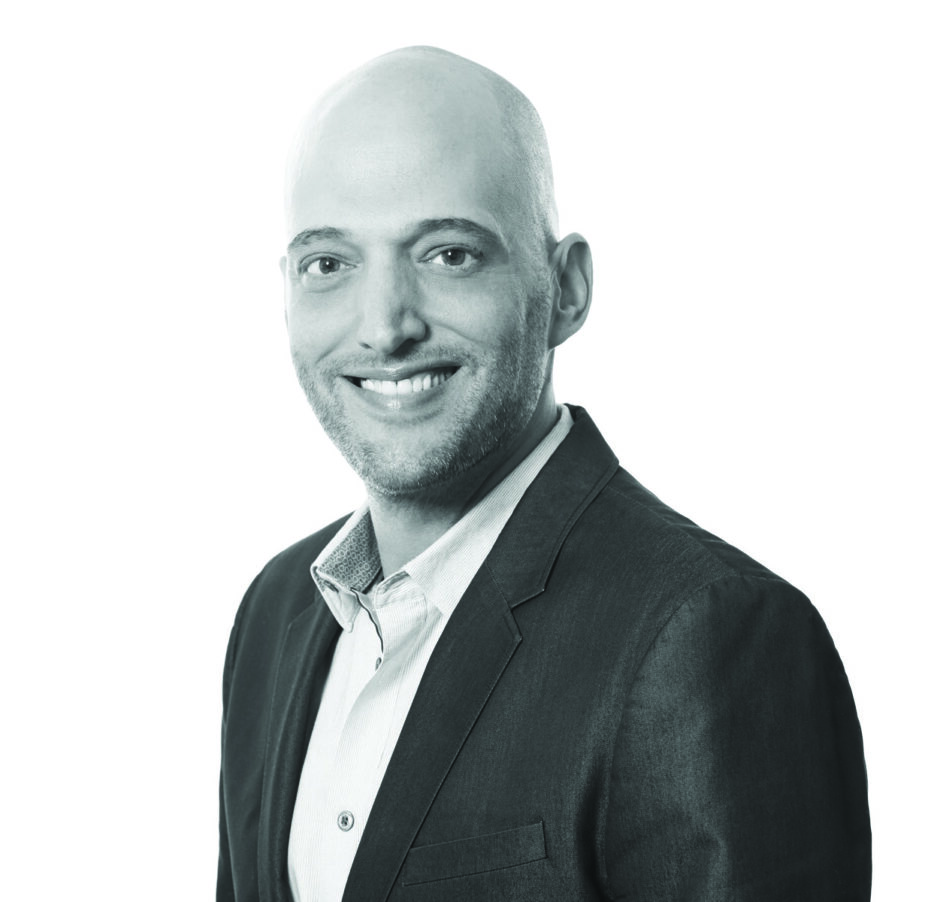 Americans shifted to the great outdoors for exercise and peace of mind as the pandemic wore on, and Aetrex's performance insoles and orthotics mirrored that shift as the company saw a spike in sales, particularly its premium Training and Memory Foam custom fit collections, reports Matt Schwartz, executive vice president of sales. But it was the debut of the company's state-of-the-art Albert 2 in-store foot scanning device this past fall that's generated the most award-worthy buzz.
Schwartz describes the Albert 2 as the ultimate, all-in-one scanning technology. "It can do both static and dynamic pressure analysis as well as cutting-edge 3D measurements. It integrates custom-selected prefabricated orthotics, 3D-printed custom orthotics and a machine learning engine that recommends the most-likely-fit footwear from a retailer's inventory by size," he says. "It features a learning center with an enormous library of content, and voice-activation for a hands-free experience. All this, and it's roughly half the cost (starting at $2,495 or $73 per month) of the competition." Schwartz adds that Albert 2 isn't a cost center. "At thousands of locations around the world, our scanning technology has proven to drive enormous, untapped profit for partners through orthotics sales," he says, noting Aetrex technology and orthotics is often the most profitable square footage in those stores.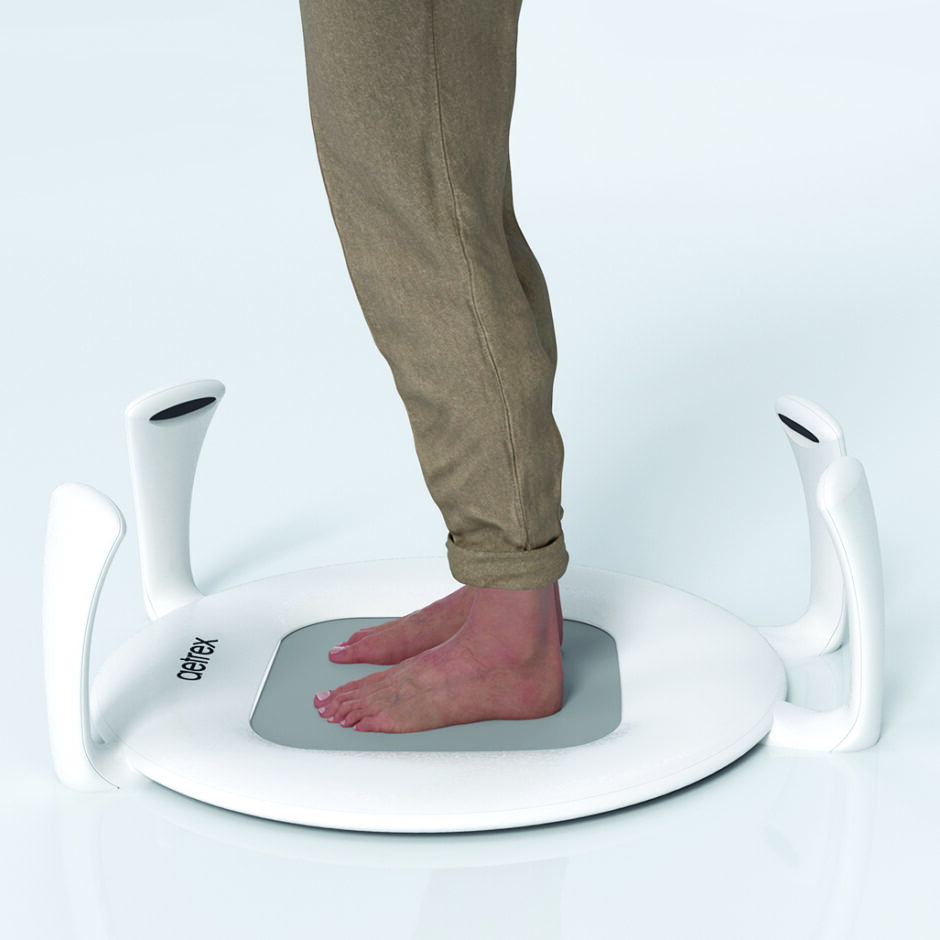 Feedback from retailers who have formerly introduced Albert 2 to their customers has been "phenomenal," Schwartz reports. "We're getting calls for demos from all different types of channels of distribution, such as running, outdoor, global footwear brands, healthcare, workwear and more," he says, noting that the device is a great incentive for consumers to come back into stores. "It offers an experience customers can't get online. Combining pressure analysis and 3D measurements, Albert 2 offers customization under foot through orthotics and the integrated FitHQ helps the customer find the right shoes in the right size." That, he adds, drives increased conversions and higher units-per-transaction. But don't just take Schwartz's word for it, the Albert 2's Control Panel enables retailers to track scan-to-sale rates and see how it has a measurable relation to driving increased business. Along those lines, the Albert 2 also captures data about consumers' feet—information that not only enables retailers to communicate more effectively with customers after they leave the store, but also to provide a personalized fit experience when they shop their ecommerce platforms.
Despite the epic challenges everyone in the industry faced in 2020, Schwartz says Aetrex came through the year relatively well—a credit to the dedication of the entire team. "I'd give the team an A+," he says. "We're really proud of what our team accomplished. They never stopped working. We had team members choosing to come into the office, even during the early months when our headquarters in Teaneck, NJ, was one of the hardest hit areas in the world. We kept our company financially strong, produced our strongest spring and fall footwear lines ever, and launched Albert 2. When it's all said and done, I'm confident this is a period in our company's history that we will look back on with enormous pride."
Looking ahead, Schwartz says Aetrex is bullish on continued growth. That confidence starts with having endured 2020, which he says verified two core characteristics of its business model: a relentless focus on innovation and always striving to deliver new value to its customers, and a commitment to a strong balance sheet to sound financial management. "It proved how these key commitments, in combination, allow us to always stay ahead of our competition," Schwartz says, noting the company's excitement as the economy begins to open up towards summer. "Personally, I'm looking forward to a new Roaring Twenties!"
Outdoor
Merrell
Riding the Tailwind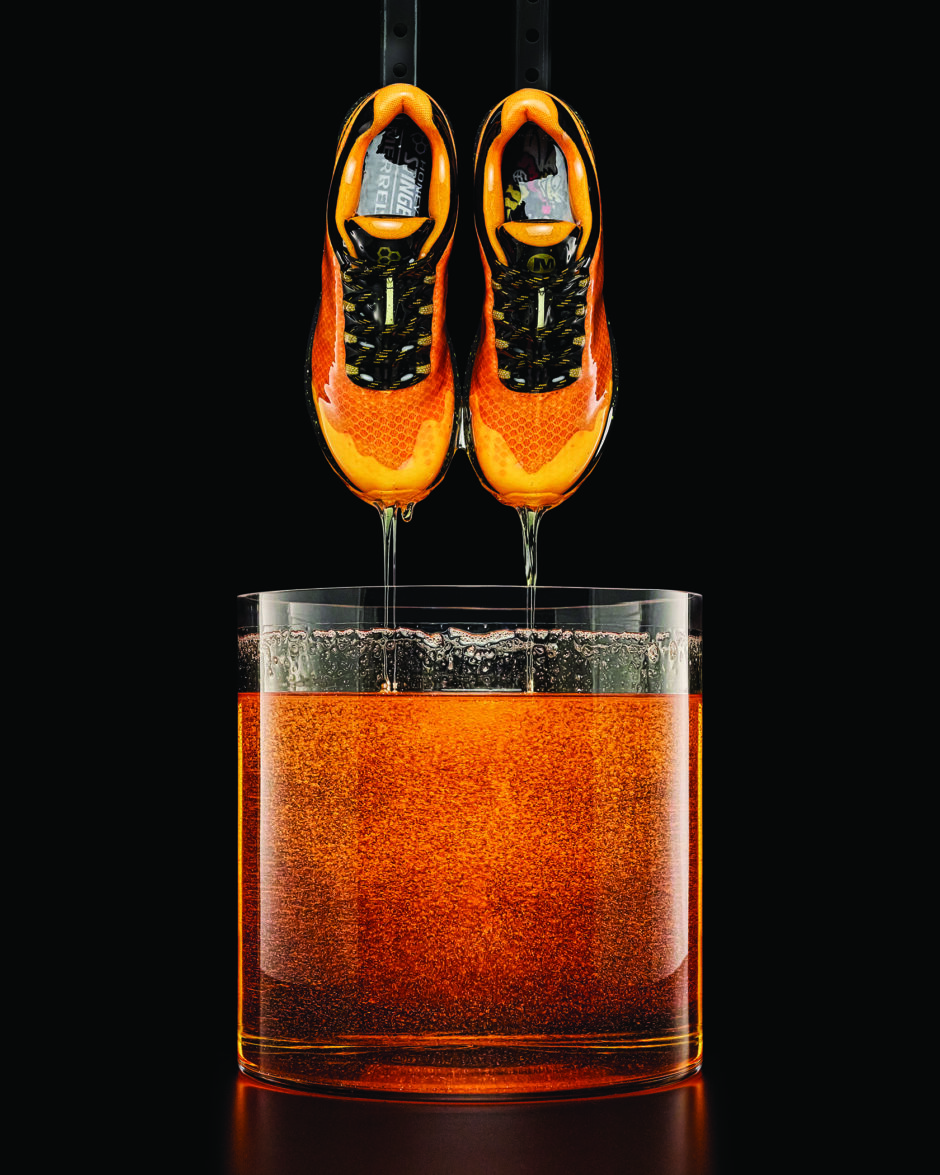 The pandemic presented unprecedented headwinds, but there were also a few tailwinds generated—like people seeking the outdoors for exercise and solace—and the numbers don't lie. The Outdoor Industry Association recently reported that 8.1 million more Americans hiked in 2020 versus the year prior, a participation increase of 16.3 percent, and the 2.2 percent jump in total participation marked the single largest increase the industry organization, founded in 1989, has seen since it began tracking such figures.
Such a strong tailwind was all to the benefit of Merrell, an iconic outdoor brand that can outfit the whole family for a walk in the park to a week-long trek in the backcountry. And that's pretty much exactly what the brand did, says Chris Hufnagel, president of the Wolverine Worldwide subsidiary. "Merrell is coming off a strong year within retail and ecommerce, while our social engagement went up more than 200 percent," the exec reports. "Interest in the outdoors grew as a result of Covid-19, and Merrell is benefitting from this tailwind, alongside the success of reenergizing our core icon styles, such as Moab and Jungle Moc, (a process that began in 2019) and new, innovative products brought to market in 2020." The latter, Hufnagel says, was accelerated in order to meet the demand coming with the emergence of performance gear as everyday lifestyle and fashion. "Consumers were, and still are, looking for functional, yet stylish footwear options that provide the versatility that matches their lifestyle," he says.
Specifically, Hufnagel reports 2020 saw strong sales in its Moab franchise and momentum around other performance patterns, such as its new Nova and Antora 2 collections that merge the fit of a sneaker with hiker-like durability. "We also benefitted from slip-on shoes having a moment, between work-from-home and après-adventure comfort," he says. "Our newer Hydro Moc collection, as well as our iconic Jungle Moc, were top sellers, and we're launching new extensions and styles of these franchises in 2021."
Additional bright spots for the year included the Undyed Collection, which involves a manufacturing process that uses 80 percent less water and 50 percent less energy than traditional dyed shoes. The ghost-like white collection also marked a fresh statement against the typical earth tones palette so common in the outdoor category. In addition, Hufnagel cites successful collabs with Honey Stinger, as well as its third with Outdoor Voices, as 2020 success stories. "All three of those launches used sustainable materials, which is an accelerated area of focus for us," he says. Last but not least, an introduction Hufnagel takes great pride in, was Merrell's partnership with Zappos Adaptive that launched in Q4. "We were the first outdoor brand to sell mixed size pairs of shoes with our partners at Zappos," he says, adding, "We believe in sharing the simple power of being outside—no matter who you are, where you came from, who you love or how you move—everyone should be welcome in the outdoors."
Hufnagel credits his team for enabling Merrell to keep pace in 2020. And while adapting to a changing market while monitoring consumer sentiment is paramount when it comes to navigating challenges, this was 2020—no ordinary year. In fact, Hufnagel believes the team learned more in a single year than he could ever have imagined possible. "The grit and resilience of the Merrell team is why our brand has fared well throughout the pandemic," he says. "Their steadfast focus and dedication to pivoting and embracing the new normal is admirable, and I feel privileged to be able to work alongside this great group of people each day."
Athletic
Brooks Running
Ahead of the Pack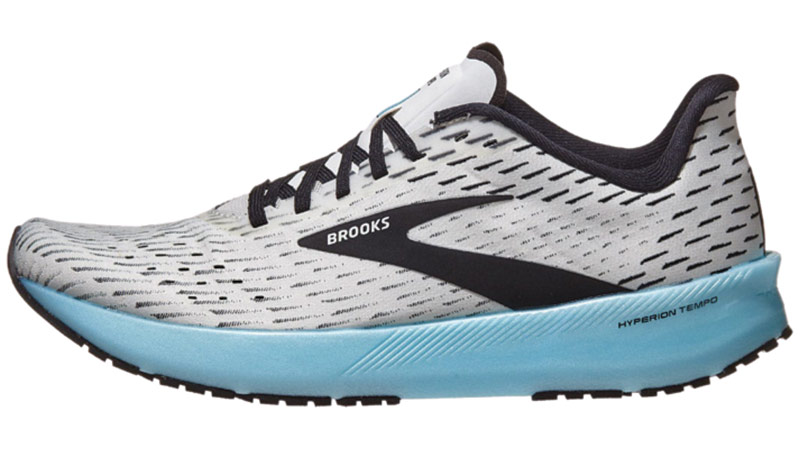 Brooks Running reported record third quarter global revenue, up 49 percent year-over-year, fueling a 27-percent growth and a record revenue of $850 million for 2020. Jim Weber, CEO, says the success reflects the brand's careful navigation through the pandemic-induced economic slowdown, clear performance positioning and ability to fulfill demand across channels. That plus the fact that millions of Americans ran through 2020 as a way to stay healthy, get back in-shape and just to clear their heads.
"We believe in the positive power the run can create in someone's day and its additive benefits over time. It is also an effective antidote in troubling times, and we've seen that prove true as running participation increased since March," Weber states in a company release, noting the brand gained 1.6 million runners through October 2020. "We have worked alongside our retail, factory and distribution partners to ensure those who want to run can find the product they trust and need to bring positive energy into their lives," he adds.
Brooks came into the global pandemic with a nice head start, or as Weber describes as the best-positioned brand in running backed by strong product lines. The number don't lie: Running USA's 2020 National Running Survey for 2019 noted Brooks leads the pack at more than 2.5 times the next competitor when it comes to favorite brand of running shoes amongst those who run. Miro AI, in its Q4 2019 report, analyzed event photography containing nearly 260,000 runners at races of all sizes across the U.S. that year and Brooks was the No. 1 brand on feet at 24 percent of participants. And the NPD Group, a retail sales tracking agency, reports Brooks captured the largest share increase year-to-date through September 2020 in the U.S. adult performance running footwear category, gaining four points versus the same period in 2019, and was the No. 1 running brand in the athletic specialty/sporting goods channel.
Credit goes to Brooks' agility, curiosity and resiliency during a time of great uncertainty, according to Weber. For example, its Run-Sight Lab research team increased its runner engagement cadence and quickly identified a mindset shift for those running amidst the pandemic, many of whom are leveraging the run for its mental benefits rather than running to achieve a fitness, distance or event-related goal. With this insight, the brand quickly adjusted its communication approach and reinforced its omni-channel distribution support to connect authentically with runners and make sure they can find Brooks whenever and wherever and they choose to shop.
Speaking of which, consumers purchased a lot Brooks shoes online in 2020, both through brooksrunning.com and retail partners. In April alone, online sales rocketed from less than 35 percent of sales in 2019 to a peak of 82 percent of all sales, and has since stabilized at 46 percent of sales for the year, up seven points from pre-pandemic levels. Brooks also increased support of its brick-and-mortar retail partners with same-day delivery and curbside pick-up programs, helping them get product into runners' hands in a safe and efficient manner.
The Brooks shoes that got into the hands of consumers often included the new Hyperion Tempo training and Hyperion Elite racing shoes, and the Catamount trail shoe. In addition, perennials like the Ghost and Adrenaline GTS were up 25 percent and 17 percent this year, respectively. But perhaps the best Brooks statistic of 2020: employee head count surpassed 1,000 on the heels of hiring nearly 100 new members, and there zero layoffs.
National
Nordstrom
Don't Give In;

Give Back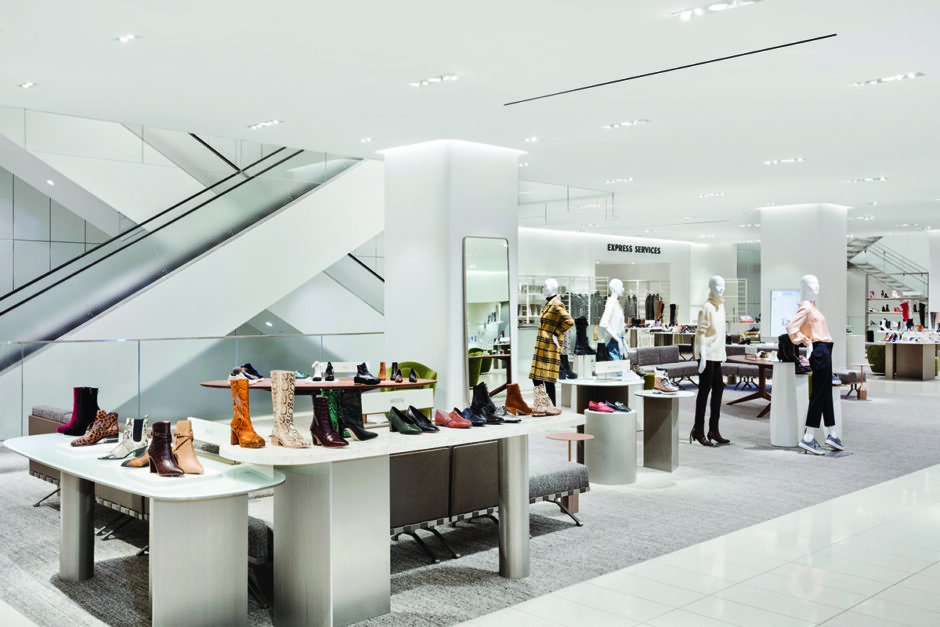 It's no secret that when Nordstrom closed its stores nationwide on St. Patrick's Day luck was going to be hard to come by, especially as the shutdown stretched into months before stores gradually reopened at limited capacities. The Seattle-based chain's sales cratered—down 40 percent and 53 percent in quarters one and two, respectively—and it closed 16 stores permanently in 2020. Nevertheless, Nordstrom pivoted to online and curbside pickup to meet the needs of the new shopping normal and, as the year wore on, its sales declines slowed considerably while its digital sales soared. Meanwhile, the chain decided to give back more than ever—at a time when its customers needed help more than ever before.
Community outreach efforts were led by the launch last spring of its Nordstrom Now campaign, which grew out of sewing nearly 1 million masks for healthcare workers. The chain soon recognized it could do much more, especially for families during the pandemic and going forward. Thus, Nordstrom's announced 2025 corporate philanthropy goals, which focus on: customer engagement, cause marketing, grants and employee engagement. The philanthropy goals include raising $5 million from cause marketing campaigns for core partners that support families; raising $5 million from its give-back brand, Treasure & Bond; investing more than $50 million in communities where it operates; and increasing employee volunteer hours to 250,000 hours annually.
In 2020, the chain got off to a great start, supporting more than 300 family-based organizations that provide basic necessities like housing, food, access to health care and education. Examples included donating 20 percent of all gift card sales purchased online (with a goal of hitting $50,000) from May 26 to June 12 to The Posse Foundation, a non-profit that provides college scholarships to students in need. In addition, Nordstrom celebrated its 10-year partnership with the nonprofit Shoes That Fit that provides new shoes to kids. Customers contributed by purchasing $10 giving cards in stores or donated online. "Each pair donated represents a child with more confidence, hope, self-esteem, and joy," states Scott Meden, chief marketing officer at Nordstrom. "We're thankful to our customers and employees who've helped us give more than 200,000 pairs to kids in need over the last 10 years." Nordstrom has raised nearly $4 million in this effort, and the ROI is impressive. Schools report the attendance of Shoes That Fit recipients rose 40 percent and 87 percent have increased self-esteem. Lastly on the goodwill front in 2020, Nordstrom announced in September it will stop selling products featuring animal furs or exotic skins by the end of 2021. The commitment was made in partnership with the Humane Society and is in response to requests from its customers.
Along those lines, Nordstrom last month introduced its long-term growth plan, Closer To You, a promise to serve customers on their terms. The program focuses on gaining deeper insights (think personalization and enhanced customer experience), acquiring new customers, offering more choices (potential to increase total selection from approximately 300,000 to more than 1.5 million) and delivering better service via a seamless experience involving meaningful connections with customers wherever they choose to shop.
Work Boots
Timberland Pro
Helping Fight the Good Fight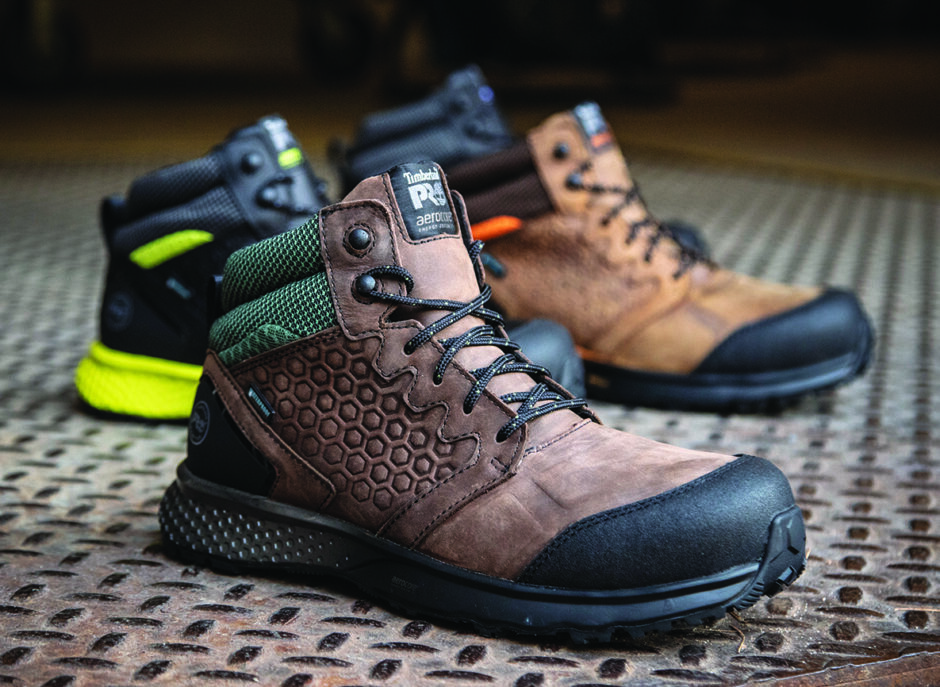 The pandemic stopped a lot of things, but it didn't stop millions of Americans from lacing up their boots and going to work each day—many of whom fought on the front lines against the virus. Bob Sineni, vice president and general manager of Timberland Pro, a division of VF Corp., says that fact was reflected in the brand's stronger than anticipated sales for 2020 across its categories, spanning classic work boots to athletic styles to pull-on boots.
"We saw a lot of growth in our athletics category, as warehousing jobs expanded to meet the demands of online shopping," Sineni says. "Products geared toward younger Millennials and women were also a major focus for us, as these demographics are so critical to filling the skilled trades gap."
In addition to demographic factors, Sineni credits
Timberland Pro's success to its design-led and innovation-driven product creation culture, active product market management, a marketing campaign that celebrates workers and an agile approach to inventory and account management. It also helps that workers know and trust the brand. "Timberland Pro has a very loyal following, which worked to our advantage during the pandemic because consumers didn't hesitate to seek us out online," he says. "We saw our digital sales, both wholesale and DTC, really explode this year."
Sineni credits Timberland Pro's commitment to purposeful innovation—always looking to improve upon the comfort, durability and performance, because its consumers need to perform at their peak—for leading its success. That translated to three standout collections in 2020. One: Work Summit, a family of 6- and 8-inch boots marked by the brand's latest comfort system, Step Propel Energy Return that consists of underfoot cushioning made of thousands of fused beads that absorb shock and propel the worker through his/her day. Additional highlights include a CarbonShield composite safety toe, a waterproof membrane and all-weather TPU outsole.
Two: Reaxion, men's and women's athletic and hiker styles rooted in the brand's Aerocore Energy Return System, which fuses together the comfort and flexibility of a sneaker with the performance and durability of a work boot. "We wanted to give workers a new experience—a shoe as appealing as their favorite athletic shoe that provides the energy return to keep them going all day," Sineni says, adding that the collection is available in waterproof and non-waterproof options and comes with a composite safety toe.
Three: True Grit, a collection of pull-on and 8-inch boots featuring Exospine technology, an abrasion-resistant, kick-off heel for easy removal. "Not only does this extend the life the boots, since this is such a high-abrasion area, but it also provides lasting structure and improved heel fit," he says. True Grit also features Anti-Fatigue technology, a CarbonShield composite safety toe and metatarsal guards.
The ability to meet the needs of so many different trades with specific styles is something Sineni takes great pride in. "It's a testament to how talented our footwear designers are," he says. "Our line offers great variety in terms of silhouette, safety features and end use, but there's one thread that runs through everything we do and something we never compromise on: comfort." It's also why Timberland Pro's latest marketing campaign, "Always Do. Never Done.," celebrates all jobs its customers do, which includes giving them a platform to tell their stories and inspire others. "As a founding member of Generation T, we're focused on filling the skilled trades gap by helping to elevate the trades and introduce this career path to the next generation," he says.
Looking ahead, that will include the launch this fall of Timberland Pro's first work boot made with regenerative leather sourced from farms that take a holistic approach to agriculture to regenerate the soil. "This is an exciting step toward our 2030 goals to minimize our impact on the earth and even aim to make a net positive impact," Sineni says. In the meantime, he's proud the VF Foundation pledged $1.5M and matched donations two to one to the Coronavirus Relief Fund as well as Timberland donating shoes as part of the Sneakers for Heroes program. "They're the skilled trades workers who move our world forward—and never has their importance and impact been so pronounced as it has been during the pandemic," he says. "They're the essential workers who have built temporary hospital units, kept the food chain supplied and moving, distributed vaccines across a vast network and so much more."
Slippers
Minnetonka
The Year of the Slipper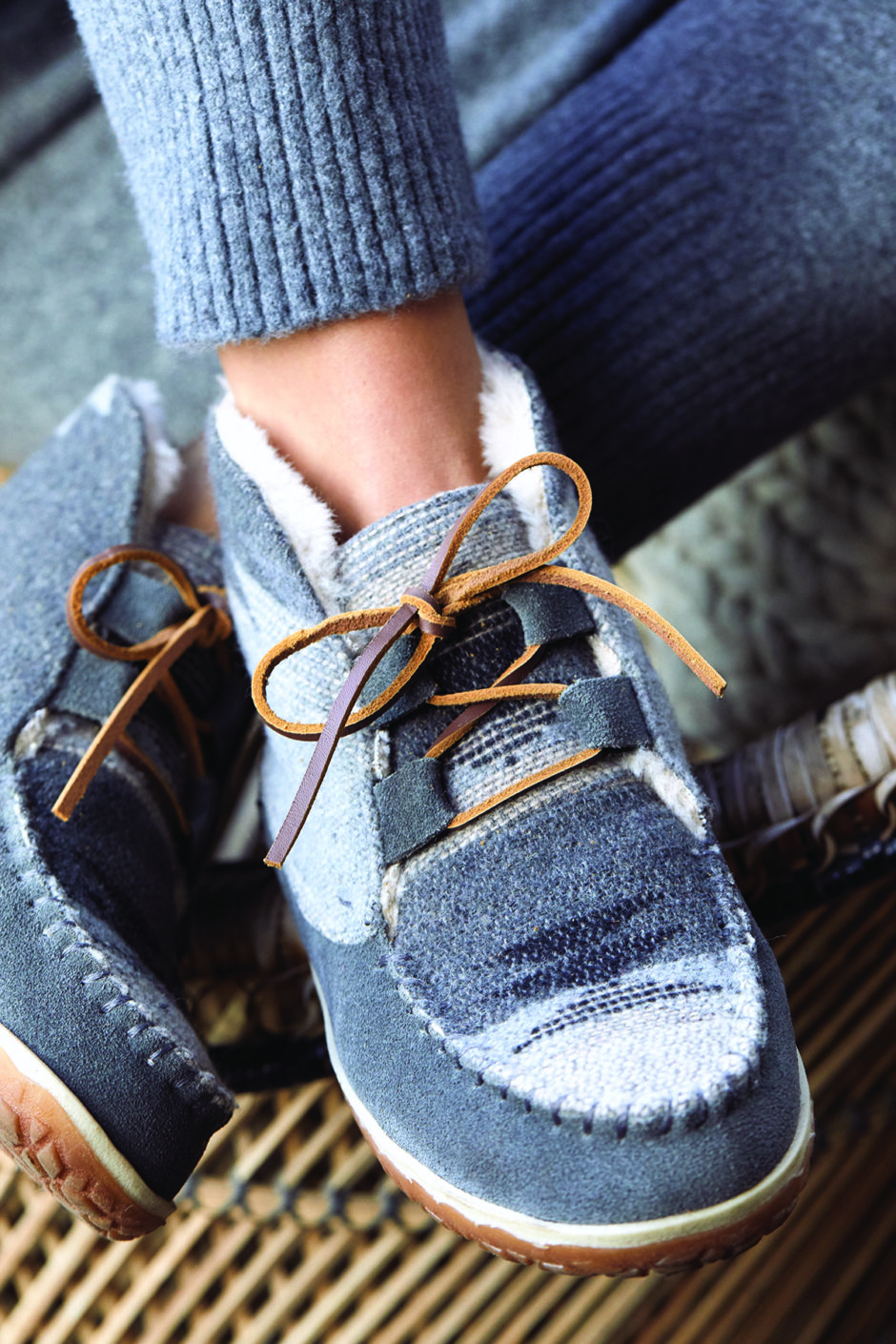 Due to the pandemic millions of people worldwide rediscovered the importance of their homes as a place of security and comfort—as well as an office and a classroom. Along with that came a massive shift to a home-based wardrobe that saw slippers as the foundation. And not just classic bedside styles, but a wide range spanning sock-like constructions for binge-watching favorite shows to indoor/outdoor styles for the tricked-out backyard shed and daily coffee run. Indeed, amid a year where everything went off the rails, a cozy pair of slippers provided comfort and peace of mind.
The great slipper shift was reflected in the 2020 spike in sales for Minnetonka Moccasin Company, reports Jori Miller Sherer, president. "Our ecommerce sales remained strong since day one of Covid-19, and since the summer our slipper sales in women's and men's have had huge growth across all of our channels," she says, noting a big highlight was its women's collection selling out during Nordstrom's annual Anniversary Sale last summer. "By far, our digital channel performed the best, and that includes our drop-ship partners and key accounts that sell online."
Sherer singles out the company's Home & Away collection, available in men's and women's styles, as having performed incredibly last year as the boots and slippers suitable for indoors and outdoors was right in step with the home as the center of everything trend. The collection features textured uppers (like fleece sweater, rag wool and soft suedes), soft pile linings, removable contoured footbeds and heavy rubber tread soles. "We had a great launch of this line in 2019 and it continued to gain momentum this past year," she says. Another hit in 2020 was the debut of Minnetonka's Open Slippers category, which all started with this London SKU (bottom right). Features include a padded insole, all-over faux fur or a combo of faux fur/suede that struck a chord with women of all ages working from home. "They were an instant hit, and kept selling out throughout the whole year as we introduced new colors and styles," Sherer says. "We've opened many new accounts because they love this style; it sold out multiple times on our website throughout the year, so we plan to build on this in a big way in 2021."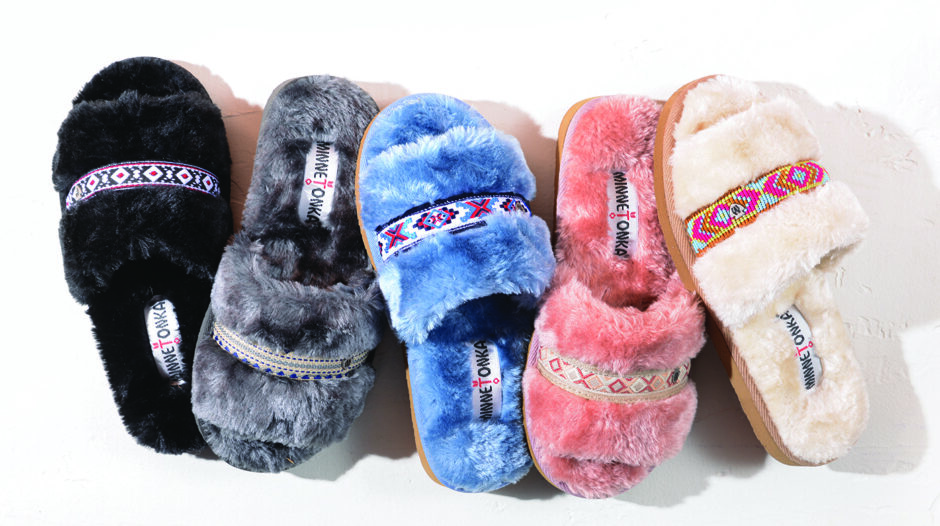 Sherer credits the company's strong sourcing base for enabling it to keep up with the increase in demand overall. "In addition to owning our factory in the Dominican Republic, we have very close relationships with our factories in China," she says. "These long-term partnerships have been a key to our success in being able to react quickly. We also saw the demand early and made bold plans early in the pandemic to meet it." And that's where teamwork came into play—from sourcing partners to everyone at headquarters—to make it all happen. "We're so grateful for our outstanding team; everyone rose to the challenge of the early uncertainty and then the challenge of trying to meet the high demand while maintaining our high level of service for our customers," Sherer says. "We're especially proud of the way all of our employees adapted to work-from-home and how our warehouse staff adapted to the new safety procedures to keep everyone healthy during the pandemic."