Company of the Year; Children's: Skechers
Full Throttle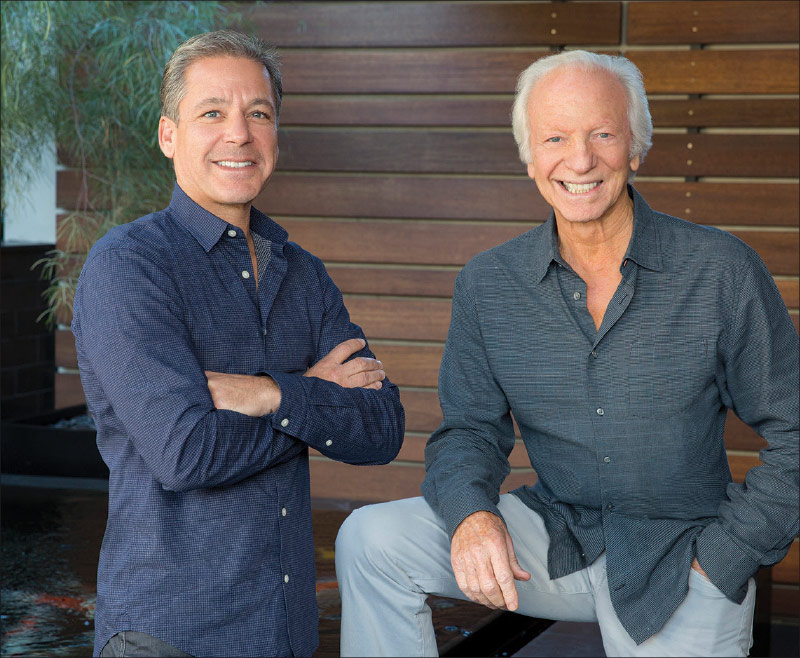 Records were broken. A bevy of awards bestowed. And, per usual, a blitz of fresh designs and breakthrough technologies introduced. Indeed, it was a very good year for Skechers, as the company surpassed $5 billion in sales for the first time ($5.22 billion, to be exact) and now ranks as the third-largest athletic lifestyle footwear brand in the world.
"We had four record quarters in 2019—the third quarter being the largest in the company's history at $1.35 billion—and the fourth quarter being our second largest at $1.33 billion," says Robert Greenberg, CEO. "This was particularly significant as our fourth quarter is historically our smallest."
Skechers' success is a testament to its efforts, from product to marketing. The company never takes its foot off the gas pedal. Skechers now offers more than 3,000 styles across numerous categories that span work to athletic to casual. The trendiest colors, the latest materials, the hottest silhouettes…Skechers has it covered. When asked who the target customer demographic is, Robert answers: "Anyone who wants happy feet."
Along those lines, Skechers continued to build on its foundation of comfort and style in 2019. "Our dedicated team believes in our mission—to deliver style, comfort and innovation to the world—with a great deal of perseverance, intuition and strategy," says Michael Greenberg, president. "But we're not afraid to experiment, as well. For instance, our targeted 'test and react' program in select retail stores allows us to gain a deeper understanding of what works before we roll it out around the world."
The Greenbergs have no intentions of pulling back on the throttle. It's just not how the company rolls. "It's important to never rest on your laurels and to always stay on your toes, so while we certainly celebrate this milestone, we are also using it as a springboard to help us attain our next goal," Robert says.
As for what fueled much of the growth in 2019, it's as diverse as Skechers. Popular categories included Skechers Sport, Skechers Work, BOBS From Skechers, women's Skechers GOwalk, Relaxed Fit and Performance in men's, and the S-Lights children's collections. The strength of its fashion sneaker and heritage collections, such as D'Lites and Skechers Energy, also were in step with retro trends. Designers featured these styles at Fashion Week shows in New York, London, Berlin, Moscow and Shanghai. In response, the company launched the Skechers Premium Heritage Limited Edition collection and released two capsules of five styles in 2019. These statement shoes generated buzz with influencers, which created a halo effect for interest across the brand.
The industry took notice of Skechers' success. In 2019, the company received more than 25 awards for product innovation and design—led by its performance running shoes that feature the Hyper Burst midsole foam technology that provides substantial cushioning and energy return at unprecedented lightness. The Go Run Razor 3 Hyper shoe was named "Gear of the Year" by Runner's World last fall. In addition, Outside named the Go Run 7 Hyper its "Gear of the Year" for the road running category in its Summer 2019 Buyer's Guide. At Outdoor Retailer 2019 Summer Market the Go Run Maxroad 4 Hyper earned two editorial awards, "Best of Outdoor Retailer" award by Shape, and "Editors' Choice Outdoor Retailer" by Runner's World. Even more affirming of the Hyper Burst technology: elite runners, like Edwards Cheserek, have won races in them.
Comfort is also key. Styles feature Air-cooled Memory Foam, Gel-infused Memory Foam and Goga Mat insoles. Skechers also added Arch Fit across many of its offerings, which is in addition to its existing Relaxed, Wide, Classic and Stretch fits. Comfort is an essential aspect of the Kids' lines as well with Skechers Memory Foam insoles and lightweight outsoles in athletic casual collections featuring bright, colorful and playful styles that kids love. Twinkle Toes, Mega Craft, Heart Lights and Flip Kicks lines were top performers, offering function and style for kids at every age.
Of course, offering the latest and greatest products is as only as good as if consumers know about them. Toward that end, Skechers adhered to the Greenberg family golden rule of "unseen, untold, unsold" in 2019. The company ran extensive TV, print, radio and digital campaigns featuring its array of celebrity and athletic endorsers. They included TV personality Brooke Burke, who touted the benefits of Arch Fit, talked to women about the style and function of Skechers GOwalk 5 and shared the fact that more than $4.9 million had been donated to help save the lives of over 588,000 dogs and cats thanks to a portion of BOBS proceeds. Not to be outdone, NFL legend Howie Long squeezed into a tiny car as part of a Wide Fit commercial. In late 2019, Skechers also signed Dodgers pitching ace, Clayton Kershaw, to be a new men's brand ambassador. He marks the latest addition to a diverse roster of endorsees, including Tony Romo, Sugar Ray Leonard, Boston Marathon winner Meb Keflezighi and pro golfers Matt Kuchar, Billy Andrade, Colin Montgomerie and Brooke Henderson. Skechers also benefitted from a legion of social media influencers worldwide helping spread the word. "From celebrity endorsees in markets around the globe to fun animated commercials for kids, the brand is using every tool in the toolkit to build awareness and brand loyalty for its collections," Michael confirms.
The fruits of Skechers' product and marketing efforts are in the numbers. International sales rose by 31.2 percent and reached just over 57 percent of total sales last year. The company also topped the 2019 Buzz ranking list for apparel and footwear on the YouGov Brand Index for the United States. Meanwhile, domestic sales increased 13 percent, which included a 13.7 percent increase in DTC.
At a time when many brick-and-mortar stores are struggling and/or closing, Skechers opened 280 new stores in 2019, bringing its total count to 3,547 around the world. Highlights included openings of a Skechers flagship on Rome's Via Del Corso and at DisneyTown in Shanghai—its first location on a Disney property. The company attributes this success to Skechers being a brand consumers trust, can afford and provides comfort, performance and style. "Our mission, as always, is to deliver style, comfort and innovation to the world," Robert confirms. "Our continued growth, along with the 27 product and brand awards we received in 2019, are evidence that we accomplished our goal." —Suzanne Shelley
Brand of the Year; Women's Collection; Best Collab: Birkenstock
Oscar Worthy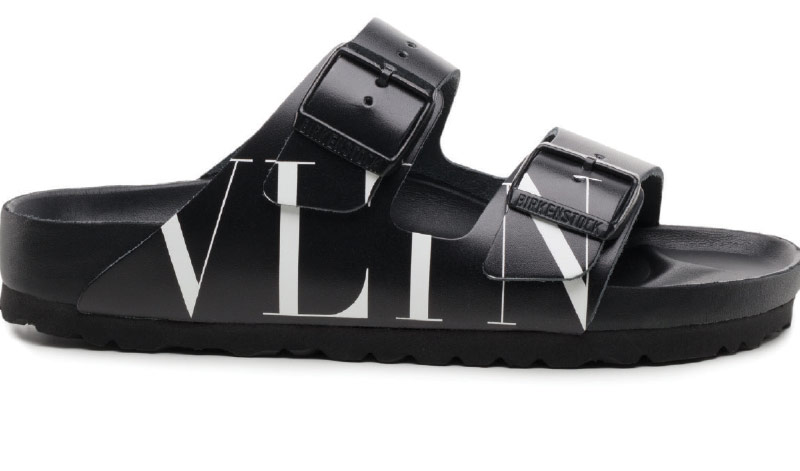 It set the stage—literally—for what would go on to be another record-breaking year for Birkenstock. The timing and backdrop for the debut of the Birkenstock x Valentino collab reads like a Hollywood script: Oscars telecast, millions of viewers worldwide anxiously awaiting who would take home the coveted Best Actress award and then winner Frances McDormand striding (comfortably) across the stage in a gown-matching, canary yellow pair of the Arizona sandals to accept for her starring role in Three Billboards Outside Ebbing, Missouri. The actress hit the stage at about 11 p.m. EST, the shoes went on sale at midnight on Birkenstock.com and in Valentino boutiques worldwide and, within days, were sold out.
"The collaboration with Valentino marked something that has never been done before—even in the athletic industry," says David Kahan, CEO of Birkenstock Americas, noting the top-secret process was about nine months in the making. "We created a shoe and had it worn on stage at the Academy Awards. Not more than 10 people on the face of the earth knew this would happen."
Unlike (too) many collabs, this one wasn't forced or bought which, Kahan believes, contributed to its overall success. "Valentino dresses Frances and their creative director is a huge Birkenstock fan," he says. "And Frances, who was introduced to me by her stylist, is a longtime brand fan—she can talk about the benefits of our footbed as well as any sales associate." That organic connection was the "secret sauce" that created the magic, he says. "This was so different than the industry norm of paid celebrity, paid endorser, paid influencer," Kahan says. "The beauty of this collab was Frances was payed zero—this was our brand love expressed with mutual respect. Frances picked her favorite color and, in her own words, 'We made her dream come true.'" The fact that Birkenstock was featured in Valentino boutiques that following morning was just icing on the cake. "No one has ever done anything at this level," he says. "It sets the stage for far higher execution than the usual 'brand x brand collab.'"
What's more, the Valentino collab created a halo effect for Birkenstock as the year progressed. Kahan cites successes in the sandals category thanks, in part, to new silhouettes like the Yao, which have become immediate hits. In addition, the EVA collection sold "incredibly well" as well as expanded distribution into full-line sport stores like Dick's Sporting Goods and resort/surf stores like Flip Flop Shops. Then there's the growing success of the brand's fall/winter collections. "Our boots sold out virtually 100 percent before the cold weather even hit, and one of the biggest successes was our Zermatt slipper," Kahan says. "It was a 100-percent sell-out before slipper season." It continues Birkenstock's transformation into a year-round business that, Kahan projects, will accelerate in 2020. "The shearling/warm/cozy category will expend significantly this year," he affirms. "We'll do more in December as a brand than we did in in June a year ago."
While Birkenstock's year-over-year sales have grown solidly for nearly a decade, Kahan notes the growth isn't aimed at exceeding expectations as it is about meeting them. "Our business is done in a very disciplined manner; we never exceed but we always achieve our aggressive plan," he says. It's done through a tight distribution network of retailers and the brand's direct-to-consumer channels. "We believe we're creating a true brand ecosystem whereby our fans can interact with us wherever they wish and have a great experience," he says, adding, "We're not in the transactional shoe business—all we do must be emotional and share our brand love."
Abe Rogowsky, owner of Shoe Parlor in New York, credits Birkenstock's tight control over distribution and pricing as key factors that led to another "very good" year at his store. "David (Kahan) knows how to run the ship," he says, noting how the success could all go down the drain quickly if the market was flooded with product and retailers discounted on whims. "Everything is under control—he doesn't sell to Amazon—and they keep coming up with different takes on their various styles. It's been great." It helped, Rogowsky adds, that the weather in New York cooperated in the heart of sandals season. "June through September were beautiful months and, because they don't allow it to go on sale, those sandals just kept selling at full price," he says. "Whereas, other brands were already giving their sandals away by June and July while our Birkenstock business was fantastic." Rogowsky adds that Birkenstock's recent run at Shoe Parlor is unprecedented, which says something since the store has been selling the brand for nearly 40 years. "They've been hot now for at least five years and that's remarkable," he says. "I don't see it slowing down."
Gary Weiner, owner, Saxon Shoes in Richmond, VA, concurs that Birkenstock remains on a years-long roll. "We had another very strong year-over-year," he reports. "It all starts with the core Arizona and Mayari styles and spreads out from there, like the Granada and Florida silhouettes. We also sold the Boston clogs well this fall, and the EVA styles have blown out of our stores." Weiner also attributes brand management as a key to Birkenstock's long-running success at Saxon Shoes. "They have a clear strategy, solid distribution, maintain high margins and have impeccable brand management and integrity," he says. "Very few are doing this as well as David Kahan." Weiner adds, "Birkenstock is a strong brand name in the industry and, more importantly, among consumers."
Kahan believes the best is yet to come for Birkenstock. Despite a volatile landscape, he says sustainable growth can be achieved in the years ahead—so long as the brand continues to do the right things. "We make great products, we sell them at fair prices, we don't discount, we don't pay influencers/celebrities, we maintain high standards of quality and workmanship, we are committed to manufacturing in our own facilities in a highly sustainable manner and our business practices are built on mutual respect and, first and foremost, love of our brand," he says. Along those lines, 2019 marked another successful stage in Birkenstock's self-declared "Moon Shot" mission to take it to next level brand connection, similar to how Nike and Apple stand in athletics and technology, respectively. Reflecting on its "triple crown of Plus Awards," Kahan says, "While we're not on the moon yet, we've pressed the booster rockets and are breaking free of the gravitational pull of the industry. When you act in this manner, you play the game in a far different way." —Greg Dutter
Comfort Specialty: Lucky Shoes
Centennial Celebration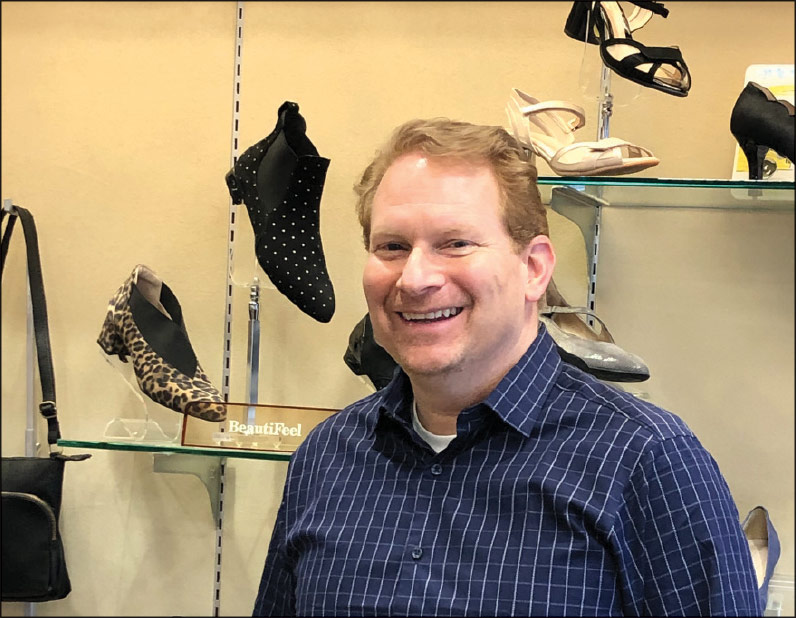 Marking its 100th anniversary, Lucky Shoes was in a celebratory mood from day one of 2019, so receiving a Plus Award for retail excellence in the Comfort Specialty category was icing on the cake for the venerable Northeast Ohio retailer. The party atmosphere extended to its loyal customers as president and fourth generation family member, John Luck, reports it was a solid year across its four Lucky Shoes outposts as well as its eight New Balance stores, two Stride Rite locations and two Vionic flagships.
"We had volume increases in 75 percent of our stores while reducing our marketing spend by 25 percent," Luck says. "We also increased our turn and GMROI (gross margin return on investment), and we were able to reduce expenses. And we reduced our personnel turnover by 50 percent, which is huge in today's labor market."
Indeed, 2019 was a "solid year" for Lucky Shoes. Luck credits the anniversary for helping generate a lot of buzz that was heard straight through to December. "We never celebrated with one event, but we were able to weave the story into just about all of our communication to the public and our customers," he says, citing great coverage at the local and industry levels that helped get the word out. But Luck is quick to note that the chain didn't rest on its longevity milestone—the team remained as committed as always to focusing on improving the basics. "Greeting the customer, presenting merchandise, being diligent about the mailing list…all of these are good, but could always improve," Luck offers. "Success in retail is all about executing the small details at a high level on a consistent basis."
Lucky Shoes' ability to maintain such consistency amid a volatile landscape makes it even more noteworthy. Sometimes you just don't know the curve ball that awaits—unless you played the past few seasons for the Houston Astros, of course. For example, Lucky Shoes lost two key employees in 2019 yet had to find a way to adapt. "Our COO of 20 years retired and our marketing director got married and moved away," Luck says. "But I was proud of our administrative and sales teams—they really stepped up, worked together and did a fantastic job. We also have some great new people that add to an already strong group and we have some wonderful people that are growing into new roles and bringing new skill sets to our group."
One of those up-and-comers made Luck particularly proud and served as a personal highlight of the year. This past summer his son worked in the family business while home from college. "He's the fifth generation and all of that, but I just really enjoyed watching him with customers and answering hundreds of questions about how he could do things better," Luck says. Just like Luck's father taught him, the golden rule delivered to his son was: "We are not in the shoe business, we are in the people business." That rule, Luck believes, pertains to customers, employees and vendors. "It's all about people, and I think our success all starts with the great reputation earned by the previous three generations of family and our employees," he says.
Luck also credits industry connections for helping him navigate the industry and daily challenges. "One of the biggest advantages that I have is my dad (Tom Luck) and his friends in the business that I can watch and learn from every day," he says. And while Luck knows he has big shoes to fill in following his father, he gives a ton of credit to the NSRA's NextGen Leadership program for getting them on the same page. "We do disagree and have different ideas from time to time, but we always have the same goal," he says. "The NextGen program taught us how to work together to achieve that goal."
That goal, for all intents and purposes, is to always surprise Lucky Shoes  customers with the new, Luck says, adding it spans selection, service and décor. "Everything is important, and we have to deliver on all of those topics or it doesn't work," he says. "We're constantly training, updating and remodeling." Part of that effort involves trying to add two new brands each season as well as drop two underperforming ones. One recent addition this past fall was Biza, which Luck reports performed "outstandingly."
The Lucky Shoes merchandise mix is aimed at anyone who uses footwear for performance. "We love customers that want the 'look,' but need the 'feel,'" Luck explains. "One of our core values is that we advocate for our customers, and we deliver outcomes that exceed expectations." Of course, that entails quality products from trusted brands. But Luck says it also involves a store setting with trained professionals to convey those brand stories properly—something he believes can't be done effectively online. "It's really hard for an existing brand to deliver passion, care and empathy online, and it is super tough to do it DTC," he says. "While there's no doubt that online, and particularly DTC, are huge threats, those are very transactional, and can be overcome by human interaction delivered at a high level."
It's just one reason why Luck remains a firm believer in brick-and-mortar retail going forward. And that's despite people asking him all the time about the format's viability. "We just have to focus on our competitive advantages and win with those situations," he says, adding that there are signs of renewed interest. "I see a tremendous inflow of new customers from the 'Digital Native' group who've primarily shopped online their entire adult lives and are just discovering that stores deliver a significantly better outcome for certain products—like shoes." Luck adds, "The majority of our new customers are markedly younger than our traditional customer base, and the number of new customers in our stores has increased each of the last two years."
While such signs bode well for Lucky Shoes going forward, Luck remains "dangerously optimistic" in the near term. It includes several different opportunities to strengthen the operation, although it's too early to talk about most of them. One, though, he is willing to share is a new ecommerce site in the works with the primary purpose of driving customers into its stores. "Getting to know the customer and making the experience fun is something that rarely happens at retail but never happens online," he says. "But if they happen to buy from us online, that's ok too." It's a challenge that Luck relishes and rooted partly in always meeting the needs of Lucky Shoes' loyal customers. "I'm thankful to the customers that have stuck with us," he says. "We have a handful of fifth generation customers who, over the years, have had lots of options. Their loyalty means a lot."
It's all the mark of a veteran retailer—expect the unexpected, appreciate customers and always be anticipating. "The true art of retail is to sell customers something they'll love, but didn't know they needed," Luck says. —G.D.
Athletic Lifestyle: New Balance
Reliving the Classics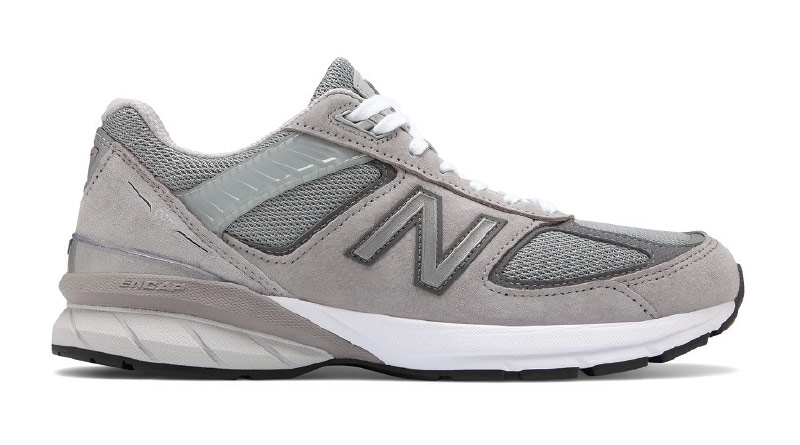 New Balance scored another big year off the court, led by its latest update to its best-selling 990v5 series. "We update this legendary shoe every three years, and there's always pressure to make sure any changes to this well-known franchise live up to the legacy and brand loyalty that's been created over decades," says Steve Gardner, general manager, New Balance Lifestyle. The 990v5 did just that and then some.
The campaign backing the 990v5 highlighted the essence of New Balance and re-affirmed its commitment to its "Made in the USA" heritage. "We strive to combine style, comfort and performance in a shoe that is perfect for both the person who runs and the everyday consumer," says Gardner. He reports the conventional gray/navy/black style sold well, as did the "most aggressive family of colors ever" that were introduced.
The 990v5 series emphasizes style and comfort, which included an updated sock liner, a revised midsole compound (to enhance comfort) and aesthetic changes to keep pace with current trends. "The changes were well-accepted, and thanks to some very on-point marketing, our 990v5 campaign produced strong response around the world," Gardner says. "Our messaging resonated with the fearlessly independent consumer who is willing to go a different path—those are the ones we're courting."
Also in 2019, New Balance expanded its iconic 997 line, which historically has been a male-dominated silhouette. The collection expanded into a family of products for all genders, ages and demographics. Similarly, the 997S and 997H were launched to enable different price points for both men and women. "The 997H uses trail-inspired colors in non-trail-inspired styles," Gardner says. "That juxtaposition worked really well, especially when we married them with different materials, such as Cordura. It produced strong response from consumers."
New Balance also backed its updated classics with in-depth stories that move consumers, according to Gardner. That included collabs with several leading streetwear boutiques, including Kith, Bodega and Aime Leon Dore. "The ability to expand the use of color has worked well within these collabs, because consumers are often willing to take more risks when they see traditional shoes in a new light," Gardner says, noting it involves deeper storytelling. "It's more about the story behind the product and less about the actual product. That allows our customers to experience both brands in different ways." —S.S.
Women's Comfort: Earth Shoes
Wellness Plan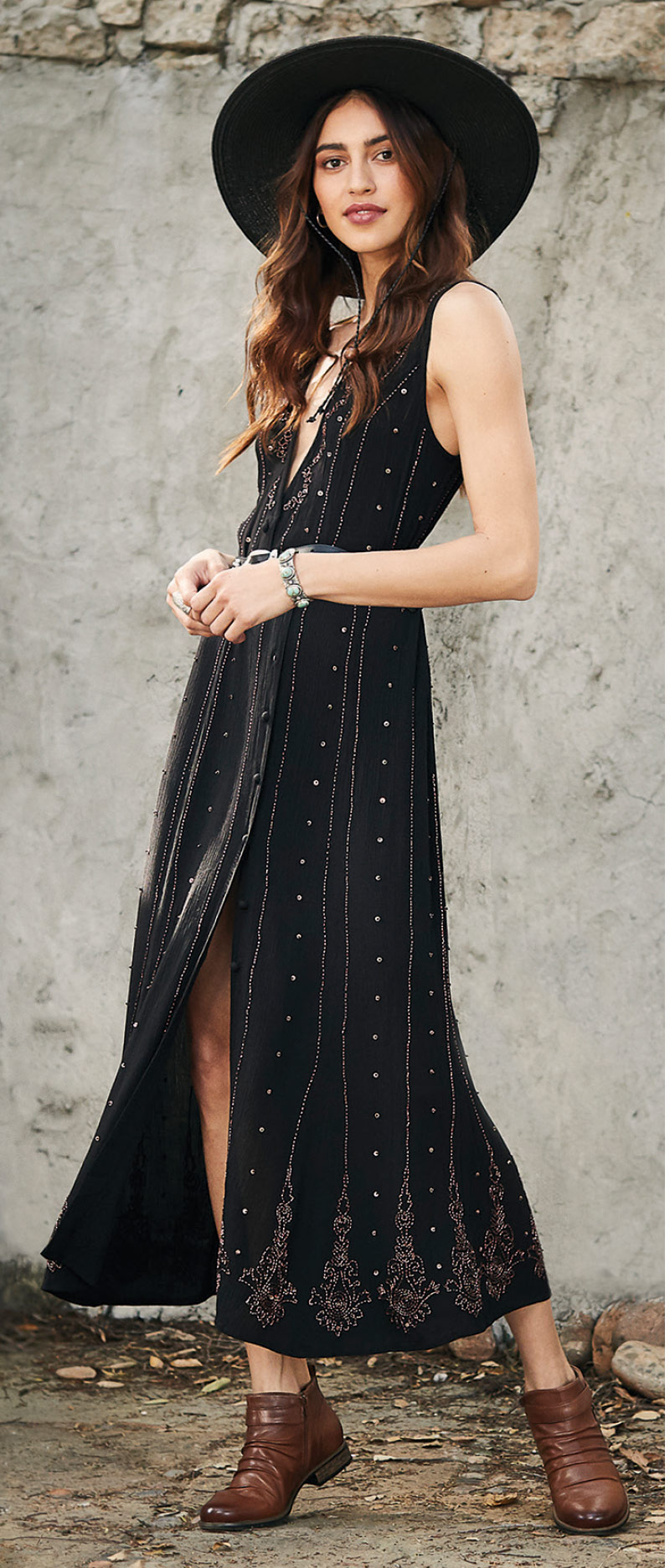 It was a big year for Earth Shoes, as the company made significant changes to revitalize and expand on its respected 50-year-old heritage. "We kicked off a complete brand re-launch in 2019, with a new logo, new messaging and new verve," say Katie Dobbs, director of marketing. "As a comfort and wellness brand, our largest customer base has long been the 50-and-up demographic. But over time, our look has become fresher and more versatile, and we wanted our brand messaging to match up with Millennials." Mission accomplished.
Always a comfort brand, these days Earth Shoes is more about conveying wellness in mind, body and spirit. That encompasses an entire lifestyle, so seeking a comfort shoe with wellness in mind no longer connotes an unattractive, orthopedic design, according to Dobbs. "Today's younger consumers already have a deeper understanding of wellness, and they want to take care of their bodies and their feet, while still being trend-right and fashionable," she says. It helps, adds CEO Phil Meynard, that Earth has always been a wellness brand thanks to its defining negative heel design. "We've always been part of the wellness movement and now the rest of the world has caught up," he says. "Younger consumers are recognizing the intrinsic value of our wellness mindset."
Toward that end, Earth Shoes reported growth last year in its fresher, younger styles, such as the Rosewood Cedarwood (a lifestyle sneaker that has a collapsible heel to double as a slide) and the Journey Ramble (a sock-like sneaker that combines a leather upper on a sporty sole). "Both styles came in fresh colors, such as sea foam green and blush," says Dobbs. "They've been hugely popular across a wide spectrum, from teenagers to boomers."
The Avani collection (left) also struck a chord between style and comfort that, Dobbs says, set Earth Shoes apart from the competition in 2019. In addition, the brand's Powerpath footbed incorporated across the entire line helped the brand stand out. The shock-absorbing heel and improved midsole stabilization and energy return was a huge selling point.
In another effort to keep up with the changing times, Earth Shoes launched a social media campaign in 2019 and expanded its DTC channel—with one caveat. "It's very important for us to not compete with our retailers when it comes to our online channels," Meynard says. "We work to make sure we're always considering our partnerships because it's a win-win when we all thrive." For example, to better serve both its retail and DTC customers with shorter delivery times, the company moved its distribution center from California to more centrally located Mississippi.
Shorter delivery times also means a smaller carbon footprint—something that Earth Shoes is committed to lessening as much as possible. "Our name is Earth, so there's a lot of responsibility and pride around that," Meynard says. "We've already incorporated many sustainable materials and environmentally friendly adhesives into our products, but we're also pursuing several short- and long-term strategic goals to make all products 100-percent recyclable and to improve reuse in order to keep our shoes out of landfills in the future."
The eco-friendly efforts include last year's debut of the One Earth Project initiative through which a series of commercial/philanthropic ventures are undertaken in regions in need around the world. One such project was in Haiti, where a factory manufactured a collection of wool clogs dubbed Renmen ("love" in Creole). The project has created more than 160 jobs and a portion of the profits help fund reforestation efforts through a partnership with Germplasm Centers. "To bring jobs, trees and hope back to Haiti, the poorest nation in the Western hemisphere, is an affirmation of our core values," Meynard says. "And with Haiti's proximity to the U.S., we hope to do more manufacturing there over time to continue to drive local job creation." —S.S.
Boots: Ugg
Chugging Along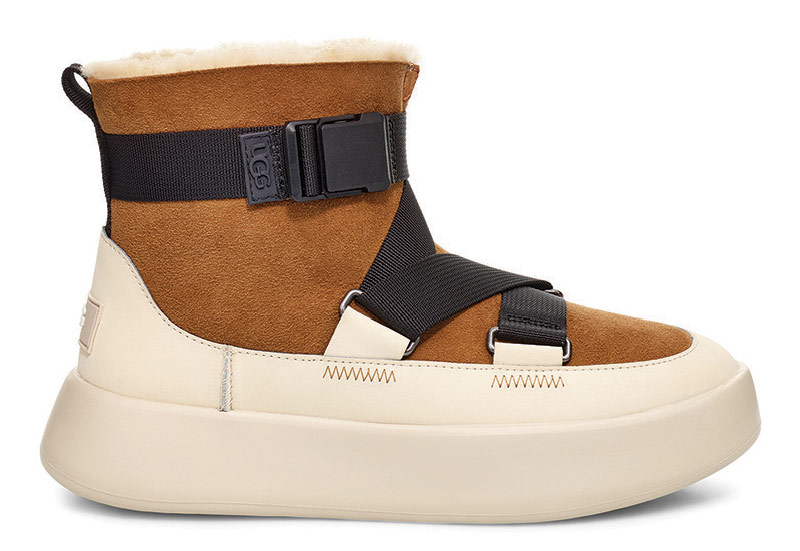 Ugg is a case study in how not to be a one-hit wonder. Since the iconic sheepskin boot exploded onto the fashion scene, parent company Deckers Brands has been reimagining the brand by refocusing distribution, adding more fashion-forward styling (in men's and women's) and upping its cred with strategic collabs—all while staying true to its California DNA.
Last year, Ugg represented about three-quarters of Deckers' business, and President and CEO David Powers cites the brand's domestic success as the catalyst that pushed the company to record-breaking sales. Uggs' domestic sales in 2019 rose 8 percent in the third quarter versus 3 percent globally to $781.1 million. It follows U.S. sales increases of 2.2 percent and 1.5 percent in the second and first quarters, respectively.
Ugg boosted fashion relevance with evolved classics. "The Classic Femme was refined and sophisticated, the Classic Boom Buckle (pictured) was sporty and the chunky, ridged outsole of the Classic Rebel Biker Boot was right on-trend," says Andrea O'Donnell, president, Fashion Lifestyle, Deckers Brands. Ugg also created a new sneaker hybrid by combining the Coquette outsole (a sneaker bottom) with a Classic boot upper. "What connects all these products is their versatility, their unique blend of fashion and function, and the special feeling of Ugg they deliver every time you put them on," O'Donnell adds.
Ugg's men's segment was also on fire in 2019. Sales were up by 10 percent in the third quarter—the third consecutive year of double-digit growth. O'Donnell attributes the "push to reduce reliance on core classics and boost product diversity" for the growth in men's. She cites the Neumel Chukka, Flex and Zip styles backed by the "Neumel Nation" ad campaign, featuring influencer and model Luka Sabbat, for helping get the word out.
To reach new customers, Ugg also launched an array of collabs in 2019, including with Heron Preston, BAPE, Eckhaus Latta, Stampd, Neighborhood and White Mountaineering. "Ugg was on Heron Preston's and Eckhaus Latta's runways at both Paris and New York Fashion Weeks, and with Japanese streetwear label BAPE, we enlisted Lil Wayne as the face of our global campaign," says O'Donnell. The efforts paid dividends as the brand received a strong boost from younger consumers—both men's and women's showed a 30 percent increase in ages 18 to 34 purchasing on ugg.com. Additionally, Uggs' kids' business grew by 20 percent in 2019.
Ugg also embarked on several cause-related marketing campaigns last year, like HERproject, which empowers low-income women working in global supply chains and women in leadership. For PRIDE, the brand partnered with Lady Gaga's Born This Way Foundation with a capsule celebrating the LGBTQ+ community that saw 10 percent of proceeds going to the foundation.
Looking ahead, O'Donnell says it's all about (updated) classics and new styles. For example, Ugg debuted its 12X12 men's sneaker program during the recent Paris Fashion Week. The collection will feature a different theme each month that channels the brand's West Coast roots. "The sneaker market is significant but also crowded so to cut through we had to do something very different," O'Donnell says. "Our heritage is as a California fashion lifestyle brand that is bold and provocative, and when we create new products, we remain true to those roots." —Lauren Parker
Sustainability: Twisted X
Cleanup Crew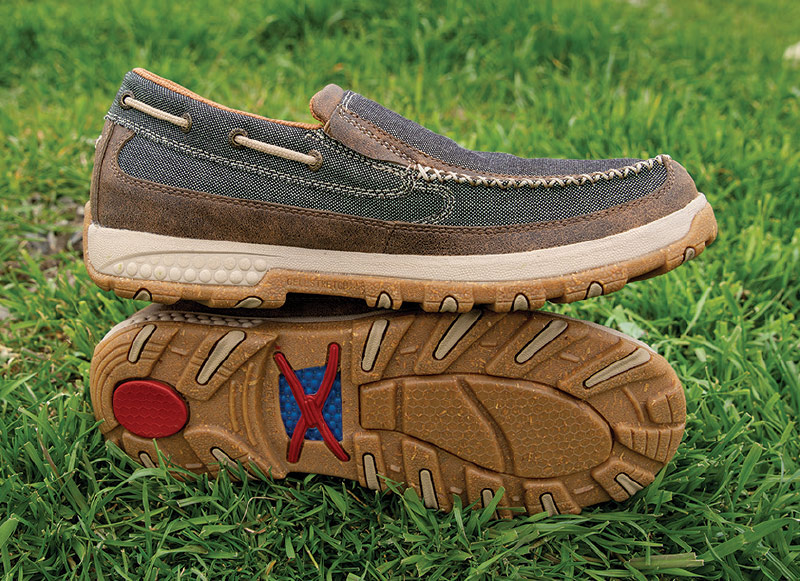 Twisted X is cleaning up with its sustainable shoes—literally. The company has woven sustainability into its DNA, channeling its eco-friendly products and social responsibility efforts to retailers and consumers, and it's doing good for the planet and the company. For the second consecutive year, Twisted X has landed on the Inc 5000 list as one of America's Fastest-Growing Private Companies.
Sustainability is the latest twist for Twisted X, which laid its roots as a Western boot brand before evolving into a lifestyle one with a quirky Western twist. The EcoTWX line, which had its first full year at retail in 2019, offers sustainable footwear for men, women and kids backed with aggressive initiatives to help clean up the environment. The company aims to grow EcoTWX—a proprietary EcoTWEED fabric made from an average of 13 recycled plastic bottles, Merino wool and vegetable-tanned leather—"to at least 40 percent" of the line by 2021, according to president and CEO Prasad Reddy. Midsoles are made from wild invasive algae while outsoles feature rice husk.
Beyond manufacturing that's easier on the earth, Twisted X plants a tree for every EcoTWX shoe sold through its 1:1 partnership with One Tree Planted, helping reforest areas of California, Colorado and Oregon. "From day one, the materials in EcoTWX were helping clean up the ocean and landfills, but we wanted our environmental efforts to go beyond that," says Reddy. To date, Twisted X has planted more than 200,000 trees—restoring over 4,000 acres of forest in the United States, with a goal to plant 1 million trees by 2021. "We've even had participating retailers hold 'planting ceremonies' to celebrate their environmental efforts and rally employees," Reddy adds. Twisted X has received accolades, such as the Global Green Award from the Environmental Social Development Association (ESDA).
Future goals for the Texas company include becoming carbon neutral by the end of this year, salvaging 13 million plastic water bottles from polluted oceans and landfills and eliminating 2 million pounds of landfill-bound factory waste (formamide, foam, heating and cooling energy and silicone). Twisted X has already recycled more than 3 million bottles, and abides by The Arctic Shipping, protecting the ecosystem by not shipping through those waters.
Expect more eco-friendly styles. This year, the company is releasing seven new sustainable products featuring innovations like cork uppers; midsoles made from sugar molasses; linings featuring EcoTWEED fused with a 50/50 blend of odor resistant, soft bamboo charcoal;  a recycled blended footbed created from 85 percent-plus upcycled production waste such as EVA, leather, rubber, and polyurethane; and bamboo shoelaces. Shoe boxes are made with 85 percent recycled materials. It comes on the heels of last year's successful collab with Mossy Oak, featuring its Original Bottomland camouflage pattern made with EcoTWX on driving mocs, boots and boat shoes.
Twisted X is committed to push the industry forward on sustainability. "It's our mission, and fuels our decisions day-to-day, to bring to market new and innovative materials, processes and opportunities that better our planet," says Reddy. "It goes beyond the footwear industry. Our goal is to make a difference in the world and be a driving force for creating a cleaner planet." —L.P.
National Chain: Nordstrom
A Toast to Shoes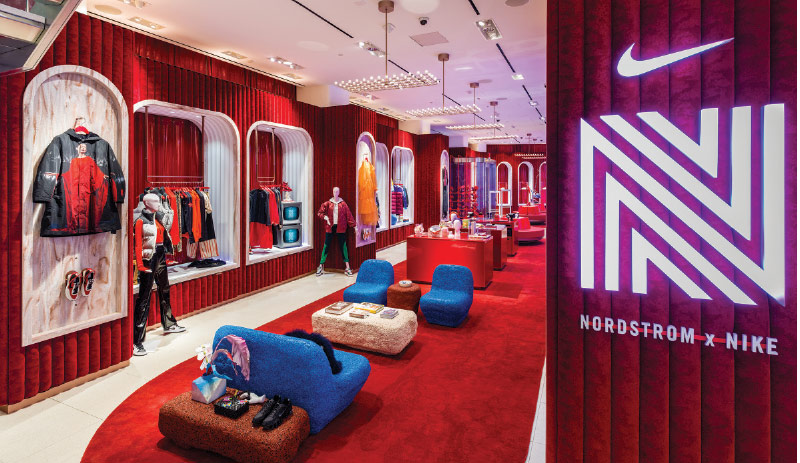 Nordstrom had one motto in 2019: Go bold or go home, and amid the closings of New York retail icons Henri Bendel, Lord & Taylor and Barneys, the Seattle retailer did just that by taking Manhattan—literally—with the opening of its 320,000-square-foot mecca for women (85,000 visitors showed up on opening weekend) across the street from its year-old men's flagship. Co-president Erik Nordstrom described the new store as "perhaps the most important milestone in our company's long history."
Nordstrom's commitment to footwear in 2019 was equally huge, led by the new flagship's three footwear departments spread out over three floors. Shoppers can order a cocktail at the downstairs Shoe Bar, and a waiter will deliver it while they try on styles from an inventory that spans well into the thousands. That included a grand opening special of 50 exclusive designer styles in partnership with Chloe, Givenchy, Golden Goose, Prada and Manolo Blahnik, among many others.
"One of the biggest highlights of our New York opening was a Christian Louboutin pop-up in the center of the main floor," says Anne Egan, Vice President and DMM Designers Shoes. "He designed an exclusive capsule collection, and customers loved this one-of-a-kind Louboutin experience. We also held an exciting event where Mr. Louboutin met with our best customers and salespeople. They were truly inspired and excited by meeting him."
Nordstrom's shoe mix chainwide shined bright in 2019. Rotating themed Pop-Ins@Nordstrom kept things fresh all year, testing out concepts, collabs and niches. In addition, the Nordstrom x Nike sneaker lifestyle boutiques in select stores, featuring everything from denim and bags to nail polish and Nikes, were a big draw. "We have super-rare, of-the-moment Nikes as well as a super-unique Burberry experience," notes Jamie Nordstrom, President of Stores. "There are a lot of places where you go because they always have the cheapest stuff or the most expensive stuff—we want to be the place that has the coolest stuff."
Beth Goldstein, NPD industry analyst for accessories and footwear, says Nordstrom raised its cool quotient in 2019. "They've been the retailer to partner with on some of the hottest emerging DTC brands," she says. Collabs were a key part of that strategy in 2019, like Nordstrom's Perfect Pairs program, which teamed 14 brands with New York muses, including Steve Madden with model Winnie Harlow; Cole Haan with poet and activist Cleo Wade; and Birkenstock with celebrity stylist Leslie Fremar.
Brand partners praised Nordstrom's curation skills and ability to pivot to today's fast-changing trends. "They're one of the few national retailers who is tuned into the evolution of their customer and not afraid to try unexpected things that will resonate," says Sari Ratsula, president of Seychelles and BC Footwear. "We love how they are supporting Seychelles For All unisex collection and adding our 100 percent vegan, PETA-certified BC sandals into their stores this spring."
Brands also appreciate the halo effect from  just making the Nordstrom cut. "They've opened doors for Vagabond in the U.S. market," confirms Paul Fleming, vice president, North America. "The trust they have built with their customers lends us an immediate aura of credibility."
Retail analyst Bob Phibbs praises Nordstrom's attention to detail in the shoe department. "Nordstrom always takes service one step further, such as placing pink Brannock devices near every foot stool. A smart footwear retailer understands it's always about the fit, not just the fashion," he says.
Service upgrades were another highlight in 2019, many of which blend bricks and clicks. "Nordstrom's digital experience is among the best," says NPD's Goldstein. "I've long felt that shopping on Nordstrom.com feels like being in a Nordstrom store." Service examples include self-serve "express returns" kiosks and free next-day shipping. Nordstrom Local outlets also offer tailoring and styling services, juice bars, nail salons, gift wrapping, pickups, returns and more. The new flagship's on-site cobbler services include shoe, handbag and small leather goods repair; replacement soles; cleaning; zipper replacement; and personalization capabilities, including garment printing and monogramming.
Such omnichannel excellence inspires loyalty. The chain's Nordy Club program increased 12 percent to 12 million shoppers in 2019, accounting for 64 percent of total sales. —L.P.
Slippers: Minnetonka
Beyond Mocs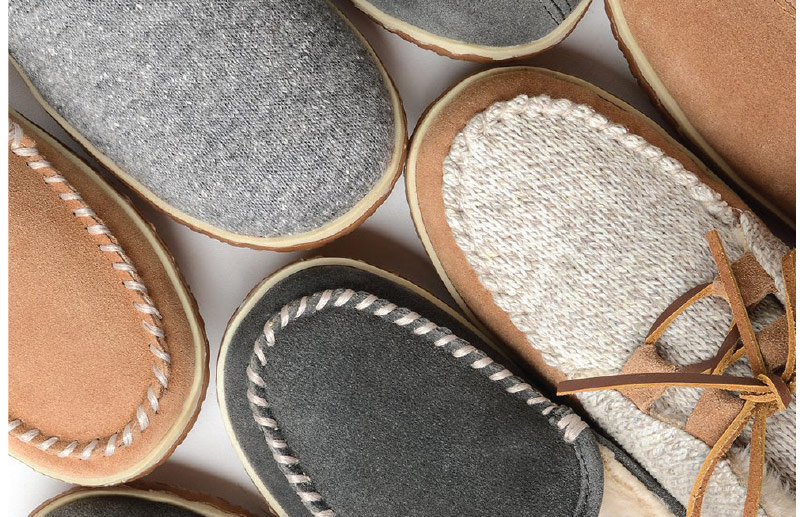 Nearing its 75th anniversary, 2019 was a year of change for Minnetonka, led by passing the presidential torch to Jori Miller Sherer, the fourth generation in the Miller family to hold the title. She was tasked with moving the brand forward while maintaining its rich moccasin DNA.
"People love Minnetonka because we're authentic and a classic Americana brand," Miller Sherer says. "We're always true to ourselves and not chasing the next trend."
In 2019, Minnetonka melded its legacy styles with today's consumers' needs. The result: the Home & Away collection, targeting that "couch to coffee shop" indoor/outdoor slipper versatility. "We knew our customers love wearing slippers outside their homes, and Home & Away is our most versatile style with a durable outsole to keep up wherever they travel," Miller Sherer says. The women's bootie, moccasin, mule and boot styles feature a solid rubber outsole for traction; suede, rag wool and sweater-knit uppers for an indoor/outdoor cozy style; and removable contoured fluffy pile insoles for comfort.The Torrey suede/sweater boot was Minnetonka's breakthrough hit in 2019. "It's cozy like a slipper but stylish to wear with jeans out and about," Miller Sherer says. "And that's what we've been seeing from our consumers."  Rounding out the collection are two men's styles—a slip-on and an enhanced moccasin.
Slippers remain the brand's No. 1 category, with women's business stronger, but the company sees more growth opportunity in men's, especially with slippers as the entry point. "Whether it's working from home, going to brunch or traveling in comfort, everyone wants product that's comfy, feels like home and can be worn anywhere," Miller Sherer says. "That's why we feel the Home & Away was so timely and successful."
Minnetonka also had a stroke of serendipitous good fortune in the name of Oscar winner Brad Pitt. His '70s-era stuntman character, Cliff Booth, in Once Upon a Time… in Hollywood, sported the brand's iconic Two Button Hardsole boot. It sent fans into a frenzy, generating a wait list of more than 2,000 eager to snag  the reissued boots. "It's been a really fun way to introduce the brand to a younger audience of fashion-forward men channeling their inner Cliff Booth," Miller Sherer says. —L.P.
Men's Comfort: Ecco
Hybrid Home Runs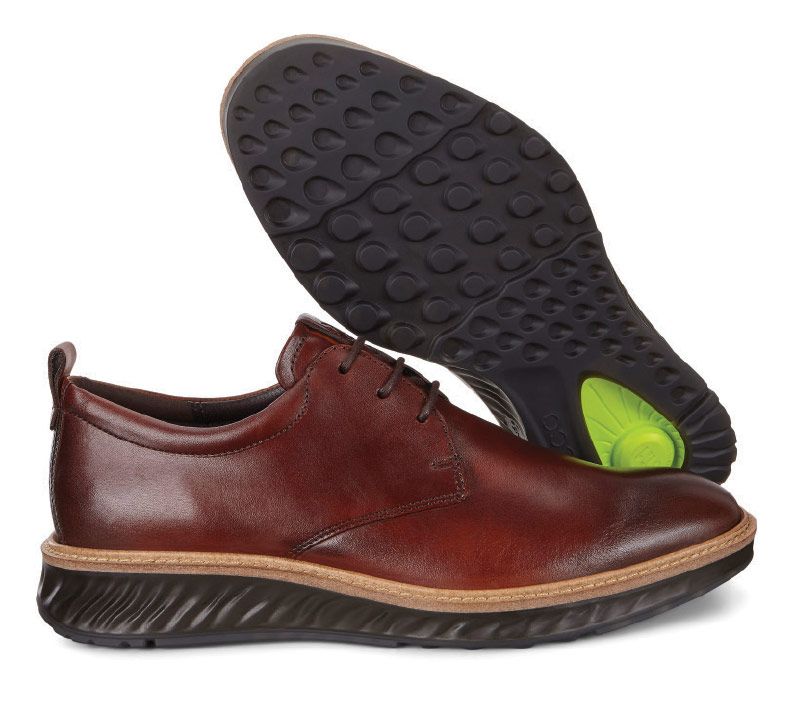 As consumer tastes and demands evolve, many traditional comfort products are just not working anymore. It's why Felix Zahn, product director at Ecco, says the Danish brand has been zeroed in on hybrid constructions to meet the versatility demands of its target audience, and 2019 was no different.
"In recent years, we've been a 'fast follower' within the realm of hybrid dress shoes, using formal silhouettes but creating ultramodern styles," Zahn says. "People have been seeking more casual apparel and footwear, both at work and during their leisure time, and while that's been good for us—because we've always been a comfort brand—it's also been a big disruptor."
Ecco has responded to the disruption under the guiding premise that there's "no need for comfort shoes to look and feel boring, or to only come in black or brown," Zahn says. That also addresses the brand's efforts to target a younger demographic via hybrid dress shoes and sneakers. "Consumers want new and innovative comfort options that look and feel great, so we continue to expand without pushing our core consumers away," he says. "The success of our new products definitely proves it's working."
For instance, the new Ecco ST1 Hybrid collection combines a "sneakerish" aesthetic, a durable Phorene outsole and the new ST (Shock Thru) technology that provides 15 percent more rebound and shock absorption in the heel. Similarly, the Vitrus collection features a shank construction that allows the formation of a soft, cupped heel that brings the wearer closer to the ground for greater stability and comfort. The effort also extended to collabs in 2019—namely with streetwear brand, Stone Island. "Not too long ago, we were more of a formal brand," Zahn says. "This collaboration would not have been possible even a few years ago."
Ecco's breakthrough innovations in 2019 also involved several new leathers, including a heat-sensitive design that changes color as the temperature changes, a transparent version and a glow-in-the-dark one. The sustainable DriTan leather (featured in the Soft8 sneaker collection) also made its debut last year. It requires considerably less water to produce the leather—thus reducing the use of tanning chemicals and wastewater—with no tradeoff in quality, durability or lead time. "We're proud of our sustainability initiatives, which are helping us reduce our environmental footprint," Zahn says, noting that since introducing DriTan in its Netherlands
tannery, water use has been reduced by more than 25 million liters per year.
To help get the word out on DriTan, Ecco introduced Factory Petit last year, a portable mini leather factory that traveled around to inform people and let them make their own leather accessory. Evert Rotteveel, marketing manager, notes Factory Petit made stops at two Nordstrom stores in Southern California last fall. "Events like this create a lot of buzz because consumers love to participate hands-on in making a unique and personal item," he says.
Along those lines, Ecco continued to create custom articles featuring advice from influencers and fashion editors to reach consumers with directed content. "We've focused on Instagram and YouTube this past year to inform our audience about technology and styling innovations, and looking at our engagement figures, consumers are definitely connecting to the brand in bigger numbers," Rotteveel says. "Social media is an incredibly important medium to reach consumers in an authentic and relatable manner, and every year we get a bit better in finding a balance between community building and sales-driven content."
For Ecco, it's all about finding a healthy balance, be it offering a broad range of categories that spans golf to dress, blending style and comfort or delivering experiential entertainment packaged in direct marketing. The trick is to be the hybrid that generates the greatest following. "Diversity is our strength, allowing us to rebound and adapt when there are ups and downs in any given category," Zahn says. —S.S
Work Boots: Carhartt
Standing Tall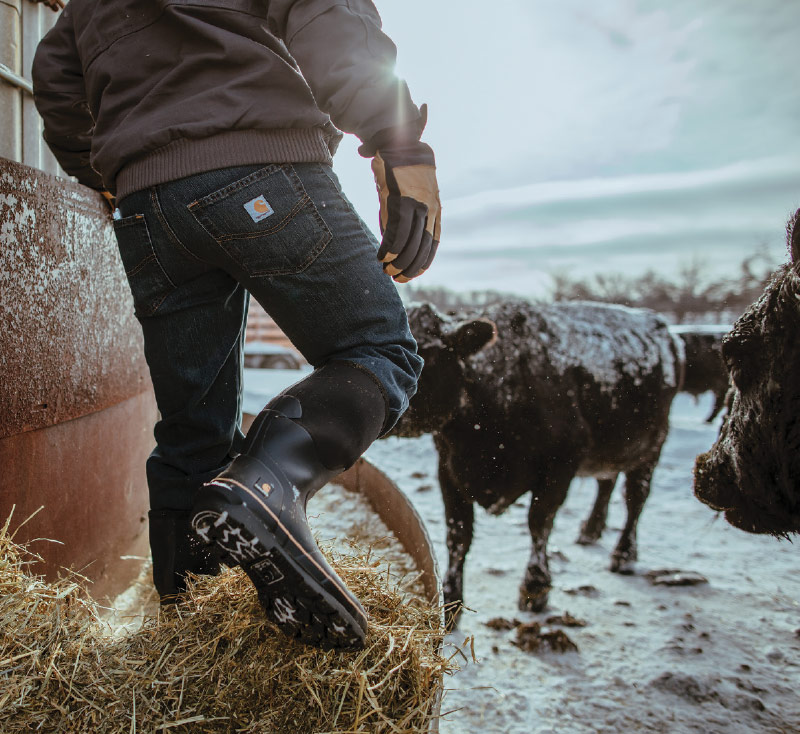 Since 1889, Carhartt has been on a mission to create quality, durable workwear that could perform in some of the most rugged and demanding environments, as well as in everyday life. Last year was no different, as licensor Black Diamond Group, introduced the Mudrunner collection of work boots—Carhartt's first ever rubber boot offering. Built with durable rubber and neoprene to keep feet dry and warm, "the company set out to make Mudrunners the most comfortable rubber boot in the industry," says Rob Mills, president of Black Diamond Group. Full and half sizes are available for improved fit, roll-down calves and kick-off plate on the outsole make them easy to get on and off, and the removable Insight footbed is engineered "with maximum arch support to reduce fatigue and will keep you standing tall during the longest days," Mills adds.
Carhartt's traditional Moc Toe Wedge boots also continued to perform well at retail in 2019. "Built for work but versatile to also perform off the job, our customers are hard-working people who are getting the most out of these boots, thanks to the innovation, comfort and durability," Mills says. "Our promise to consumers is to build comfort into every product because they need to be focused on the job at hand, not on their feet. We engineer tooling, lasts, components and construction for the comfort and well-being of every customer to keep them safe, dry, warm, standing and comfortable."
Carhartt credits its retail partners with helping fuel its success. "We have been very fortunate to have experienced long and sustained growth with our retail partners for several years," Mills says. "Together, we worked hard to ensure we had the right offerings, positioning and consumer experience to drive traffic and demand. It's about building quality product at the best value to service the needs of the consumer." Mills adds that when it comes to making authentic performance work boots, faking it is not an option. "You can't fake hard work, and our consumer expects us to deliver products that live up to our brand promise," he says. "Our team works hard every day to exceed expectations with our consumer and our retail partners." —S.S.
Boutique: Zelda's Shoe Bar
Where Brands are Discovered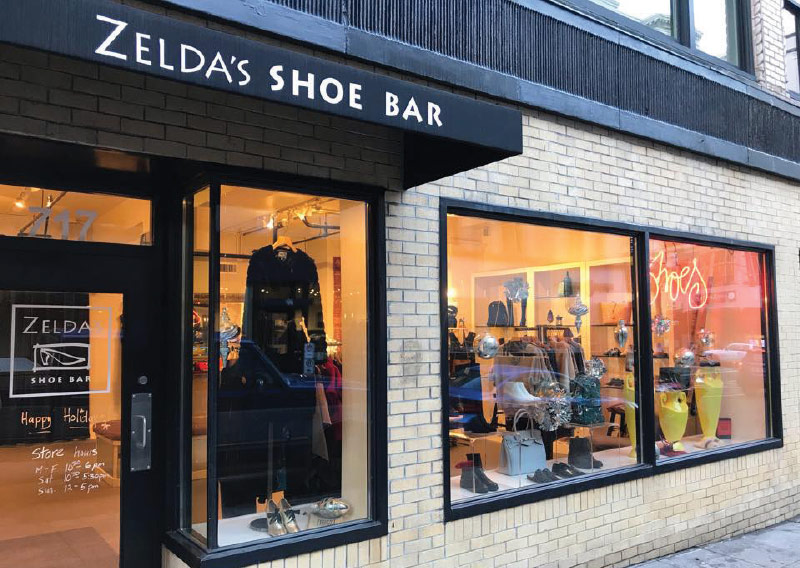 In a world where virtually anything can be found with the tap of a finger, Zelda's Shoe Bar stands out as an oasis of fresh finds. The 26-year-old, upscale boutique in Portland, OR, has stood the test of time by offering customers what they didn't even know they wanted—but are thrilled to discover. In fact, nothing is sweeter music to owner Libby Hartung's ears than a customer gushing: "I've never seen these labels before!"
While 2019 was off about 6 percent—mainly due to lower traffic issues plaguing many brick-and-mortar stores—the elegant Zelda's forged ahead with its ever-eclectic mix and an amped-up program of experiential events. "Libby has always had a great taste level and the store seems to evolve to the ever-changing wants and needs of her customers and friends," says Dan Butler, national sales manager of Lines of Denmark, a long-time shoe rep for Zelda's.
Designed like an upscale-yet-accessible gallery—shoes are perched atop museum-worthy vases in the window while jewelry is laid flat on a table—Zelda's delights at every turn. About 80 percent of the mix is shoes, with a focus on European brands. Popular labels include Homers and Jon Josef out of Spain; Ateliers, JoGhost, Shoto and Valentina Rangoni out of Italy; plus handmade Japanese brand, U-Dot, brought in last year. Hartung claims there's "zero resistance" in selling lesser known brands, so long as they meet her high quality standards. She's earned the trust of her customers. "My customers are independent thinkers who like finding shoes not found everywhere," she says. "They want an individual look that doesn't need validation by having a designer name attached. And even if they don't know a certain brand, they do know the Made in Italy pedigree!" She adds, "Many of my brands are made in the same factories as Gucci, Fendi and Louis Vuitton."
Zelda's sweet spot is $200 to $400, but Hartung notes her customers are willing to pay a little more, so long as the unique look meets the eye. "My customers want interesting," she says. "They want that rad python shoe or Maud Frizon giraffe boot for $425. They can go anywhere for basics!" Indeed, Zelda's is known for carrying an array of interesting textures like hair calf or python. Sneakers also are about the unique factors, like the casual-yet-funky python-printed Italian stretch sneakers from Save My Bag that hook up with its handbags. Along those lines, Zelda's also works with lots of European exclusives and, once sold, she doesn't reorder. "Whenever I've reordered something that did well the first time, I find it just sits," she says. "My customers return often and if they see a shoe sitting on the same shelf, they think it never sold—even if I told them it was reordered!"
With a selection spanning 15 to 25 shoe brands at any given time, Hartung rotates in two or three new vendors a season. The seasonal freshness is key to Zelda's overall vibe as well as a good ice breaker with customers. "I'll show a customer something that just came in, and if they still don't want to try it on, I'll say, 'Just humor me!'" The simple strategy works: about 90 percent of the time, Hartung's customers buy something they "weren't even looking for."
Zelda's move from a more "neighborhood" location to a strategic downtown one five years ago was another successful strategy still paying dividends. Tourists, Hartung says, often exhibit the same open-mindedness as her loyal clientele. On that note, Hartung can't wait for the new Ritz-Carlton up the block to open its doors soon. That's also when she might expand her selection of gender-neutral styles to attract male customers, which comes on the heels of the overwhelming response to U-Dot. "Being downtown now, I get so many men coming in saying, 'Why do women get all the options?' They'll pick up a python boot and ask if I have it in a size 12!"
Zelda's broad demographic spanning late 20s to 75 defies conventional retail wisdom. Not only that, the consensus that Generation iPhone never looks up from their phones to shop in stores is not the case at Zelda's. The boutique does a healthy IRL (In Real Life) business with this age group. "I think the younger customer is finally starting to realize that shopping online—and shipping back boxes and boxes of returns—is difficult and lonely," says Hartung, who deliberately doesn't sell shoes online. "There's no interaction! It's a novelty for this generation to come into a store and try things on," she adds. It's also an opportunity for Zelda's to engage with her customers. A plethora of trunk shows and unique partnerships keep the experience factor fresh, with 2019 hosting the most events yet. For example, Christiane Millinger rugs hang on the wall with gallery-like signage, letting Zelda's cross sell with retail friends while scoring with trunk shows like Fetch Eyewear and Orsyn handbags. Zelda's also hosts numerous limited private events (shopping parties of six to 10 people), where she serves famous Oregon wines to get the purchase juices flowing. "It has to be exclusive," Hartung says. "Otherwise, no one shops and it's just a social event in my shoe store!" —L.P.
Outdoor Lifestyle: Merrell
Inclusive Hiking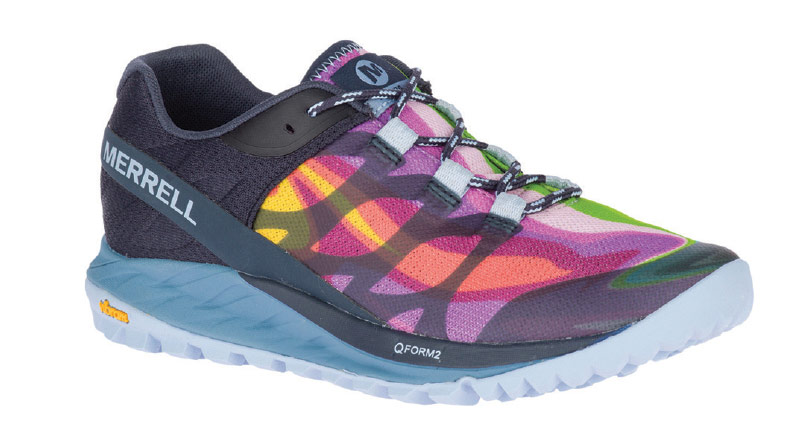 Merrell was "born on the trail" but the 40-year-old brand is savvy enough to know that not all its customers get dirt on their shoes. To that end, Merrell boosted efforts to draw more people to the trail, plus expanded its lifestyle offerings for indoor lounging and other outdoors experiences in 2019. On a Q3 earnings call, parent company Wolverine Worldwide attributed the success, in part, to Merrell's "high single digit growth."
Merrell brought in a new Global Brand President in September: Chris Hufnagel, a 10-year company veteran and former president of Cat Footwear. Possessing plenty of lifestyle brand experience. Hufnagel's vision is all about inclusivity. "We want to be the most diverse, inclusive brand," he says. "We don't care where you came from, who you love, how fast you can run a mile. We just want to support you and allow you to discover your own personal trail."
To celebrate such diversity, Merrell launched its global "One Day. One World. One Trail" project in 2019, where 23 photographers and filmmakers captured their outdoor experiences in 17 countries on Apr. 17, 2019. The diverse voices underscore Merrell's efforts to break down hiking obstacles, citing a survey of 2,500 adults that found 53 percent don't hike because of perceived barriers—like not living close to trails or having hiking partners. Only 19 percent identify as avid hikers; the rest feel they're not fit enough or 'don't see enough people like themselves' on the trail.
It's why versatile designs are key for Merrell, and 2019 saw the launch of the Nova and Antora trail runners, plus the Zion collection that brought a "trail to tavern" feel to hiking boots. "All were born in our Nature's Gym athletic area focusing on light-and-fast hike, and all greatly exceeded expectations," says John Burch, senior vice president. "We're killing off the stereotype of stiff and structured. These shoes are changing the look and feel of what the classic hike today is, and bringing a faster approach to hike." For example, many consumers are wearing trail running shoes for hiking, and the Zion is built on a lighter trail running platform that features an ultra-light Flexplate and less bulk to provide lightweight agility.
For customers who prefer the warming hut, Merrell expanded its indoor/outdoor focus last year. Riffing off its popular Jungle Moc series, the brand launched the Hut Moc. The ultra-lightweight shoe with EVA outsole and quilted upper comes in an array of colors (olive was most popular for men, blue/teal for women), with a fold-down heel for transformation into a slipper slide.
Collabs were also key in 2019, with partnerships reaching new demographics. The Merrell Moab 2 x Outdoor Voices featured exclusive colorways like pink/green to its popular Moab hiking boot. Other collabs included Dogfish Head Brewery (pairing with the Agility Synthesis Flex trail runner) and the Rainbow Mountain collection that featured the designs of a Peruvian artist on  Nova and Antora shoes. In addition, gear company Duluth Pack collaborated on work boots, and Merrell partnered with Stormy Kromer on waxed canvas and custom plaid work boots. —L.P.