Brand of the Year: Vans
Off the Wall and On the Money
In the midst of another blockbuster year, Vans raised the bar on itself last September, pledging to grow revenue another 67 percent in the next five years with the goal of hitting the $5 billion mark in annual sales. That may seem audacious, but at the rate the skateboarder-inspired, Southern California lifestyle brand has been growing of late, that's almost a guarantee. Vans is the fastest growing brand in VF Corporation's portfolio, posting a 27 percent year-over-year growth rate in the third quarter.
"If you go back 15 years and look at our growth curve from $300 million then to our path we've laid out to get to $5 billion in 2023, you'll see very consistent growth in our business," says Doug Palladini, Vans global brand president.
The growth comes from Vans' envious position of being simultaneously hip and nostalgic. Generation Z cites Vans as its favorite footwear brand after a down-trending Nike in Piper Jaffray's annual teenager survey, while Baby Boomers and Gen Xers return to the models they've been buying since the Van Doren brothers first started making vulcanized slip-ons in Anaheim, CA, in 1966. In fact, heritage models made up 65 percent of the brand's sales in 2018.
"When I was growing up, there was a lot more of a clash between generations, and that clash is completely gone from our culture today," Palladini says. "It's totally acceptable for Vans to be worn by old fellas like me as well as the next generation of youth culture."
"Vans appeals to the booming Millennial and Gen Z consumer," agrees Jim Weinberg, chief marketing officer for DSW. "They have the right balance of social media exposure to keep the brand relevant to the younger consumers without alienating Gen X." Weinberg cites the Ward lo-cut classic as a top seller for DSW in 2018.
There are three main factors for Vans' success, according to Matt Powell, senior industry advisor at The NPD Group. "One is that we remain in a very strong retro cycle: shoes from the past are very much in fashion right now," he says. "We're in a very strong athleisure cycle as well, where consumers are not buying performance footwear, they're buying athletically inspired footwear—and that's a sweet spot for Vans. Thirdly, they do a great job of managing the market."
Now in its 53rd year, Vans has a deep archive to draw from. The best performing model by NPD data is the Ward, sold at the mid-market level. But Vans isn't dependent on any one style. The Era, Old Skool, Slip-On, Authentic and Sk8-Hi are bigger sellers in 2018, Palladini cites. Of course, there's also the Checkerboard, available in an array of colors, that's forever cool since Jeff Spicoli, a.k.a. Sean Penn, sported a pair in the cult teen classic, Fast Times at Ridgemont High. By many accounts Vans' hold on the retro shopper is only getting stronger. Credit Suisse stock analyst Michael Binetti wrote in a January note that Vans seems to be grabbing retro market share from Adidas, which capitalized on the trend with its Stan Smith and Superstar revivals.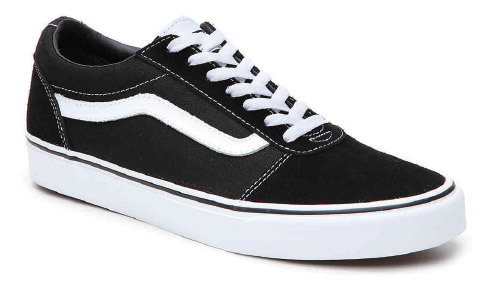 Retro doesn't mean nostalgia, at least not completely. No brand can grow just on the fumes of past races won. Palladini says Vans' success is its focus on the brand inspirations that established it: art, music, action sports and street culture. Keeping the aesthetic and design focused on those factors gives the brand a broad appeal worldwide, he believes. "If you flew from Beijing to Berlin to Boston, you would see a very consistent look in the way we show up to the consumer in the product line, the way our stores look and what we stand for," he says. The balancing act allows for nuance within that for hitting on unique cultures, supporting local musicians, influencers and athletes to connect the brand with consumers. "A lot of our business is done in the lifestyle/fashion world, but we see keeping our roots well-watered by keeping that performance-based product around action sports strong," Palladini adds.
Connecting with consumers in this day and age means navigating the fragmenting retail world. "They've done an excellent job of straddling both the up-market and the mid-market, and having products that are meaningful for both without one channel hurting the other," says NPD's Powell. Palladini says the brand has had success by limiting distribution and "going narrow and deep" with select partners. That has both kept Vans from oversaturating the market and overemphasizing any one style as well keeping it relatively insulated from high-profile retailer bankruptcies of 2018.
Direct-to-consumer (DTC) is also a key part of Vans' strategy, with the company telling analysts last fall that the channel will continue to drive revenue and profitability. "When Paul Van Doren opened the factory, the first day he put a little retail store in the front," Palladini says. "We have retail in our blood."
Nevertheless, wholesale represents the largest portion of Vans' distribution channels in 2018 at 48 percent of sales. DTC, accounting for 9 percent last year, grew 50 percent in 2018 and is projected to command almost a quarter of business in 2023. Still, the overall pie is growing for all channels, with Vans predicting all will see healthy growth in coming years.
While it may be hard to pinpoint what, if anything, Vans didn't do well in 2018, there are actually a couple areas for improvement, mainly lack of a large presence (yet) in some major markets. That provides Vans with a surprisingly broad path for expanding sales to that $5 billion goal. In China, for instance, Vans two main competitors (Nike and Adidas) have 13 and 11 times the sales volume, while in the Americas, the U.S. has almost six times as many stores as the rest of the Western Hemisphere. Those figures mean that, in Asia and the Americas, there's lots of room for Vans to grow.
More immediately, Vans will press ahead on revitalizing iconic styles like the Era, a lo-cut canvas silhouette with a signature waffle outsole first introduced in 1976. The ComfyCush Era—featuring twice the proprietary foam than the original—debuted in February. "You'll see it everywhere," Palladini says. Overall, Vans is focusing on upgrading comfort aspects, featuring lightweight constructions with superior traction. Palladini believes the modern makeovers will benefit Vans across the board. "Consumers will consider us for anything we make once they love us," he says.
With a series of attainable goals in reach, it's likely Vans will continue to receive recognition, which is perfectly okay with Palladini—but it won't knock the team off its game. "We accept accolades such as this with a lot of gratitude, and also a lot of humility," he says. "Then we say, 'Thank you,' put our heads down and go back to work." —Brendan Coffey
With a series of attainable goals in reach in coming years, it's likely this won't be Vans' only appearance in industry award circles. Such recognition would be perfectly okay with Palladini, but it won't knock the team off its game. "We accept accolades such as this with a lot of gratitude, and also a lot of humility," he says. "Then we say, 'Thank you,' put our heads down and go back to work." —Brendan Coffey
Company of the Year: VF Corporation
Firing on All Cylinders
Whoever says change is painful needs to look at VF Corporation's 2018 and reconsider their stance. In the first full year of Steve Rendle holding both the chairman and CEO titles, the conglomerate decided to hone its focus down to active and outdoor lifestyle, spin-off its denim businesses into a separate entity (Kontoor) and move headquarters from North Carolina to Denver. During the busy-busy year, the company managed to post revenue and earnings results that wowed investors and establish Vans as the hottest brand in the shoe business, posting a jaw-dropping 27-percent growth in the company's third quarter report (ending Dec. 29, 2018) with stated projections to hit $5 billion in annual sales by 2023.
"We have absolutely increased our metabolic rate," Rendle told analysts in the company's January earnings call. "We have been doing a lot over the last 24 months to evolve and reshape ourselves into the company that you see us emerging as."
The company VF is evolving into is footwear focused. The portfolio now spans Vans, Timberland, The North Face (TNF), Altra, Terra, Kodiak and Smartwool. "Footwear is extremely important for VF, currently representing 30 percent of our overall global sales—and growing," says Steve Murray, vice president of Strategic Projects for VF. "It represents a larger percentage of sales in our outdoor and active brands, at nearly 40 percent. Given the red-hot growth of Vans, footwear was arguably the single most important segment last year, and Vans is clearly one of our growth drivers." (To read more about Vans' success in 2018, see Brand of the Year profile, p. 22)
Vans is not the only brand fueling VF's  growth in 2018. TNF is making waves of late. The outdoor performance and lifestyle brand posted double-digit gains last year. Credit Suisse analyst Michael Binetti sees signs that TNF is setting up well to take over as the company's primary growth leader—if Vans eventually plateaus. Expected to help fuel that growth is an emphasis on expanding the footwear assortment. There's plenty of runway, too. Industry veteran Jean-Marc Dijan has recently joined the team as head of footwear. Previously, he led footwear strategy at Solomon, Wilson and Arc'teryx. His aim is to inject a degree of technical innovation and pinnacle performance into the line, according to Murray. (To read more about TNF's success in 2018, see Outdoor Lifestyle profile, p. 31)
VF has also expanded the portfolio last year to further growth. In June, the company snapped up Altra from Icon Health & Fitness for $131.7 million. Founded in 2011, the running brand generated about $50 million in sales last year—a level that's expected to get a big boost now under the VF umbrella. "We'll leverage our infrastructure and scale to bring the brand to a much wider audience," Murray says. "The growth we've already seen from Altra confirms for us that this brand, with its highly differentiated and unique approach to anatomical design, has the potential to be a disruptive and meaningful player in the running and trail market." Murray cites Altra's Turin IQ smart shoe as making a name for the brand in the competitive running space since debuting in 2017. The shoes are outfitted with razor-thin IQ sensors in the insole that capture distance, pace and cadence, as well as key information about the wearer's running style, like landing zone and impact rate. They also track how far and how fast one runs, as well as come equipped with a voice coach that gives pointers on how to run better while at mid-stride. Murray reports a growing legion of everyday runners and endurance athletes who are becoming hooked on Altra's unique design attributes. "The brand has an amazingly loyal following," he says.
For VF, it's all about delivering on authenticity and quality that consumers demand. That active lifestyle mantra goes beyond excellence in products. Brands that are socially and environmentally conscious are equally important factors in the purchase decision, as well as for attracting employee talent. It requires paying more than just lip service to matters like sustainability. The new headquarters is a LEED Gold-certified building located downtown that, when fully renovated in 2020, should eventually house some 800 employees. The move to Denver is also expected to attract employees for whom quality of outdoor life is a major factor.
Matters of sustainability are nothing new to Timberland, a cornerstone brand for VF. The brand has been at the forefront of eco-friendly manufacturing practices and products for decades. For example, ReBotl fabric, made up of as much as 50 percent recycled PET, is increasingly found throughout its footwear collection. The material can be applied to other VF brands. In addition, Timberland's community outreach efforts—spearheaded by its annual company-wide Serv-a-palooza charitable initiative—is considered a blue print on how to give back to local communities and make a meaningful difference. VF as a whole benefits from the example Timberland sets forth. In fact, the company was recognized last year for its efforts when Rendle was recognized by Corporate Responsibility (CR) magazine as a Responsible CEO of the Year. The annual awards are given to corporate leaders who are committed to a progressive environmental, social and governance agenda. "We are committed to operating our business in ways that contribute to the betterment of people and our planet, and to setting a high standard for inclusive and thoughtful leadership that inspires others to follow," Rendle stated. In 2018, VF was also named one of CR's 100 Best Corporate Citizens, Ethisphere Institute's World's Most Ethical Companies and Forbes and Just Capital's America's Most Just Companies.
Committing to sustainable business practices and engaging in community goodwill efforts are keys to success in this selling environment, according to Murray. Consumers have the ability to shop anywhere, anytime, from just about anyone and likely find similar pricing. The difference maker is brands that consumers feel good about buying, wherever they come across them. In VF's case, that approach is working as Murray reports sales by channel, region and segment all grew strongly in 2018. And while digital may have changed consumer shopping habits it's also a "fantastic vehicle for communicating our brands and their product attributes in a way that was much more difficult to access previously," Murray says. "We believe that the digital world and brick-and-mortar stores are equally important in the overall retail climate. We're fully committed to embracing both." —B.C.
National Chain: DSW
The Epic Evolution of DSW, Inc.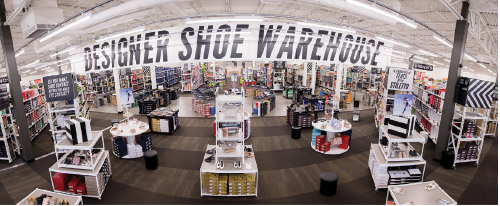 DSW, Inc. had a very big year in 2018. We're talking huge doings on all fronts that saw the Columbus, OH-based company undergo a complete transformation at the parent level, evolving its business from retail-centric to a full-service wholesale model with the $375 million acquisition of Camuto Group in October. The deal, which includes a partnership with Authentic Brands Group, arms DSW with an array of brands (led by Vince Camuto, Lucky and Jessica Simpson) to be sold exclusively through its stores as well as the ability to manufacture private label for other retailers and wholesalers.
"This acquisition has fundamentally transformed the DSW, Inc. business, making us North America's largest designers, producers and retailers of fashion footwear and accessories," says Roger Rawlins, CEO of DSW, Inc. "It significantly grew our market share while introducing us to new growth opportunities through the wholesale channel."
Camuto Group was not the only acquisition of note for DSW in 2018. Earlier in the year, the company acquired the Shoe Company and Shoe Warehouse chains that operate smaller footprint (3,000 to 6,000 square feet), family-oriented stores. Rawlins says the additions will provide growth opportunities across North America. He likens the strategy to science class experiments where a mason jar is filled with a bunch of rocks. Those rocks represent DSW stores, and 70 percent of the U.S. population is within 20 minutes of one of those locations. "I feel we've got enough rocks in that jar," he says. "The sand around those rocks is what our smaller store formats represent and that's a tremendous opportunity for growth in the U.S." Last but not least, DSW now owns and operates the DSW brand in Canada, which had been franchised to Canadian partners several years ago.
Rawlins describes 2018 as an "amazing" year for the DSW brand at the store level as well. "We made huge strides in marketing, product and people to support our mission of 'inspiring self-expression,'" he says. It was led by the launch of DSW VIP, a bigger and better rewards program that is currently 26 million members strong. "We designed key program elements based on customer insights and extensive research, which gave customers what they wanted: a simplified points system that earned rewards faster and showed them to customers in real-time," Rawlins says. "We also built a philanthropic capability that created an emotional connection with our brand that allows customers to earn points for donating shoes in our stores, which resonated in a major way for customers as we donated over 800,000 pair of shoes to Soles4Souls."
DSW also made major investments in inventory in 2018, making sure must-have brands, styles and sizes were in stock as well as rolling out an expanded kids' department in all stores to add to the chain's one-stop shopping appeal. The efforts to improve the in-store experience didn't stop there. "We made operational changes in our warehouses to ensure we had enough associates on the sales floor to provide the best experience," Rawlins says. "And we kept innovating with services, experimenting with nail bars, repair services and custom insoles."
The proof is in the numbers. DSW's 2018 third quarter revenues spiked 17.3 percent with comps up 7.3 percent—the best results in five years and beating Wall Street's expectations handily. In addition, the company reported its best back-to-school season in its 49-year history. On a broader perspective, Rawlins notes that since last May DSW has invested about $400 million, and market share has grown by almost two full percentage points. It marks a far better ROI than the previous six years where $1 billion in investments generated 20 basis points while $400 million over six months generated 200 basis points. As such, Rawlins says to expect more acquisitions going forward once these two are digested.
Just how did DSW implement so much change on such a grand scale so smoothly while, at the same time, disrupting the industry in a good way? Rawlins credits a clearly defined strategy, supported by great talent. "None of this would have been possible without the incredible team we have built that has bought in and driven these results," he says. "The results have disrupted our industry and created new experiences that emotionally connect our customers to our brands."
DSW's efforts in 2018 were like a full court press: intense, comprehensive and aggressive. While some might have thought it was too much big change at once, Rawlins believed the status quo was simply not an option for DSW in such a state of retail upheaval. When asked what was the biggest takeaway from 2018, he starts with two words: growth and change. "As a brand of brands, we must continue to think differently about our model," Rawlins says. He likens standing pat to ice cubes sitting out in 34-degree weather. "It's only a matter of time that you will melt away unless you find a way to differentiate yourself from the competition with both unique product and customer experiences," he says. "Pressures from an ever-changing consumer and brands going direct-to-consumer are requiring brands of brands like DSW to operate differently to capture market share. Our growth through both comp sales increases and acquisitions demonstrate we are making progress."
Expect more innovation and change in 2019 for DSW, Inc. "As big and amazing as 2018 was we're continuing that same exciting tempo in 2019," Rawlins says, noting the acquisitions and upgrades are all about setting the business up for future growth. "It's work that will serve our associates, partners, shareholders and above all, our customers, in the long-term," he says. "Our retail brands are all about self-expression, giving our customers the opportunity to express themselves through footwear. It's why we exist, and I'm proud of the way we advanced that mission this year." —Greg Dutter
Men's Comfort: Ecco
Adapt and Thrive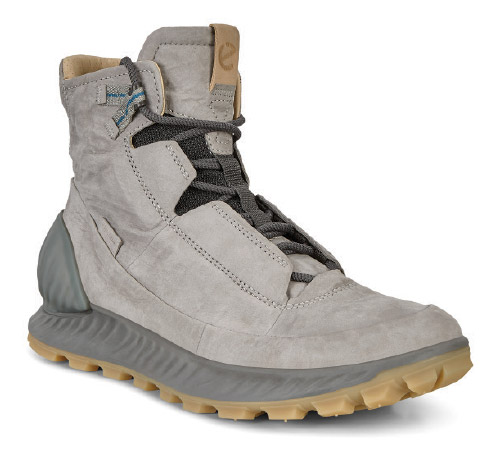 In the age of athleisure and the retail apocalypse, traditional "brown shoe" brands realize that it's adapt or die. Guys no longer want to choose between comfort technologies and style, nor do they want to wear sneakers 24-7. Ecco continues at the forefront of meeting these demands. The Danish brand has been in a period of transition, according to Felix Zahn, product director. "We are evolving from a classic comfort brand to an innovative comfort brand, which touches pretty much every aspect of the business," he says.
Last year, Ecco launched three major product concepts that integrate design elements that Zahn expects to become pillars of its men's collections in the seasons to come. The Vitrus dress-shoe line was released in early spring as a combination of old-school handcrafted shoemaking and cutting-edge technology, providing unrivaled comfort and style. That was followed by the Exostrike, a futuristic-looking urban hiker that is part boot and part sneaker. "This product was revolutionary, not just featuring modern Scandinavian design, but also highlighting our leather and platform innovation," Zahn says, of the latter. The Dyneema-bonded leather used in constructing the boot is lightweight but is Ecco's strongest leather developed to date, while the Phorone midsole material is lightweight, durable and offers heightened cushioning. Ecco's third product introduction was the ST.1 (Shock-thru technology) on athleisure-inspired silhouettes, which embeds a soft cushion core directly between the heel and the outsole. The design is the culmination of years of outsole reconstruction. "We were already known for our superb comfort features, and the introduction of the ST.1 adds almost 20 percent more shock absorption and rebound," Zahn says.
Despite concerns that Ecco's transition to an innovative comfort brand might result in a temporary slowdown in sales volume, Zahn is pleased to report the opposite has occurred. Sales were up in 2018 both in the US and globally, outpacing many competitors. "We managed to grow in every category we do business in (men's, women's, outdoor and golf) in 2018," he says. While traditionally a men's brand in America, Ecco has also seen continued growth in women's over the past three years. "Our strategy to evolve the brand and launch ever more innovative products to meet more consumers is working," he says.
Indeed, each of Ecco's product introductions last year is about staying relevant. Amid an athleisure world, Ecco doesn't plan on losing any ground. This year, for example, the ST.1 technology will be introduced into a hybrid range of traditional shoe silhouettes. "Retail will continue to change as the consumer changes, and this office hybrid category represents a lot of opportunity in the market for Ecco," Zahn says, attributing much of the brand's success to its diverse team of innovative people from around the world. "Each person has their own opinions, character and style, which combined with  a good dose of Danish traditions, makes it such a unique company and brand," he says. "We hardly ever look back, preferring to look forward and thinking about what can we do better next." —Aleda Johnson
Work Boots: Timberland Pro
Thinking Outside the Boot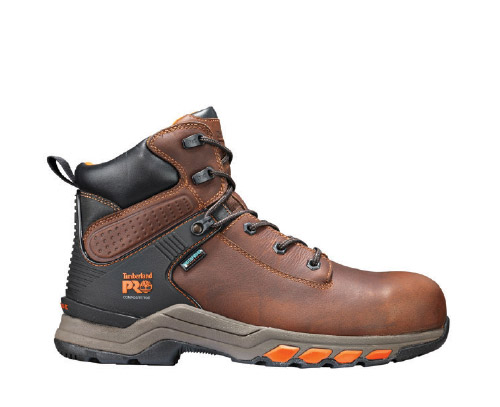 Timberland Pro extends its run of Plus Awards to its fourth straight year as it continued to push boundaries of the work boots category in 2018. "We were really proud of a partnership with SD Max where we created an innovative line of slip-resistant product, built on a Max Trax foundation for men and for women and leveraging our proprietary TPU outsole," says Bob Sineni, vice president and general manager of the brand.
While Timberland Pro doesn't disclose specific numbers, based on presentations by parent company VF Corporation it posted double-digits gain. Footwear did the heavy lifting, since it dominates the Timberland Pro mix as a more recently introduced apparel line still establishes itself.
A top performer was Hypercharge, a technology-filled boot that has StableStride, which provides lateral stability on uneven surfaces, Carbon Shield, a lightweight protective toe cap, as well as Independent Suspension Network and Pro's anti-fatigue comfort system. Another line that successfully melded work performance demands with innovation last year was Drivetrain, says Sineni, which combines Carbon Shield and anti-fatigue design for both men and women. Last but not least, Sineni cites the Ridgework collection as noteworthy in 2018. Ridgework includes Carbon Shield and StableStride in a non-traditional design—the modern look provides a little bit of "sizzle," says Sineni. While it's not the goal of Timberland Pro to be a "fashion" brand—and indeed heritage styles continued to be strong performers—new aesthetics like in Ridgework help expand the work boot category beyond the marketing cliché of a laborer kneeling in the mud in his traditional six-inch tan leather boots. "We spend a lot of time in the market with the wearers and try to see what the challenges are they're having on the job site and bring those challenges back to the innovation lab," Sineni explains.
In addition to product innovation, Timberland Pro expends effort on broadening the work boot category by challenging old ideas about working in the trades. Its marketing campaign, for instance, features men and women working in environments that are crucial to the economic future, such as on wind turbines and in solar. The company also continues to support Generation T, an effort by Timberland Pro and almost three dozen other founding partner companies to encourage people to enter the skilled trades. Given that some 10,000 workers are retiring each day and not being fully replaced, it's a cause that holds a lot of importance for both the brand and the country at large. "We're working very hard to elevate the perception of the skilled worker and treat that male and that female worker with a great deal of dignity and respect," Sineni says
How does Timberland Pro plan to keep its momentum going? A weak spot in 2018 was performance in Europe, where a network of distributors in each country has meant the brand hasn't gotten the support it needs. As a result, Timberland Pro will relaunch itself in Europe after pulling distribution back in house. The brand is partnering with sister VF Corp. brand Dickies to utilize a European distribution model that will get Pro presented as a premium brand on the continent, in line with its positioning in North America, Sineni says. —B.C.
Women's Comfort: Birkenstock
Breaking Barriers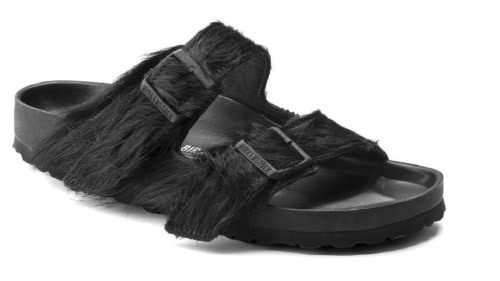 the fact that Birkenstock had another banner year in 2018 is not really news, not when the legendary comfort brand has experienced seven consecutive years of unprecedented growth. What is noteworthy, however, is how its women's business had a "breakthrough" year, according to David Kahan, CEO of Birkenstock Americas.
"We did our first true designer collab with Rick Owens, and it created quite a sensation," Kahan says. "Our women's core and fashion sandal business continued to grow, and most importantly our closed-toe and clog business grew even faster than sandals. We believe within the next three years, our shoe business can be 30 percent of our total sales."
The expansion of the women's line marks a far cry from where it stood just six years ago. Back then, there was basically one silhouette, the classic two-strap Arizona sandal. It was about at the same time when the brand entered one if its natural cycles back into fashion—something that has occurred repeatedly over the course of its 245 years of existence. But rather than it be fleeting fashion moment, Kahan says the company embarked on a plan to keep the momentum going, a strategy led by new product introductions. "We used that as a moment in time, as opposed to 'having our moment,' to introduce multiple silhouettes," he says. "Now we have six core silhouettes that are all selling incredibly well, and this spring we're introducing a new feminine strap sandal style, the Yao, that will launch in Nordstrom with major media support from Elle magazine. It's the same formula we used last spring to introduce our Big Buckle collection (Arizona and Basel clog featuring oversized buckles), which sold out 100 percent."
With an expanded selection often comes a broader consumer audience—something Kahan reports is occurring with Birkenstock. "While our traditional demographic has matured, the youth market has embraced us," he reports. "The youth consumer isn't on us as some hot trend, instead we've become a true iconic brand in her wardrobe—much like Vans, Converse Chuck Taylors and Nike. It's now a wardrobe staple, and they're responding well to the new silhouettes we've launched. In that space, our Arizona sandal isn't even the number one-selling style anymore."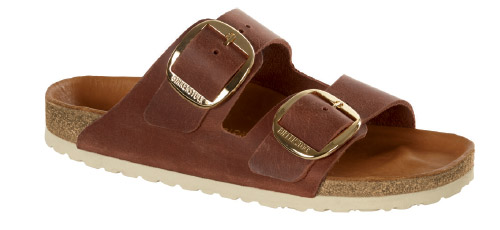 Birkenstock's recent run comes despite a disruptive retail climate that has seen many brands, across all categories, stumble. Building and maintaining momentum is hard enough in relatively stable times, but now it's especially challenging—and rare. In addition to exciting product, Kahan cites another key ingredient to growing one's business in this volatile environment: maintaining focus. "We think of ourselves as an island of sanity in a sea of chaos," he says. "We aren't paying attention to all the disruption that's beyond our control. Instead, we're hyper-focused on our brand and our consumer (i.e. fans) and making sure wherever the interest with us via points of distribution and media, we stay true to who we are and the qualities that have made us for 245 years a success."
If it ain't broke then expect more of the same strategy and controlled growth going forward for Birkenstock. The latter aspect is an especially important part of the brand's master plan, according to Kahan. While Birkenstock once again exceeded its growth plans, the fact is it could have done so by much larger margins if it had wanted to max out. The plan, however, is to leave everyone wanting a little more. "We maintain our discipline and don't necessarily capture all the demand," he says, noting the strategy has worked successfully for athletic brands for more than 25 years. "We'll continue on the path we've been on, but now take it a few steps higher." In fact, Kahan believes Birkenstock is just getting started in terms of the brand's full potential. "Our view is all we've done so far is just the foundation," he says. "Going forward we'll expand our collection with more feminine silhouettes, clogs, closed-toe styles and EVA soles in sport and family channels as well as add true outdoor (rugged) styles. In the meantime, our Papillio collection of wedges has received greater response and initial retail placement has exceeded all sales expectations."
The overriding philosophy behind Birkenstock's master plan is maintaining focus. Specifically, not to lose sight of what has brought the brand to the dance in the first place: incredible comfort in its quality products. "Our expansion style-wise has been incredible," Kahan says. "But we stay absolutely true to our heritage and DNA as an authentic German, handmade comfort brand." —G.D.
Comfort Specialty: Pegasus footwear
Keep on Truckin'
Let's get right to the point: 2018 was a good year for Pegasus Footwear, with sales at the three Hudson Valley comfort specialty stores up 8 percent overall compared to the previous year. With flat considered the new up across much of retail, that's impressive for the three stores located in the touristy/New Yorkers' second home towns of Woodstock, Rhinebeck and New Paltz. The locations surely play a key role as many look to escape the bustle of the Big Apple for "weekends in the country," enjoying the laid-back shopping and dining found in these quaint downtown districts.
Owner and founder Len Sapiro attributes a good portion of Pegasus Footwear's success last year to more than just good locations, however. The veteran shoe retailer cites ramped up social media efforts as well as a key hire as two important factors. "In addition to print and radio advertising, we really upped our game with Facebook, Instagram and direct email marketing," he says. "I also hired a new general manager, who has played an integral part in lowering our operating expenses and thus increasing our overall profits." Sapiro also credits the managers at each store for contributing to the chain's success. "A shoe store is only as good as its staff," he says. "I have the good fortune of all my managers really caring about what they do on a daily basis. They all are 'into' shoes, and it shows."
Other factors contributing to Pegasus Footwear's good fortune in 2018 include a snazzy new red van—complete with a flying horse logo (of course)—that transferred inventory between the three stores on a weekly basis. It resulted in a better balance of inventory management. That inventory, Sapiro adds, is quite extensive—another key draw for customers. "We carry over 50 brands, including most major brands as well as several new, unique and smaller brands with our emphasis always on comfort and style. We're always searching for new brands to continually freshen our selection." Strong relationships built over 30 years doesn't hurt either when it comes to creating this enticing selection. "Over the years, I've developed strong relationships with vendors that gives us an advantage procuring hard-to-get styles as well as getting great deals on others," Sapiro says.
In fact, Sapiro claims to be on a worldwide quest—one that stretches back more than 30 years—in search of the latest and greatest shoes. It's a labor of love. "Shoes are my passion," he says. "I don't exactly know why; maybe it has to do with colors, textures, shapes, and mechanics? I've traveled all over the world searching for the most innovative footwear that I can find, and I still enjoy attending shoe shows to see the next season's collections. The goal is always to have a memorable selection."
Indeed, Pegasus Footwear stores, located about 35 minutes apart, have become destinations for tourists and locals, according to Sapiro. The breakdown is about 50-50. In addition to the enticing and extensive selection, they come for the expert service that is increasingly difficult to find elsewhere. "Customers will travel hours to shop at one of our stores where they experience our friendly and knowledgeable staff," he says. "I've trained my sales force to always check the fit and, if need be, even talk folks out of buying shoes that don't fit properly." The attentive and genuine service, Sapiro adds, isn't something that's created overnight. "Most of my full-time staff have been with me for several years, and we take pride in our customer service," he says. "It takes a good bit of time and energy to train our sales associates to enhance the customers' buying experience."
Sapiro has a five-point checklist for brick-and-mortar stores to have a chance at being successful today. 1. A good location.  2. A well-trained and motivated staff. 3. Attention to inventory choices. (Sapiro's favorite aspect of the business.) 4. Excellent vendor relationships. 5. Constant attention to detail. While that list may seem obvious, it's not so easy to excel at, especially on all points, at all times and up against unforeseen challenges and outside pressures. Sapiro says it requires an ability to stand tough while at the same time being able to adapt quickly, and to see the bigger picture without ignoring the finer points. "I often preach to my staff that the shoe business is a continual series of small details," he says.
Take Pegasus Footwear's decision in 2008 to forego its ecommerce business and focus solely on brick-and-mortar. It wasn't an easy decision, as Sapiro was one of the first independents to ever sell shoes online, beginning in 1998. Over the ensuing decade, sales grew annually. But then came the Financial Crisis followed by big-time outlays on customer acquisition by major online dealers. The handwriting was on the wall: smaller dealers like Pegasus Footwear would have a tough time competing. "The costs of ecommerce began to outweigh the profits," Sapiro says. "We decided to focus on our brick-and-mortar stores, and not being involved in e-commerce has given us the time, energy and funds to do so."
After three decades, Sapiro just may have attained oracle status with regards to independent shoe retailing. He's pretty much seen and weathered it all. Pegasus Footwear is still soaring. It's been a long and winding road, one that began in the hippie headquarters of Woodstock in August of 1988—in a 400-square-foot store on the edge of town. The first few years were a struggle, as Sapiro ran the business solo, working six days a week with a little part-time help. The space was so small, he kept some inventory in his garage and, when he began to date the woman who lived in the upstairs apartment next to the store, he stored some inventory there as well. (By the way, that girlfriend has been Sapiro's wife of the past 25 years.)
Through it all, Sapiro has held firm to one overriding principle: to create the best shoe stores he possibly can. Excellence remains his North star. "We're in the process of remodeling our largest store (New Paltz) with new carpeting and fixtures from Merrell, Keen and other key brands," he says. "We're also shrinking our kids' selection while expanding accessories. In addition, we're in the process of developing an exciting new website to entice customers into our stores." Then there's this summer's 50th anniversary of the Woodstock Festival that should be a boon to business. "Undoubtedly, our Woodstock location will be quite busy this summer," Sapiro says. "We're the headquarters for Birkenstock in our area, and we anticipate a substantial increase in sales with the iconic brand."
It helps, of course, that Sapiro loves his work. "I'm so lucky to be making a living doing what I enjoy," he says. That's despite rising overhead costs (Pegasus Footwear's most pressing challenge) and the struggles of Main Street against fierce online competition, catalogs and (a lesser extent) malls. He continues to fight the good fight by giving his customers the best comfort shoe stores possible. "The best way we can compete is to strive to offer a unique and memorable experience for shoppers walking through our front doors," Sapiro says. "That is the steadfast focus of Pegasus Footwear." —G.D.
Boutique: DNA Footwear
The Art of Retail Reinvention
How did DNA Footwear, the seven-store Brooklyn-based boutique chain (with an outpost in Soho and the opening of its first-ever pop-up shop in Miami last fall), stand firm amid the earth-shaking retail landscape of 2018? CEO and Founder Daniel Kahalani cites myriad efforts that span retail ABCs to laying the groundwork for a wholesale launch that enabled the business to survive and, more importantly, position it to thrive going forward.
"It was an unstable year," Kahalani says. "But because of that, we learned to calibrate our business even better. Every year that's been challenging, we've just gotten smarter. If things were running smooth, then I'd just keep on doing what we've been doing and not come outside the box."
Acting outside the box was the theme of Kahalani's playbook in 2018. It was led by a "full-blown" eponymous private label program. "Prior to 2018, we did a little bit here and there, but last year was much more extensive," he says of the styles mostly made in Portugal and Spain. "We were excited to bring in our first spring/summer collection along with a fall/winter one. It was the highlight of the year, and it's our No. 1 selling brand right now." Kahalani attributes a good portion of the success to being dialed in on what his customers want and at competitive prices. On tap is a DNA Footwear sustainable sneaker collection, debuting next month. The line features organic cottons, recycled rubbers and sustainable materials such as coconut, cork and water-based glues. "Our customers are asking for this type of product," he says. "The awareness level is huge."
Kahalani says he has little choice but to expand his private label efforts as it delivers greater margins and product exclusivity. "The challenges over the last few years have forced us to come up with solutions to the issues we're facing," he says. Those issues stem primarily from brick-and-mortar retailer enemies No. 1 and 2: direct-to-consumer (DTC) efforts by vendors and online competition in general. It's adapt or die. "Everything that we used to do doesn't really work anymore," Kahalani says. "This is a clean slate, and you have to make your business sustainable somehow."
That's easier said than done. There's no magic bullet, hence DNA's range of initiatives to survive amid the new retail world order. "We need to figure out how we're going to be sustainable with our partner brands that we definitely want to grow with," he says. "But with online and DTC competition, majors bringing in product and marking it down way earlier than we can, overhead costs rising, volume and profits sinking…That model isn't sustainable."
Such tectonic shifts are the impetus behind DNA's exclusive distributor agreement, signed last year with Verbenas, a lifestyle brand out of Spain. The 10-year deal kicked off with the Miami pop-up shop along with a DTC website. Kahalani views it as a win-win. DNA gets another exclusive brand and (soon) the wholesale revenue stream. Meanwhile, Verbenas gets an experienced retailer that knows the right partners to grow the business properly in the difficult to navigate U.S. market. The chain has built a strong case out of the gate. "We've sold thousands of their vulcanized espadrilles for the last three years," he says, noting it will be a controlled growth strategy. "It's slow burn that starts with pop-ups (the next one this summer possibly in the Hamptons) and the website, and then we'll go heavy into marketing for the right doors for 2020. I don't need to be in every store, just the good ones."
Kahalani also improved upon retail basics in 2018, like strengthening vendor relationships and revamping its ecommerce strategy. It's about developing genuine partnerships, which includes with the likes of Blundstone, Birkenstock and Ugg. The former has been a "phenomenon" over the past year at DNA stores. "Blundstone is a great product that's been topping our weekly sales charts, and they're great people to deal with, which is even more important," he says. In fact, Kahalani says his focus has shifted to carrying vendors that truly care about his business. "It's hard to find, but we want to work with brands that believe in us as go-to sources for them in our locations." It requires common business decency—like controlling distribution. "If a vendor opens a store next to us, it just doesn't work," he says, noting it happens far too often. "Sometimes my reps don't even know about it until the last minute."
As for ecommerce, Kahalani has decided to only carry its exclusive brands on its site. The costs related to customer acquisition, site management, creating content, returns and price competition is no longer worth it. "I was spending $2 to make $1, basically" he says. Online efforts instead will involve a focused assortment of "cleaned up brands" sold through Amazon Marketplace. Kahalani says it's less fuss and cost, and potentially much more profit. "I don't need overhead for customer service, shipping costs are much lower and the volume is much more than I would ever have on my site," he says. "It's like putting quarters in the meter and dollars come out."
Last but surely not least, Kahalani credits DNA 's success to being a unique draw in a dwindling array of options. There are just not that many shoes stores left, he says. And of those that remain, they lack the curated assortment of strong brands merchandised in DNA Footwear's signature rustic chic décor. (Think no tired slatwalls.) "DNA Footwear is different kind of vibe," he says. "People know and trust us—the service, selection and value are all there. We're destinations in our neighborhoods and a part of those communities." And while the drive to make the customer experience special never wavers, Kahalani is extending that focus this year to his (75) employees. "I want them to make sure they're happy," he says. "Whether it's monthly mediations or get-togethers, I want to work on the culture from within in order to shine on the outside." Kahalani believes it'll be another win-win scenario: happy employees work better and stick around longer. "It's tough to find good employees, so I want to keep the ones we got," he says.
DNA Footwear is an inspiring entrepreneurial success story—one that began when employee No. 1 (Kahalani) subleased 12 feet of wall space in a friend's apparel store in Brooklyn, NY, in 2004. Through all the trials and triumphs—the blood, sweat and tears—Kahalani has found a way to survive and thrive. Despite the occasional recurring fantasy about easier careers, his enduring love of shoe retailing is what keeps him in this game. "My greatest enjoyment is seeing someone walk down the street carrying one of our shopping bags," Kahalani says. "We made that person happy, and that just puts a smile on my face." —G.D.
Boots: Ugg
Beauty Beyond Boots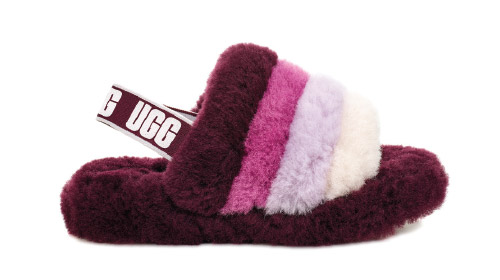 Ugg certainly knows how to celebrate a birthday. In its 40th year, the division of Decker Brands built on a successful 2017 with continued growth, highlighted by a 3.6 percent net sales increase to $761 million in the third quarter. In fact, Deckers President and CEO Dave Powers attributes the continued momentum of the entire organization to Ugg's recent success. "Our third quarter results were propelled by the Ugg brand as it successfully delivered a compelling product offering with thoughtful and controlled distribution," he says.
Need further proof that Ugg is on the rebound? An article in Forbes last year cited data from YouGov BrandIndex that suggested the brand is in better shape with female consumers than at any point since the tool began tracking it in 2010. Ugg's Impression score—which asks respondents if they have an overall positive or negative impression of select brands—sat at an all-time high of 17 with women shoppers. It marked a seven-point increase from the previous June.
Ugg caught the attention of consumers in 2018 with a steady stream of new product launches, exciting collabs and noteworthy events, according to Andrea O'Donnell, president of Ugg. "We are constantly thinking of ways to disrupt the market," she says. "From global campaign unveilings to introducing new style categories, we know that consumers crave newness and a great brand story."
Setting a breakneck pace, Ugg started out the year with three collaborations debuting on the runways of Paris Fashion Week with Y/Project, Sacai and White Mountaineering. In April, the brand hosted an exclusive brunch at Coachella before shooting the Spring/Summer 2018 content on site. Celebrities like Winnie Harlow and Dove Cameron attended, and Rihanna even posted an Instagram of herself in the buzzworthy Ugg x Y/Project thigh-high boots before wearing them to the Beyoncé concert.
While known for its boots and getting a boosts in sales thanks to early season cold weather across the country this fall, a portion of Ugg's growth in 2018 is attributed to its expanded spring collection. One of the brand's most popular silhouettes last year was the Fluff Yeah Slide, which drew inspiration from Ugg's classic boot style to create a fashion-forward sheepskin slipper/sandal. "We had a hard time keeping it on the shelves," O'Donnell says, adding the brand will continue expanding into more traditional shoe categories toward its goal of becooming a season-less brand. "Ugg is still perceived as a winter brand, and I think that we proved otherwise due to performing so well in unpredictable and warmer weather," she adds.   
To mark its 40th anniversary, Ugg launched a global campaign in October led by supermodel Adwoa Aboah, designer Heron Preston, influencer Luka Sabbat and style icon, musician and activist Lil Miquela. The campaign culminated in an exclusive event at Hollywood's Chateau Marmont hotel attended by celebrities and influencers. Grammy-winning R&B singer H.E.R. performed and announced her role as the new Ugg brand ambassador and that she would star in Ugg's Fall/Winter 2019 campaign. The event put a cherry atop a successful year for Ugg, according to O'Donnell. "We created a great deal of brand heat and exceeded our financial goals," she says. "It was a great year for our wholesale, direct-to-consumer and marketing as we came together and achieved great results." —A.J.
Outdoor Lifestyle: The North Face
Walking the Heritage and Performance Trails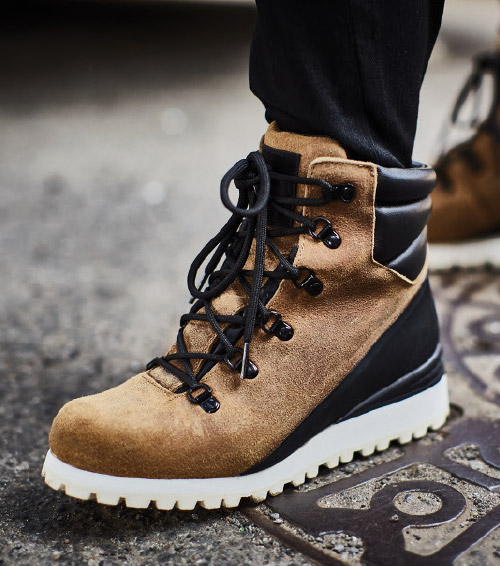 The North Face (TNF) focused much of last year on emphasizing the brand's outdoor heritage and its commitment to exploration. "2018 was focused on re-energizing and refocusing the brand conversation," says Jean-Marc Dijan, the global head of footwear. "Footwear now is growing, even if it's not the biggest part of The North Face brand, we are seeing some momentum there."
TNF's commitment to footwear is personified by Dijan, who was hired last year to take the helm of the footwear strategy. The France-based Dijan, who enjoys skiing the Alps on weekends, has been a consultant to various brands as well as an executive leading footwear strategy for Arc'teryx, Wilson (tennis) and Salomon. Now he's taking what's already a strong brand—overall TNF sales have been growing double digits for parent VF Corporation the past year—and tightening the connection between its performance roots and broader lifestyle following. It's a connection that, Dijan says, hasn't always been made over the years and thus a missed opportunity. The aim is to connect the brand's emphasis on exploration with the fact TNF apparel is being embraced by tastemakers of late. Dijan wants to "broaden the reach and the conversation of the brand without alienating the roots and the DNA." To that end, Dijan established a new Footwear Innovation Lab with the goal of bridging the gaps between TNF-sponsored athletes, product creation and merchandisers, so products can be tested at elite levels ahead of being rolled out to retailers.
Even as that effort is getting up and running, Dijan cited some existing models as strong performers last year, including the Flight RKT trail runner. The classics for men and women remain important, as well. "The Back to Berkeley was a strong surprise in 2018," Dijan says. The retro-styled line of boots and lo-trekkers harken back to the brand's emergence in the
San Francisco Bay Area outdoor culture of the late '60s. While retro lines have been strong for TNF, a focus continues on meeting consumer desire for more sustainability regardless of the style or end-use, he adds.
In addition to expanding its direct-to-consumer sales, which currently makes up roughly one-third of sales worldwide, TNF opened "The North Face Prototype," a model store of the future in the trendy Williamsburg neighborhood of Brooklyn. More than just a bigger and better retail experience, "it's a way for us to learn and be much more for the end-consumer," Dijan explains. That includes everything from product cycles and back office operations to discovering ways to better connect with audiences TNF hasn't in the past. The brand will evaluate the store's performance through 2019, with either the whole format or aspect of the experience being expanded to other locations in years to come. "We're learning, defining and inventing to bring newness and excitement to the customer," Dijan says. —B.C.
Sneaker Boutique: Kith
The Epicenter of Streetwear Culture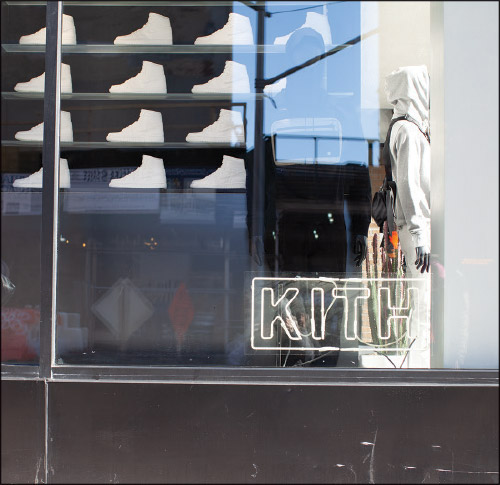 It's taken just seven years for Ronnie Fieg and his boutique Kith to become a force in the world of wider fashion, thanks to his focus on trendy sneakers and streetwear. Inspired by his youth in Queens, New York, owner and designer Fieg has made his New York based Kith a favorite from Harlem to the Hamptons by combining unique and limited-edition styles with an uncanny feel for always being of the moment.
It's a style Fieg puts a lot of effort into protecting. Brands can't distribute images of their product in Kith stores, for instance, and many of the chain's latest collabs are top-secret affairs. It's all about upping the hype factor, and it's working as Kith has expanded to seven locations—three in New York (Brooklyn, Soho and a kids' outlet in Greenwich Village) and one each in Miami and Los Angeles. In addition, there are two shop-in-shop Kith boutiques. One resides on the top floor of New York's Bergdorf Goodman and the other opened last year at Hirshleifers clothing store in Manhasset, NY.
Despite its aura of exclusivity, Kith's merchandise runs the gamut, from a $54 Adidas by Stella McCarthy Energy Boost to a $700 Off-White Moto Wrap. (Many of Kith exclusives are resold in the secondary market for much more.) At any given time, there is a selection of collaborations between Fieg and leading brands. Chief among them is an annual range of New Balance styles. This past year it was three versions of the 997, each with six colorways, that blew out of the stores. In January, Kith unveiled its first Vans partnership, Sk8-Hi Zip LX, an Old Skool LX, and an OG Classic Slip-on. Kith sold a joint Vans-The North Face all black MTE sneaker boot in 2018.
"When people like Ronnie say they want to do something special with us, we say, 'Let's do it!'" says Doug Paladini, global brand president of Vans. "It's been a real source of honor and pride that retailers who are in the know, people like Ronnie, have welcomed us into their stores."
While sneaker boutiques like Kith are barely a blip in terms of overall sales volume, Matt Powell, senior industry advisor at The NPD Group, says the halo effect is more than worth it. "Creating limited-edition products sold to specific retailers garners a tremendous amount of conversation on social media and helps build and create authenticity for brands," he says. "Retailers like Kith really fill that niche."
Each Kith location is immaculately merchandised, with sneakers encased on shelves like jewels. Rather than being off-putting, the presentation acknowledges the great importance many customers put on these shoes. This isn't just sneakers for kicking around in or going to the gym. Kith's selection is often the centerpiece to an outfit. Kith is a destination store for the deepest of sneaker lovers, serving as one of the epicenters of streetwear culture. Kith is about the shopping experience as it is about the merchandise.
"When we built the store, we wanted it to be more about enjoying the experience. Product comes and goes, but experience live forever," Fieg told Esquire in 2017. A fashion designer in his own right, Fieg made his bones working retail, starting as a stock boy at David Z in New York. He worked his way up to buyer for the chain before heading out on his own. The experience, he told Esquire, has served as the basis to building Kith. "Working as a buyer makes you really understand what people want and when you should offer it to them. That's what retail is all about—if you're a month late or a season late or a year late, the same product won't move." —B.C.
Children's: Stride Rite
The 'Want-Based' Strategy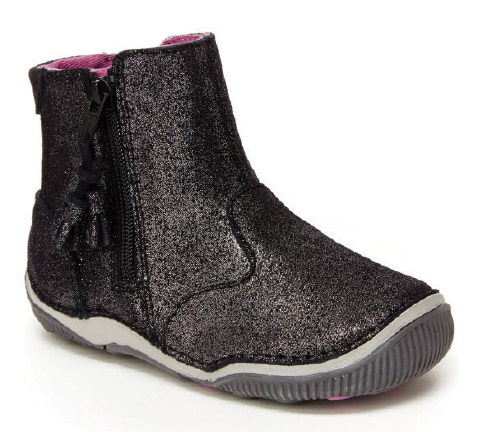 Stride Rite, a licensee of Vida Group, proved in 2018 that children's footwear can be comfortable, safe and stylish. The 100-year-old brand took big steps in expanding its distribution, introducing breakthrough technologies and upping the style quotient (think lots of glitter), according to Brian McManus, general manager. "We've been transitioning from making Stride Rite into a 'want-based brand' from a 'need-based brand," he says. "The new generation of parents come to us when they need a sturdy shoe, but we need to give them more than that."
Part of the effort involves making sure Stride Rite is visible in all tiers. Thanks to its "Good, Better, Best" strategy, the brand is making those inroads. The premium level collection, for example, is aimed at sit-and-fit specialty retailers. The collection features all of Stride Rite's bells and whistles, including extra widths, whole and half sizes and top quality materials. The brand also incentivized renovations in select stores to include Stride Rite Fit Zones, where a scanner measures children's feet in four seconds and ensures the proper fit. "I was a Stride Rite store manager 30 years ago, and buying kids shoes hasn't changed," McManus says. "Moms want it to be easy to buy, kids want an experience and stores want to best help their customers." Other retailer programs included new fit training to give employees the tools needed to provide the right fit.
For mid-tier retailers, the brand launched its Stride Rite 360 program, designed to help turn inventory faster. Instead of carrying shoes in extra widths, Stride Rite created one last with a removable insole to accommodate wider widths. "This means retailers carry less inventory and can turn product quicker," McManus says, adding, "Customers can see the differences between the 360 and premium line so, depending on their economic situation, they have the ability to choose." For the mass market, the brand introduced Surprize by Stride Rite exclusively at Target, which offers shoes based on a singular, wider last, promising a great Stride Rite fit at a lower cost.
As for technology breakthroughs in 2018, Stride Rite debuted the market's first machine washable light-up sneaker as part of its Made to Play line. "The color combinations allow it to be worn with everything, so it doesn't look like a toy on the feet," McManus says. "And mom can put it in the washing machine, which they love." Stride Rite also introduced machine washable glitter and metallic boot styles, allowing young kids to sport the latest trends. Even the brand's Soft Motion collection of first walkers, traditionally all-white lace-up booties, included big bows, bright colors, fun prints and glitter.
The concerted effort to have Stride Rite present in all tiers without cannibalizing each other, introducing new technologies and expanding the range of styles is paying strong dividends, according to McManus. He reports gaining distribution in retailers who hadn't carried the brand for several years. The most notable was Nordstrom, which experienced great sell-through in the baby market and, McManus adds, may expand the assortment this year. "We're defining our price value story in the marketplace by focusing on the premium part of the business and seeing the halo effect," he says. "It's all about innovation, fit and quality, which our team has done a great job doing." —A.J.
Men's Collection: Clarks Originals
Reliving the Classics with a Twist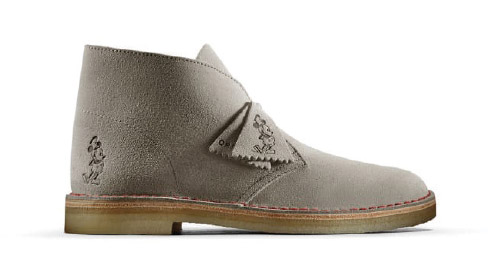 With an industry legacy stretching back more than 200 years, Clarks has hit a sweet spot by reinterpreting classics in fresh designs. It's authentic and new at same time. Styles like the Wallabee and Desert Boot lead the way, according to Tara McRae, global chief marketing officer. "When consumers are faced with so many choices in an oversaturated market, they always gravitate towards what they feel is authentic and progressive at the same time," she says.
One key way Clarks Originals found the balance between authenticity and progress in 2018 was through its myriad collaborations, including with such heavy hitting brands as Supreme, Kith, OVO and Disney. In celebration of Mickey's 90th birthday, Clarks Originals launched a limited-edition Desert Boot stamped with Steamboat Willie. The brand also released the first official Wu-Wear Wallabee stamped with "Enter the Wu-Tang" as well as the iconic hip hop group's logo. McRae is proud of the brand's passion to reinvent its iconic products and make them relevant today. "From collaborations ranging from Supreme and Bergdorf Goodman, to the beautiful color and material stories of our Made in Italy products, we continue to innovate and give our fans a reason to keep coming back," she says.
The Desert Boot continued its momentum as the top Clarks Original seller last year, closely followed by the Wallabee. "The Desert Boot has long been a staple for our brand, and we look forward to seeing the continued success and momentum for this style alongside our other icons," McRae says. The Trigenic Collection, launched in 2014, is fast becoming a new classic. The range, a modern, sporty alternative to its roster of "brown shoe" styles, received a snug knit update in 2018 as well as a Black Panther rendition in partnership with Marvel.
After a full rebranding in 2017, Clarks Originals saw strong sales last year, and 2019 looks even more promising as the brand prepares new global initiatives. "It was an exciting year for us as a brand," McRae says. "We're on track for 2018 and pleased with the direction of the Clarks Originals business as we head into 2019. We're looking forward to the year ahead and introducing more great styles." —A.J.
Best Collab: Keds x Kate Spade New York
Wedding Glitters and More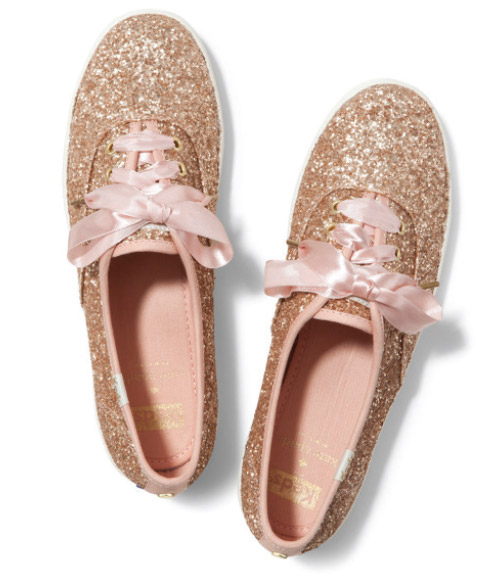 The kate Spade brand underwent a creative refresh in 2018, showing the first collections under new creative director Nicola Glass. Keds President Gillian Meek saw it as an ideal time to refresh the collaboration, now in its sixth year. The 2018 Keds x Kate Spade New York collection features fresh material interpretation and new silhouettes.
"Diversification was the key to success in 2018," Meek says. "By using different treatments and materials on our classic silhouettes, we gave women the opportunity to have more than one Kate Spade look in her closet as well as reached more consumers."
For example, the collab's crown jewel, the Champion in glitter with ribbon laces, expanded into a bridal collection featuring styles adorned in glitter, pearls, lace and jewels. Keds learned that women have been wearing the glitter style at weddings, so the team decided to up the ante. "It has everything to do with the casualization in bridal and the multiple shoe opportunities in a bride's day," Meek says, adding the move made sense as Kate Spade was already in the bridal market as part of registries. The collection met with rousing success. It was immediately picked up by Kleinfeld Bridal in New York as the only sneaker silhouette on its sales floor and continues to sell well on Keds' online platforms, she reports.
The 2018 collab also pulled from Kate Spade's ready-to-wear collections to integrate current trends—like the leopard print calf hair slip-on and the Kickstart silhouette that offered a chic but polar opposite alternative to glitter. "We were focused on getting the Kate Spade x Keds girl coming back not just for glitter but for something completely different," Meek says. Keds also added widths to the slim Champion silhouette. "We were getting such tremendous response from consumers, and we wanted it to be accessible for everyone," she adds.   
Diverse distribution from the partnership has also helped the collab gain exposure. Keds has been expanding its independent boutique base while Kate Spade's powerful foothold in department stores like Macy's and Dillard's is beneficial. "They bring a tremendous network of distribution in the department store space which helps round us out," Meek says.
Meek attributes the collaboration's success to the two brands sharing a similar spirit. "We look to partner with like-minded brands with similar points of view around female empowerment," she says. "Keds is an accessible, American brand with fun in our DNA, and so is Kate Spade, a brand whose genesis is a businesswoman." The iconic white canvas Champion sneaker also serves as the perfect blank canvas to interpret Kate Spade's use of diverse prints, materials and embellishments. "Celebrity endorsements and collaborations are often short-term partnerships," Meek says. "This has been going on for almost six years, and neither Kate Spade nor Keds sees any slowdown or reason not to continue the collaboration." —A.J.