brand of the year; sandals
birkenstock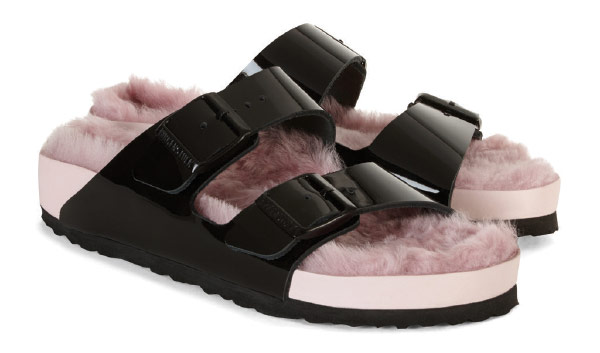 The beat went on for Birkenstock in 2017, marking the brand's fifth straight year of explosive growth. It's impressive for any brand, and especially one long criticized for failing to capitalize on the many times it cycled back into fashion. No longer, as David Kahan, CEO of Birkenstock Americas, reports the brand met all its targets financially and operationally, "far exceeded" expectations on the new initiatives introduced last year and is positioned for continued growth in 2018 and beyond.
"This past year was the first season our closed-toe shoes and boots sold out in every key retailer by the holiday season, our EVA sport sandals sold out almost 100 percent, our success in youth-oriented retail doors showed tremendous stickiness with a demographic that can be volatile, and the consumer buzz generated by our higher brand visibility was exceptional," Kahan says. All that, plus its much-publicized push back against Amazon's merchandising and pricing policies (the brand ceased selling direct on the site at the start of last year) and the celebrated debut of the Birkenstock Box, a mobile pop-up trailer that's customized by each retailer, added to the brand's snowballing momentum. "This started five years ago as a nice trend, but anyone can experience that," he adds. "Very few brands have been able to take the trend and turn it into a true brand revolution."
What's more, Birkenstock has achieved success in a difficult retail landscape that, outside of a few sneaker brands, has stagnated shoe sales overall. Kahan chalks part of that up to being one of the few brands—in any consumer category—willing to embrace its DNA. Birkenstock has continued to do what it does best: be Birkenstock. "We're not trying to reinvent who we are. We're proud of what Birkenstock represents and we're doubling down on what makes us unique," he says. That starts with the brand's hallmark contoured footbed and unique last shape. "Comfort is the DNA in all we do," he says. "We won't change based on the winds of fashion. We have no need to pivot. Consumers are embracing brands that are real. In a world of fake news, it's the few real things that people can trust and gravitate towards."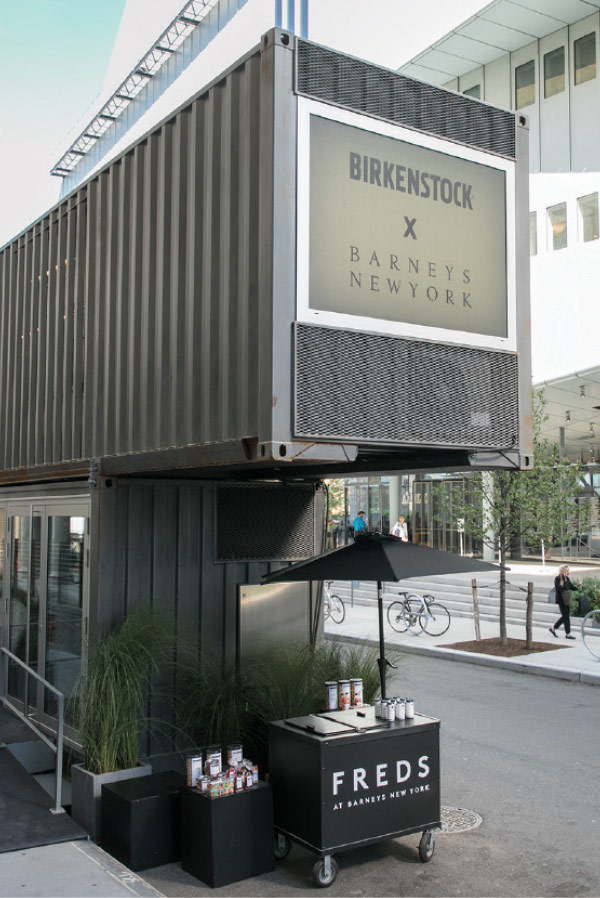 Kahan believes consumers, faced with an abundance of choice, are seeking brands that they love. Price isn't the only determining factor. Authenticity, quality and exclusivity are key attributes for a growing number of consumers who want to purchase something genuine rather than just more stuff. "Are you more satisfied when you buy something you like or would you rather spend a little more but get something you love?" Kahan asks. He uses the analogy of luxury handbags: A woman who covets a Chanel bag won't get the same satisfaction from purchasing a lesser-name bag. Same goes for shoes: "If she wants the Gucci slide, there may be dozens of look-alike silhouettes, but there's only one Gucci bit slide," he says. Similarly, Kahan believes the truer Birkenstock stays to a high level of brand discipline in terms of positioning and product, the more consumers will value the brand and the more demand will grow that isn't as dependent on overall market conditions. "We're managing the brand with a degree of distribution discipline that was never done before, and we have a global leadership team that will never compromise the brand," Kahan says, adding, "We think in terms of a 240-year-old company, which is far different from weekly sell-throughs."
Another key factor driving Birkenstock's success is its sneaker business model approach, according to Kahan. Just as Nike and Adidas have elevated the fashion cred of sneakers to haute heights, Birkenstock has been following a similar product- and brand-building strategy. "We're mixing in limited-edition launches that create consumer urgency to purchase, insuring a demand that culminates in a regular-price sale," he says. "Either you buy it now or it won't be available in 60 days. This is the energy that, by and large, has been missing in the comfort business." Kahan adds that the model creates a greater following among younger consumers who are familiar with this approach. "Athletic brands focus far more on product differentiation, innovation and continually exciting the consumer," he says. "The 18-year-old who goes into a Foot Locker expects to be entertained every 30 days with new concepts and products."
Indeed, Birkenstock has helped put the cool in comfort with its growing catalog of stylish collabs. It includes limited-edition collections with influential retailers such as Concepts, Corso Como, Colette, Barney's and Kirna Zabéte. The shoes have blown out of the stores, buoyed Birkenstock's image and raised the bar on what a comfort brand can be, which is a far cry from the stuffy, staid stereotype. "Most of the broad comfort brands, quite frankly, are transactional shoes," Kahan says. "Sure, they are comfortable, but there's no emotional relevance from the brand to the consumer. We're one of the few brands that is generating consumer demand through a distinct positioning that they understand, and that is good for our retail partners."
The brand is also pushing forward on new product innovations across the line to stay ahead and relevant. "We're making Birkenstock a 365-day retail presence and, within two to three years, 25 percent of our business will be in shoes. That's a guarantee. And it will be purely incremental to our sandals business," Kahan says. He cites last year's debut of its first shop-in-shop in Dillard's as a key step going forward in this brand extension effort. "Dillard's is the first to create a dedicated area with our fixturing to highlight the brand," he says. "The initial door saw explosive growth and far exceeded their penetration level within the chain, so we'll be executing more dedicated areas in Dillard's doors this spring."
Kahan says none of Birkenstock's success would have been possible without its talented team. Over the past 18 months, the division has added veterans Peter Moore as CFO, who joined from Warnaco; Jacqueline Van Dine, a longtime product executive from Deckers Brands and Keen; Sandra Colon as head of sales and most recently with Puma; Marketing Director Scott Radcliffe; and promoted Stephanie Militello to manage department store strategic accounts. Dedicated design positions based in the U.S. have also been added. "We have the team in place to manage our brand across all functions for continued growth and retailer support," Kahan says, acknowledging Birkenstock Co-CEOs Oliver Reichert and Markus Bensberg for providing guidance and support in helping
build a "world-class" team. Kahan believes the best is yet to come from this team. "Last year set the foundation for what will be continued growth in the years ahead," he says. —Greg Dutter
National chain
shoe carnival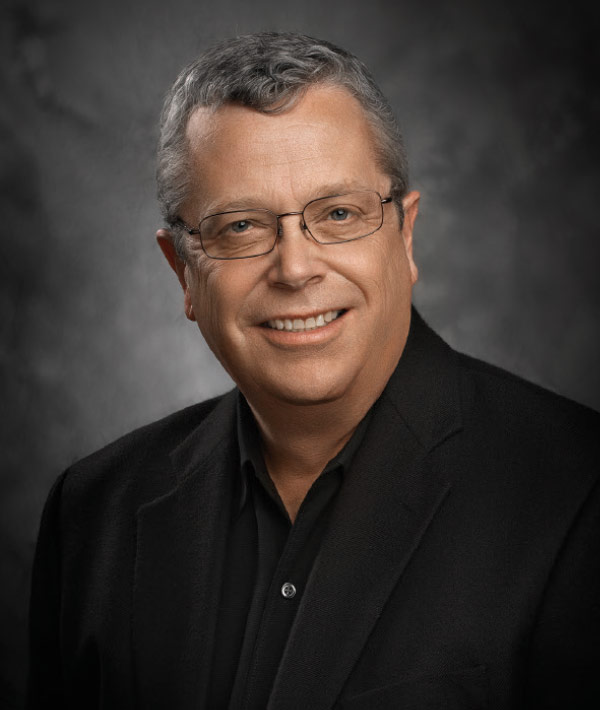 Cliff Sifford, president and CEO of Shoe Carnival, a 400 or so store chain based in Evansville, IN, says it's a good time of late to be a family shoe format—particularly one not heavily based in malls. As those white elephants continue to bleed traffic amid department store closings that are dragging down many interior-based formats with them, consumers increasingly have been shopping elsewhere.
"The guys that operate off the mall, which is primarily the family footwear channel, all enjoyed a better year, especially back-to-school compared to the competition in malls," Sifford says. "The family shoe store is the channel of choice today, whether that's us, Famous Footwear, Rack Room, DSW…We've all done well of late."
In the case of Shoe Carnival, which has a mere 22 mall-based outlets, the chain's business picked up as 2017 wore on. The first half of the year was flat on comps—the new up amid the retail upheaval—and the chain followed that with solid growth in its all-important back-to-school third quarter. Net sales increased 4.7 percent and comparable store sales were up a healthy 4.4 percent in that period. Sifford credits much of the success to the buying team's ability to identify key categories and items and then owning them. "Our customers already recognize us as a place for value, so when you have the best categories and items of the season in-depth, they're not going to be disappointed when they come into one of our stores," he says. As for key categories, athletic was tops and running silhouettes set the pace. "Back-to-school was driven by athletic, and Nike, Adidas and Puma were the key brands that our buyers zeroed in on," Sifford says.   
Another key aspect to Shoe Carnival's success last year wasn't necessarily about being the lowest priced. "We look at value as mostly convenience," Sifford says. "We know that when the customer comes into one of our stores, she doesn't have a lot of time." (Picture a working Millennial mom with kids in tow looking to shop fast for the family.) "She just wants to get her shoe shopping done," he says. "Value to her is finding exactly what she wants, getting the sale rung up and getting out, and I think we do a tremendous job at that."
Such shopping efficiency and reliability, Sifford believes, stacks up against shopping online. The return hassles alone are enough to make that more of a chore than a pleasure. "You have to deal with the UPS store and you've got to pick out new shoes, wait for those to be delivered and hope those fit okay," he says. "I believe customers like to come into a nice store, touch and try on the shoes, and walk out with a purchase. And with Shoe Carnival, they like to do it with their family."
Another factor contributing to the success of Shoe Carnival last year involves the chain's long-term effort to generate add-on sales. It's helped by the fact that most Shoe Carnival customers are buyers, not browsers, Sifford says. Employees, via headset, communicate directly to the corporate office and learn what specials they can run on the fly. "If an employee sees a customer in the women's department, they can run a promotion specific to that category to them to buy a second or third pair," he says. "We've been doing that for 35 years."
While not necessarily a new tactic, Sifford believes the add-on sales effort is particularly of interest to Millennials as is Shoe Carnival's overall vibe. "The Millennial consumer is always looking for an experience, and we give them that," he says. "Our music is upbeat, we run targeted promotions while they're in the store and we have pop-a-shot basketball hoops in all of our stores to take a break from shopping or entertain kids. It's an experience; there aren't many shoe stores like ours." Nor are competitors of similar size. Shoe Carnival stores average about 11,000 square feet, while the nearest competitor averages around 6,000 square feet. "That extra square footage allows us to include Nike shop-in-shops in many of our stores, workwear shops in blue collar locations and accessory shops," Sifford says.
Despite significant retail headwinds, Sifford remains bullish on Shoe Carnival's prospects, not to mention brick-and-mortar retailing in general, going forward. It starts with simple math as only 8 to 10 percent of footwear purchases are currently made online. "Even if total ecommerce sales spiked to a 20-percent share, which would be explosive growth, that still leaves 80 percent of the business in traditional stores," he says, adding, "I don't believe online sales have affected brick-and-mortar shoe stores as it has apparel, electronics and commodity items. Shoes have to fit and feel good, because it they don't it just ruins the rest of your day. Our customers like to try on the shoes and make a purchase in a store."
That said, Sifford still cites Amazon as Shoe Carnival's No. 1 competitor. "They sell just about everything we do and their bots can determine the best price in the market. They aren't going to be undersold." It means, for starters, Shoe Carnival can't rest on any laurels. Sifford says the chain must meet consumers' changing shopping habits and desires. "We have to offer the customer a faster, seamless, easier shopping experience," he says. "We have to, for example, find ways to effectively reach customers through their mobile devices."
Such efforts are part of Shoe Carnival's "holistic approach" to customer relationships that it introduced this year that makes them the center of attention. The goal is that when a customer walks into a store, all shopping frictions have been eliminated, Sifford says. "She doesn't get a hassle if she has to return something and happens to not have a receipt," he adds. "No one is questioning her because we're able to look up her information and get that refund to her quickly and seamlessly. Little things like that are what you have to do as you move into this new retail environment."
Sifford also believes fewer, better stores is a part of Shoe Carnival's holistic, customer-centric approach. Over the past two years, the chain has opened 38 stores and closed 35 underperforming ones, and the plan this year is to open approximately three outlets and close between 30 and 35 stores. "We decided to take a year off and let this so-called Retail Apocalypse settle down," he says. "We don't want to sign long-term leases if the co-tenants might go away." Besides, less has been more profitable. "As we move out of stores that aren't driving comps, it's helped us transfer more business to our stores within the market and eliminate that loss," he says. "It's also made those stores bigger destinations." —G.D.
Sneaker Boutique
Concepts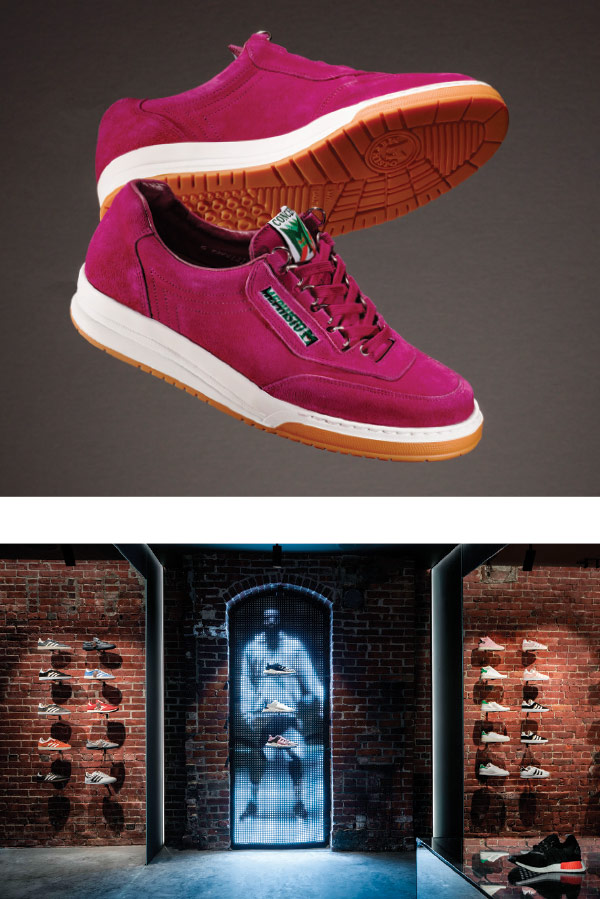 While many retailers in 2017 downsized store counts, whittled down selections and played it safe to weather the storm, Concepts continued to do what it has done for more than 20 years: take chances, create memorable moments and score a few firsts. The Cambridge, MA-based chain celebrated the successful one-year anniversary of its Dubai outpost in the Middle East, opened the first-of-its-kind Adidas x Concepts boutique in Boston in the summer, revealed news of its Shanghai store opening for this summer and, as usual, delivered an array of exclusive collaborations throughout the year that legions of voracious sneakerhead fans snapped up in seconds. What Retail Apocalypse?
Perhaps most reflective of Concepts' dynamic approach to retailing was its collaboration with Mephisto in July. It's not exactly the first brand that jumps to mind as a partner for one of the world's top sneaker boutiques. But Creative Director Deon Point says this was exactly the type of forward-thinking approach Concepts and its founder, Tarek Hassan, have built their reputations on. "It was one of the moments last year that showcased our creative freedom, whereas some of our competitors played it a little safe," Point says. "It's our responsibility to do different than our competitors."
The Mephisto x Concepts "Match"—the brand's top-selling walking shoe—came in two vibrant colorways: mint and magenta. "We did a really summer vibe," Point says. "It wasn't for the faint of heart." The release enjoyed similar success to its other collabs. More importantly, it enabled Concepts to introduce a new brand to core customers and to extend its offerings to consumers who are not seeking the usual athletic shoes—just as it did when it partnered with Birkenstock on its Boston clog in orange felt a couple of years ago. Point believes Concepts' powerful cool factor has helped to fuel that brand's subsequent success. "Our view of Concepts as a brand is luxury sport, and Birkenstock and Mephisto are luxury in their own rights," he says. "There's a lot of heritage in both brands, and when you look at the big scheme of things, it makes sense for Concepts." Point adds, "We're always planting seeds for what we foresee to be bigger moments down the line, and this will help cement our partnerships with Birkenstock and Mephisto going forward."
A partnership already firmly cemented with Adidas got stronger in 2017 with the opening of the first-ever, co-curated Adidas x Concepts store on Boston's famed Newbury Street. The 1,200-square-foot gallery space has quickly become a destination for streetwear fans to experience Adidas's pinnacle product, including an array of its coveted sneaker and apparel collaborations—among them, Yeezy, Stella McCartney, Rick Owens and Raf Simmons. Point says the response has been "amazing." What's more, the opening represents another example of Concepts breaking new ground. "Before, it was shop-in-shops and pop-ups, but nothing that's been co-sponsored and curated this way," he says. "To be able to partner with a brand of that magnitude is an exciting venture for us, and we hope to do more stores like this in the future."
Concepts remains a believer in brick-and-mortar retailing, according to Point. It already does a healthy online business and there are plans to expand that channel, but the physical level represents the chain's roots. "Our brick-and-mortar stores define who we are and give us our character," he says. "We're destination shops, and we're not turning our back on that format by any means."
Last year, that commitment involved efforts to draw more customers into its stores beyond the weekend-based sneaker drops. While those events continue to draw huge crowds of diehards who love touching the merchandise and being part of the scene, the challenge has been to generate traffic in between the drops. "Whether it's custom packaging, build-outs, aligning with some brands or celebrity and athlete appearances, it's up to us to create those moments," Point says. "We can't rely on the brands as much to do that because they seem to increasingly have their own agenda with direct-to-consumer efforts." Part of the effort to drive weekday traffic involves making sure the selection meets the needs of the entire customer base, which extends well beyond sneakerheads. "We have guys in their late 30s and 40s looking for premium and exclusive product," Point says. "It's up to Concepts to make sure all of our customers feel welcome in our stores and that we have merchandise that meets their needs." Last but not least, Point says Concepts must better understand why consumers shop online. "Is it convenience? Is it just laziness? Is it that people don't have time to shop the marketplace like they once used to?" he asks. "We'll continue to research and do our best to figure out what our niche is."
In the meantime, Point says Concepts will continue to push the envelope and stay at least one step ahead of the competition. That's the Concepts difference in a nutshell: Rather than react to market conditions, the chain has stayed ahead of the curve and created new markets—just like it did nearly a decade ago when it was the first to merchandise luxury brands like Gucci and Balenciaga alongside the likes of Vans and Nike. That has become the norm across retail—as has the sneaker boutique format Concepts is credited with inventing. Beyond that, how many retailers can report expanding their footprint, introducing groundbreaking concepts and significantly growing sales over the past two years—and expecting to do it again in 2018? Concepts can. "We're always planning ahead, trying to figure out where the market is going, to what extent we play in it and finding ways that make sense for customers to come shop with us" Point says. "At the same time, we also have a game plan that doesn't need to conform to anything that is going on currently in fashion or otherwise." —G.D.
Athletic Lifestyle; Best Sneaker Collab
adidas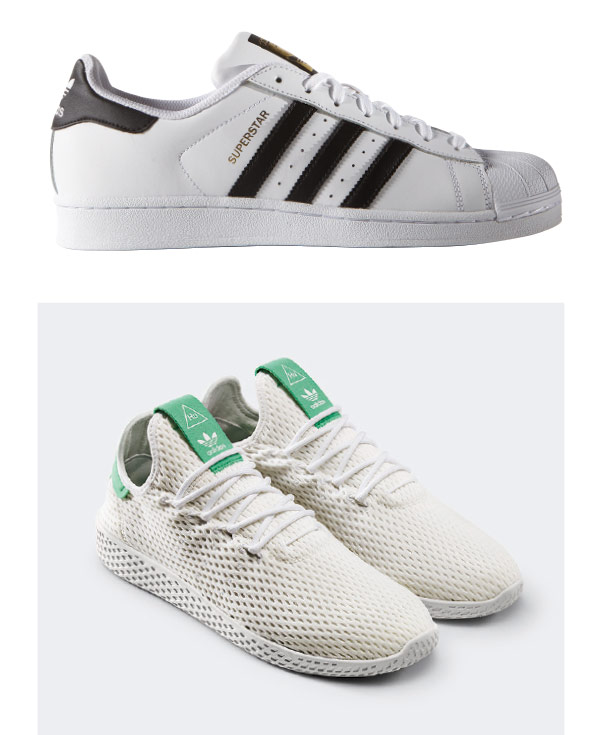 Adidas was feeling mighty "Happy" again by the end of 2017. The powerhouse brand continued to plow ahead on growth and overall brand awareness, Retail Apocalypse be damned. In fact, since the relaunch of the Stan Smith in 2014, the brand's broad lifestyle mix has been at the forefront of the athleisure movement with a range of spot-on casual athletic styles, exclusive collaborations and more rebirths of its classic silhouettes that have landed onto the feet of influencers, celebrities and millions of followers and fans worldwide.
The Stan Smith—first launched in 1971—continued to be a key silhouette in 2017, according to Pascha Naderi-Nejad, senior brand director of Adidas Originals North America. Additional top sellers in 2017 included the Superstar, Crazy, EQT and Campus—franchises that reference the brand's history. Newcomers like the Prophere and I-5923, which feature a mélange of basketball, tennis and soccer influences incorporated into futuristic designs, were also popular items. "While Adidas Originals is comprised of lifestyle collections and products, everything we do and design is rooted in sport and ultimately inspired it," Naderi-Nejad says. "With these two elements in mind, we continuously challenge ourselves to examine our heritage and our storied place in sport culture and how we can best translate that in modern ways."
Adidas decision to zero in on the sportswear as fashion and not necessarily performance has resonated with consumers, according to Matt Powell, vice president and senior industry advisor for The NPD Group. "We're in a cycle where performance footwear is not driving the market, and it's more about sportswear products that draw their aesthetic from performance," he says. "For stylish shoes that feel and look like sneakers, Adidas is on top of the game." In fact, Powell says 2017 was the first time in memory that Adidas had two shoes (Superstar and Tubular Shadow) ranked in the retail tracking agency's Top 10 selling styles for the year. What's more, Powell reports the brand overtook Jordan Brand as the No. 2 brand for sports footwear.
Keeping Adidas at the top of the sneaker game is the brand's numerous collaborations last year, with Adidas Originals = Pharrell Williams a standout. Perfectly mixing sport and lifestyle, Williams raised his game by centering on the importance of positivity, even naming the signature style the Hu, based on the first syllable of "human." In the age of emotional marketing campaigns, the "Happy" songwriter's thoughtful approach to design with a big picture message resonated with consumers. "He merged the worlds of sport, culture and lifestyle together by creating an Adidas Tennis Hu collection with a campaign that encouraged the world to let their voices be heard by delivering personal messages that inspire change through love," Naderi-Nejad says, adding, "Pharrell is an influential creator in so many ways, and his ideas and inspirations permeate the culture, resulting in true connection with consumers." While not a huge contributor to Adidas' overall bottom line, Powell concurs that collaborations like Williams' delivers on increased brand awareness. "Pharrell brings fresh point of view, use of color, sense of humor and compassion in what he does," he says.
While music has been a part of Adidas' ethos since its partnership with Run DMC, Naderi-Nejad believes sport style and music go hand-in-hand today. "These artists bring their creative vision to the brand in an organic, relatable way resulting in exciting projects that continue to shape the industry," he says, adding that partnerships with musicians Kanye West and Pusha T also continued to fuel Adidas' street cred last year. Toss in the collaborations with fashion designers Raf Simons, Stella McCartney and Rick Owens, and it's easy to see how the brand is expanding its demographic at both ends of the spectrum and with both genders.
Indeed, putting the customer first was the core of Adidas' marketing in 2017. The company not only aims to create great product, but to always introduce new experiences to the consumer. "We're always reimagining innovative ways for consumers to shop and engage with us, so we can continue to develop and deepen our connection with them," Naderi-Nejad says. It's a focus that, Powell says, goes well beyond A-listers and trendsetters. "Adidas woke up to how important midmarket is to the industry," he says. "They're one of the few brands that finally figured out that the more moderate consumer has taste and sophistication as well, and it's working. They're the one hot brand that's moved the needle for retailers."
Adidas expects to pick up where it left off this year, despite the uncertainty of the retail marketplace. CEO Kasper Rorsted recently predicted another strong year of growth in the U.S. for this year across all retail channels, especially online. Digital sales in the U.S. during the first nine months of 2017 spiked more than 60 percent, and the exec reiterated the company's goal of reaching a 20-percent market share here. Powell, for one, believes that Adidas has more upside, especially if it sticks with its winning formula. "If you go back a couple of years, that's when Adidas decided to focus on what U.S. consumer wanted to buy," he says. "They moved a couple hundred employees from Germany to its Portland offices, changed their business practices to leverage that and, after years of having European-centric model, their focus on this market is showing great dividends." —Aleda Johnson
Insoles
OrthoLite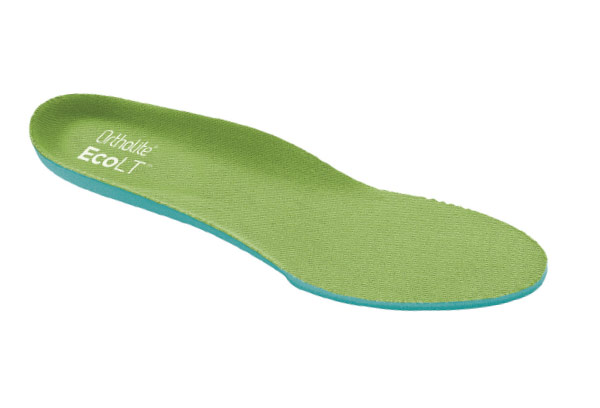 Fittingly, the first-ever Plus Award for design excellence in the Insoles category was won by the industry's leading supplier, OrthoLite.  The company's insoles, led by its exclusive cell foam technology, are found in more than 500 million shoes across all categories each year. Brand partners include Nike, Adidas, Clarks, Converse, Reebok, Kenneth Cole, New Balance, Timberland, Tory Burch, Johnstone & Murphy, Wolverine, Rockport, Ecco and Vans. In addition, OrthoLite produces its own collection of over-the-counter insoles as consumers increasingly understand the value of customized inserts for wellness and comfort. OrthoLite is even the official insole of the New York Yankees and its partnerships with Girls on the Run and the American Trail Running Association further push the importance of support and cushioning as well as OrthoLite's brand awareness.
CEO Glenn Barrett reports 2017 saw strong gains in both OrthoLite's licensed and branded divisions. "Overall, 2017 was amazing and another growth year for our company," he says. "Our more than 250 brand partners are an integral part of our success is a stamp of approval that we cherish."
As a vertically integrated manufacturer and chemical systems-house, Barrett notes OrthoLite's ability to tailor each of its innovations to meet the specific needs of both brand partners and consumer-driven trends is a key to its success. Barrett adds that the broad range of partnerships across all categories also insulates the company from market share swings that can negatively impact niche-oriented insole suppliers. "As an integral part of the comfort and performance DNA of each shoe, we're able to help our brand partners navigate shifts in consumer needs or demand," he says. "OrthoLite also has the unique ability to customize formulations so brand partners can create their own comfort stories that are unique to their brand and/or category."
Barrett credits the growing awareness among consumers for helping increase sales of OrthoLite insoles of late, as well. What used to be viewed an afterthought in footwear is becoming a centerpiece of the selling equation. Consumers are learning more of the huge difference the right (often customized) pairs of insoles can make. It can be the difference between pain and misery and being able to walk around all day without any discomfort. Retailers are also recognizing the add-on sales potential over-the-counter insoles offer. As margins on shoes get tighter, sales of insoles can be the difference-maker to coming out on the right side of the weekly ledger.  "With step-in comfort being so important today at retail, it's vital to understand that the comfort attributes as well as the fit delivered by OrthoLite will remain for the lifetime of the shoe," Barrett says, noting that the insole is the most important comfort component of a shoe. "This drives value, sell through and consumer loyalty to the brands we work closely with," he adds.
Barrett cites OrthoLite's focus on sustainability in both manufacturing and technology as another attractive selling point, especially for Millennials. Since the company was founded 20 years ago, every formulation OrthoLite develops has included at least five percent recycled rubber, which also provides its signature speckled look. That percentage adds up to more than 300 metric tons of recycled rubber annually, helping to reduce OrthoLite's carbon footprint.
As for notable product introduction in 2017, OrthoLite launched the XSeries, an expansion of its X40 high-rebound technology featuring 40 percent elasticity. In addition, the X25 and X35 high-rebound solutions enable brand partners to tier their performance story while providing consumers with high-rebound options across multiple categories and price points. Also new in 2017 was the EcoLT collection, which combines six percent bio-oil content made from OrthoLite's proprietary castor oil formulation in addition to the existing five percent recycled rubber content in every insole. An added bonus of these product breakthroughs was OrthoLite's ability to seamlessly integrate them in its existing stable of product offerings. "These new innovations were rolled out at cost neutral to our partners, enabling them to expand their sustainability story into new prices or categories," Barrett says, adding that it's another example of how the company leads by example. "OrthoLite has stood out as both a category creator and a premium leader, and our brand is recognized for both quality and performance," he says. "Our goal is to over-deliver on our promise to provide the most comfortable and best-performing insoles in the world, providing a cooler, drier, healthier and more comfortable interior of the shoe." —A.J.
Comfort Specialty
Footwear Etc.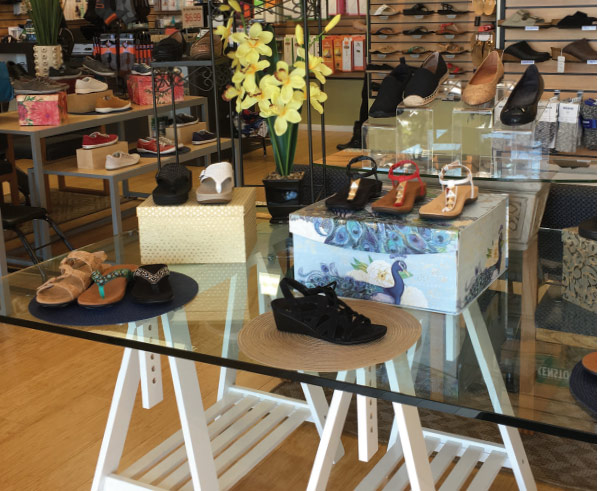 In a year where flat was the new up across retail, Footwear Etc. was one of the few fortunate enough to be flat. The company's ability to sustain sales comes on the heels of four straight years of solid comp store gains (upwards of 19 percent) and overall growth that saw expansion of the California-based chain from seven doors to 14 by the end of 2017. President and CEO Andrew Monarch says the tough slog last year prompted the chain to refocus, retrench and renew—and rediscover much of what fueled its success in the preceding few years.
"Staying true to our core has become extremely important in this fluid retail environment," Monarch says. "We're focusing on being in stock with our best brands and continuing to provide a full-service sales experience at the fitting stool. We're also constantly monitoring our inventory, selection, turn and margin—every decision is critical, and we don't have room to make mistakes."
Efforts included plenty of behind-the-scenes upgrades, led by the decision to decentralize shipping and receiving. That was a big deal, according to Monarch. For the past 30-plus years, it had been done through a centralized warehouse. "The change enables our stores to receive merchandise directly from vendors and, in turn, customers can get shoes faster," he says, noting it's cut out a day or two on delivery times. "Now if we get an order at 3:15 in the afternoon, it can go out within 10 minutes directly to the customer," he adds.
Additional backroom upgrades at Footwear Etc. last year included installation of a new software system with integrated POS, CRM and inventory management that is cloud-based and on iPads; segmenting customer database and marketing to deliver a relevant message to customers that is in line with what they buy, at which store and when they like to shop; and participation in cause-related marketing events, like donations in partnership with Naot to victims of the state's devastating wildfires last fall.
Several key management changes were also made, including the replacement of Footwear Etc.'s head buyer and a store manager. While such personnel changes are never easy, Monarch says sometimes it's just necessary. The manager change, for example, came after sales at that store had been down for about six months. Monarch studied everything—selection, location, staffing, traffic—and finally looked at the culture. "Maybe the traffic was down because of the service we had been giving," he says, likening it to the seventh inning when a change in pitchers is needed. "We needed to change the energy in the store." It turned out to be the right call. Within 30 days, the store's sales began trending up. Monarch, however, saw the potential on day two. That's when he witnessed the new manager, a transfer from one of Footwear Etc.'s newer locations, fitting a customer in his minivan! "That's when the customer's wife decided to buy a pair, also," Monarch says, adding, "I believe the service we give will perpetuate the traffic we get."
Monarch says a similar change-in-pitchers scenario played out with its head buyer last year. After a solid six-year run that brought in many new brands—at lower and higher price points—as well as chasing items successfully at times (and getting stuck with inventory at other times), he believed a change in overall philosophy was needed. Specifically, a less-is-more, less risky approach was in order. "During those years we were growing rapidly, we had added a lot of brands to our assortment based on the belief that it would make us fun and fresh," he says. "But we found that in getting away from our core, we couldn't be in stock in everything and we also strayed from our roots." Instead of trying to build new brands, they decided to go deeper with more established brands. "We're not in the brand-building business," Monarch says. "We do better when our customers may have already heard of the brand. There's a cache to a Vionic or an Ecco, and then it's up to us to take them to the next level."
Another area that received plenty of tinkering in 2017 was Footwear Etc.'s online strategy. It continues to be about finding the right balance between bricks and clicks, Monarch says. Back in 2009, the sales split was about even and the shift since has been more in favor of stores. "When it got to 50-50, on the one hand overall numbers looked great, but we had to scale back because we weren't really making much of a profit online," he says. "Now we're almost two-thirds stores. We like that ratio, which is better for our bottom line."
The fact is plenty of Footwear Etc. customers still like to touch and feel before buying. "Our customers will pay full price for brands like Naot, Pikolinos and Mephisto if they are serviced well and if it's in stock—that's a strong value proposition," Monarch says. "They want someone to provide service, educate and engage. You can't just be transactional; that's when online plays well." This also goes for an increasing number of Millennials who are shopping Footwear Etc., Monarch reports. "We're seeing twentysomethings sitting down, getting measured and buying brands like Birkenstocks and Ugg," he says. "On one hand, it's a new experience for younger customers and it's renaissance retail for older ones."
Tough overall market conditions aside, Monarch remains a firm believer in brick-and-mortar retailing and in the continued success of Footwear Etc. He chalks last year up as a good learning experience. "Even after all these years, we're always learning," he says, adding that expansion is on the agenda. Last year, the company acquired Walkabout Footwear in Walnut Creek, and the plan is to add a couple of stores to go with the chain's recent expansion into the San Diego market. "We like to have three- or four-store pods so we can share labor and inventory," Monarch says. "Next year, we'll probably add second and third locations because we think there's growth potential in Southern California." —G.D.
Outdoor
Timberland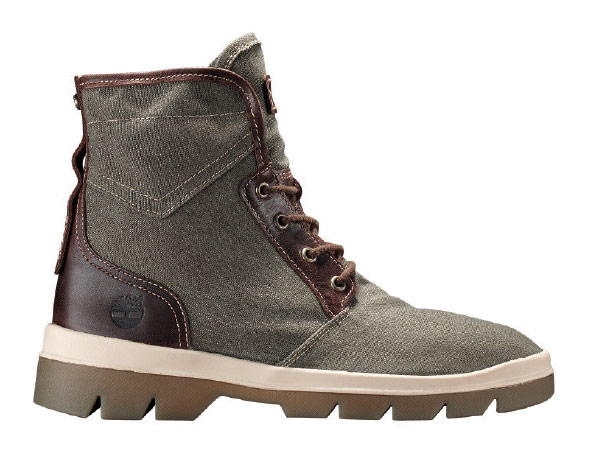 That iconic yellow boot, style 10061, has been the cornerstone of Timberland's footwear business, and last year was no exception. The waterproof style was the focus of its "We Built It. You Made It" multi-media campaign, celebrating the people who helped build it, according to Tracy Smith, vice president and general manager of Timberland North America. It also continued to get fun makeovers to keep the silhouette fresh, like the women's luxurious velvet details in seasonal holiday colors.
Timberland was also inspired to relaunch its 1978 Hiker and original World Hiker styles last year. The company collaborated with influential brands such as Supreme, Off-White and OVO, resulting in "some of the most sought-after boots of the year," Smith declares. Another unique partnership in 2017 revolved around its eco-friendly "Earthkeepers" collection. Together with Thread, a Certified B Corporation that transforms plastic bottles from the streets of Haiti into fabric, Timberland introduced a collection of footwear, apparel and accessories. But 2017 was not just about retro styling or being green. "Key technologies like SensorFlex showcased a creative approach to flexibility," Smith says, adding that the design team integrated across the line. "From sport-inspired styles with athletic white outsoles to rugged boots and casual footwear, SensorFlex provides the ultimate in versatility," he adds. Timberland produced a series of videos with professional dancers to showcase the lightweight flexibility of the select styles. "The national campaign created dramatic and powerful imagery that came to life in [magazines such as] GQ, on trains and buses, and through robust digital media activations, including interactive mobile ads that invited consumers to test the flexibility of the technology on their smartphone," Smith says.
Last spring, Timberland also debuted a revolutionary lightweight outsole technology called the Aerocore energy system. "Crafted with boot toughness, this aerodynamic system blends athletic-inspired design that cushions and energizes so you can be lighter and faster on your feet," Smith says. The FlyRoam collection with Aerocore resonated among men's, women's and kids' for its rugged appeal blended with a casual, street style, he adds. "Consumers also loved the statement-making men's Britton Hill collection with SensorFlex and its timeless leather uppers and incredible comfort," Smith adds. Last year was also the year of the woman for Timberland. The brand continued to introduce more feminine silhouettes that are beautiful, timeless and distinctively Timberland, yet with a modern, classic and season-less look, according to Smith.
Overall, Smith says 2017 was a year that saw Timberland give customers what they want and need. "In a shaky retail climate, consumers value brands of substance and look to brands they can trust," he says. "We're fortunate that Timberland's heritage of authenticity and innovation delivers on just that." —Michele Silver
boots
UGG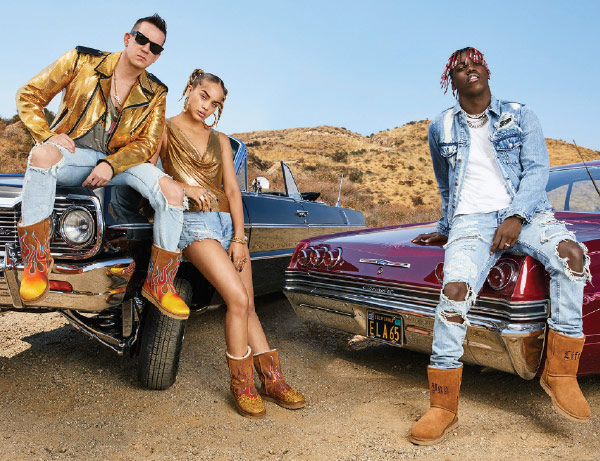 Ugg, a division of Deckers Brands, got its mojo back as 2017 wore on. Coming off a bit of a lull, the brand experienced a 4.3 percent net sales gain in the third quarter (ended Dec. 31, 2017). CEO Dave Powers cited "refined product categories, enhanced consumer messaging and wholesale account optimization in much stronger full-price selling across the portfolio during the holiday season" for contributing to the success. Plus, it got cold early across much of the United States this past winter, and that helped the sheepskin-based brand. What's more, wool as a material statement is trending strong. Think Allbirds and think Ugg, the brand that made the material a footwear staple.
Favorable macro trends and weather aside, Ugg pushed the envelope last year with exciting collaborations, product upgrades, a new spring marketing campaign and a store opening at The Oculus in the World Trade Center. "It was a great year for Ugg," says Andrea O'Donnell, president, Fashion Lifestyle Brands for Deckers. "We grew our business across all genders and in many footwear categories outside of boots. Sales of our lifestyle product—apparel, outerwear, handbags and socks—also increased 50 percent on the year. Our boot business really kicked in toward the tail end of 2017, when the weather got colder and contributed to our best third quarter sales ever."
Here, O'Donnell discusses further why Ugg clicked with consumers in 2017. —M.S.
What were product highlights last year? Last fall, we launched designer collaborations with Jeremy Scott in women's, men's and kids' and 3.1 Phillip Lim for men. Both designers put their own spin on our iconic Classic boot. Jeremy applied a custom flame design inspired by old Hollywood hot rods and Phillip featured a functional zipper on some styles, which was taken directly from his ready-to-wear collection. For our women's core collection, we introduced our Classic Waterproof Collection. Consumers' favorite silhouette offers a new level of functionality. We're always finding ways to reinvent and innovate through design in our Classic boot and slipper categories. We'll continue to create beautiful styles that are distinctively Ugg.
In men's, boot category highlights were our Neumel sheepskin chukka boot and Harkley, the hi-top iteration of the Neumel. Combined, these two styles contributed a 44-percent sales increase in our men's line. We also introduced waterproof iterations of both styles, which contributed a 16-percent increase to overall sales. These styles are an opportunity to grow our business domestically and internationally. Younger male consumers are responding on their own to Ugg of late. The styles performing best have been in the line for years, and the consumer is discovering and making them their own in a very cool way. We see unlimited potential in our men's classic and slipper categories, as well.
What were some other hot items that debuted last year? Our Gita boot, an iteration of the Classic adorned with Toscana fur pompoms that targeted a younger consumer, performed very well. Also, our core sheepskin slippers Tasman and Coquette in dark olive and garnet, respectively, did exceptionally well. The indoor-outdoor slipper trend is very big, and  these styles thrive because of it. Additionally, our tried-and-true Butte cold-weather boot was a standout last season.
Despite a tough year industry-wide, why did Ugg rise above it? Our point of difference is that there isn't another brand like Ugg. Our heritage and quality make us one-of-a-kind. Ugg is a staple of consumers' wardrobes.
online
zappos
zappos, the only digital dealer to ever win the Plus Award in this category, did so once again as the industry took note of its unparalleled selection and legendary service. "We view everything through the eye of a vendor," says Joanna Hass, public relations director for Zappos. "They might not be our frontline customers, but we work hard to treat them like one. Every interaction we have with vendors is an opportunity for us to reinforce our commitment to service."
In 2017, Zappos evolved its customer-centric site with the introduction of two new features, The Ones for customers' favorite sneakers such as iconic styles from Adidas, Converse and Keds; and Running, which breaks down the category into four subsections of Stability, Neutral, Cross Training and Best Sellers. "We're always trying to create the best customer experience possible and one thing we found in the last year was our ability to talk to customers through various pages on our site," Hass says. "We thought about those verticals through the eyes of the customer and created a destination that offered content, expert advice and other things that spoke to our customer as a whole person." The strategy will be a key component going forward. "When you start bringing the customer into every decision you make, it pays off," she says. "No matter what's happening in the industry, we've always viewed ourselves as a customer service company that just happens to sell shoes, clothing, handbags and accessories."
Beth Bartholomew, senior director of Independent Sales at Earth Brands, gives a thumbs up to the customer-friendly upgrades. "Zappos has been a really good partner and our brand shows well on their site," she says. Scott Home, president of Fashion Major Brands, makers of Coolway and Musse & Cloud, praises Zappos for being an ideal e-tail partner. "We worked really well together on a launch of a new brand (Freestyle by Coolway) exclusively on Zappos last year," he says, adding, "They are quick to fill in and easy to work with."
In addition to mastering the online shoe retailing basics, Zappos continues to think outside the (shoe) box. The company installed a 25-foot-long aquarium in its employee nap room and CEO Tony Hsieh's vision (began in 2012) to create a community-focused city built around its downtown Las Vegas headquarters is becoming a reality. Zappos also just entered a partnership with Caesars Entertainment to open the Zappos Theater at Planet Hollywood Resort & Casino. The aim is to connect with consumers on a deeper level while staging A-list entertainment. —M.S.
Rain Boots
Joules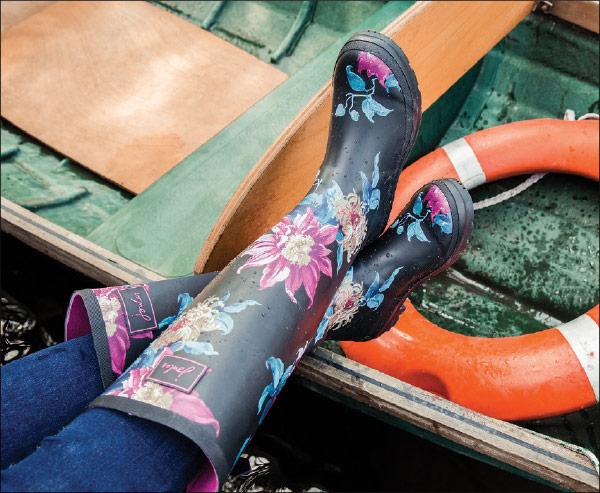 The latest British invasion isn't rock stars or royalty, but rain boots. Since landing ashore in Fall '16, Joules has made quite the splash. The lifestyle brand known for its colorful and patterned wellies are catching on nationwide. "Having launched the brand in the U.S. with rain boots, we're thrilled to be recognized in this category," says David Wood, the brand's general manager for the Americas. "It's been great to see how this market has responded to our unique prints and colorful designs."
While Joules has since expanded its offering to include outerwear, clothing and accessories, rain boots remain its bread and butter. "Rain boot sales have grown significantly worldwide as people learn more about us," says Bil Waring, senior footwear buyer, adding that the outlook for growth remains strong for this year. "We've already had a tremendous response to the start of 2018 and look forward to the next steps in expanding our footprint here," he adds.
Joules has garnered a following with its English country designs and prints, which are all hand drawn at its headquarters in Market Harborough, England. Standouts for 2017 included signature florals, dog prints, bees, dragonflies, spots, stripes and horses. Rain boots came in short and tall versions and a range of bold colors. Last year, Joules also introduced new silhouettes like the Rockingham Chelsea boot with a translucent upper to show prints drawn on the lining on a slimmer silhouette for a modern alternative; the Faux Fur Cuff rain boot; Downton Wellies featuring a high-quality rubber that's soft yet durable, padded footbed and new super grip wedge sole; and the black Biker rain boot with strap and buckle detailing and a back zipper for ease of entry. "The mid-height boot looks just like a leather biker boot but keeps your feet dry," Waring says. In addition, Joules launched mini-me versions of its women's Wellibob and Chelsea rain boot for girls. Both styles feature Joules' exclusive hand-drawn prints. Waring also singles out the Back Adjusta Welly with its extendable gusset in the back with a strap that enables quick and easy adjustment, and the Pop On Clog rain boot as popular items last year. "These all carry our hand-drawn prints and differ from others in the market as they incorporate a Neoprene Heel counter cuff for comfort and keep secured on the foot," he says. "They're great for the outdoors, gardening or dog walking."
Joules' extensive product range is a big draw for consumers as well as the quality at affordable price points, according to Waring. He adds that the success also stems from strong customer engagement that begins in the U.K. "We're highly engaged with our customer and listen to them because they will tell us what they want," he says. "When we launch a collection in the U.S., it's tried, trusted and fit for purpose." Adds Wood, "Our range of rain boots make our customers smile. They are subtle in their way but are based on our true heritage as an outerwear brand." —A.J.
Best Collab
Vans x Karl Lagerfeld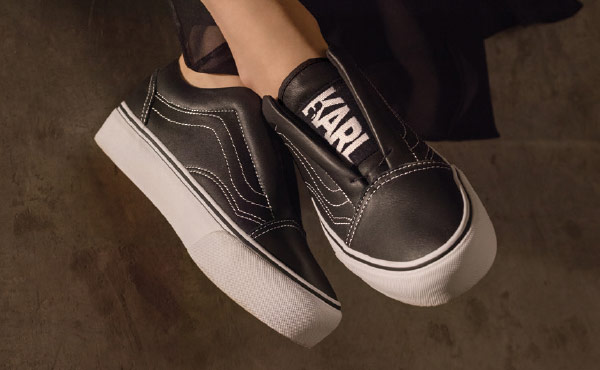 It's fitting that the winner of the best collab category for 2017 went to a couture/streetwear blend—a sure sign of the times. Athleisure dominated both sidewalks and catwalks last year, and Vans' array of trendy collabs with many of its classic styles was at the tip of this spear. Notable drops included Peanuts, Brain Dead, Alyx, Barneys and Opening Ceremony, to cite a few, but the one that stood out the most and caused the biggest stir was its partnership with legendary designer Karl Lagerfeld that hit the market in September.
Few members of the fashion hierarchy are as well-known for their creativity, chicness and ability to stretch the limits as Lagerfeld. And while the Chanel creative director's penchant for white hair, black sunglasses and high starched collars may seem counterpoint to Vans' laidback Southern California surfer/skateboarder aesthetic, it was Lagerfeld's team that approached Vans. The partnership just made sense, according to Angie Dita, head designer of Vans Classics Footwear. "We decided to work together because both Vans and Karl Lagerfeld's brand ethos revolves around creating products that are both timeless and iconic," she says, adding, "It works because couture has taken a different approach to its influence on fashion, especially with a designer like Karl Lagerfeld. He's known to combine the classics with what's modern." Dita says, "The collaboration didn't seem out of place. Sneaker culture reaches beyond streetwear and has always been connected with fashion."
The Vans x Karl Lagerfeld collection ($40 to $300 SRP) featured 12 apparel items and six shoe styles, including the debut of the SK8-Hi Laceless and the Old Skool Laceless platforms, both outfitted in luxe leather with K-quilted stitching atop white soles. Rounding out the collection was a black leather Classic Slip-on finished with K-quilted details, the Old Skool and Sk8-Hi Reissues in premium leather and outfitted with bouclé fabric quarter-panels atop a black outsole, and the legendary Checkerboard Classic Slip-on remastered with a Vans x Karl Lagerfeld cameo print. "We incorporated some of Karl's timeless design elements, like boucle fabric and K-quilted stitching, onto the shoes while the apparel sticks to his famous black-and-white palette," Dita says, adding that the response was fantastic. "The collection did incredibly well! Most styles sold out within minutes on Vans.com, and we had great sell-through at select retailers." —A.J.
work boots
timberland pro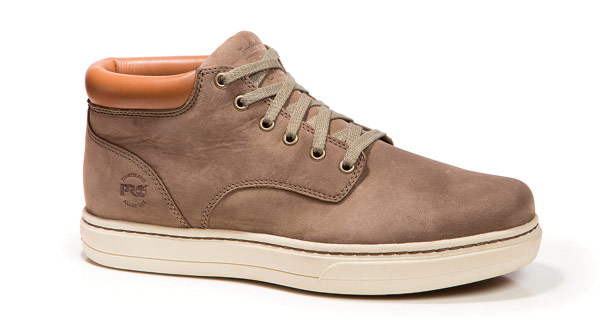 Timberland Pro is workin' it—literally. The brand had a banner year in 2017 and scored its third consecutive Plus Award. Led by its "benchmark" anti-fatigue underfoot technology and targeting promising demographics of both younger consumers and women entering the trades, Timberland Pro has zeroed in on what works. "We're a research and development company that makes boots," says General Manager Bob Sineni. "We truly care about our worker. We know if we make their life better, they're coming back."
Also making a rebound of late is job growth across several industries, like warehouses. The opportunities for selling new hires a trusted name in work boots is growing alongside that growth, according to Design Director Steve Ammon. "We did benefit from economic tailwinds," he says. "Manufacturing has returned to a level that we haven't seen since 2008. Everybody is migrating into the digital space and opening distribution centers, which is very good for our business. We're covering the inside and the outside of the building."
The second major area that led to Timberland Pro's success last year was meeting the demand of greater numbers of women getting into labor fields. Instead of the "shrink and pink" strategy, however, Timberland Pro hired a female designer to create a last expressly for women. The HighTower women's collection launched last fall.  These 6-inch work boots feature anti-fatigue technology and polyurethane footbeds with dynamic arches, premium full-grain waterproof leather uppers, an alloy safety toe, cast-metal hardware and fiberglass shank, and antimicrobial linings. "The eight SKUs are a phenomenal success and far exceeded our expectations," Ammon says.
Director of Marketing Cassie Heppner says the company capitalized on the burgeoning female trade worker by creating the campaign, "Made For the Women Who Make," which highlighted the product as well as different opportunities for women to get into the trades. Timberland Pro also partnered with the documentary, Hard Hatted Woman, that focuses on the unionized construction trade. "The young woman worker is only first starting to fill this skills gap," Sineni says. "We're committed to her, and when she gets there, we're going to be waiting for her."
Timberland Pro also targeted casual Millennial males, many of who may ride skateboards to work. The Powertrain Sport, an athleisure style, was a big success in 2017 as was the Helix HD. "The Disruptor series has all of the safety elements that these guys need for their work in a silhouette that is comfortable for going to the bar with their friends after work," Ammon says.
Lastly, Timberland Pro took pride in its ongoing efforts to give back to communities in need. The brand planned its 2017 regional sales meeting in Puerto Rico so that the 50 employees could fix up an orphanage damaged by Hurricane Maria on the side. For two, 10-hour days, they installed and painted a fence as well as bought the kids a trampoline. Sineni, for one, is excited for Timberland Pro to continue to put its best foot forward, because once they wear a pair, "We've got them for life." —M.S.
Men's Comfort
Rockport

Guiding consumers to make "thoughtful" purchases during these economically challenging times was a major component of Rockport's strategy and success in 2017, according to John Daher, senior vice president of product. "Consumers look for brands they trust and product that offers versatility across seasons and wearing occasions," he says. "Our consistent dedication to design and comfort and functionality earned that trust."
Rockport made a concerted effort to go back to its roots and reemphasize its focus on technology and the athletic influences of its heritage last year. "Dedication to the art of shoemaking across every category and both genders has led to amazing strides in our product development," Daher says. "This allows us to better serve the consumer wherever they find us."
There were four standout collections, according to Daher. The men's line was led by Total Motion Fusion/Classic Dress, which is an everyday business shoe that delivers mobility with premium comfort and looks spot-on with jeans or khakis and a sports jacket. The collection solves the choice between lightweight and stability, dispersing the bumps (shocks) in the road over a full-length engineered plate. Next up was the DresSports 2 Lite collection, which offers sports shoe comfort and weight with everyday functionality as well as modern, classic dress patterns and finished leathers that transition from day to night. Daher says the collection proved particularly popular among younger consumers who grew up wearing athletic shoes. The shoes feature a lightweight EVA sole with an embedded shank for midfoot support and walkability, performance linings that wick moisture and provide anti-microbial support even during "no sock days" in summer. The Style Purpose collection proved perfect for consumers rediscovering tailored dress options, from modern suiting to stylish jeans. The all-weather rubber soles come in a variety of translucent shades and show off hand-finished leathers that take their cue from bench-crafted, high-end Italian design. For less dressy looks, Rockport's versatile Colle collection was noteworthy, with simple designs that are tailored yet casual, modern yet athletic. "Premium uppers with flexible comfort and truTECH cushioning technology makes these easy-to-wear styles with cross-generational appeal," Daher says.
As for technology breakthroughs, Daher cites the truFLEX engineered spine. Embedded in the midsole, it provides dynamic motion control and energy return during a natural stride that reduces fatigue. Performance knitted materials for lightweight breathability complete the sporty package. "These more contemporary hybrid styles with elegant silhouettes can be worn to the office and well into an active evening," he says. "It's a true performance story."
To get the word out, Rockport played in the micro-influencing space to attract younger consumers on Instagram. There were three campaigns: "Travel In Style" featuring fall boots, "Fall Activities" with casual/active shoes and "Joy Is Rockport" featuring dress shoes with a focus on its Total Motion collection. Additionally, the company executed a cross-channel holiday campaign, "Joy Is," where Instagram followers posted comments on what brings them joy during the holiday season and tagged a friend with whom they would like to share it. A winner was randomly selected and gifted a free pair of shoes along with their friend.
Chalk it up as another example of Rockport's relentless efforts that delivered, as men's sales surpassed projections for 2017, according to Daher. "Our passion has always been building great product that invites consumers to wear it," he says. "As I walk airport terminals or take a seat on a train, if I mention that I work for 'Rockport,' I'm nearly always treated to a passionate story about their experience wearing our brand." —M.S.
Men's Collection
Clarks originals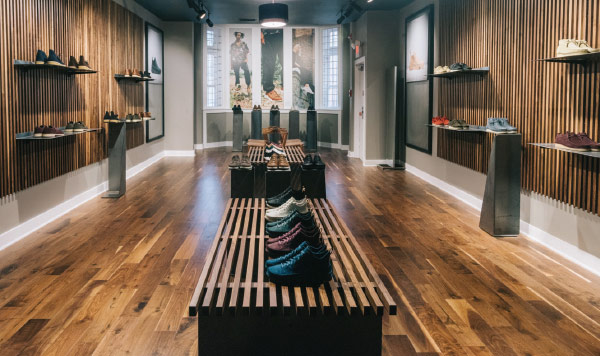 Clarks Originals nabbed its second straight Plus Award in this category. Company executives attribute the win in 2017 to a few key factors: intense planning that began back in 2016, which in part entailed a soft relaunch of the brand, a design team that continues to wow and leadership in the form of CEO Mike Shearwood and Gary Champion, president of Clarks America's, as well as other key members who have returned to the U.S. divison for a fresh approach to future business. It also doesn't hurt that Manolo Blahnik and Anthony Bourdain are fans of the 200-year-old brand's iconic Wallabees and Desert Boots.
A key story in 2017 was the full rebranding of Clarks Originals, according to Tara McRae, senior vice president of marketing and ecommerce. "We had a new strategic approach, including a new logo treatment and new product," she says. "It's been a very exciting year for us."
Product has been divided into three pillars: Dress, Sport and Casual Icon. A top seller last year was the Trigenic Evo, part of the Sport pillar. It features a three-piece outsole construction that replicates natural foot motion. The brand also kept pace with the collab movement, including the OVO x Clarks Originals Desert Boot in partnership with Drake. It sold out in a matter of minutes, McRae reports. Another notable collab was a partnership with Barneys for limited-edition men's and kids' Wallabees in ultra-premium leathers. "There's been a saturation point for collaborations, but we've been so strategic," she says. "We're not dependent upon [collaborations] to sell. They're the icing on the cake in terms of bringing in new customers."
Also of note in 2017 was the opening of the Clark's Originals pop-up shop inside iconic Philadelphia streetwear boutique, UBIQ. It ran for three months last fall and served as an ideal platform to showcase the breadth of the brand, McRae says. The space hosted several in-store activities, like the monthly "The World Needs Originals" panel series that featured photographers, musicians and artists, who spoke on the importance of originality. Guests also had exclusive access to the first drop in a series of collabs with UBIQ and the lifestyle accessories brand, Pintrill. McRrae adds that the shop was an ideal setting to witness sell-through of the Trigenic Evo. "Being able to introduce a style into the marketplace [and not being] one of the big guys within sneaker culture was fantastic," she says.
Despite a tough year for the industry overall, Clarks Originals had a "fantastic '17," McRae reports. The company surpassed its targets. "I'm proud of the product and design team and what they have accomplished," she says. "They continue to innovate and design and that, combined with some amazing marketing, has enabled us to perform well. We truly are a global team working on a global brand." —M.S.
women's collection
stuart weitzman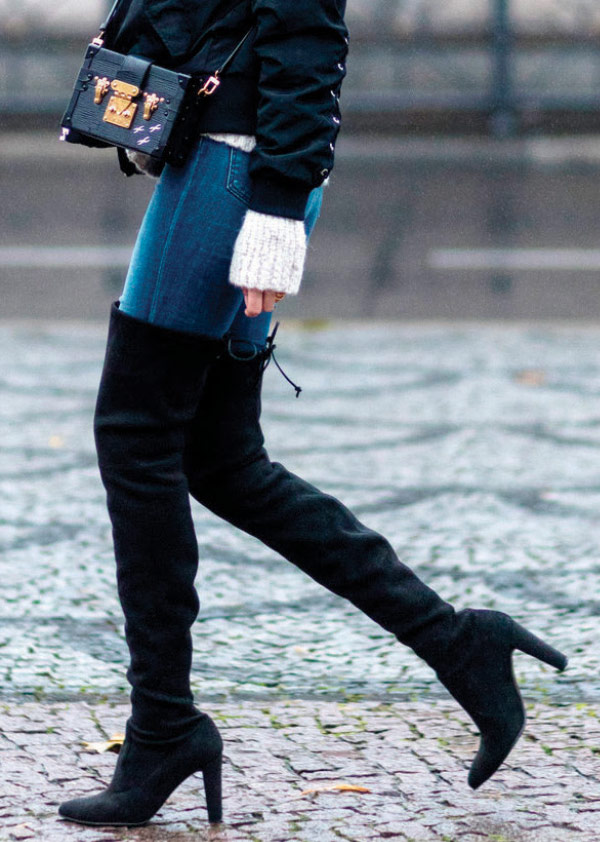 Few brands are as synonymous with classic women's fashion than Stuart Weitzman. Since the label's acquisition by Tapestry (formerly Coach) from Sycamore Partners in 2015 and the retirement of its legendary namesake officially mid last year, collections haven't missed a beat. The designs are spot-on trend-wise; the quality remains exquisite; it's the choice of leading ladies such as Taylor Swift, Kate Middleton and Gigi Hadid; and its flagship stores remain ladies-love-shoes destinations on some of the world's hottest retail strips, including Rodeo Drive, Michigan Avenue and Madison Avenue. It's a testament to the team, led by CEO and Brand President Wendy Kahn, who took the helm in the fall of 2016.
Tapestry CEO Victor Luis singled out Stuart Weitzman's "solid growth" in its fourth quarter (sales ending July 1, 2017) that helped the company post a double-digit increase in net income for the year. The brand's sales totaled $88 million, up 15 percent. "We invested in the brand, both in stores and most significantly in people, bringing in the key leadership and design talent to drive performance in both growing the global footwear category and in their nascent accessories business," Luis stated. The label followed that up with second quarter net sales (period ending Dec. 30, 2017) of $121 million—up 2 percent. Luis gave a shout out to Giovanni Morelli's creative direction.
Sandi Lanier, manager at Monkee's of the Village in Winston-Salem, NC, reports Stuart Weitzman is a cornerstone. "We've had them for 17 years," she says, citing the trust factor in the label's quality. "They do terrific in our stores because their shoes fit true to size," she adds. Stuart Weitzman gives women what they want, agrees Amanda Astor, vice president of stores for The Shoe Box, a six-store chain in New York, Florida and Georgia. The clientele is a mix of women who seek the latest trends and classic styles. "Stuart Weitzman covers both," she says.
Stuart Weitzman's 5050 and Highland boots were standouts in 2017. Both were top sellers for Lanier, along with the black Tessa and kitten heel Poco pump—perfect for more mature consumers, she says. The 5050 also sold well at The Shoe Box. "The 5050 has grown so much in popularity. It passes between family members because everyone knows it's a reliable style," Astor says, adding that the Highland and Lowland boots and anything with pearl detailing also sold well. —AJ.
women's comfort
taos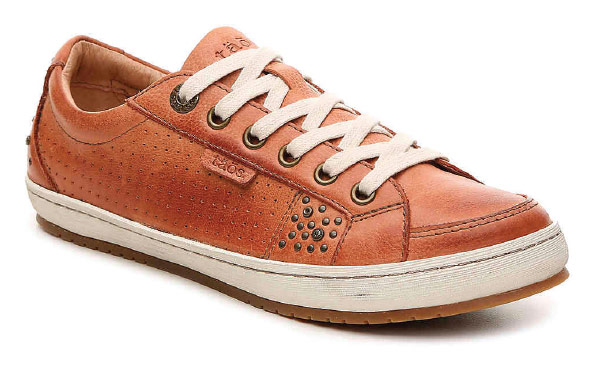 Welcome to the winner's circle! Taos marks its first Plus Award led by its classic approach: recognize a trend, create great product and support retail partners to the fullest. Taos, a self-proclaimed David in the world of footwear Goliaths, has stealthily evolved into a solid, year-round women's comfort lifestyle shoe resource. The winning formula is working so well that President Glen Barad doesn't relate to what many others are saying about 2017 being a tough environment. Taos' sales are up double digits, which marks several years in a row of such growth for the 13-year-old company. The good fortune extends to many of its retail partners as well. "It's been a healthy year," he says. "The majority of our retailers are having the best year they've ever had."
Barad is a firm believer that quality brick-and-mortar stores remain a vital channel in the industry. The ability for a consumer to walk into a store, try shoes on and have a relationship with the people servicing them remains of value, he notes. "They find out what fits, looks good and leave the store content and happy," Barad says. "We've chosen to support brick-and-mortar retailers, and that we think it's the right thing to do. It's working very well for us."
Classic sneaker silhouettes, in particular, worked well for Taos last year, according to Barad. The launch of the Taos Active collection blew out of stores. Led by its Curves and Pods comfort footbed that offers heel, arch and metatarsal support combined with "curves" that hug the contours of the foot and shock-absorbent "pods," the collection delivered on a sneaker's expected comfort premise. While the palette of rich earth tones and artisan finishes raised the bar on "sneaker" style. Taos Active has "taken on its own personality" and has become a stand-alone brand, Barad adds.
While Barad says all Taos shoes are comfortable, the look and quality are what drives sales. In fact, he describes Taos' positioning as a lifestyle brand that just happens to be comfortable. "We build with better components—our sandals last longer than most—and the consumer is recognizing it," he says. "She keeps coming back, and bringing her friends." Barad adds, "Everyone is worried about margin, margin, margin and we're worried about product, product, product. We make sure something is trend-right, looks good and, whenever we can, we make the product adjustable. That's a big part of our success."
Another factor contributing to the success of Taos is its commitment to putting the needs of its customers first—both retailers and consumers. For example, Taos has one of the most stringent MAP policies in the industry. "We are 100-percent clean and have no issues in the marketplace," Barad says. "It's sad that we have to allocate funds to do this, but you have to because it allows our retailers to feel confident about investing in our brand." Happy retailers are repeat customers. Same goes for consumers. "The most important thing is to make sure the consumer is taken care of and wants to come back to you," he says. "Without her, you don't have longevity. " —M.S.