The National Father's Day Committee announced today that Blake Krueger, Chairman of the Board, CEO and a Director of Wolverine Worldwide, and country music superstar Brad Paisley have been named 2021 "Father of the Year" honorees. Krueger and Paisley will receive this honor alongside Dr. Albert Bourla, CVM, Ph.D., chairman and CEO of Pfizer, who will accept the award on behalf of all Pfizer employees.
"We are honored to have Blake Krueger and Brad Paisley join Dr. Albert Bourla for this year's Father of the Year Awards," states Dan Orwig, president and CEO of the Father's Day/Mother's Day Council. "In these incredibly trying times, we are grateful to have the opportunity to honor the work Blake and Brad have done in leading their respective communities through the pandemic, including Blake's resilience in navigating unprecedented economic and business environments and Brad's philanthropic efforts and commitment to virtually connecting with fans."
Krueger, a father to four children and grandfather of six (soon to be seven), has built a long and successful career at Wolverine Worldwide that owns 12 brands, including Merrell, Sperry and Saucony, that are marketed in 170 countries and territories. Krueger, a veteran of the company since 1993, was appointed CEO and president in 2007 and appointed Chairman of the Board in 2009. Prior to that, Krueger practiced law at Warner Norcross & Judd LLP. He currently resides in Michigan, where he graduated from Michigan State University, Honors College, with a B.A. in Business Administration and from Wayne State University Law School. Krueger serves on the boards of many professional, community and charitable organizations, including BISSELL, The Right Place, West Michigan Policy Forum, Talent 2025, Michigan Economic Recovery Council, Two Ten Footwear Foundation, Footwear Distributors and Retailers of America, Business Leaders for Michigan and The Economic Club of Grand Rapids.
The 79th Annual Father of the Year Awards will be presented virtually June 17 at 7 p.m., ET. The event will benefit Save the Children's U.S. Programs and Advocacy. For tickets and sponsorship, please contact the Council office at 212-594-5977 or www.fathersdaycouncil.org.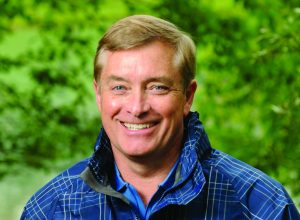 Big Daddy: Blake Krueger, CEO, Wolverine Worldwide