Allen Edmonds Corporation, the U.S. men's dress shoe manufacturer headquartered in Port Washington, WA, launched its first-ever Wedding Program yesterday, encouraging grooms to invest in a pair of dress shoes that will serve them far beyond the big day. The offer allows grooms to register their wedding party for a discounted wedding package, including a pair of dress shoes, matching belt and cedar shoetrees. Valued at over $500, the package is priced at $350.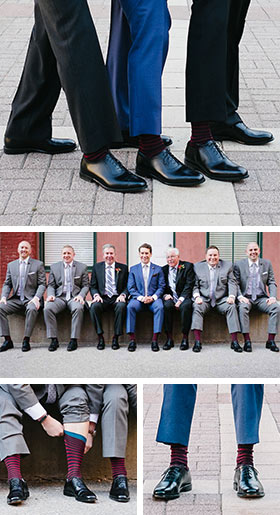 It's no secret that traditional wedding rules and etiquette have long gone out the window. Between food truck catering, mismatched bridesmaids dresses and the rise of the wedding hashtag, couples are seeking ways to get creative—both aesthetically and financially. For women, this may be exciting: more options, more freedom and more fun choosing dresses and accessories. However, men may be in need of some guidance. Gone are the days of standard rental tuxes and tuxedo shoes.
"I know from the weddings I'm attending (including our own daughter's!) that many grooms and their groomsmen these days are passing on renting the ill-fitted and worn-looking patent shoes under the baggy rental tux," said Allen Edmonds President & CEO Paul Grangaard. "Instead they're going for a nicely tailored suit and fitted shoes that can be worn for years to come. Smart! So, why not buy the great American dress shoes that also look impressive in any job interview and will last through your next several career steps? We want to help make that route an even better choice with this offer."
Interested consumers can visit any Allen Edmonds retail store or the brand's website. The styles being offered include a variety of Allen Edmonds' top-selling calfskin styles: the Park Avenue, Fifth Avenue, Strand, McAllister, Warwick or Cornwallis. The offer also includes a matching Manistee or Wide Basic dress belt and a pair of Allen Edmonds branded cedar shoetrees.