The Walking Cradles Company struck the right note with its first-ever pop-up shop. Located in its hometown of St. Louis, the shop coincided with the 72nd annual Sweet Adeline's International, one of the world's largest singing organizations for women, held at The Dome at America's Center. The week-long convention and competition (Oct. 15-20), attended by 6,000 people from around the world, saw nearly 50 quartets and 50 choruses take the stage.
When not competition or attending music education classes, many attendees shopped Walking Cradles' pop-up, which was housed in a former UPS store within the convention center. Traffic was so good that the shop, originally scheduled to be open 3 of the 6 days, stayed open an additional two days and one of busy evening. "We had hundreds of women come through the shop and sold 197 pairs during a 29-hour time frame," says Lisa Schmitz, creative director of Walking Cradles. "Had we been open 9 a.m. to 9 p.m. every day, I shudder to think how many more pairs we could have sold!"
The pop-up marked the first time Walking Cradles has partnered with Explore St. Louis, who presides over the America's Center and seeks local companies to showcase in the space during conventions. Schmitz say the comfort company is looking forward to future pop-up partnerships at the convention center.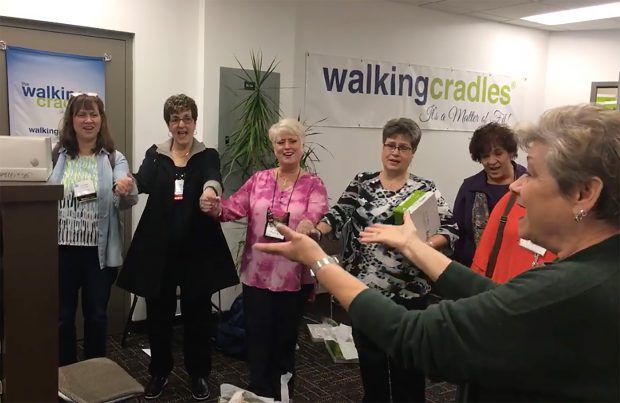 Singing for their shoes: Convention attendees gave an impromptu performance inside Walking Cradles pop-up shop.