Surf Expo is launching Surf Expo CONNECT in conjunction with its upcoming show at the Orange County Convention Center in Orlando, FL, Sept. 8-10. Surf Expo CONNECT provides a seamless way for both buyers and exhibitors to create meaningful new business connections, make the most of face-to-face time and reach new vendors and customers.
"We always strive to add new benefits and resources for the buyers and exhibitors that attend Surf Expo," says Roy Turner, senior vice president and show director. "We believe the CONNECT application will be invaluable to both buyers and exhibitors for building new business relationships."
For buyers, the free CONNECT with Brands tool allows them to research brands and products, create a "must-see" list, email with brands, and reserve one-on-one time with them using the calendar system to request an appointment.  For exhibitors, the CONNECT with Buyers tool allows them to search registered buyers by location, title or product categories. Exhibitors can also see a list of attendees who have shown interest in their company, message buyers, view appointment requests and manage meetings in the calendar function. Each exhibitor at Surf Expo qualifies for 30 free emails and 30 appointment requests to buyers, and can expand the plan if desired. CONNECT is available now for registered buyers and exhibitors on the Surf Expo website at www.Surfexpo.com.
More than 600 exhibitors, including nearly 50 footwear brands, are participating the upcoming show—an 18 percent increase in square footage compared to the previous September show. "We are thrilled to return to Orlando this summer with an extensive and impressive list of brands to help retailers fulfill all their buying needs," Turner states. "Coastal and beach related categories have been in high demand the past two years, and with our increased list of exhibitors, we look forward to introducing buyers to new brands as well as offering them a productive environment to connect with their existing brand partners."
Registration is open for Surf Expo September. Head to Surfexpo.com for further show information, including the exhibitor list and floor plan.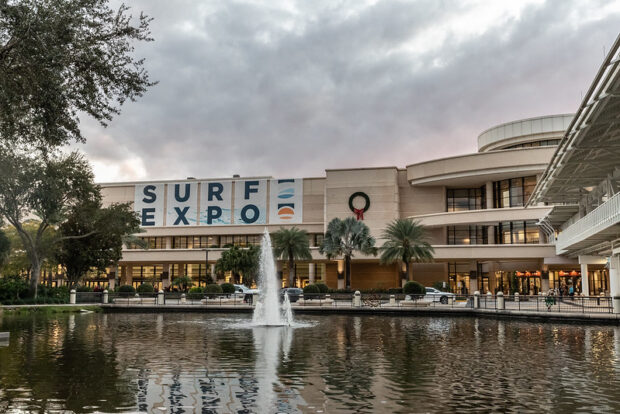 More than 600 exhibitors, including nearly 50 footwear brands, are participating Surf Expo.