Complex Networks and MSG Networks have teamed up to bring the digital series Sneaker Shopping to TV. Beginning Oct. 27, MSG Networks will air an episode of the series as part of the recently announced "MSG Shorts" programming, following select Knicks and Rangers games.
Hosted by sneaker aficionado and Complex Network's Vice President of Content Strategy, Joe La Puma, the show puts a spotlight on the styles, silhouettes and significance of sneaker culture through the eyes of bold-faced names in music, sports, film, TV and pop culture. The first episode to air on MSG Networks (following the Ford Knicks Postgame Show) will feature rapper Logic.
"As we look to bring compelling content to our viewers, we recognize that not all stories fit neatly into 30-minute or 60-minute windows," states Kevin Marotta, senior vice president of marketing and content strategy, MSG Networks. "Ultimately, our viewers are looking for something that ignites their passion, regardless of how long it is. By partnering with a brand like Complex that has done an incredible job of engaging a young audience with short-form content, we'll be tapping into some of our viewers' key passions: sports, music and sneakers."
"It goes without saying that sports and sneakers go hand in hand," says Rich Antoniello, CEO, Complex Networks. "Sneaker Shopping is a series that's cool and inclusive and underscores what Complex culture is all about, so we are excited to be partnering with MSG Networks to give fans a new way to engage in and experience this footwear phenomenon."
Over the years Sneaker Shopping has featured everyone from Kevin Hart, Roger Federer, Sean "Diddy" Combs, 50 Cent, Bella Hadid, Marshawn Lynch, DJ Khaled, to New England Patriot's owner Robert Kraft and the Ball family—all sharing thoughts on their life, career and personal style with La Puma through the lens of sneakers and style. The show averages nearly 2 million views per episode on Complex.com and YouTube. "Joe (La Puma) has always been on the forefront of this obsession–he's an authority—and his finger has been on the pulse of sneaker culture long before the masses," Antoniello says.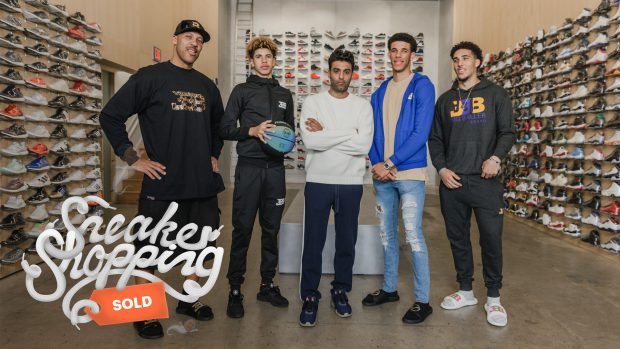 Caption: Joe La Puma (center) with the Ball family.