Pass the Skechers! The Comfort Technology Company is back on the world's biggest advertising stage with one of the all-time greats in music—Willie Nelson. The global campaign kicks off on Super Bowl Sunday with the legendary artist appearing in two Skechers commercials filmed on his Luck Ranch near Austin, TX—one featuring his iconic song "On the Road Again" and a second that offers a fun twist on his signature advocacy to legalize…comfort.
"Willie Nelson is an American icon whose appeal knows no boundaries and a perfect fit for our new global campaign that begins at the Super Bowl," states Michael Greenberg, president of Skechers. "He's still on his feet doing what he loves best—entertaining the masses on tour, and now helping spread our comfort message along the way." Greenberg adds, "We know featuring Willie's genuine personality and well-known passions in a pair of commercials will make an impression for the millions watching the game. Fans will remember that only Skechers offers innovative comfort technologies that are almost beyond regulation."
"I can't resist making an appearance during the Super Bowl," states Nelson, who continues his long-running Willie Nelson & Family Tour in April. "And I'm doing this because of a message we can all agree on—everyone deserves the right to feel comfortable. From the bus to the stage to a jog around the ranch, staying healthy and feeling good is how I can keep doing what I love."
The Willie Nelson "On the Road" and "Legalize" commercials will mark the ninth time that Skechers has advertised during the Super Bowl since first appearing in a spot starring Joe Montana in 2010. One of the brand's most talked-about spots from 2012 featured Mark Cuban watching a French bulldog named Mr. Quiggly racing in Skechers GOrun footwear.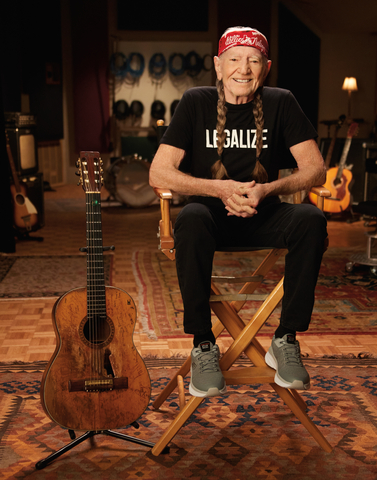 High Life: Willie Nelson is helping Skechers 'legalize
comfort' in this 2022 Super Bowl ad.