Skechers is whipping up excitement for its comfort collections with lifestyle icon Martha Stewart. The partnership kicks off with a humorous commercial and marketing campaign in support of the brand's Arch Fit and Memory foam collections across the United States and Canada.
"Martha Stewart is a wonderful beacon for living well—for bringing more beauty to the everyday," states Michael Greenberg, president of Skechers. "Generations have been inspired by her television shows, books, magazines and products, and millions follow her online—trusting Martha's commitment to quality in everything she does and her impeccable taste in offering the best product. We couldn't be happier that she believes in Skechers comfort and is teaming up with us."
"It all starts with your feet, and nobody helps us feel better than Skechers," says Stewart. "All of their designs and colors are loaded with cushioning and style—they're a natural for the home, garden and workplace. I think they'll really resonate with those who follow and enjoy the Martha Stewart Brand, and I look forward to building on our new partnership."
Originally a model and catering business owner, Stewart has transformed her expertise in food, gardening, home decor and entertaining into a multibillion-dollar media and retail empire. She became America's first self-made billionaire in 2000 as the founder of Martha Stewart Living Omnimedia through her TV programs, best-selling magazine and extensive collection of books, which total 99 to date. In recent years, she has continued to reinvent herself—partnering with Snoop Dogg for Martha and Snoop's Potluck Dinner Party, debuting the HGTV Show Martha Knows Best and continuing to draw millions of subscribers to her publications and platforms.
Stewart joins a team of Skechers ambassadors that includes singer Willie Nelson, fitness gurus and TV personalities Brooke Burke and Amanda Kloots, golfers Brooke Henderson and Matt Fitzpatrick, and Dodgers pitcher Clayton Kershaw, as well as a slate of athletic legends such as former football players and broadcasters Tony Romo, Howie Long and Cris Carter, iconic boxer Sugar Ray Leonard and NASCAR legend Rusty Wallace.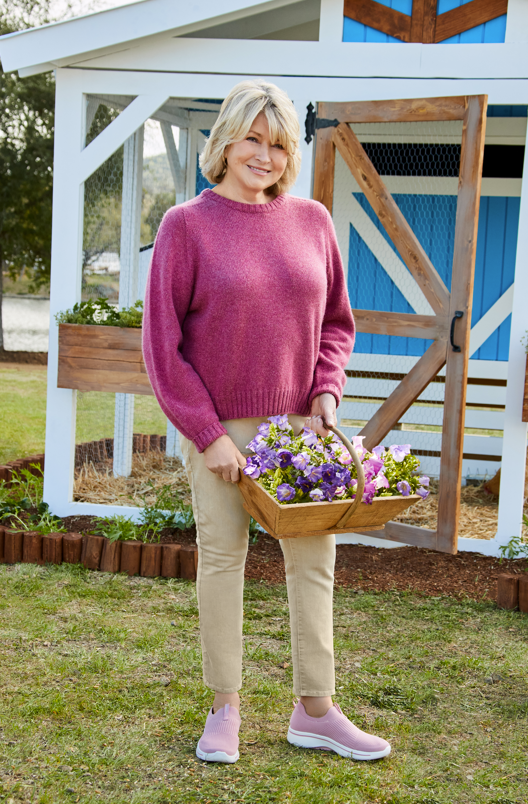 Martha Stewart: the latest addition to Skechers' endorsee menu.
Stewart also took part in a Q&A with Skechers as part of the launch. Here's a few highlights from that interview.
As a DIY specialist, you understand the importance of impeccable details, design and functionality. Why do you think it is important to partner with a brand that shares these same values? I think it's very important to partner with brands who share the same values as Martha Stewart Living for some obvious reasons—I like quality, practicality, things that are beautiful and things that work. That's what Skechers is all about, also. If I design a teacup and I can't really hold onto the handle—that's not practical and will not work. Skechers has to design shoes that fit—and they do it extremely well.
Media personality, entrepreneur, chef, designer, writer…as someone who is always on the go, what do you value the most in your footwear? They have to be comfortable. I have to be able to walk, run, go up and down stairs, go around the block, chase the dog, take care of the chickens and horses—the list goes on! I have a lot of responsibilities so it's important the shoes I'm in are comfortable. Your feet take you everywhere—you have to make sure your feet move in the best possible way, and Skechers helps.
You've been an entrepreneurial icon for decades. What is your tip to conquer 2022 goals and what pushes you to strive for more? My 2022 goals are numerous, but every single day is a new challenge and opportunity to express myself, build new product, gain a new audience and provide what everyone needs and wants. That's what I'm trying to do in 2022 and beyond.
What is your first/favorite memory of Skechers? I have a very nice memory of seeing Skechers for the first time on my grandchildren, Jude and Truman. They wear lots of lots of sneakers—many of them are Skechers! I was so happy to see colorful, happy feet.