Las Vegas Raiders head coach Jon Gruden has joined Skechers as its latest spokesperson. The oitspoken coach and former TV analyst will make his debut in a national, multi-platform men's marketing campaign for the company later this year.
"We're always looking for fan favorites to represent our men's collections and Jon Gruden, with his colorful personality, fits the bill," states Michael Greenberg, president of Skechers. "From winning a Super Bowl in Tampa Bay to his weekly Gruden Grinder awards as a broadcaster, fans have been tuning into what Jon does and says for decades. We're confident his signature leadership will fit seamlessly into our roster of sports celebrities and help convey the story of how our athletic and casual footwear and apparel delivers on style and comfort for men everywhere."
"After 21 years of professional coaching, another nine broadcasting and now being back on the field in Las Vegas, I'm constantly on the move so comfort is always key, and no one does comfort better than Skechers—knock on wood if you're with me!" Gruden says. "I look forward to joining Tony Romo and Howie Long as part of this Skechers football family!"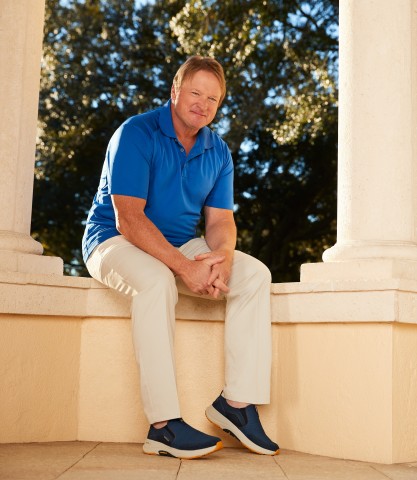 In addition to those aforementioned NFL stars, Skechers endorsement roster of sports stars includes Los Angeles Dodgers pitcher Clayton Kershaw and boxer Sugar Ray Leonard. Skechers' endorsee hall of fame spans Joe Montana, Pete Rose, Mariano Rivera, David Ortiz, Ozzie Smith, Joe Namath, Ronnie Lott, Karl Malone, Kareem Abdul-Jabbar, Rick Fox, Wayne Gretzky and the late Tommy Lasorda.
In another Skechers marketing news, the company has teamed with Line Friends with a large digital billboard in New York's Times Square, celebrating two years of their widely-popularized, global BT21 | Skechers partnership. The display announces the drop of a new collection, tying in with the character line's name, and will remain until Jan. 31, 2021. The billboard is above the Line Friends flagship and a few doors down from a Skechers store.
The new assortment is on the Skechers Street Goldie silhouette. With a modernized design scheme, colors and symbols representative of the signature characters: Koya, RJ, Shooky, Mang, Chimmy, Tata, Cooky and Van. During a time where convenience is key, Pop-Ups-BT21 brings all "friends" together for an easy-on, easy-off comfortable slide.