The beat of record growth goes on at Shoe Carnival. The Evansville, IN-based family footwear chain reported record fourth quarter and annual sales, driven by an increase in store traffic and new customer acquisition.
"Our outstanding team members delivered double-digit sales growth and triple-digit EPS growth during every quarter of 2021, resulting in the best year in Shoe Carnival's 43-year history," states Mark Worden, president and CEO. "Fourth quarter momentum was very strong as we closed out the year, with store traffic up 18 percent, net sales up 23 percent, and EPS growth of 177 percent versus the prior year."
Worden adds, "Our strategic investments, and recent acquisition of a second retail banner (Shoe Station), have us positioned very well for continued sales growth in 2022, and for rapid store expansion in the years ahead. We now expect to sustain operating income and EPS levels that are more than double the pre-pandemic record levels set in fiscal 2019."
To read more about Shoe Carnival's recent success and future growth plans, read our exclusive interview with CEO Mark Worden here:
Fourth quarter net sales grew 23.4 percent to $313.4 million, setting a new fourth quarter record. Comparable store traffic increased 18 percent, driving comparable store sales growth of 17.7 percent on top of a 6.4 percent increase in fiscal 2020. Fourth quarter gross profit margin was 37.3 percent in 2021 compared to 30.8 percent in 2020, and includes a $1.1 million one-time Shoe Station acquisition-related charge. Merchandise margin increased 5.1 percentage points, driven by fewer margin-dilutive promotions and higher average selling prices.
Fourth quarter net income hit a record high at $20.6 million compared to $7.4 million in the fourth quarter of 2020. Excluding the acquisition-related charges above, adjusted net income and diluted EPS in the fourth quarter of fiscal 2021 were $23.8 million.
Full fiscal year 2021 net sales grew $353.6 million to $1.33 billion, the highest annual net sales in the company's history. Comparable store sales increased 35.3 percent, rebounding from a comparable store sales decline of 5.3 percent in fiscal 2020 caused by the Covid-19 shutdown in the first quarter. Gross profit margin for fiscal 2021 was 39.6 percent compared to 28.7 percent in fiscal 2020. Full fiscal year 2021 net income was a record $154.9 million. This compares to $16 million in fiscal 2020 and $42.9 million in fiscal 2019, which was the previous record.
Shoe Carnival's strategic plan is to accelerate store count expansion during each of the next three years, and aims to add 10 plus new stores during fiscal 2022, over 20 new stores in fiscal 2023 and over 25 new stores annually by fiscal 2024. As for fiscal 2022, net sales are expected to increase 4 to 7 percent compared to the prior year, on top of the 36.2 percent increase achieved during fiscal 2021. In addition, operating income is expected to be in the range of $142 million to $154 million, compared to the pre-pandemic record of $54.2 million in fiscal 2019.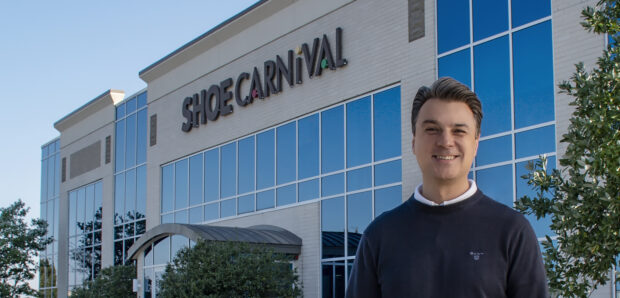 Mark Worden, president and CEO, Shoe Carnival