Saucony, a division of  Wolverine Worldwide, has appointed of Fábio Tambosi to the position of Chief Marketing Officer, effective immediately. In this role, Tambosi will be responsible for providing strategic development and execution of Saucony's global branding initiatives, including brand positioning, direct-to-consumer, advertising, digital strategies, international growth initiatives and expansion of its Originals heritage lifestyle business. Tambosi will report to Saucony's global brand president, Anne Cavassa.
Tambosi joins Saucony with more than 18 years of global brand-building experience, most recently serving as Adidas' Global Head of Brand, Planning and Activation for its Sports Performance categories. In that role, Tambosi led the creative development, brand plan and media strategy for Adidas' Ready for Sport global campaign. Before that, Tambosi oversaw brand communications for its Sports Apparel, Stella McCartney and Women division, driving strategic priorities while building the core positioning and messaging for the business unit. Prior to Adidas, Tambosi served as Nike's Brand Director for Football, creating a growth-focused strategy for the brand's most iconic category. While there, Tambosi also helped lead the global launch of the Nike Women campaign. Before that, Tambosi held various marketing positions at Nokia.
"Fábio is a multi-cultural marketer known for building and growing brands in today's fast-changing digital landscape," states Cavassa. "He comes to Saucony with a creative and consumer-centric focus that stems from his extensive global experience. His ability to lead brand engagement across the entire consumer journey will help us further advance our momentum as we connect with millions of new runners, guided by product innovation, ecommerce and storytelling. Fábio also brings to this position a strong reputation for building and leading highly collaborative teams, rooted in his lifelong experience as an elite soccer player. We know that Fábio will be a positive force for the brand, and we are excited to welcome him to our team."
"Literally running into a brand that is 120 years old is truly epic," says Tambosi. "This is a time of great opportunity for Saucony, and I'm excited to be joining Anne and the team to help navigate and accelerate the game-changing journey they've already begun. The brand's commitment to diversity, equity and inclusion (DEI); sustainable practices; and the overall goodness of running, are values that resonate deeply with me. I look forward to building on Saucony's strong legacy, further creating a positive and transformative change for the brand, the global running community and the whole sneaker culture."
Tambosi graduated from Clemson University with a B.S. degree in Communication Studies and a minor in Sports Management. He earned an MBA in Business Management from Northwestern University's Kellogg School of Management.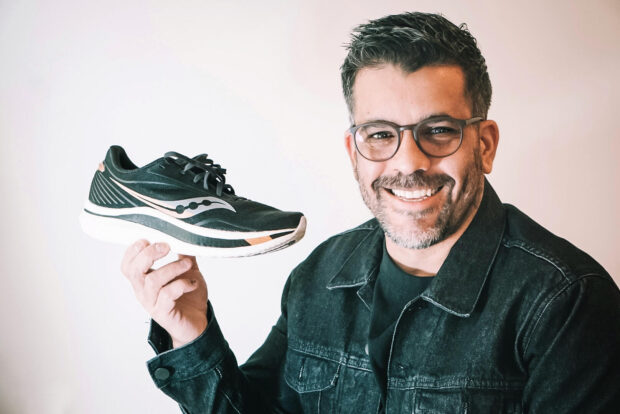 Fábio Tambosi, Chief Marketing Officer, Saucony