Reebok launches the latest iteration of the pump sneaker on March 10th. The new ZPump Fusion is modern take on the 1989 favorite. The construction keeps it simple with only three parts: the z-rated outsole promotes control, traction and speed; the pump technology is the inflatable air-filled cage that surrounds the foot, which allows the shoe to conform to foot shape when inflated; and the soft fusion sleeve that covers the shoe, which allows for maximum movement and comfort.
The ideology behind the design stems from the Be More Human campaign itself, according to head of running at Reebok Bill McGinnis. Instead of building shoes around a traditional last, designers chose to reimagine the pump technology to make it fit the human foot. The air cage surrounding the foot is what gives the ZPump Fusion shoe its form, and when the air is deflated, the shoe becomes soft and feels more like a sock.
The brand has re-focused its approach to sports footwear, choosing to target what it calls the Fit Gen-ers group. The Be More Human campaign began airing before the Super Bowl and targets an overall fitness category, instead of focusing on a major sport like basketball or running. Reebok is also partnering with the UFC, CrossFit and the Spartan Races. UFC Light Heavyweight Champ Jon "Bones" Jones stars in a new commercial for the ZPump Fusion and other spokespeople for the shoe include fellow UFC fighters Conor McGregor, Paige VanZant, SI Swimsuit model Hannah Davis and Entourage star Adrian Grenier.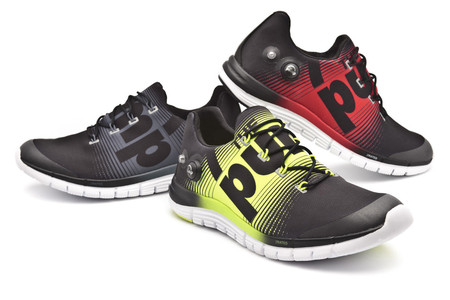 The ZPump Fusion will run $110 and come in six colorways (three for men and three for women). New patterns and colors will debut each month following the March 10th launch.