Hundreds of runners gathered in a parking lot at Sunset and Hilldale in L.A. on Tuesday, March 24th for a Reebok sponsored run wearing brand's the newly (March 10th) launched ZPump Fusion shoe. Much to their surprise, a sixteen wheeler flatbed truck rolled up bearing rapper Kendrick Lamar and a full band.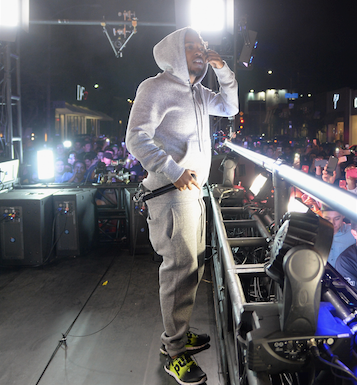 Lamar kicked off the event with "Money Trees" and then continued with other songs from his hit album "good kid, m.A.A.d. city" while the truck began to move, leading the cavalcade up Sunset. The crowd caused a commotion, accompanied by police outriders and camera crews, shutting down streets and collecting bystanders and pedestrians along the route. Taking a right on North Crescent Heights Blvd, followed by another right on Melrose, the run ended in an after party at the Reebok Lounge located on 8462 Melrose Avenue.
"Reebok and I have a shared goal to inspire, so helping people to get pumped though music and fitness was perfect – performing in such a unique way, creating a real experience and encouraging people through a run in my hometown of LA. Partnering with Reebok, we always want to do something different and that will get people moving and this is an example of us coming together to create something special" said Lamar.