To kick off its annual holiday fundraising campaign, Rack Room Shoes teamed with its longtime partner, Shoes That Fit, a national, non-profit providing new shoes to children in need, to host a special event in its Concord, NC, store. On Nov. 27, a.k.a. Giving Tuesday—a global day of giving—Monster Energy NASCAR Cup Series Drivers Corey LaJoie and Bubba Wallace made an in-store appearance at the retailer's Concord Mills Mall location, to raise money and shoes for local children in need. Rack Room Shoes matched 100 percent of funds raised in store that day to benefit the national non-profit organization.
LaJoie and Wallace then donated shoes to Northwest Cabarrus High School, a school that both drivers attended, the following day. LaJoie had been looking for a way to give back to his high school and local community.
"When I discovered Shoes That Fit, it was a perfect match considering my nickname is 'SuperShoe,'" he states.  "Attending a shoe delivery in Daytona and seeing the kids first-hand really struck a chord with me. I wanted to bring that same excitement to my hometown."
During the 11-year partnership, Rack Room Shoes has raised more than $7.2 million and donated more than 250,000 pairs of shoes for Shoes That Fit.
"When I first heard about Shoes That Fit and Corey working together to bring comfort to kids in our area, I knew I needed to get involved," says Wallace. "By doing our part, and presenting these recipients with new shoes, I think we're making a small but noticeable investment in the future of our generation."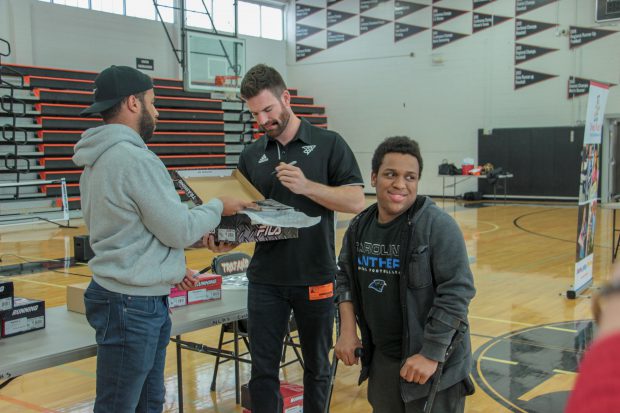 Speedy Delivery: Monster Energy NASCAR Cup Series Driver Corey LaJoie handing out shoes to North Carolina students in need.