In an ongoing effort to promote inclusivity and celebrate diversity, Rack Room Shoes has introduced new boots and sandals in more inclusive shades to compliment a broader range of skin tones. The launch comes courtesy of Amani Russell, Woman's Associate Buyer, and Mariah Parker, Women's Assistant Buyer, both Black women who saw the opportunity.
"Historically, the only nude color offered through our exclusive brands was beige," states Russell. So the duo, along with the support of Women's Buyer Alyson Stanley, began researching, testing and developing a new range of nude tones. The initial offerings debuted this past fall: Mocha (a medium brown) and Espresso (a deeper rich brown). The new product line, dubbed Hues for You, is available in the Xappeal, Michael by Michael Shannon and Limelight brands.
"We recognize when it comes to nude, one shade does not work for everyone," Russell says. "The term 'nude' has only referred to a minimal range of light skin tones. It was important for us to focus on providing more options for our customers who are women of color."
Now the team is preparing to add to the spectrum of shades for upcoming seasons. "Whether the hues are tonal or contrasting, they are great neutrals that allow our customer to maximize her staple footwear of the season," Russell explains. "We hope that we have created more options for woman of color and look forward to expanding that inclusiveness."  Russell adds, "We still have more work to do to bring an even more diverse shade range, but we are pleased to be taking steps in the right direction. We are ever-changing and always strive to meet our customers' needs and wants each season."
In 2020, Rack Room Shoes, the Charlotte, NC-based family footwear chain with 500-plus locations under Rack Room Shoes and Off Broadway Warehouse brands, began taking steps to promote diversity and inclusion and pledged to take actions against systemic racism and injustices that continue to affect the Black community. The company has launched internal implicit bias training, a scholarship program, is developing an internship program aimed at HBCUs and continues to fund educational and economic empowerment charities through corporate donations.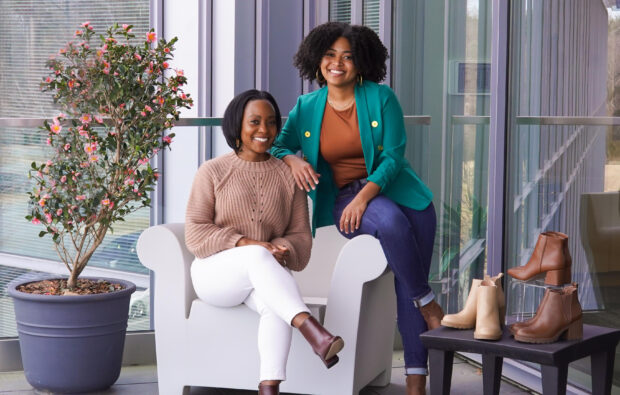 Dynamic Hues for You duo: Amani Russell, Woman's Associate Buyer, and Mariah Parker, Women's Assistant Buyer.