Wolverine has teamed with fellow Michigan company Dragon's Milk to release a heady collab. The Dragon's Milk x Wolverine 1000 Mile Boot was inspired by the famed stout's rich hue and notes of coffee, chocolate, vanilla and oak.
"This is a fantastic partnership between two Michigan-based heritage brands highlighting our commitment to craftsmanship and the many skilled craftspeople it takes to create a unique, handcrafted product," says Tom Kennedy, global brand president for Wolverine. "We are proud to team up with Dragon's Milk and solidify their legendary beer into a pair of Wolverine 1000 Mile boots."
Much like Wolverine's 1000 Mile Boot is known for its made-in-America craftsmanship, Dragon's Milk beer is hand brewed and aged in bourbon barrels before release. Similarly, the boot's suede leather will only get better with time. The limited-edition style is crafted with roughout suede from English manufacturer, Charles F. Stead. The natural grain's waxy texture is meant to mimic the oak bourbon barrels used to age Dragon's Milk stout. Coloring complements the brew's deep brown, and bronze hardware detailing is modeled after brewery machinery. Like the beer, the boot is meant to stand the test of time with long-lasting details including a durable Vibram outsole and Goodyear welt construction.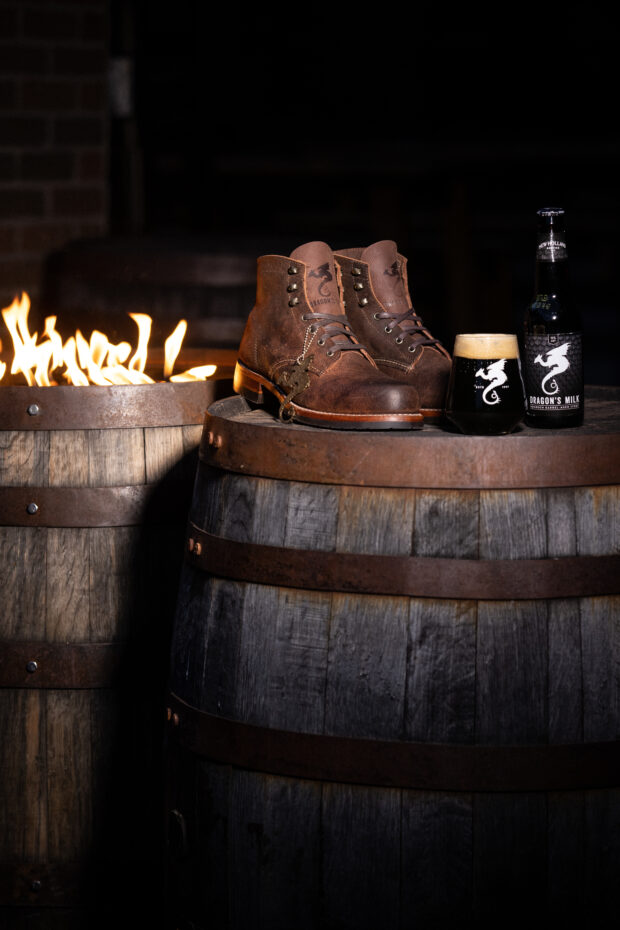 "It's truly amazing to see how Wolverine was able to take Dragon's Milk and then translate all the aspects of what makes our stout so special into a boot that can be worn for a lifetime," says New Holland Brewing Co. Founder and CEO Brett Vanderkamp.
Best of all, the boot gives back. Wolverine will be contributing 10 percent of all sales to the USBG Foundation's Bartender Emergency Assistance Program. To pay homage to the struggling hospitality industry, Wolverine and Dragon's Milk celebrated the release by hosting media for an exclusive Dragon's Milk cocktail making class, led by New York mixologist (and host of the show Dranks!) Arch Bernard.
The Wolverine 1000 Mile x Dragon's Milk limited-edition boot is available for pre-order now and will be sold exclusively on wolverine.com/dragonsmilk Apr. 6. The style retails for $400.
Now for a little happy hour-themed shoe drink recipes:
Arch Bernard's 1000 Mile x Dragon's Milk Cocktails
Michigan Whiskey Sour
1.5 oz Beer Barrel Bourbon
1 oz Dragon's Milk Stout
¾ oz Dragon's Milk Simple Syrup
½ oz lemon juice
Shaken, strained into a coupe, topped with 2 oz Dragon's Milk Stout
The Boot Kick
1 oz Beer Barrel Bourbon
1 oz Dragon's Milk Stout
1 oz Fernet Branca
Stirred, strained into a rocks glass, garnished with a lemon twist
—Ann Loynd Burton