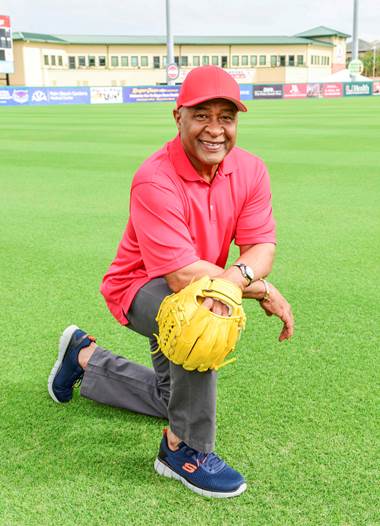 Play ball! Skechers has teamed up with Major League Baseball Hall of Fame shortstop Ozzie Smith for a new marketing campaign featuring the brand's Relaxed Fit from Skechers footwear collection. The campaign kicked off yesterday with a television commercial that aired during MLB opening day and will extend through December 2016. Smith's first commercial debuted on Sunday, April 3. The humorous campaign compares Smith's double play skills with the style and comfort found in the Relaxed Fit footwear collection.
"I'm excited to be working with Skechers on this campaign because they make some of the most comfortable shoes I have ever worn," offers Smith. "I've been a fan of the brand for years, and I love how Skechers Memory Foam feels so relaxing on my feet."  
"Baseball fans recognize Ozzie as the best defensive shortstop of all time so we're thrilled to have him join the Skechers team," adds Skechers president Michael Greenberg. "Ozzie's impressive accomplishments and notoriety make him the perfect champion to follow in the footsteps of baseball legends Mariano Rivera and Pete Rose in representing the Skechers men's collections."
Ozzie joins Skechers' current "Hall of Fame" roster which includes legendary New York Yankees closer Mariano Rivera, world champion boxer Sugar Ray Leonard and music icon Ringo Starr. Skechers Relaxed Fit footwear is known for a roomier fit and Skechers Memory Foam footbed that delivers instant comfort. The collection is available in Skechers retail channels worldwide.