It was a record-breaking night and we could not have done it without you! Together we raised $3.6 million, a 78-year Gala record, proving once again that we have an incredibly generous and compassionate industry that truly cares about each other.
Dr. Bobby Campbell, Seth Campbell and the BBC International team were extraordinary partners, helping us develop and produce the most amazing evening of fundraising and celebration in the history of our industry.
Whether you joined us for the VIP Dinner in the Hammerstein Grand Ballroom honoring Robert McHugh and Shoe Carnival, celebrating our Two Ten Super Heroes, and hearing more about our colleagues still needing our help in hurricane-ravaged Puerto Rico, or were one of the 1,500 who danced the night away to DJ Sub Zero and Trombone Shorty and Orleans Avenue and enjoyed the raffle, light up rings and fun games sponsored by the two Ten Associate Board – we thank you for your support.
A few items of note:
We'll continue to add

 photos 

to our website over the next few days, so you can relive some of the best moments of the evening.

In case you left your 

Program Book 

behind, it's now available online.
Thanks again, to each and every one of you—our kind sponsors, donors, committee members and volunteers, along with hundreds of party people from our footwear community who joined us at the event. Because of you, we are One Team.
Happy Holidays to you and yours,
Neal Newman,
President, Two Ten Footwear Foundation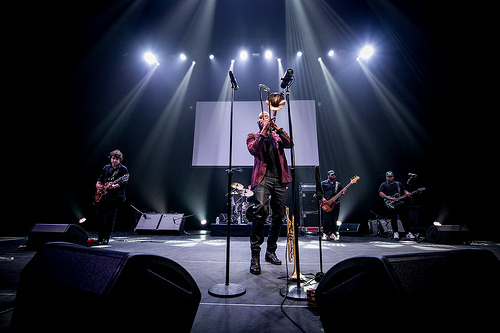 Trombone Shorty was the headline talent at the 78th annual Two Ten Gala.