The National Shoe Retailers Association (NSRA) honored Molly and David Jackson with its 2019 Retailer of the Year award during NSRA's leadership conference in St. Louis last month. The Jacksons' retail portfolio includes five stores in Florida: New Balance Sarasota, New Balance University Park, Fleet Feet Sarasota and two Molly's boutiques that offer shoes, handbags, jewelry and gifts.
"Molly is one of the most talented, outgoing and involved retailers imaginable," states Mark Denkler, NSRA chairman and co-owner of Vince Canning Shoes in Delray, FL. "David not only matches her abilities, but adds his own wonderful sense of humor to their partnership. It's a pleasure to work with them both, and to present NSRA's first Retailer of the Year Award to two people who make an outstanding team deserving of this high honor."
NSRA Vice Chairman Phil Wright, owner of Vernon Powell Shoe Company in Salisbury, MD, adds, "What makes Molly and David the best is simple: Their stores continue to be in the top 10 percent of sales in the New Balance network of concept stores. Their Molly's boutiques had double-digit growth this year. They volunteer for many activities, both for their four kids and for the benefit of their community. They are truly a great retail team."
Prior to owning and managing their own stores, Molly was a vice president of a national private banking organization, while David served as a wholesale rep for New Balance. As New Balance began opening stores in the early 2000s, the Jacksons became one of New Balance's first store owners/operators, enjoying rapid success. David has led sessions on the topics of inventory and order management at New Balance's Annual Store Owners meetings, while Molly has served as chairwoman of New Balance's Advisory Board. The Jacksons have received many honors, including being named "Best Shoe Store in Sarasota" for their New Balance operations and "Best Gift Store" for Molly's, as well as being the first recipients of New Balance's Chairman's Award. In addition, they have been recognized by Girls Inc. Sarasota and the Susan G. Komen Foundation. Molly was the first female chair of the New Balance Corporate Store Advisory Board, and a member of the Gulf Coast CEO Forums Board of Directors. David is a certified pedorthist, sharing his knowledge via Shoe U, a six-week training program he created to teach employees about feet and customer service. They are also active in helping local non-profit groups. The Jacksons have been members of NSRA since 2003. Molly has been on NSRA's Board of Directors since 2007, serving on several NSRA committees, including Education and Finance. She also was the first female member of the NSRA Board of Directors' Executive Cabinet.
The NSRA also honored Hoka One One, a division of Dckers Brands, as its 2019 Vendor of the Year. The shoes, initially developed for ultra-marathoners, and are extremely lightweight, yet well-cushioned, supportive, stable and impact-absorbing. All Hoka shoes are designed with a Meta-Rocker, with a low heel-toe differential and a sculpted outsole creating a fulcrum effect, like a rocking chair, that supports a runner's natural form while promoting an efficient and smooth roll from initial impact to toe-off. Lori Dalaker, the brand's national sales manager/independent specialty, accepted the award. "Hoka One One makes fantastic shoes designed to meet the needs of a variety of users," states NSRA Board Member John Luck, owner of Lucky Shoes in Fairlawn, OH. "The company is the proud partner of independent shoe stores around the country, and is also recognized by the American Podiatric Medical Association for its commitment to foot health."
"You are 100 percent aligned with our strategic plan," Dalaker says. "We've been a word-of-mouth brand, and we've experienced organic growth, in part because of you. I look forward to our continued partnership. Thank you. It is truly an honor to accept this award."
Last but surely not least, NSRA inducted John Schuler, CEO of Schuler Shoes in Minneapolis, MN, into its Hall of Fame. Schuler, who received NSRA's Retailer of the Year award in 2009, is CEO of the oldest (founded in 1889) family-owned shoe chain west of the Mississippi. A former member of NSRA's Board of Directors, he is widely considered an inspiration among his peers.
"He is the best example of a colleague any of us could desire," states NSRA past Chairman Alan Miklofsky of Alan's Shoes in Tucson, AZ. Miklofsky called Schuler wise, experienced, careful and conservative, as well as highly successful, adding that he "sets the pace any of us may aspire to set for ourselves, and he demonstrates the pathway for each of us every single day. His business stands out as a 'best in class' shoe business and an overall great retailing operation. More importantly, he stands out as a friend—and, on occasion, competitor—whom we all admire. John Schuler is a shining example of the great shoe store operator and leader that we all strive to be."
In accepting the award Schuler credited his long-running success to the terrific people surrounding him, including family and employees. Schuler thanked his wife, Nancy; employees Judy Lewis, Leslie Butler, Jim Dament, Kari Palmer and daughter-in-law Michele and son Mike. Schuler also thanked NSRA members for their friendship. "The friends I've made through NSRA are not just special, they're invaluable," he says. "Our most important asset is our people, because you can't do it all yourself. It's been an amazing ride, and I have enjoyed every moment."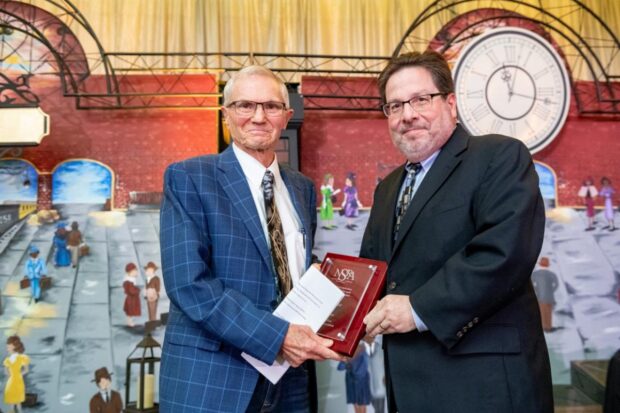 NSRA Hall of Fame inductee John Schuler (left) and Alan Miklofsky of Alan's Shoes.