Jeff Johnson, Nike's first official employee, is known as the man who instituted benchmarks of customer service and instilling an unwavering passion for product. He's also known for establishing Nike's first retail door. In January 1967, Johnson opened Blue Ribbon Sports (Nike's original name) at 3107 Pico Blvd. in Santa Monica, CA. It was the first of its kind—a running specialty store that served as a gathering space for a group of what Johnson describes as "oddball athletes" to talk training, racing and, ultimately, footwear. On Jan. 25, 2019, Blue Ribbon Sports (BRS) reopened as a community space for local runners to gather and talk—just as they did with Johnson in the late '60s.
"When it started, the running community was so strange and quite small," states Johnson. "Running has become a much more mainstream activity. But it's still individual. It all contributes to some aspect of your humanity."
 Though the original BRS closed in 1969, it predated the great jogging boom of the '70s, and foreshadowed an approach that laid a foundation for Nike's future engagement with athletes and consumers alike.
"It is important to allow a grassroots feeling to permeate everything you do. It allows us to make real connections," adds Johnson. "You're here to earn loyalty. "This breeds a mutual understanding and a human level of trust. It always starts with forming relationships."
Heidi O'Neill, president of Nike Direct, views this as a special confidence that pervades the brand's retail efforts. It is essential to the DNA of the House of Innovation, Nike's new flagship concept, all the way down to Nike's current community-driven spaces, such as New York's 45 Grand and BRS.
While BRS maintains Johnson's efforts in establishing a running community, New York's 45 Grand serves to welcome locals that rally around the city's diverse engagements in sport, culture and community (hosting everything from book launches to coat drives). Shaghai's On-Air Studio supports local creative endeavor — including hosting a weekly workshops and speaker series. In each instance, the three spaces, along with other Nike locations around the world, offer what Johnson did in 1967: safe harbor to discuss mutual passion points and from which to build new foundations.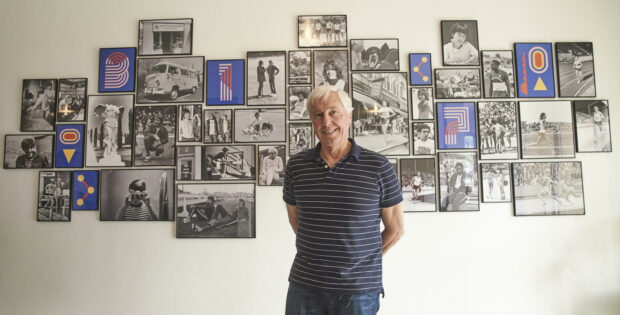 Jeff Johnson inside the new Blue Ribbon Sports store in Santa Monica.