Despite a significant drop in brand value down 12 percent to $28 billion, Nike remains the world's most valuable apparel brand, according to a new report by Brand Finance, an independent brand valuation and strategy consultancy. Nike experienced a tough year, especially in the North American market correlated with reduced popularity among teenagers alongside a spike in popularity among arch rival Adidas (up 41% to US$14.3 billion). It now also faces challenges connected to inappropriate behaviour among key executives. Failure to effectively address these issues may result in a further decrease in the brand's value next year. Likewise, Under Armour needs to right the ship following a stellar 2016 performance and a big stumble last year. The brand's value plummeted 36 percent to $3.8 billion—the largest brand value drop in the report.
As for the second most valuable apparel brand, H&M fell 1 percent to $19 billion. The report cites pressure on its brick-and-mortar strategy from online competitors. H&M has also struggled to maintain a positive image. In January, a children's hoodie listed on its website was criticised for racist undertones, sparking a social media backlash and street protests in South Africa. While in March, the Swedish-based chain was engulfed in a controversy surrounding intellectual property rights of street artists as it decided to pursue a court case against a graffiti artist's work used in one of its advertisements. If H&M's slip-ups continue, it might be overtaken by Zara (up 21 percent to $17.5 billion).
"The top four brands in apparel are here to stay. However, steep competition to maximize on the sporting apparel trend, coupled with increased choice and information for the consumer, could threaten Nike's future position in the rankings," states Richard Haigh, managing director of Brand Finance. "Empowerment to the consumer is having a wide-spread impact on the industry, allowing fast-fashion retailer Zara to reign supreme on the high street, challenging H&M and leveraging both online and offline sales platforms to meet consumer demands for variety, fashion and low prices."
As for the top four luxury brands, Hermès' value spiked 36 percent to $11.3 billion), Louis Vuitton up 17 percent to $10.5 billion, Cartier rose 45 percent to $9.8 billion and Gucci up 25 percent to $8.6 billion. The success across the board was attributed, in part, to consumers in emerging markets buying luxury goods.
View the full list of the world's most valuable apparel brands here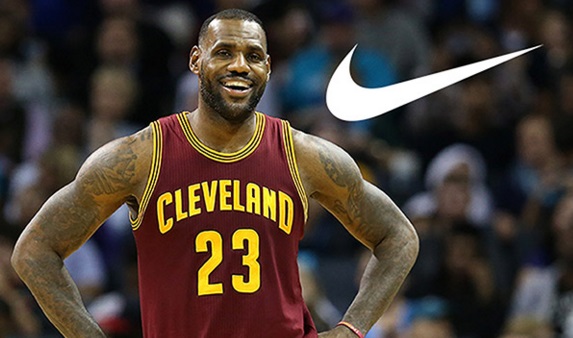 Power brokers: Nike, the world's most valuable apparel brand, recently inked a lifetime contract with LeBron James at a reported value of $500 million.