Skechers, the self-proclaimed Comfort Technology Company, has recruited NASCAR Hall of Fame race car driver and broadcast analyst Rusty Wallace to help drop the green flag for its men's footwear featuring Goodyear performance outsoles. Wallace will star in a multi-platform men's marketing campaign for the brand launching later this year.
"Skechers has turned to sports icons to drive awareness for our men's products for many years, and Rusty Wallace, with his energetic personality and Hall of Fame career, will be a perfect addition to our roster," states Michael Greenberg, president of Skechers. "Stock car racing has a massive fanbase in the United States and Rusty continues to be an ambassador of the sport. We expect this commercial will reach an important demographic and help generate buzz for our styles featuring Goodyear performance outsoles and convey the story that all of our footwear is packed with innovative comfort technologies perfect for men everywhere."
"When I was behind the wheel for 30 years, comfort in the car wasn't always my first concern," says Wallace. "Now it's something I can't live without and Skechers has footwear that delivers. And after racing cars with Goodyear tires most of my life, I appreciate having that same traction performance on my Skechers. We're working on a fun campaign to show the fans why I love these shoes so much, and I can't wait for everyone to see it."
Wallace will go down in history as one of NASCAR's finest drivers. He was the 1984 Rookie of the Year, 1989 NASCAR Cup Series Champion and won 55 Cup Series races—11th best all-time. Beyond NASCAR, he triumphed over many of the world's greatest drivers to win the International Race of Champions series title in 1991. Over the years, Wallace has been inducted to the NASCAR Hall of Fame, the International Motorsports Hall of Fame and the Motorsports Hall of Fame of America. After retirement, he was the lead racing analyst for ABC and ESPN through 2014 and is currently heard as the lead analyst for MRN radio. Wallace's philanthropic pursuits include serving on the board of the NASCAR Foundation in support of the charity's mission of helping children live, learn and play.
Wallace joins a roster of athletes and sports icons that represent Skechers' lifestyle collections for men. The list currently includes ace Dodgers pitcher Clayton Kershaw, former quarterback and broadcaster Tony Romo, former defensive end and broadcaster Howie Long, former wide receiver Cris Carter, as well as boxer Sugar Ray Leonard. The brand also features former soccer players Jamie Redknapp and Michael Ballack in Europe. Through the years, Skechers has utilized sports greats when advertising its men's collection with an alumni list including Kareem Abdul-Jabbar, Rick Fox, Wayne Gretzky, Ronnie Lott, Karl Malone, Joe Montana, Joe Namath, David Ortiz, Mariano Rivera, Pete Rose, Ozzie Smith and the late Tommy Lasorda.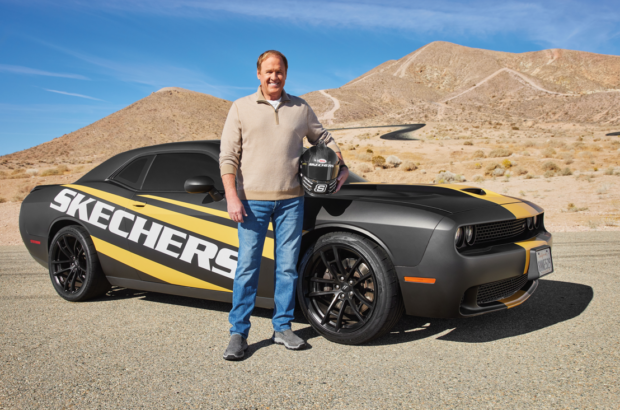 Let's roll: Rusty Wallace is latest Skechers' sports star endorser.