VF Corporation has announced that as part of its ongoing commitment to racial equity, its Timberland, Vans and The North Face brands have launched a partnership with Pensole Academy, a Portland, OR-based footwear design school, called DiverCity x DESIGN. The corporate apprenticeship program will provide unique access to professional design experience and empower Black, Indigenous and People of Color (BIPOC) students as they learn, create and build a career in the footwear industry. The mission will be to invest in the industry's future and create a program that ensures diversity of thinking and experience. Open enrollment for the program runs through Mar. 30, 2021. Interested students are encouraged to apply at https://pensole.com/master-class/dxd/.
The immersive curriculum was developed in partnership with Pensole, which provides students with the knowledge and experiences required to become well-rounded professional footwear designers. DiverCity x DESIGN will equip students with footwear design principles, product creation process, hands-on experience, professional development training and brand engagement. The top performing students will be granted career mentorship with cultural experiences at each of the brand's headquarter cities.
DiverCity x DESIGN:
Phase 1: The competitive program will begin with 27 students attending a three-week online pre-program that challenges their personal and professional skills.
Phase 2: 18 of those students will be selected by the brands to enter the eight-week Pensole Masterclass. Here, students will be divided into three teams to present one capstone project that will develop their footwear and retail industry knowledge.
Phase 3: Top 5 performing students will earn the opportunity to participate in a year-long rotational apprenticeship across each of the brands' HQs—Timberland in Stratham, NH; Vans in Costa Mesa, CA; and The North Face in Denver, CO—to gain intimate, hands-on knowledge of different cultures and ways of working.
"I have been a consumer of Vans, Timberland and The North Face brands for decades, and it is humbling to see our relationship grow into us working together on such a meaningful program," states D'Wayne Edwards, founder of Pensole. "DiverCity x DESIGN is an amazing opportunity to reach consumers where they are and provide them a pathway into our industry unlike what they have been afforded before. Thank you to VF for being a leader in our industry and trusting Pensole with such an important program that will help shape the future of your company and the lives of your consumers."
"As a brand engrained in youth culture and centered around enabling creative expression, we are excited to partner again this year with D'Wayne and the Pensole team," states Mark Haskins, vice president of Global Footwear Product Design for Vans. "This partnership is not only a great opportunity for us to work closely with creative students and provide them insight into what it's like to work at Vans but we are especially proud to support Pensole's important mission of growing the representation of Black creatives in the footwear industry."
"The North Face has always been about encouraging exploration everywhere, from the highest mountains to the city streets," says Jean-Marc Djian, global vice president of Footwear for the outdoor brand. "As we continue to invest in and expand our footwear innovations, we are excited to work with Pensole to create new opportunities for up-and-coming designers, and ensure the creativity, expertise and expression of the designers we work with is as diverse as the communities who use our footwear to explore."
In addition to DiverCity x DESIGN, this spring the Timberland will launch a youth program in partnership with CONSTNT: DVLPMNT and Pensole Academy. The Creative Discovery Tools youth program will introduce middle-schoolers to careers within the footwear industry through a four-week online footwear and color design program. The goal is to scale the program over the next five years to span middle school, high school, and post K-12 opportunities that focus on developing industry-ready designers. "Our partnership with the Pensole Academy is part of the work to build a more inclusive and equitable future," says Chris McGrath, vice president of Global Footwear Design, Timberland. "Through the program, aspiring BIPOC designers will gain insight and experience that will prepare them to launch into a lifelong career. DiverCity x DESIGN, coupled with our youth program, creates the platform to nurture talent at a young age, and opens doors for BIPOC student to realize a dream job in a field, and with a brand, that may have felt unattainable."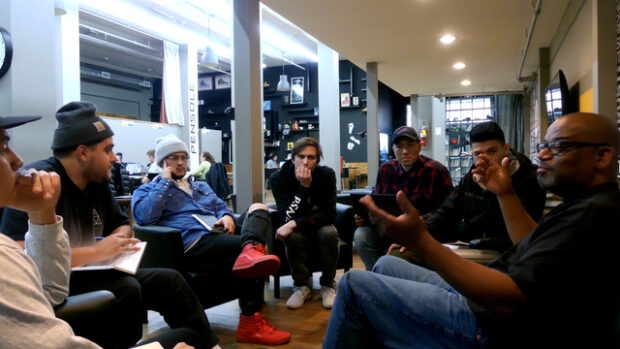 D'Wayne Edwards, founder of Pensole (right), doing what he does best: teaching the art of sneaker design.