The 355 pairs of kids' shoes displayed on the steps of the Massachusetts State House in Boston this week said it all. Far too many children (710 confirmed cases, to be precise) living in the state suffer from abuse and neglect each week, and the footwear industry shined a light on the problem as well as donated those shoes to children in need.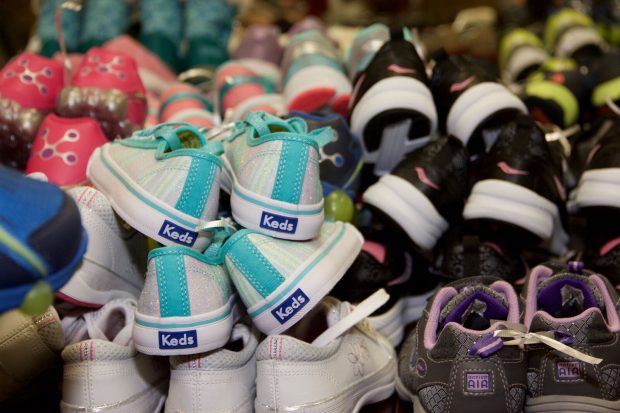 Thanks to the generosity of BCNY, Clarks, Crocs, Khombu, New Balance, Shoebuy.com and Wolverine Worldwide, the shoes on display were immediately distributed to the eight different Boston Children's Trust Family Center locations throughout the state. Representatives from each of the donating companies were in attendance, along with Massachusetts Lieutenant Governor Karyn Polito, who proclaimed April as Child Abuse Prevention Month. In addition, Representative Patricia Haddad and Senator Linda Dorcena Forry were in attendance, both of whom received honors for their long-term commitment to the state's children and families.
"Walking into the beautiful statehouse and staring at the grand staircase that Sam Adams descended with hundreds of pairs of children's shoes laid out representing the extent at which child abuse and neglect occurs in Massachusetts…It was just a profound moment," says Neal Newman, president of Two Ten. "The fact that representatives from all the companies were in the room and were called out by the Lieutenant Governor for doing some good was also a powerful moment. We received a standing ovation from those in attendance."
Doing some good is the collective aim of Footwear Cares, now in its fifth year. The national community service program that brings the footwear industry together through volunteerism is supported by footwear companies across the United States and sponsored by Footwear Plus, among other leading industry entities. With an estimated 20 percent of the country's families living in poverty and struggling to keep food on the table, Two Ten will focus the April events around a national network of food banks and hunger relief programs to organize unique volunteer opportunities in each of the targeted metro areas. Footwear volunteers will collect, sort and repack food donations; prepare and package meals; pack and distribute food boxes to families in need; and other similar volunteer activities co-organized by Two Ten and the food banks. In addition to hosting volunteer events in nine key cities (Boston, Columbus, Los Angeles, Milwaukee, New York, Portland, San Francisco, Seattle and St. Louis) during the month of April, Two Ten will work with footwear companies throughout the year to support their existing corporate social responsibility efforts and maximize their visibility and impact.
"Footwear Cares provides a wonderful opportunity to shine a bright spotlight on the industry's collective goodwill and nature of service," Newman says. "Ultimately it will grow Footwear Cares as well as help sell shoes and inspire people in their jobs." To that end, Newman reports that volunteers often return to their offices energized, having participated in something impactful above and beyond selling or designing shoes. "There's something really magical in that moment when people transcend the brand T-shirt they are wearing and are thinking more about the common greater good," he says. "Footwear Cares is planting the seeds to this notion of the common good and belonging to a community. I believe years from now we'll look back and say that we were onto something massive." —Greg Dutter