Kamik, the 120-year-old family-owned Canadian boots company, has named Gillian Meek its new CEO. Meek was most recently president of Keds, a division of Wolverine Worldwide.
Meek possesses more than 20 years of experience as an innovative and strategic leader in the industry, building and transforming a portfolio of renowned footwear brands. Previous positions include vice president of product for Stride Rite, director of women's footwear at Timberland and product manager in global running and women's training at Reebok. Through an artful blend of a consumer-first product approach with powerful storytelling, she guided her previous teams to build growth strategies across channels and regions. In her most recent role as president of Keds, she was an integral part of the parent company's Senior Leadership Team, where she led a global turnaround for the brand, restoring it to profitability and reaching record revenues. In addition to Meek's retail expertise, she has championed several product-driven sustainability initiatives and is an active member of Two Ten Foundation's Women in Footwear Industry (WIFI), allowing her to lead and mentor other women as they grow in the space.
"Alongside our new partners at TorQuest, who joined us in 2021, we are thrilled to welcome Gillian into our family with her seasoned experience being an integral part of the next chapter of the Kamik story," states Stephen Cook, president of Kamik. "New investment will allow us to continue to build a bigger and bolder organization—both through additions to the team as well as our organizational capabilities. We are incredibly excited about what is yet to come."
"I am thrilled to take my expertise in the space and apply it to a brand I have long admired," Meek says. "The footwear industry is always changing and innovating, and Kamik consistently rises to the top. Its storied heritage, focus on sustainability and constant urge to innovate all create the perfect recipe for a promising and exciting future."
The Kamik brand was launched in 1898 by the Cook family, who have since been dedicated to delivering comfort and quality; and they are always looking for ways to improve. Meek is expected to play an integral part of this journey as the company builds upon its Canadian heritage and continues reducing its carbon footprint. Sustainability has long been a key component of Kamik's purpose, and Meek will support several new initiatives to enhance the company's sustainable manufacturing efforts.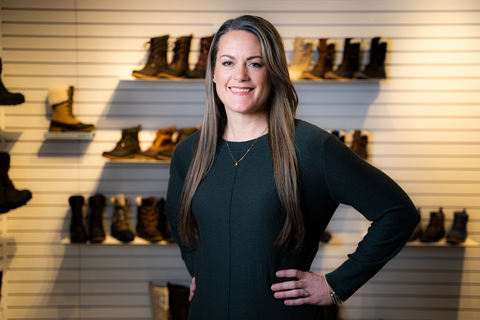 Gillian Meek, new CEO of Kamik